Jamie Creel and partner Marco Scarani are men of sophistication and refinement, whose world travels and global collections inform their chic shops Creel and Gow. And nowhere is the level of their taste and elegance more evident than in their glamorous home in Paris. Please join me and Susanna for a behind the scenes visit with this talented duo at their sumptuous Left Bank apartment.
Originally living in a smaller Paris apartment on Rue Bonaparte, with frequent guests sleeping in the living room, Jamie and Marco were prompted to look for something larger. "We looked at a lot of apartments and Jamie would have bought most of them, but I wanted one that could be our forever home here in Paris," explained Marco.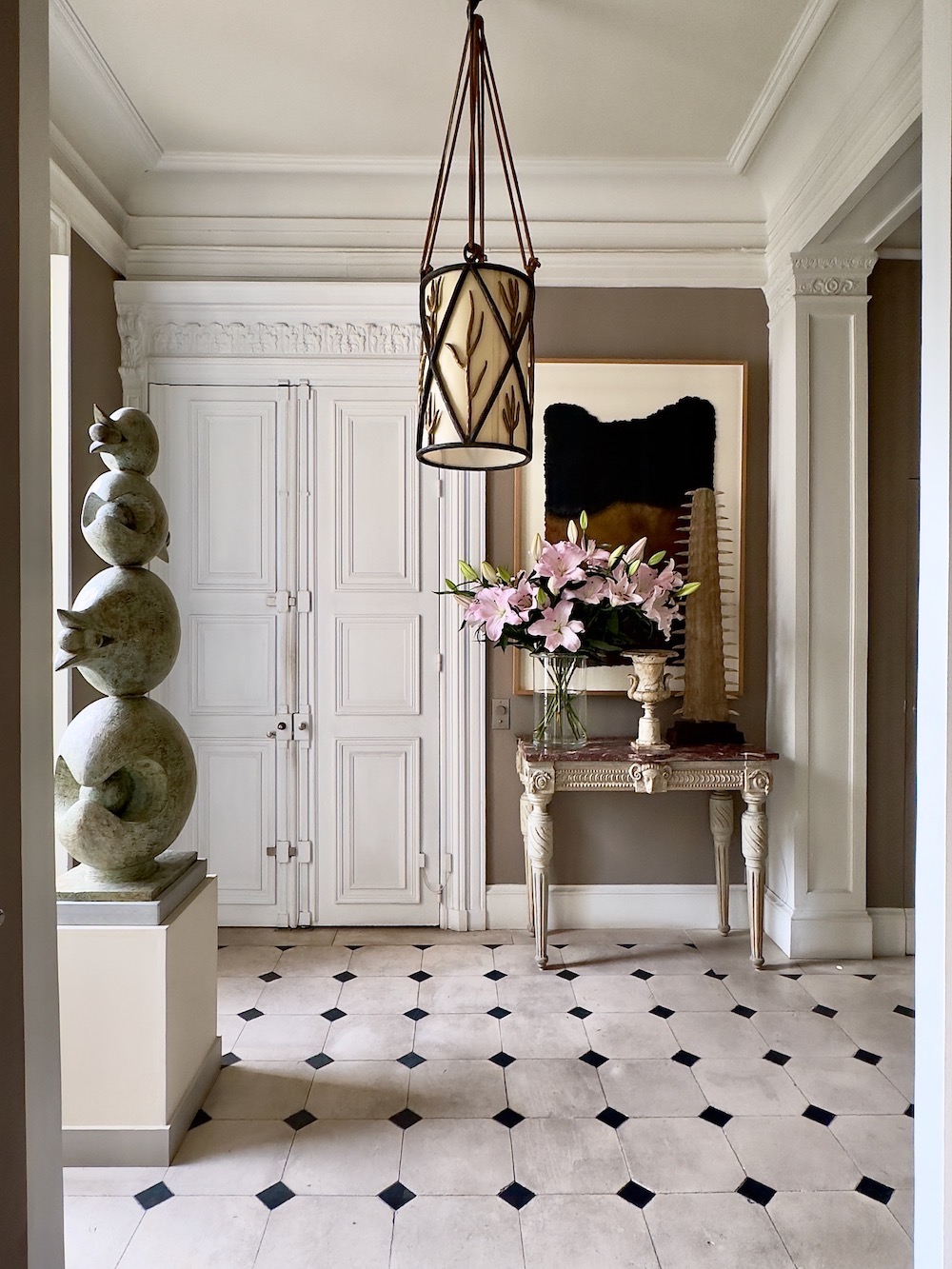 When they finally found their current abode, 23 years ago, Marco knew it was the one. "It was very dark and quite a mess but it had every single orientation – north, south, east and west – and quite a few rooms."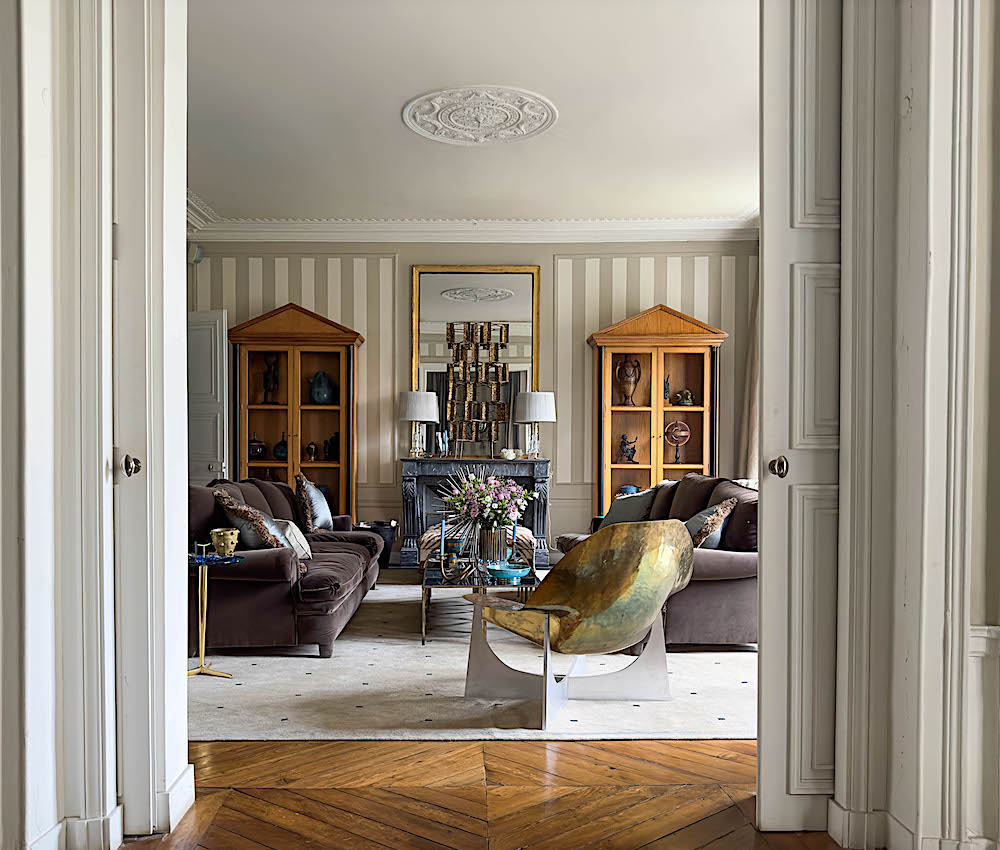 A year-and-a-half long renovation transformed it into a chic and comfortable home, perfect for gracious living, entertaining and properly accommodating visiting guests. One of the more distinctive spaces is the dining room, originally a square room that Marco cleverly converted into a round one.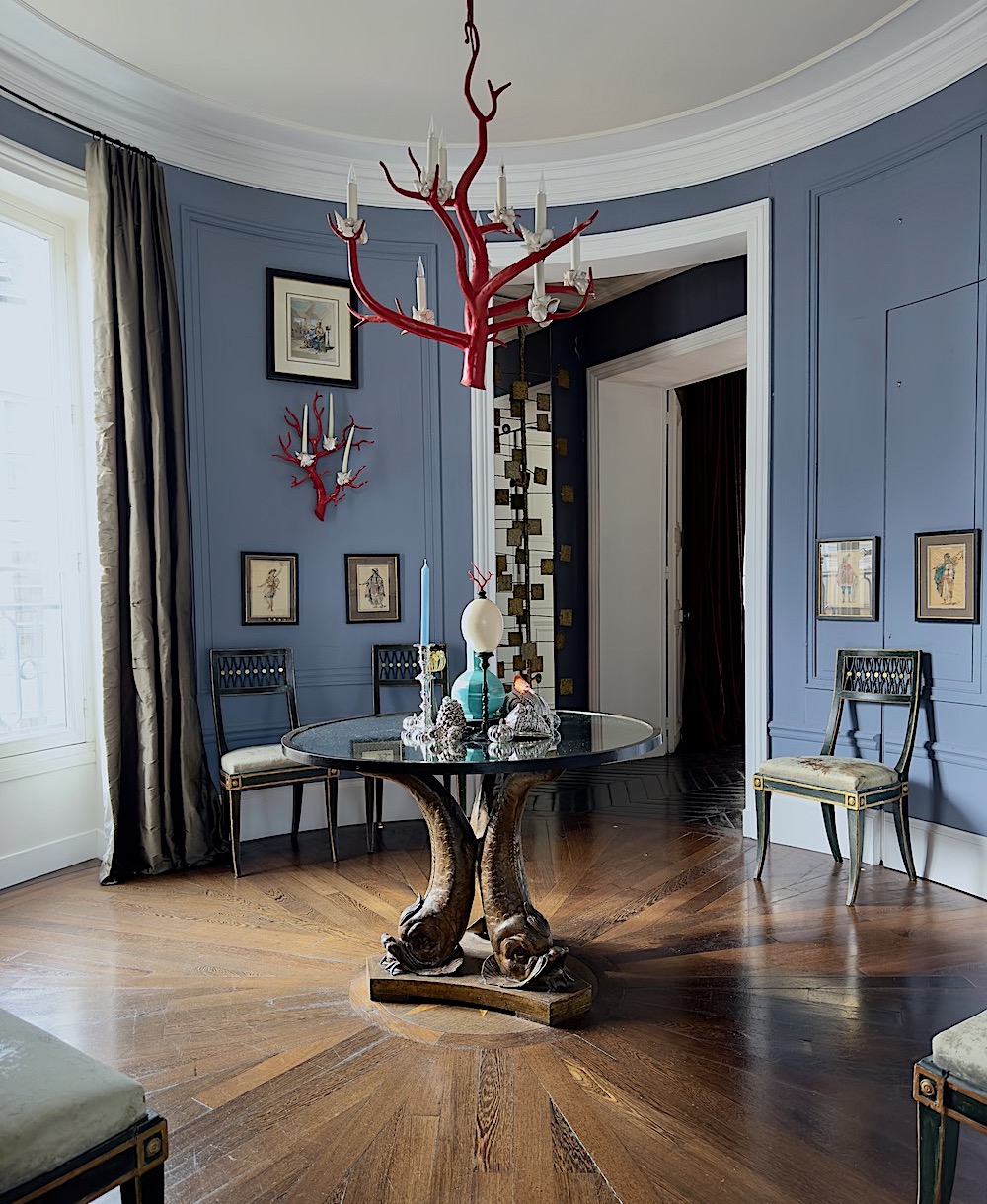 Reserved for more formal dining (the kitchen is used on a more regular basis), it remains as an elegant environment housing many of the couple's collections.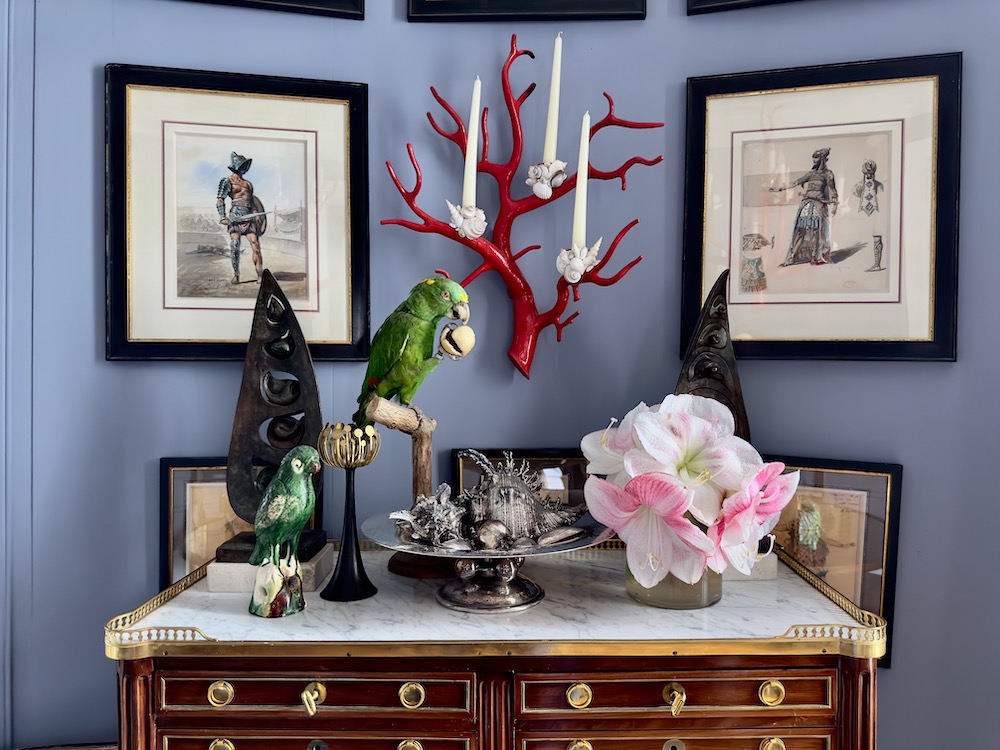 Like Creel and Gow, the apartment represents a very personal cabinet of curiosities – objects found all around the world, each with a story, inspired by their shared love of travel, history and artisanal creations. The library in particular, filled with meaningful reminders of people and places, is Jamie's favorite room. Even the furniture embodies a personal connection. The sumptuous Maison Jansen velvet sofa and arm chairs are from friend, designer Lisa Fine, who had them, unused, in storage.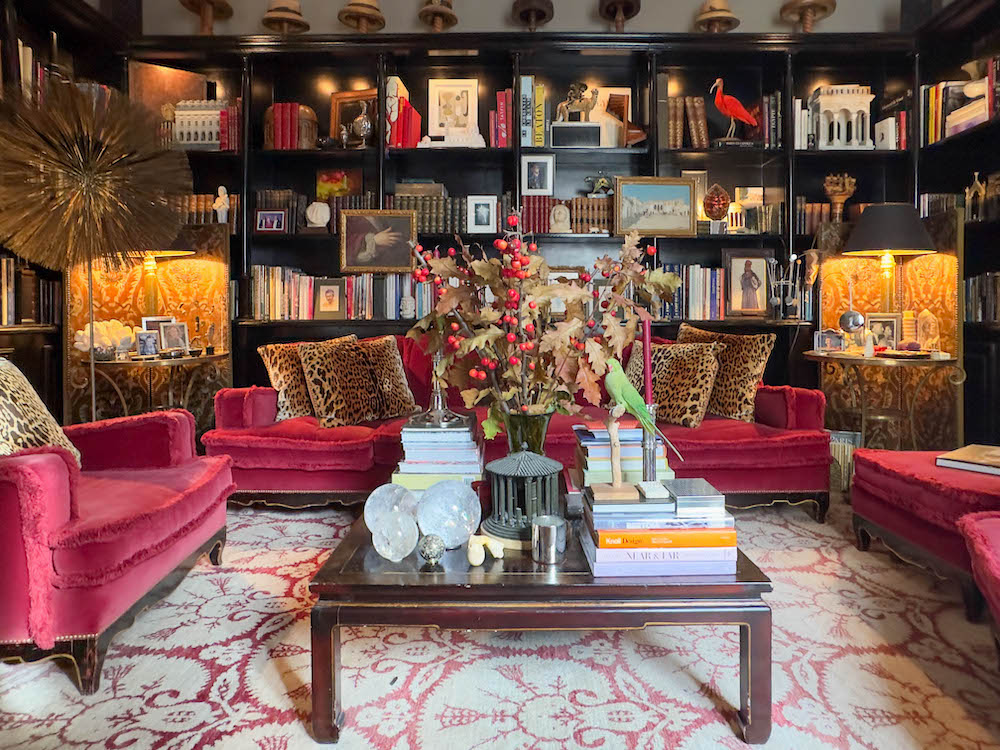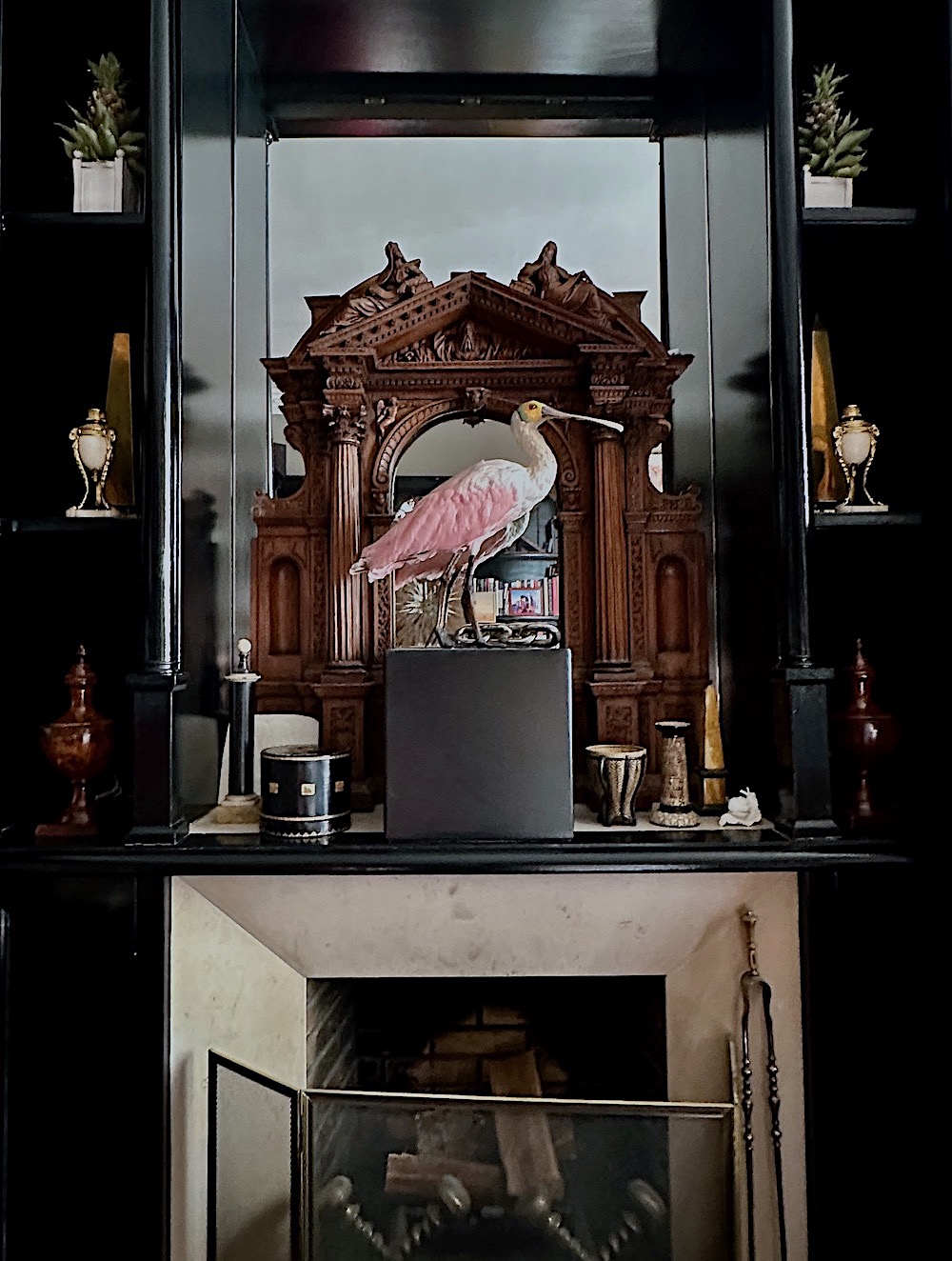 The supremely elegant bedroom includes a bronze Branches Mirror by Parisian friend, artist Hervé Van der Straeten, a Louis XVI bench, Maison Ramsay coffee table and a wide variety of artwork.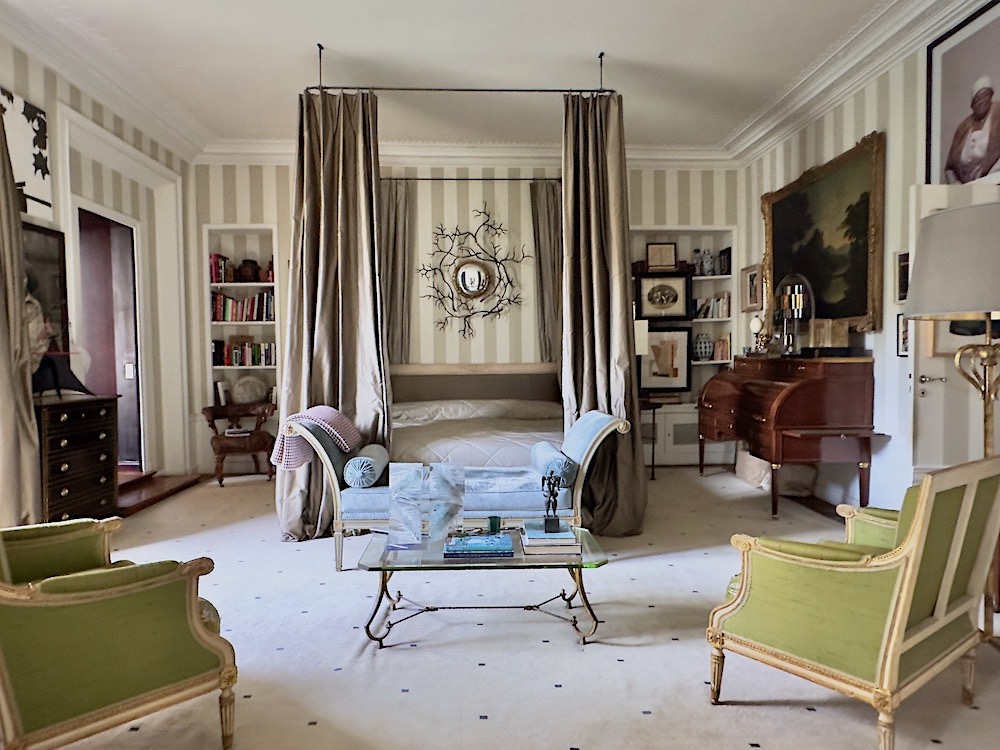 Their bathroom feels like a contemporary riff on Empire style. With handpainted striped wallpaper, copper free standing tub and classical accoutrements, a modern day Napoleon would feel right at home.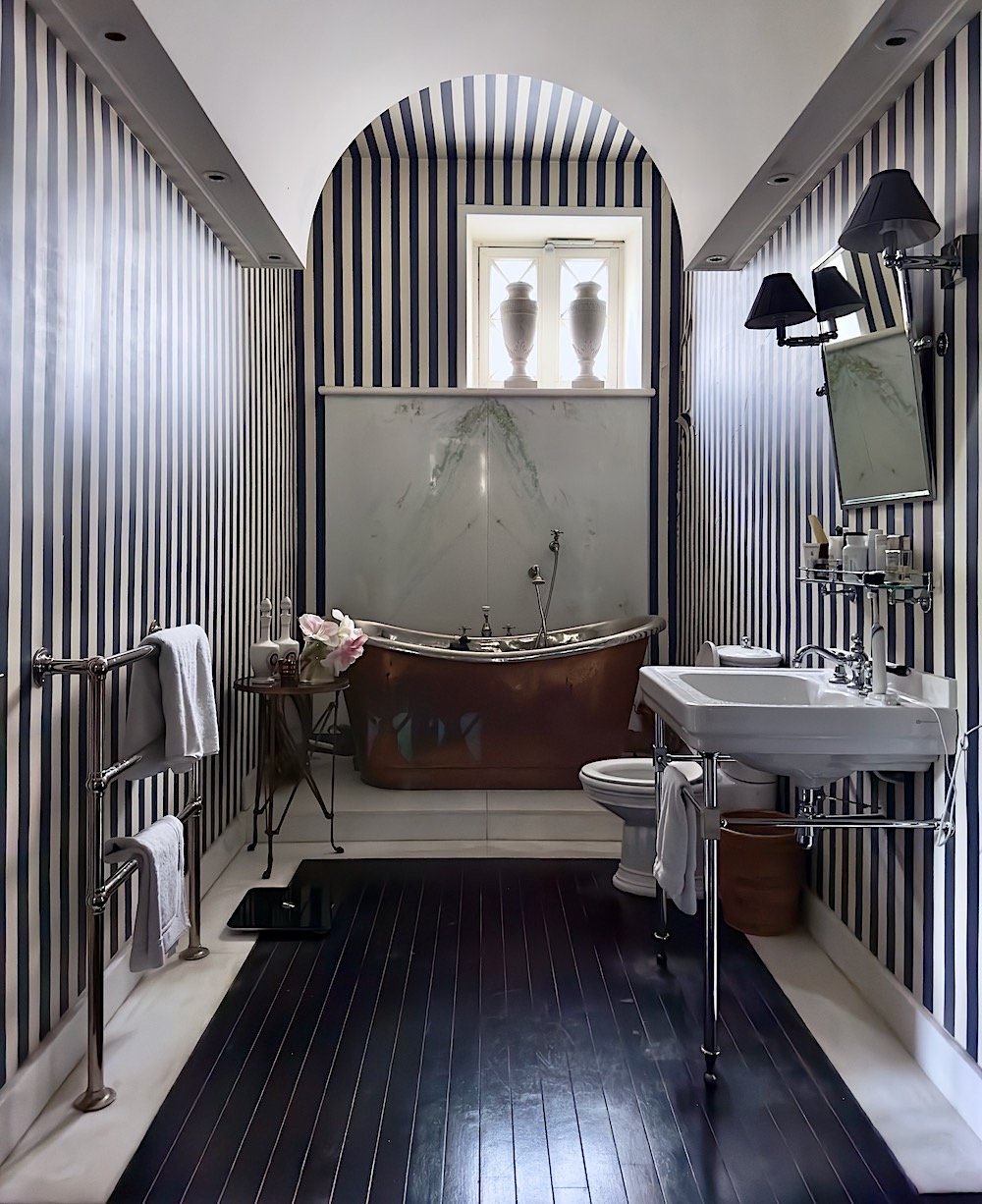 Through cleverly concealing yet architecturally appropriate pocket doors, one enters the sitting room. Here matching 1940s vitrines anchor the room with a hammered brass Coque Armchair by French designer/sculptor Philippe Hiquily.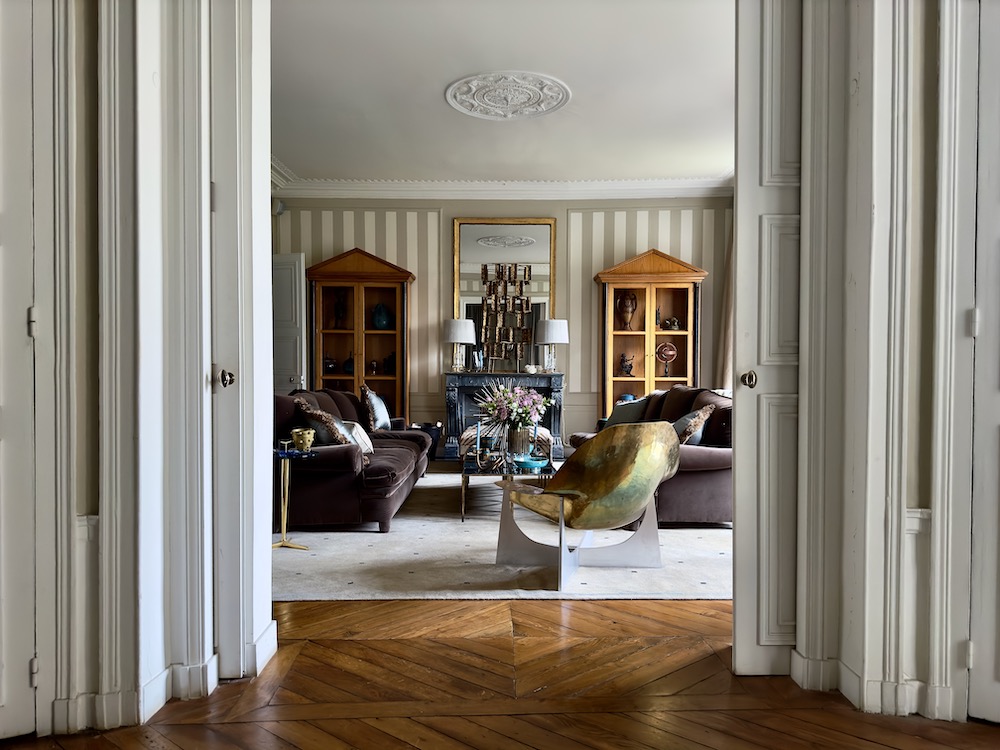 Not many French kitchens I have visited can accommodate 16 for dinner, but in designing their kitchen, his favorite room, Marco had an ulterior motive. When they first found this apartment, Jamie would never eat breakfast at home, preferring the legendary neighborhood haunt, Café de Flore, so with the architect, Marco created the ultimate enticement that is not just worthy of breakfast à la maison but lunch, dinner and parties as well.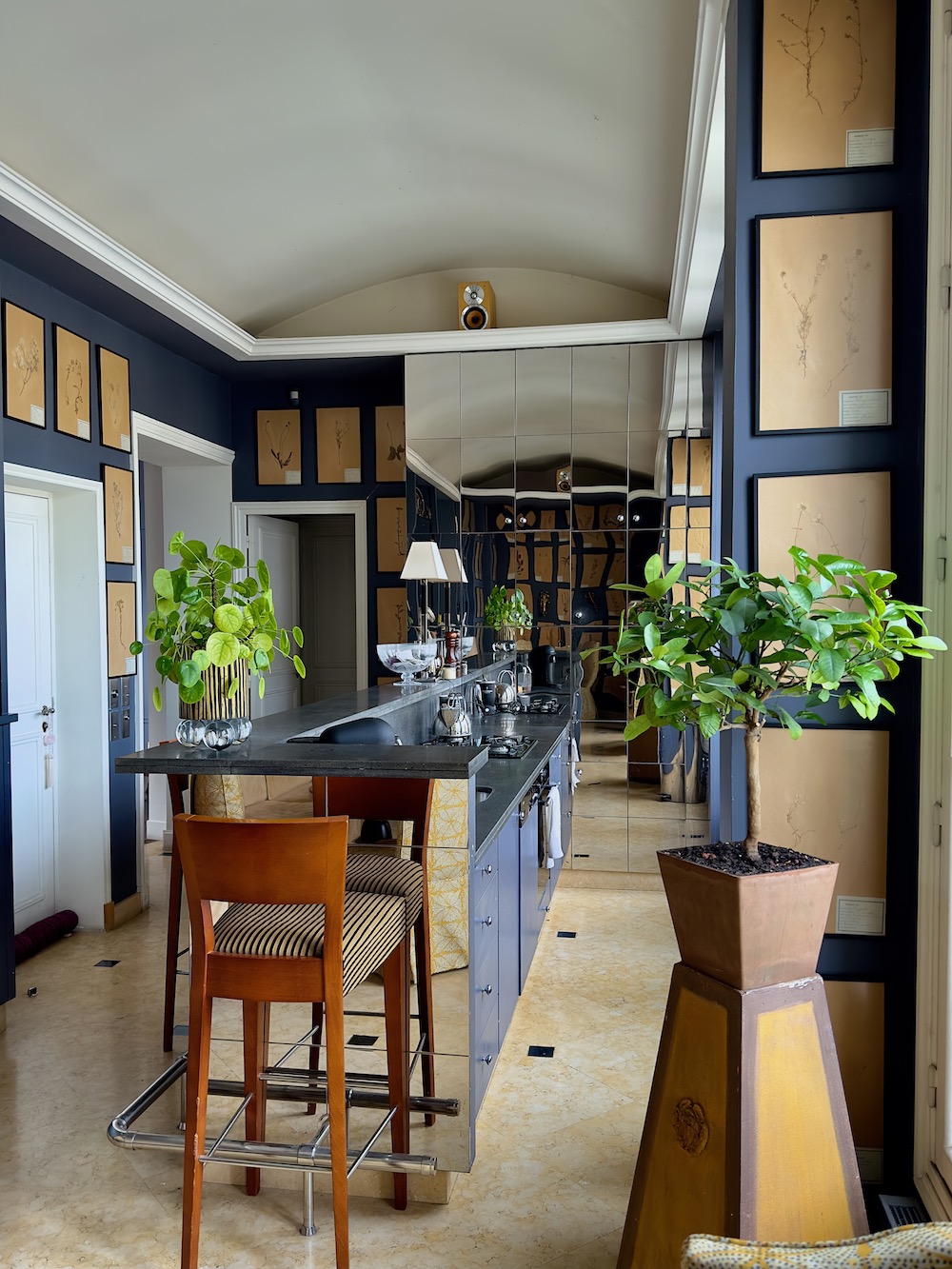 With tables from Le Café Marly across the river, a long banquette and comfy slipper chairs upholstered in a graphic Martyn Lawrence Bullard linen print, the kitchen is as cozy for a backgammon game as it is obliging for a dinner party.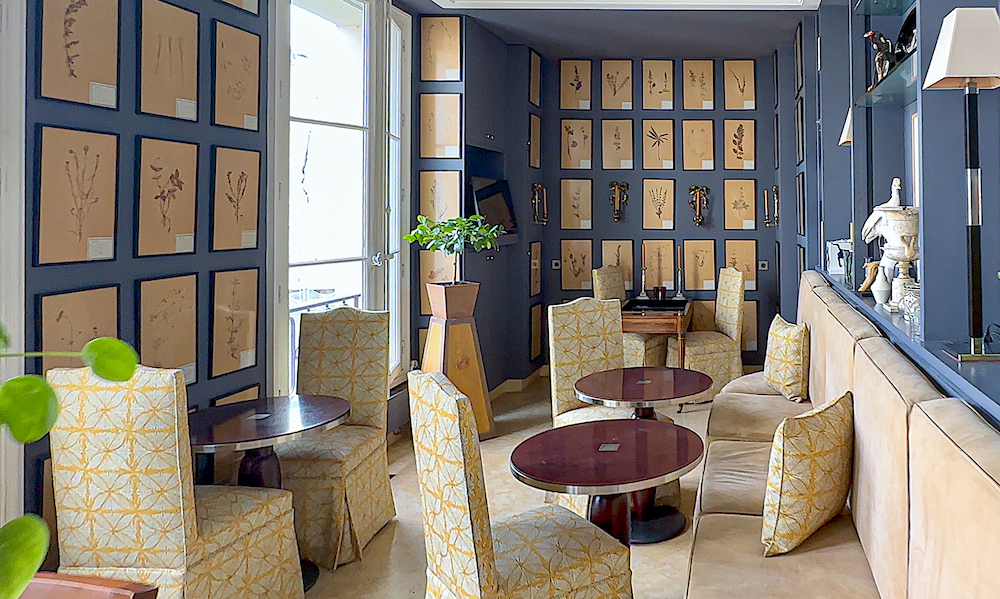 For those lucky enough to receive an overnight invitation, the guest room is definitely a step up from the living room sofa in their previous apartment. Swathed entirely in Pierre Frey's classic Monuments d'Egypte from Braquenié,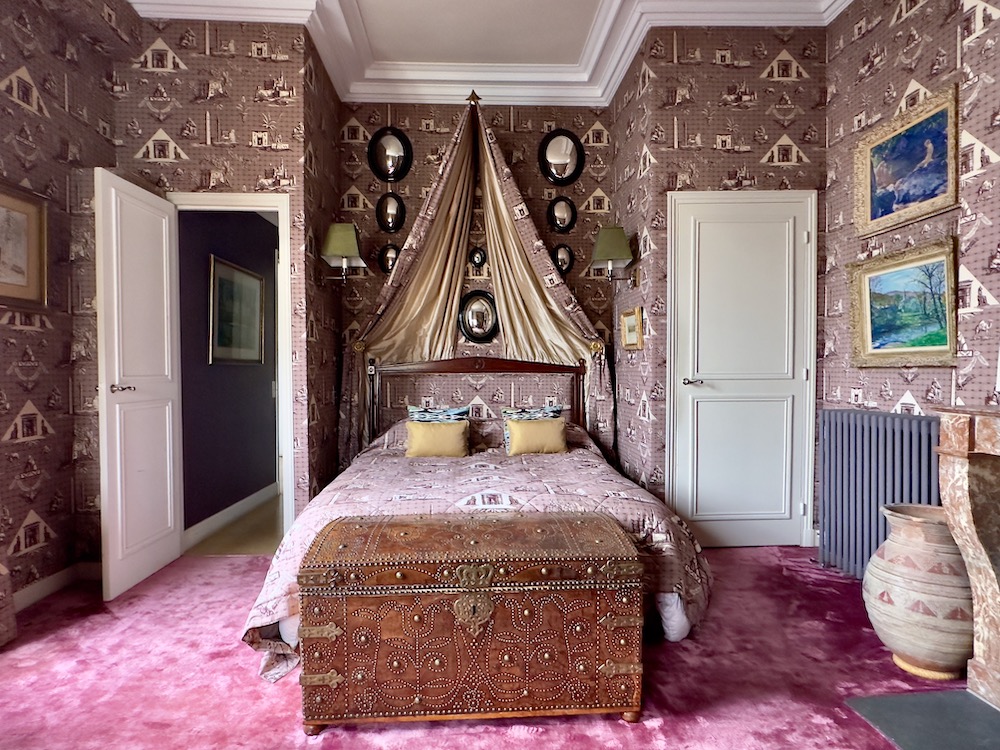 it is in a quiet corner of the apartment replete with exotic inspiration.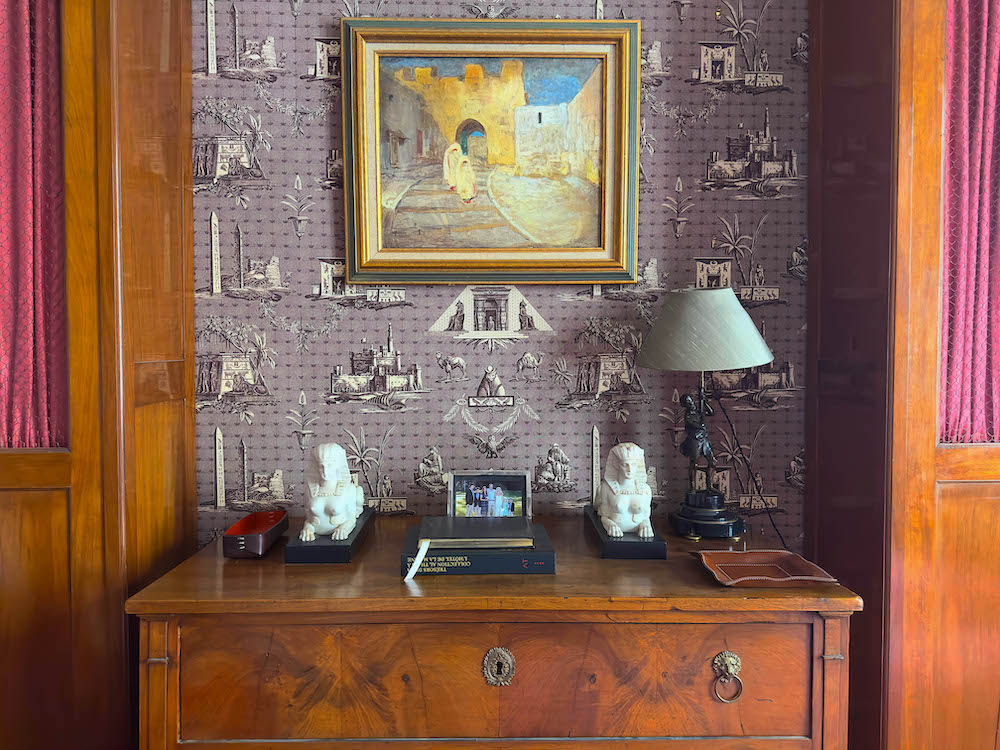 So thank you Jamie and Marco for welcoming us into your stunning home in Paris! Your glorious apartment is a testament to your expansive interests and extraordinary style!
all photos by Stacey Bewkes
And a thank you to sponsor Modern Matter, whose customizable hardware for luxury living makes every day a celebration. It's jewelry for your home!