When designer Sophie Sutton and her husband purchased their 19th century Manhattan townhouse around six years ago, it was in a severely neglected state. This did not, however, deter Sophie from her mission of creating a sophisticated yet comfortable home for her family and frequent guests. Please join me and Susanna as we visit Sophie in her art-filled and deeply personal New York City townhouse.
After years working in Paris, London and Milan in the fashion business and event planning in New York, Sophie founded Sutton Minto Design in 2017, incorporating her well traveled background and education in the arts into a creative and disciplined approach to design.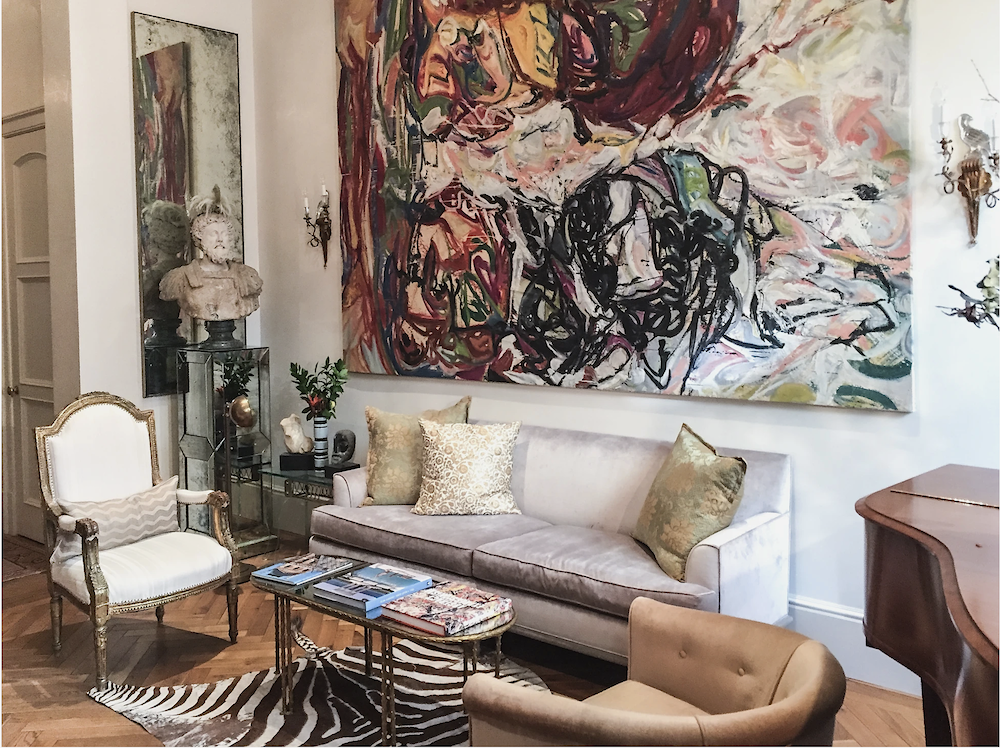 Composing rooms of fresh visual richness, Sophie consistently counts on luxurious prints, color, and a clean, eclectic mix of modern and antique furnishings. Yet her home is also deeply personal, with meaningful art and objets spanning decades of travel and collecting.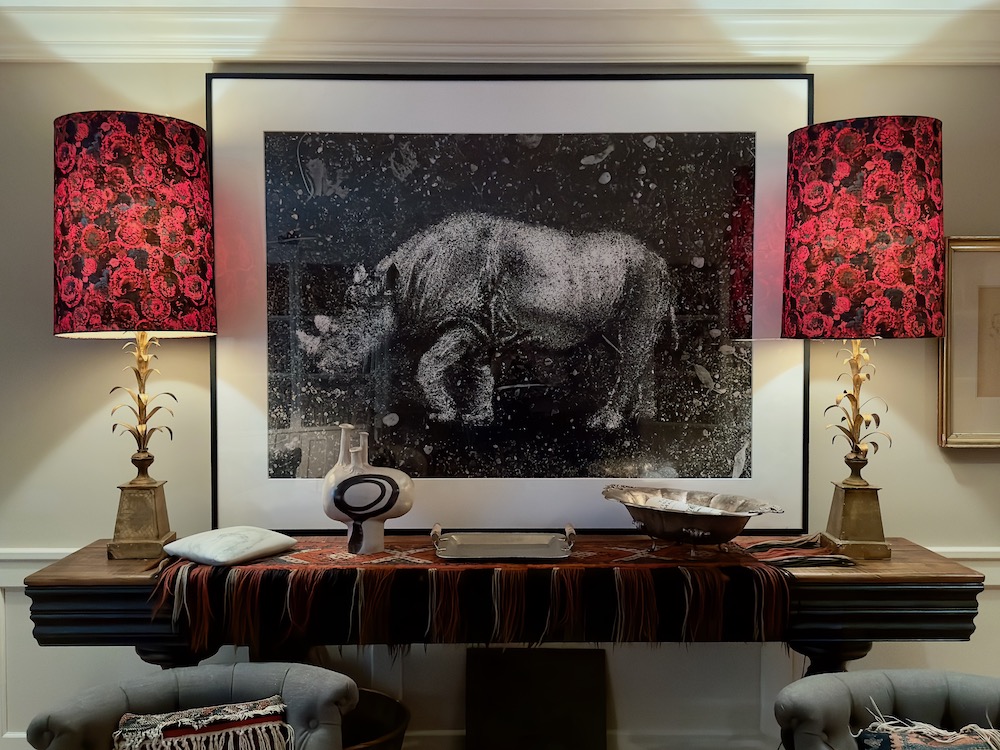 As a long time collector, Sophie's taste in art has evolved and expanded over the years, often frequently exploring the juxtaposition of contemporary or 20th c. pieces with more classical furniture.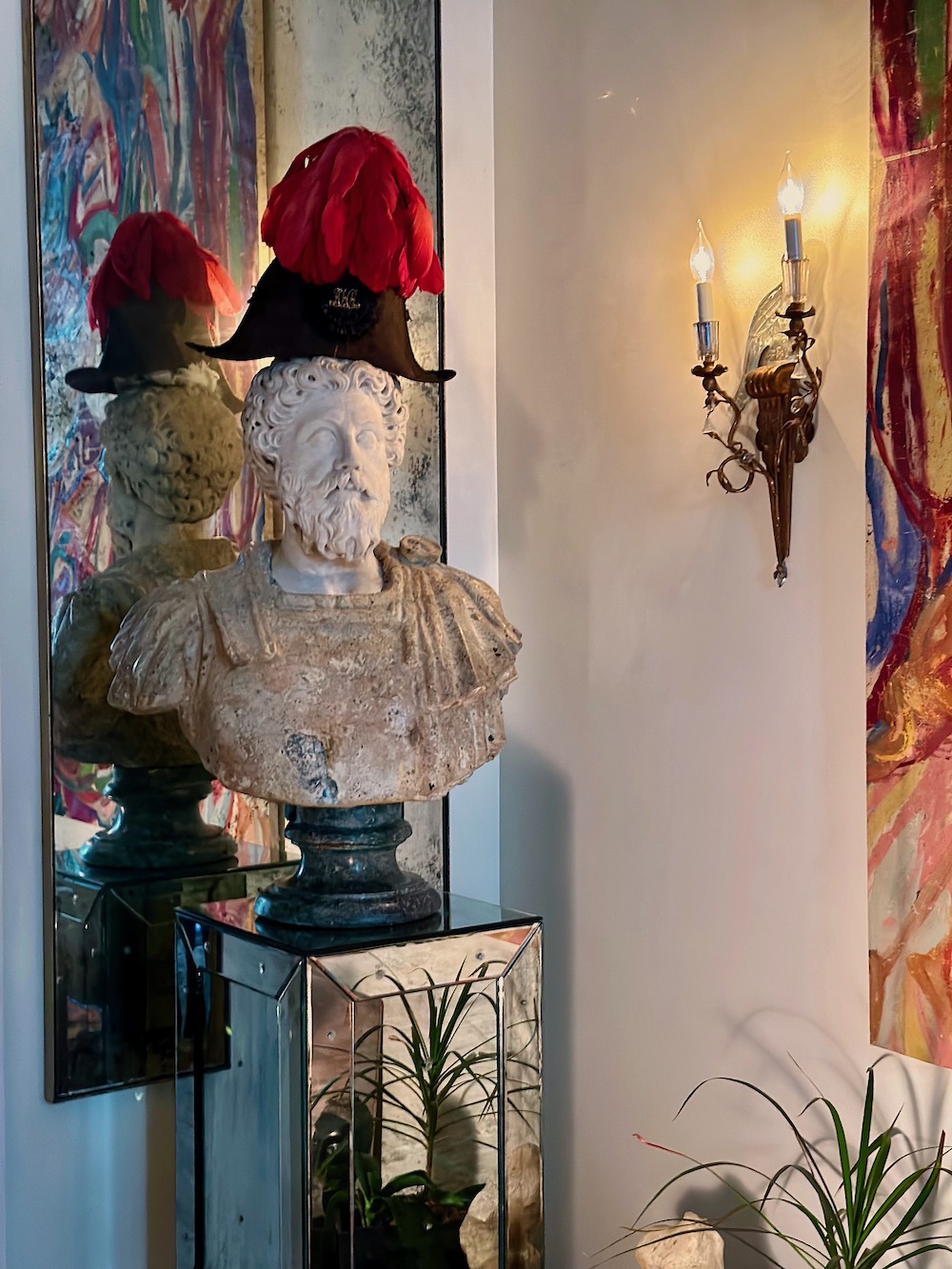 Here in her own home she has considered everyone and everything (family, visitors and function) without sacrificing style or sophistication. The enticing top floor guest suite includes a bedroom outfitted with a scintillating selection of exotic textiles referencing Sophie's travels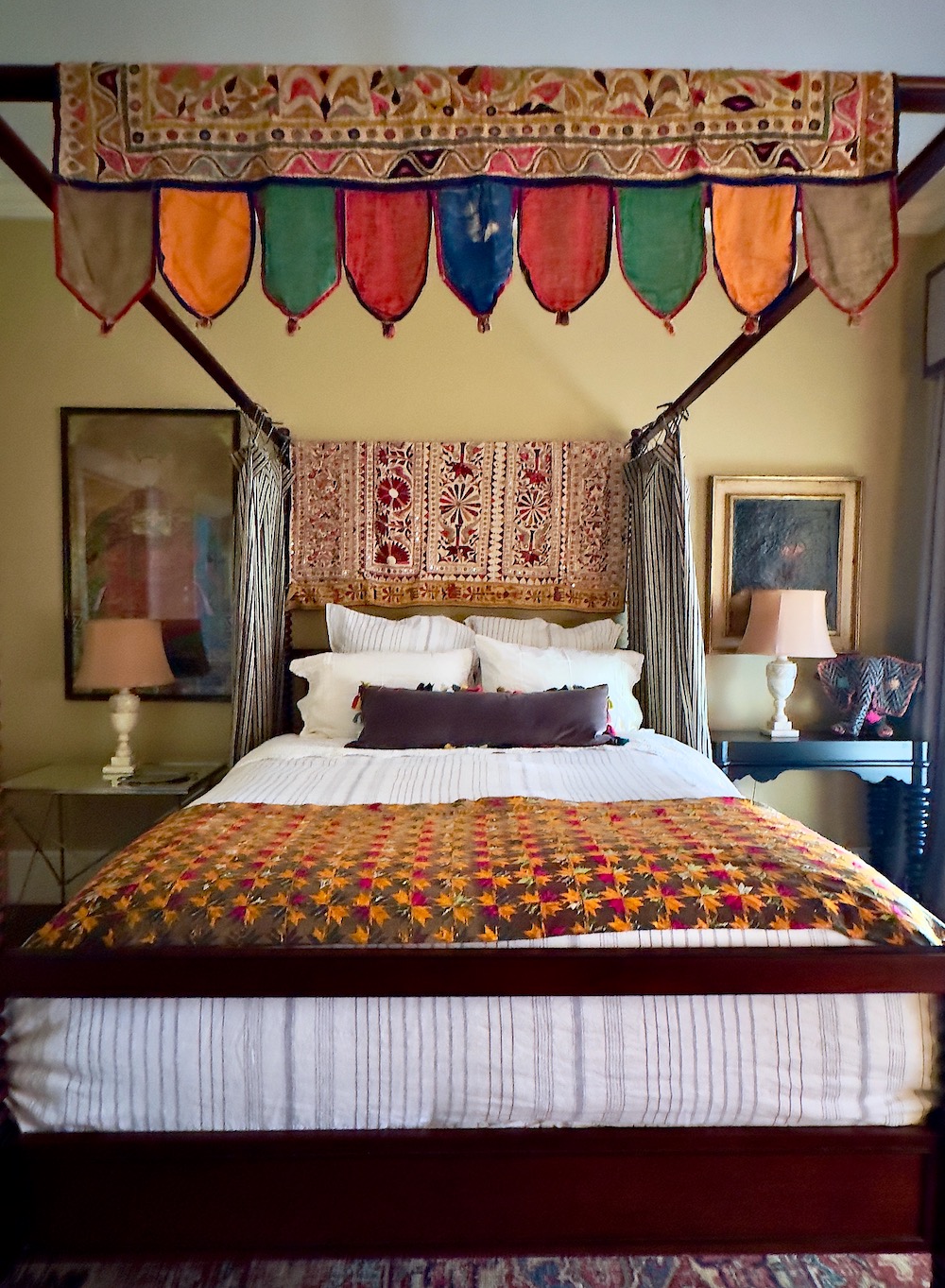 and an adjoining sitting room in a delectable raspberry that is as fresh as it is cozy. I can't imagine many guests look forward to leaving!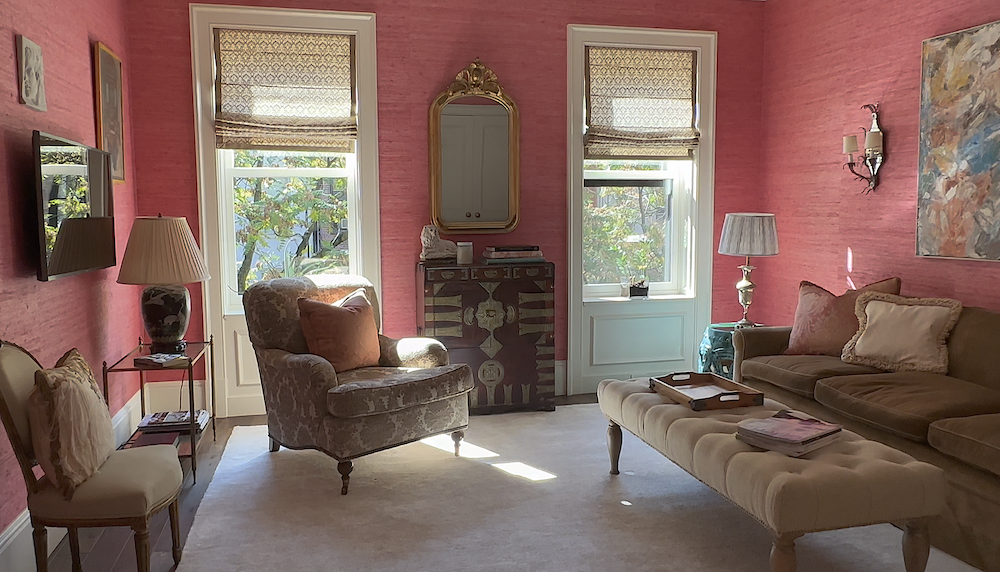 While many are intimidated by designing dark rooms, Sophie embraces them. Her dining room is a sumptuous, moody, delicious example where she worked with Fromental on a custom wallcovering that evoked the countryside with a bucolic scene of rolling hills, trees and clouds.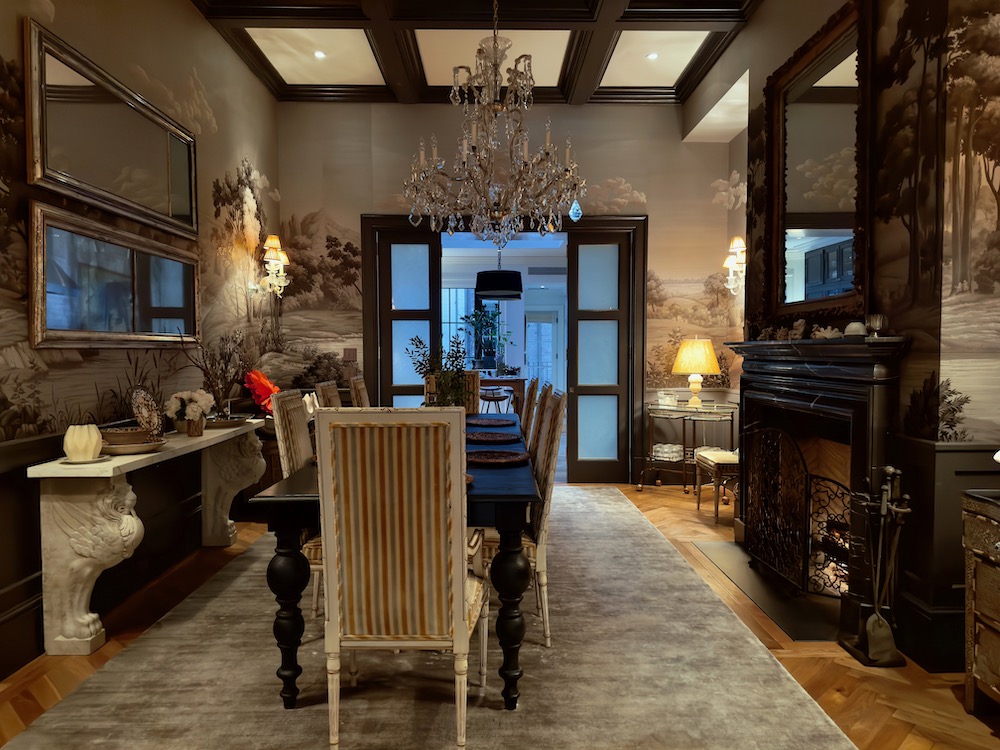 And this segues into the generous kitchen where a table of revolving plants and afternoon tea transport you to the English countryside.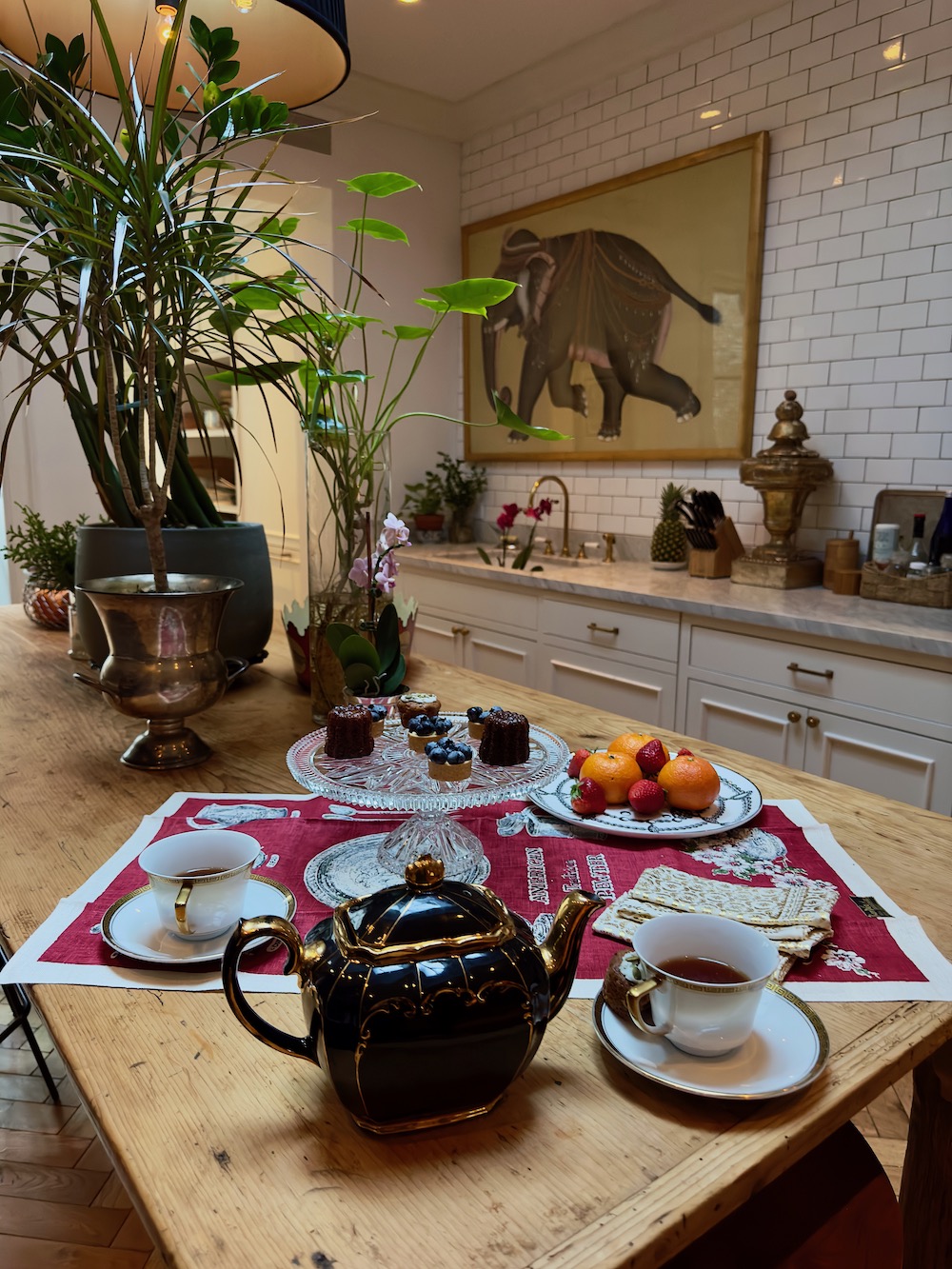 Dark furniture-like cabinetry, a freestanding center table and window seat offer a welcoming respite from the busy city streets outside. After falling in love with hanging lights she had seen in Paris, and not finding any similar options here, Sophie commissioned John Rosselli to create these, an even better version of the originals she says. Her tip – never be afraid to ask for something special to be made – the answer is often a yes.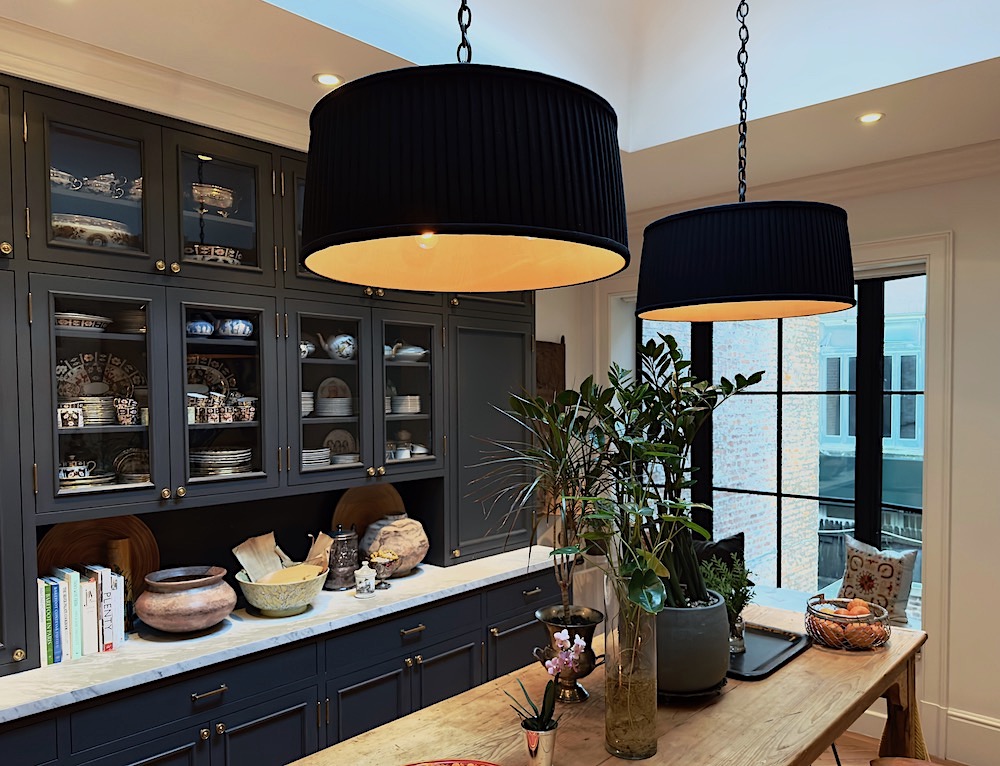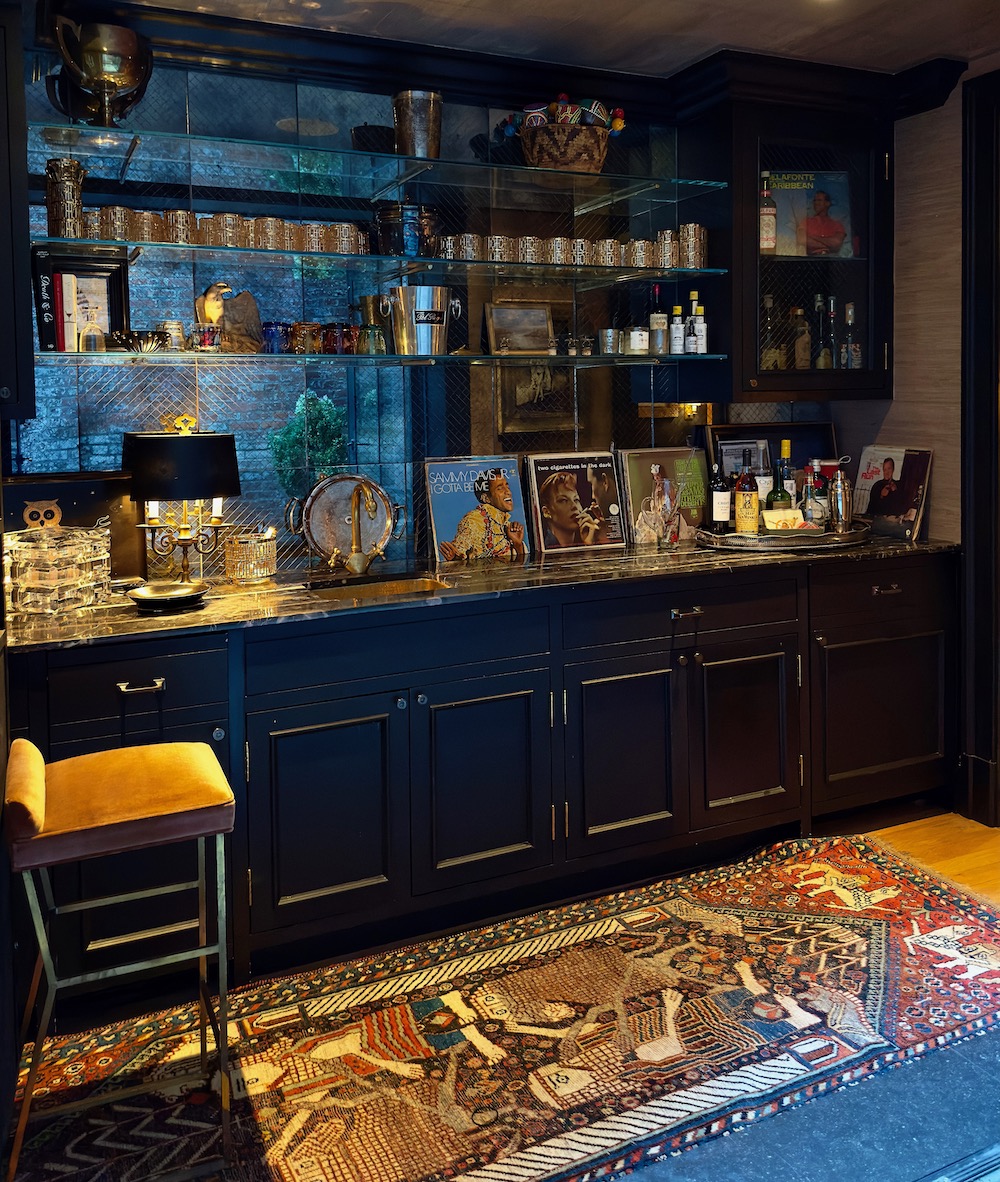 The lower level is a sultry sexy space where Sophie has created a man cave escape for her husband Jeff and toward the back, opening onto a terrace, is the bar we all want to have – with vintage drinkware, an enviable collection of LP's, and ample storage! Yet another perfect gathering spot for festive occasions and their frequent guests. So thank you Sophie – what a treat to visit and be an overnight guest at your elegant, warm and authentic Manhattan townhouse!