Created in 2018 by Karen Suen-Cooper and Martin Cooper, the co-founders of The Punctilious Mr. P's Place Card Co., National Place Card Day™ is celebrated annually March 20th, to welcome the first day of spring. It is a time of birth and growth with hints of the approaching seasons when the weather encourages us to gather with friends and family to sit together at a table inside or out to enjoy a meal and each other.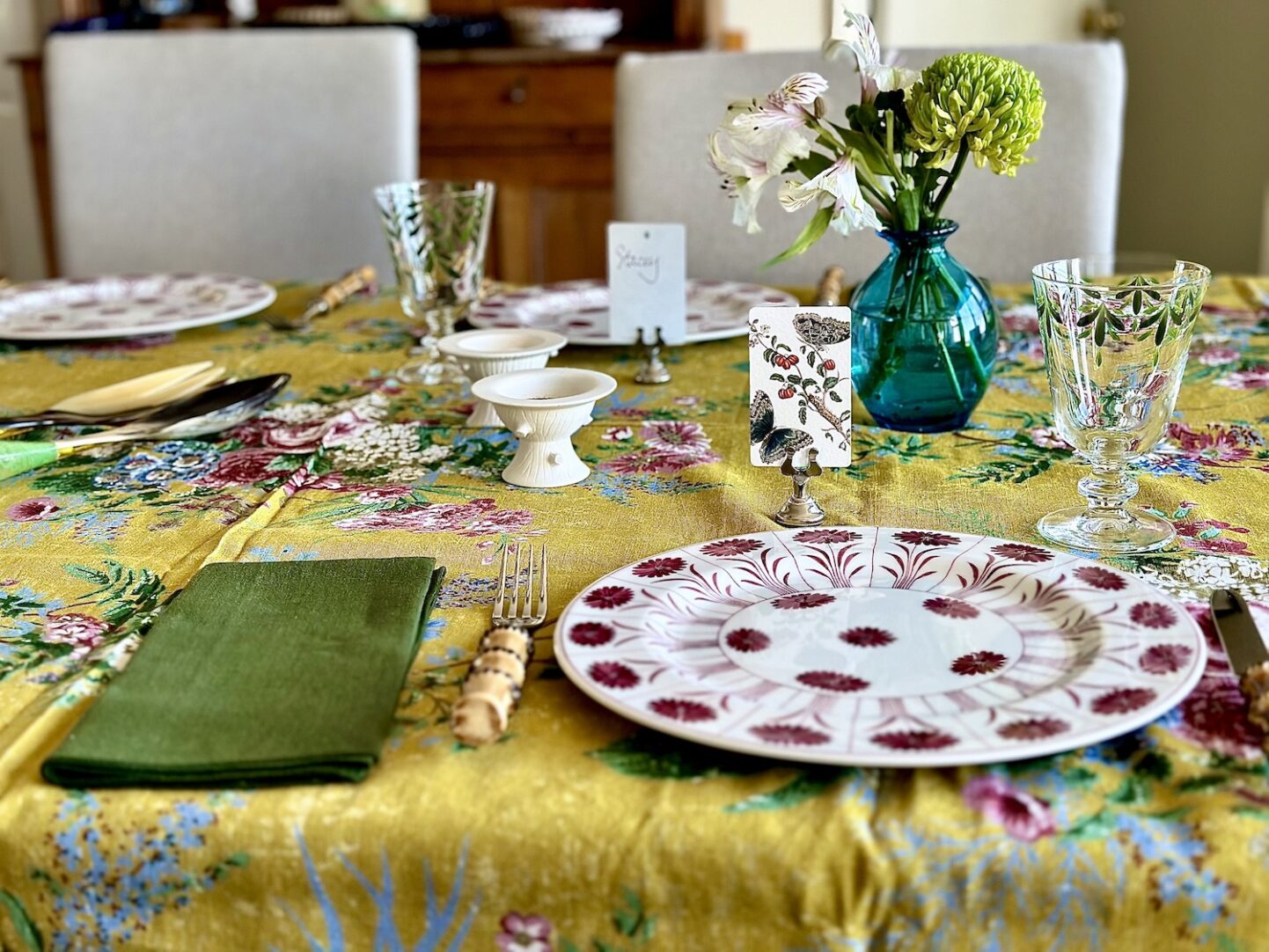 As Mr. P espouses, "As a new entertaining season begins, what better way to welcome each person than by acknowledging them with a personalized name card! Place cards are the ultimate welcome gesture, telling your guest, 'You belong. You matter. Here is your place at the table.'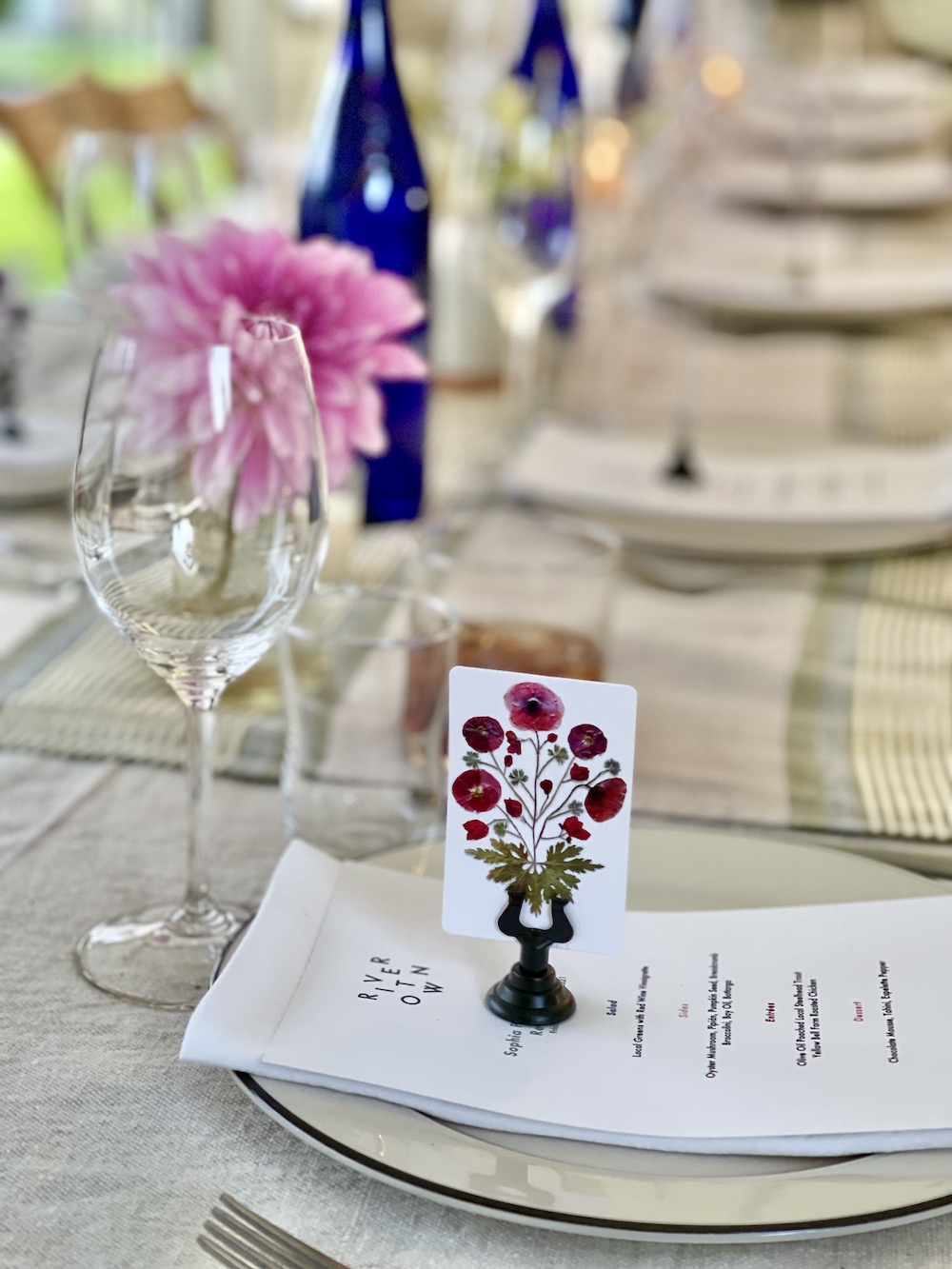 "Place cards set the theater of your table, conveying the 3Cs of Mr. P – celebrate, cherish, connect. If there's one thing we've learned from the pandemic, it's that any face-to-face gathering is a celebration. We've been reminded that these are truly moments to cherish.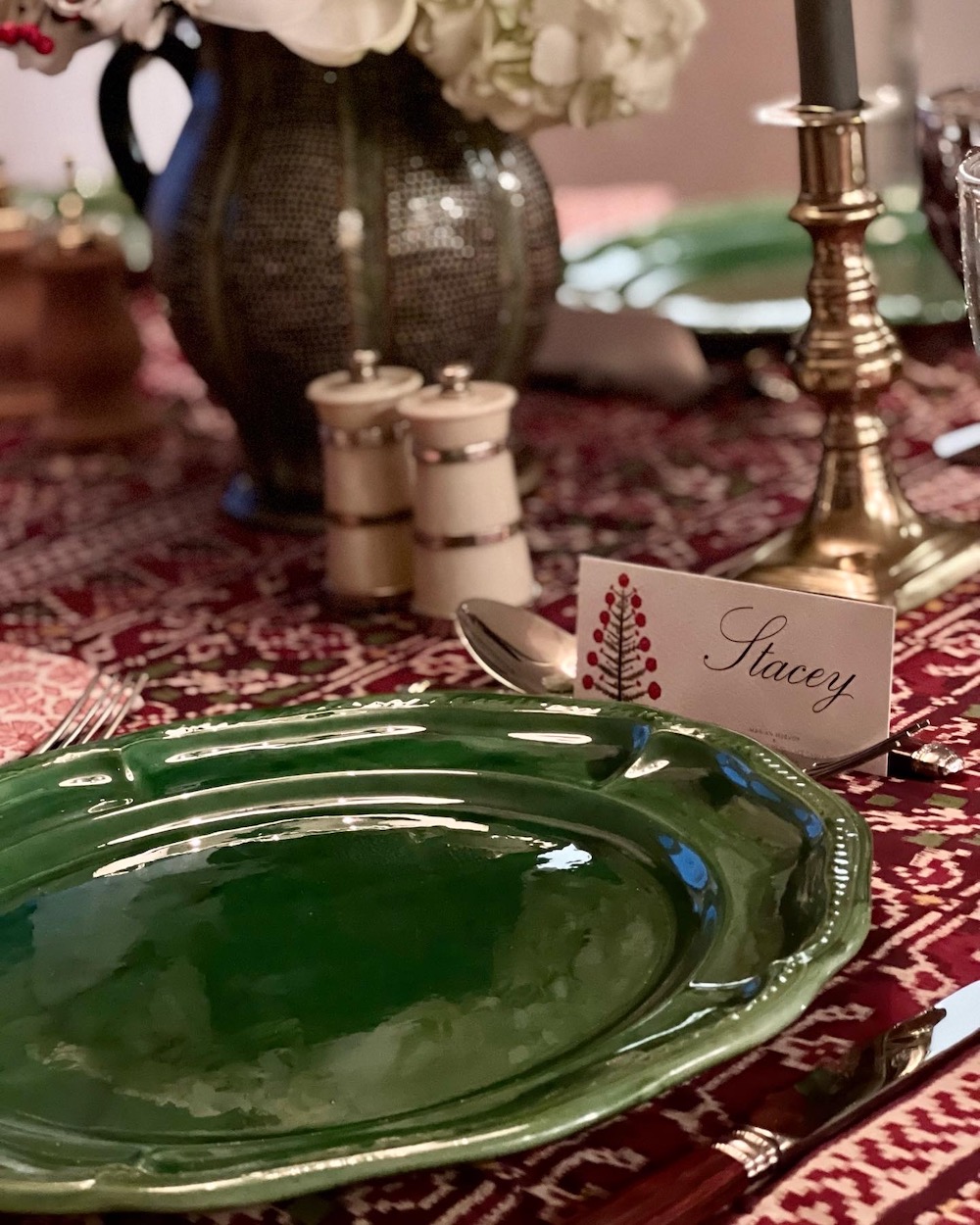 Place cards are the conversation starters that help establish and bolster connections with the guests across the table. So, you see, these are not just name place cards; they are a symbol of welcome, evoking warmth and intimacy, letting your guests know that you cherish them. When you're a host, that is a precious gift to give."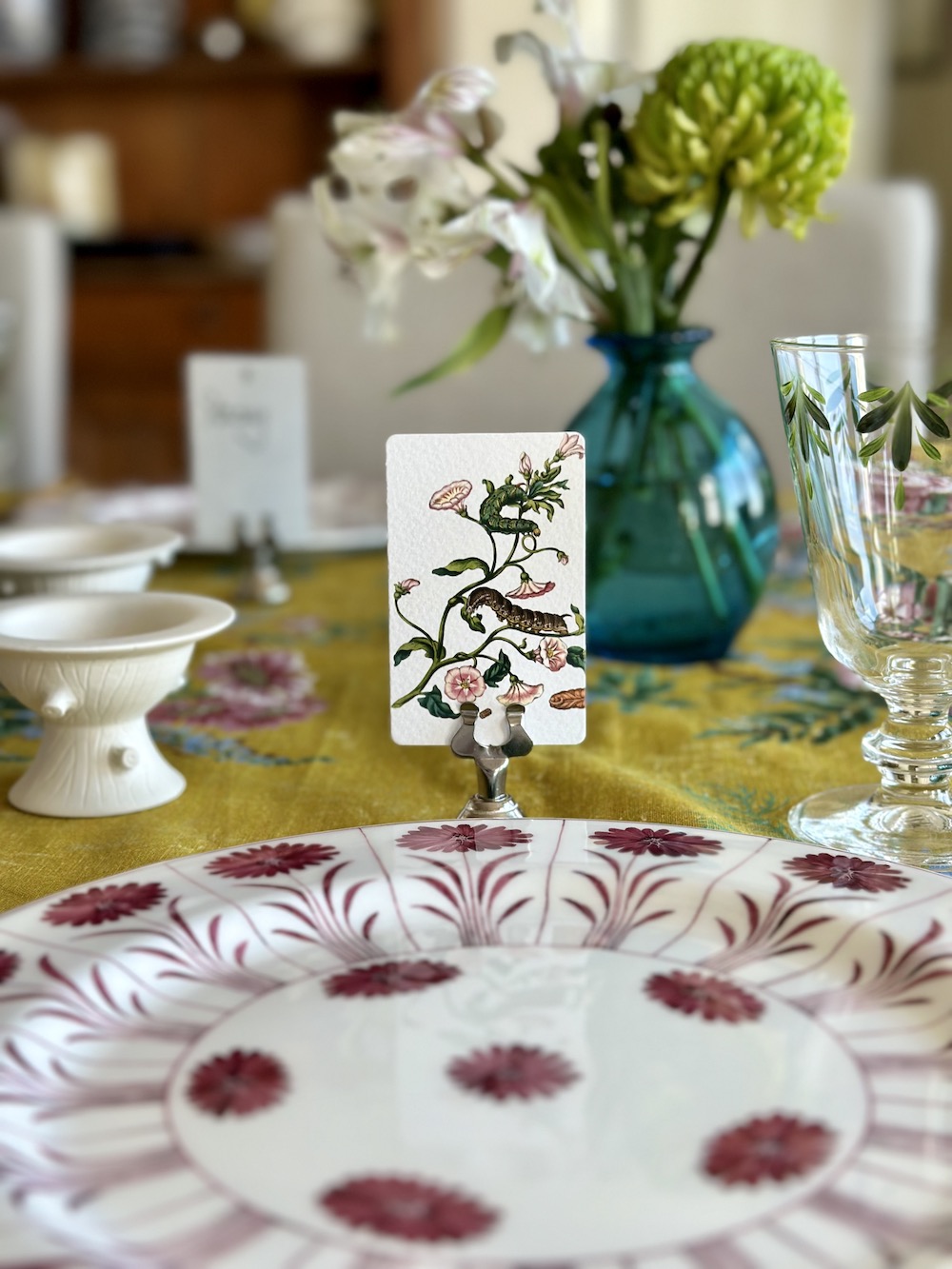 As I share of love of table and entertaining, I couldn't agree more with Karen and Martin's mission to raise and elevate the awareness of the goodness of gathering, so I am thrilled to be able to include a selection of their exquisite place cards and place card holders on Q Worthy!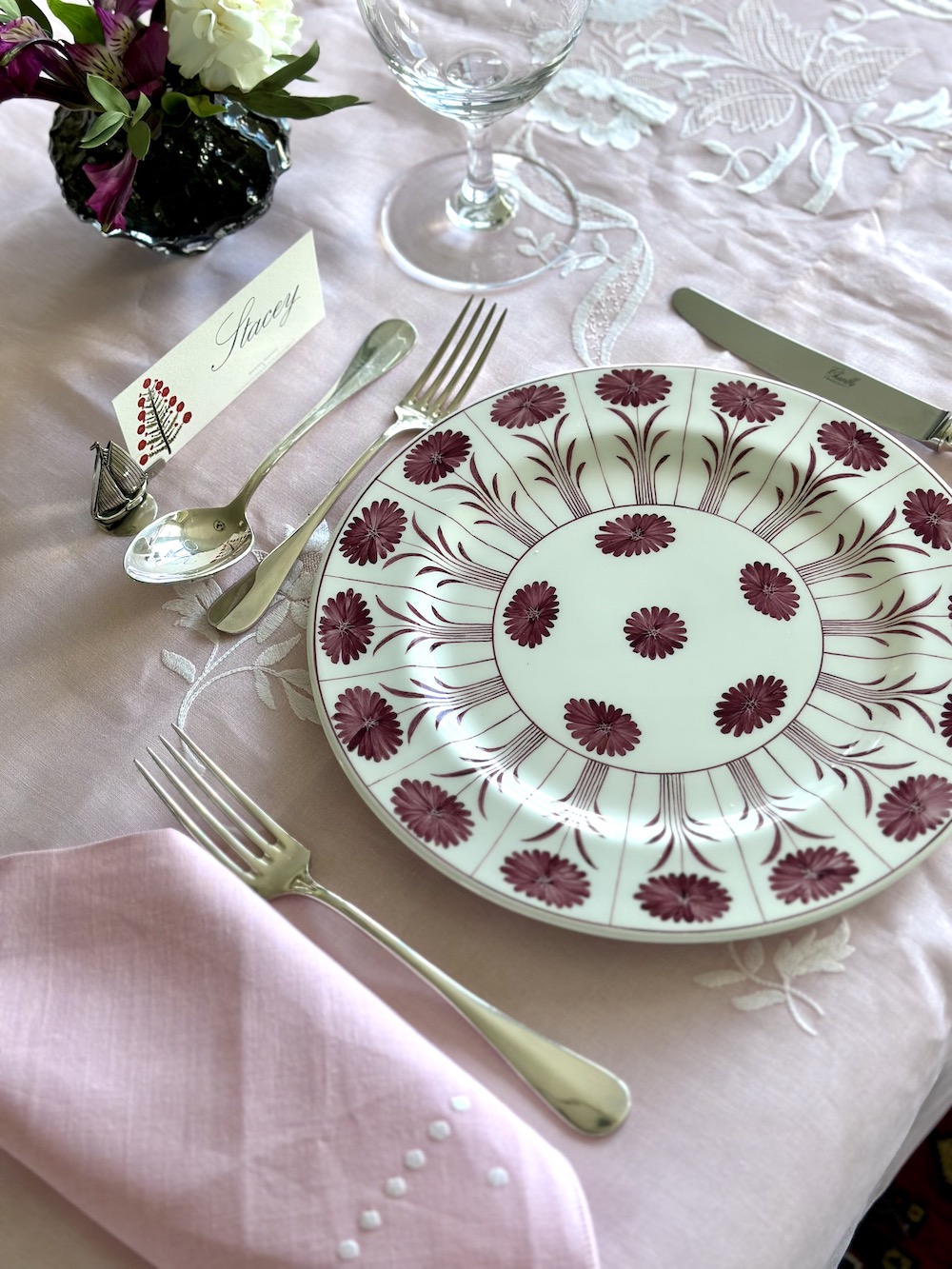 Above are a few of my tables graced with The Punctilious Mr. P place cards and below, a few friends who are helping Martin and Karen celebrate National Place Card Day as well! As Susanna Salk, my partner in Quintessence videos, explains, "Place cards are the most instant and distinct way to make your guests feel that this table has not just been set, but it has been created, for THEM. Their very names are already distinguishing this meal, before their personalities have even arrived."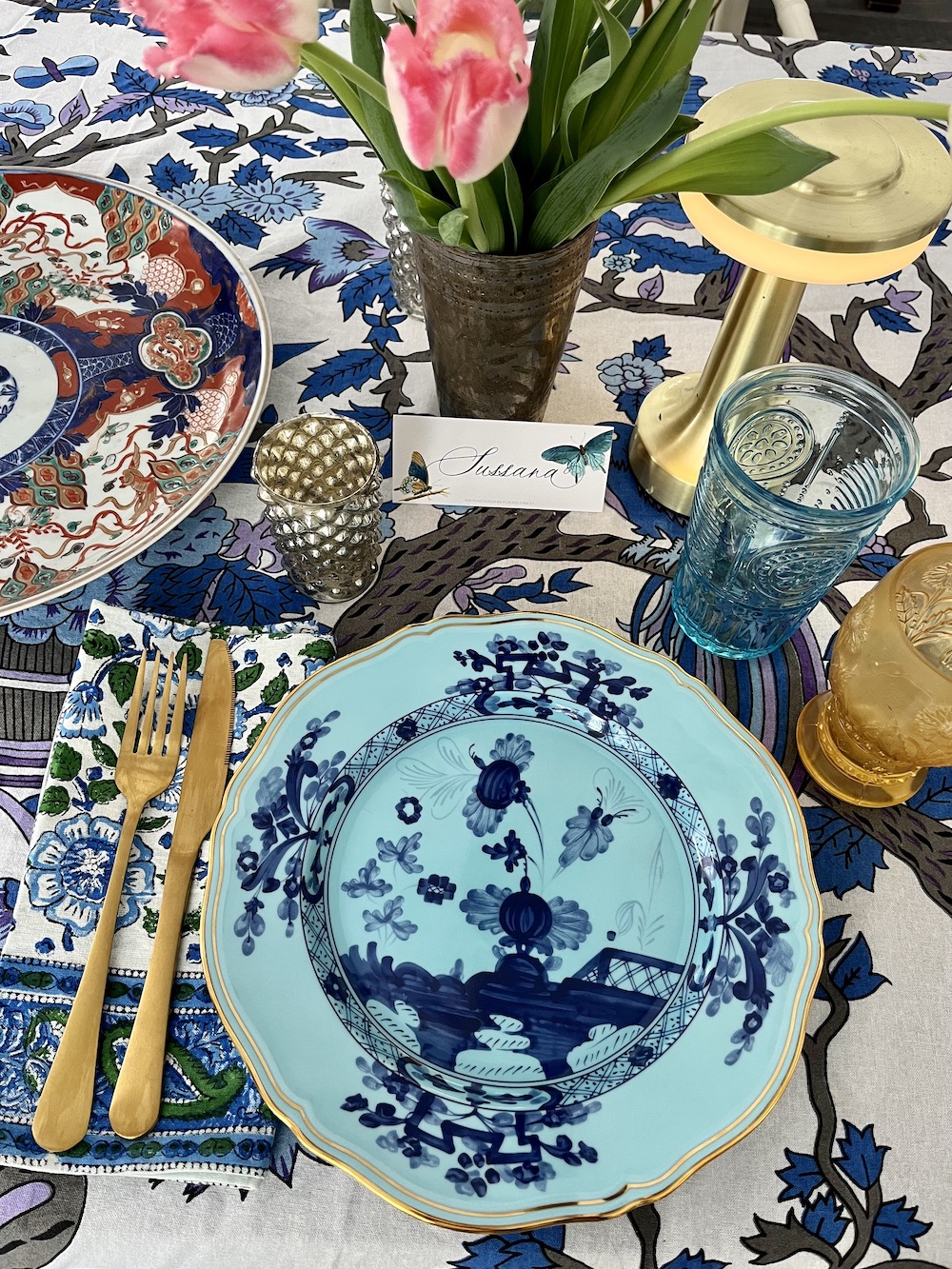 Designer Matthew Smyth chose the Citrus Garden place card which works beautifully with his collections – Creil-Montereau Faience, gold trimmed charger, cup and saucer from Bill Goldsmith Porcelaine Limoges and mid-century candlesticks.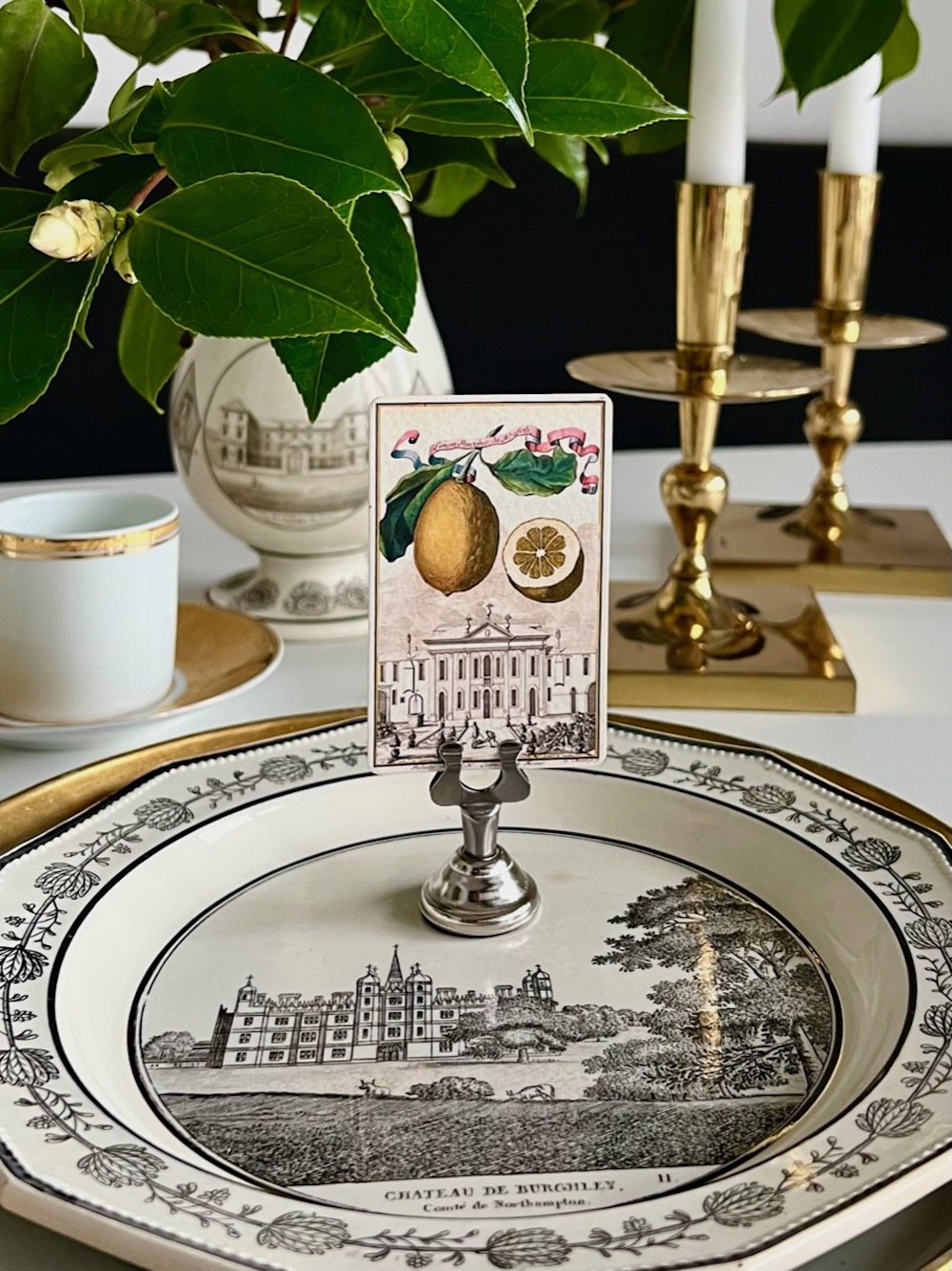 "Every dinner guest  enjoys seeing  their name on a Place card.  It's a personal touch that conveys  thoughtfulness . I still have my personalized place card from lunch at Marian McEvoy's many years ago ! It brings a smile to my face !  Marion has reminded us, with her Instagram posts , how important and fun  that final step is .
Place cards are not only a lovely finishing touch to a dinner table but an invaluable tool in the subtle art of balancing personalities !"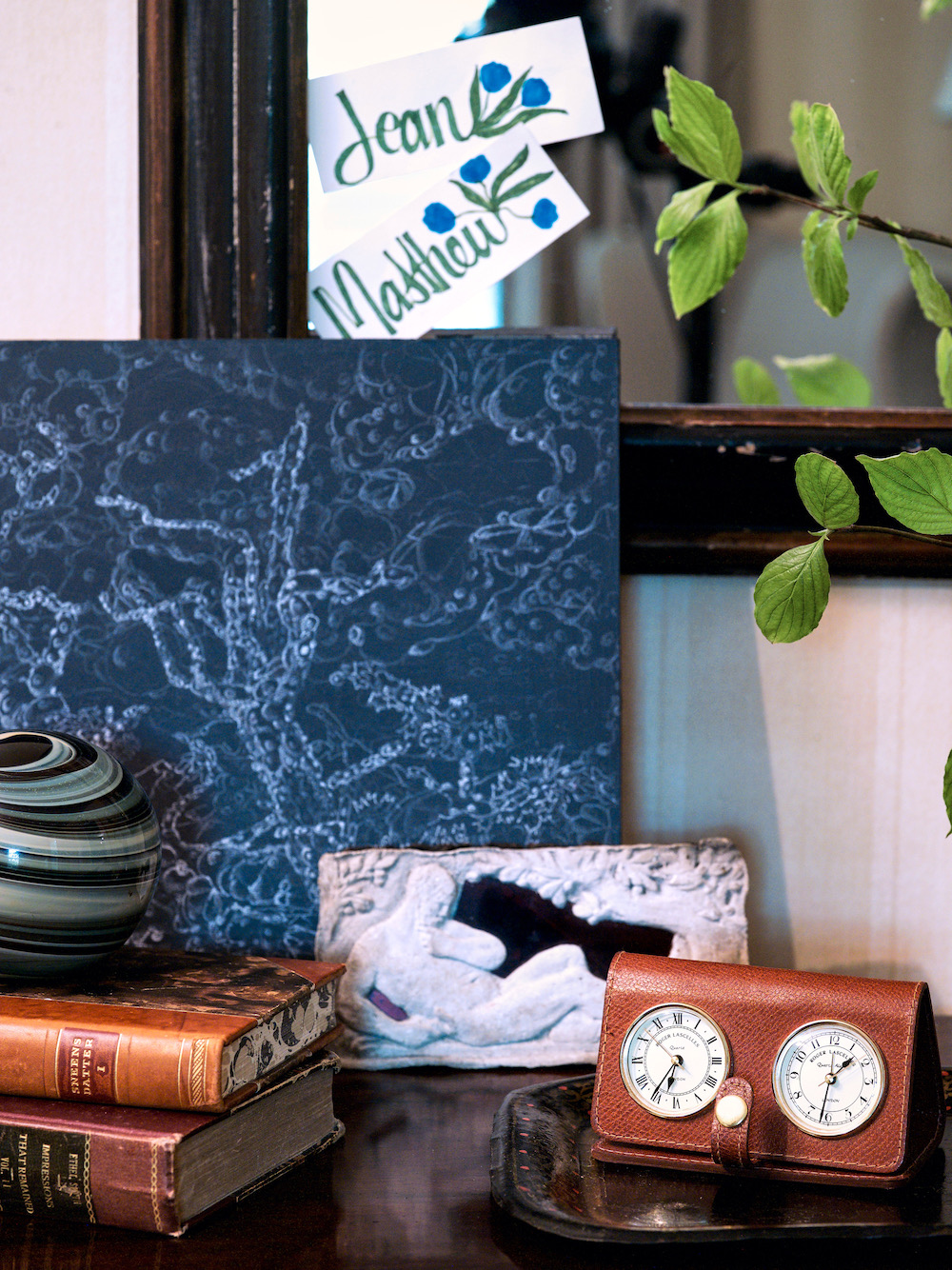 Marian McEvoy's passion for entertaining is addictive and so it is not surprising that she partnered with The Punctilious Mr. P's Place Card Co. for a collection of enticing place cards and products. For her National Place Card Day™ table, she used her Floral Fantasia place cards.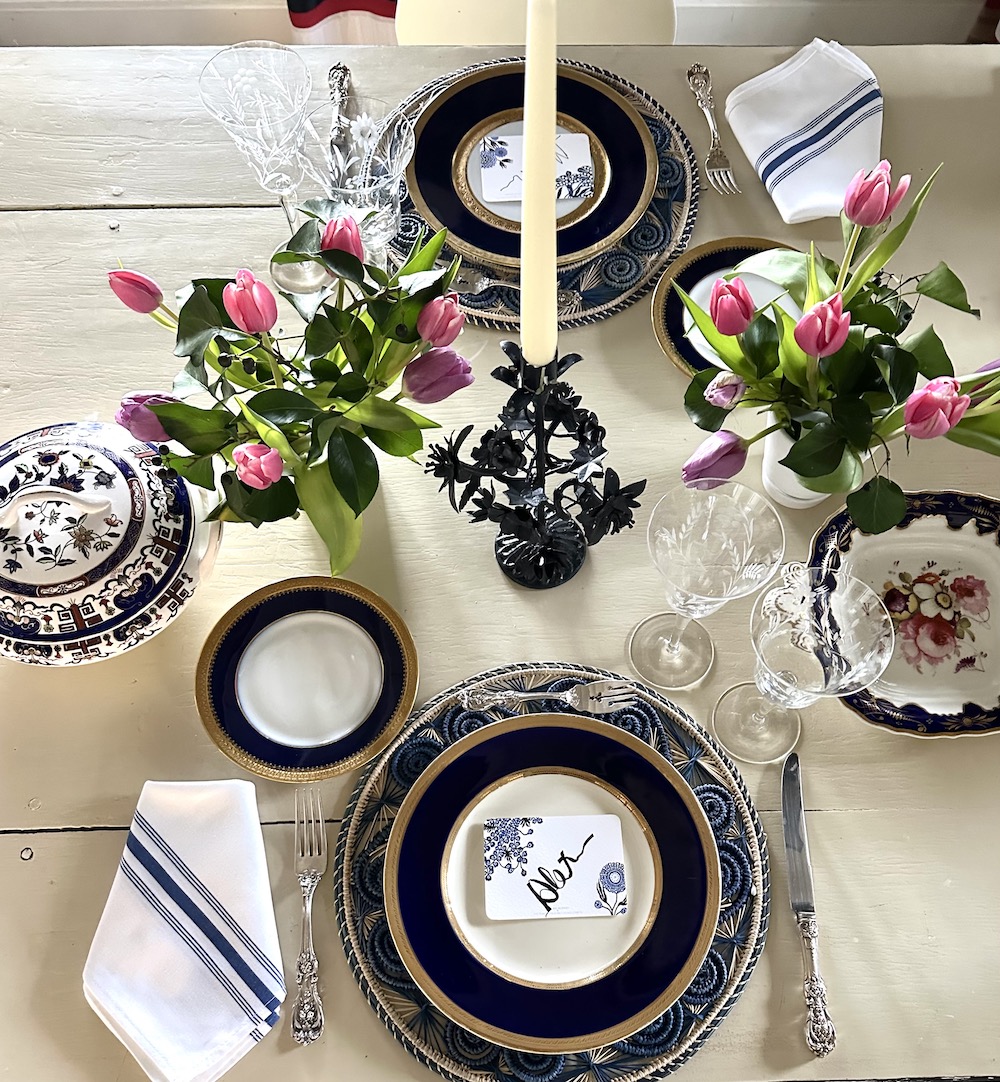 "An artful place card is a sure, simple way of showing your guests that you thought of each and every one of them as you planned the meal and set the table. Your guests have a visible, personalized place in your home— and maybe in your heart too!
Sentiment aside, using place cards at a seated meal provides a clever host the opportunity to seat people next to other people that they might not know well, but might hit it off with. Place cards can help hosts be the producer and the director of the setting —and the action — at every party."
For more of Marian's distinctive tricks of the trade for successful entertaining, be sure to (re)watch our Setting the Table video visit with her at her charming Hudson Valley home !
As the author of his own books on entertaining, shop owner Ted Kennedy Watson knows a thing or two about setting the table.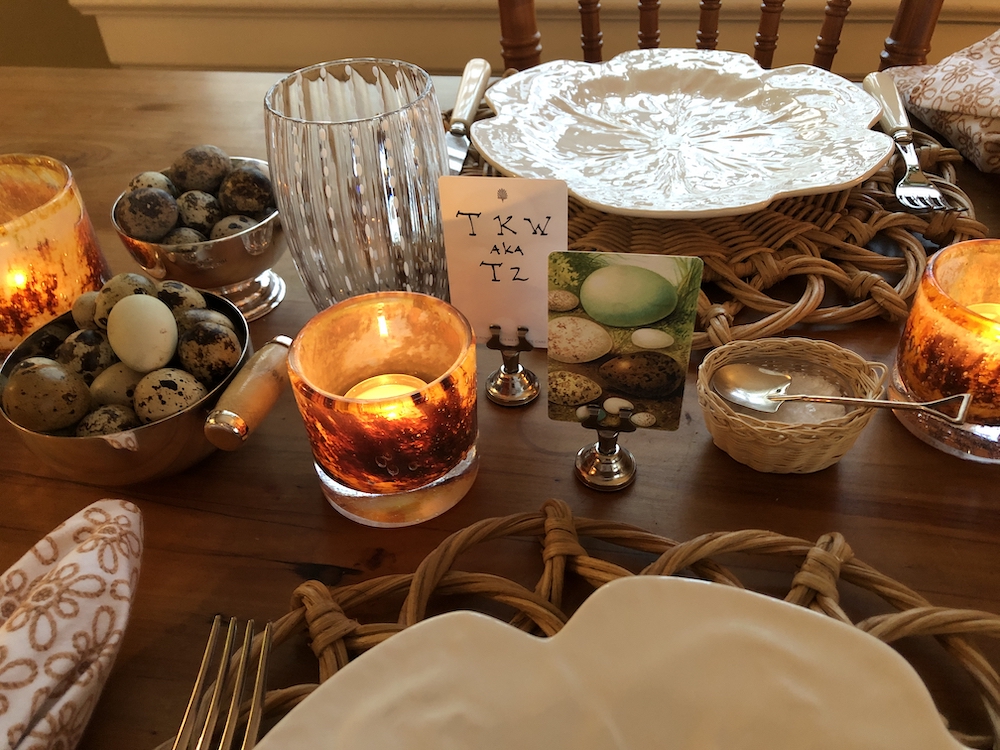 "I love place cards as they add an instant flair & stylishness to a table tableau. They also give order so you can place folks where you feel is best. Plus they are a lovely keepsake and reminder of a swell soirée for your guests."
—Ted Kennedy Watson, author of Ted Kennedy Watson's Guide To Stylish Entertaining
And you can also get more of Ted's entertaining tips in our video visit with him at his charming Vashon Island getaway and his upstate NY home, Hawthorne.
Not only is friend Alessandra Branca a wildly talented interior designer but her every expanding Casa Branca brand offers fabrics, wallpaper, porcelains and linens for the bed and table for adding instantly chic style to your home.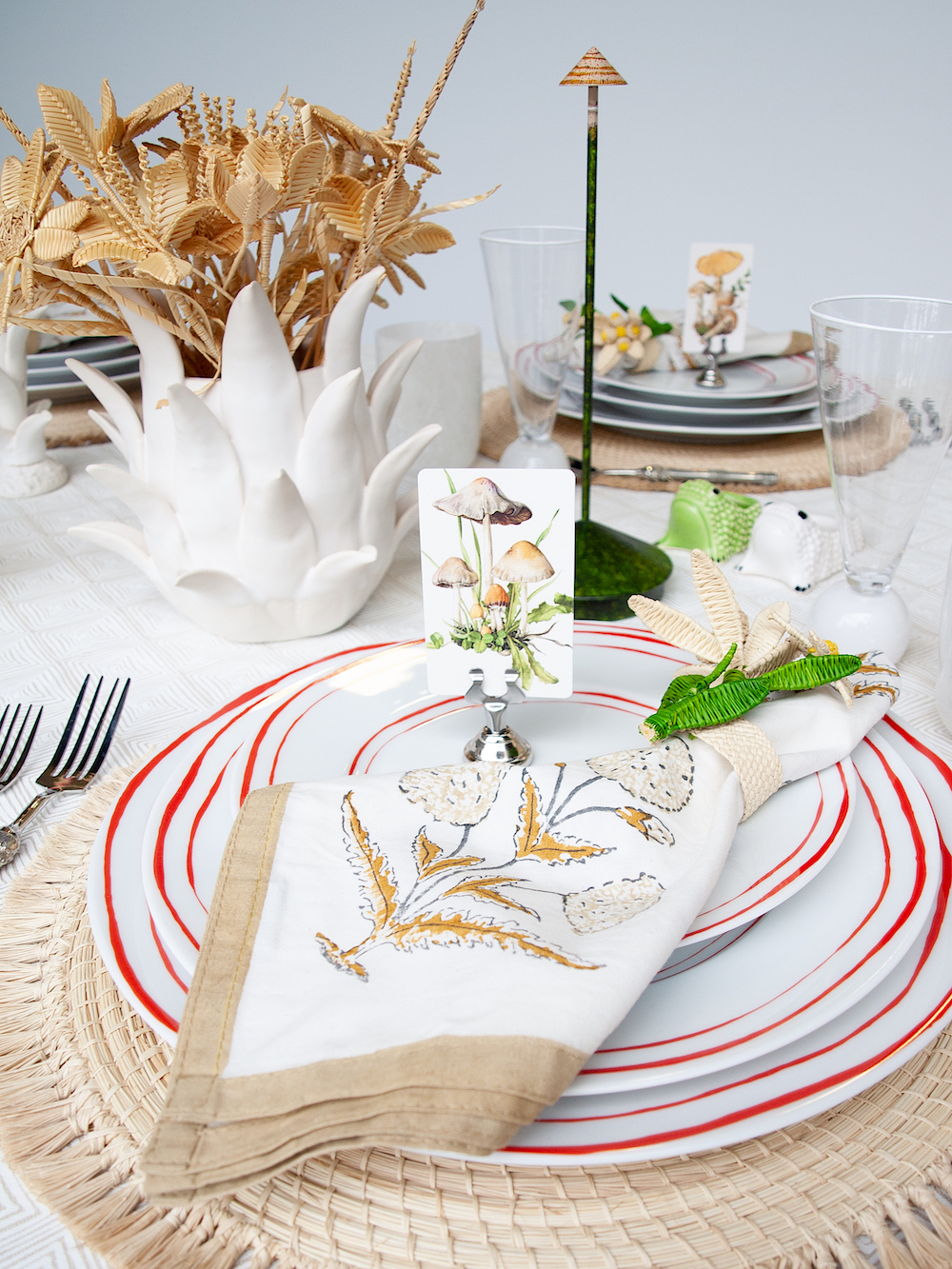 "I love place cards because it is always kind as a host to help people find their place as well as introduce them to new friends and reacquaint with wonderful old ones. It is also a wonderful way to accessorize and personalize a table! "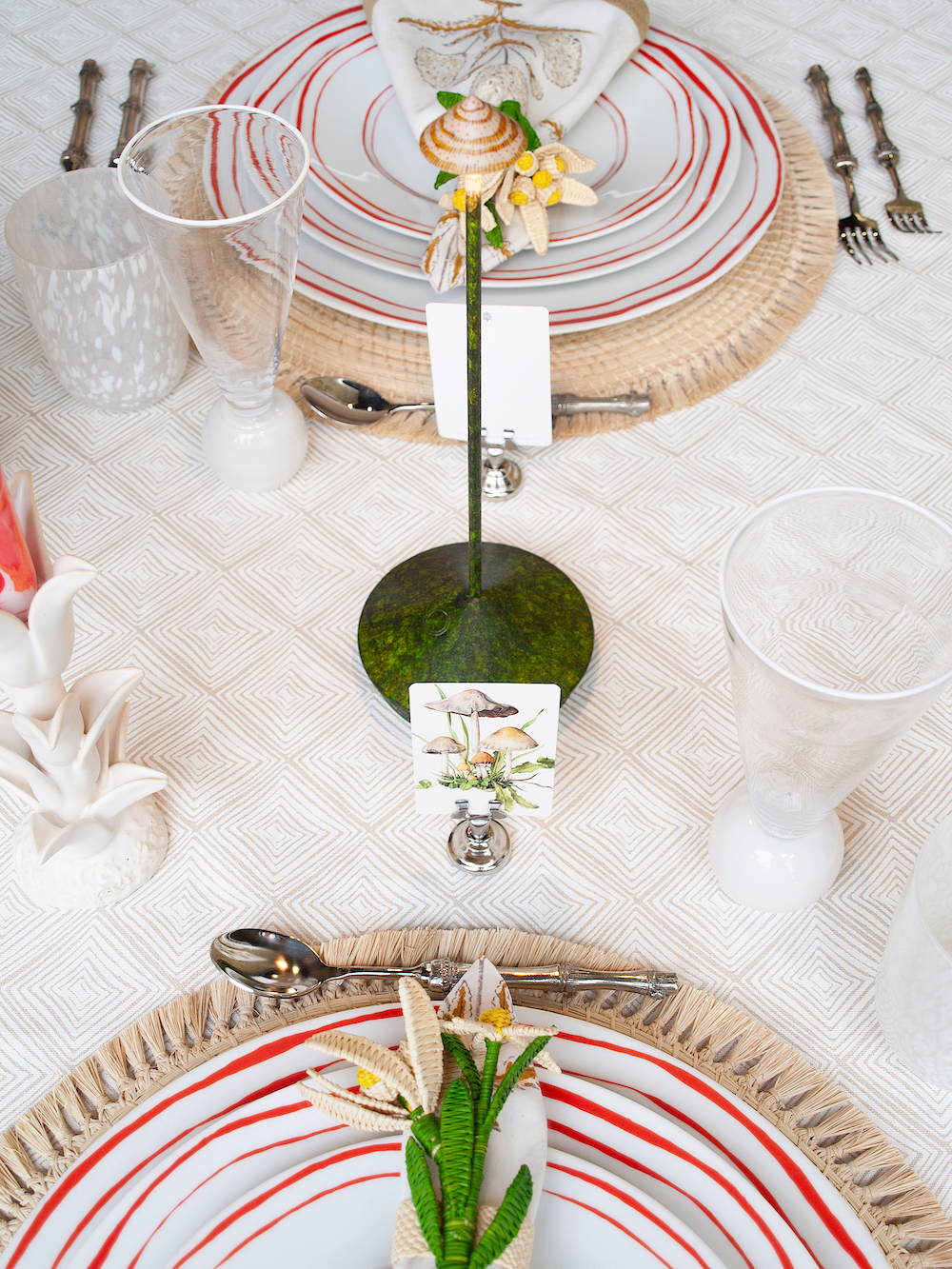 Longtime friends, interior and textile designer and author Michael Devine and partner interior designer and custom furnishings consultant Thomas Burak are lucky enough to have in-house wares to set a beautiful table! Michael's signature limoges collection by Marie Daage and a tablecloth in his Orangerie wave from his fabric line work perfectly with vintage glassware and flatware and of course place cards from Mr. P!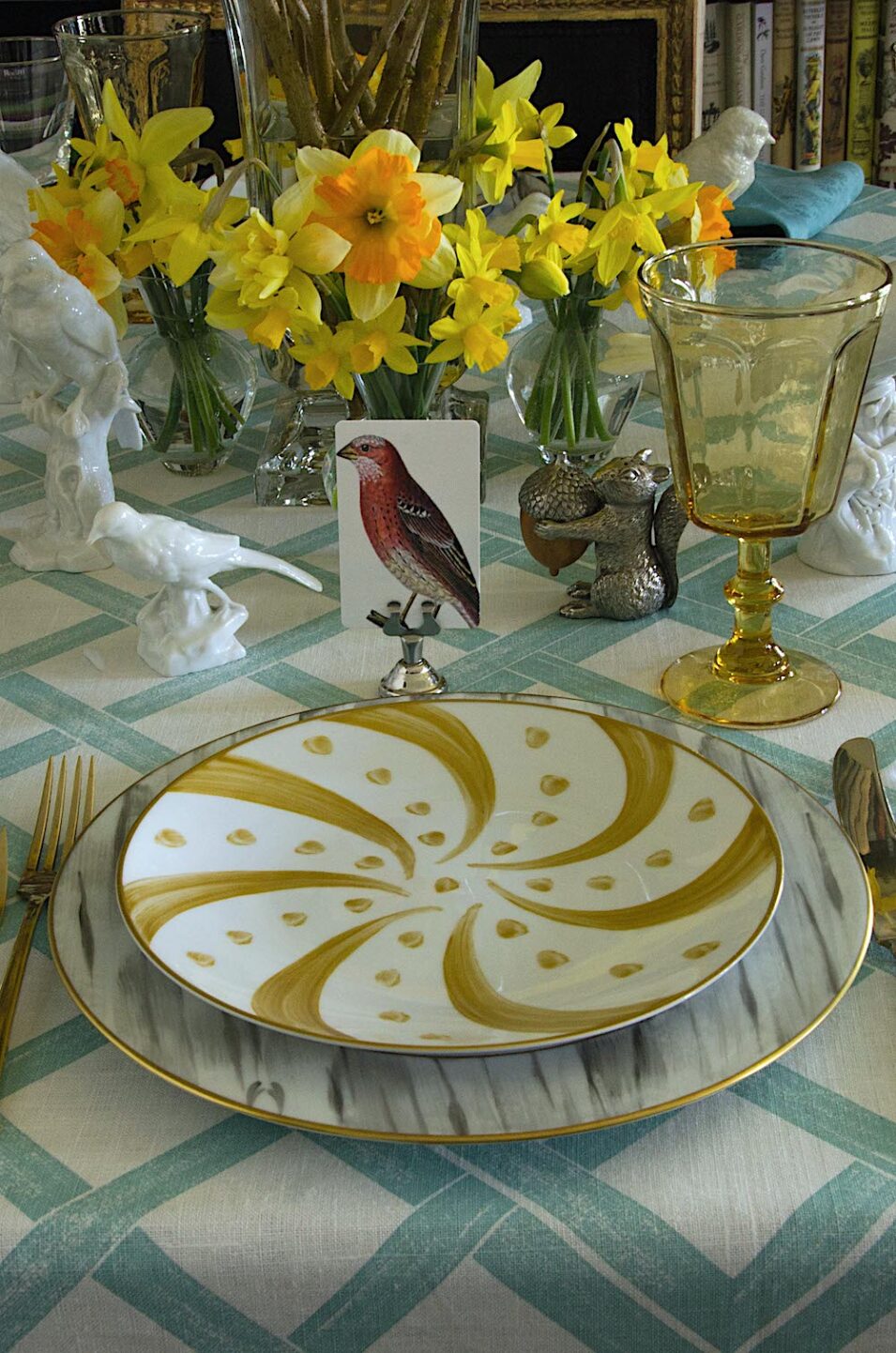 "My go to for chic place cards is always Mr. P's place cards. They have the best designs and colors to add an extra bit of dash to any table setting."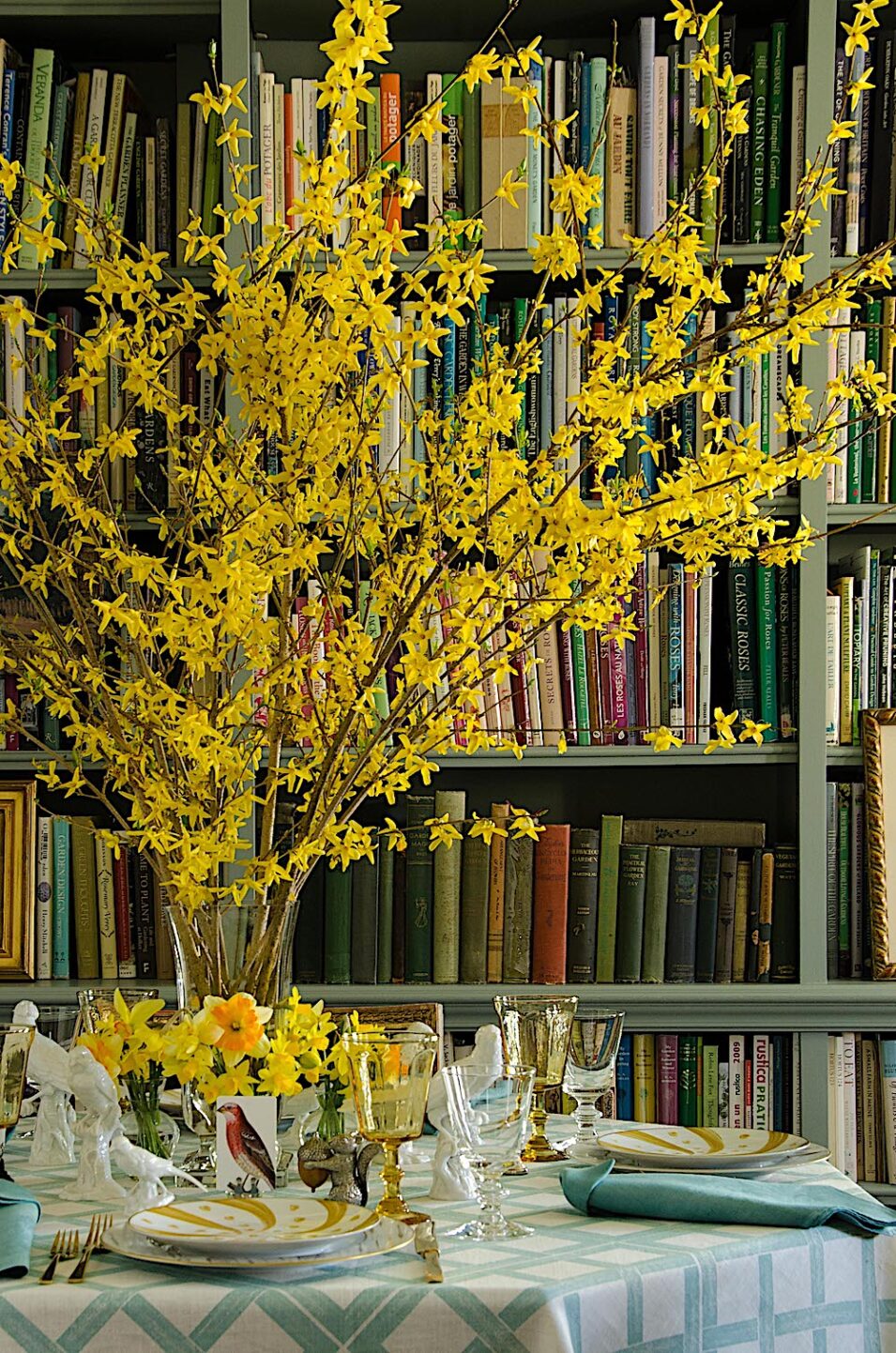 While friend Audrey Margarite holds her bachelors and masters degrees in architecture, she has led various creative lives. She branched out into interior design eventually working 12 years for legendary designer Bunny Williams, then co-founded home accessories and tabletop company Fete Home with Jennifer Potter and most recently is Marketing Creative Director for Kravet. Needless to say, she knows something about design and style. Of Mr. P she says, "The prettiest way to personalize your table!"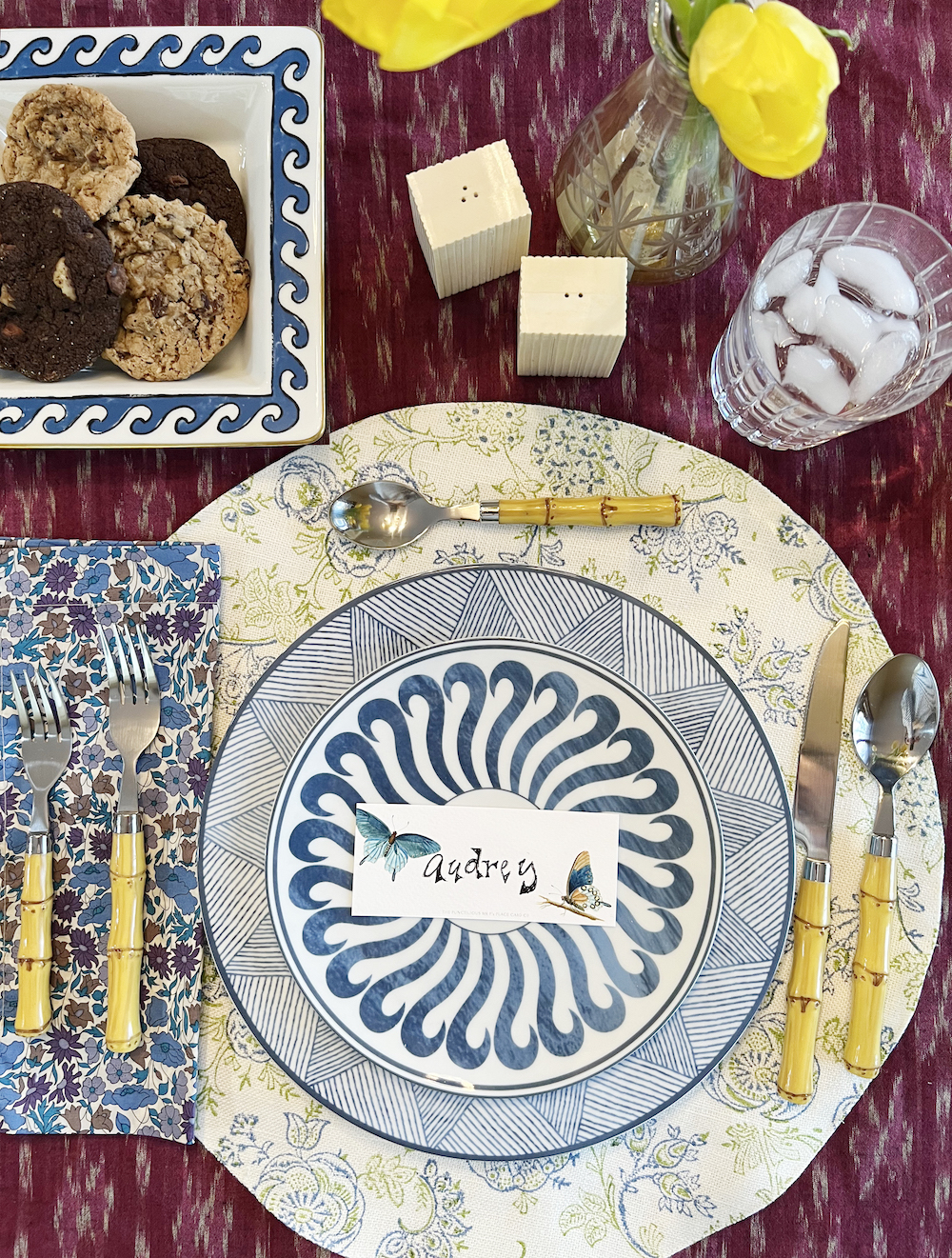 Artist Patricia van Essche, whose lively and whimsical artwork has graced many websites and products, was one of my earliest blogging friends . Her table echoes the colorful creativity seen in her illustrations. "A place Card always makes everyone smile and it not only serves as a reminder of your place at the table but also as a souvenir and a memory."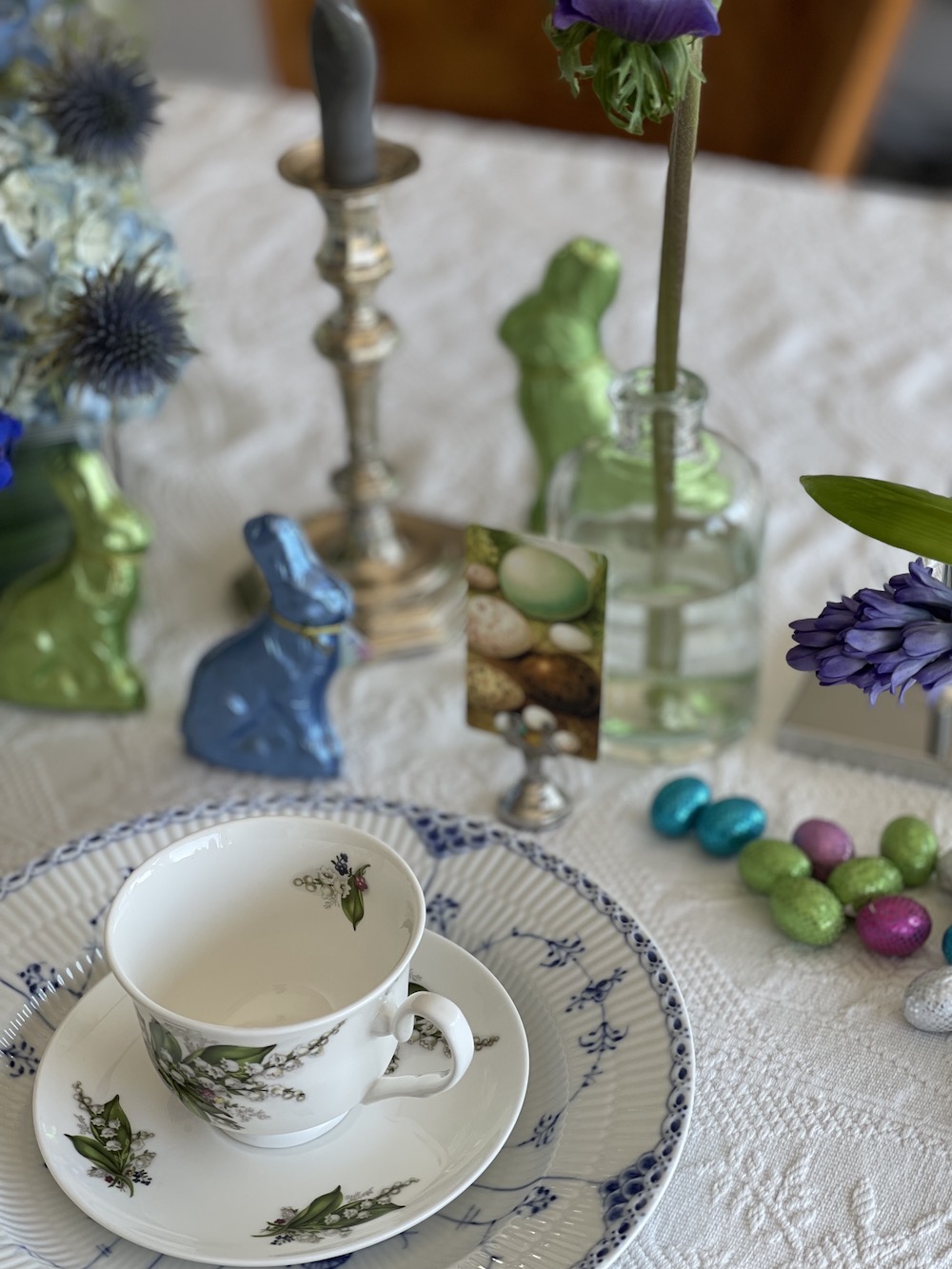 "I love Mr.P's Place Cards because not only do they set the tone for the table but they serve as a reminder, a souvenir and a memory of a time and place. Place cards add elegance and elevate your table and life. Guests rave over the cards too!"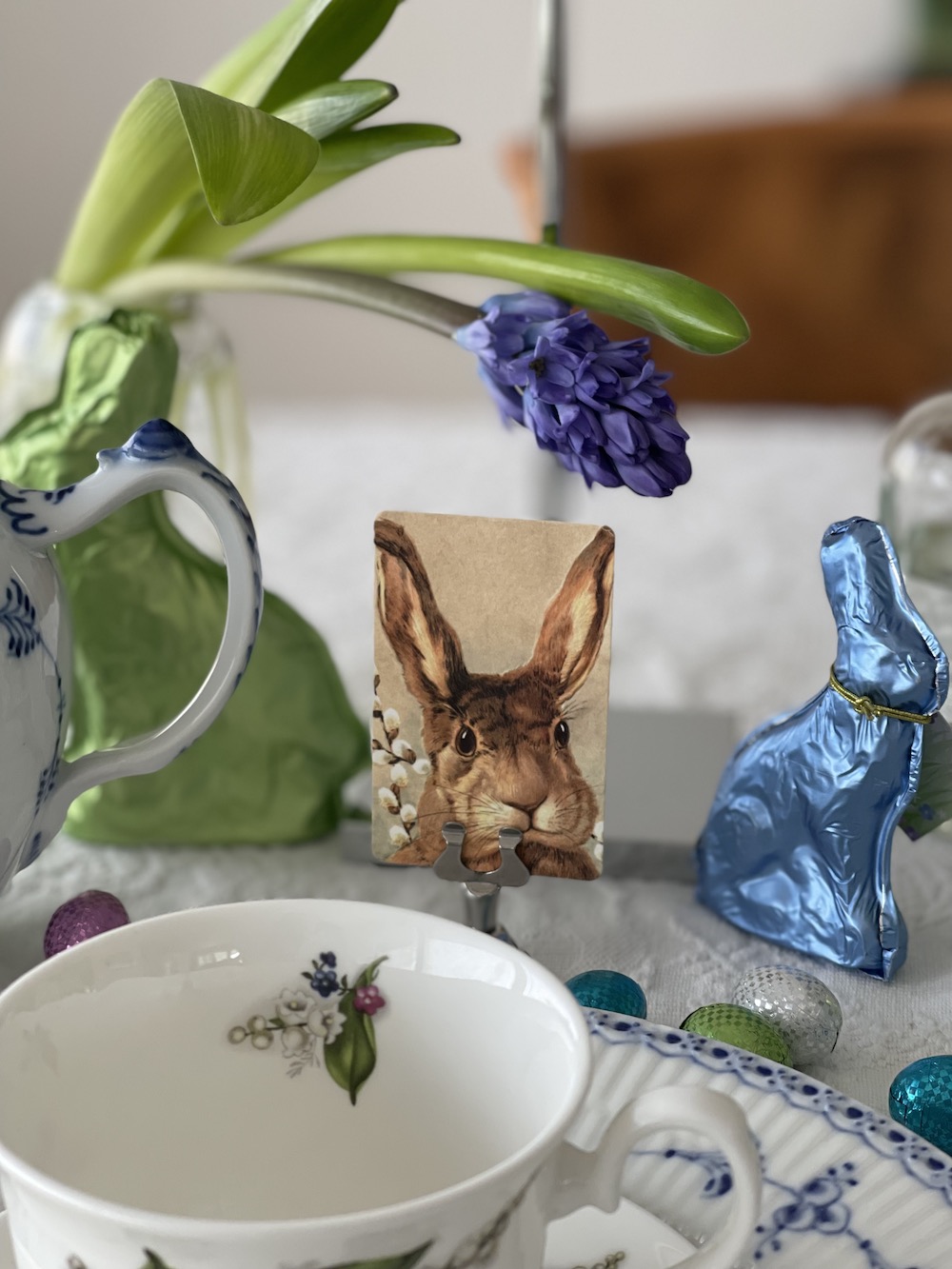 While Maura Endres and I have never met in person, for years we have been Instagram friends, where I have long admired her stylish home and elegant eye. Whether a simple meal or a holiday celebration, Maura always sets a beautiful table inspired by nature and the garden.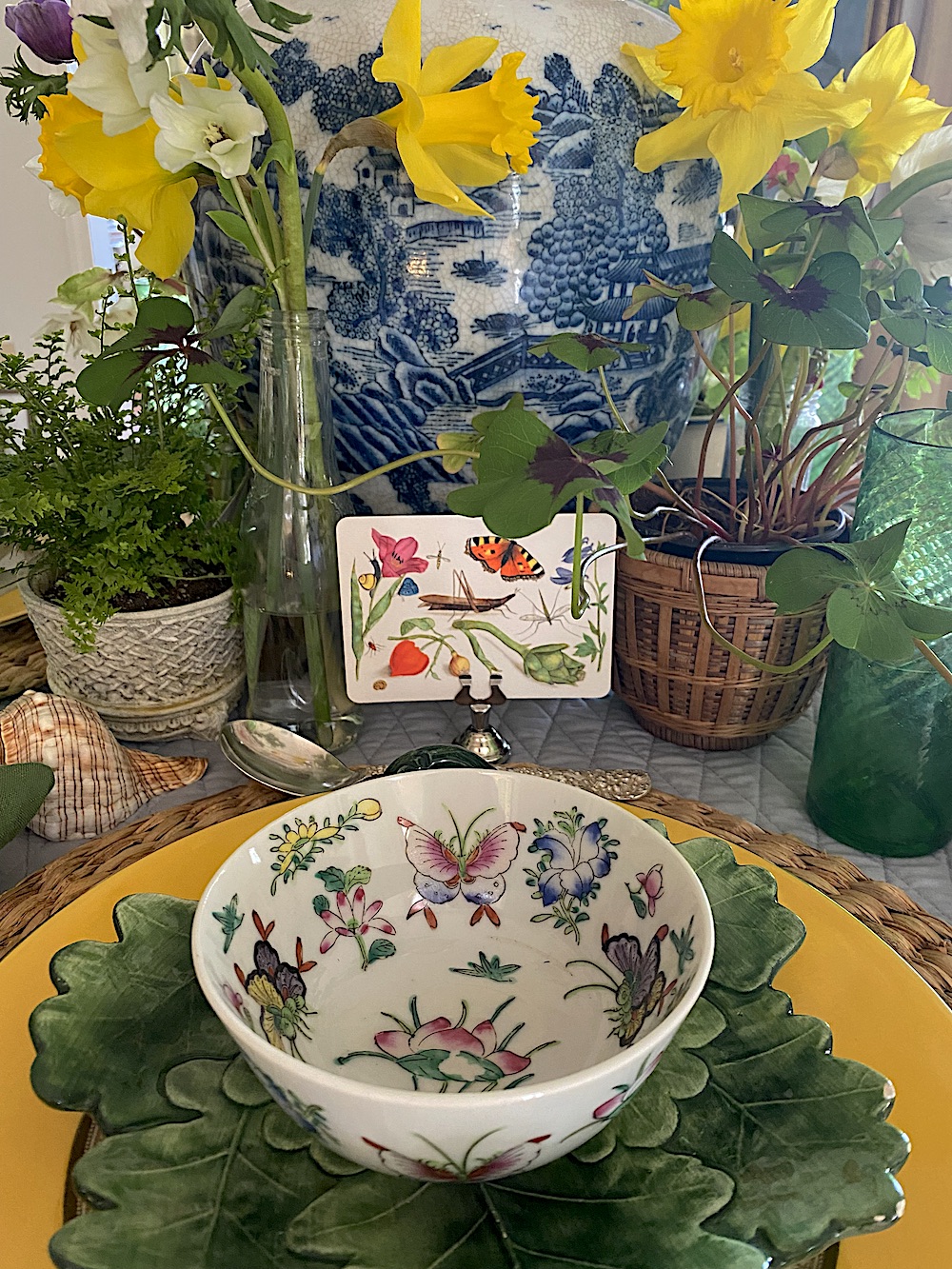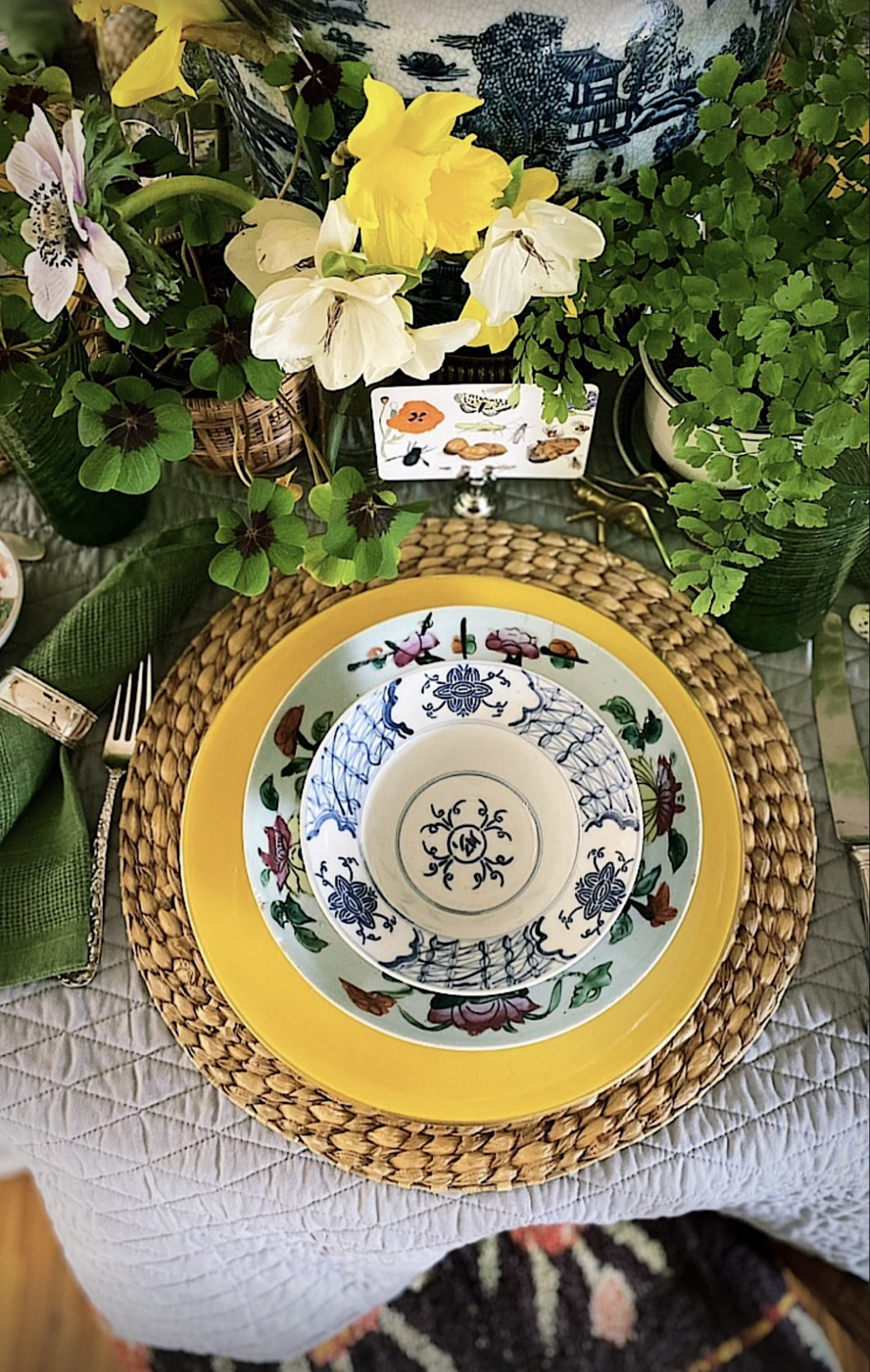 My most recent introduction, through Martin and Karen, is to Kimberly Driessen-Greitzer. A Creative Director, she also co-founded Silver Brothers Distillery, a family-owned grain-to-glass distillery of world class whiskey based on rye and barley from the unique terroir of its historic 220 acre farm in Old Chatham, New York. As part of this artisanal Hudson Valley community (Mr. P is also based in Old Chatham), Kimberly has a deep rooted interest in craft, the handmade and a finely tuned, nature-inspired aesthetic.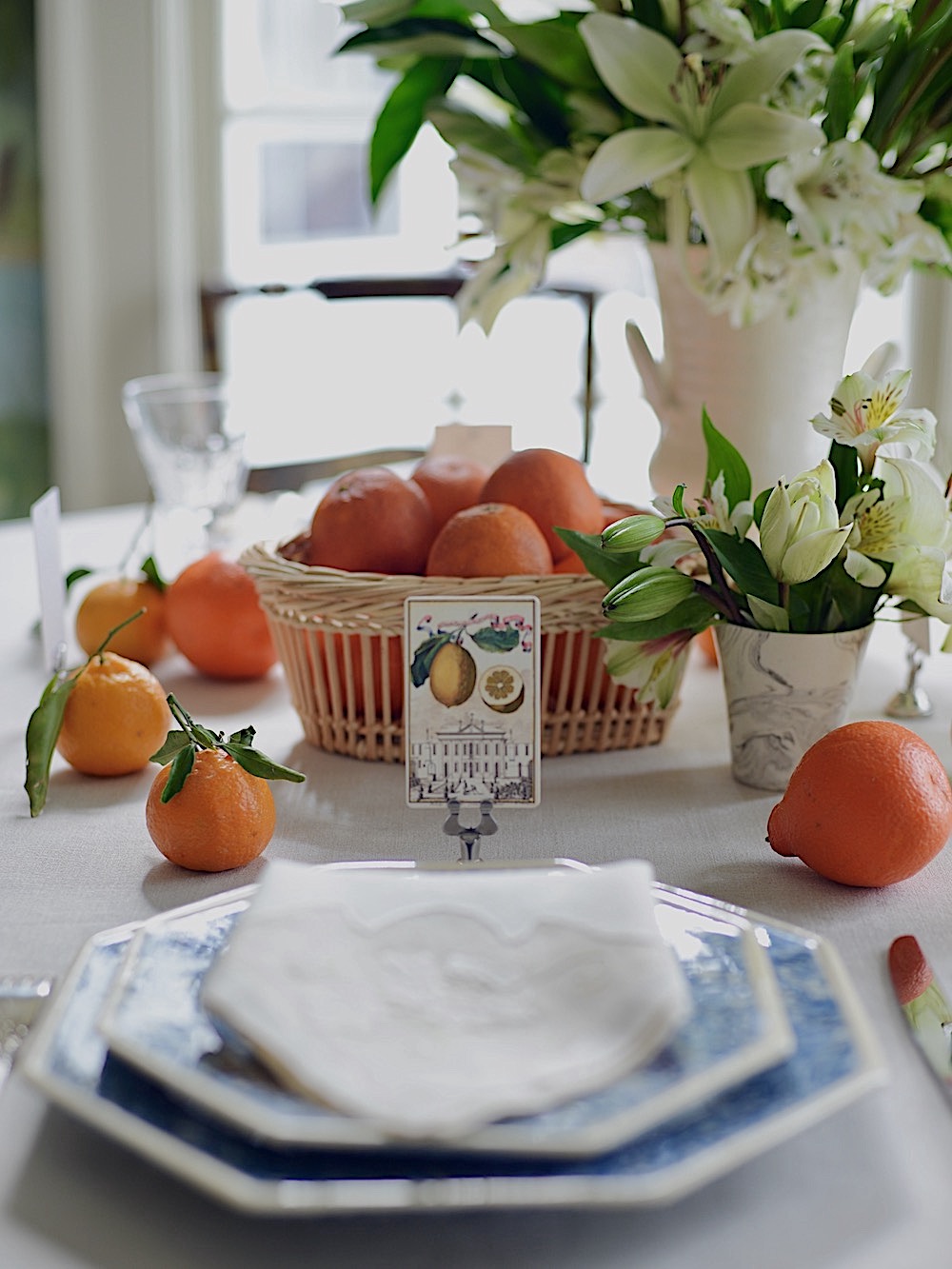 "I love how Mr. P's place cards add a pictorial element that hints at my own interests. As a garden enthusiast, I could not resist this set's combination of European citrus groves and botanical illustrations. Place cards make a lovely keepsake from an event – I often take mine home as a memento."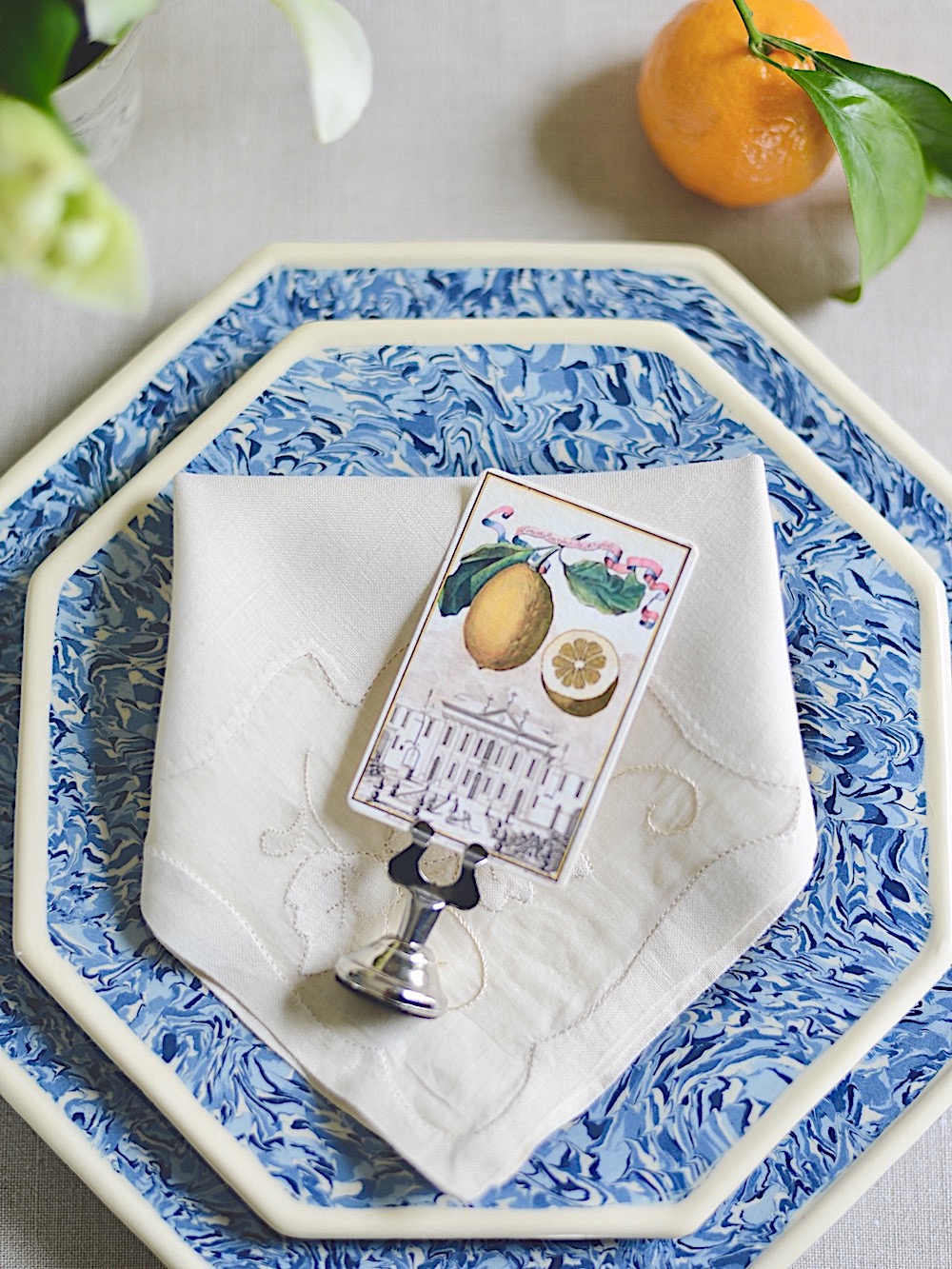 And be sure to (re)watch our At Home With video visit with Martin and Karen at their beautiful Hudson Valley home.