Most Saturdays, after closing up their two Watson Kennedy shops in Seattle, Ted Kennedy Watson and husband Ted Sive, head to Vashon, the largest island in Puget Sound. Here, overlooking the tidal strait Colvos Passage, is their idyllic retreat, WestWard, so named for it's westward facing location and their personal migrations west, Watson from the Midwest and Sive from the East. Together they have created a home focused on perfecting the art of imperfection and creating comfort without sacrificing style. Please join Susanna and me for a deep breath of fresh air and inspiration at WestWard.
In looking for a home on Vashon, a desirable island destination easily accessible by ferry from downtown Seattle, the Teds sought both woods (Ted S) and water (Ted WK), privacy and a west facing house, a rarity on the market, those homes mostly staying in families for generations. So when a former Mayor of Seattle was selling his small secluded cottage on three wooded acres on west facing waterfront, they knew it had to be theirs.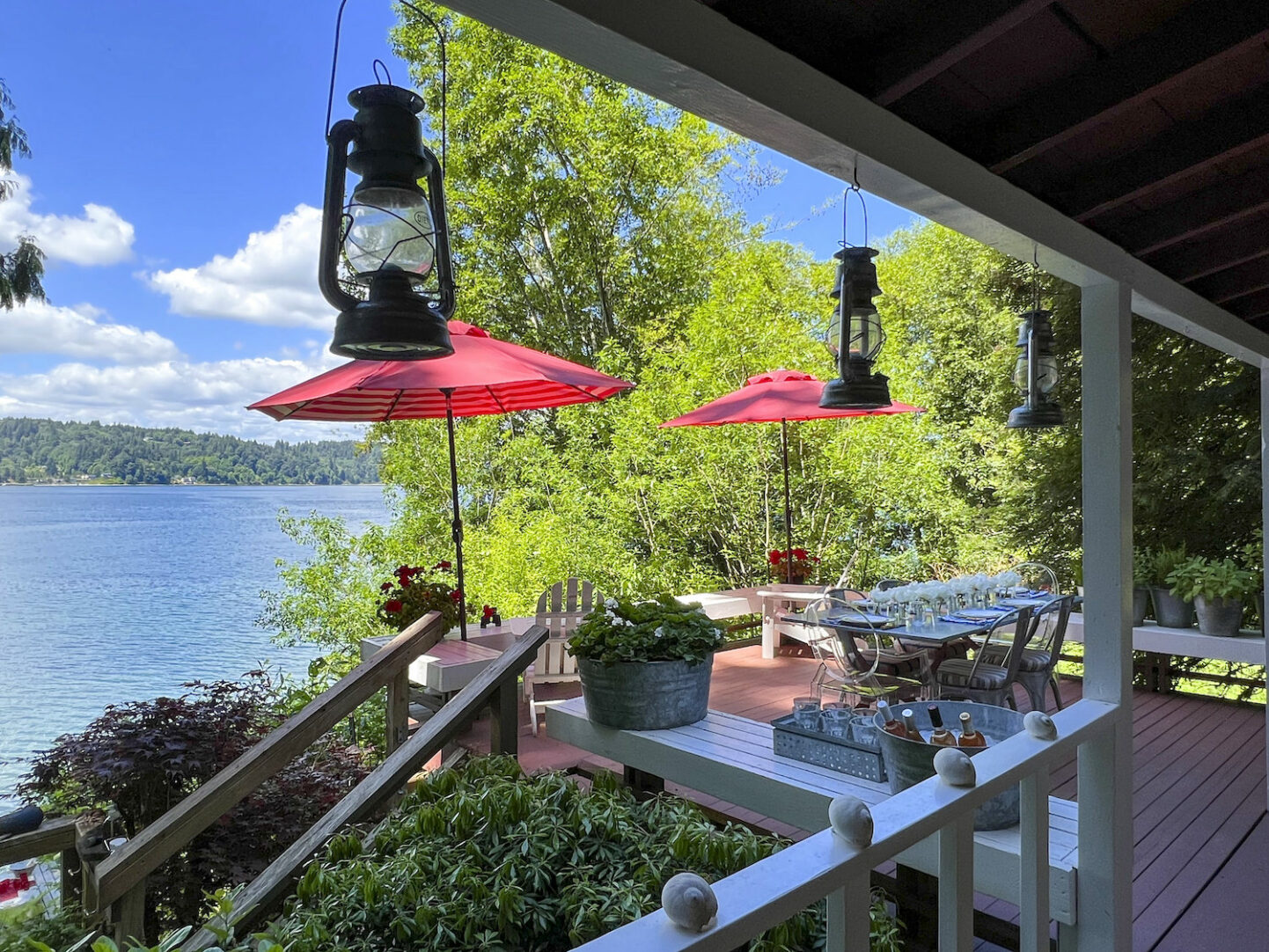 In thinking of the ambience for WestWard, Watson Kennedy and Sive were inspired by a friend's similarly sized beach house in Southold, on the north fork of Long Island, NY, where they had spent many happy times. "We always loved that nothing was precious but that everything had been given much thought. Even when you grab a fork or knife on a cheese platter, it is just right."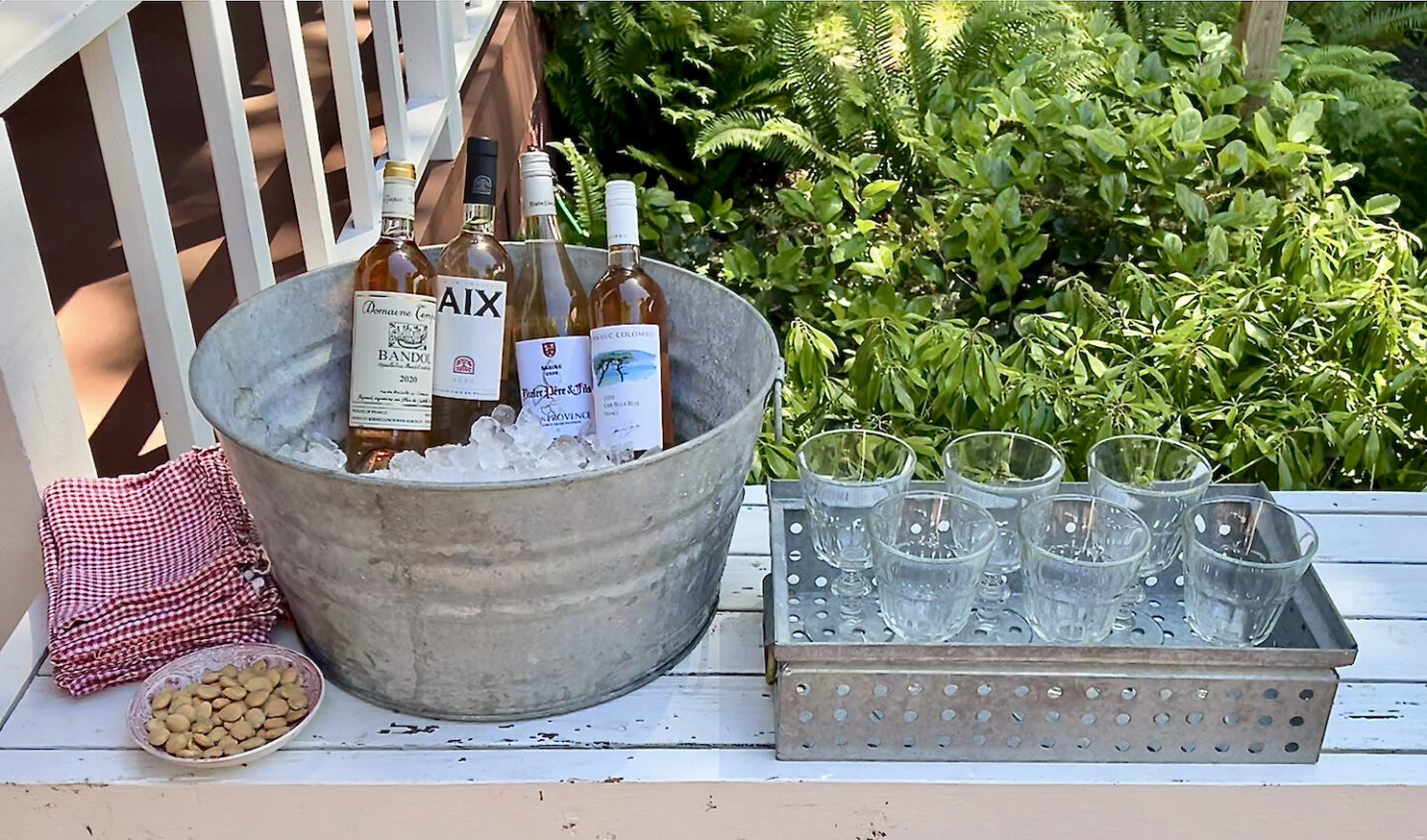 Ted Sive, then a partner at a general contractor, oversaw the renovations. With the goal of keeping it simple and straightforward, they focused on the water views and trees. Gallons of white paint, new French doors and repurposing of the large old windows, lightened up what was originally a dark interior.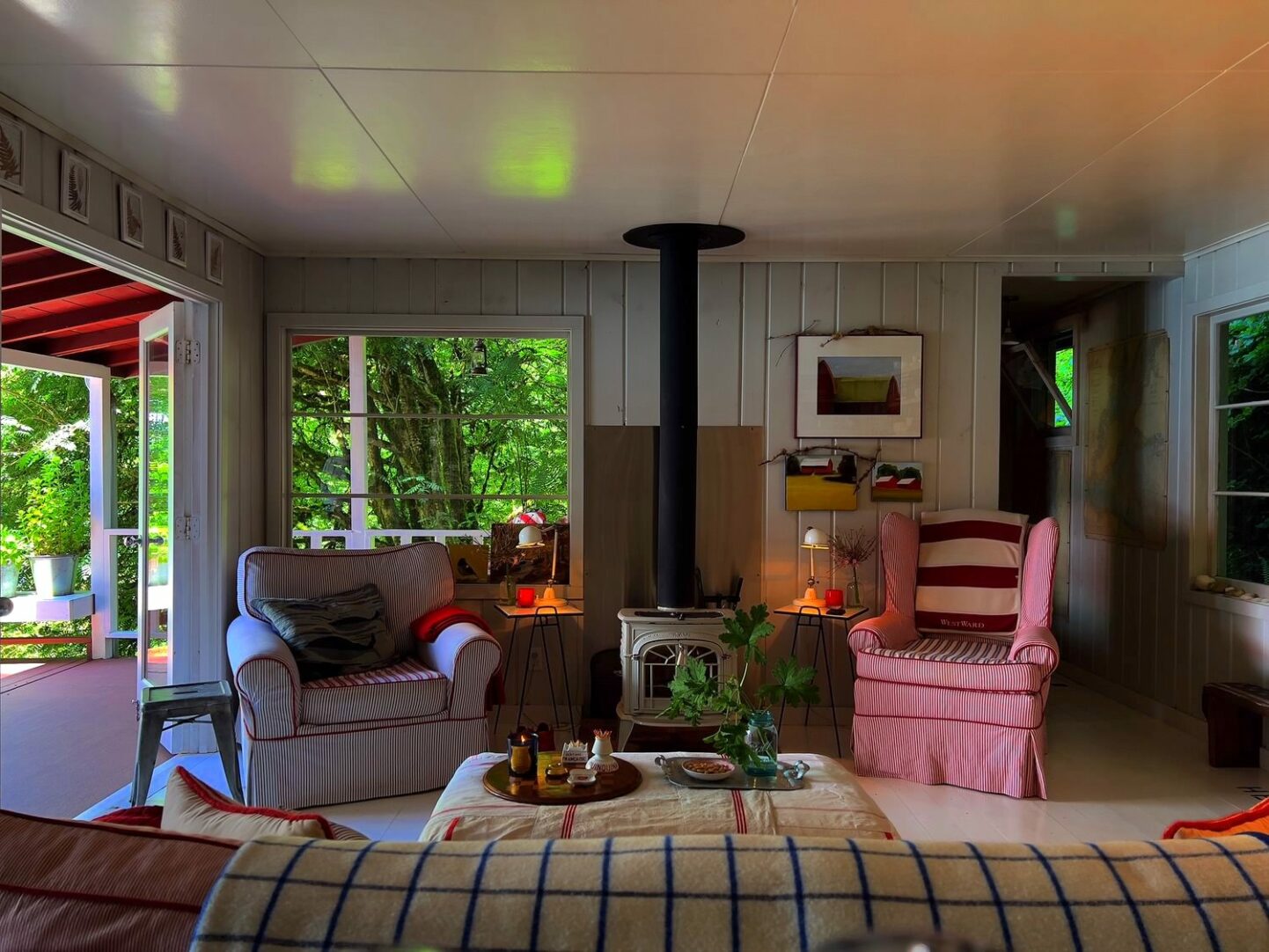 Whenever in residence, the former mayor flew the flag high above the red house. The Teds took note and translated the inspiration into an Americana themed red, white and blue themed interior. With layers of simple beauty, they have created comfort without sacrificing style.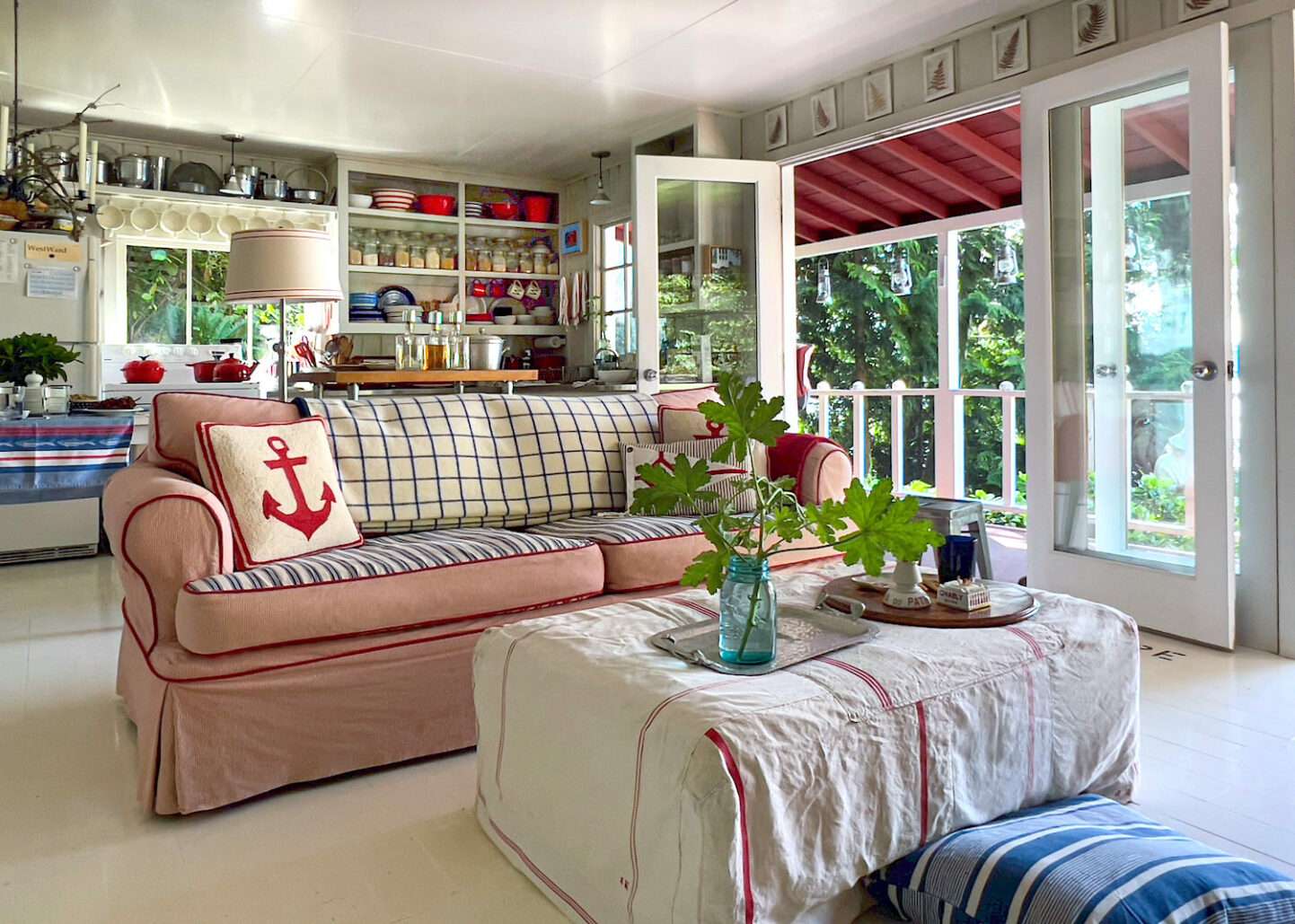 Even their tiny bedroom sings with style, incorporating the color theme with a nautical twist. Every item has a history and story, imbuing WestWard with personality and palpable love.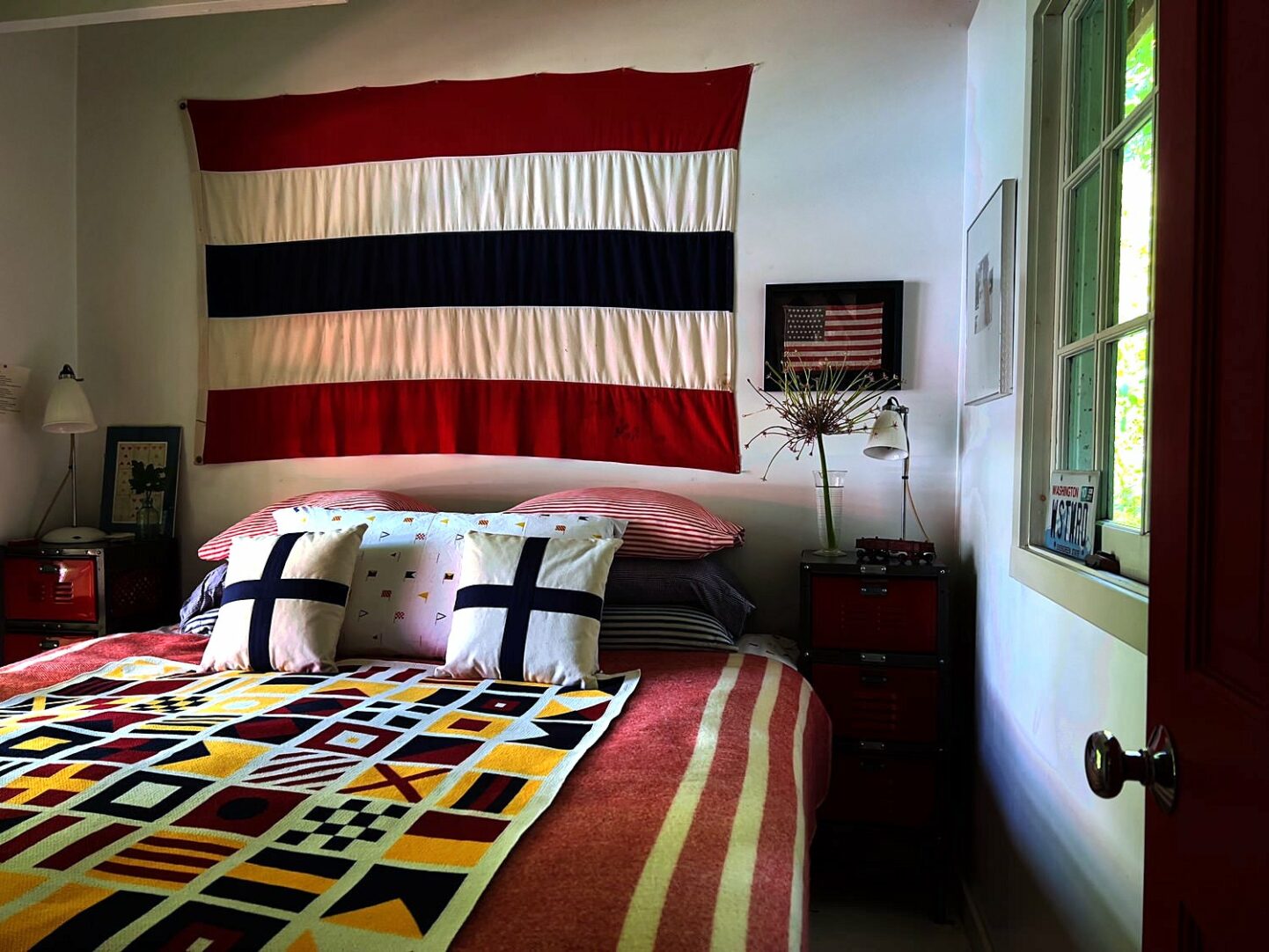 The Teds live large in their compact house with storage organization that is both functional and visually pleasing.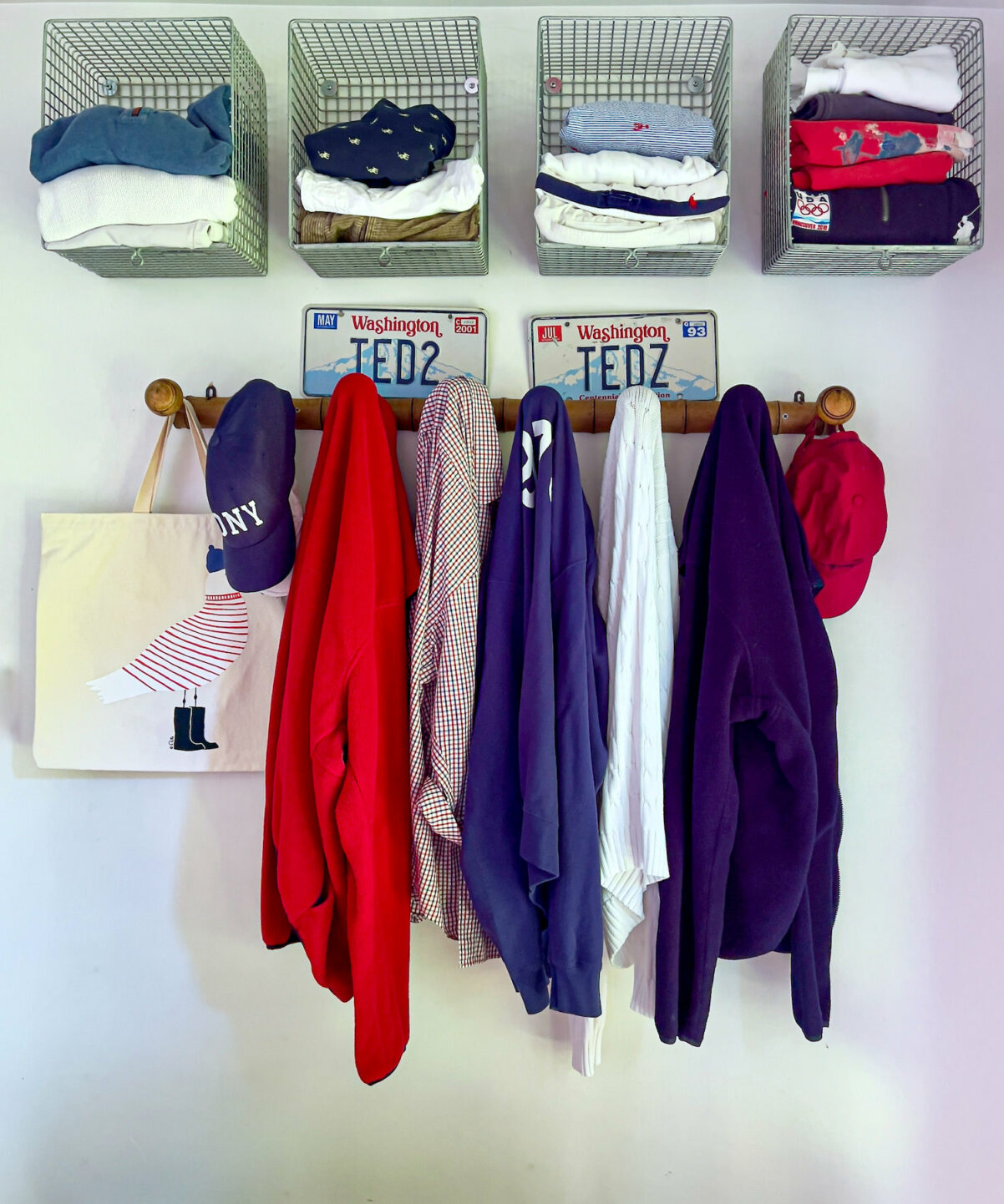 Besides Ted Sive (and perhaps tennis), Ted Kennedy Watson's great love is entertaining and at WestWard, Sunday suppers are a beloved tradition. Friends come out from the city to enjoy the Teds' outpouring of warm and gracious hospitality. From flowers to food to fun cocktails and conversation, there is an abundance of beauty and care in every moment.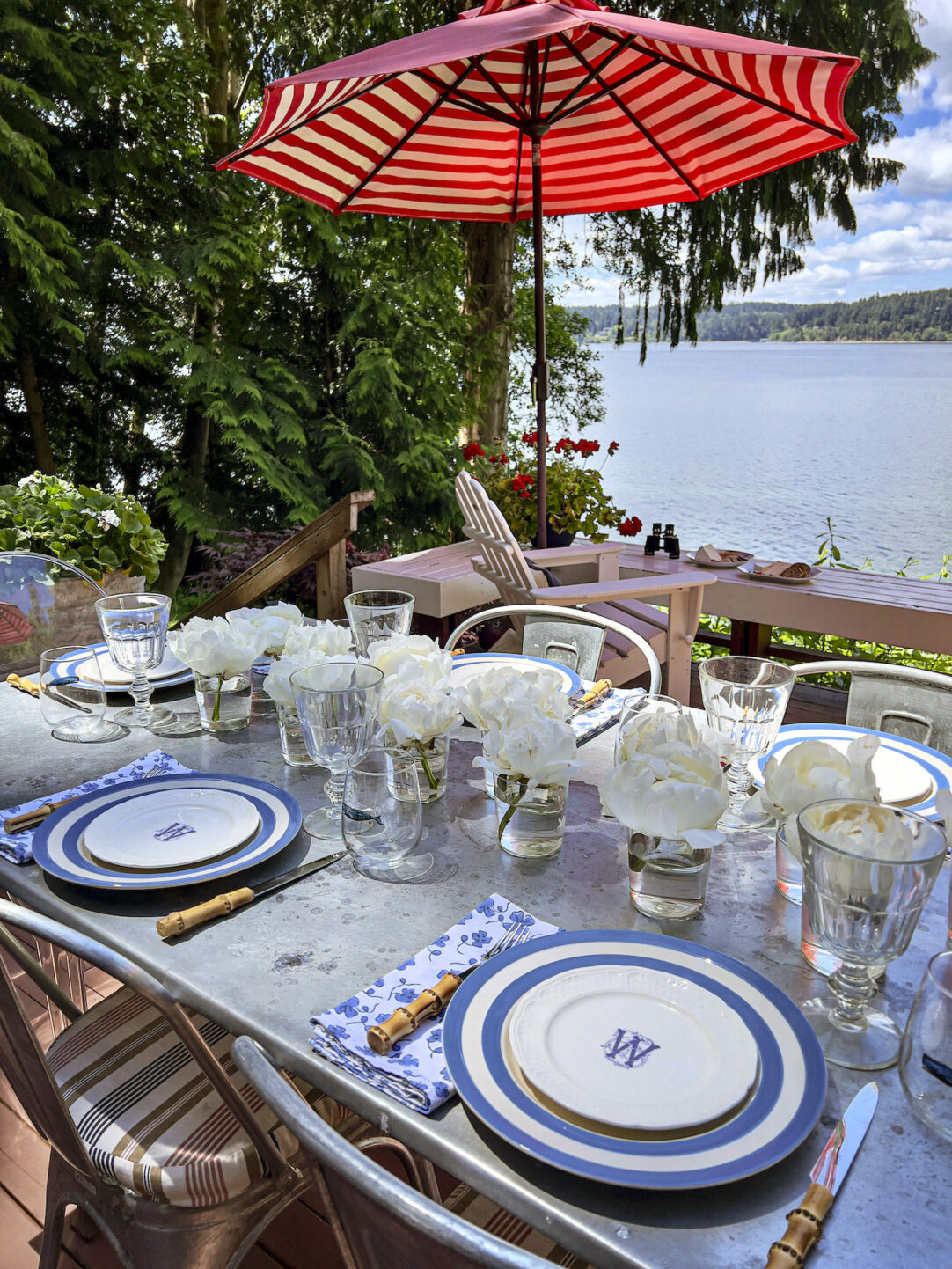 all photos above by Stacey Bewkes for Quintessence
If you can't get enough of Ted's creative design and relaxed entertaining style, you're in luck because his second book, Ted Kennedy Watson's Guide to Stylish Entertaining is here!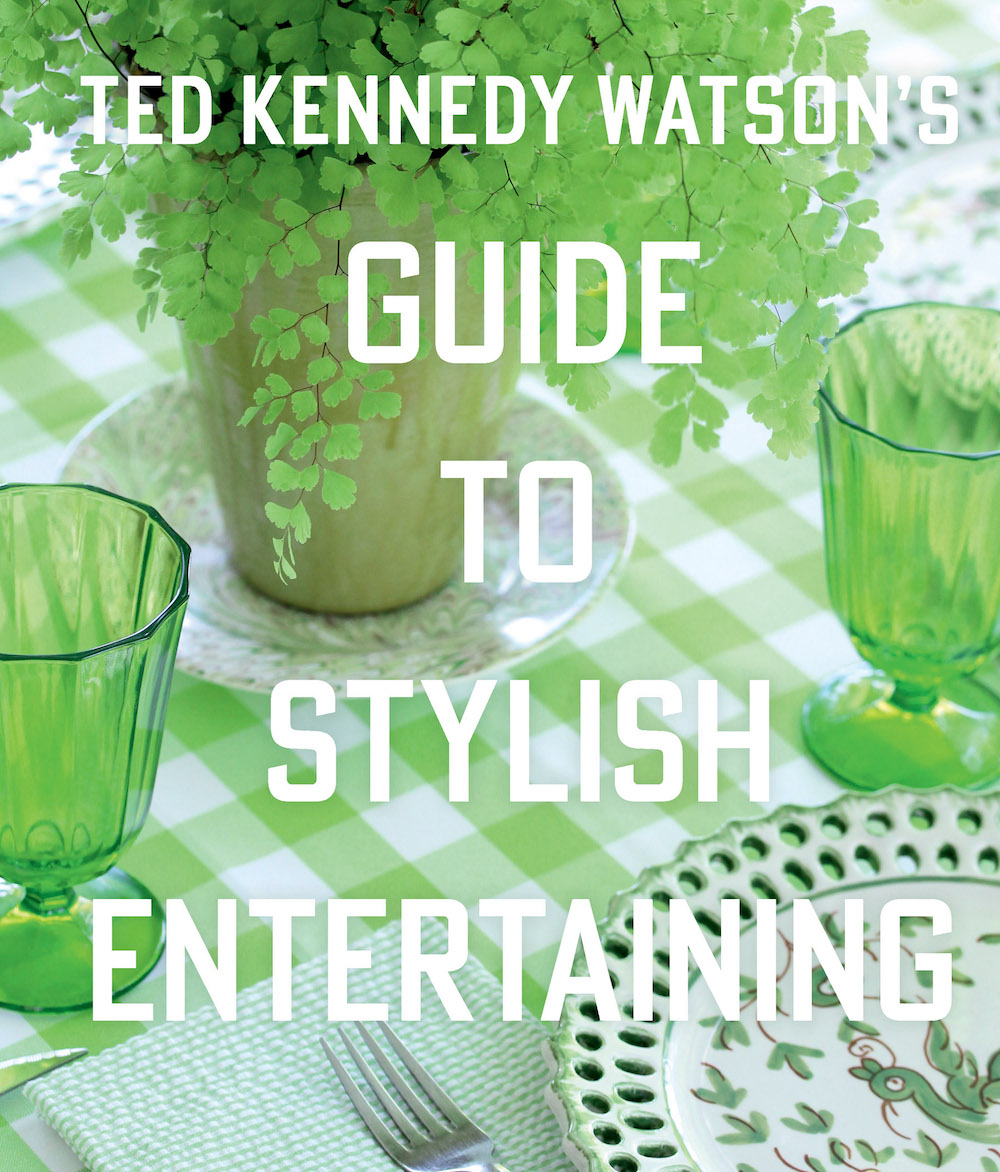 Chock full of useful, stylish and easily adaptable tips, you'll be inspired to entertain friends and family at every opportunity. In his "love letter to entertaining" you'll find a complete guide to table settings, flowers, recipes and tips.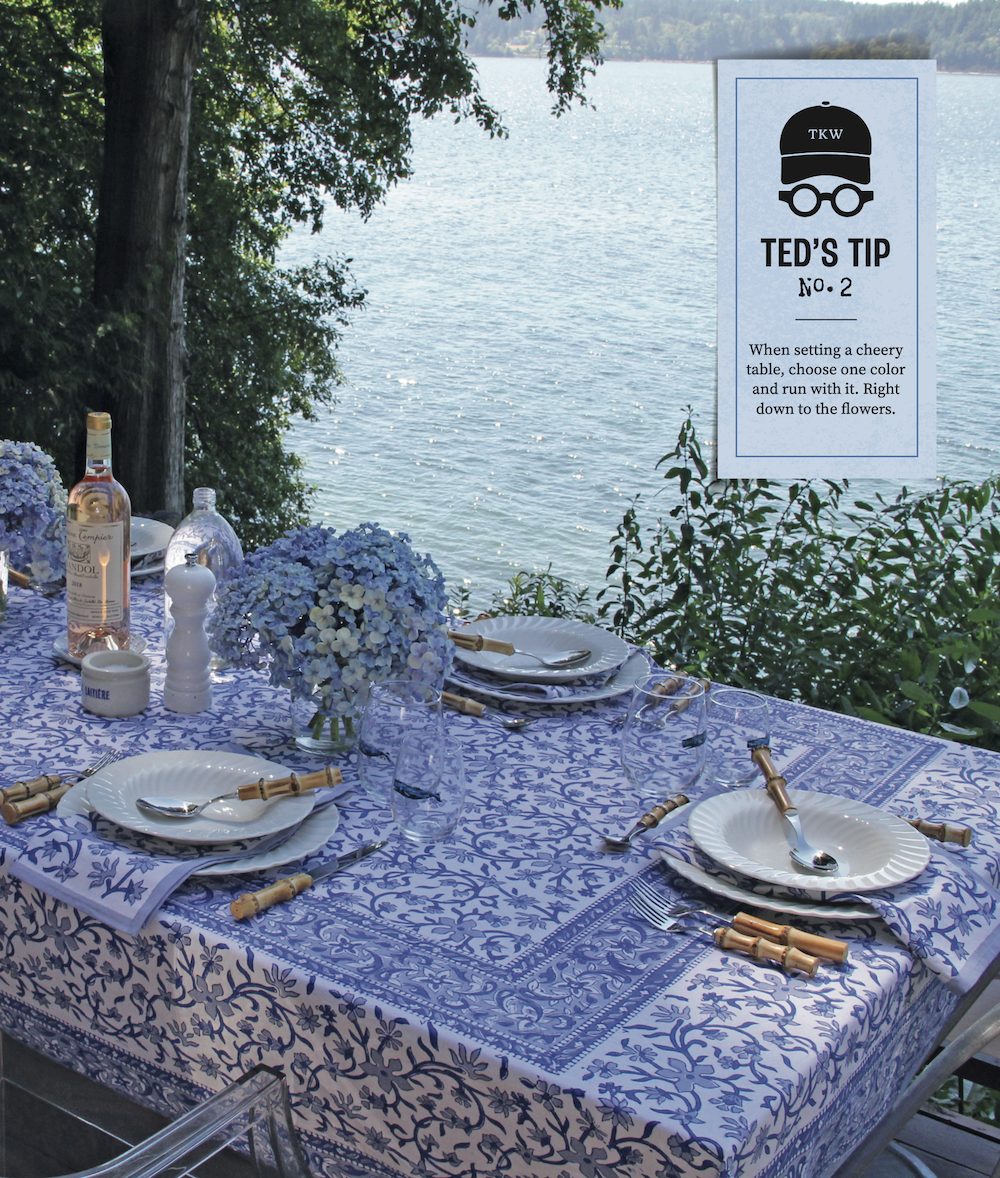 As Ted explains "The basis of this book is to show you how to not let perfection hold you back from entertaining. It is the number one reason I hear from folks why they don't host guests in their home often."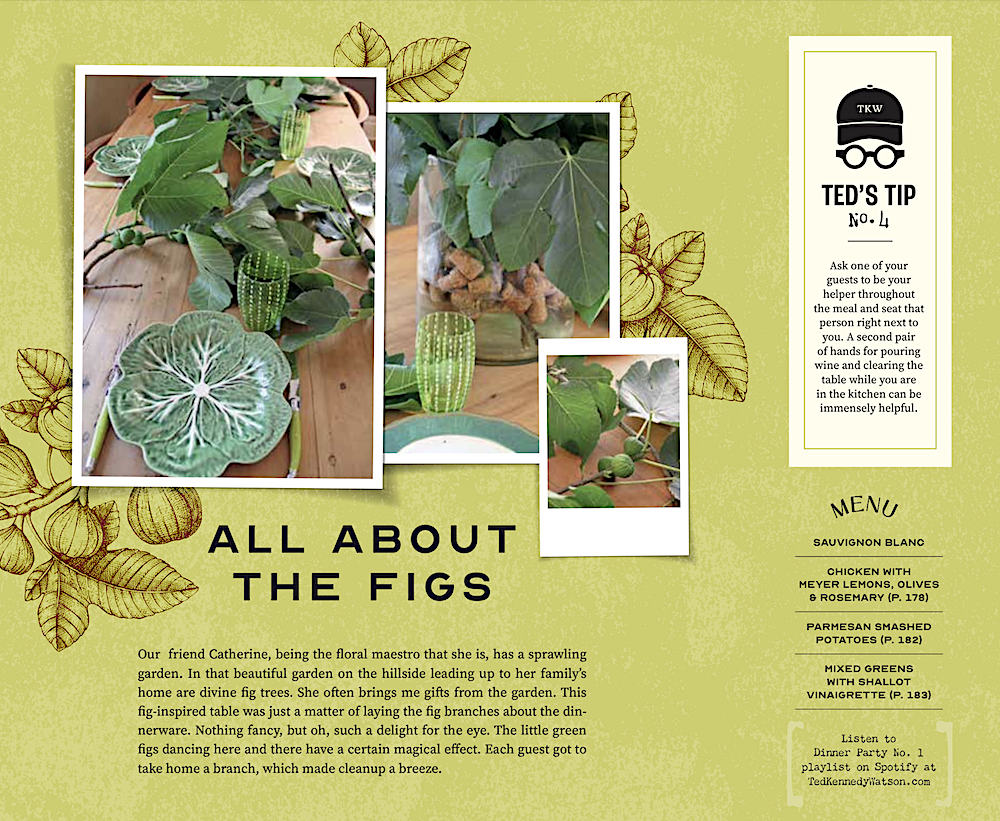 "My goal is to show page after page of entertaining made fun, easy, and doable."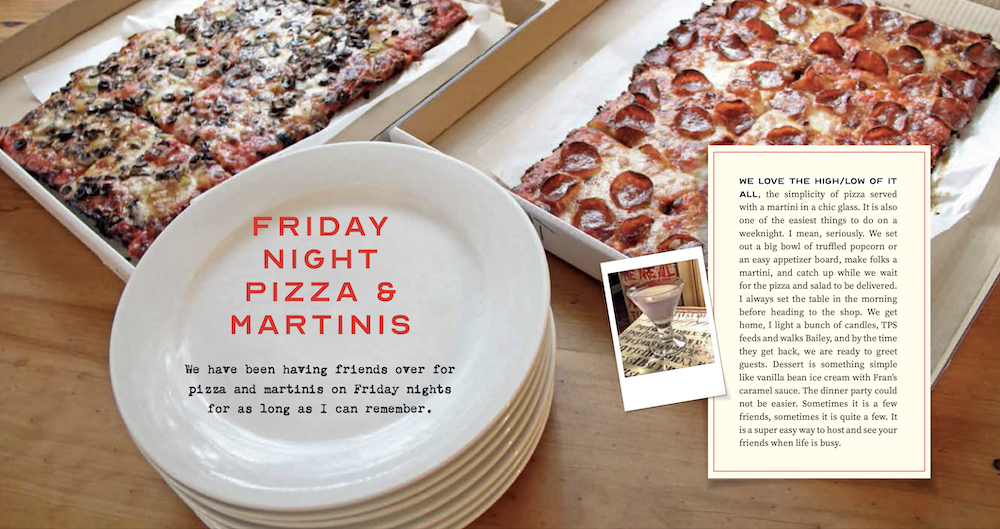 "The main thing I want to stress in these pages is that there is no one way to entertain. This is our way. … Much like how you dress or style your home, how you entertain should be all about you. You are the host. If you have an incredible time, most likely so will your guests."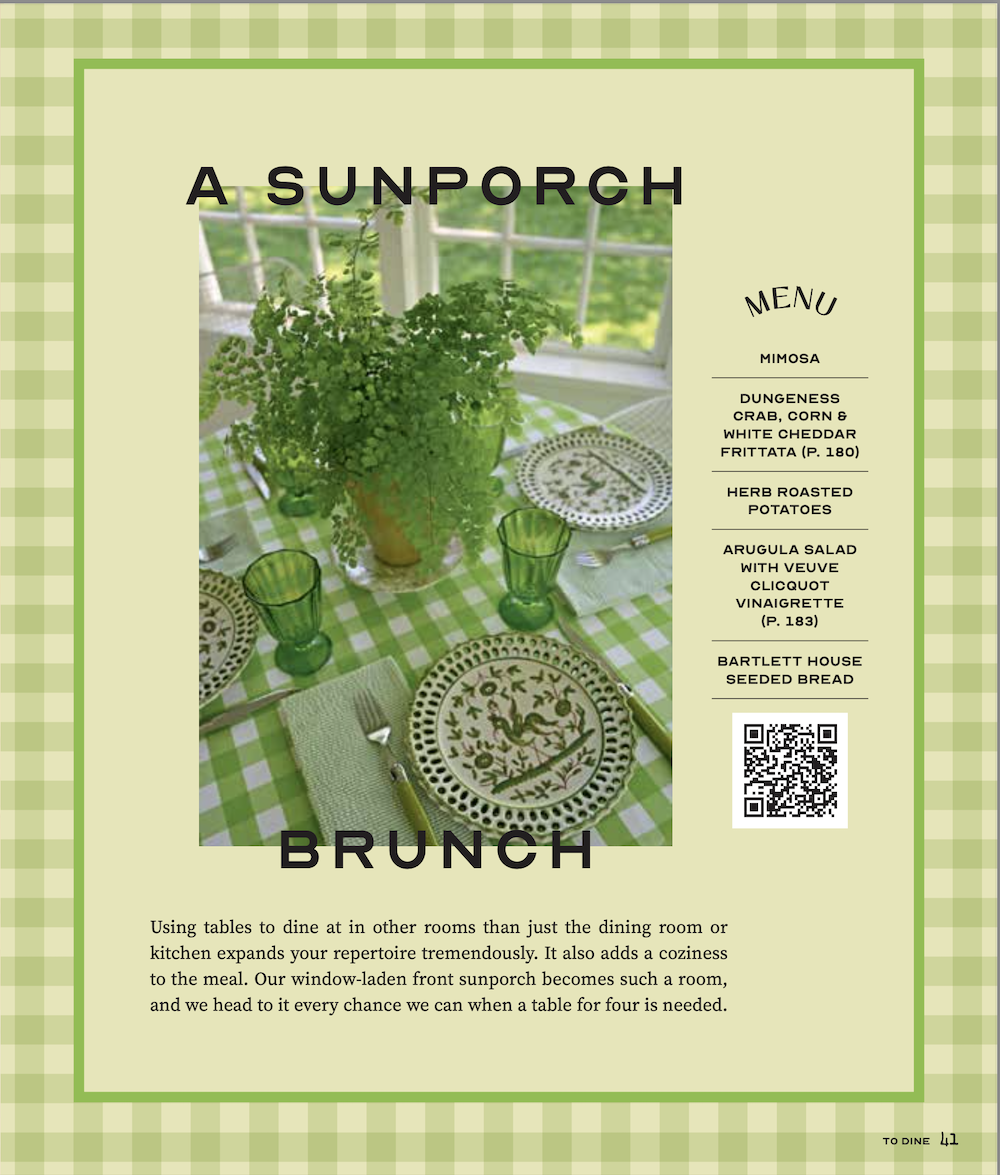 There are even QR codes throughout the book bringing you to fun videos including recipes and tips! And don't forget you can also shop Watson Kennedy online for many of the items featured in the book. So a big thank you to Ted and Ted for a fun, inspiring and beautiful trip!! We'll be entertaining up a storm!