Whether at home, at work as founder and CEO of NEST Fragrances or contributing to philanthropic causes of autism and mental health, Laura Slatkin is always drawing on her interconnected worlds for inspiration. Since launching her line of home fragrances in 2008, Laura has built NEST into an enormously successful luxury lifestyle brand. And at home, her close family, including talented interior designer brother-in-law Howard Slatkin and creative entrepreneur husband Harry, has helped shape her glamorous New York City townhouse into a chic haven for family living and extensive entertaining. Join us for a visit and delicious lunch with Laura as we take a peek at her stylish and inspiring domain.
Everything in Harry and Laura Slatkin's home has a story to tell and is a testament to thoughtful choices. Years ago a tradition was started that gift giving had to be a planned and personal exercise. No mere walking into emporiums even like Bergdorf's or Hermès to buy a present. Decades of exchanging with Howard and each other has resulted in a collection of beautiful pieces for the home and entertaining that have special significance, such as these exquisite porcelain lily of the valley stems by Vladimir Kanevsky that Laura bought Harry for the holidays. Set in a collection of antique blue and white bud vases, they provide a beautiful floral arrangement at any time of year.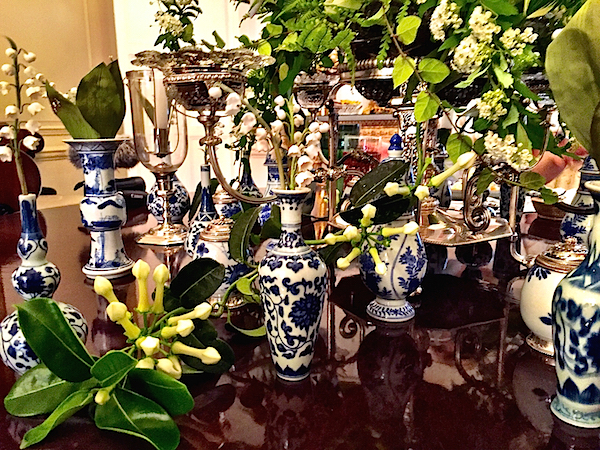 The fabulous epergne was an anniversary gift from Howard. Laura and Harry fill the dishes with delicious chocolates (a bit TOO delicious I might add) to tempt their guests with at dinner.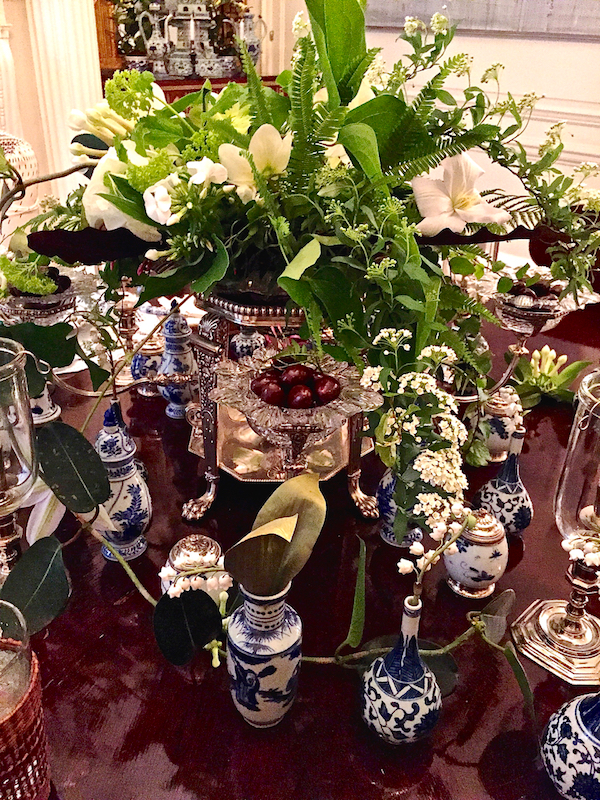 And while the service at their house may be formal, run with Upstairs Downstairs precision, Laura is a relaxed and charming hostess. There is a palpable warmth and strength felt with fervent family ties, echoed in the visual strength of each room, united by a deft mix of antique furniture and modern art. Below, a contemporary Hervé Van der Straeten light fixture is reflected in an 18th century Venetian mirror.
In the entry an antique chest, Giacometti scones and Eve Kaplan gilded mirror seem made for each other, enhanced by scent of course.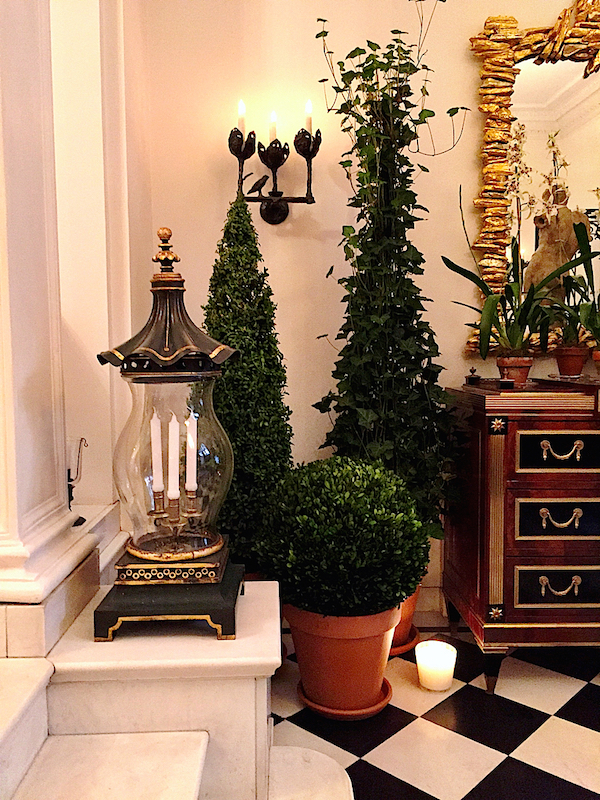 Laura Slatkin's worlds are effortlessly intertwined and creative inspiration arises everywhere. When a dinner guest once inquired about the fragrance in their dining room, Laura realized it was emanating from the Persian Indian feast she was serving. It was an aha moment. The next day she brought the spices used for the meal to her master perfumer and Moroccan Amber was born.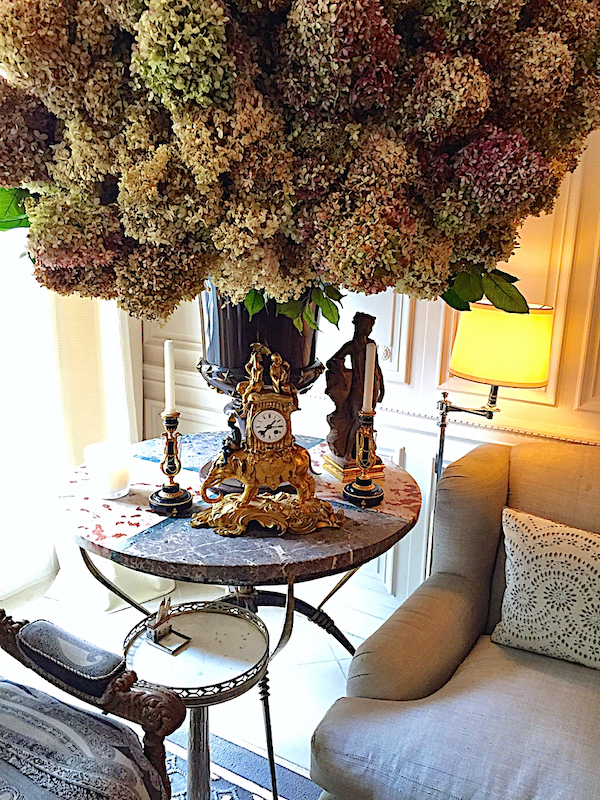 And just as her house and art of entertaining embody a masterful attention to beauty and detail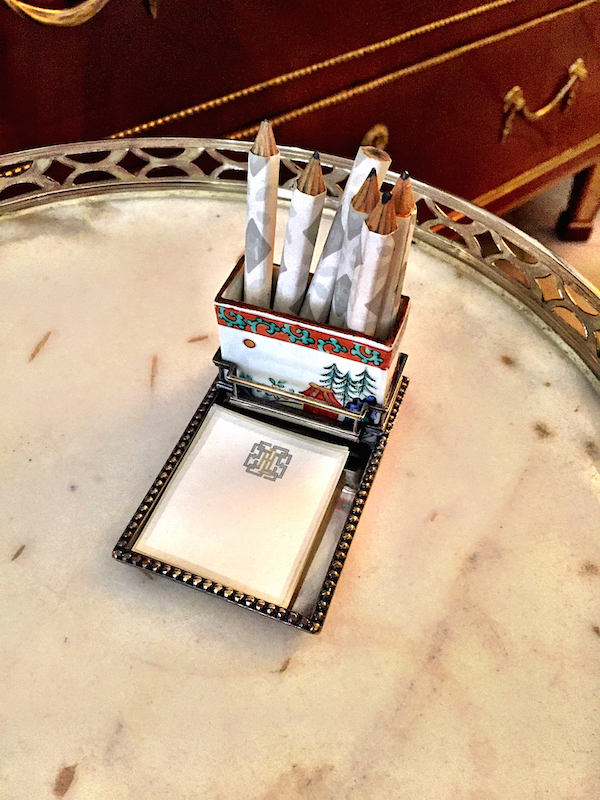 so does her business and dedication to philanthropy. You can be sure that whatever Laura does is approached with a meticulous professionalism and thoughtful eye to making life more beautiful and better for all. Thank you Laura for inviting us into your gracious home and world! We're feeling inspired!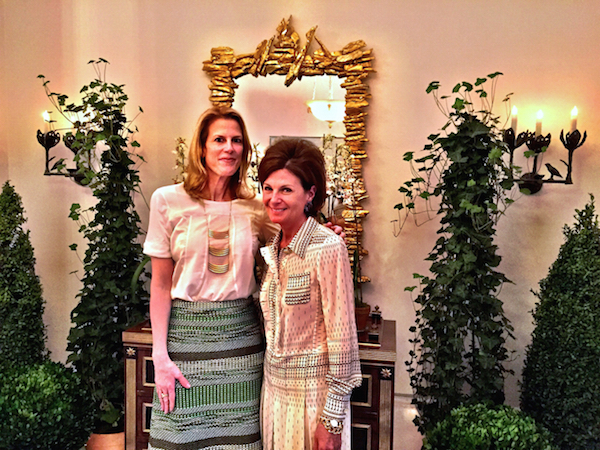 And to be sure to never miss an episode of our video series, you can subscribe here . It's just a click away!