"It's Marrakech meets Nantucket, English Country, French country – everything I love in one house," explains Johnson Hartig, the designing force behind fashion label Libertine, of his new Los Angeles home, affectionately named Basket Case, after one of his myriad collections. Join me and Susanna for a transportive visit to the magical world of Johnson's amazing abode.
In less talented hands, Johnson's no holds barred approach to decor, might be as chock-a-block as the variety of his inspirations. But make no mistake, Johnson may have wide ranging and disparate interests, but they run deep. He is as serious about his art history references as he is his irreverent approach to layering, including lampshades adorned with floral images Johnson clipped from Jackson & Perkins plant catalogues, as you may remember from our visit to his previous home.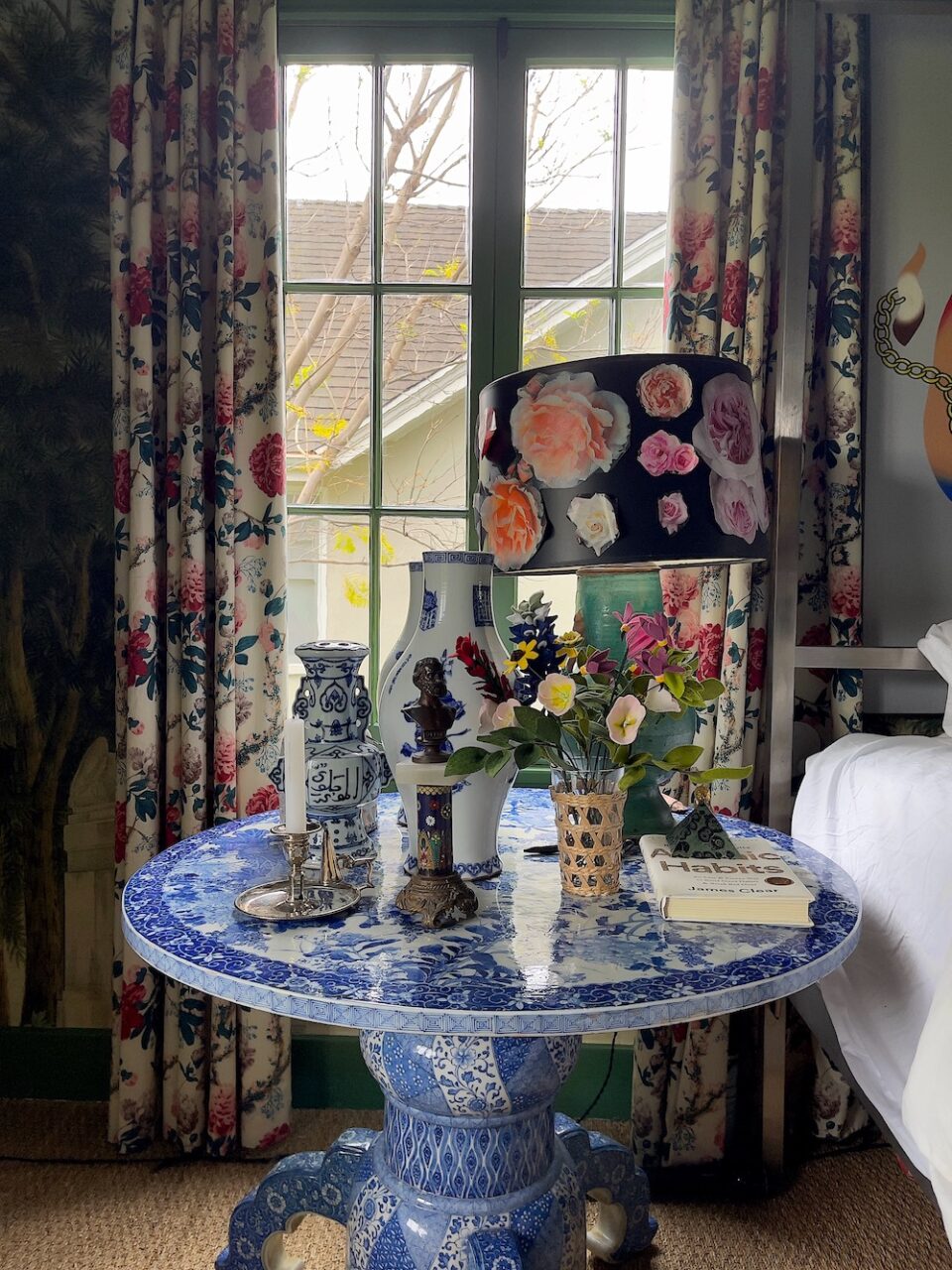 While Johnson is well traveled, some of his destinations are merely vicarious. You'd never know from his enormous collections of ship dioramas, for example, that he has never step foot on Nantucket's shores.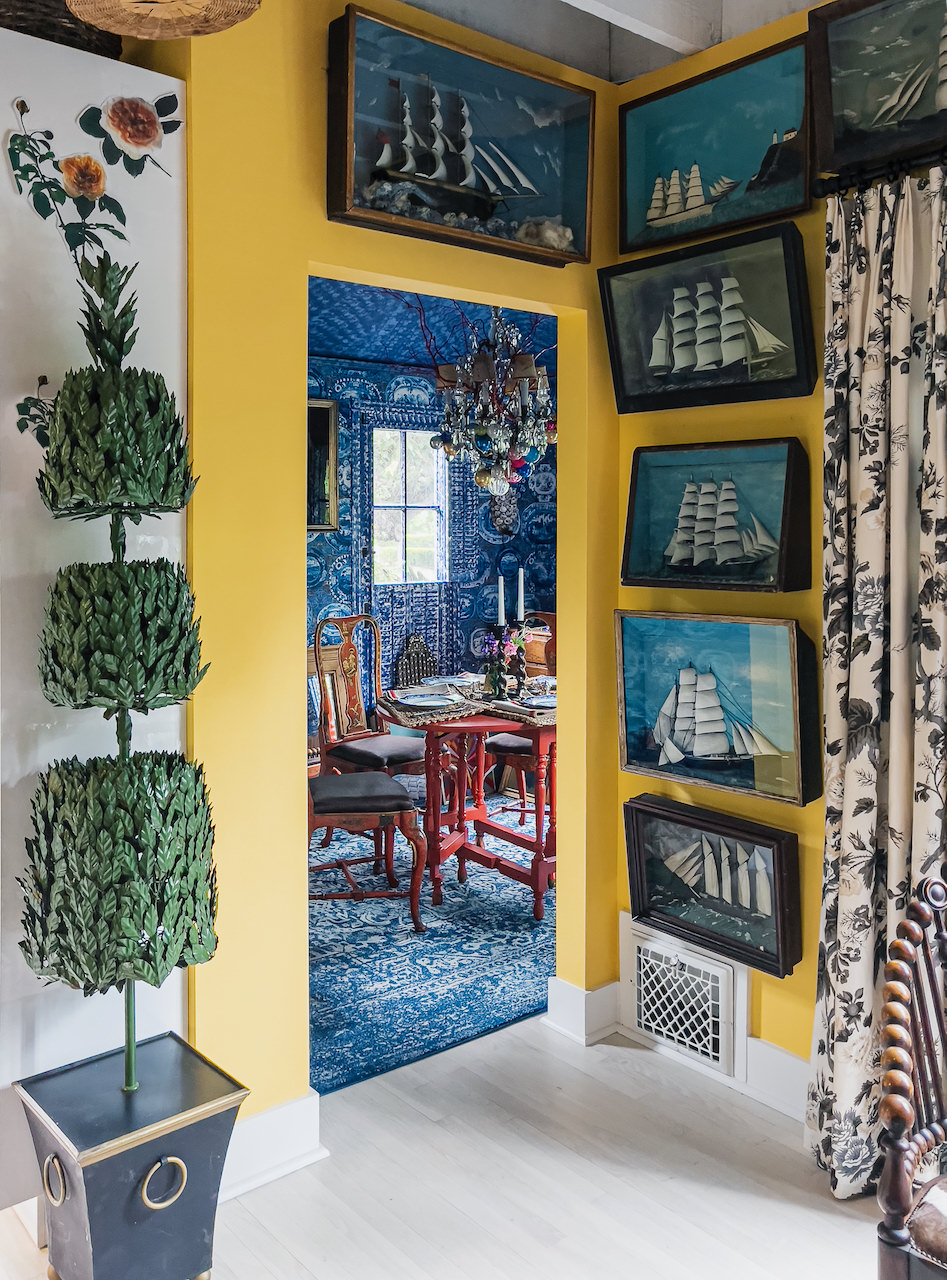 But some vignettes are inspired by memories of favorite far flung experiences. "I wanted the house to feel exotic like when I'm at a boutique hotel in Marrakech and I thought why can't I feel like that every day of my life." His living room fireplace below takes you there.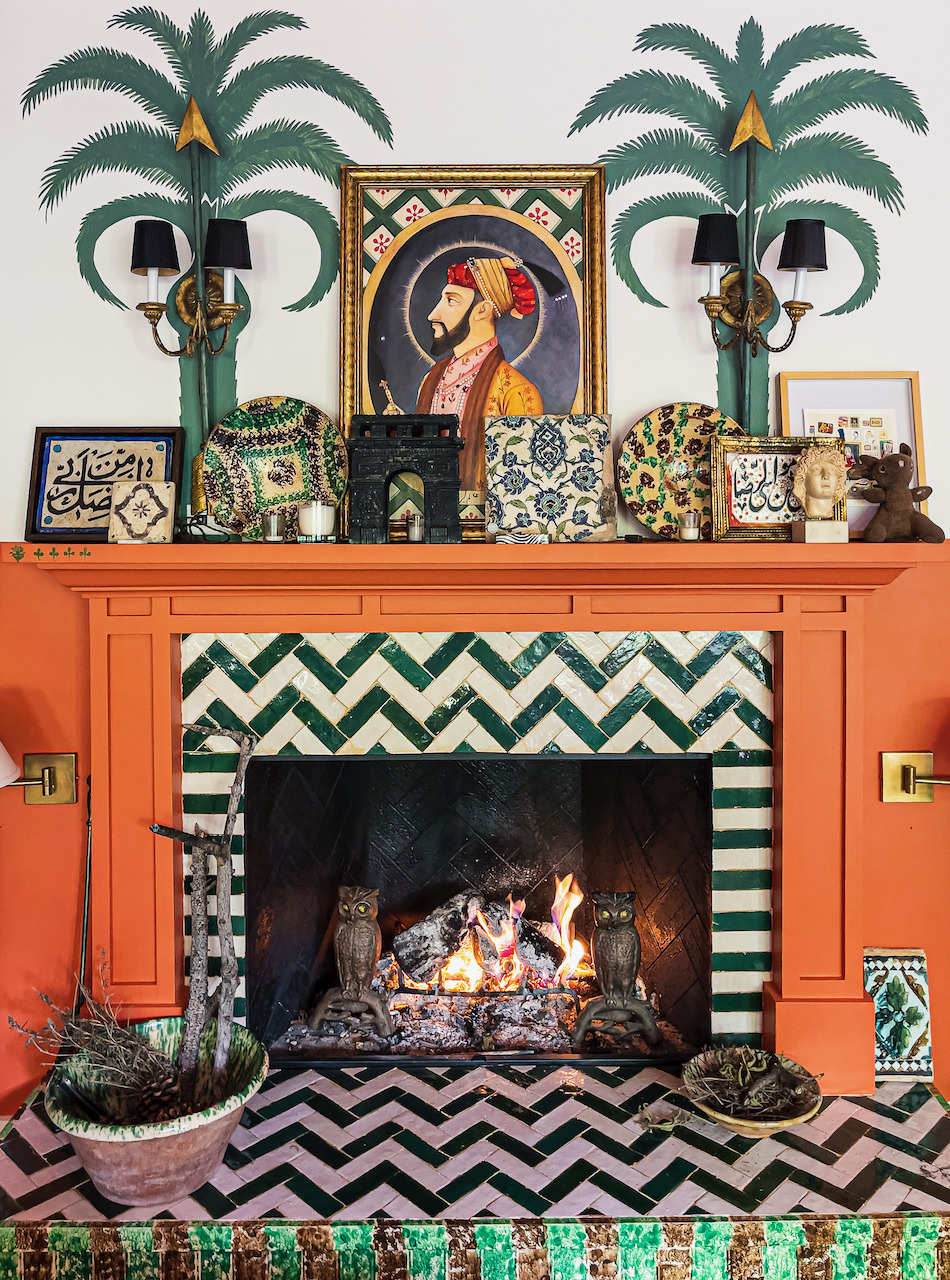 His living room also features inspiration from Piero Castellini Baldissera's famous house, Casa degli Atellani, in Milan. And just as the troupe l'oeil there evokes a winter garden, so Johnson's living room is an updated version with Los Angeles foliage creeping in.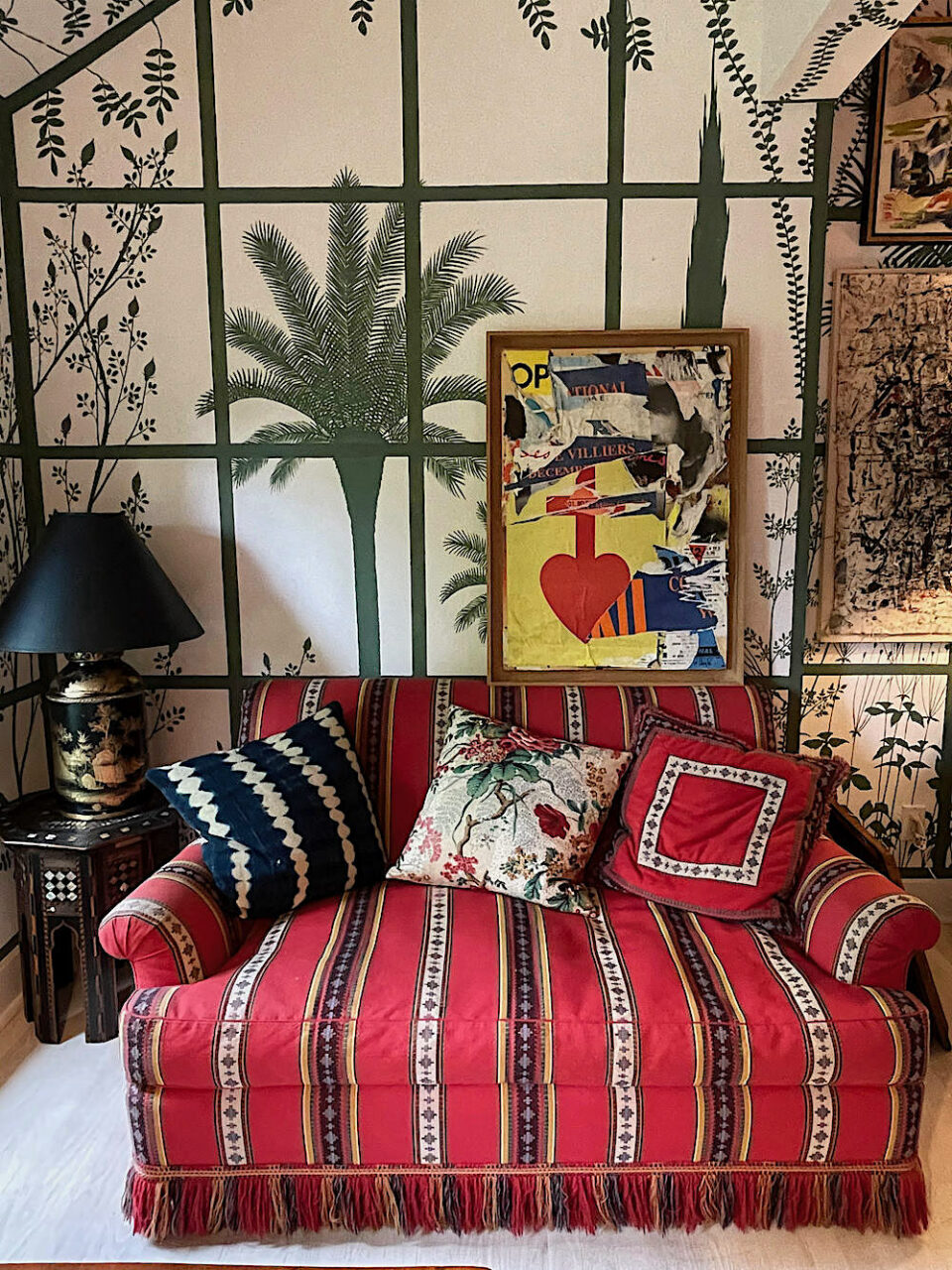 all photos above by Stacey Bewkes for Quintessence
Johnson's incredible resourcefulness and obsessive research fuels all his creative endeavors for a unique cross pollination of ideas and DIY ingenuity. So thank you Johnson – we continue to be endlessly inspired by your imaginative and innovative talent!!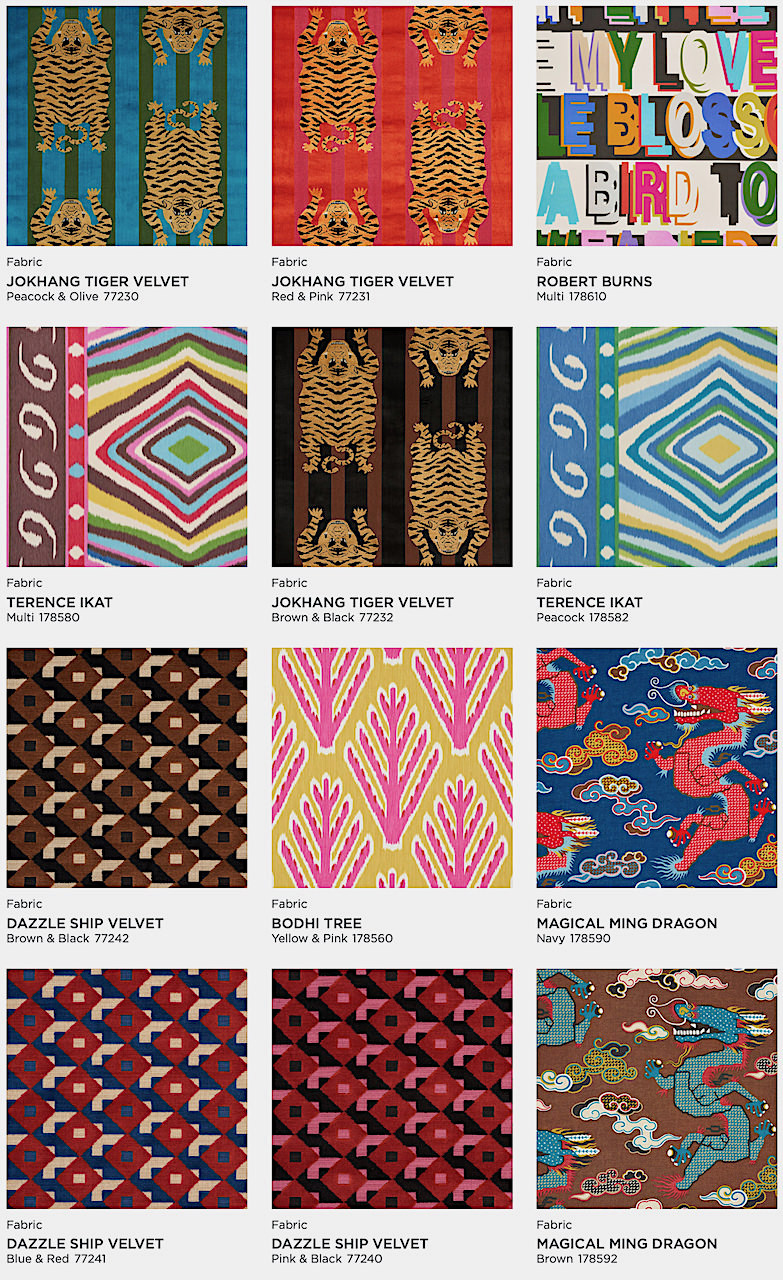 And a big thank you to video sponsor Schumacher. Johnson's debut collection for the fabric house, several pattern above, is as dynamic and irreverent as his fashion line Libertine. And just as his house is a melange of global design influences, so is his collection.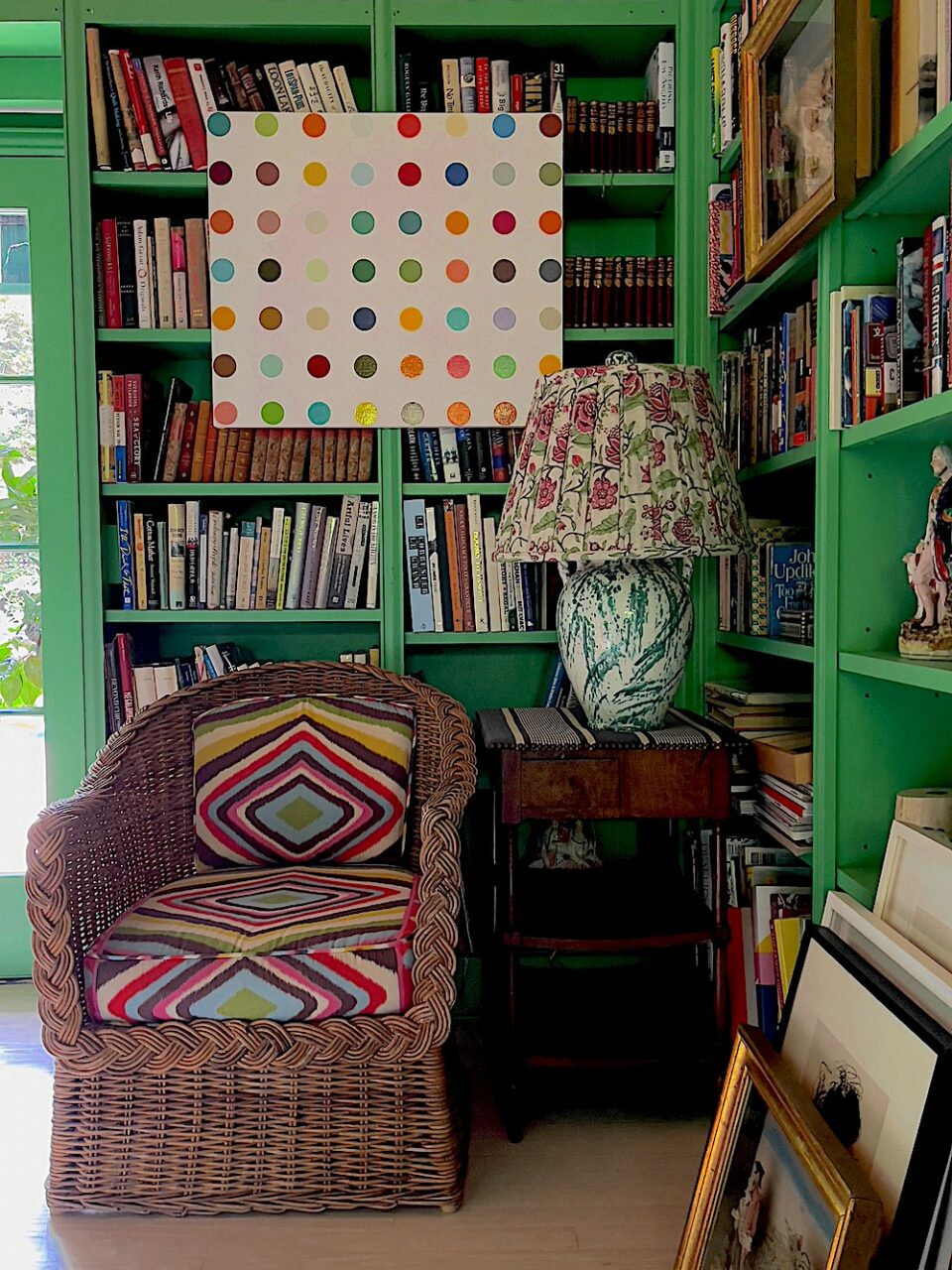 From ikats, above, to cheeky toiles to whimsical tigers and magical dragons, Johnson paired his penchant for punchy color, maximal mash-ups and exuberant ornamentation with the artisanship of the esteemed fabric house to create a collection that reverberates with joy!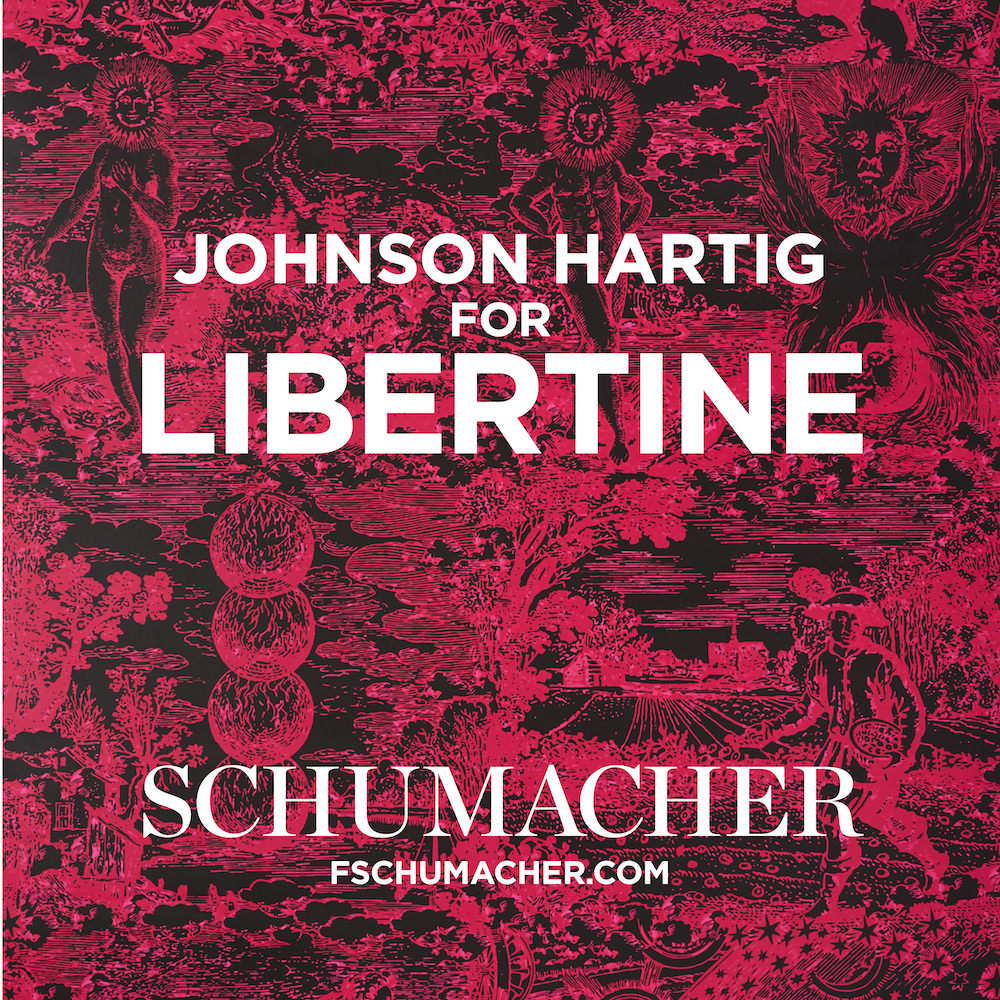 As Johnson explained to Schumacher about his sometimes surprising influences, "My luxe Dazzle Ship cut velvet for Schumacher is named for the British and American warships that were camouflaged with geometric patterns in World War I, but also for my favorite OMD album from 1981. It's a bit of French Moderne meets American quilts." Be sure to stay tuned for his upcoming second collection with Schumacher. It's sure to be original – just like Johnson!