While interior designer Fawn Galli's previous home was only a few blocks away (see our video visit there), she couldn't resist the elaborate original moldings and six working fireplaces of this historic Brooklyn brownstone. Tag along with Susanna and me and you'll see how she worked within the original 1810 structure to create a family home that is as comfortable as it is stylish and sophisticated.
Only adding vintage chevron floors and some minor structural revisions to the primary bedroom floor by architect husband Julio Salcedo, Fawn managed to creatively rework the spaces to accommodate both her children and adult living with an elevated bohemian sensibility.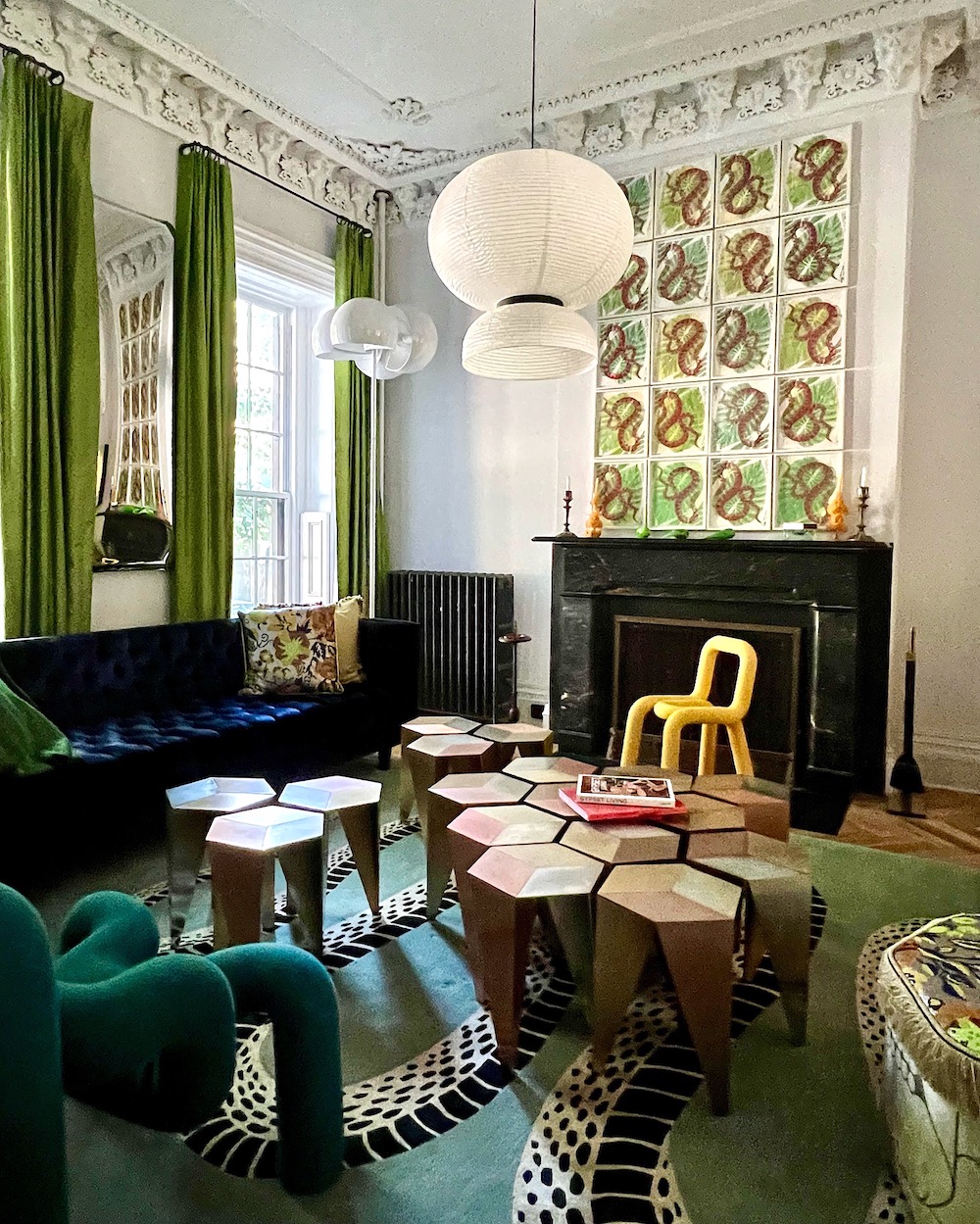 Fawn approaches all her projects as an existential journey, to discover and develop one's own personal style and then have it reflected in your home. In her own home, Fawn melded seemingly incongruous interests – nature, color, surrealism, fantasy and disco sparkle for her signature magical mix.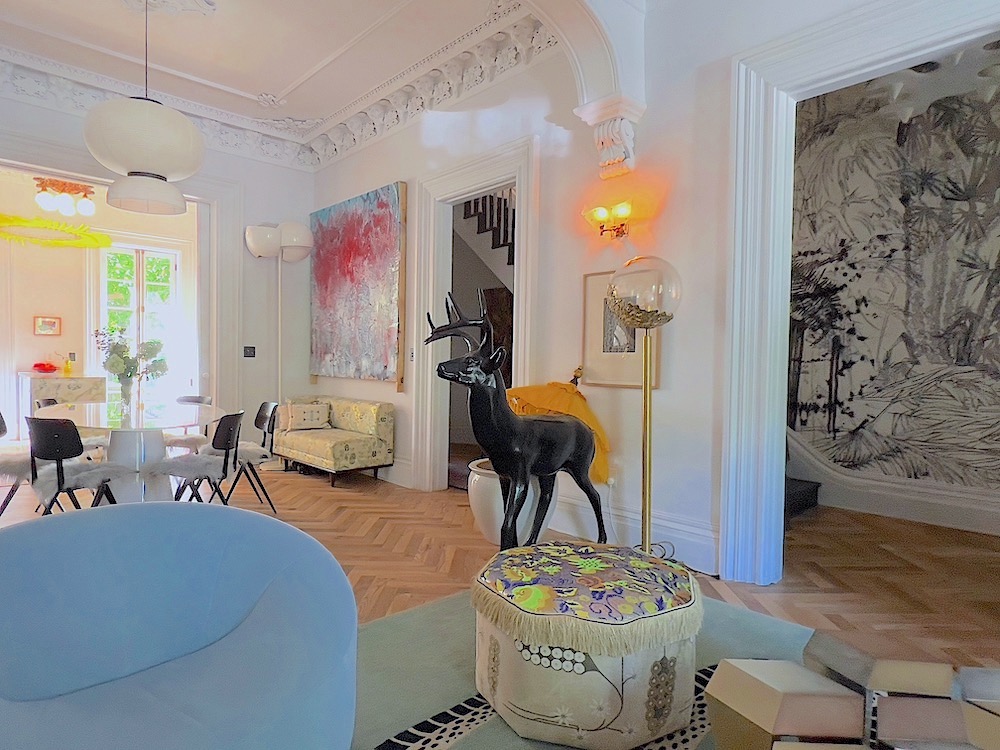 In her kitchen, Fawn transformed simple Ikea cabinets with an unusual green hued marble, upscale hardware and an artistic update (artist Tim Prentice's feathered sculpture) to the original light fixture into a chic and modern space.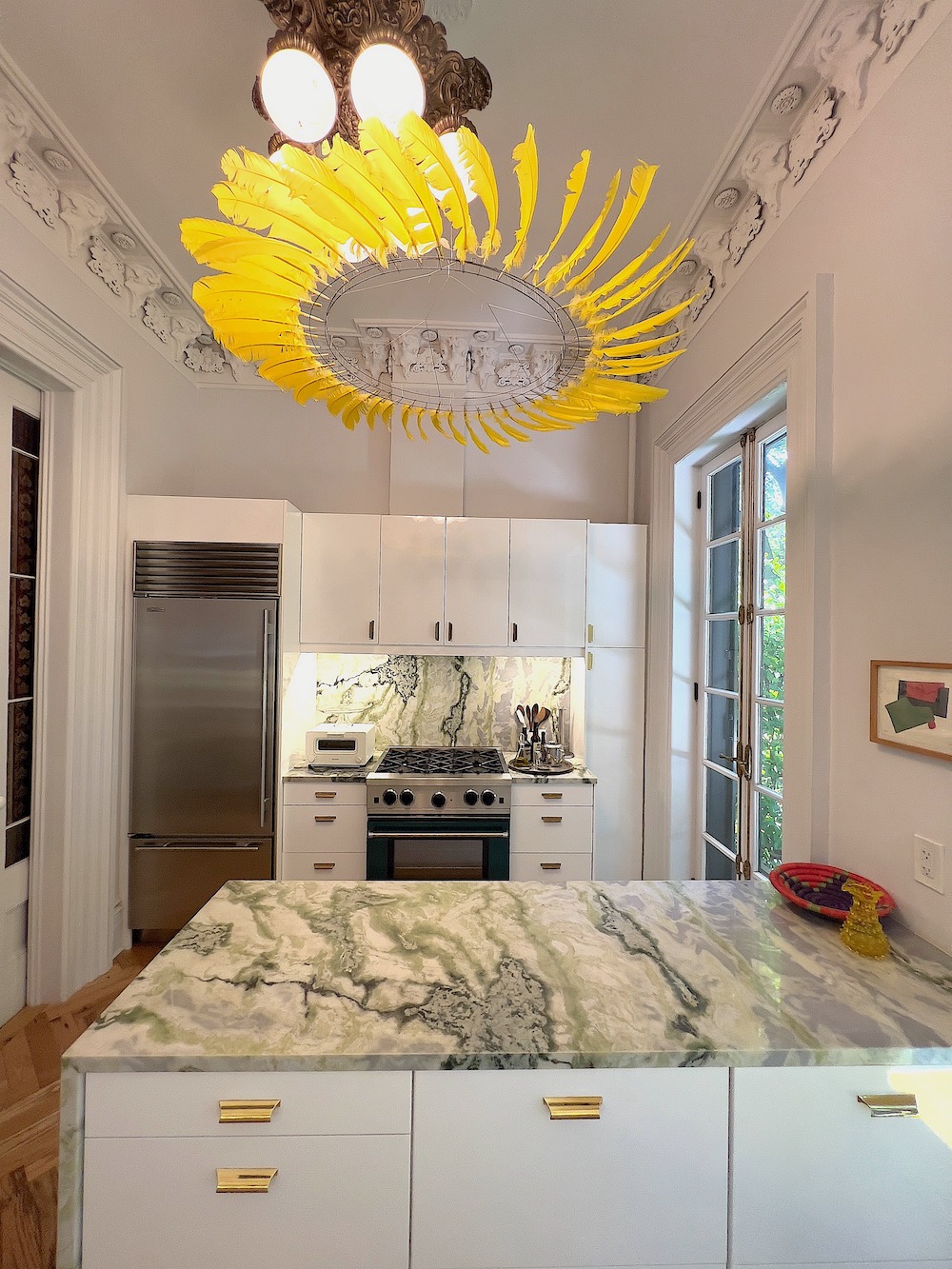 Effortlessly melding the historic architecture with modern art and furniture, Fawn created spaces for family living that are at once practical and glamorous. And throughout, she incorporated her passion for artisanal products. The guest room below, for example, features a rug by Beni Ourain and a vintage Poul Henningsen hanging light.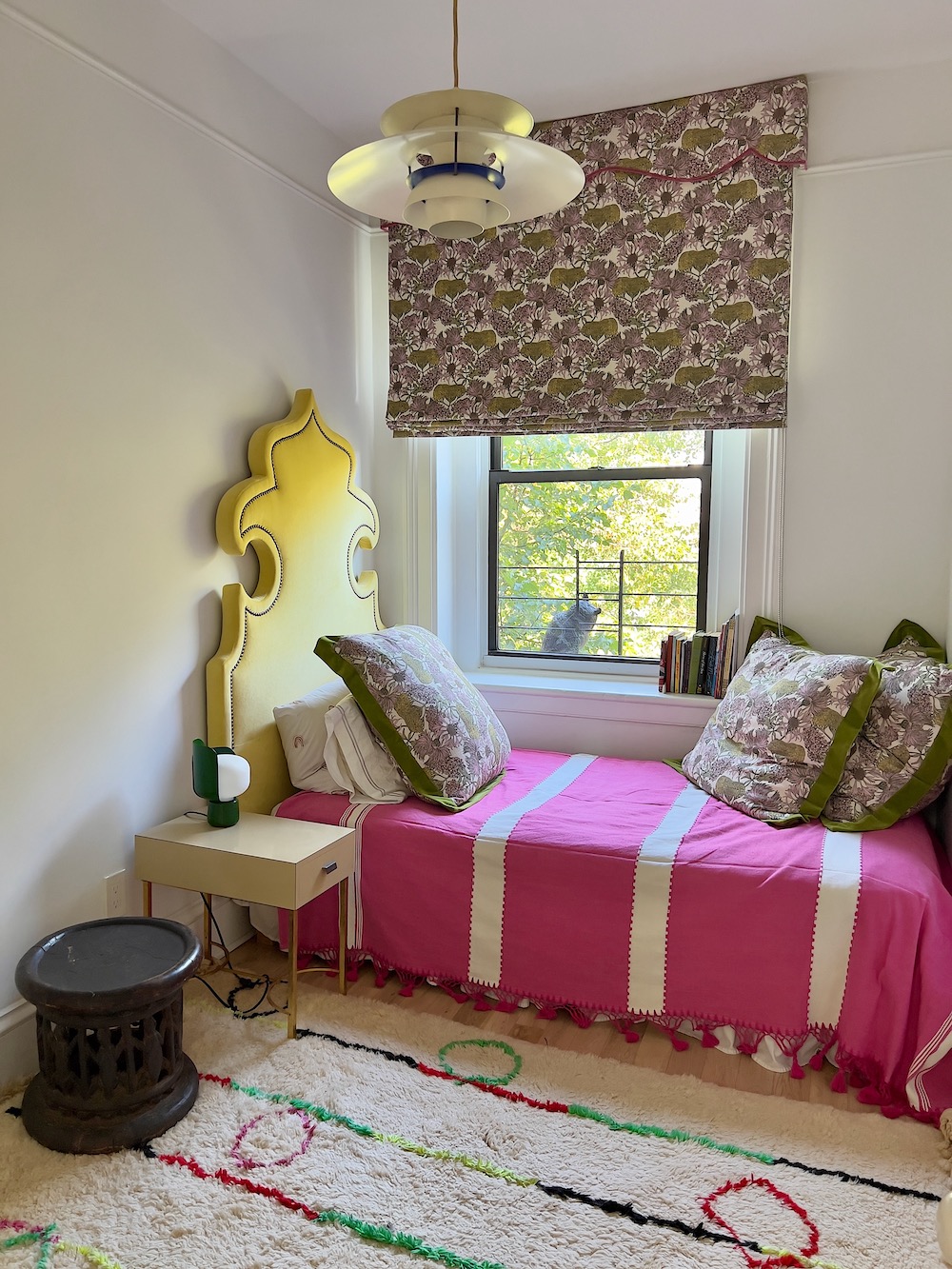 One of the most distinctive and telling features in the home is the custom wallpaper by Eskayel that encompasses the entry and climbs all four stories. Fawn's singular directive was that it feel like a tropical rainforest, reflecting her love of nature, and while the rest of the designer's home is filled with saturated color, this lush pattern offers a soothing yet impactful alternative.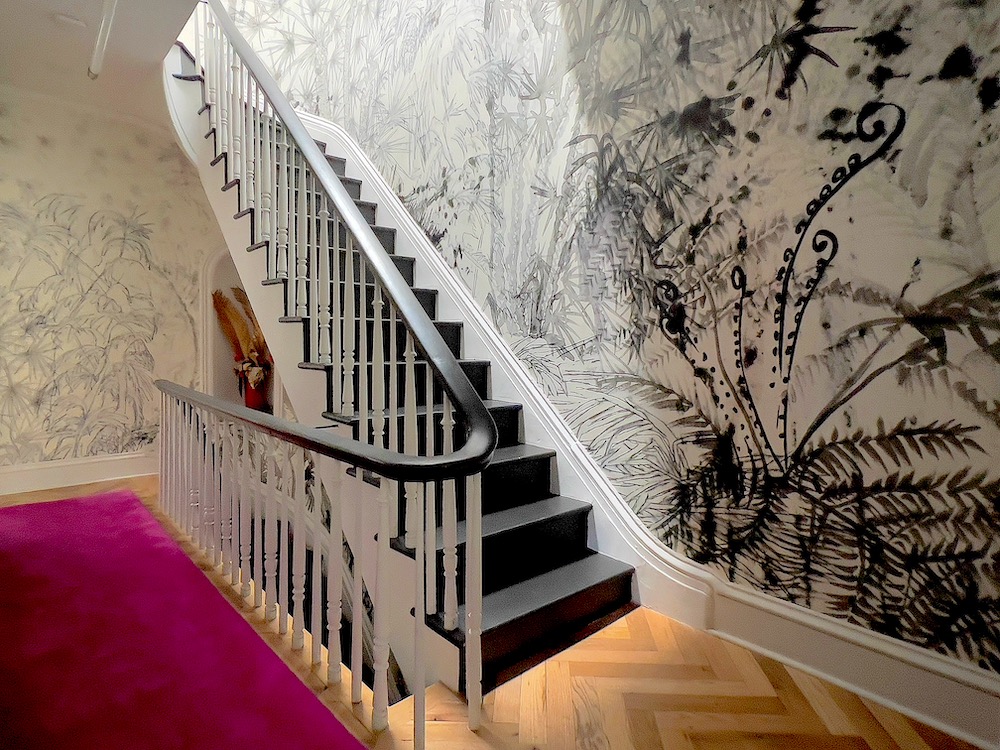 Through a prism of layered textiles and furnishings and a heady mix of high and low, Fawn has the uncanny ability to create a sparkling vision and make it all look effortless. So thank you Fawn, for welcoming us into your magical world – you are an inspiration!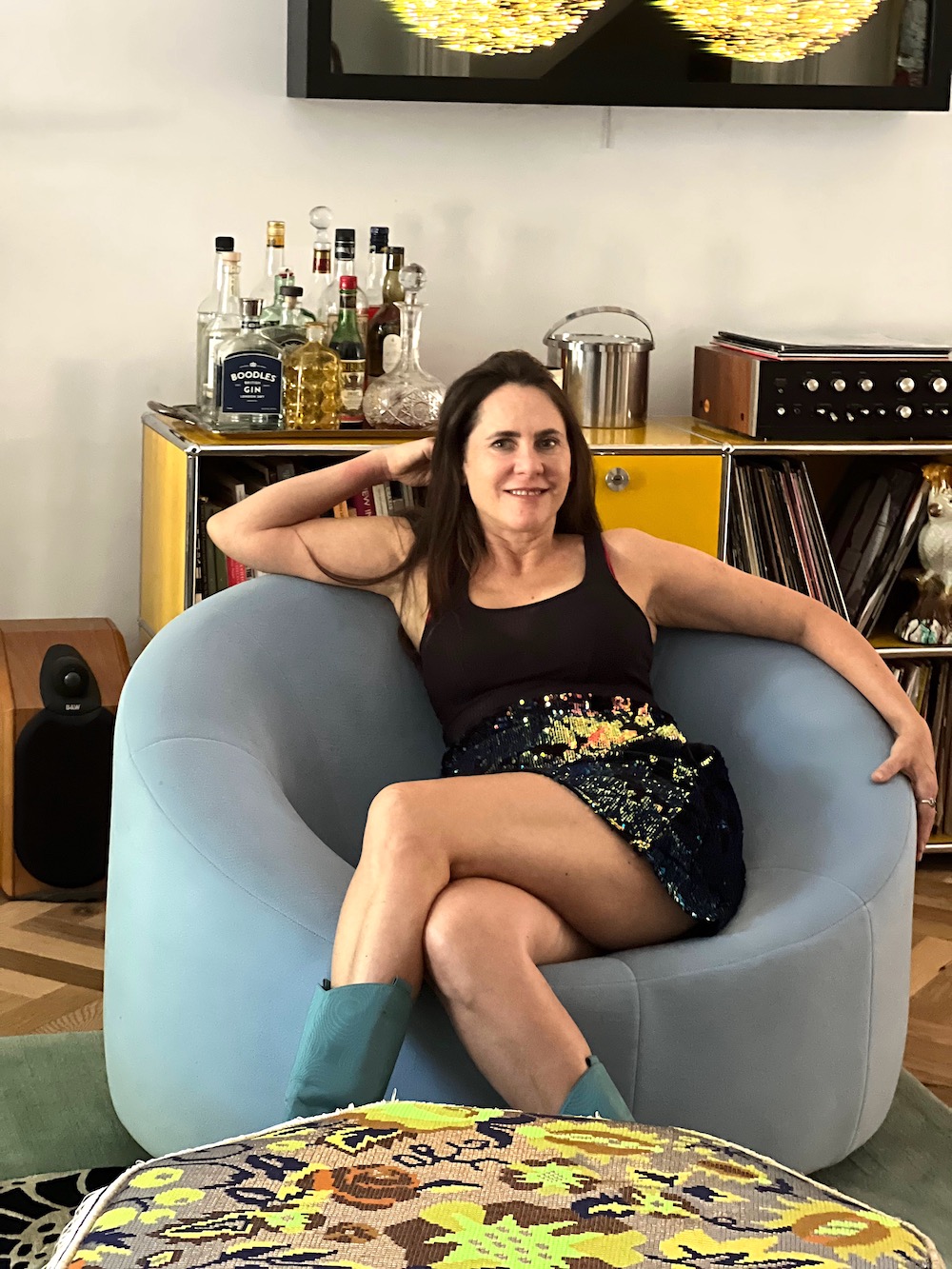 And a thank you to sponsor Modern Matter, whose customizable hardware for luxury living makes every day a celebration. It's jewelry for your home!