Another story in the 30th anniversary issue of Veranda that resonated with personal relevance was the icon selection in the style section celebrating the timeless appeal of toile. Ever since 1760 when Christophe-Philippe Oberkampf founded his textile factory in Jouy-en-Josas outside of Paris, Toile de Jouy has been a mainstay in the world of design. With designs celebrating not only scenes of bucolic life but the scientific and political accomplishments of France, toile became the ultimate storytelling tool.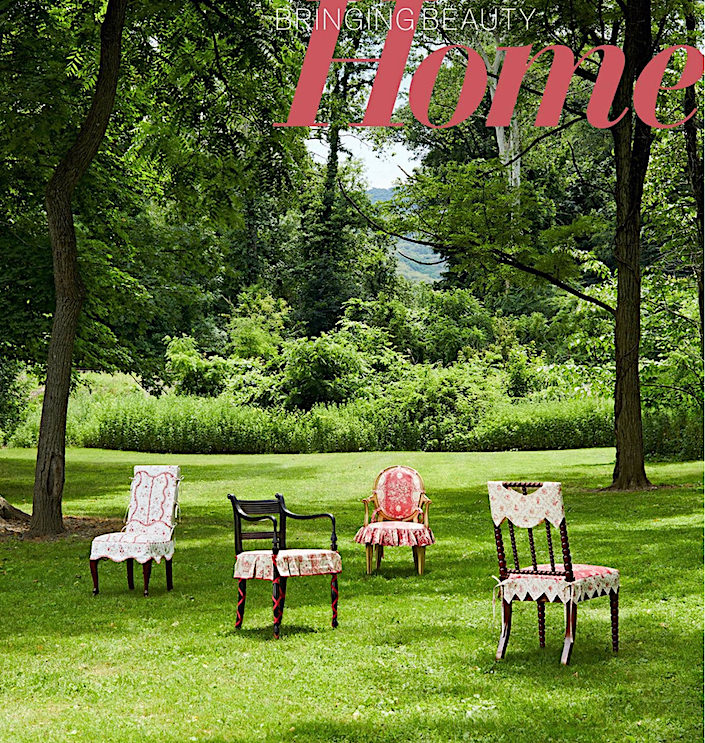 I have always loved toile for its visual narrative and several years ago when I was searching for a wallpaper for my powder room, below, immediately fell in love with one David Netto used in Gil Schafer's magnificent update of Boxwood.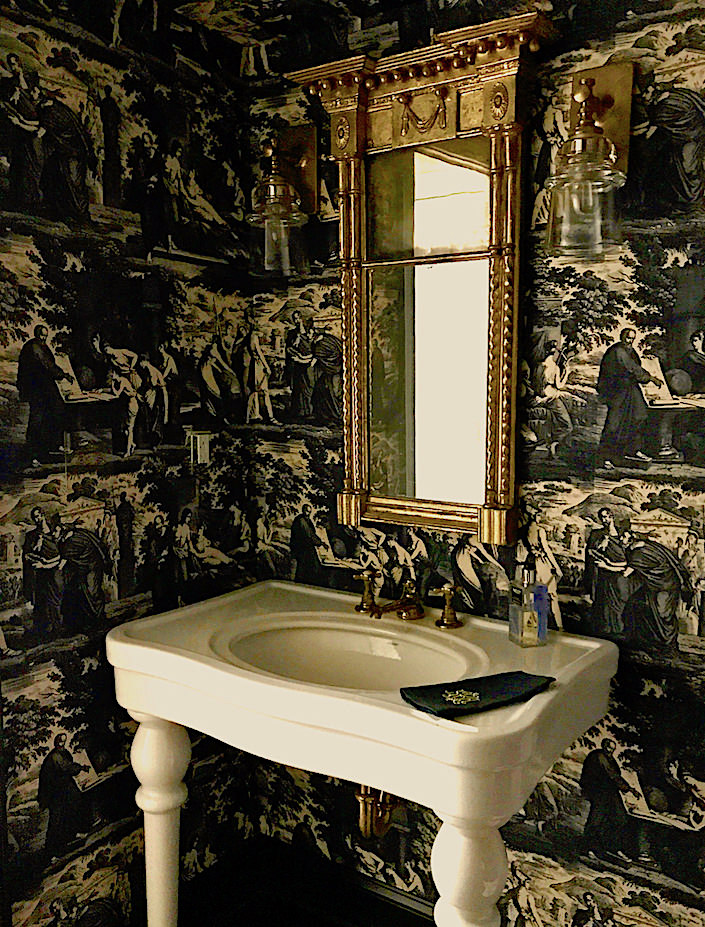 The dark inky toile, at the time distributed by Lee Jofa for Cole & Son, was perfect for my windowless room, which I wanted to totally envelop for a men's club ambiance. I snagged the last few roles as it was being discontinued.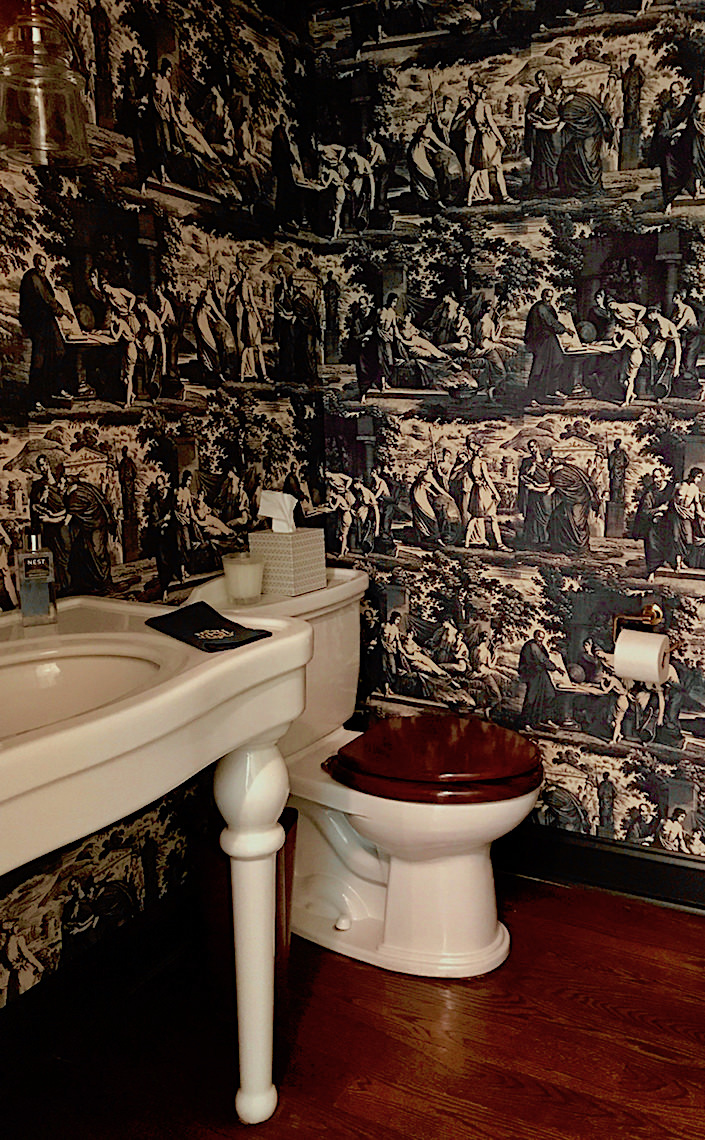 Fast forward to earlier this year when I posted a peek of the room on Instagram. In a fun story-behind-the-style coincidence, toile expert/manufacturer and instafriend Christopher Moore, aka The Toile Man, came forward to elucidate the details of the pattern, which turns out to be one of his, now available directly through his site. (a version in sepia below).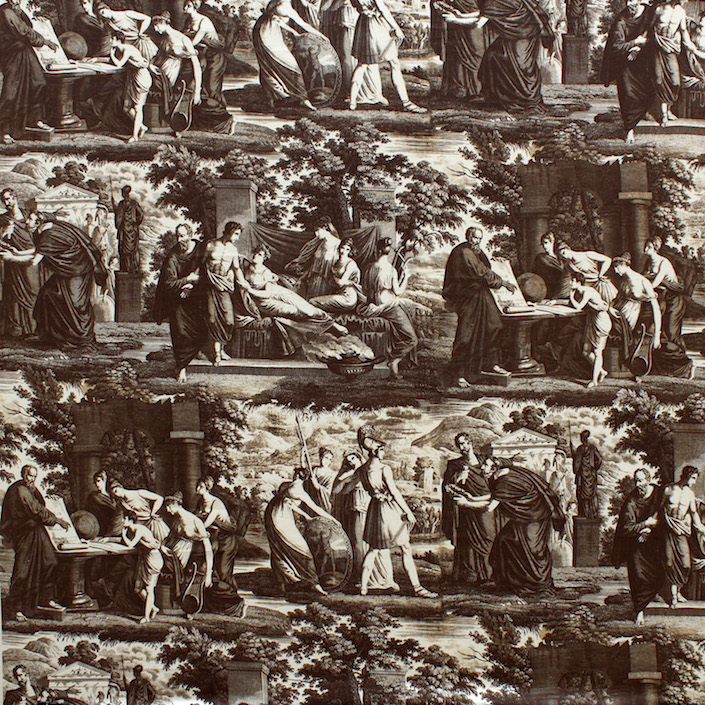 "This design is actually 'Lycurgus of Sparta' ( Les lois de Lycurgue) who established the military-oriented reformation of Spartan society in accordance with the Oracle at Delphi. This toile shows three stages of his life and is where the term 'Spartan,' referring to austere or lack of comfort comes from! Originally printed by Favre Petitpierre et Cie around 1825, it was engraved by Cholet whose 'signature' is on the piece and from which I gave my re-edition the name CHOLET. It was the second toile I ever printed and remains one of my favorites! I have it in sepia in my bathroom in London (another toile from Christopher below)!"
two photos above courtesy of Christopher Moore
Adding to the tale, I later discovered that friend Joanna Heimbold of Millwright Design, then an associate in Netto's firm, also had a hand in the selection. In my own powder room, unlacquered brass fixtures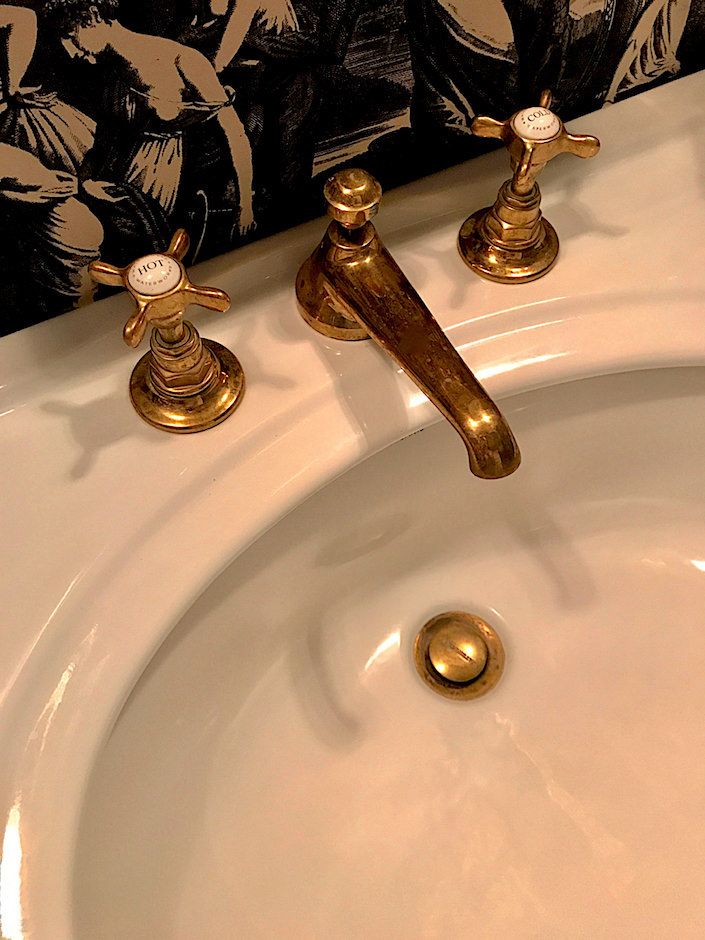 and sconces from Waterworks and a vintage mirror,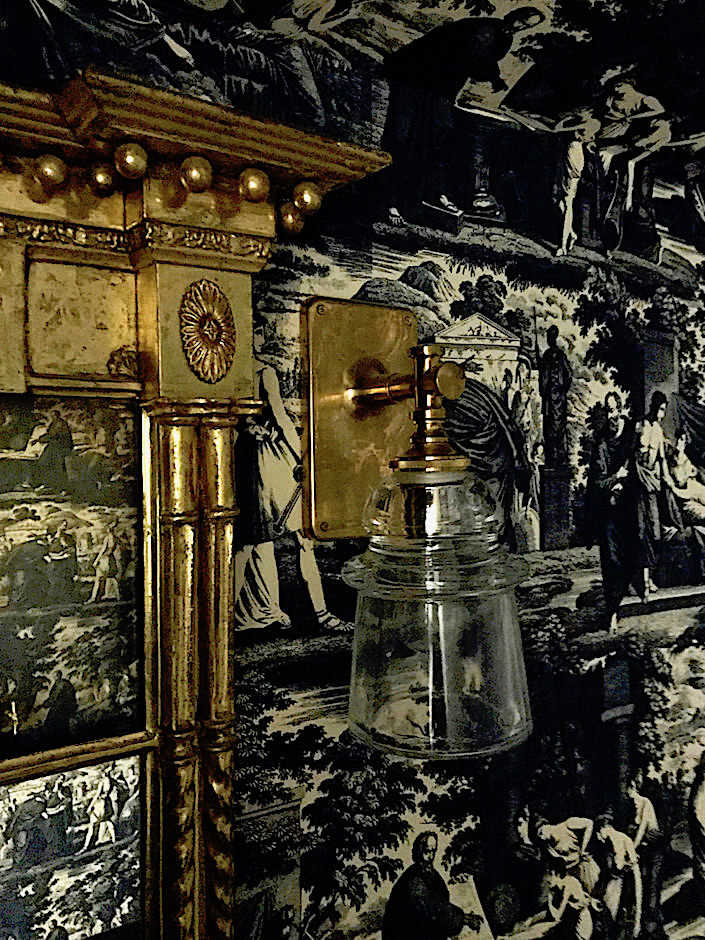 all added to the mix of old and new. Forbes & Lomax light switches let the pattern shine through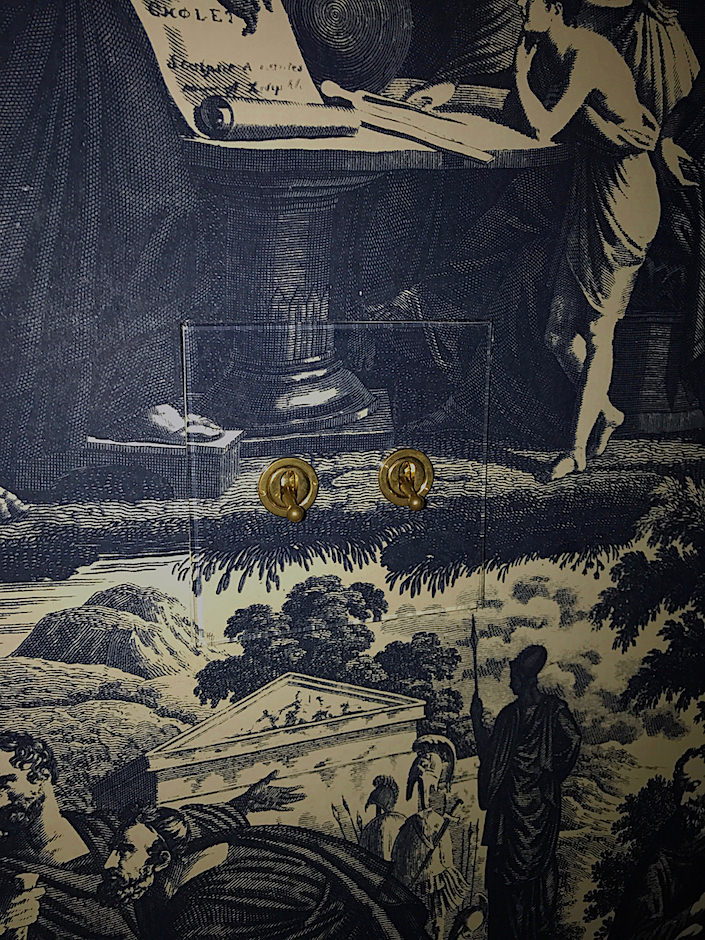 and jib doors hide a capacious closet while allowing the toile story to unfold.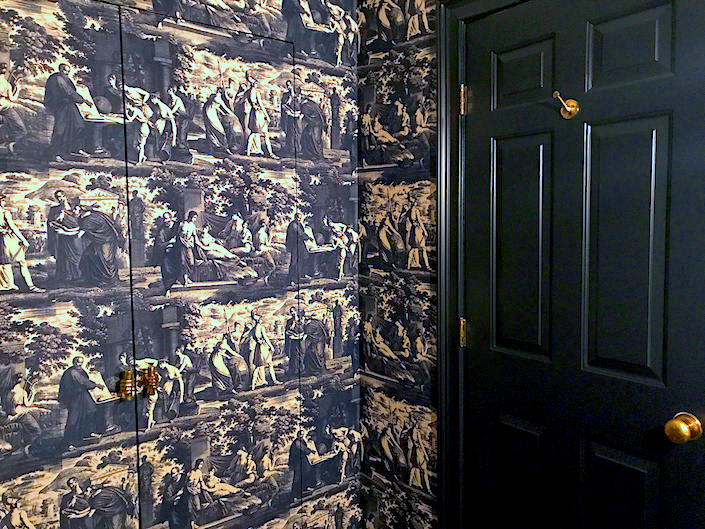 Soane's classic hand pulls were the perfect foil for opening the jib doors with understated style and whimsy.
And it also allowed me to add accessories from a few of my favorite creative friends – hand towels from Leontine Linens, NEST Fragrances Moss & Mint candle, and tissue box cover from Scanlon Apparati (available through Hollyhock and KRB).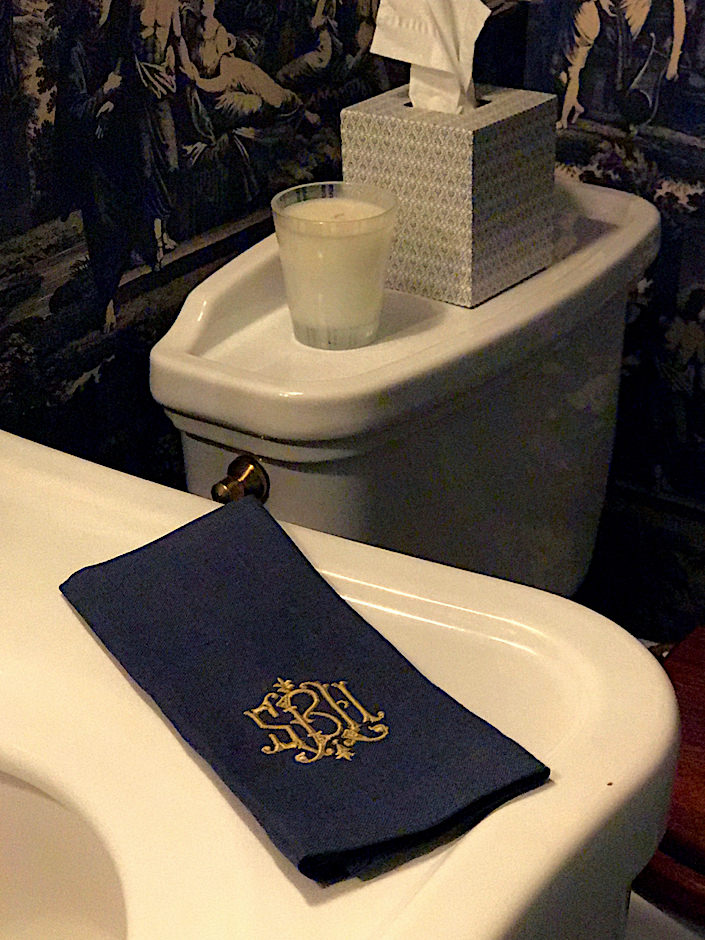 Lastly, I loved seeing a shout out to the Toile de Jouy International Foundation in Veranda, whose founders sponsored a lunch with editor in chief Clinton Smith on Nantucket I attended. Clearly, the timeless appeal of toile continues to inspire!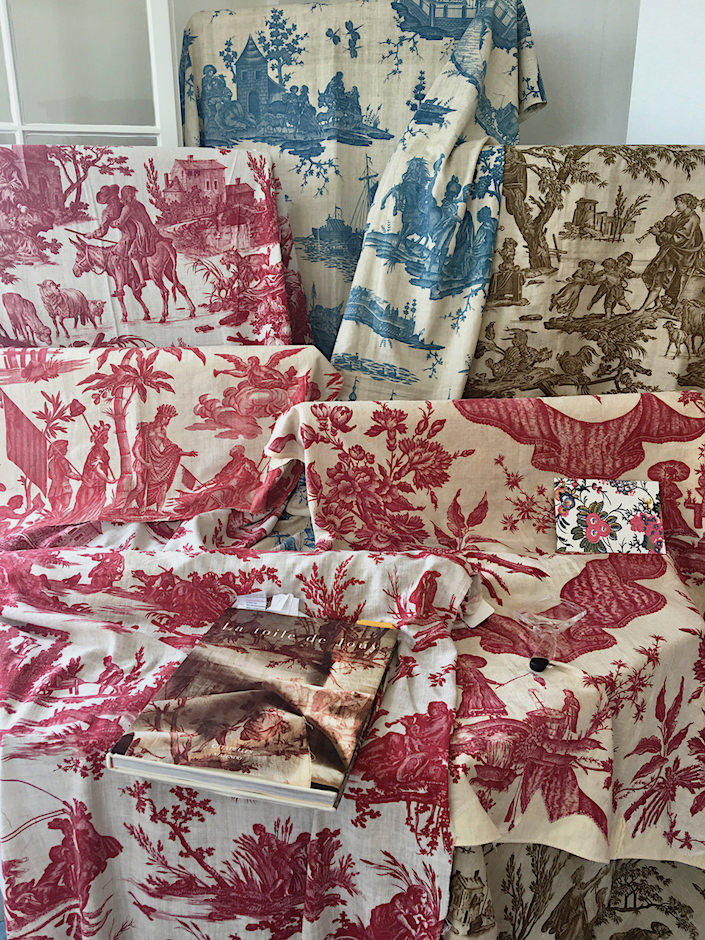 all photos by Stacey Bewkes for Quintessence unless otherwise indicated