It is always a pleasure, in the midst of winter, to visit a room abloom in a profusion of orchids. This week welcomed the annual New York Botanical Garden 2019 Orchid Dinner, transporting us to Singapore, one of the world's greatest orchid cultures and the inspiration for the upcoming 17th annual Orchid Show. Sponsored by Hearst, Veranda and Louis XIII cognac, the dinner features designers who took their cue from this exotic locale to create dazzling tabletops with creativity and drama.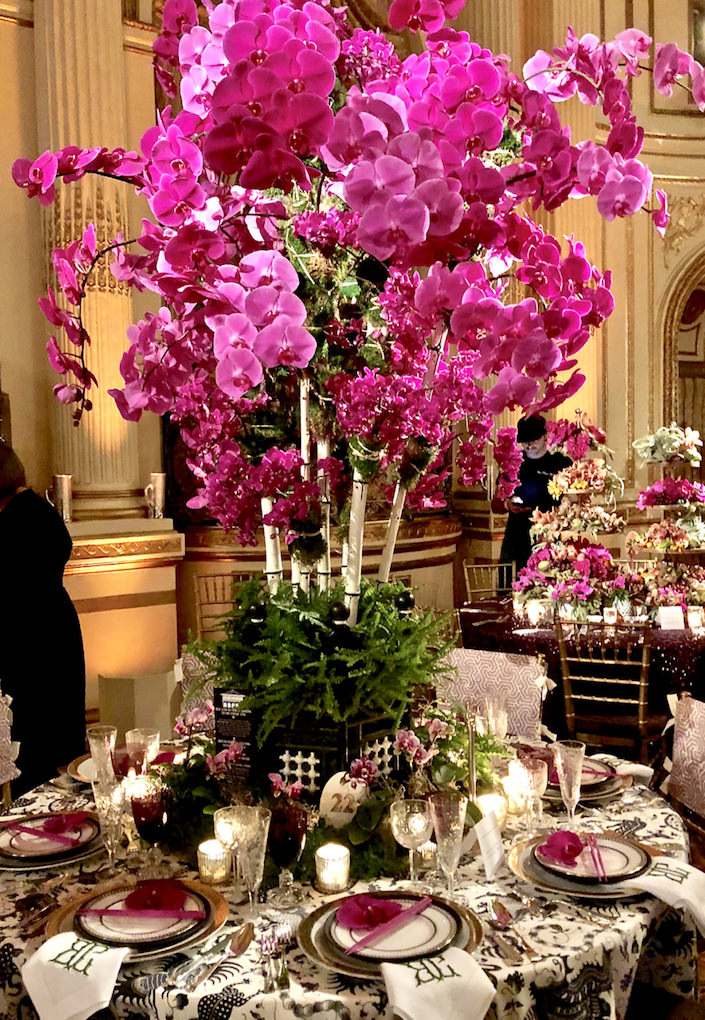 Inspired by Singapore's black and white Edwardian houses, Brockschmidt & Coleman set a bamboo fantasy with a tablecloth in a graphic Quadrille pattern accented by an explosion of fuchsia orchids in a stunning centerpiece by Elizabeth Spencer Designs. China, flatware and silver from Replacements and napkins from Leontine Linens completed the chic vision.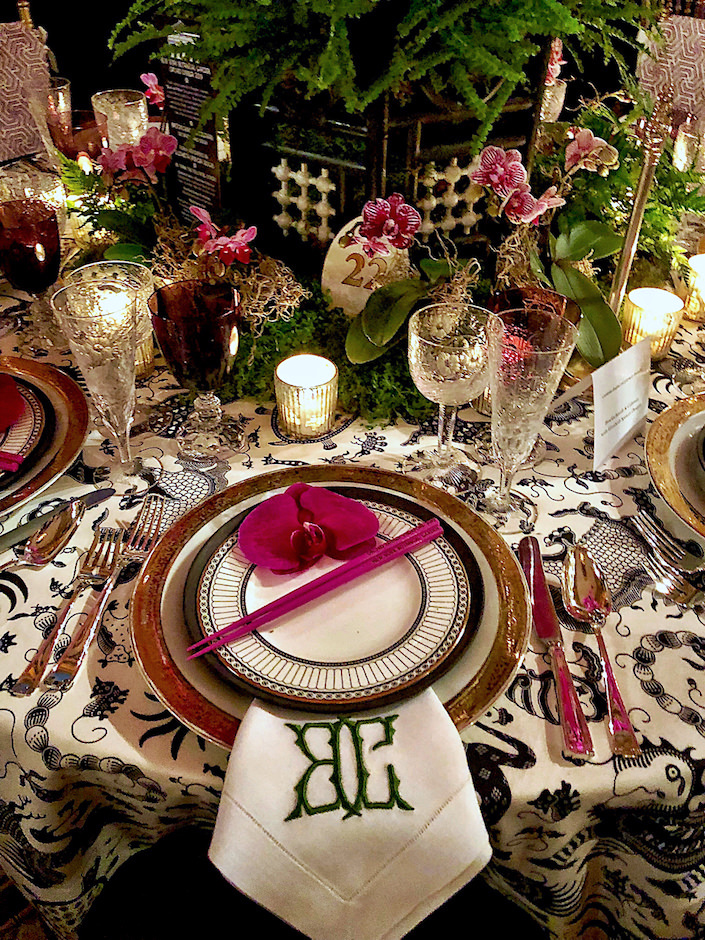 Cece Barfield based her table on a blue and green scheme anchored by a tablecloth of Bennison Cinnabar.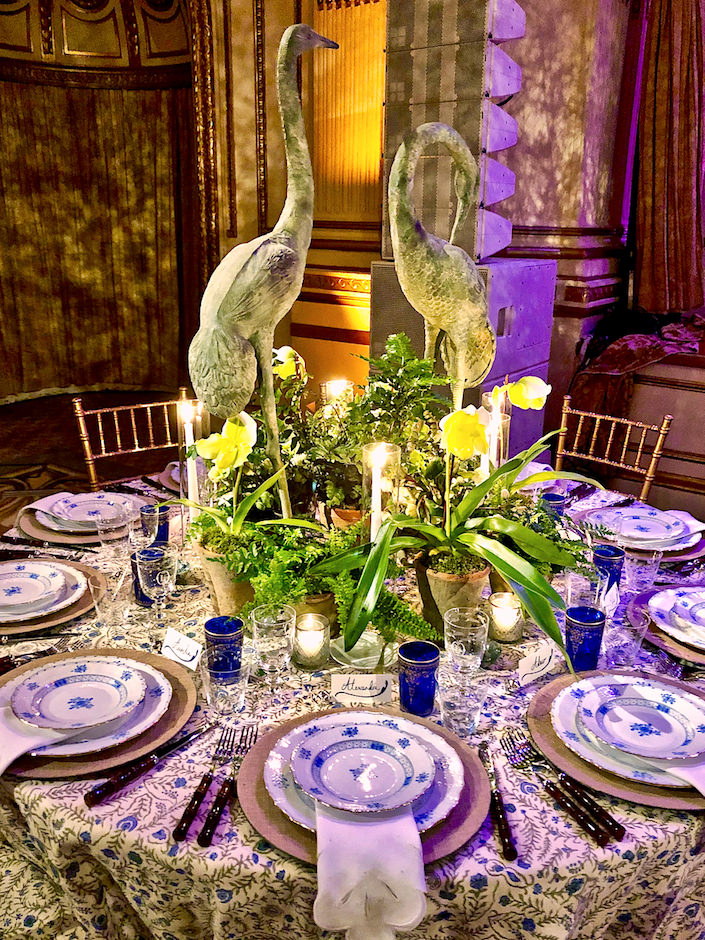 Herend's pretty Blue Garden and florals from Plaza Flowers completed the picture.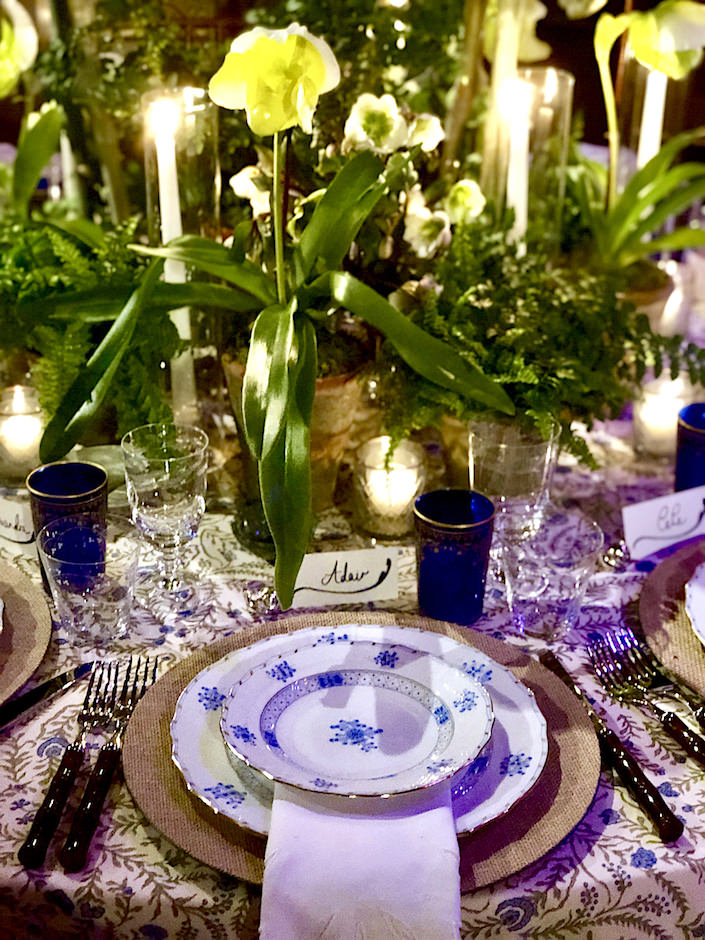 Chicago designer Shelley Johnstone's table brought a breath of spring with Clarence House pink checks,
Penny Morrison plates, her own glasses and bamboo flatware, Julian Mejia napkins and centerpiece florals by Plaza Flowers.
Also hailing from the windy city, Brynn Olsen worked with a Schumacher chinoiserie pattern and Joseph Noble Inc. for their exotic chair covers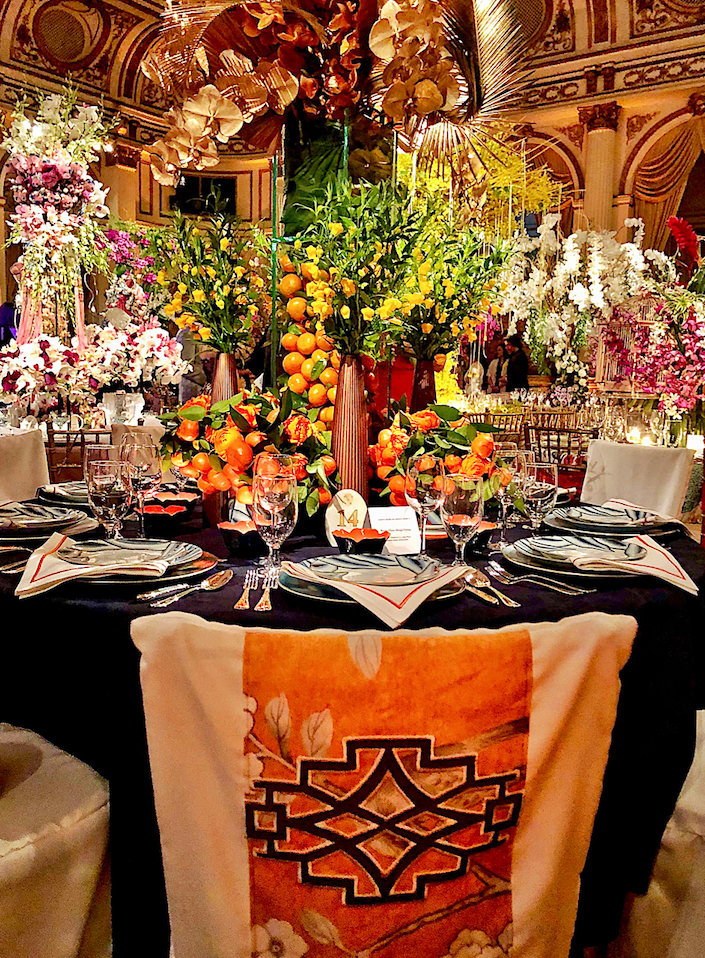 and collaborated with Kneen and Co to create a dramatic custom Marie Daage porcelain pattern. Flowers by Lady Fleur.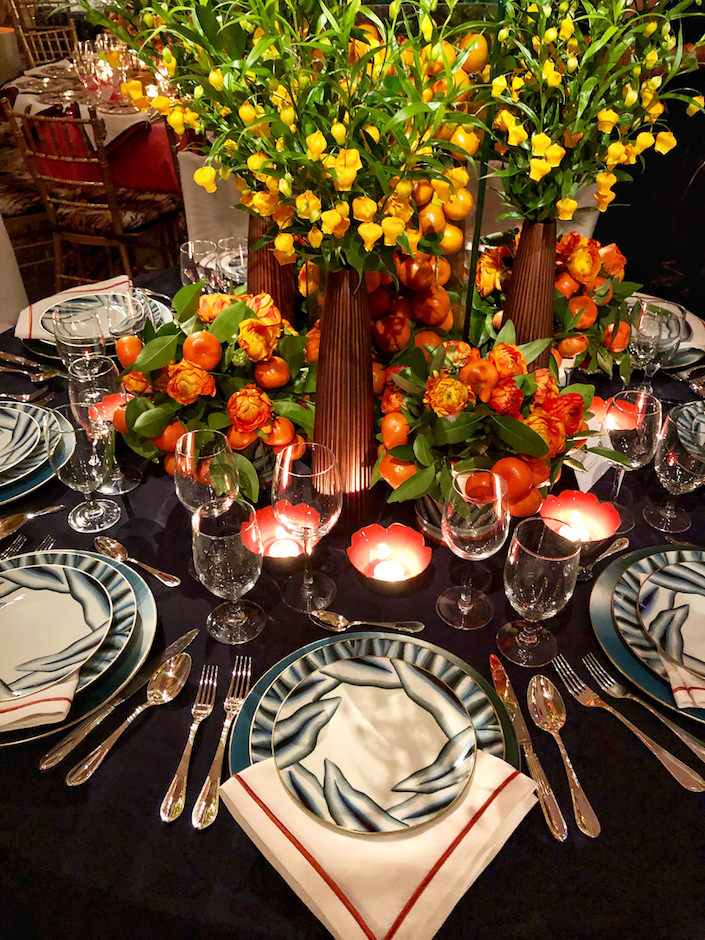 Architecture and interiors firm Craig & Company went to the dark side with their lush and luxe table.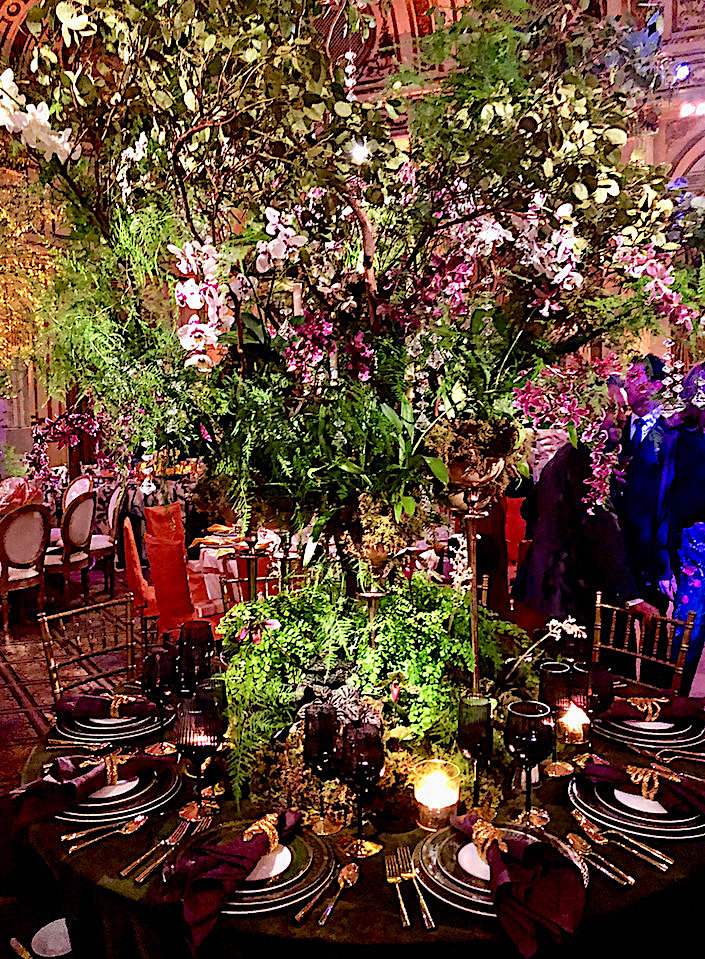 Caskata's Hawthorne Onyx, with its jewelry-like gold and platinum mix set the tone. Glamorous Nason Moretti stemware, House of Hackney napkin rings, SFERRA napkins (courtesy of Chicago Luxury Beds) and a lush botanical centerpiece by Jayson DeGeeter completed the scene.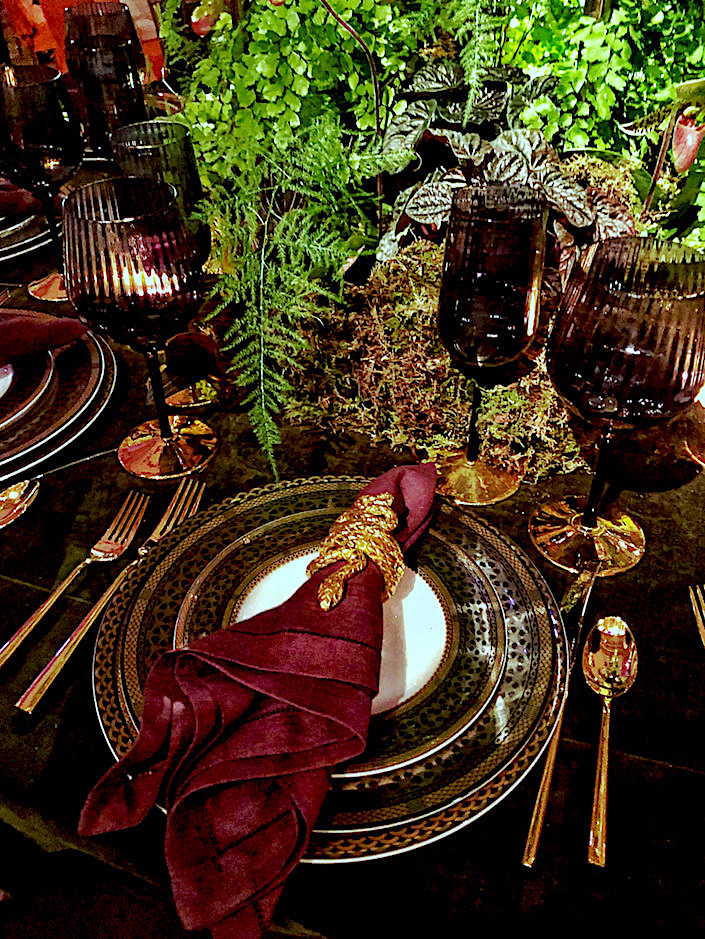 Paris Forino's ebullient table started with Jim Thompson's vibrant embroidered Heliconia Dreamin'.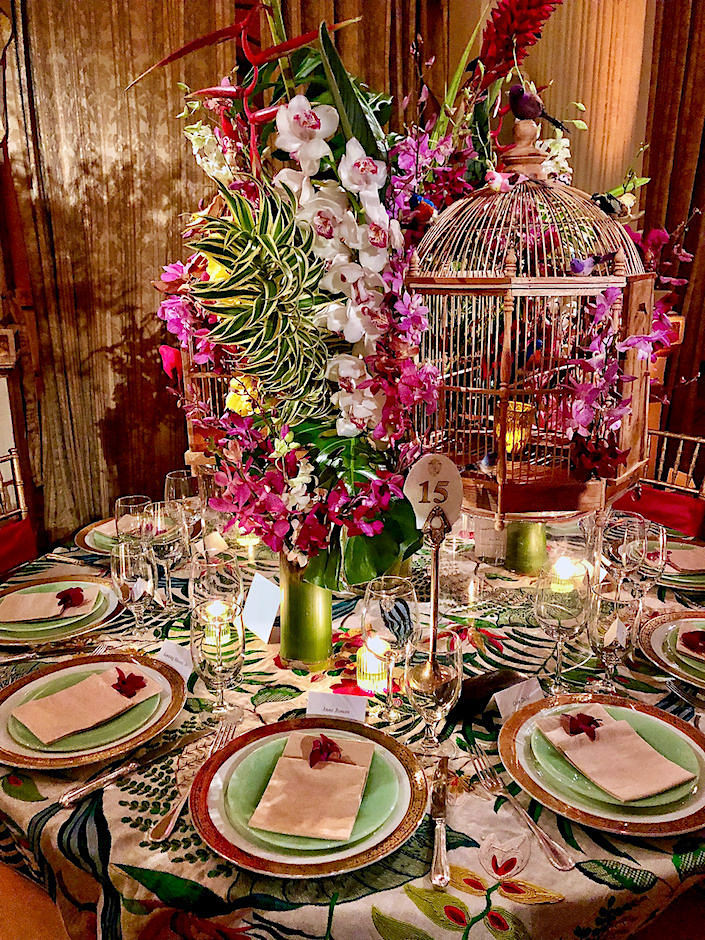 And while I don't have any more details, I loved the tropical and exotic feel!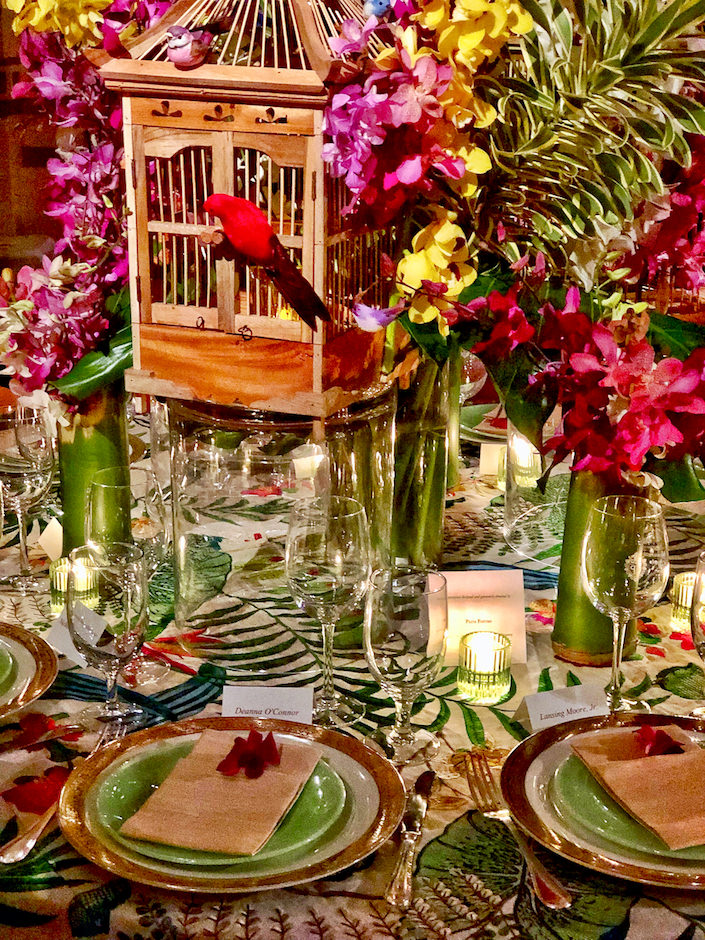 Cathy Kincaid created a clever tablecloth with a grid of Samuel & Sons trim, anchored by a fabulous centerpiece by Sebastian Li in a John Rosselli ceramic fish container.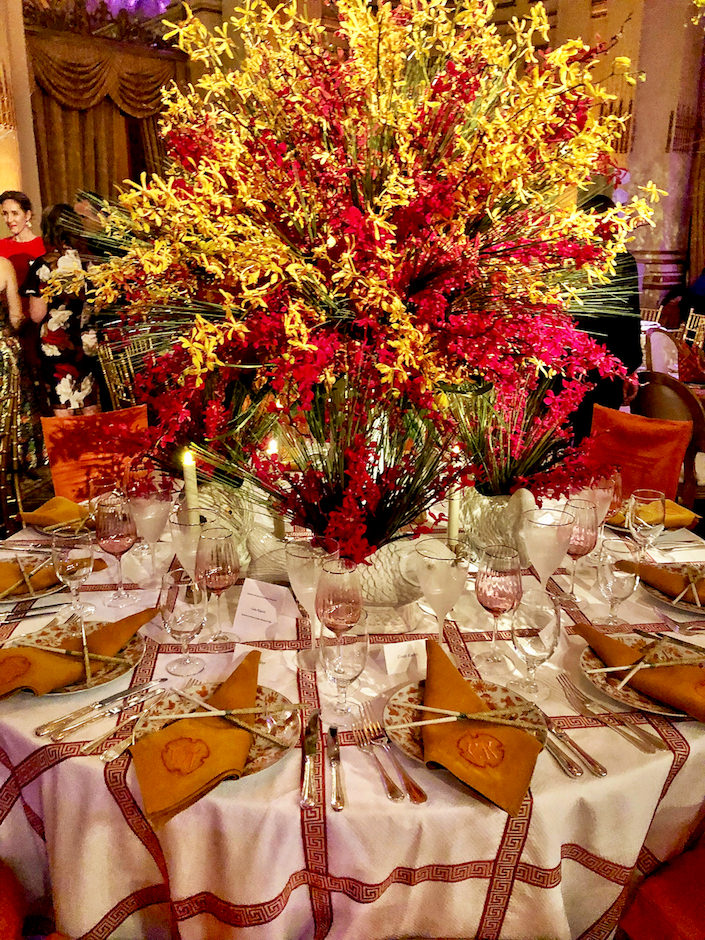 And one of my favorite Mottahedeh patterns, Sacred Bird, sits under embroidered napkins by Leontine Linens.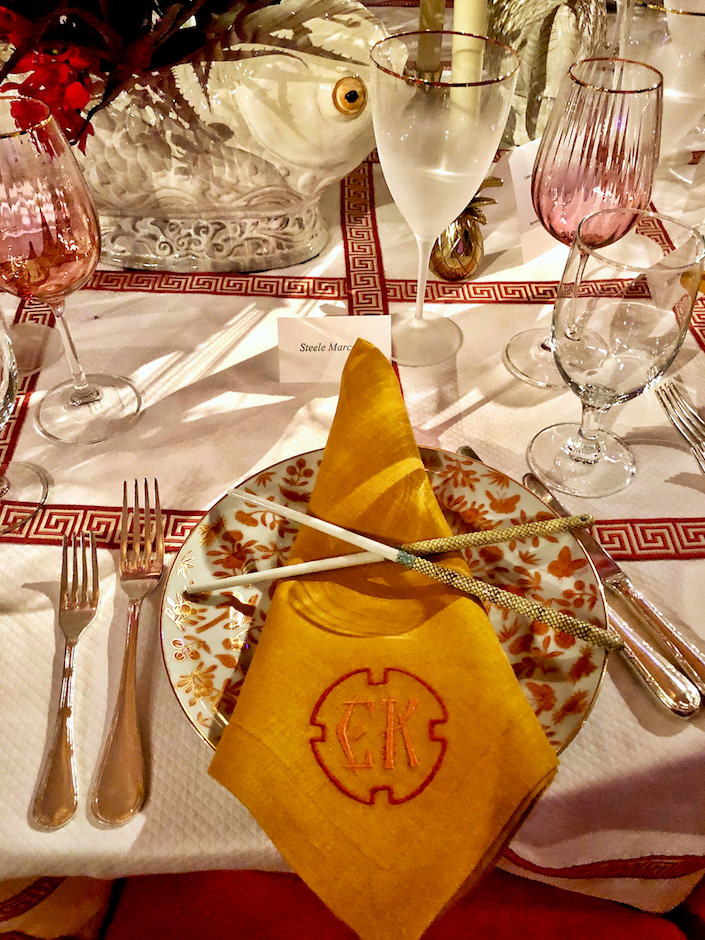 Brittany Bromley's table featured an orchid covered elephant under parasols trimmed in Timothy Corrigan's new Chevallerie passementerie collection.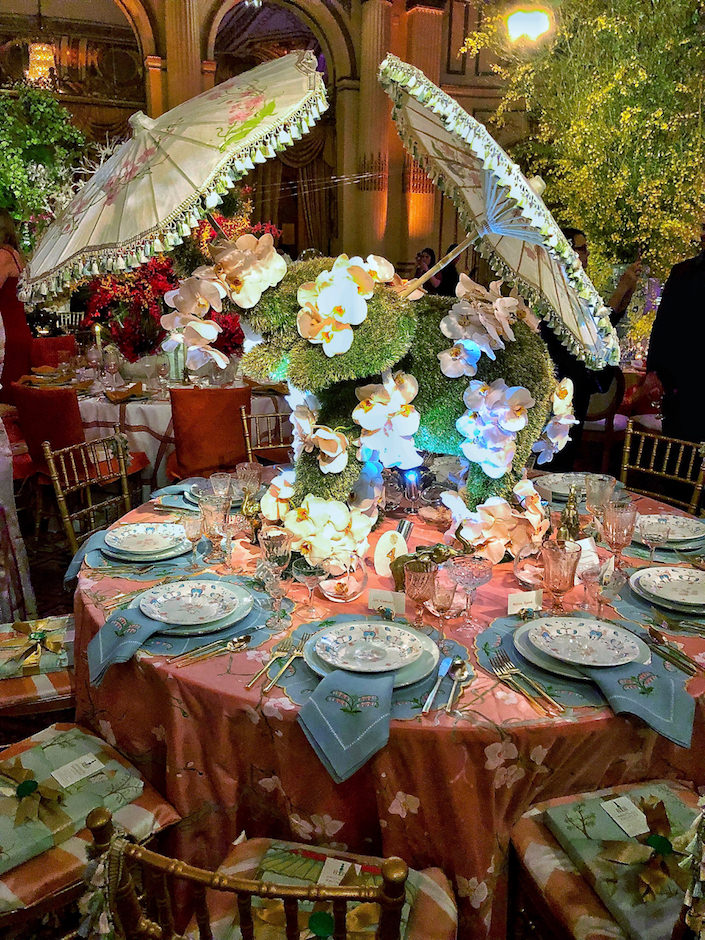 On a tablecloth of Schumacher silk taffeta hand painted orchids were festooned under place settings by Julia B.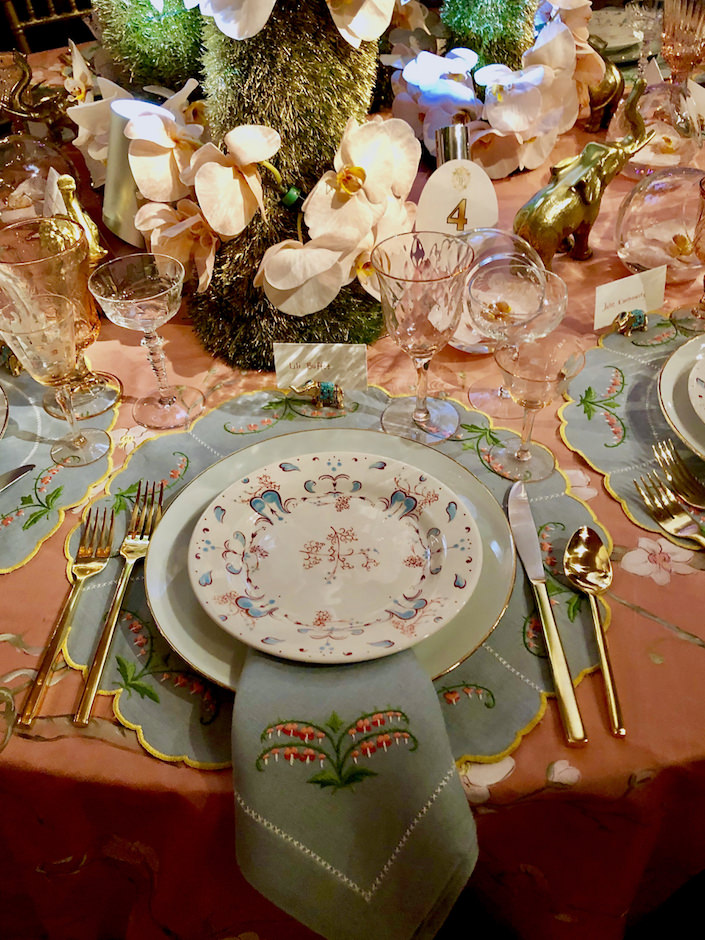 The lighting was especially challenging and I wish I had gotten a better shot of Phillip Thomas' beautiful table.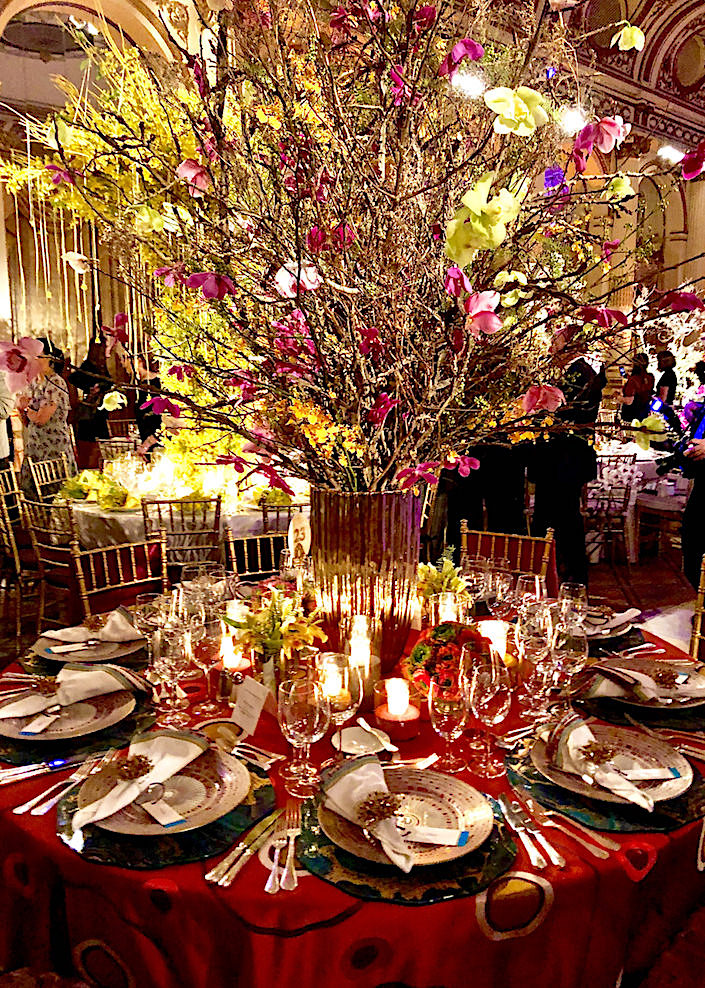 On a tablecloth of a brand new Manuel Canovas pattern, Phillip layered mats from Kim Seybert and R. Haviland & C. Parlon's Syracuse porcelain.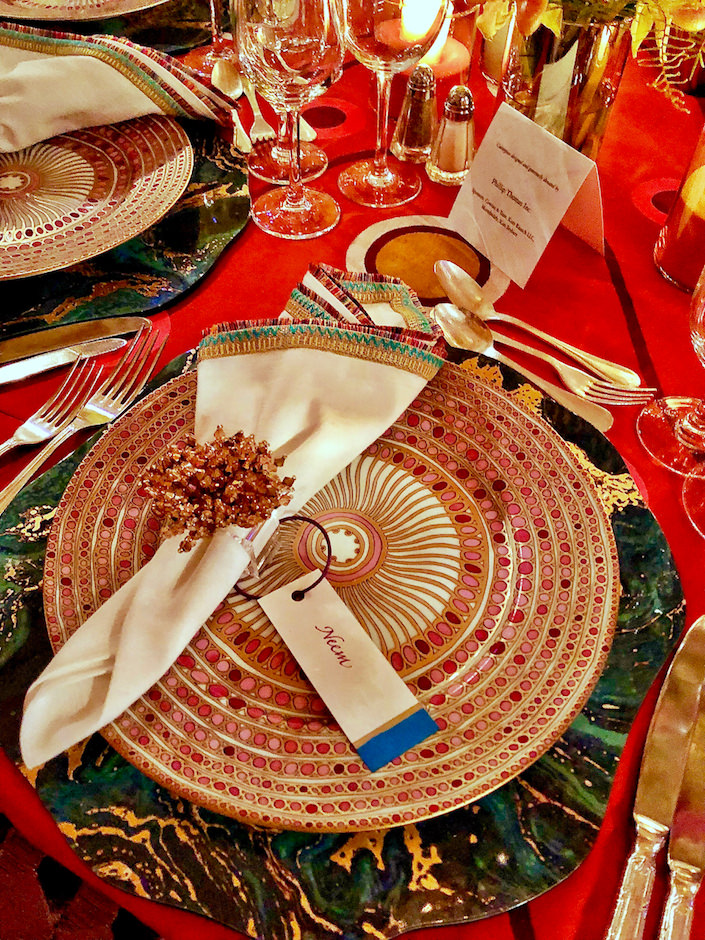 While I didn't get a good shot of Robin Henry's entire table, I loved the details of her Gucci inspired table that she commented referenced the over the top "tacky" family from Crazy Rich Asians.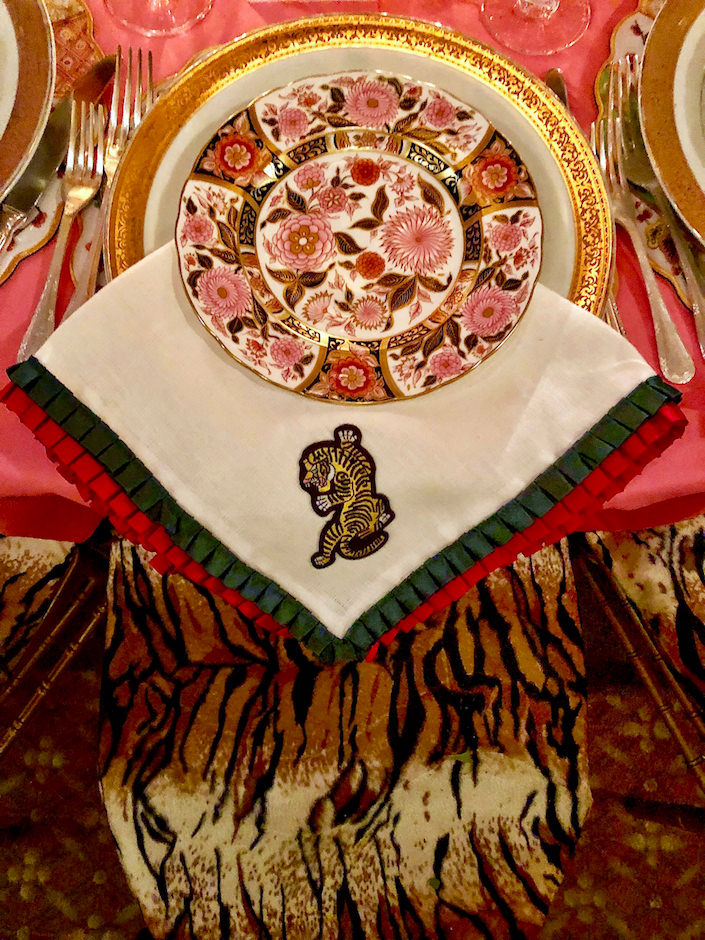 Another fun table I couldn't capture properly was David Netto's.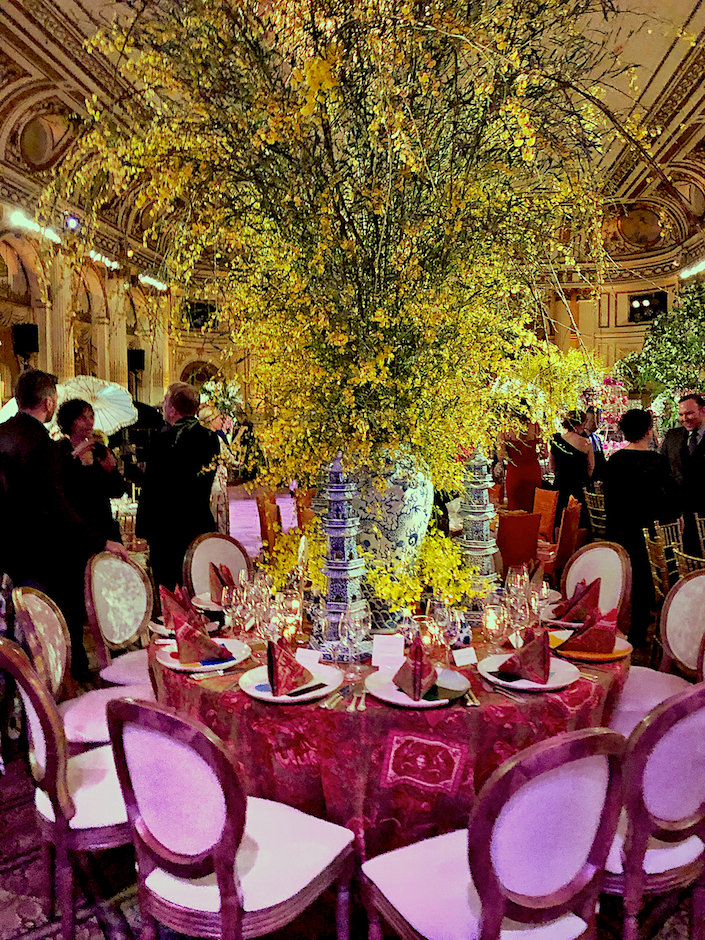 On a tablecloth (and napkins) made of a classic Pierre Frey toile, he layered Bauhuas  contemporary plates by London based Darkroom with Pagodas from Frontgate.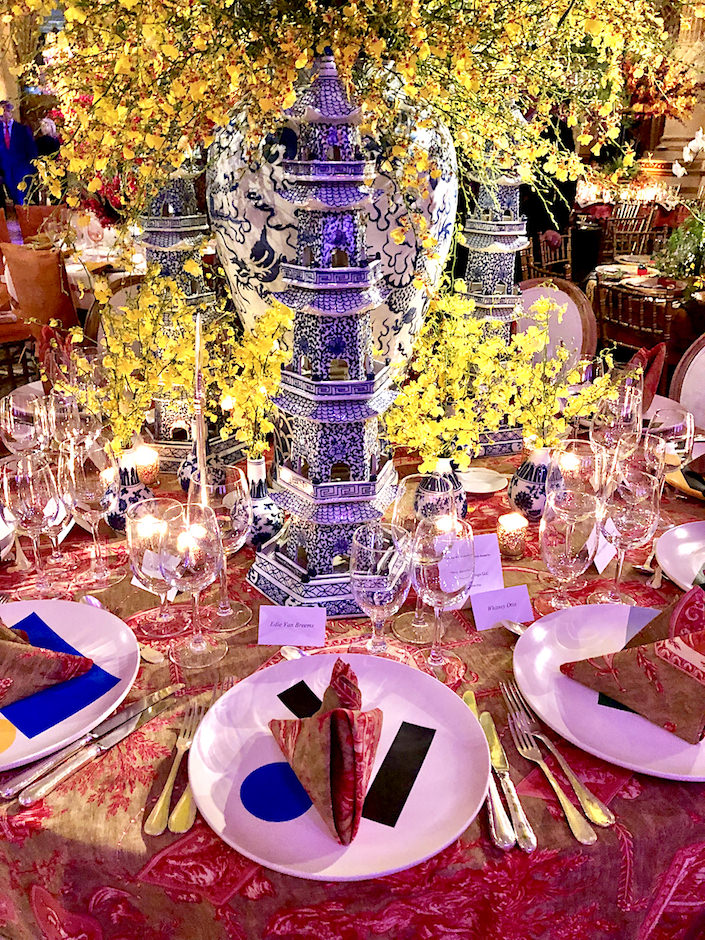 Connecticut based, Swedish style antiques and design experts Eleish Van Breems were inspired by 1926 Singapore, where "Art Deco style intersects with dramatic performances of Chinese opera on the street and at the great Singapore opera theatre, Lai Chun Yuen" … celebrating the "beautiful Vanda orchid and the blend of cultural influences that is Singapore to this day."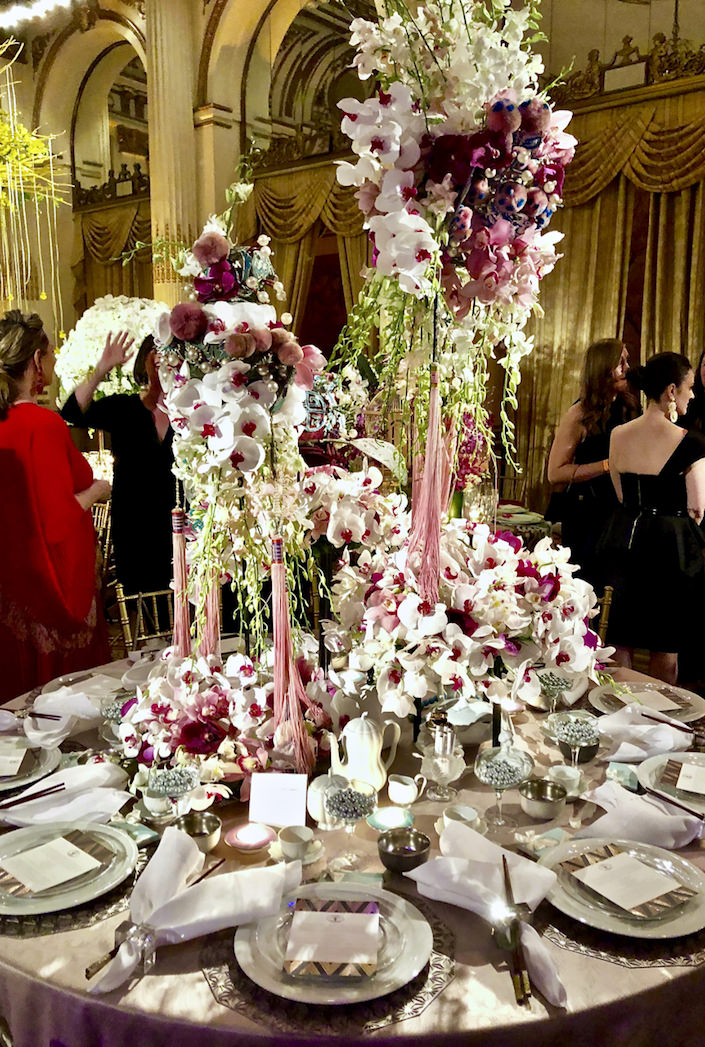 Their thoughtful table included, among other sources, Rogers and Goffigon linen, Augarten porcelain and Lalique crystal.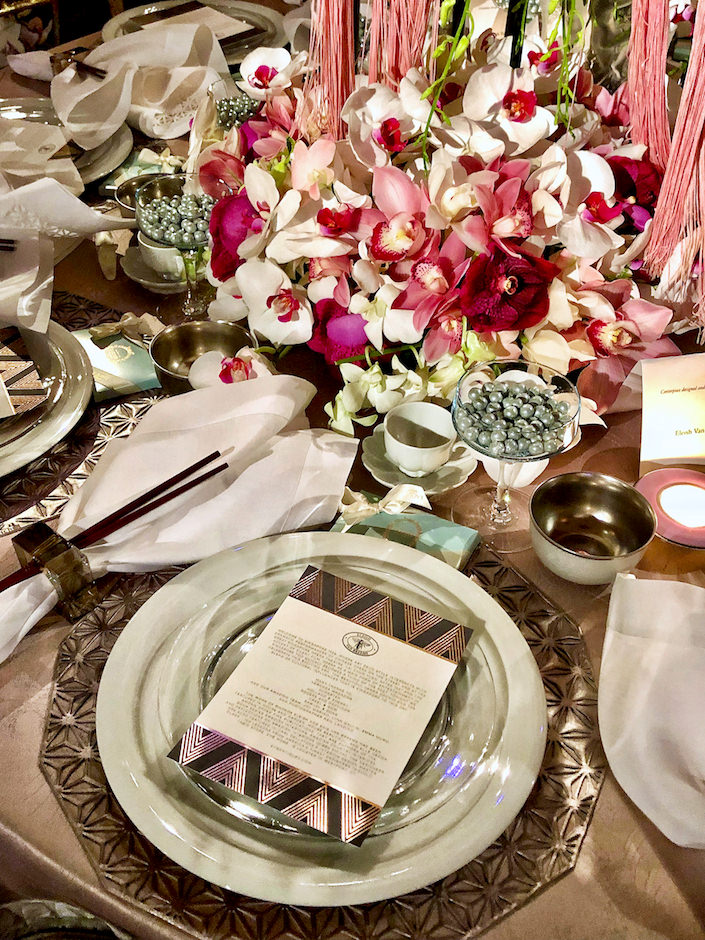 Juliska produced a lovely table in blue and white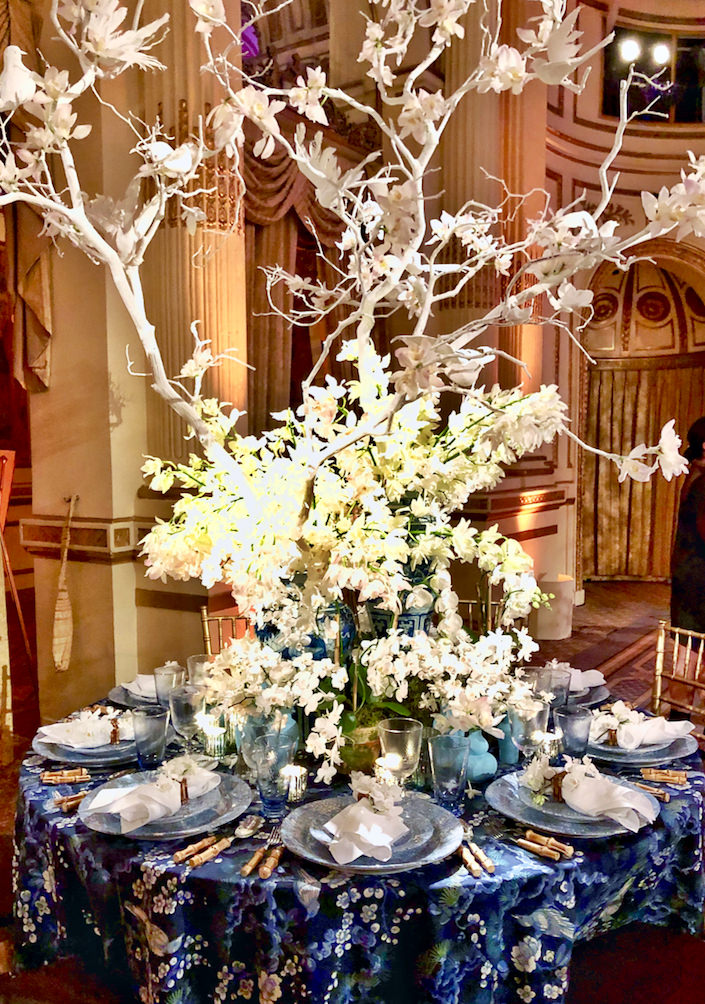 with their own tabletop products.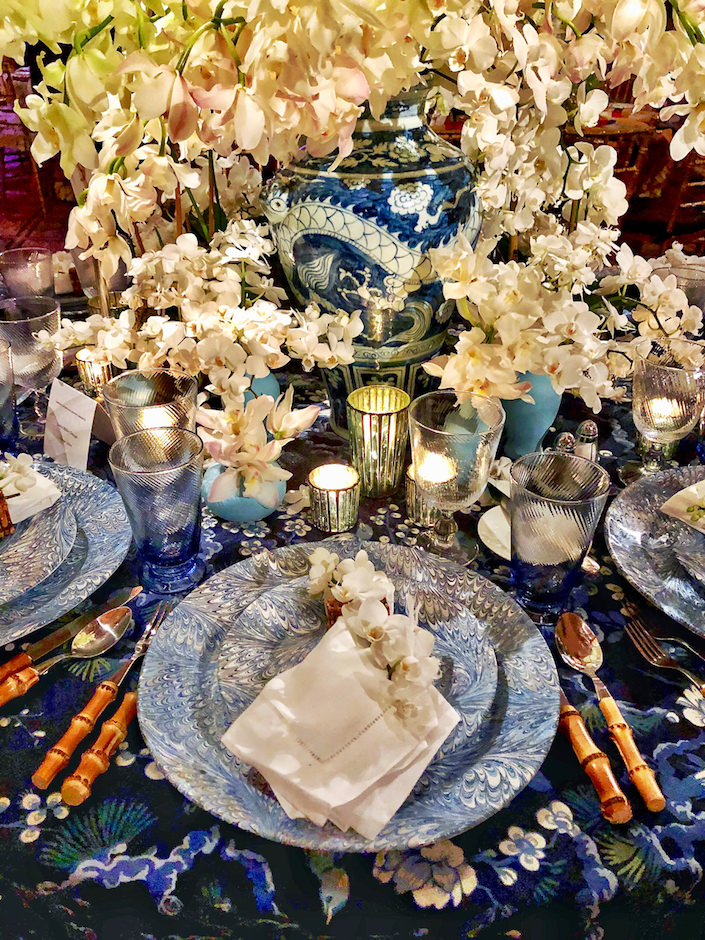 Colin Cowie created a dramatic and luxurious table for sponsor Louis XIII cognac,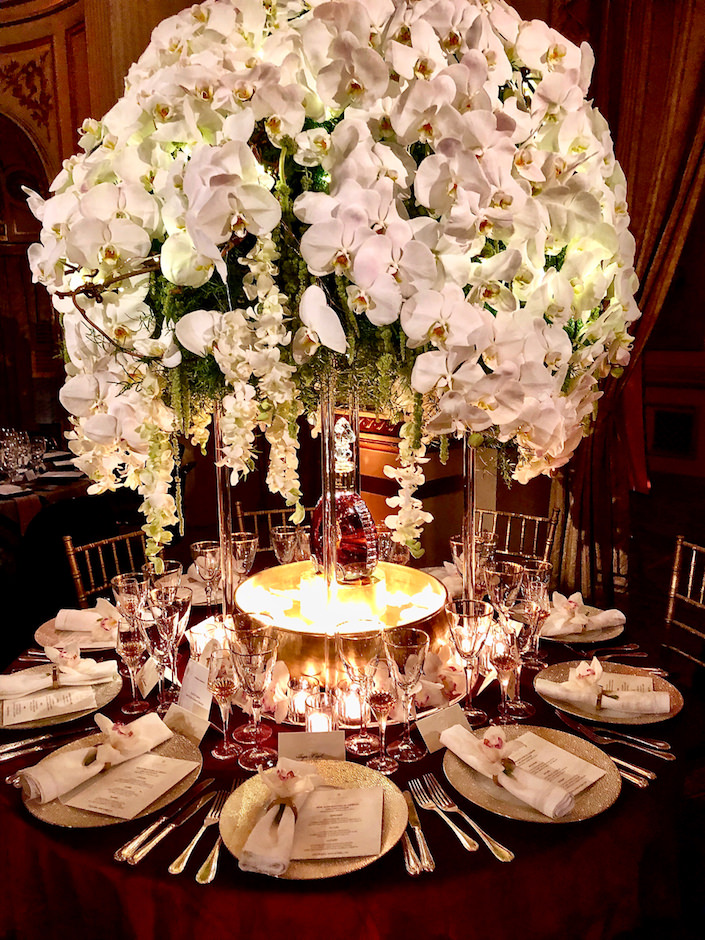 starring the signature crystal bottle center stage.
all photos by Stacey Bewkes for Quintessence
Apologies to the other lovely tables that I either didn't have time or good enough light to shoot. As always, it was an inspiring evening of great design for a wonderful cause, this year raising over $500,000 to benefit the Garden's orchid research collection.