Last night I dreamt I went to Manderley again… Many of you will recognize those evocative words from one of my favorite novels, Rebecca. Daphne du Maurier's well loved gothic story was also brilliantly adapted to the big screen by Alfred Hitchcock in his first Hollywood venture and what would be his only Best Picture Oscar. And while the movie centers on the suspenseful love story and mystery involving its stars Laurence Olivier and Joan Fontaine, the house, Manderley, looms large in both book and movie.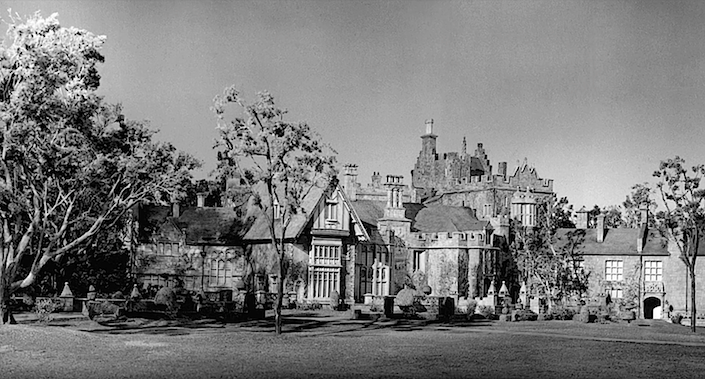 When in England last fall shooting for Susanna Salk's At Home with Dogs and Their Designers in the English Countryside (coming spring 2020 from Rizzoli), we photographed at Wardington Manor, the home of Bridget Ellsworthy, one half of The Land Gardeners. Its enchanting interiors, especially the sitting room, below, with its soaring height, gothic windows and faded chintz, somehow reminded me of the great illusory Manderley.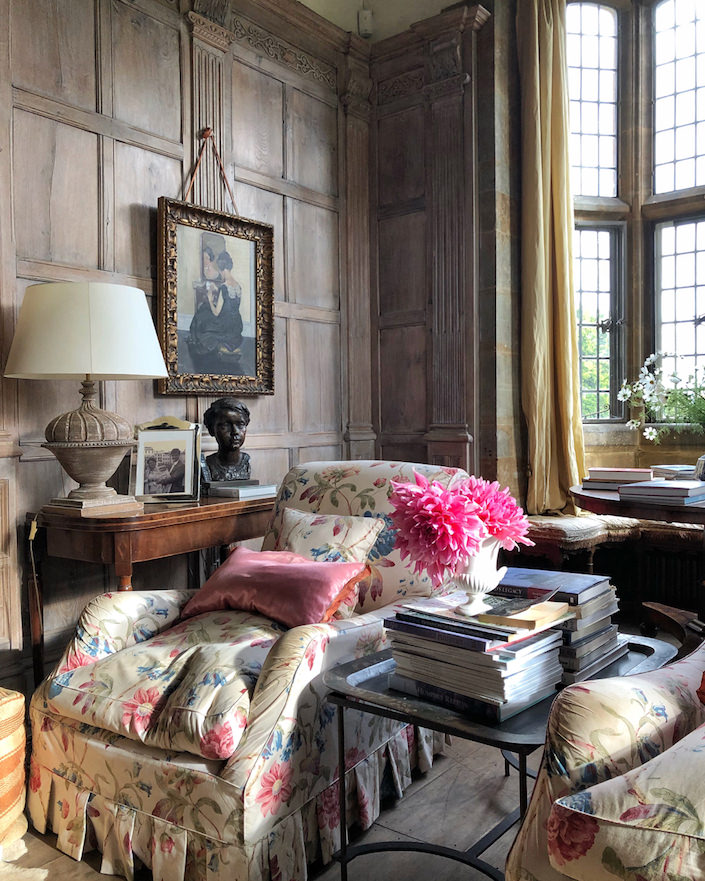 And then I heard that a remake of Rebecca starring Lily James and Armie Hammer is coming to Netflix. So I thought we'd take a moment to visit a bit of the story behind the style of Rebecca and Manderley, the grand Cornwall estate by the sea, home to Olivier's character, the dashing George Fortescue Maximilian de Winter (Maxim).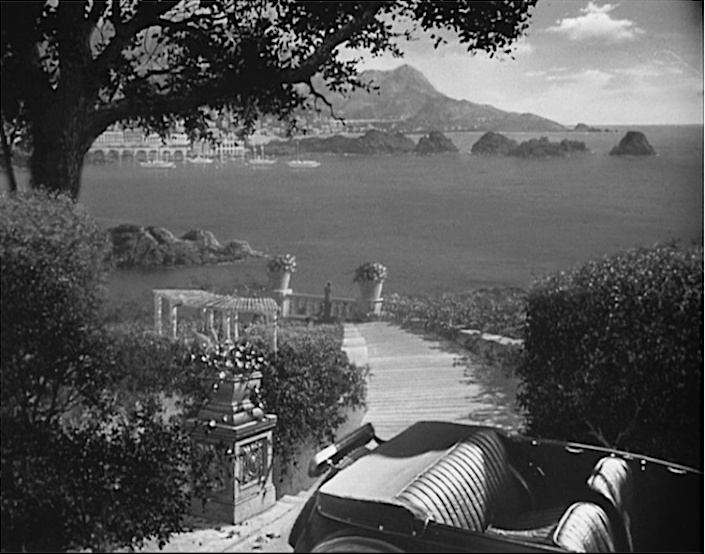 Since it was impossible to shoot in England in turbulent 1940, Manderley had to be created in Hollywood. What you may not realize is that the exterior of this fictional 16th c. manse was not an actual building or even full size set but rather built with miniatures and matte paintings (an example of this techinque in an early scene above) in two different scales – the larger at 50 feet wide. And the interiors not only echoed the age and style of the exterior but were especially lofty to not only simulate the grand mansion but also dwarf Joan Fontaine's character. In fact Olivier had wanted to star with his then fiancee Vivien Leigh but producer David O. Selznick felt she was too strong a personality and wouldn't be convincing as the meek and intimidated second Mrs. de Winter.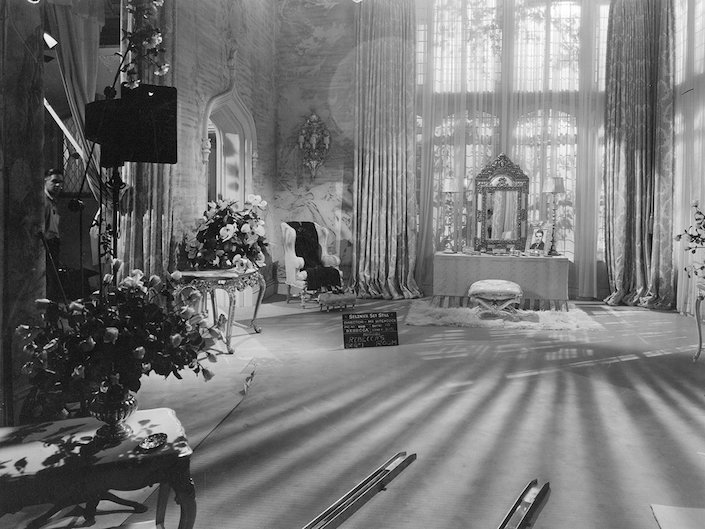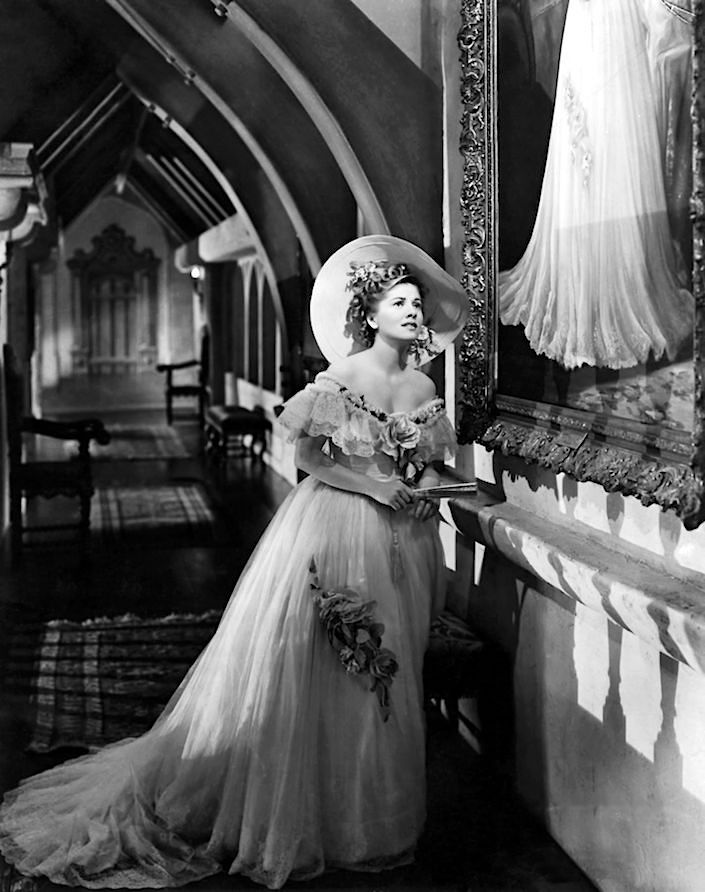 The inspiration for Manderley was born of du Maurier's obsession with an abandoned Georgian country house in Cornwall, Menabilly, above, that she had coveted since her youth. It wasn't until 1943, five years after the publication of Rebecca, with the financial rewards she reaped from it, that du Maurier finally got to live there.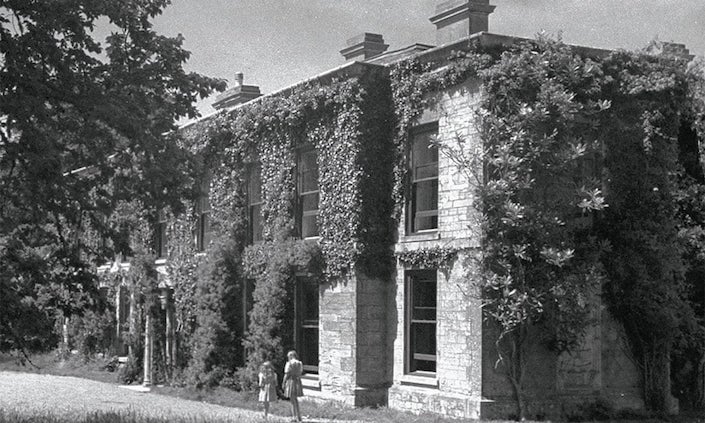 And while Menabilly may have inspired the hidden country setting for Manderley, Milton Hall in Cambridgeshire, below, was the inspiration for the grand architecture and interiors. Du Maurier had strong childhood memories of visits there in 1917 when it was being used as a convalescent home for British Army officers.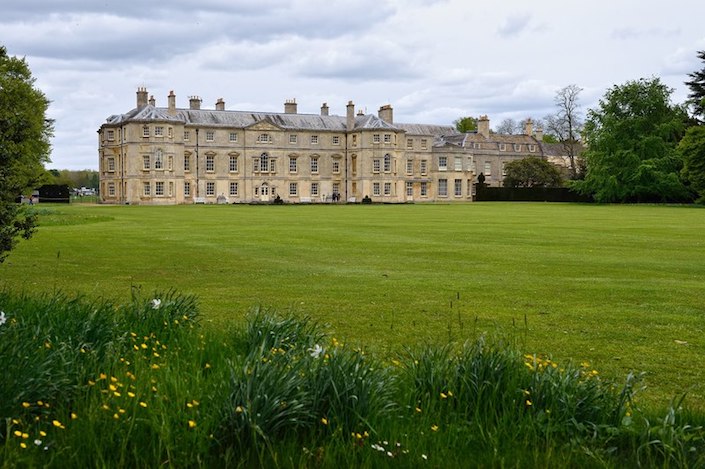 You may recognize it from The English Country House – the gallery with its spectacular three part ceiling, designed in the early 1700s, below.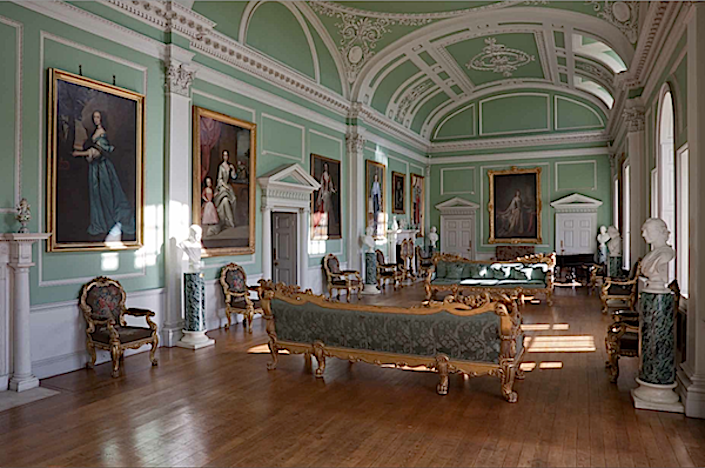 And a particularly menacing housekeeper at Milton Hall was evidently the source for the character of the legendary Mrs. Danvers, whose bizarre dedication to her former employer (the "real Mrs. de Winter") is part of the subtle psycho-sexual drama of the movie.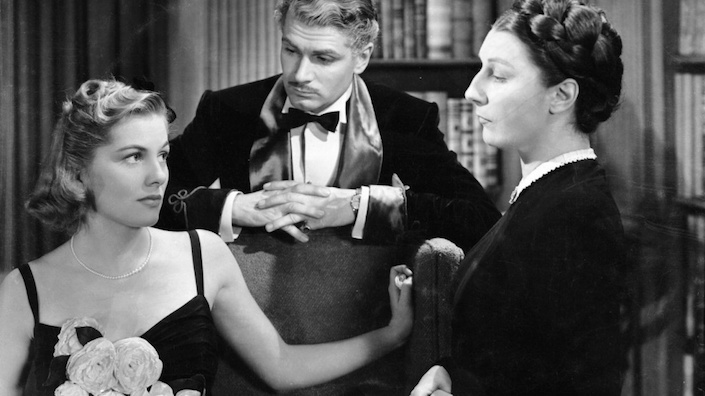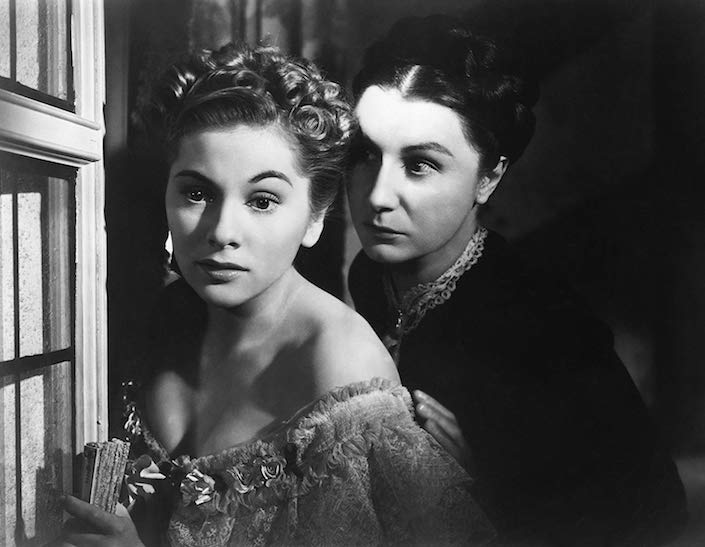 The psychological suspense of Rebecca held special appeal for Selznick as well as Hitchcock. And, like du Maurier, houses and interiors held particular significance for the director who felt they were an additional way to portray the psychic landscape of his characters.  At Manderley, the beautiful deceased Rebecca continues to rule and it lives on as one of the great houses in film. Hitchcock's fascination with du Maurier continued in The Birds, which, after his long standing contentious relationship with Selznick, he produced himself. It remains to be seen how Manderley will be represented in the new version of Rebecca.