Southport, Connecticut was hopping this weekend with this year's version of one of my favorite local design events, Rooms with a View 2014. Originally conceived by Albert Hadley, this destination designer showhouse transforms the Southport Congregational Church into twelve 5′ x8′ mini rooms created by top local and New York City designers. This year marked the 20th anniversary of this popular fundraiser with the theme "20/20 Visions." Led by Honorary Chairman and Parish Hadley alumnus Thom Filicia, sponsors included Serena & Lily, Farrow & Ball with domino magazine as national media sponsor,  all of whom contributed to a series of successful events over the past three days.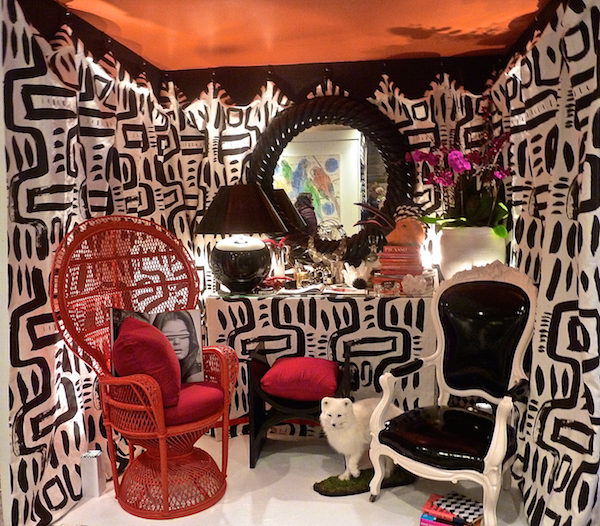 I loved the theme of Patrick Mele's fabulously vibrant vignette – An Adventuress's Trinket Room. Using his own Grace fabric, created as part of a four designer collaboration with Peter Fasano (see our video of the making of the collection), Patrick's room was an "ode to all of the great women that have inspired me in my creativity and continue to guide my visual journey." From his original sketch, below,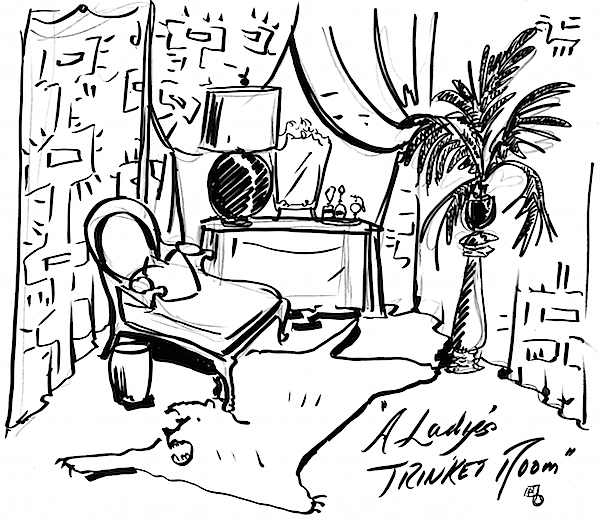 you can feel the spirit that is dedicated to "ladies who aren't afraid to color outside the lines of life." With an impressive and eclectic group including such exalted names as Amelia Earhart, Millicent Rogers, Diana Vreeland, Julia Child, Isabella Blow, Margaret Thatcher and Patrick's own mother, his room was an inspiration to live life to the fullest.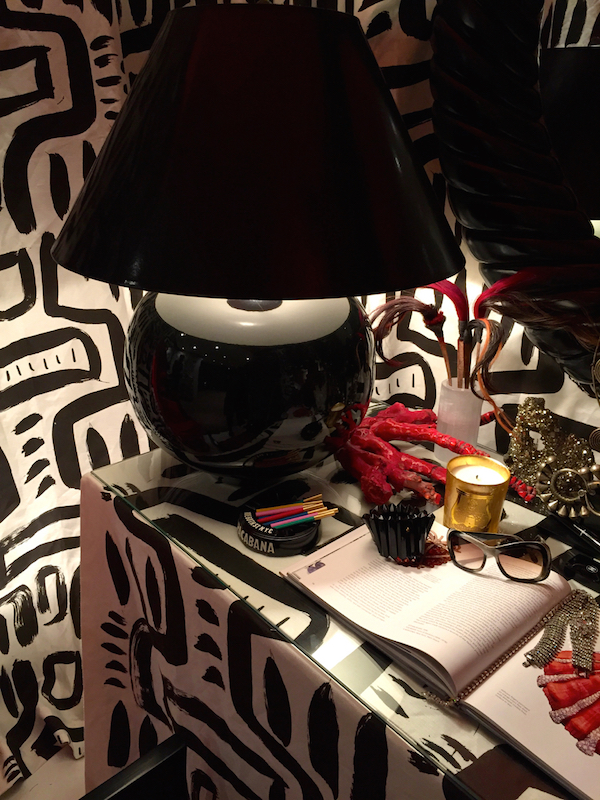 Covetable trinkets from chic sources such as Creel and Gow and the Antique and Artisan Center enhanced a fantasy space where a woman can be "surrounded by her favorite things – jewels, books, treasure from journeys to foreign lands and perhaps a vice or two."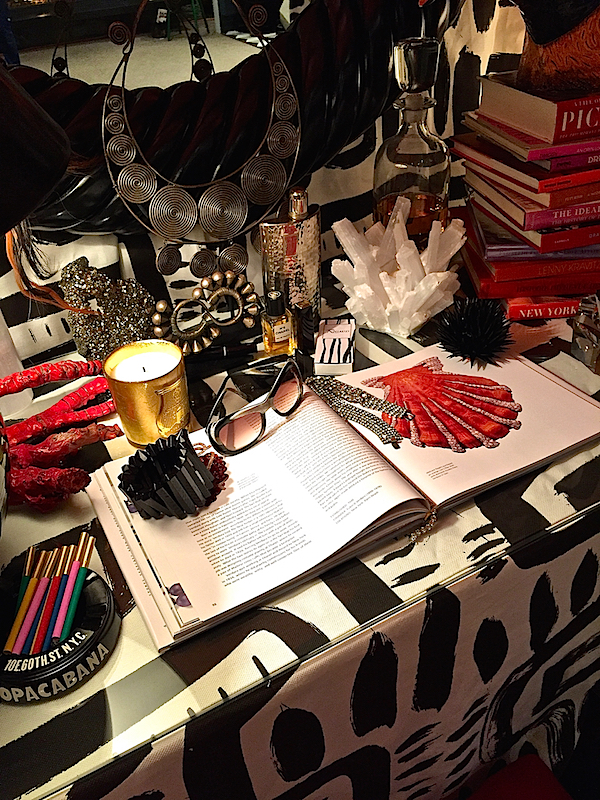 Thank you Patrick for the invitation to a world inhabited by "women who struck out on their own, bucked societal norms and most importantly followed their dreams" – it's a list to aspire to!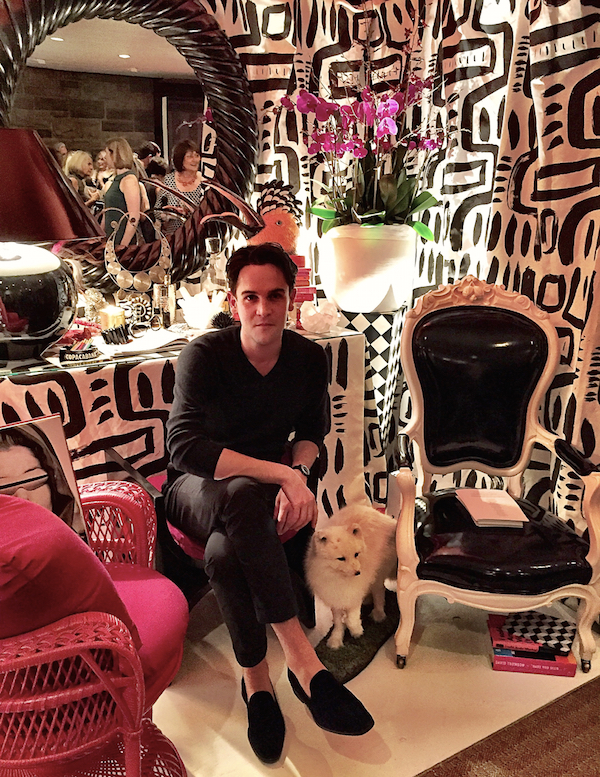 Antonino Buzzetta's rising star has been on my radar ever since I saw his spectacular Design on a Dime room in 2013. A self described "traditionalist wrapped in a cloak of modernity," his designs are bold plays on pattern, color and scale, resulting in rooms of stylish glamour and depth of character.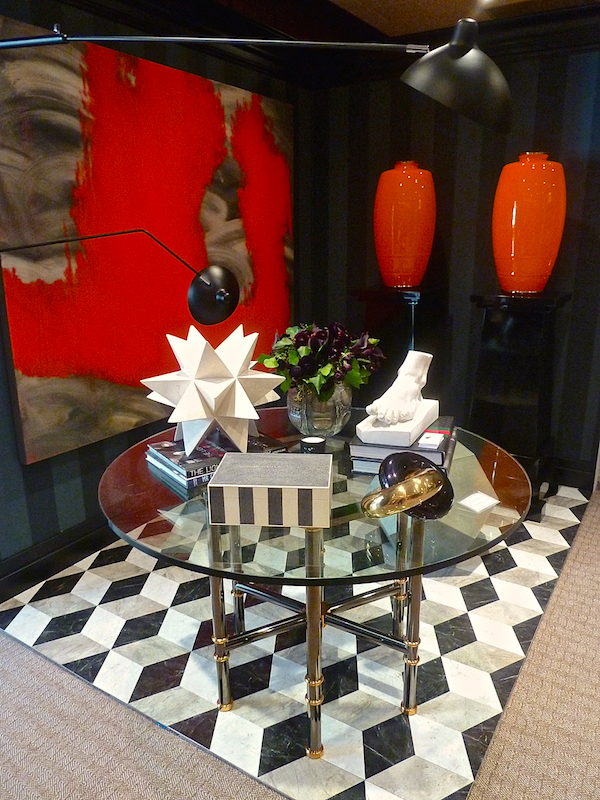 His original sketch below, shows his inspiration for creating a dramatic entry foyer, his favorite room in a house.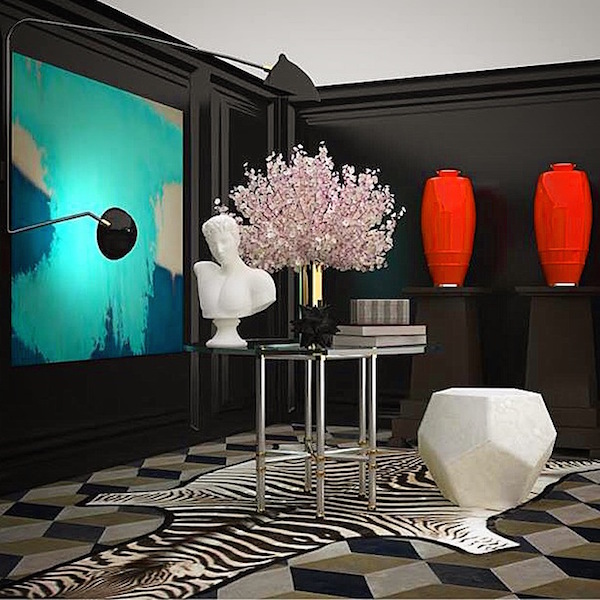 In this view you can better see how the dynamic color and geometry communicate so successfully. An abstract Jeff Muhs oil painting and Lorin Marsh Murano glass urns on elegant Templeton pedestals from John Boone start the conversation between contemporary art and classical allusion. And the bold pattern of the floor against the subtle stripe of the Farrow & Ball wallpaper interact effortlessly.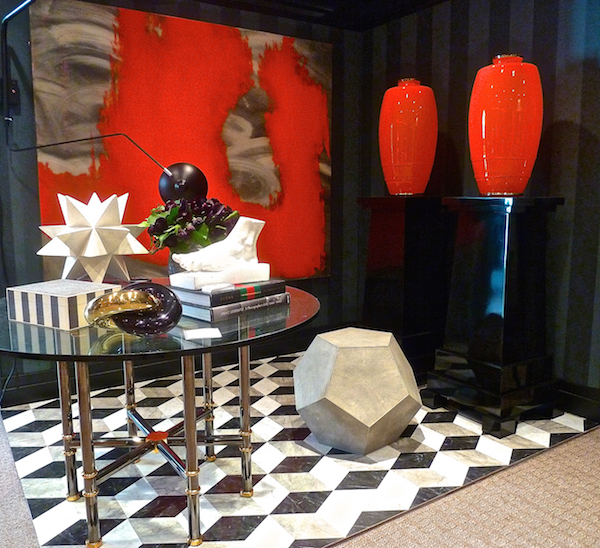 The story of juxtaposition – of old and new, of contrasting textures and materials – continues in a chic tableau on a Lorin Marsh table with bold black and white accessories from Flair Home and Sedgwick and Brattle.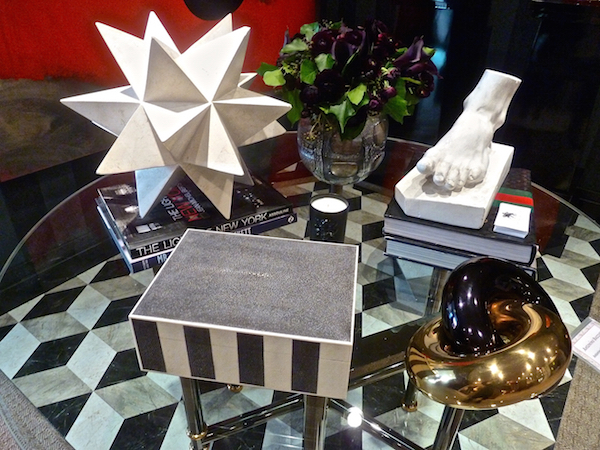 And while Antonino's rooms are dramatic, they are at the same time sexy and inviting. Below the designer and Thom Felicia are justifiably basking in the glow.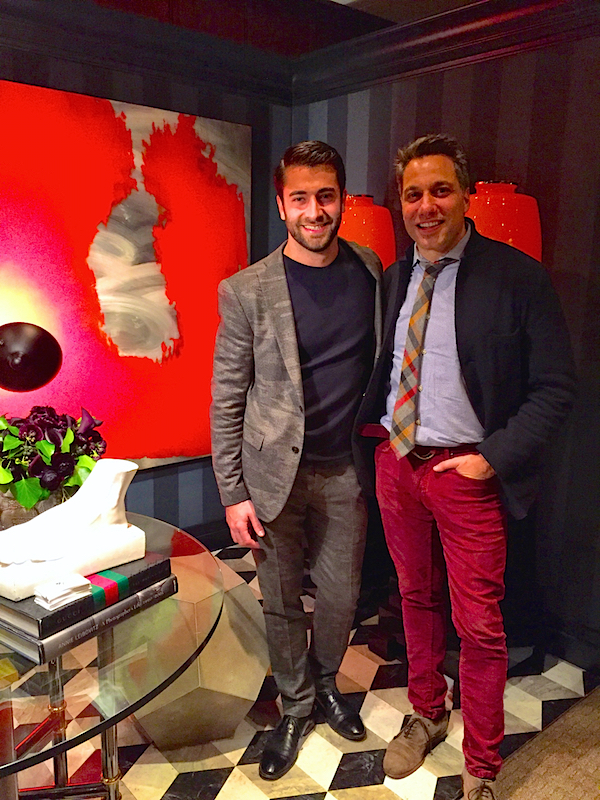 I was delighted that my sister-in-law, Jane Ellsworth, participated in the show on this anniversary year. Her classic interiors are a fitting tribute to the enduring legacy of timeless design.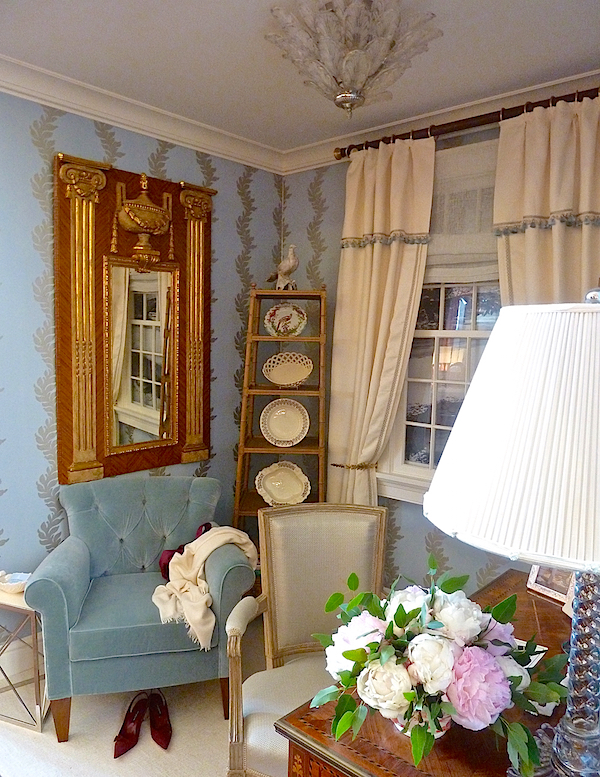 With the winter backdrop of Fifth Avenue seen through the window, Jane created "Babe's Boudoir," a lovely view into the imagined domain of style icon Babe Paley. The blue and silver leaf Farrow & Ball Acanthus wallpaper served as a cool and elegant backdrop for a room filled with furniture and fine accoutrements suiting someone of Babe's elevated style and stature. A subtle mix of eras, from the art deco style light fixture (from Rue Faubourg St. Honoré in Greenwich) to the more contemporary John Boone nickel and lacquer cigarette table expressed Babe's educated eye. The Artist B. Russell Melzer beautifully captured Jane's original inspiration in this frame-worthy pastel sketch. She also executed the framed nudes in charcoal above the desk.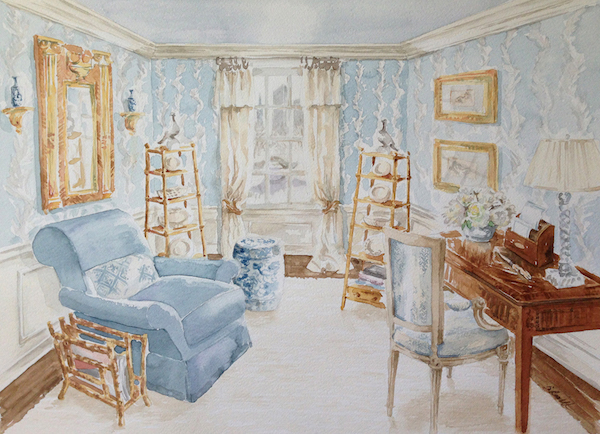 Antiques from John Rosselli, such as the 18th century faux bois and gilt mirror above and the Dutch neoclassical writing table below set the tone of "a distinct personal style of one who has refined it and lived it." Custom fashion accessories from Susan van der Linde, in the photo above,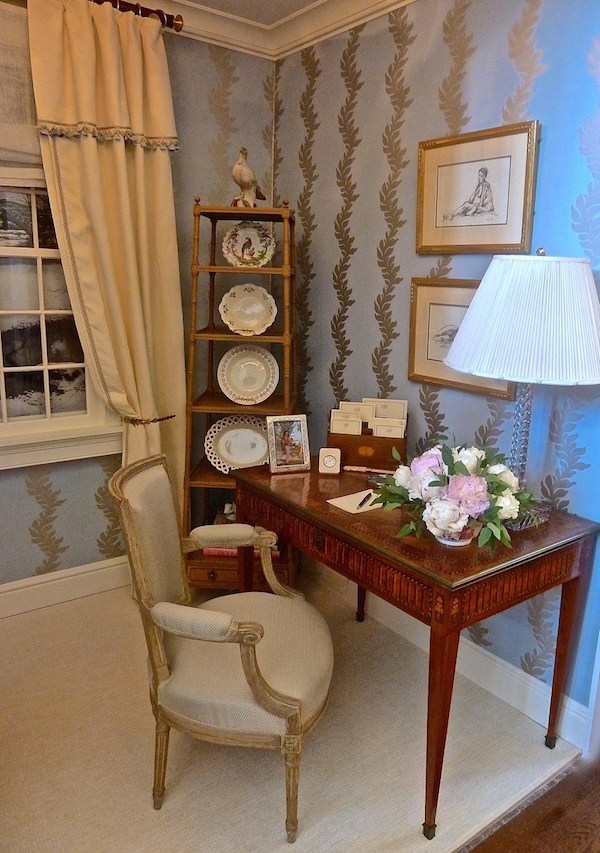 gorgeous fresh flowers, monogrammed stationery and elegant design details all spoke to a life well lived.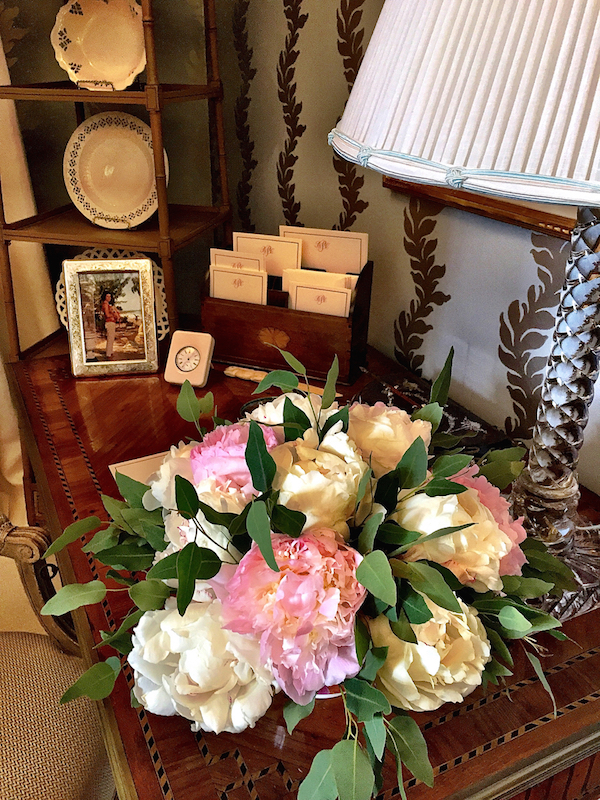 What a gracious and elegant sanctuary for a woman of "understated confidence and perfection." Jane, below, looks ready to move right in.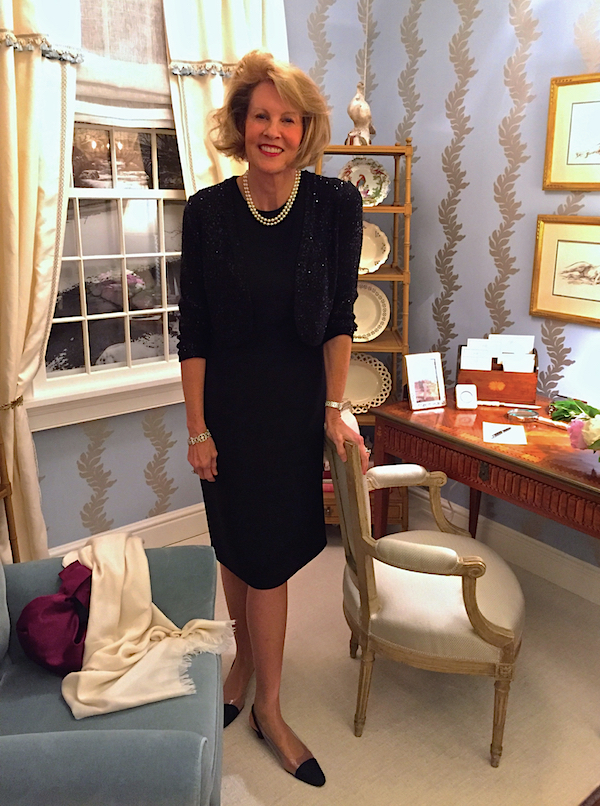 One of the great aspects of a designer showhouse is the wide range of styles. Christian Árkey-Leliever, for this anniversary event, thought to pay homage to both Albert Hadley, a mentor and friend, as well as the Southport Congregational Church.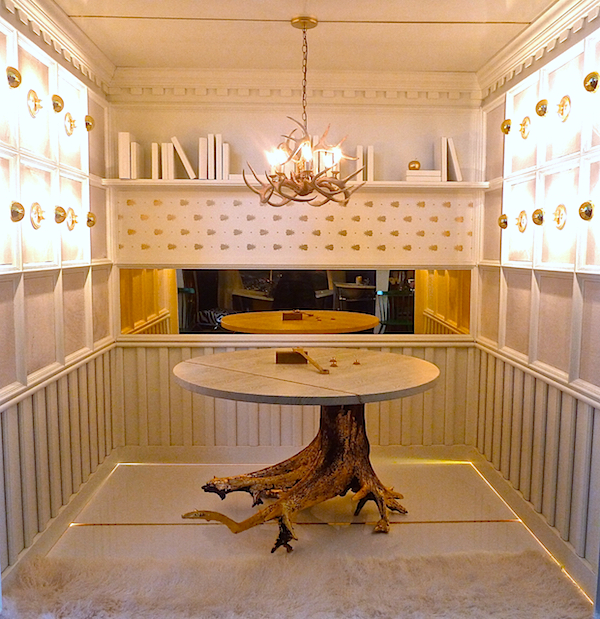 In his "Blancs de Blancs" room, with the church itself, below, as inspiration, Christian created an inventive contemporary twist on tradition.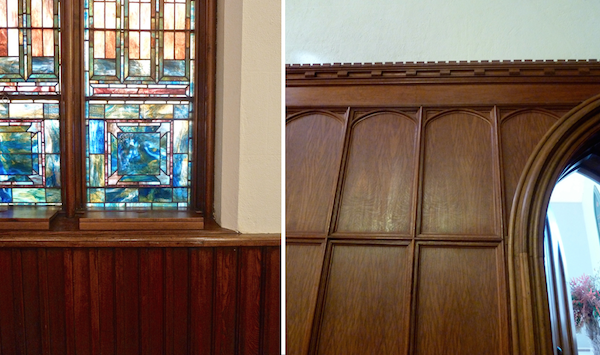 As seen in his original sketch, his room was intended as "A modern transformation; borrowing architectural design details of the church and through thoughtful selection of color and material, a transformative guest experience is created."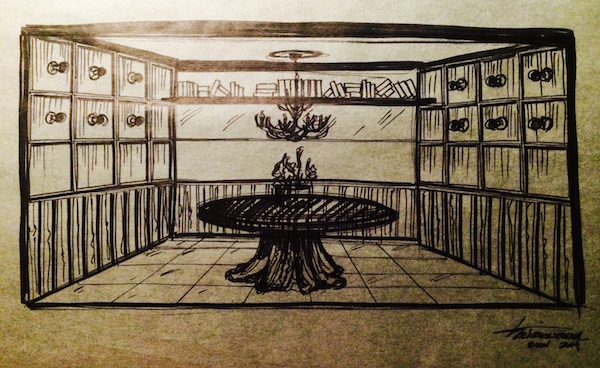 Within the serenity of a soft white background, there are imaginative touches of creativity that offer both the bling of modern luxury and an homage to natural materials and their craftsmanship. The walls feature elegant millwork fitted with panels of hair on hide Cavallini leather, within which are gold dipped light bulbs whose sockets are finished with a muted gold. The rear wall includes a gold mirror to add depth and warmth, above which the Farrow & Ball Bumblebee wallpaper, spliced so the bees face each other, adds an element of tonal pattern, echoing the theme of the natural world. And fallen natural Idaho white tailed deer antlers were "custom choreographed" into a rustic chic chandelier.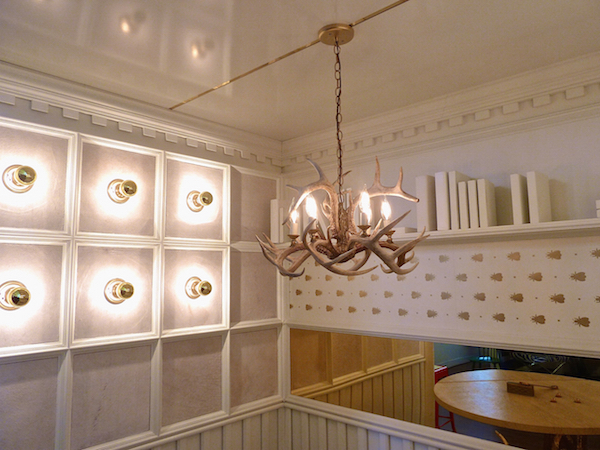 Each component of this space was so thoughtful with beautifully executed and inventive production details. Note the unifying thin gold strips of metal bisecting both floor and ceiling. On the ceiling they are met with traditional dentil molding, inspired by the church, and on the floor with a thin perimeter of back lit light streaming through like an epiphany. Textural contrasts continued with fluffy Mongolian hide rugs from Edelman against the smooth high gloss floor. And on this sat a table which Christian designed and had handcrafted, "reflecting elements of nature from the ground up."  An Ohio Lowlands locust stump was transformed into an elegant organic base, gold leafed (in a manner as if its once gilded bark is now shedding its shroud) and topped with an embossed woodgrain leather top, custom hand stitched with faux sinew, lined underneath in suede. Wood into gold, leather into wood – the nature of nature rethought and reimagined with luxurious details.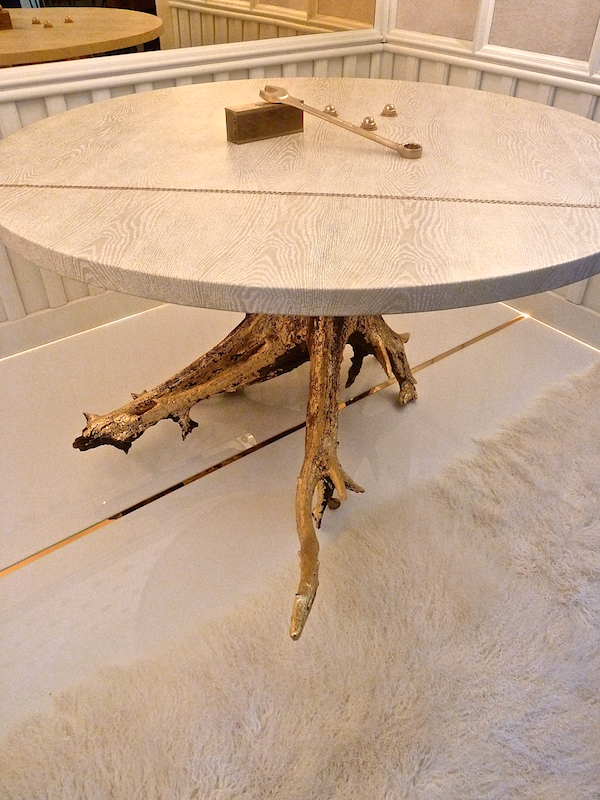 Bolts holding the base were celebrated with jewel-like visibility, joining decoration and functionality, accentuated by the golden wrench, which does indeed work.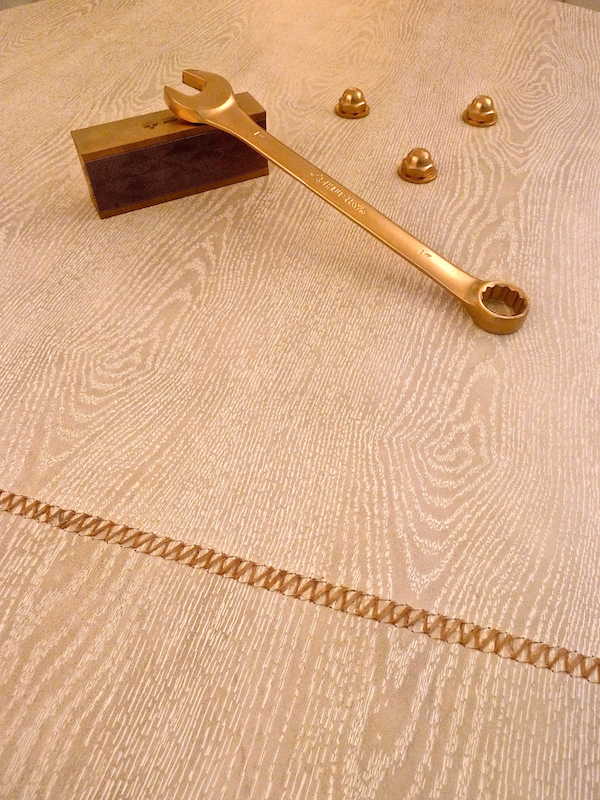 This was a room replete with detail and fascinating, almost allegorical implications. I raise my glass to Christian for his inventive creation!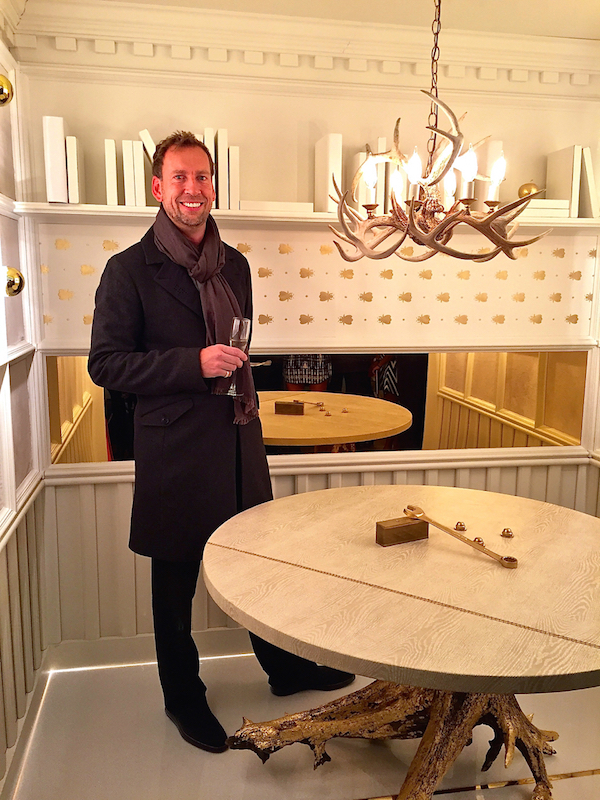 Do stop back next time as we continue our look at Rooms with a View 2014. And as a reminder, the easiest way to follow along is to subscribe – that way you'll never miss a thing.