The season has started and the world of design is hopping with celebrations, introductions and events. While it's impossible to keep up with everything, I thought I would share a few noteworthy events from this week alone. Monday evening at the French Heritage Society's annual gala, along with corporate honoree Hermès, who executed the charming centerpieces below, designer Timothy Corrigan was honored for his accomplishments working in French style and for his restoration and decoration of his historic château. It was a festive and glamorous evening celebrating such a well deserved honor.
photo: instagram.com/MargaretRussell
Tuesday, it was standing room only for a book signing at the Assouline boutique in the Plaza for Hunt Slonem's new tome, When Art Meets Design. Featuring many of his amazing homes, the book illustrates how the artist's passions collide with and influence his spectacular living spaces. And stay tuned for a special video visit to Hunt's truly remarkable NYC loft – coming to your small screen soon.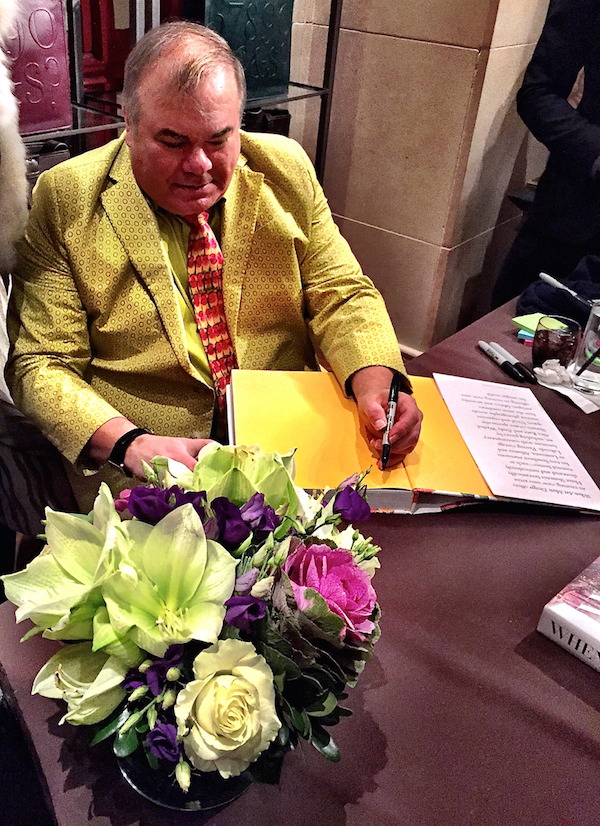 In their Madison Avenue boutique, Calvin Klein Home celebrated the debut of exclusively curated artisan pieces with One Kings Lane. While the OKL sale is now over, you can still visit the store to see these offerings. Many of the artists were on hand to show off their creations.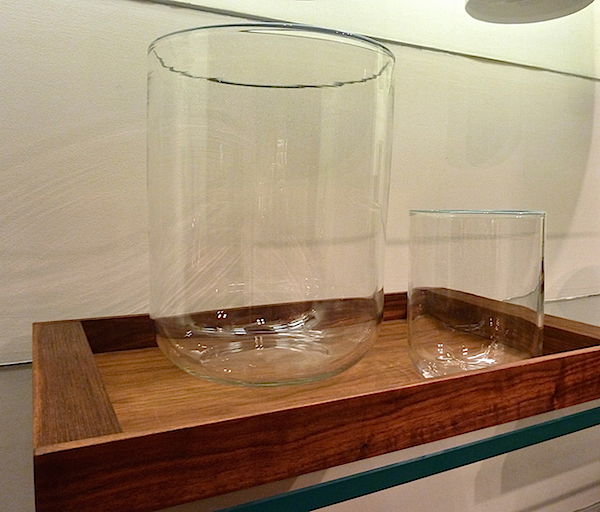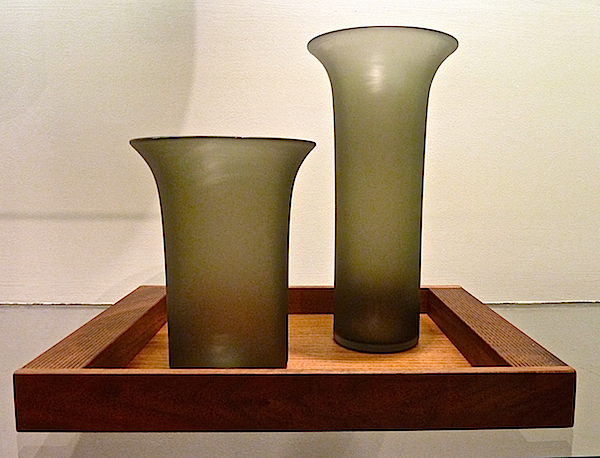 The beautiful handblown glass hurricanes and luminous green vases above, are by Brooklyn based glassblower Andrew Hughes, below (a not so fabulous shot of the handsome artist).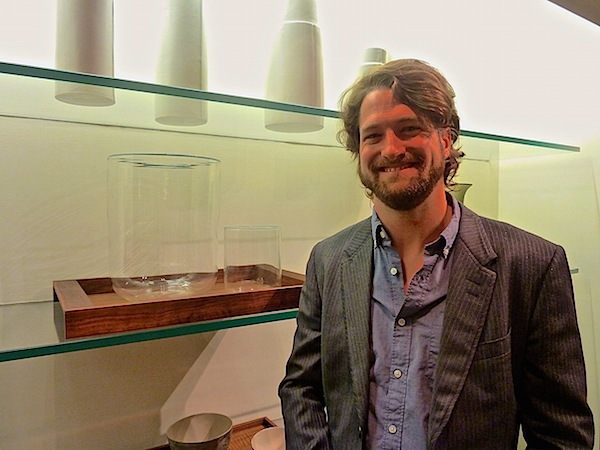 I caught Scottish ceramicist Tom Hopkins-Gibson and Irish (now New York based) sculptor Celine Cannon in a convivial moment.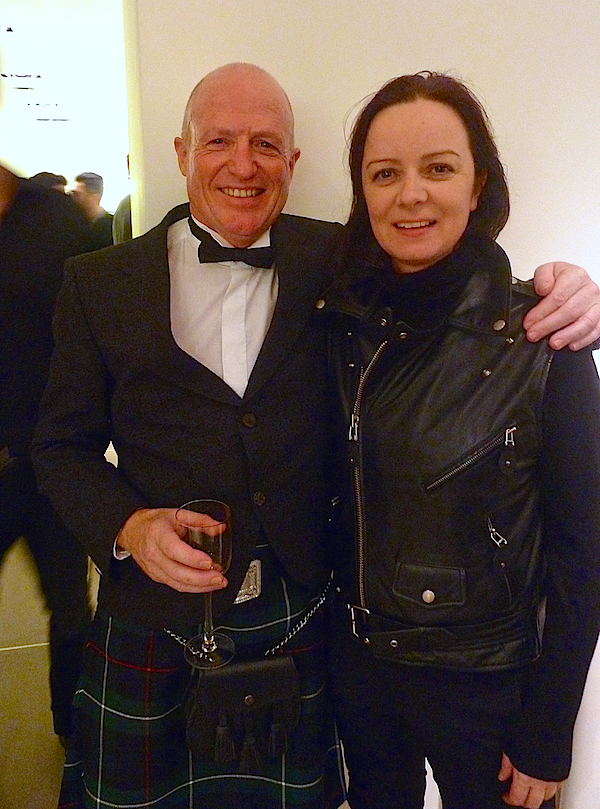 Tom's handmade faux bois porcelain bowls are informed by his "fascination with the form and texture of wood."  Organic yet refined in execution, their sophisticated rustic elegance would enhance any table.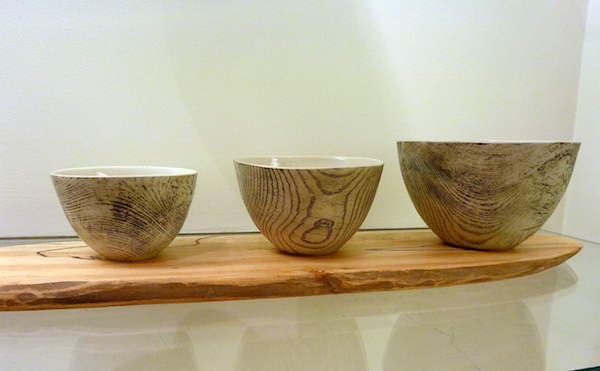 From a family representing generations of stone carvers, Celine Cannon produces traditional architectural carvings for contract work as well as contemporary art. Reduced to a simplified architectonic essence, her sculpture results in pure, zen-like pieces. For the past several years, she has produced a single offering for the Calvin Klein Home holiday collection. My photo does not do this year's piece justice. Elegant, graceful and flawless in its geometric balance, it is so in keeping with the store's minimal organic aesthetic.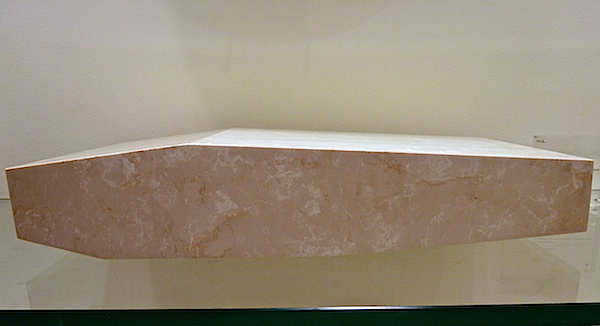 Lastly, I met British ceramicist Sue Paraskeva, below, standing next to her beautiful porcelain.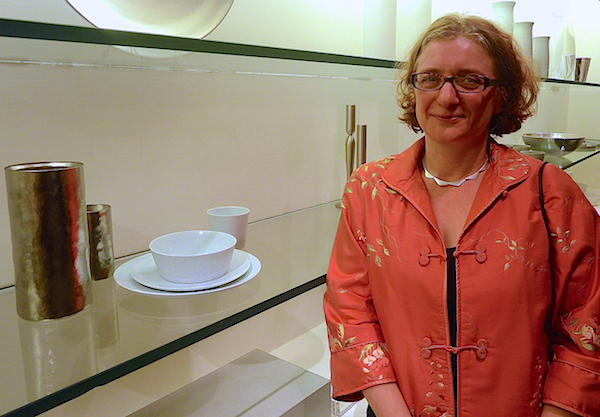 Based on the Isle of Wight, Sue hand throws on a momentum wheel (non electric) and fires in a gas kiln, resulting in dinnerware that is subtle and sophisticated.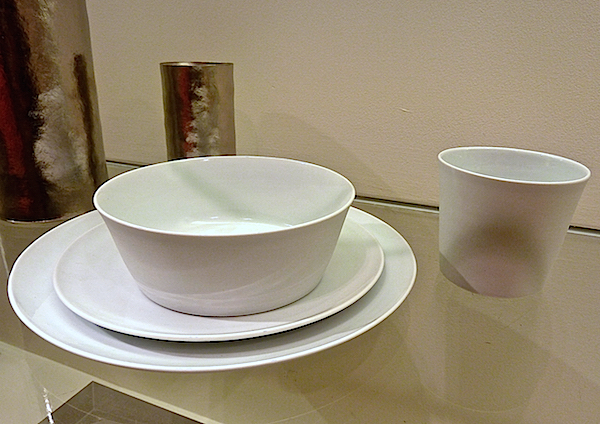 With modern clean lines devoid of ornamentation, the porcelain retains an artisanal hand with understated interior glazing and delicate variations of form.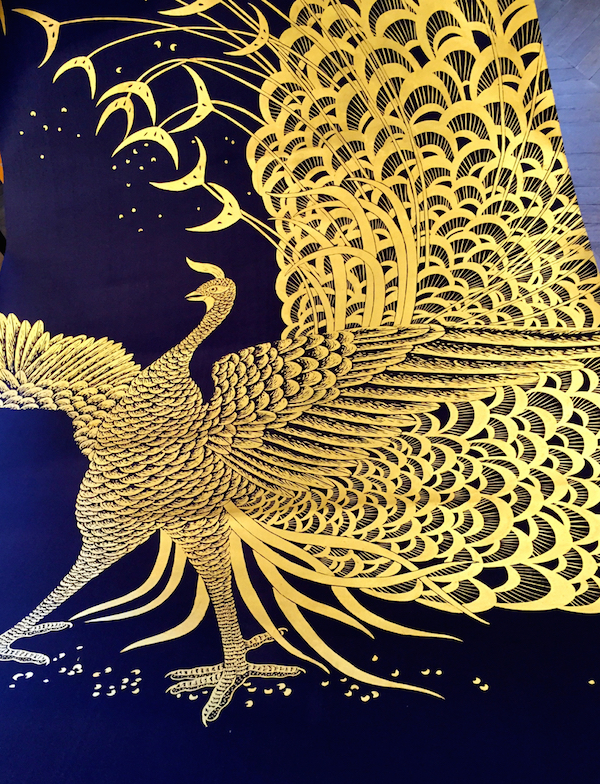 Visiting the beautiful de Gournay showroom is always a treat. Their latest offerings are dramatic new colorations of classic patterns like the gorgeous Whistler Peacocks in gold on navy, above or le Bresil panoramic on a lacquered paper with ghost outline below.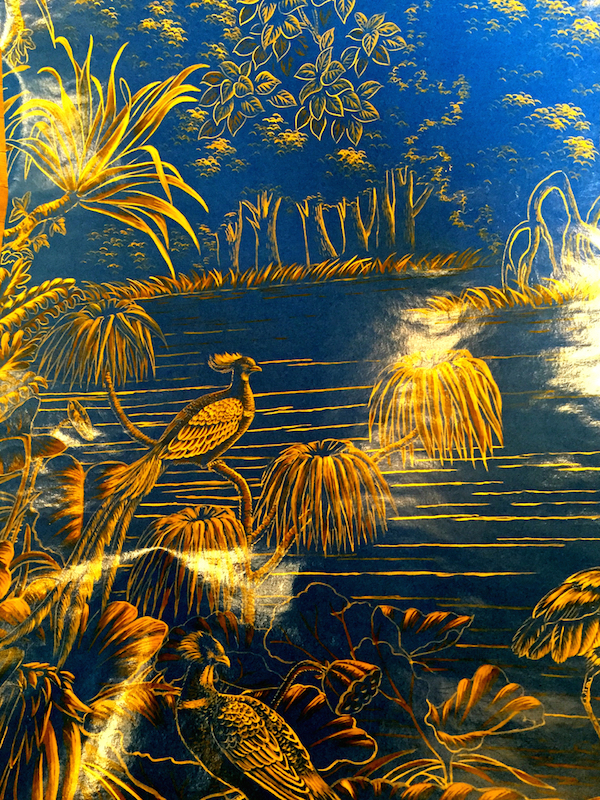 The classic Earlham is glorious on a 22k gold leaf background.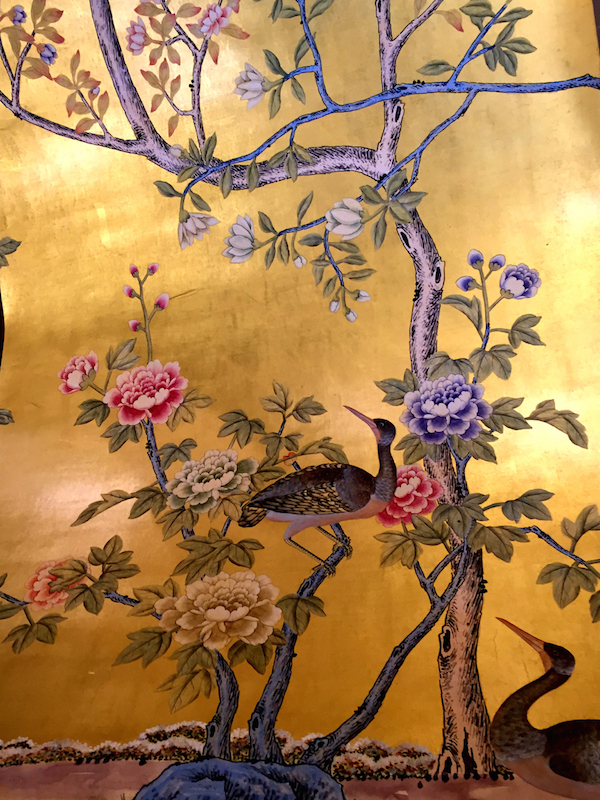 while the Portman in a new warm Williamsburg gray is subtle in its tonal elegance.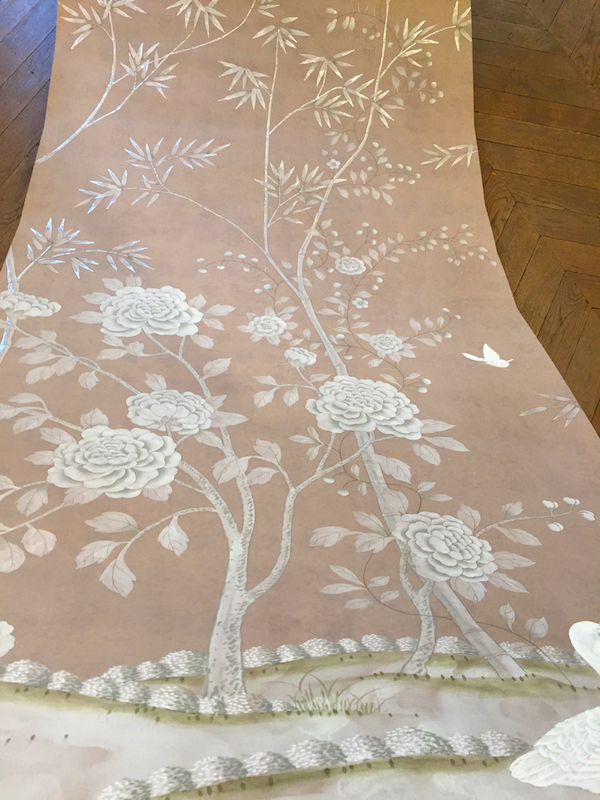 But for color lovers, the showstopper was le Eden in its new brilliant colorway.
The end of the week we celebrated the world of design in Connecticut starting with a packed luncheon benefitting the Greenwich Historical Society at the Belle Haven Club in Greenwich. It was wonderful to see many local design friends congregate to hear Markham Roberts speak, with great insight and humor, about his work and sign copies of his fabulous new book, Decorating the Way I See It.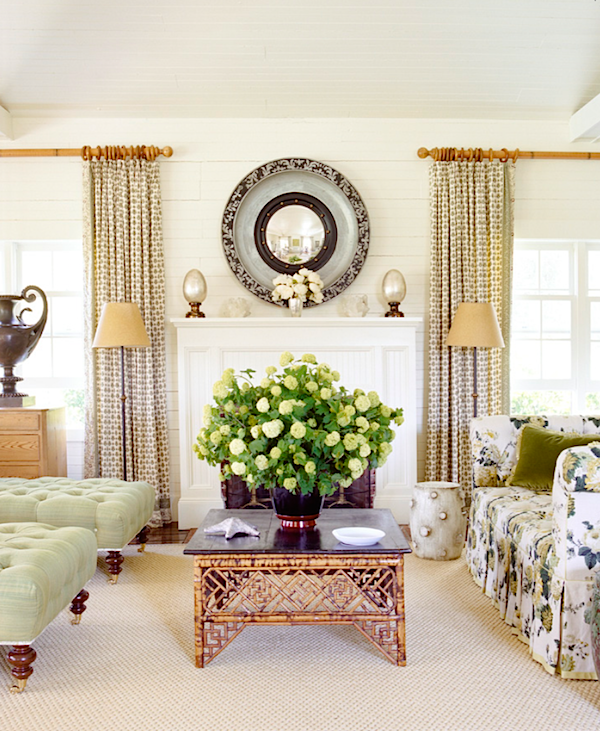 And later in the day, how lucky was I to moderate a panel on A Guys Guide to Design with this handsome and talented crew at the Wakefield Design Center. Thanks to Eddie Lee, Antonino Buzzetta and Sam Allen for such a fun and informative session!!
photo: instagram.com/dunesandduchess
The week will end with the 20th anniversary of the Rooms With a View showhouse in Southport. Look for coverage of this favorite local event next week!!