In the heart of old Paris, in the 5th arrondissement, La Tuile à Loup has been a go-to source for the best of artisanal French craftsmanship for over 40 years. When the original owners were retiring in 2006, private banker Eric Goujou was already a devoted customer. But a small "selling" sign on the shop's door "Passion a transmettre" (passion to be passed on), proved to be a life-changing note for Eric, whose long time interest in interiors and the art of the handmade inspired him to take the plunge as shopkeeper.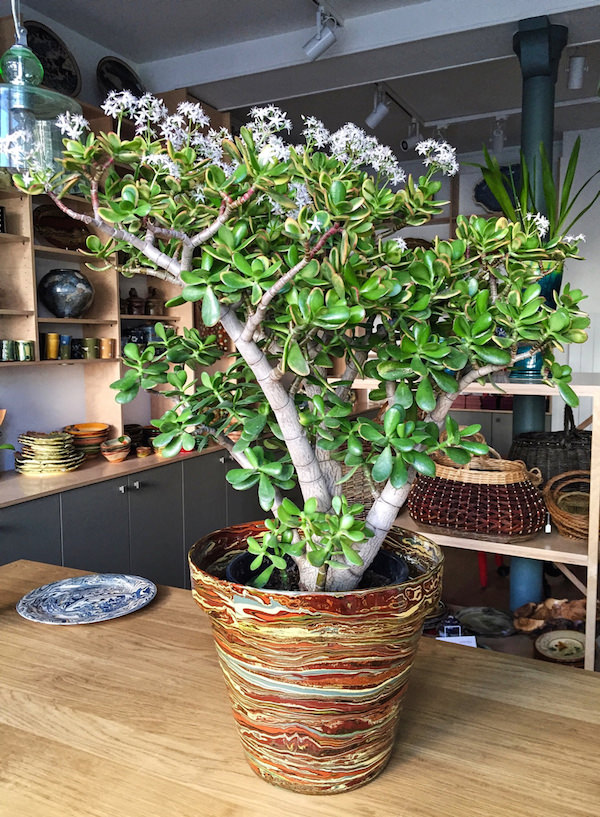 For the past ten years Eric has continued the legacy of made-in-France art de vivre at La Tuile a Loup. With a mission of preserving those crafts which might otherwise disappear, Eric selects the very best artists and artisans throughout the country. From Normandy to Alsace, Burgundy to Savoy, Ardeche to Perigord, Eric travels throughout France meeting with the artisans and approving each and every piece that comes into the store. Visiting with Eric, below, in his charming shop was a highlight of my trip last month.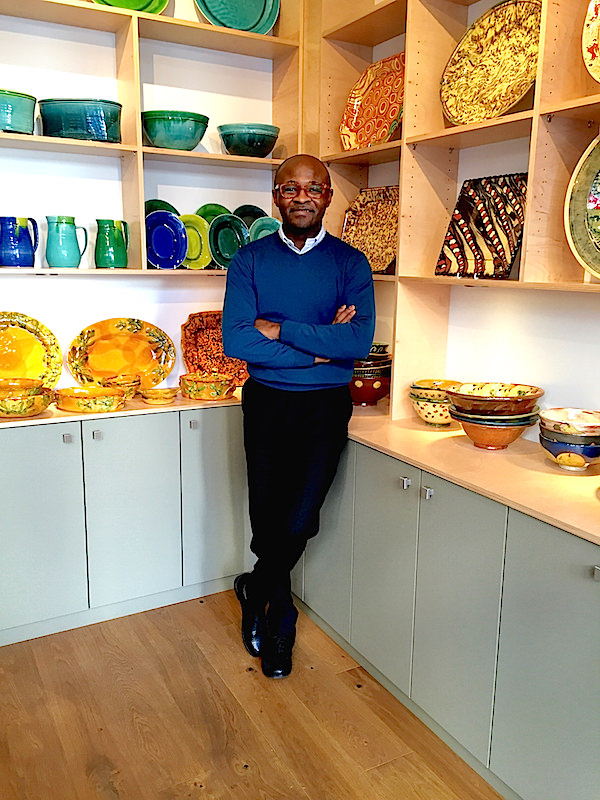 While the interior has been updated and the collections freshened, the authenticity of the pieces and the essential spirit of the shop remain the same – "quality, service and originality."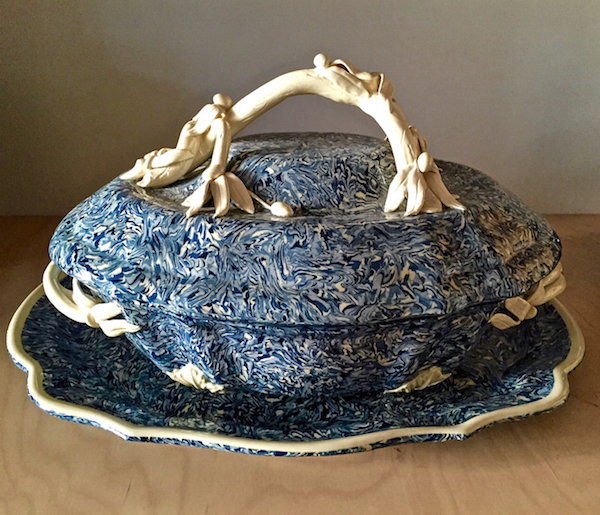 As a longtime aficionado of aptware, I was thrilled to discover that one of Eric's favorite producers was in the shop that day. Monsieur Rigo, below, from the Luberon, is one of the two or three remaining artisans of this very special faience.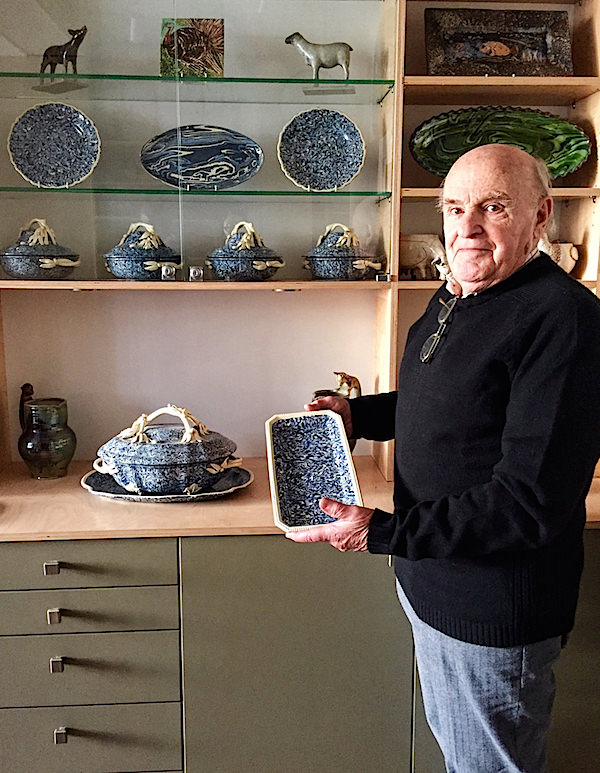 A specialty of of Provence, aptware is a mix of different clays colored with oxides, as seen in the broken shard below.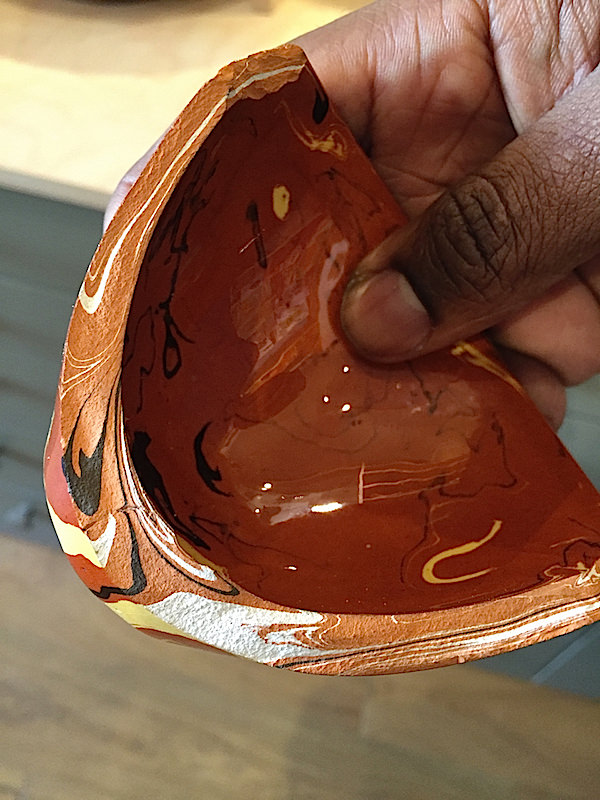 It requires a highly specialized craftsmanship and each artisan has his own particular style. More from M. Rigo below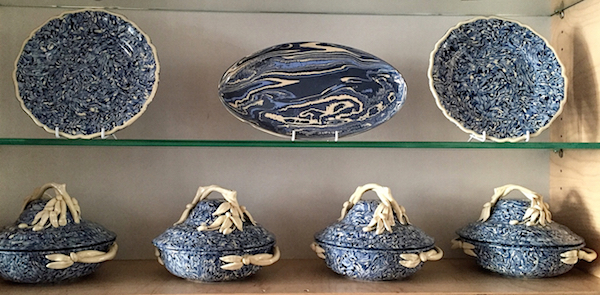 and a beautiful table of aptware styled by Eric, shot for the store.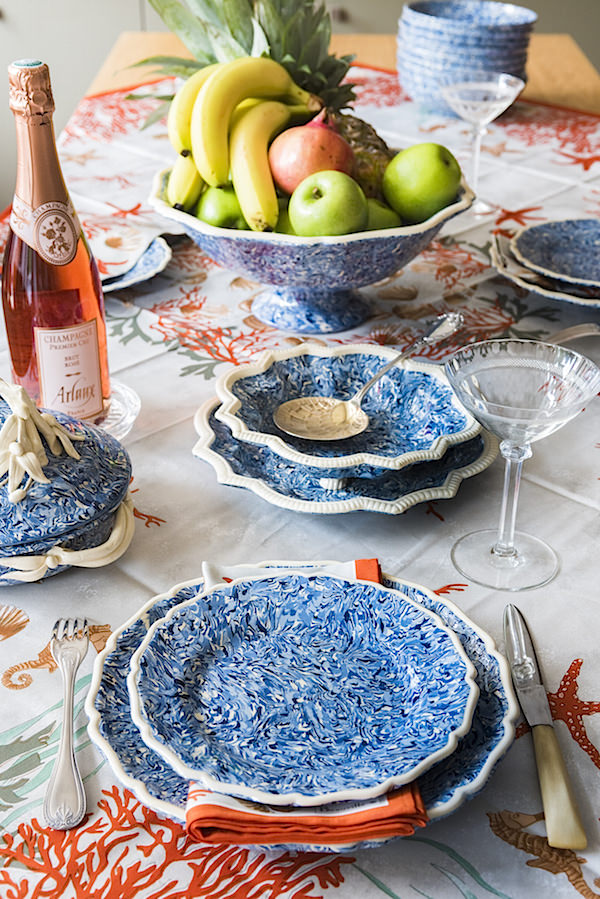 Marbleware is a related technique where the clays are more loosely combined in both subtle or bright and unusual colors. Eric has a beautiful selection.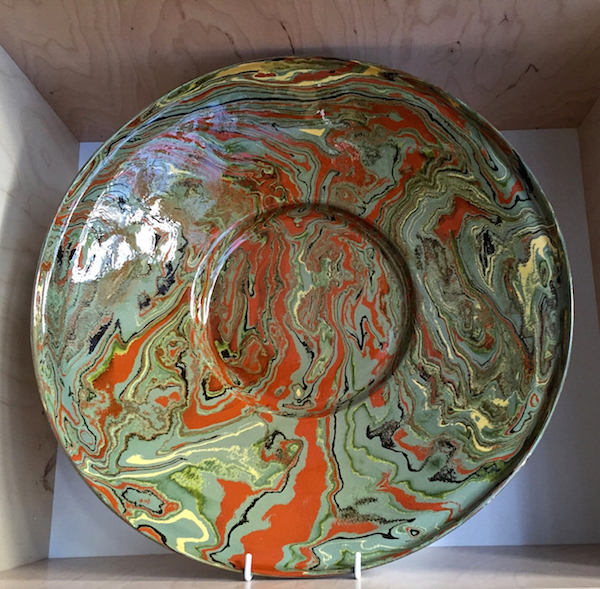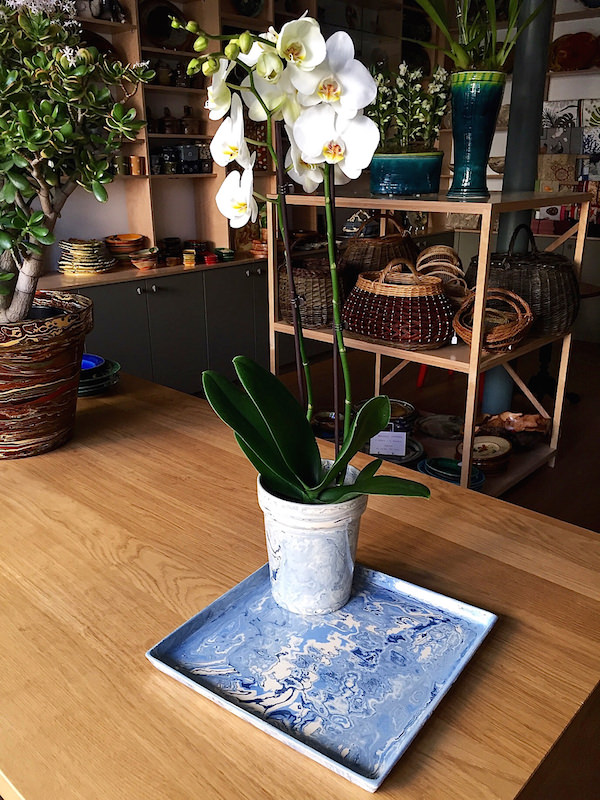 Both jaspeware  and "au peigne" pottery derive their patterns from the glazes alone. Most of these pieces have a gutsier feel and greater heft. Sometimes, however, it is difficult to tell the swirling coloration of the jaspeware from the more delicate marbleized pieces.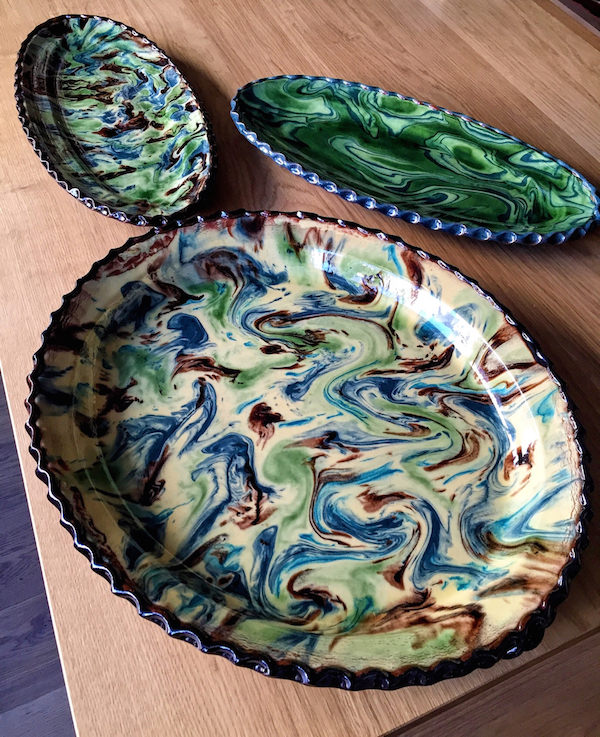 The "au peigne" pottery has a charming country style decoration.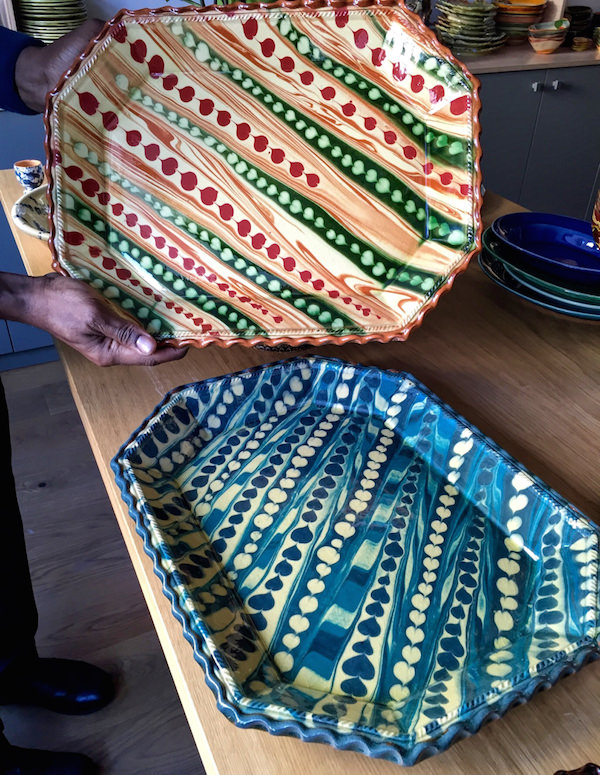 This spatterware from Alsace couldn't be more charming and, like most pieces in the shop, is as practical as it is attractive – oven to table and even microwave proof,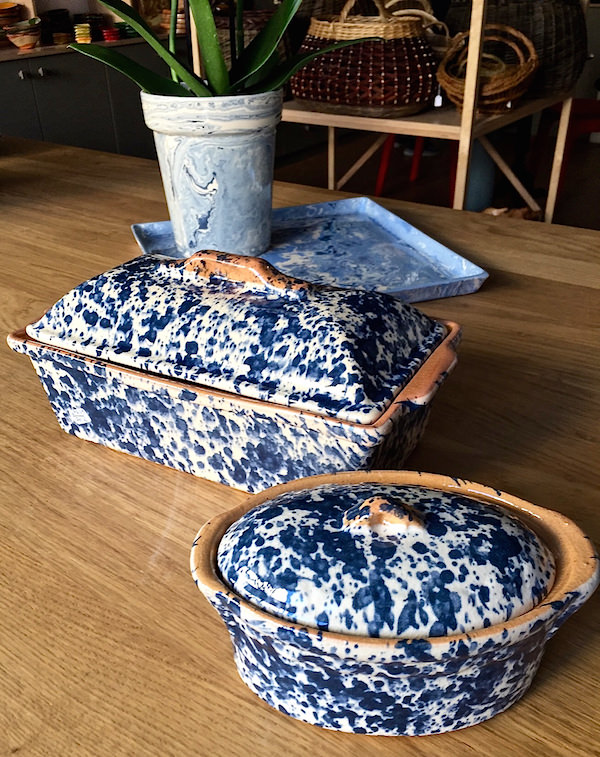 available in a wide variety of shapes and sizes (the vase is aptware).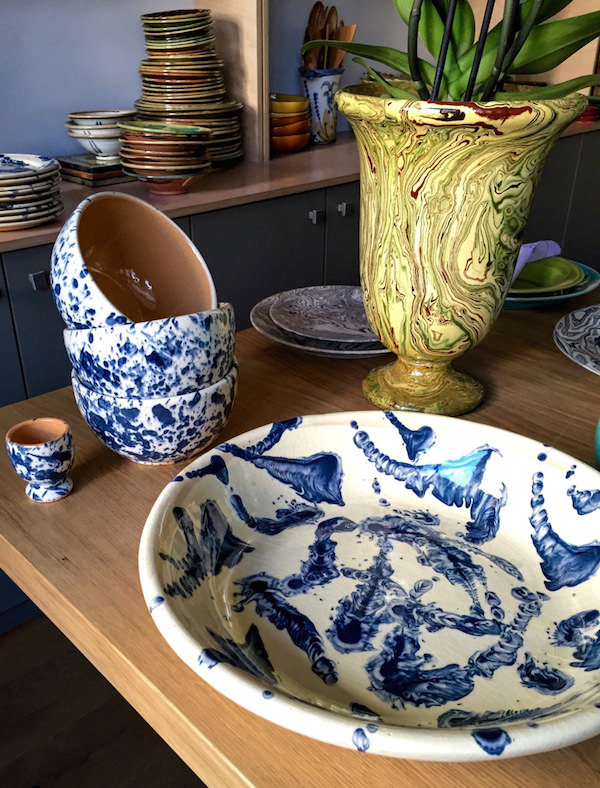 You may even see a few of these plates gracing a future tablescape chez moi.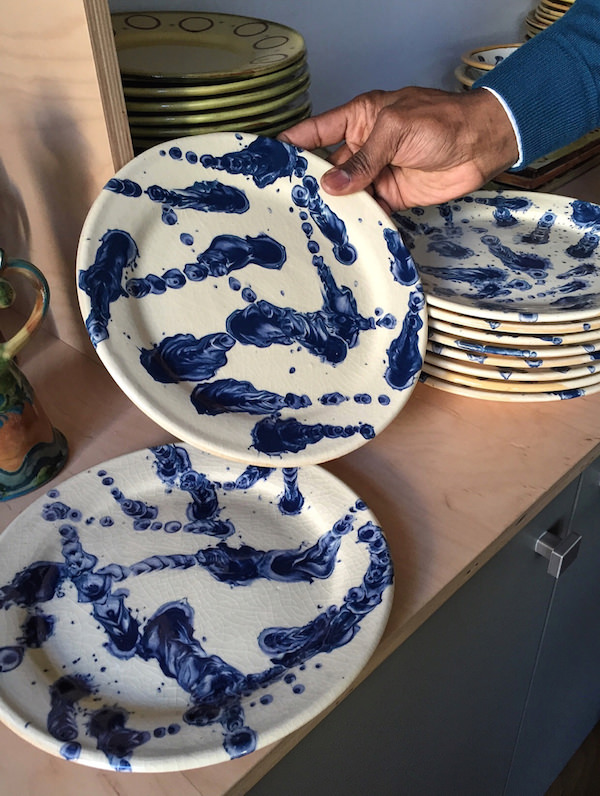 Eric's favorite pieces in the store are the intricate animal pieces. He works with two talented artisans and three gifted artists who produce these in a wide variety of both painted and sculpted forms. Some of my favorites are the stoneware terrines and butter dishes made in Normandy. Crafted of a much heavier clay, the results are very sturdy pieces with a rustic charm.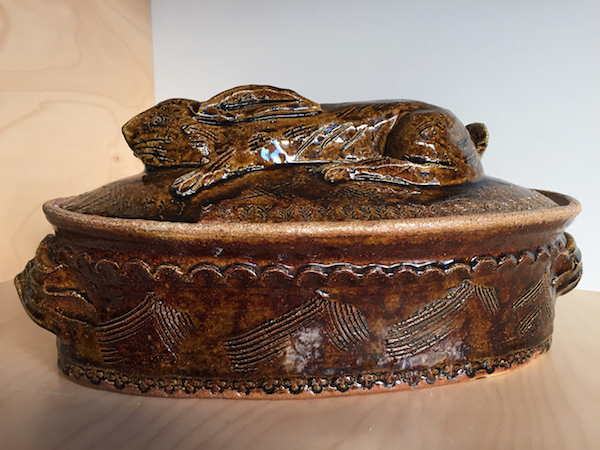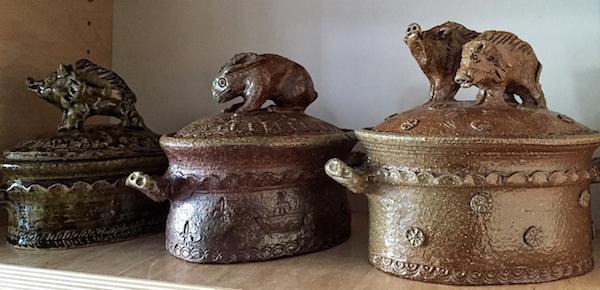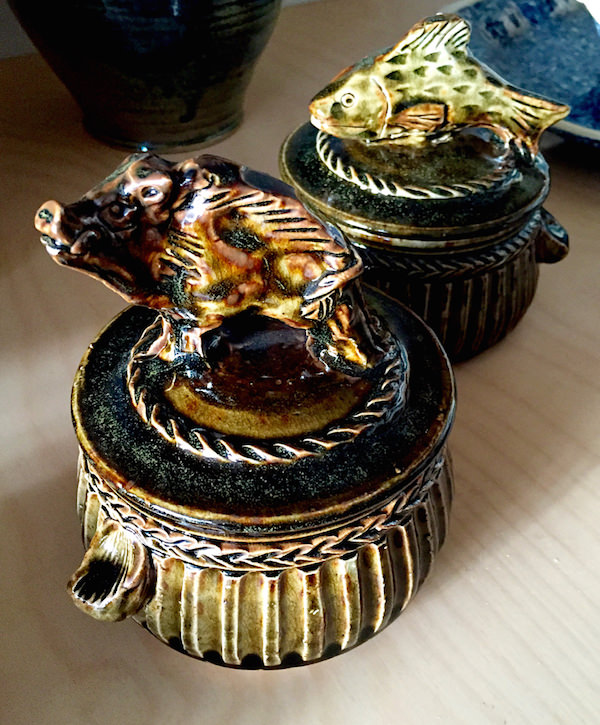 The terrines below by an artist in Bordeaux are among the most intricate works Eric carries. The key to Eric's success is that he doesn't merely order pieces, but works with the artisans, offering feedback from customers and providing advice on how to best meet today's market requirements and the tastes of his discerning customers. Eric is often on hand as the pieces emerge from the kiln.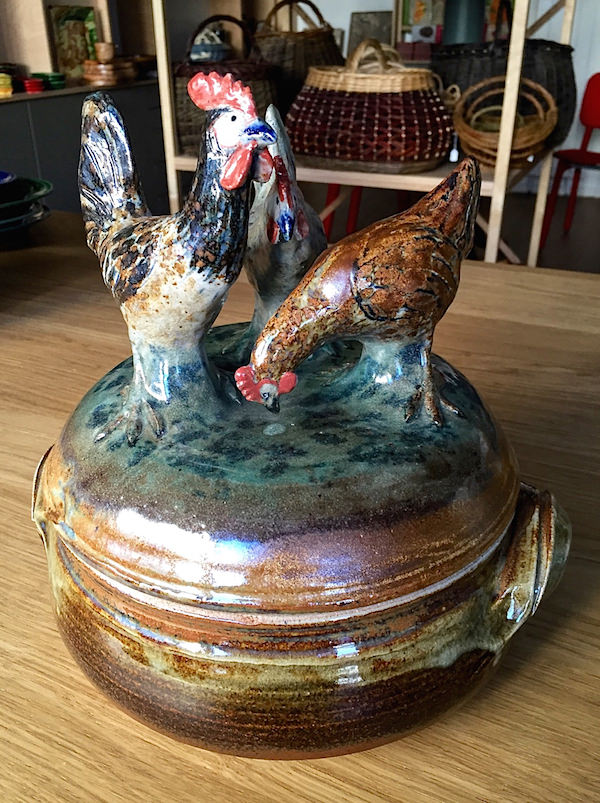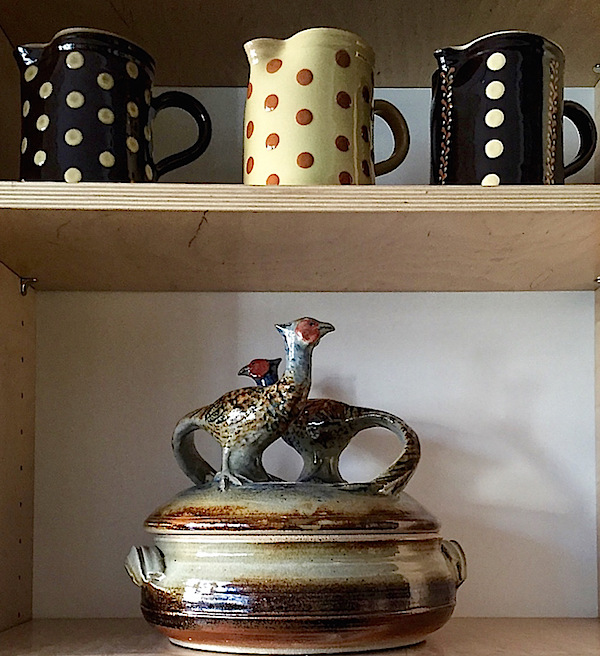 While I was seriously tempted by this delightful bunny butter dish, judging by Instagram, it may have found a home at friend Jenny Rose-Innes' house, who visited the shop the following day. In fact, I discovered that many of my stylish design friends are devotees of Eric's chic offerings.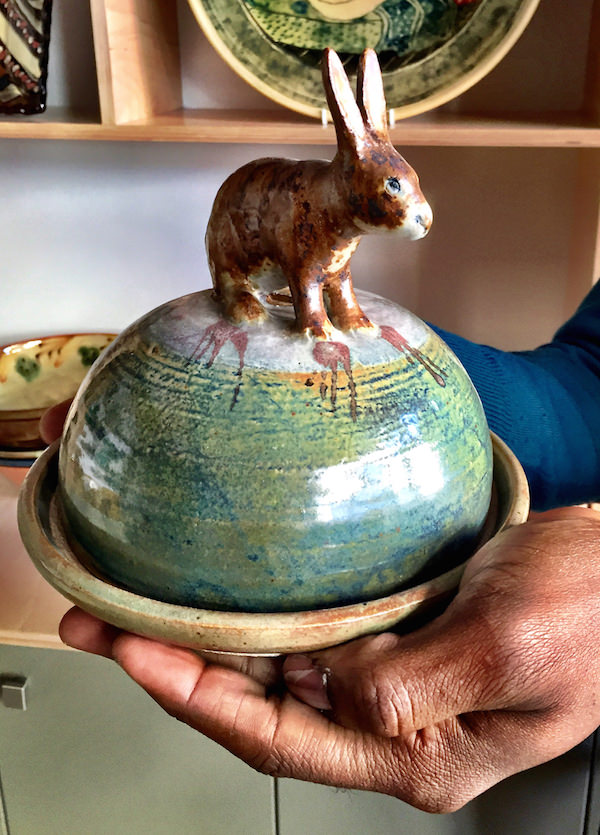 For more whimsical examples of figurative pieces, these candlesticks are a playful pick.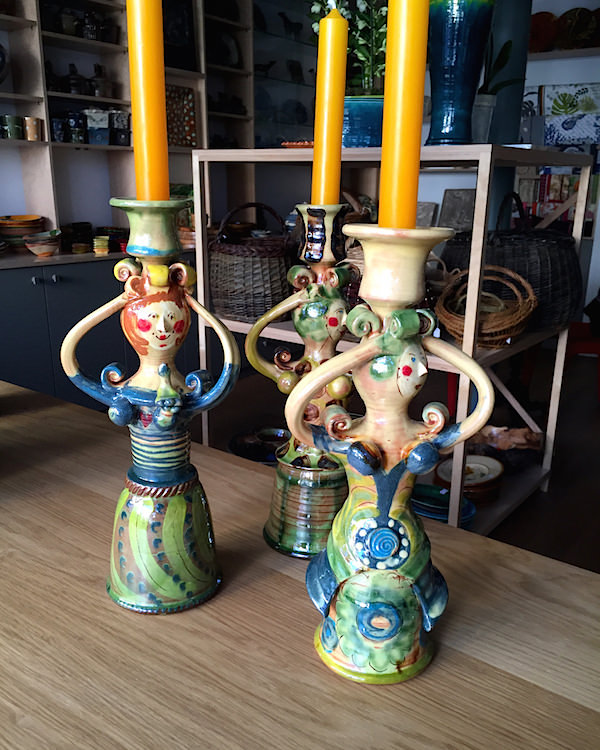 The choices at La Tuile a Loup are overwhelming but be assured there is something for every taste.  From the very classic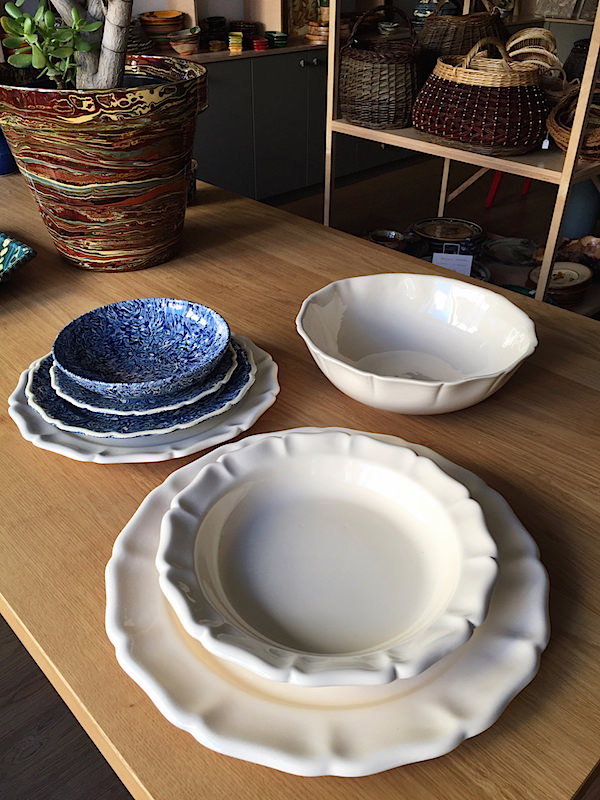 to the more decorative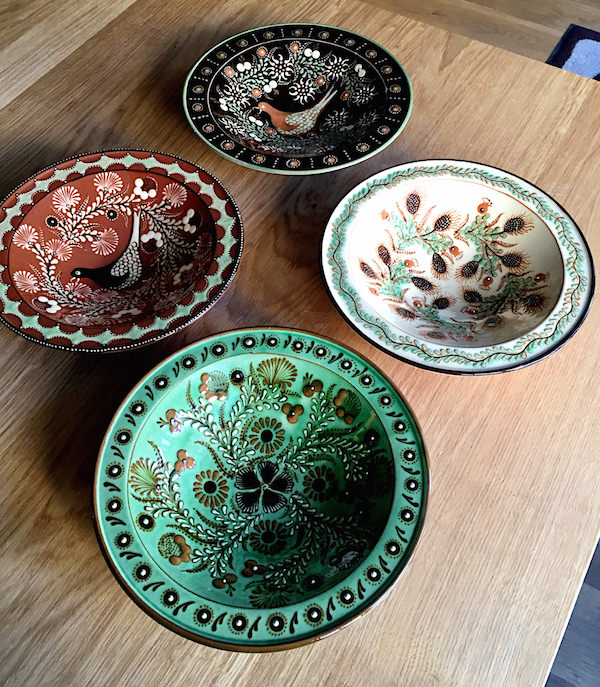 to the more modern and colorful,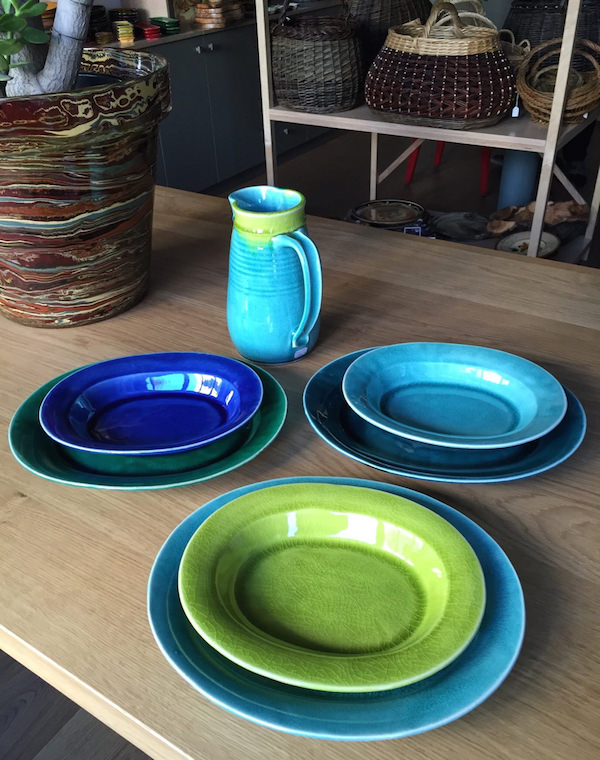 there is a handmade piece for every style and function.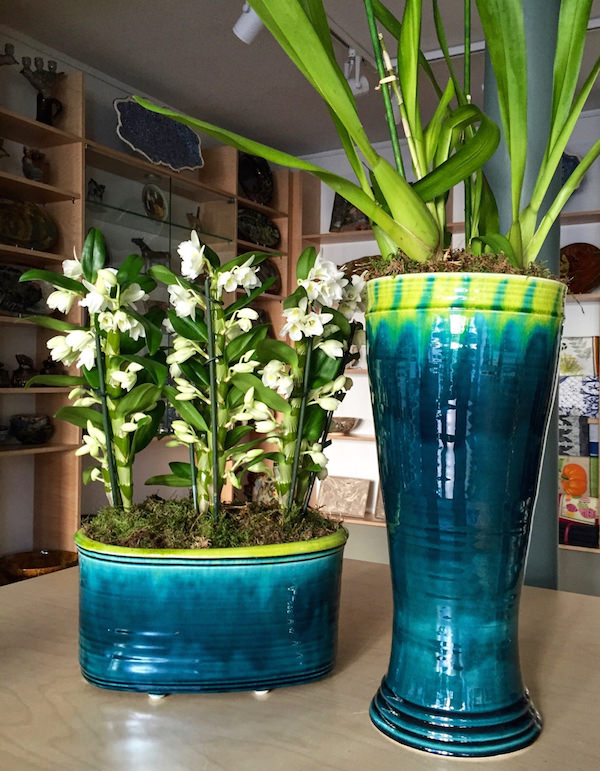 And while the primary focus is on pottery, Eric also sources basketry, woodwork, glassware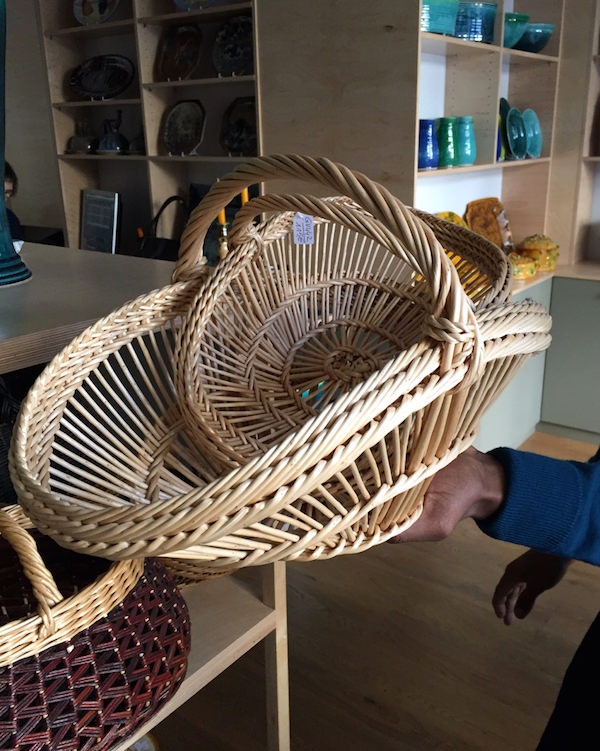 and table linens to complete the art of the table and satisfy the wants and needs of himself and his clientele the world over.
all photos except no. 7 and last by Stacey Bewkes for Quintessence
With constantly changing stock and every evolving new creations, La Tuile à Loup is a source of endless inspiration and temptation.. Think of Eric as both curator and procurer – a personal shopper of a very special sort (who speaks perfect English). He is happy to help start or complete a collection with savvy suggestions on usage and the art of the mix. Each piece has a story to tell and as functional art, lends your home another level of style and substance. You'll want to put La Tuile à Loup on your must-visit list for your next trip to Paris. Tell Eric I sent you!
35 rue Daubenton
75005 Paris
Opening hours :
Monday : 13.00-18.00
Tuesday to Saturday : 11.00-18.00
00 33 1 47 07 28 90