If you have received your March issue of House Beautiful, you have no doubt noticed the amazing artwork of Rajiv Surendra. On the first page of the well (the editorial section of the magazine) is Garrow Kedigian's fantastical writing room, embellished (in chalk!) by the amazing artistry of Rajiv Surendra, below. And be sure to see the rest of Kedigian's handsome Montreal abode – it proves the seductive power of a dark palette.
photo Paul Raeside
I have had Rajiv's work on a long list of potential posts for a couple of years and this article offered the impetus to push him to the top. If he looks familiar, below, it might be because he starred as Kevin G., the rapping mathlete in the 2004 classic Mean Girls. He may not have found his calling as a rapper, a mathlete (he had to drop out of calculus) or even an actor, but he did as an artist/calligrapher.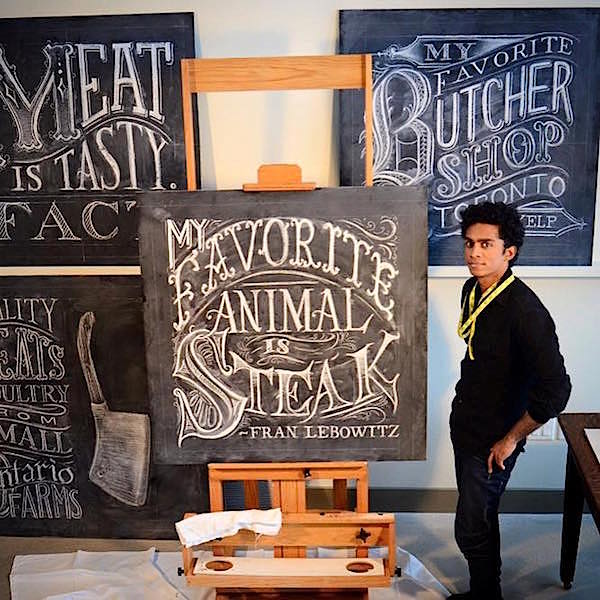 From chalkboard designs for restaurants such as Sanagan's Meat Locker in his home town of Toronto, above, or Moor restaurant in Orlando, Florida below,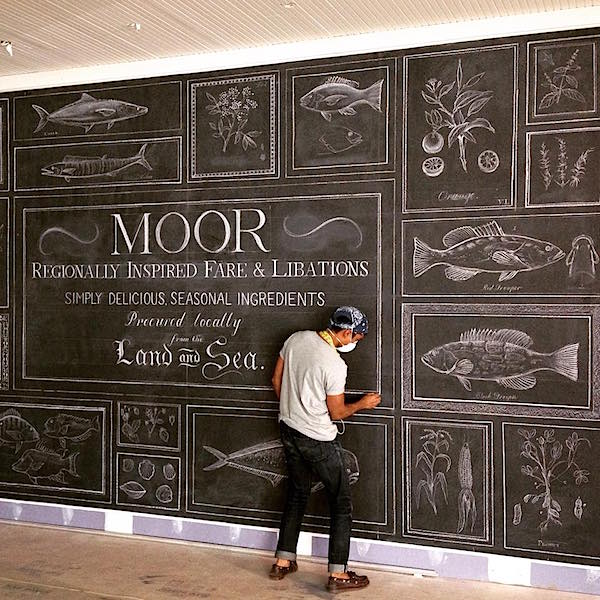 to elegant custom monograms (his own below), Rajiv has established himself as a maestro of the written word – hence his business' name, Letters in Ink, although clearly chalk is a medium he has mastered as well.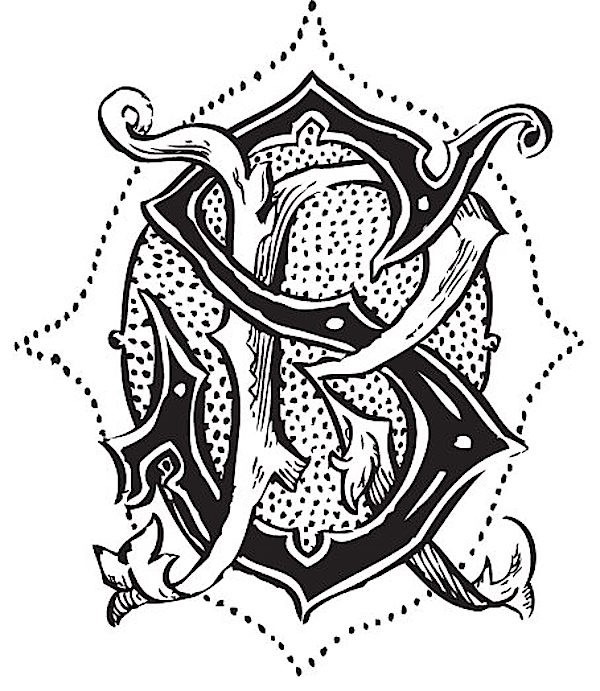 Working on a 19th century rosewood lapdesk, below, which sits on an antique cherry and birds eye maple table, his calligraphy is all executed the old fashioned way with wooden pen-holders with metal nibs.
photo David Cooper
Rajiv is a self-professed throw back, a lover of the past who studied art history in college and even created a sidewalk love note to his favorite composer, Giuseppe Verdi, on his birthday near Verdi Square on the Upper West Side of Manhattan.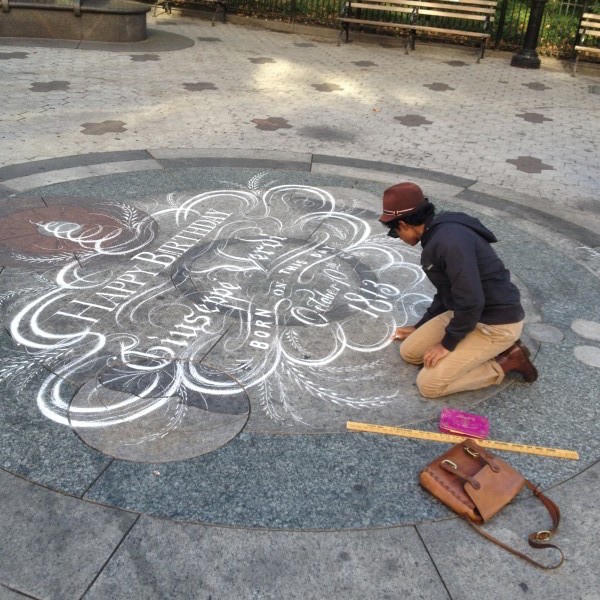 There is no doubt that, in this era of technological anonymity, an appreciation for craft and the art of bespoke has surging appeal and Rajiv Surendra is riding the wave. What a marvelous surprise it would be to open the mailbox and among the bills and junk mail have such a letter greet you – with the charming dichotomy of Victorian lettering and a whimsical assortment of stamps.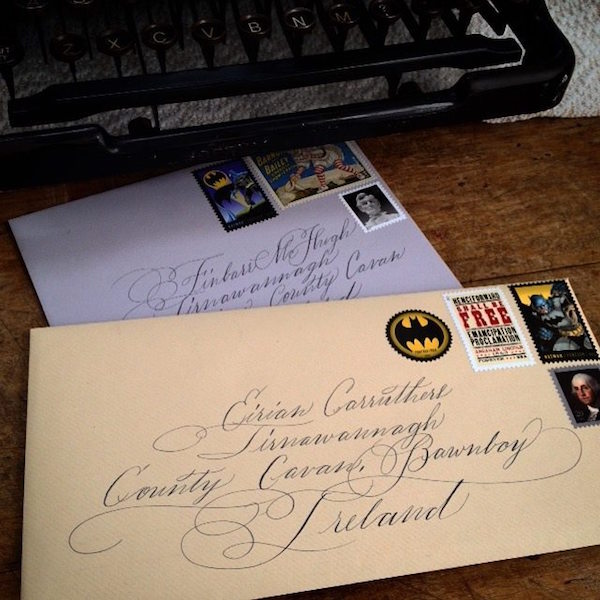 Anyone would be proud to send out a wedding announcement with such flair and finery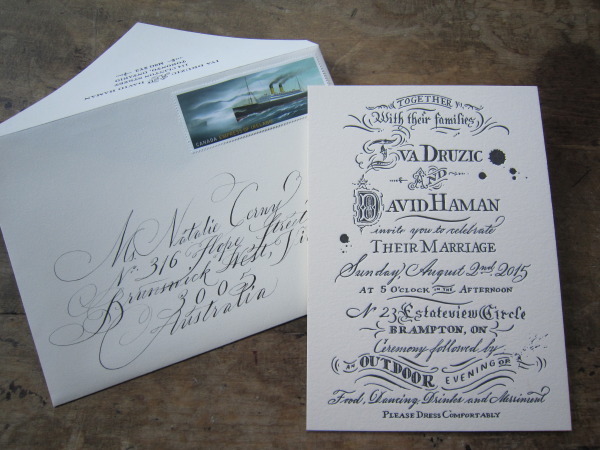 or have a keepsake of wedding vows spelled out for eternity.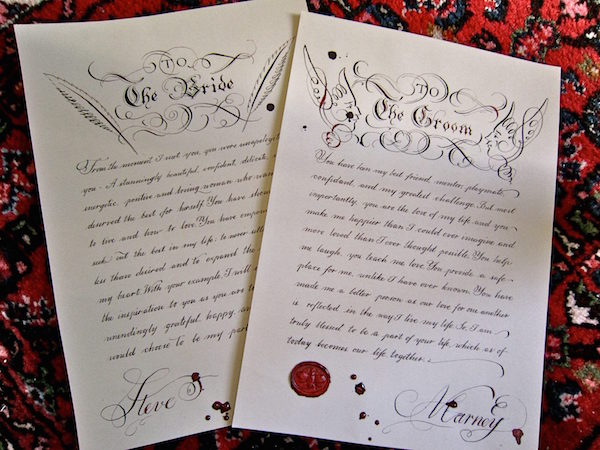 If you were hosting a special dinner or festive occasion, custom calligraphy sets the tone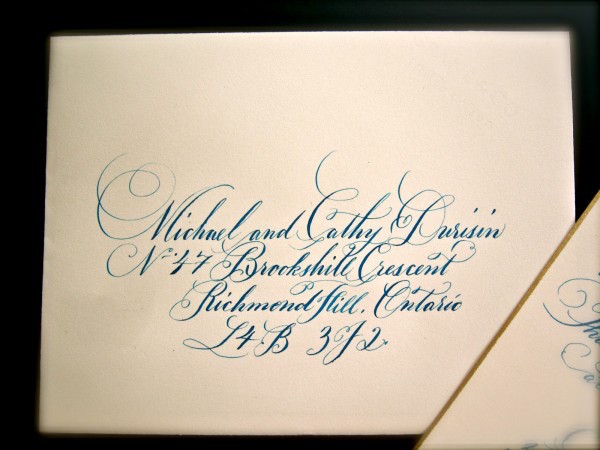 And for those who need their first impressions to be remarkable, consider a business card like Rajiv's below. Working with Smythson, his original art was made into a hand-engraved copper plate from which these stunning oversized cards were printed in gold ink on Nile blue stock with 23kt gold hand-gilded edges.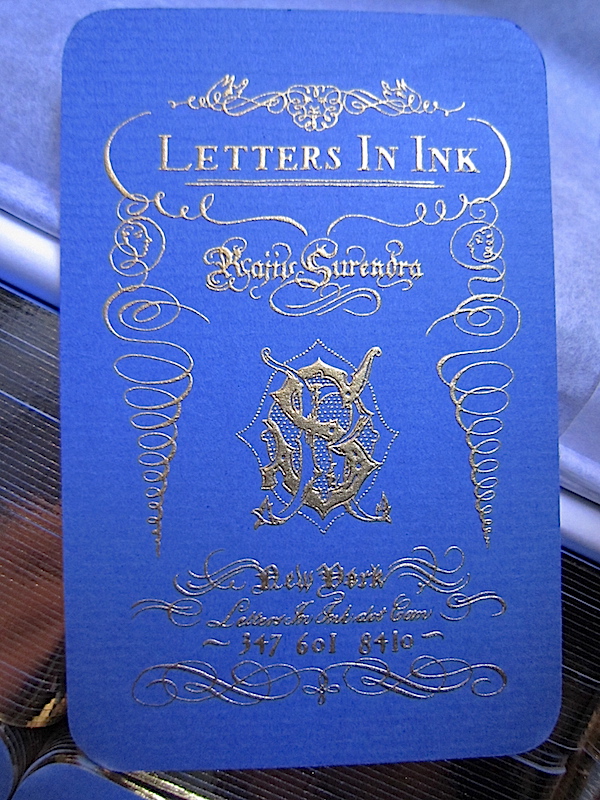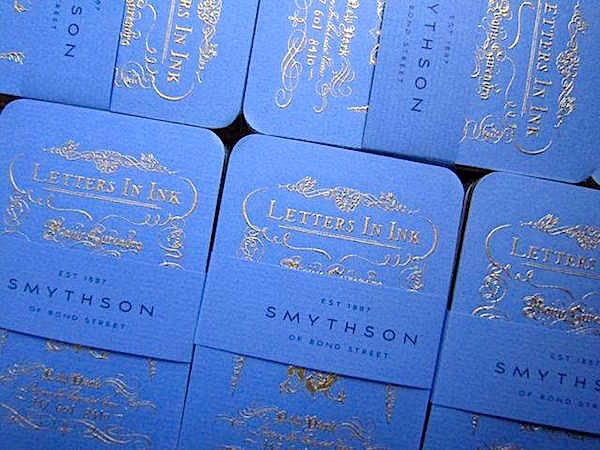 Even for more playful moments, Raji's work enhances the occasion like the Valentine's cootie catcher below.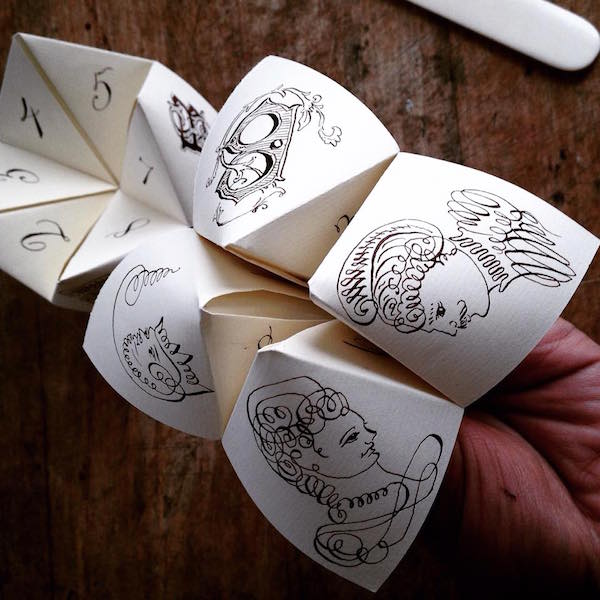 So while not all of us can contemplate a Rajiv Surendra decorated room, it's worth considering those moments in life when nothing less than hand crafted letters in ink will do.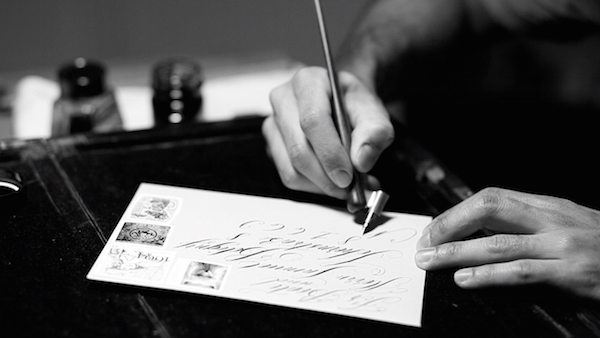 all photos courtesy of Rajiv Surendra