I am delighted to be moderating the upcoming Architecural Digest Design Files lecture at the D&D building on Tuesday, February 25. As Cullman & Kravis celebrates its 30th anniversary this year, our discussion on Building a Business on Teamwork will investigate how Ellie Cullman and her team have developed a successful formula for in-house collaboration resulting in both an effective work flow and a nurturing environment. From how to divide work responsibilities, to organizing visual project folders to establishing budgets, anyone in a design related job can learn from the best. In writing this blog, I have dealt with many design offices and can personally attest to the friendly and incredibly efficient operation at Cullman & Kravis.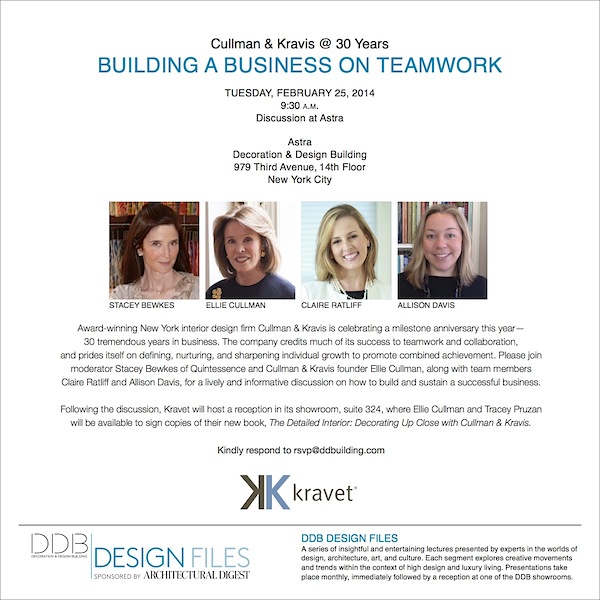 The lecture will take place at 9:30 am in the light filled Astra space on the 14th floor followed by a reception hosted by Kravet in their third floor showroom (suite 324) where Ellie Cullman and Tracey Pruzan will be signing copies of their beautiful new book, The Detailed Interior.
Please be sure to RSVP (rsvp@ddbuilding.com) if interested. Space is limited. Hope to see you there!