Three years ago, Texas based interior designer Pamela Pierce was ready for a new challenge. After thirty years of designing interiors, she decided to share her love of great design from another vantage point. Despite the closings of many beloved shelter publications over the years, Pierce still believed in the power of print and so three years ago this September, launched Milieu Magazine.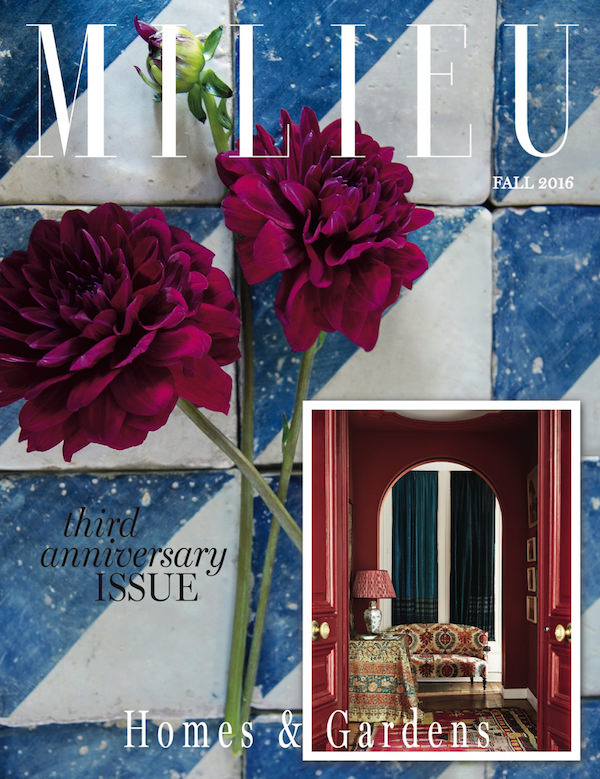 The upcoming anniversary issue, available later this week, celebrates the best of homes, style and sources around the globe. Travel with Suzanne Kasler to shop her favorite Atlanta haunts and then to a beautiful project she designed in South Carolina, visit with Pier Luigi Loro Piana at the Piazza di Siena in Rome and their facilities in northern Italy, learn more about the muti-talented Hutton Wilkinson and British designer Mary Fox Linton (her Fox Linton line of luxurious and understated fabrics were one of my Deco Off favorites) and many more behind the scenes treats. A highlight, featured on the both main and interiors covers, above and below, is a visit to Carolina Irving's sublime Paris apartment.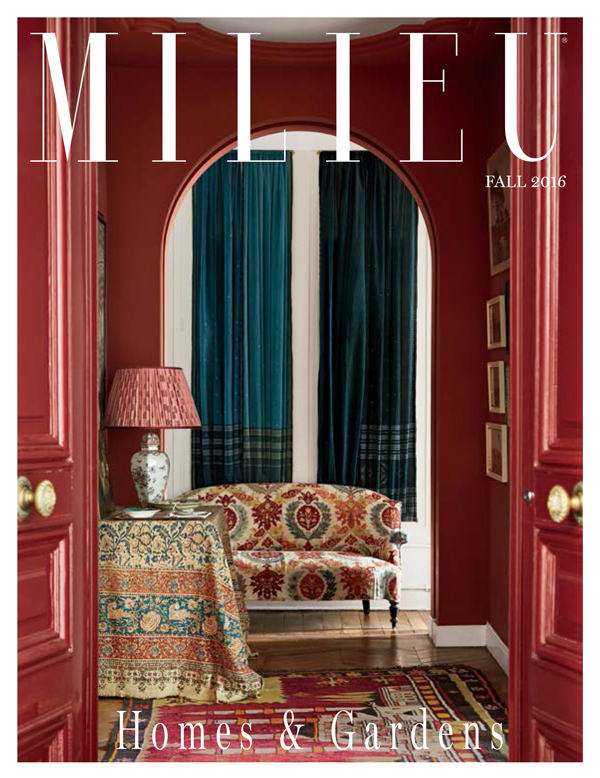 Whether designing her covetable line of eponymous textiles, a global chic fashion collection, Irving and Fine with Lisa Fine, a collection of decorative accessories, Irving and Morrison, with Penny Morrison, overseeing the Oscar de la Renta home collection as Creative Director or producing design features for a variety of esteemed publications, Carolina brings an informed and sophisticated approach to everything she touches.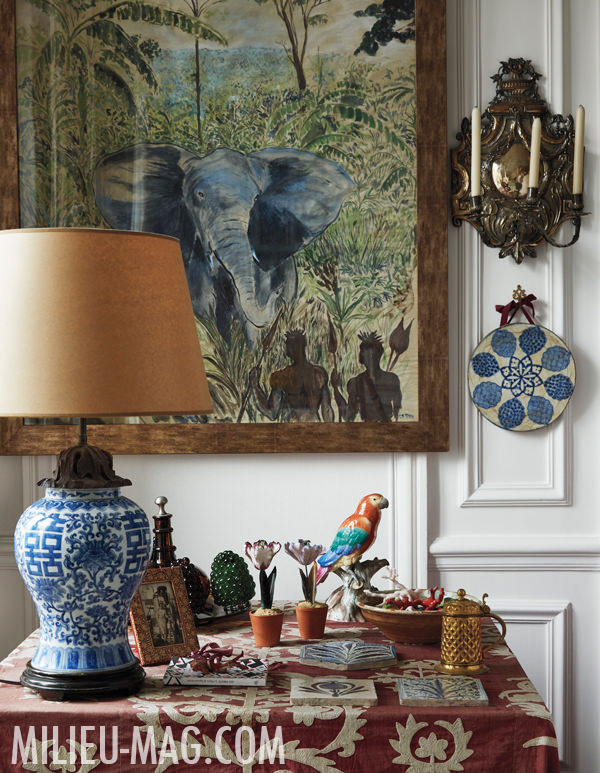 Old and new are seamlessly blended as travel and history provide boundless inspiration for all her interiors. In a sitting room vignette, above, you'll find eclectic treasures from around the globe, together telling a cultured story. An antique Chinese ginger jar lamp, porcelain flowers, and old blue and white ceramic tiles all seem somehow sympatico gathered on an ancient Uzbekistani susani, in front of a painting by Gipi de Rougemont, the stylish French artist who is a mainstay in the creative expat community of Tangiers.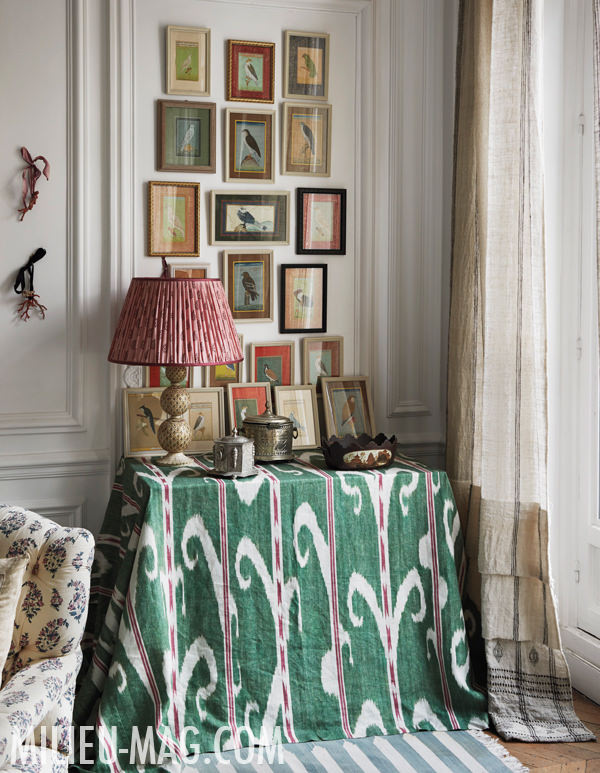 Certain elements are staples wherever she calls home, such as textile draped tables and Indian dhurries, as seen in the corner above – fabric and lampshade from Irving and Morrison. A collection of Indian miniature bird prints extend from wall to table in a nonchalant assemblage. In fact the entire apartment is nothing if not casually chic. In an apartment of classic Parisian bones, Carolina's curated collections take you on a personal journal through centuries of design around the world..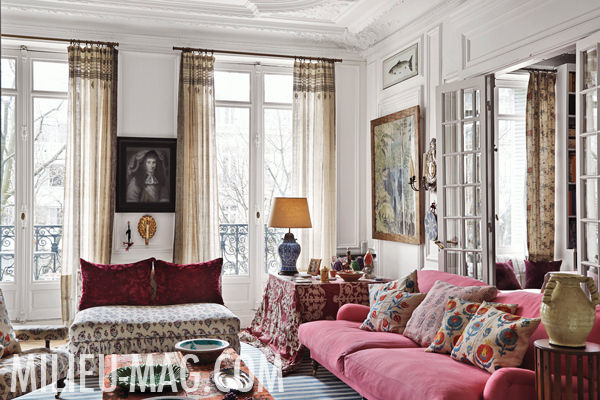 And what may appear effortless is the result of a supremely educated eye and a passion for beauty and craftsmanship, whether a fine antique, bazaar find or tribal handiwork. It is not just an education in art history and archaeology from the École du Louvre or years as a magazine editor but extensive travels and an insatiable curiosity that give Carolina the ability to so stylishly assemble the things she loves.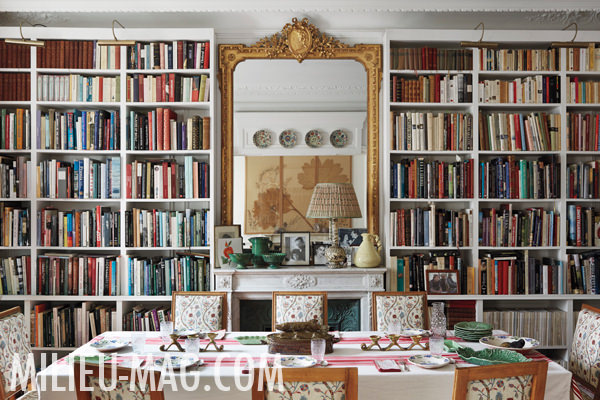 Her dining room, above, reveals her vast collection of reference materials, carefully organized for easy inspiration. By day, Carolina employs the space for research and work and in the evening it is home to frequent dinner parties. Jansen oak chairs are upholstered with her own Kandily pattern, a favorite that I recently used at home.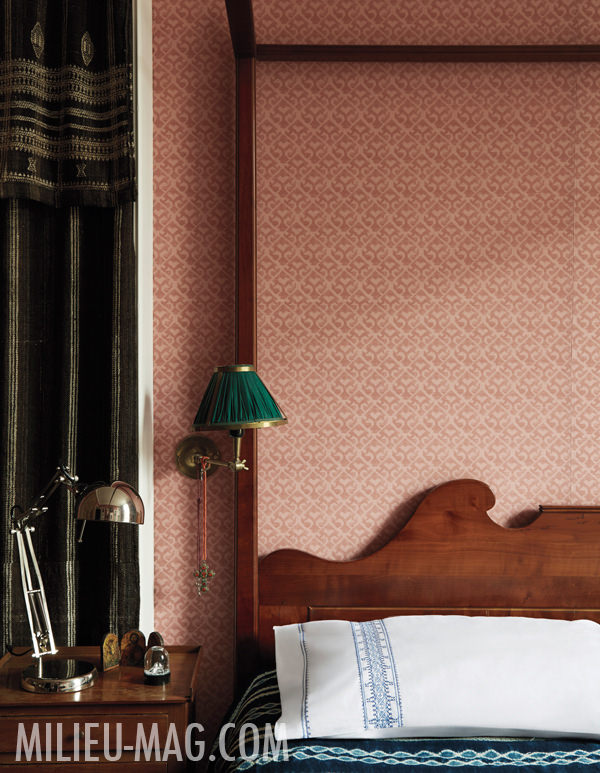 For Carolina, her home is not decorated per se but rather a personal universe that is the sum of all she loves. Here, it is all about the story. And like favored author, famous British travel writer Paddy Fermor, she brings the world home with an intrepid spirit and impeccable eye.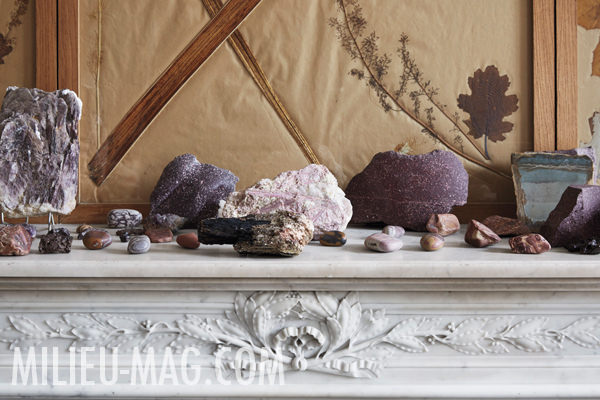 See more in the fall issue of Milieu Magazine, where each story captures the mood, character and sense of place with elegance and style. Four times a year, you can find inspiration through beautiful full page photography, airy layouts and thoughtful essays.
All photos by Miguel Flores-Vianna