We are taking a break from Wednesday Wine today to take a look at another lovely French location. After Megeve yesterday, we are meandering to the Loire valley, specifically to the Chateau de la Bourdaisiere. After a career in banking, Prince Louis Albert de Broglie, and his brother Prince Maurice, purchased the historic chateau in 1991, thus changing the course of Albert's career. He became so enamored of the 19th century vegetable garden on the estate, he was inspired to launch his collection of elegant garden tools and accessories, le Prince Jardinier.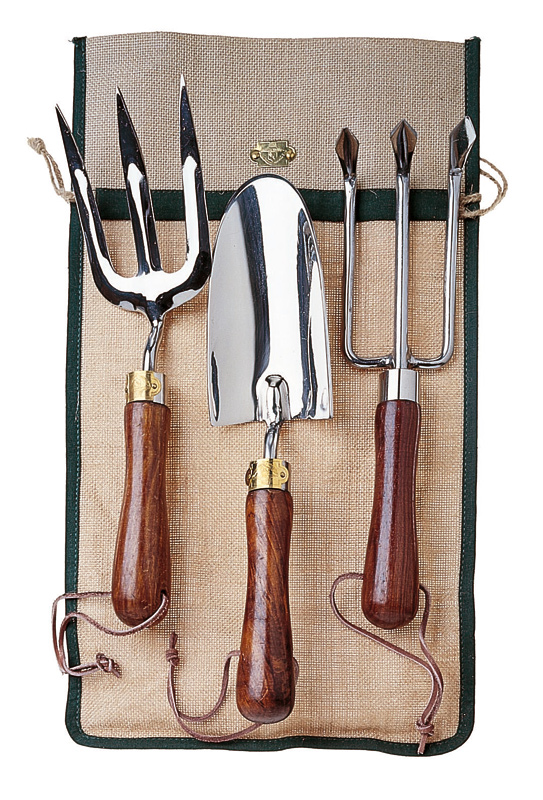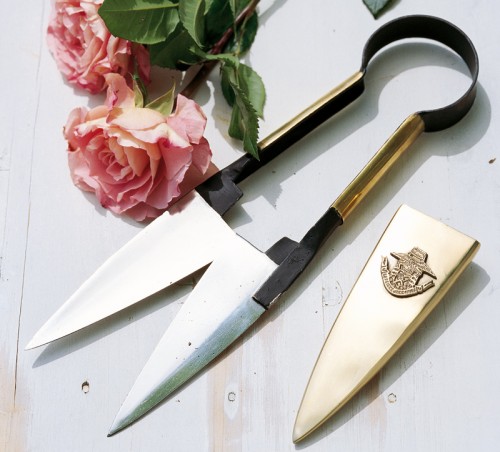 He and his wife, Francoise, also design garden furniture and an entire line of food products, perfumes and candles.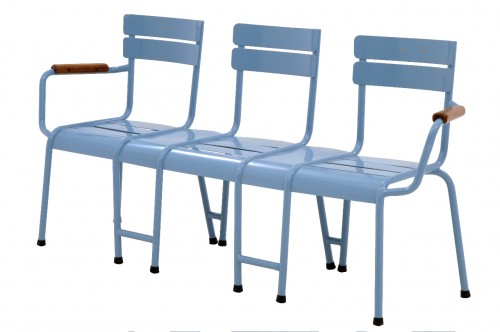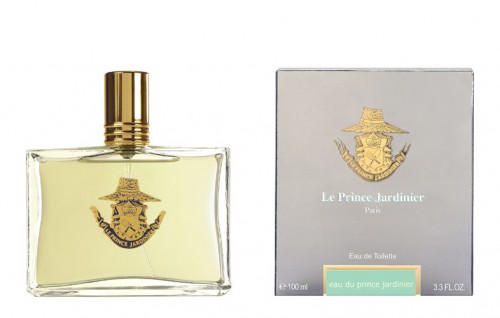 In 2001, Louis Albert also bought Deyrolle, the well known Natural Science company, started in 1831 and on the verge of collapse. Famous for its amazing collection of stuffed animals, butterflies, shells and minerals, a mini Musem, as well as a Cabinet de Curiosités, it was renovated, only to be almost completely destroyed by a fire in 2008. Many individuals and companies came together to save it by successfully auctioning art created for the occasion at Christies on November 13, 2008. You may remember that Hermes designed a scarf particularly for the cause.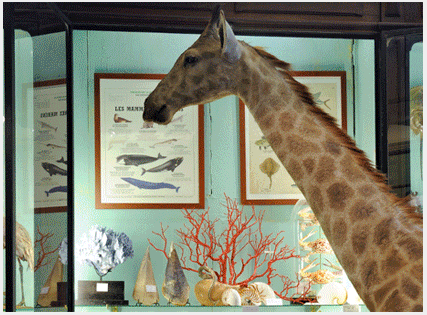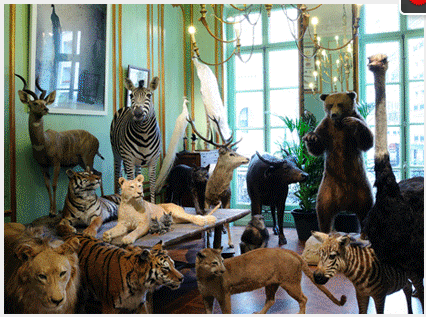 At this same time, Louis Albert bought out his brother's share in the chateau and transformed it into a prime example of eco renovation of an historical monument. Here are a few peeks of it decorated for the holidays. Perched on a hill, the neo-Renaissance chateau twinkles in the evening light.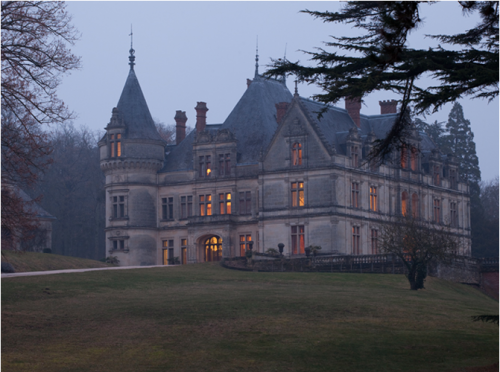 The little mise en scene at the entrance announces upcoming holiday celebrations.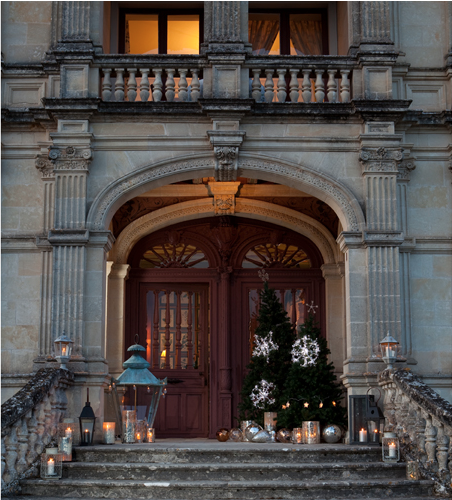 The bright green walls and the rattan furniture from the "Commanderie" series from Le Prince Jardinier contribute to the feeling of the neo-Renaissance decor of a grand entry hall. The painting is by Paul-Jean Gervais from 1894.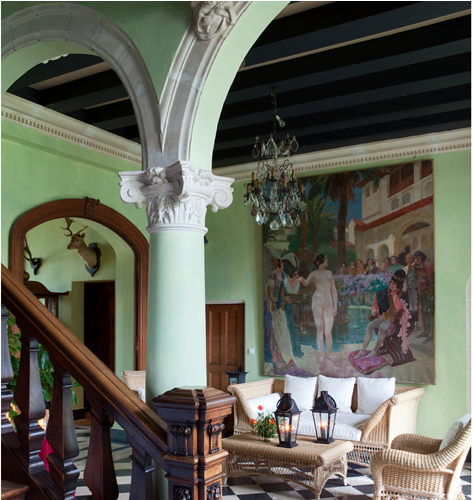 Deep seating, walls upholstered in Braquenie fabric and antique portraits all add to the comfortable feeling  of the salon.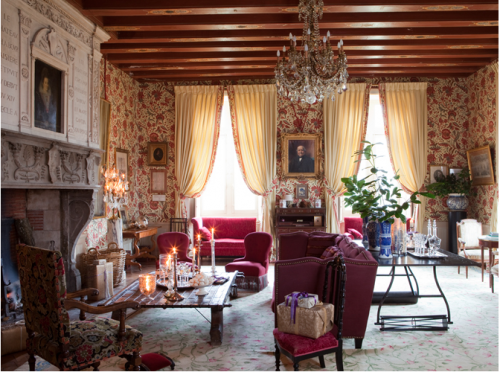 Over the fireplace hangs a portrait of Gabrielle d'Estrees, duchess de Beaufort.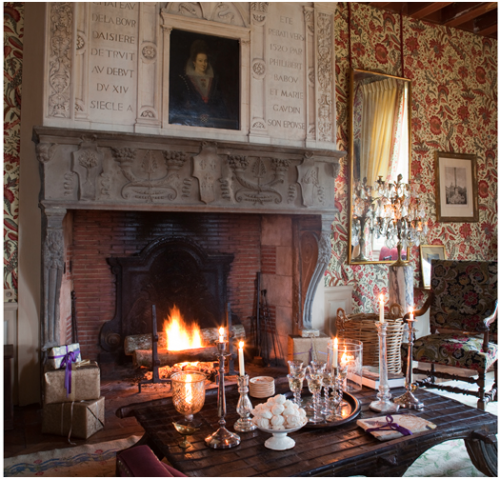 Dining room table set with Saint-Louis crystal and faience.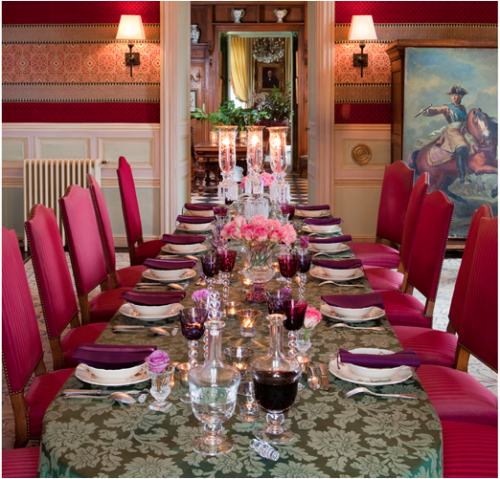 I think spending the holidays at this lovely chateau would be as Martha says "a good thing."