When Hudson News founders Lisa and James Cohen came to the conclusion that most art magazines were a tad dry and unapproachable, they decided the logical solution was to launch one of their own. Embodying lifestyle topics of travel, architecture, fashion, art and interiors, galerie is already, after its inaugural issue last April, finding its niche among those who want, as editor-in-chief Suzanne Slesin explains, "everything but not anything." In the second issue, on newsstands September 1,  there are articles across a wide spectrum of art and design, from artisans and artists, to products and projects, including a fantastic apartment in Paris, designed by the late and great Alberto Pinto, featured on the cover, below.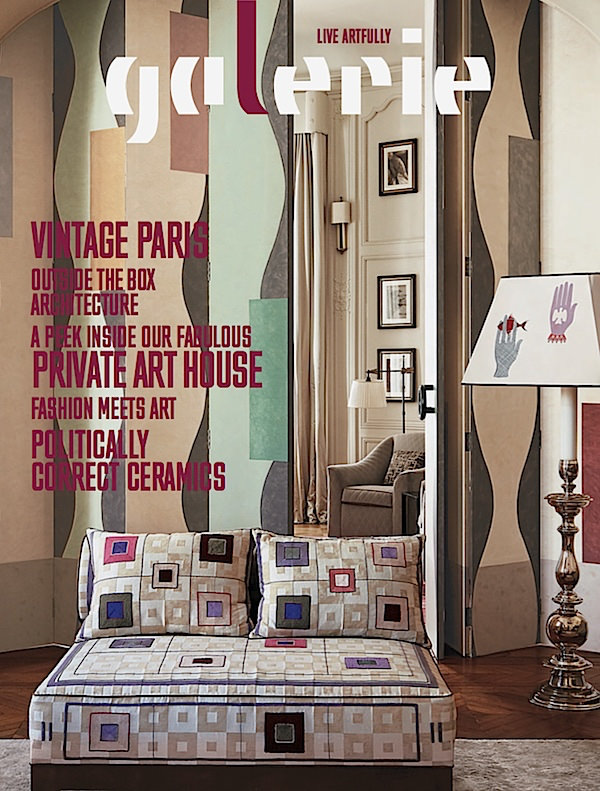 In a slightly oversized 9″x 12″ format, galerie is beautifully printed on sturdy stock with understated sheen, giving the features proper prominence. One piece is a discerning design story of creative collaboration between architect, owner and interior designer, illustrating how teamwork and artistic innovation gave a lackluster project a new lease on life.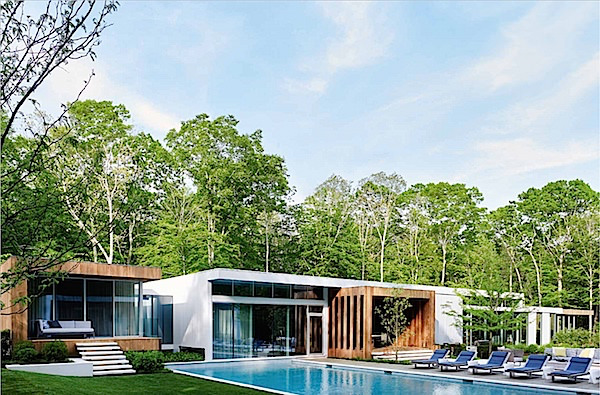 Architect Blaze Makoid had been tasked by home owner Gary Kline to transform a modern East Hampton spec house from a cold anonymous metal box to a welcoming liveable home. Coincidentally, Makoid had just met interior designer David Scott and felt the two could collaborate successfully on the project. A restricted lot eliminated the possibility of adding further width to the existing long metal box. Architect and designer also realized that materials were a crucial consideration, so Makoid designed a wooden "tube," above and below, that cleverly bisects the house perpendicularly (additional new wooden appendages on either end house a master suite and home office).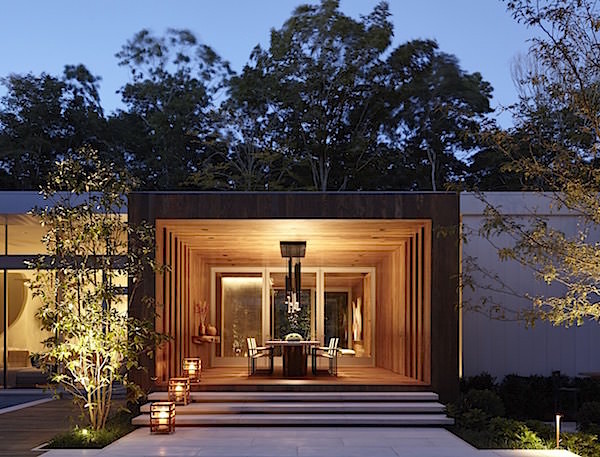 Clad in afrormosia, a tropical hardwood, the house receives an instant dose of warmth enhanced by seductive Orsman Design lighting. And by adding three steps up to this "tube," Makoid subtly articulates the space, distinguishing it from the rest of the long original one-story metal structure. Encompassing an outdoor dining room, shown above, as well as a new entry, below, it is a sophisticated and welcoming space.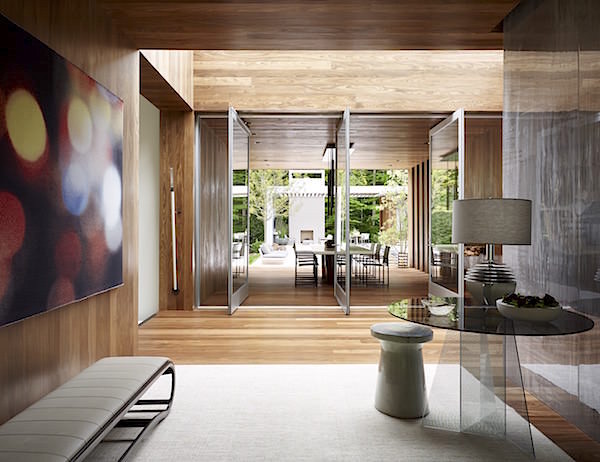 In a simple yet brilliant gesture, pivoting glass doors separate the dining area from the hall and entry above, with effortless style while Scott added modern organic touches to the foyer with Joseph Jeup's Aiden bench and a wall weaving by Danish artist Grethe Sorensen.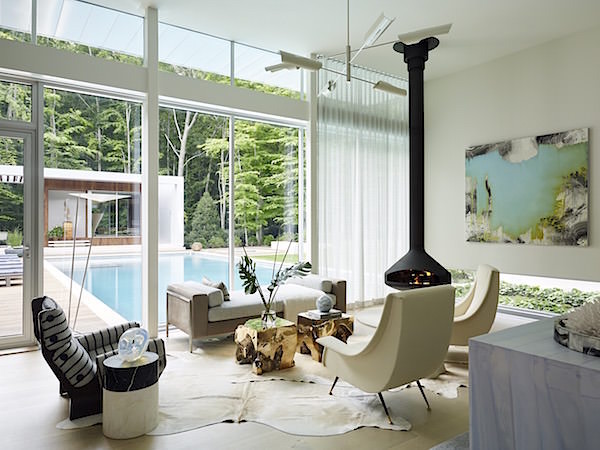 The house included large unwieldy spaces that David Scott finessed with stylish sculptural pieces. One half of the living room facing the pool is designed for smaller gatherings, featuring a fabulous rotating fireplace from Focus. A rectilinear Ralph Pucci daybed is balanced by sinuous vintage 1960's Italian armchairs from Amy Zook. And the bold shapes in Jeff Muhs' painting are echoed in the organic yet luxurious The Rock bronze end tables from Hudson Furniture.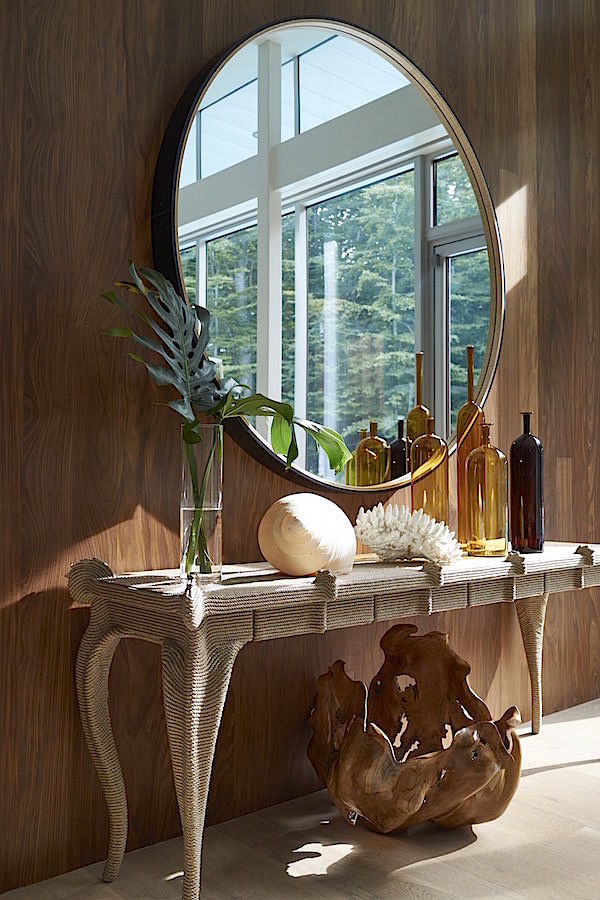 At the other end of the room, warm colors and textures combine for a chic statement showing off Scott's mastery of scale and proportion. A sophisticated sense of place is established with a large leather framed BBDW mirror hanging over the fabulous Christian Astuguevieille hemp Misole console with elegant accessories offering a nautical nod to the Hamptons locale.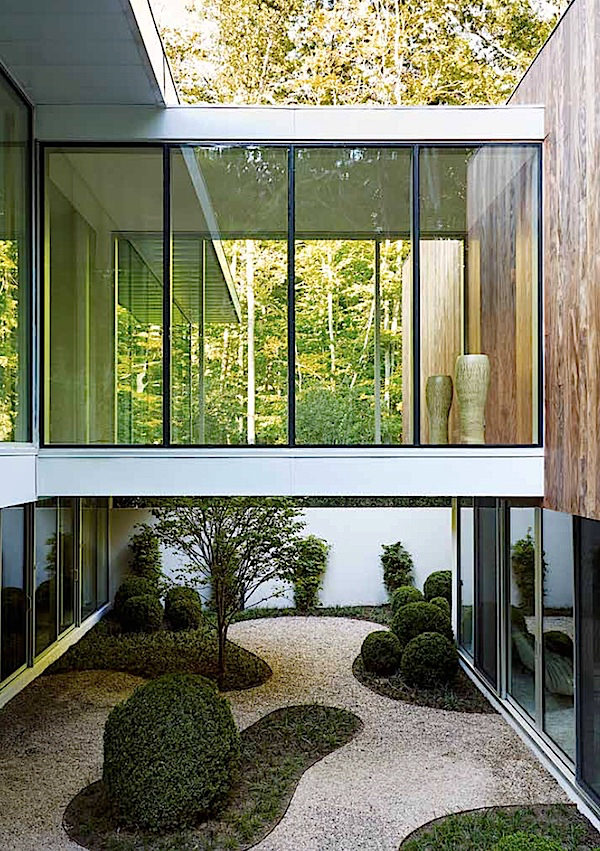 Of Makoid's many innovative architectural solutions, a favorite are the glass bridges connecting the two wooden boxes at either end of the house. These clear connectors function almost as negative space between structures of contrasting materials, emphasizing not only the seclusion and "separateness" of the more private spaces but such poetic moments as the small Japanese gardens below created by Landscape Details in Sag Harbor.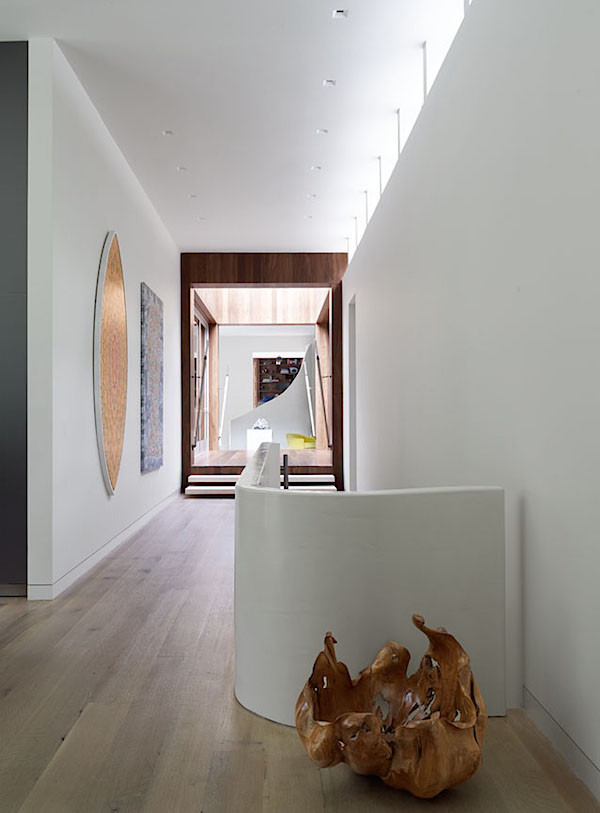 And just as the rectangular bridges juxtapose the naturalistic gardens they overhang, inside, the organic shapes of the Venetian plaster stairwells contrast with the stricter geometry of the built form. Be sure to take a peek at more from this elegant project and many more in the new fall galerie magazine.
all photos by Joshua McHugh