Designer Mark Hampton perhaps described legendary decorator Geoffrey Bennison best. "Like some Proustian arbiter of taste and manners, he knew exactly how to get it right, while at the same time he left a tingling impression of mystery. How did he do it? Where did it all come from? The decorator magician. That's what he was."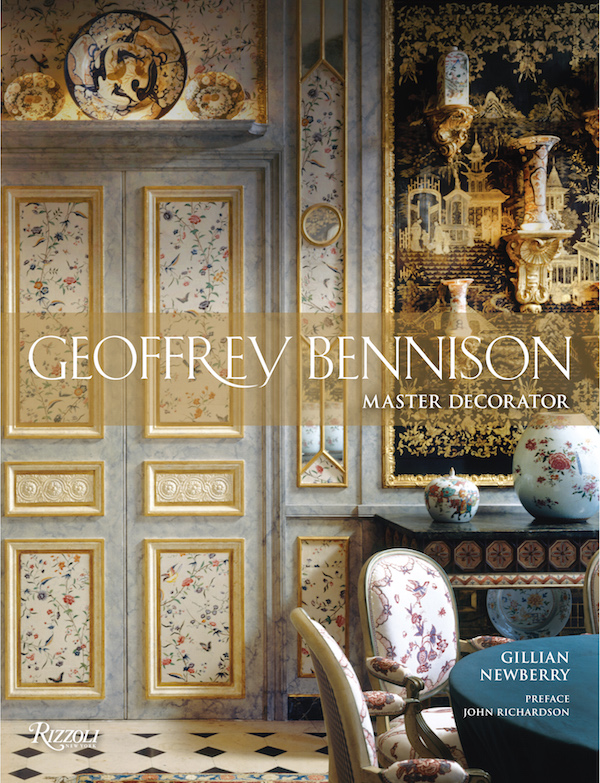 Long before I even knew what a blog was, I was a devotee of Geoffrey Bennison and his iconic fabrics. In this first book on the designer's work, we are immersed in the magical and theatrical world of the renowned British designer, whose unconventional approach changed the way we look at decor. The original mix master, he knew how to combine the grand with the found, the fine with the shabby for just the right effect. As long time friend, Sir John Richardson, explains in his insightful introduction, "How cleverly he conjured up atmosphere; how ingeniously he handled old stuffs; and how deftly he enhanced and patinated people's circumstances for them."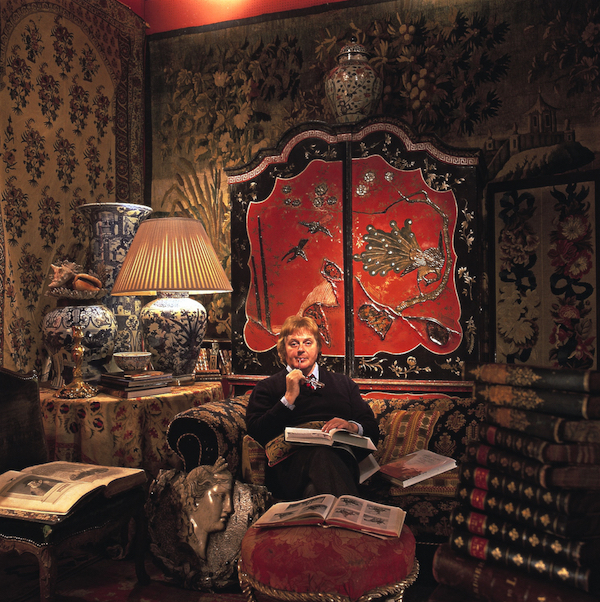 Written by long time shop associate Gillian Newberry, who continued Geoffrey's work posthumously by founding Bennison Fabrics in 1985, we gain entree into his fascinating world. From his time at Slade School of Art where he showed early artistic talent, to his years as an antiques dealer at many London outposts and adventures during the swinging 60s to his career as an in-demand decorator for the most discerning international clients, it is a wild and sumptuous magic carpet of a ride in design.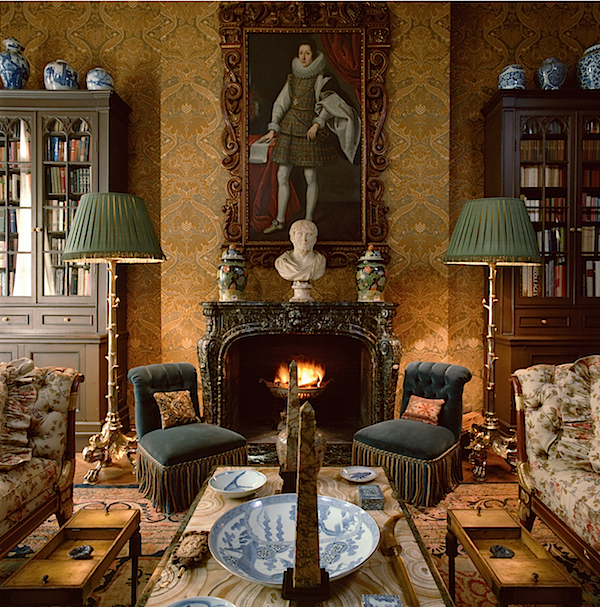 Since Bennison picked and chose his clients carefully, turning down 90% of commissions offered, his projects, all of which are included in the book, were not as numerous as they might have been. Many clients were already or became lifelong friends, as "total rapport" was one of his mandates for any job. When Peter Glenville, a friend from their Oxford days, purchased a turn of the century apartment in Manhattan, Geoffrey was immediately enlisted.  The library, above, is quintessential Bennison with his signature mix of "relaxed grandeur, pleasing decay, and faded fabrics: so easy to appreciate, yet so difficult to attain."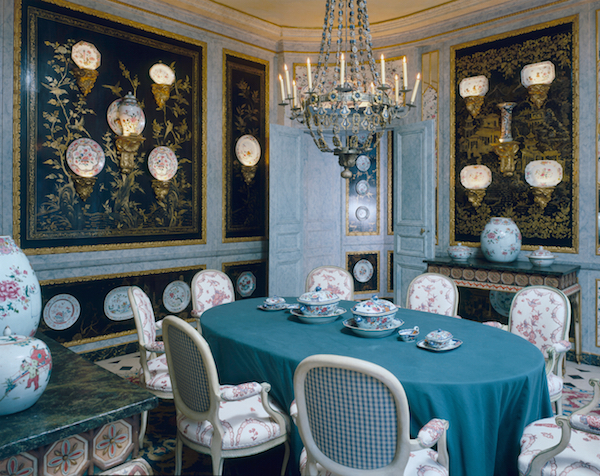 After having completed prestigious projects for clients such as Lord Weidenfeld, the Duchess of Beaufort and an apartment and country house for Baron David de Rothschild, Bennison was approached by Princess Firyal of Jordan to decorate her spacious Paris apartment. His style was not about calculated elegance or accurate period consistency. While well schooled in antiques and provenance, he explained, "I can't bear the look-what-I've-got look." He was all about creating an aura, as he did above and below, in the princess's dining room, one of his all time favorite spaces.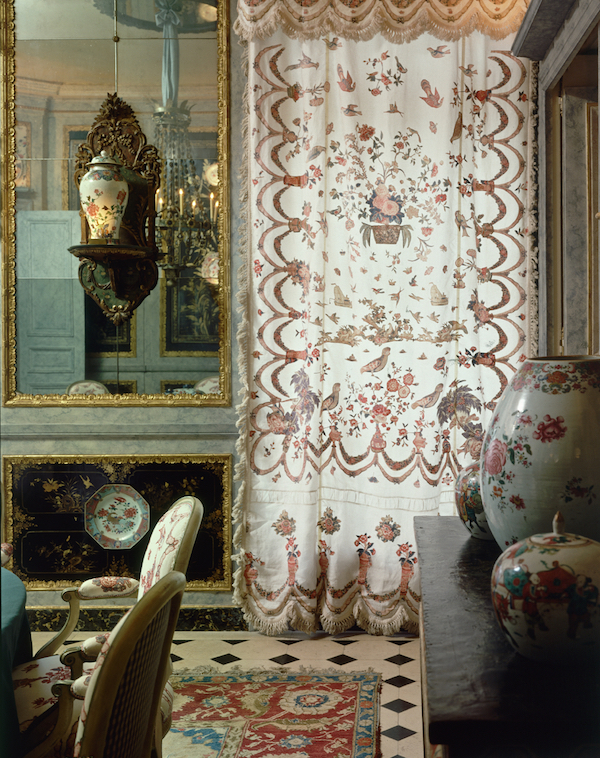 With a talent for "enhancing the qualities of a client's own collections and furniture (by) integrating them into his vision of the interiors," he capitalizing on the princess's collection of Famille Rose and Imari porcelain. Working with his talented team of artisans, walls were painted in a pale blue faux marbre and the porcelain placed on secretly lit carved giltwood pedestals within framed mirrored or lacquer panels.  Design details from an 18th century quilt were reworked into the pattern of new fabric made to cover the chairs and delicately appliquéd on the curtains.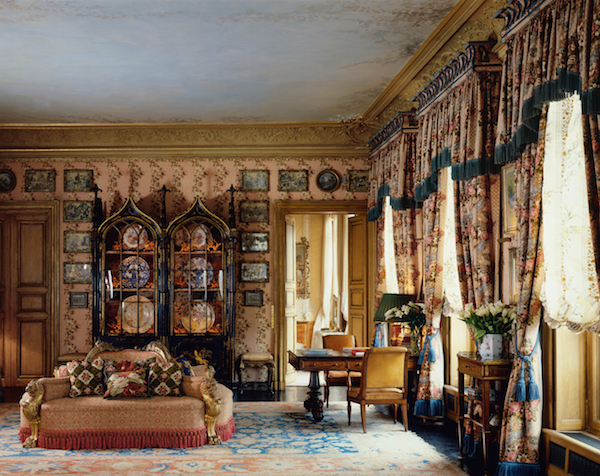 As with all his work, the grand salon represented his uncanny ability to imbue the most splendid and luxurious rooms with a sense of cozy comfort and lived-in approachability. His innate sense of color, balance and proportion informed the space, with a beloved Ziegler carpet on the floor and walls covered in his own Vineleaf fabric on a small octagon background which was based on the curtains, a 19th century pattern from the collection at the Victoria and Albert Museum. These in turn hung over hand-painted silk shades. Bennison adored antique textiles and it was when he couldn't find modern equivalents with the right tonality that he started to print his own.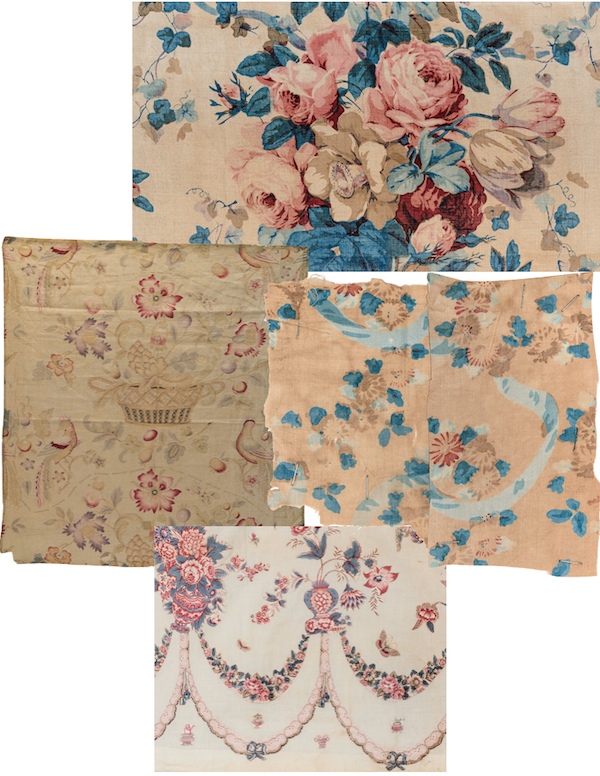 And it was his original list of fabrics from the archives that became the core of the Bennison Fabrics collection we know and love today. Each year, new patterns have been added so that the present archive comprises nearly 200 designs. But it is not just the fabrics that are the legacy of Geoffrey Bennison but the art of the mix. So much of how we approach design today can be attributed to him and there is much to learn and be inspired by in this must-have volume for any design aficionado's library.