Travel always yields delightful discoveries and my trip last week was no exception. An unseasonable cold spell in Virginia and North Carolina made our spring-like last day even more enjoyable. Inspired to take a brief walk after arriving early on the beautiful Duke University campus, I ambled across the bridge overlooking the South Lawn. There in the meadow of the Sarah P. Duke Gardens, I was instantly mesmerized by a group of enormous structures, resembling a Stonehenge-like statement in woven twigs. I'm not sure how the amazing work of sculptor Patrick Dougherty had escaped me until then, but happily, a volunteer gardener who was weeding nearby enlightened me.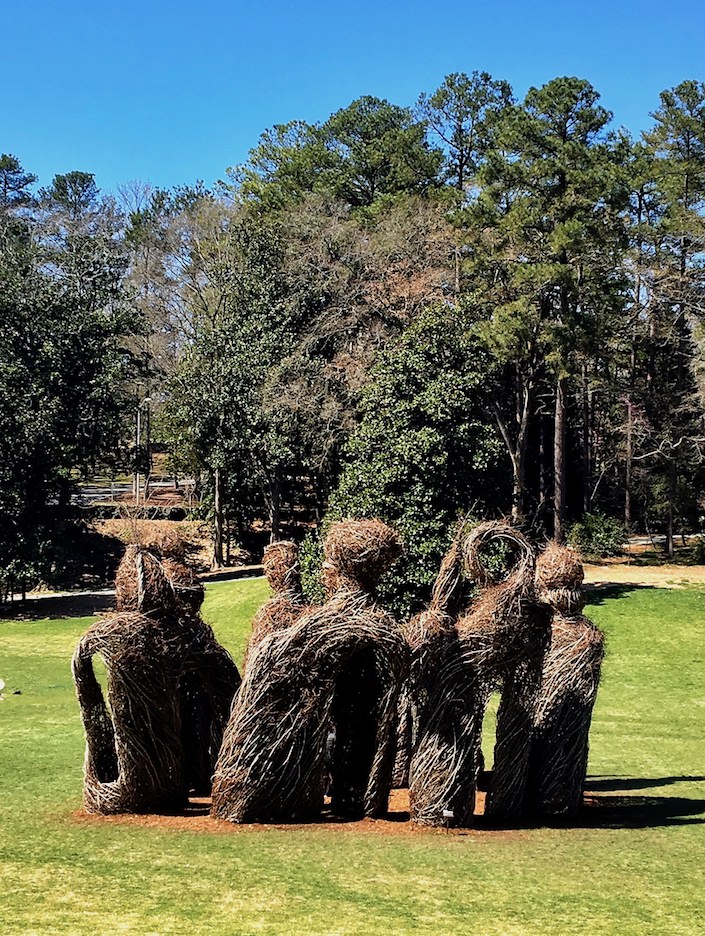 The Big Easy is one Dougherty's most recent installations, over 250 of which have been created across the United States and around the world. Standing approximately 18′ tall, the sculpture is made of red maple and sweetgum saplings, sourced from the Duke Forest. As the artist describes it, "I was interested in making a work with high visibility that spoke less of shelter and more of circus, celebration, and whimsy."  My photo above, which you may have spotted on Instagram, does not offer a good sense of the scale, which you can discern better below.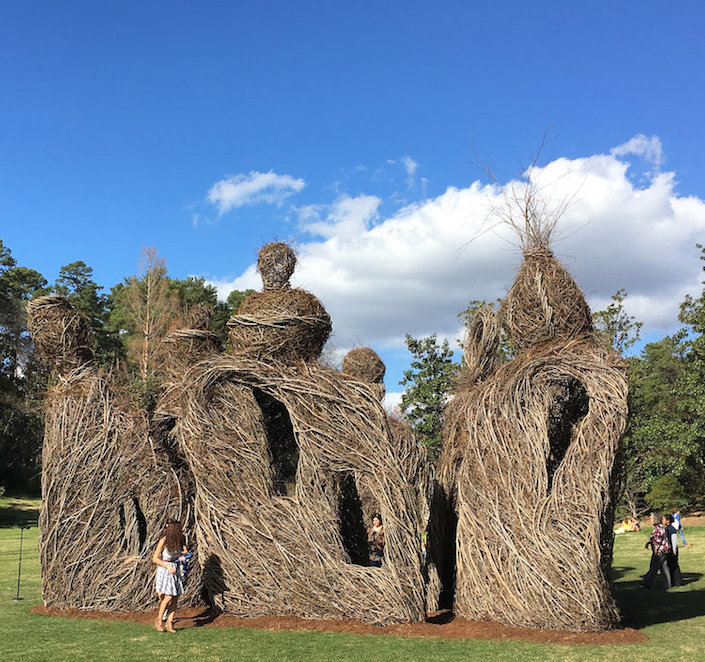 Art was not always on the horizon for Dougherty, who studied English and then received his masters in Hospital and Health Administration. But years later, when building his own cabin on a 10 acre lot in North Carolina, he discovered a passion for the art of foraging and constructing structures from those components. That led him back to school, this time to the art department at the University of North Carolina, where he found his true calling at the intersection of carpentry, nature and art.
photo: Hatten 18
Whether Running in Circles in Denmark, above, Fit for a Queen in Villes de Nantes, France, below,
photo: Sapristi – Emmanuelle Tranle
Cell Division at SCAD (Savannah College of Art and Design)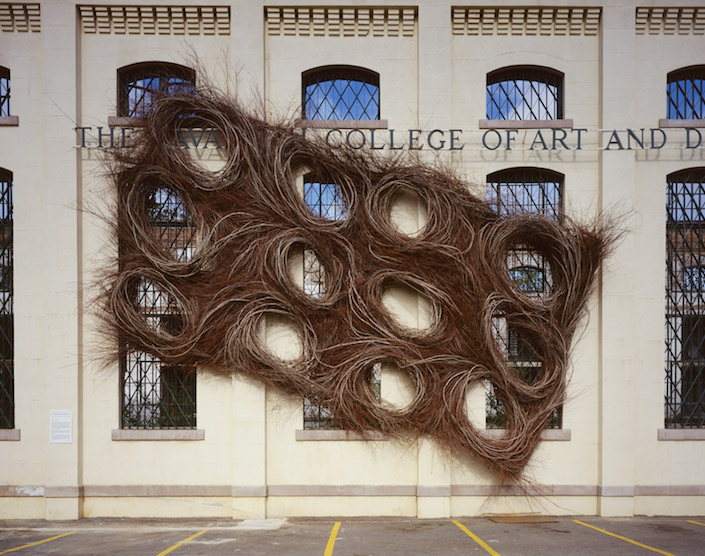 or Just Around the Corner, New Harmony Gallery in Harmony, Indiana, below,
photo: Doyle Dean
there is an fantastical, joyful, organic nature to his art that appeals to those of all ages and walks of life – even those who don't realize it's art. And while his work has won many awards, including the Henry Moore and National Endowment of the Arts fellowships, it is ephemeral in nature, intentionally designed to have a life cycle that echoes and enhances its natural surroundings.
photo: Charles Crie
I was fascinated by the powerful experience of viewing and interacting with Dougherty's stickwork art. And not only are his installations an experience to behold but are experiential in their creation. Each piece takes three weeks to finish and involves an entire team of on-site volunteers. Dougherty explains, "In building sculpture and having people unite and throw their energies into it, a kind of magic happens."
photo: James Fraher (james@bogfire.com)
This magic is not only enchanting but seems to capture the zeitgeist. Whether it's a reaction to our technologically driven lives or the uncertain state of world affairs, the renewed interest in connecting with the natural world is captured with joy and creative energy in Dougherty's work.