The 2016 Young Collectors Night last Thursday at the Winter Antiques Show, was, as always, a festive evening celebrating what is widely considered the most prestigious show for the best of the best in fine and decorative arts. More than 800 fashionable folks came for a private viewing of the show and to mingle with top interior designers and a social crowd of New York's design aficionados, all to benefit the East Side House Settlement. As tomorrow is the last day, I wanted to share some of my favorite finds. On arriving, I ran into designer Jesse Carrier and we made a beeline to friend Liz O'Brien's booth, who always has an incredibly chic mix.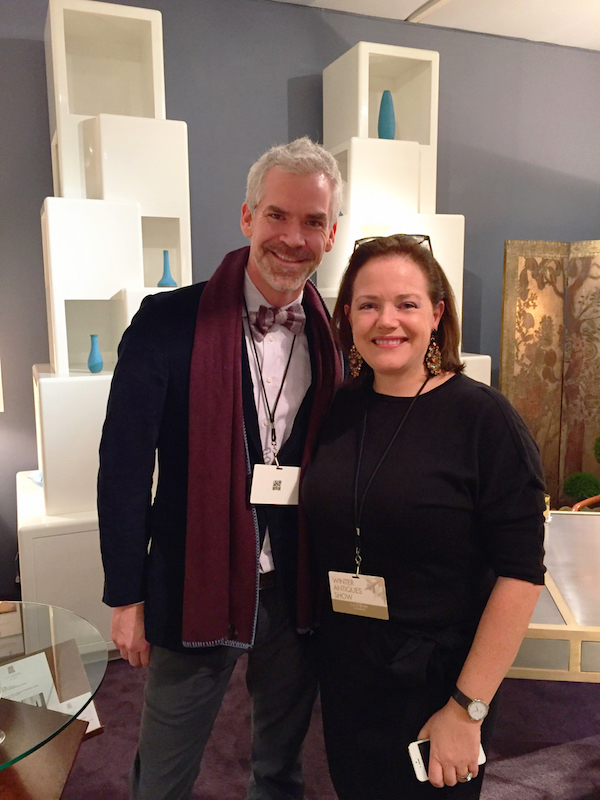 Behind Jesse and Liz, above and below, you can see an amazing pair of  "Skyscraper" bookcases in lacquered wood by John Dickinson.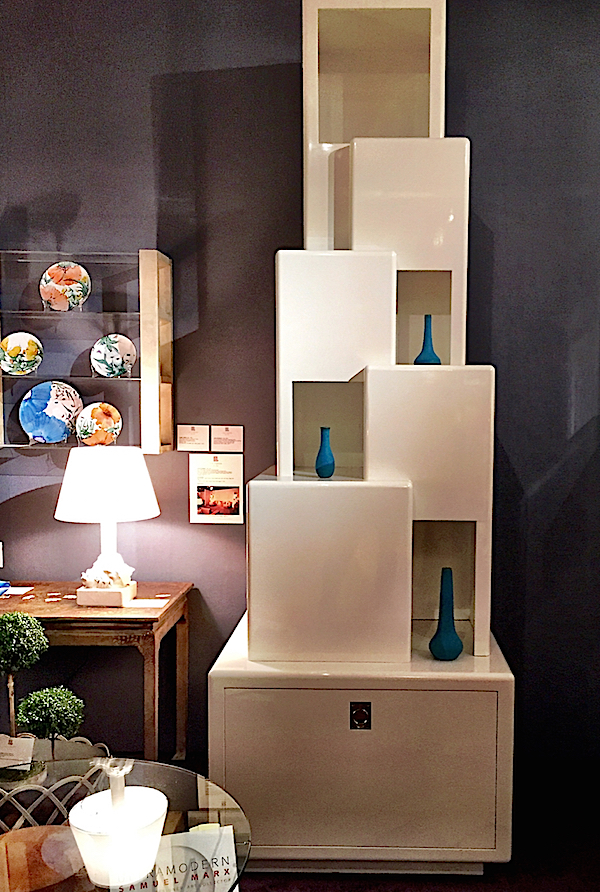 One of the many reasons to attend such prestigious vetted shows is the quality of the exhibitors. It's a great way to educate your eye and the dealers are always eager and proud to share information and scholarship. Liz has an encyclopedic knowledge of her wares and pulled out a variety of publications to support the provenance of her pieces.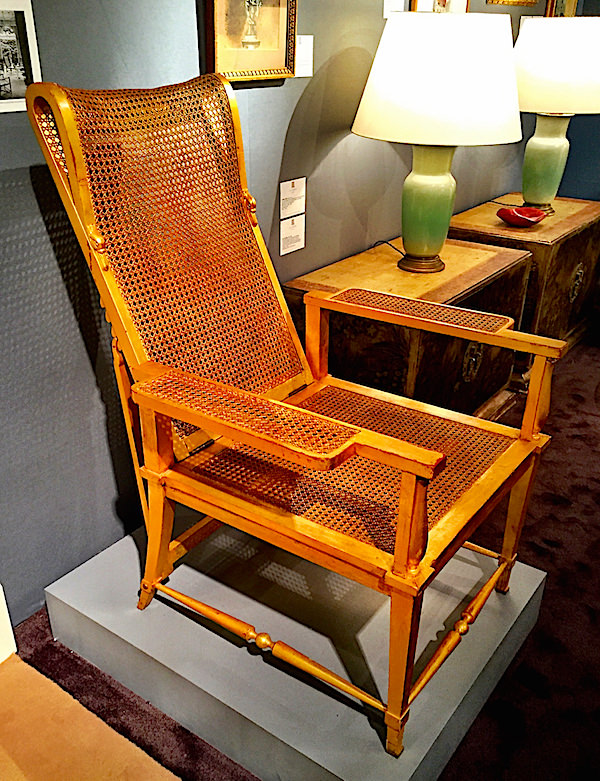 For example, Liz showed a similar model of the stunning gilt wood André Arbus chair above from 1950 in situ in the designer's own music room at his Rue Faubourg Saint-Honoré residence, below. I can always count on learning something new each time I visit with Liz.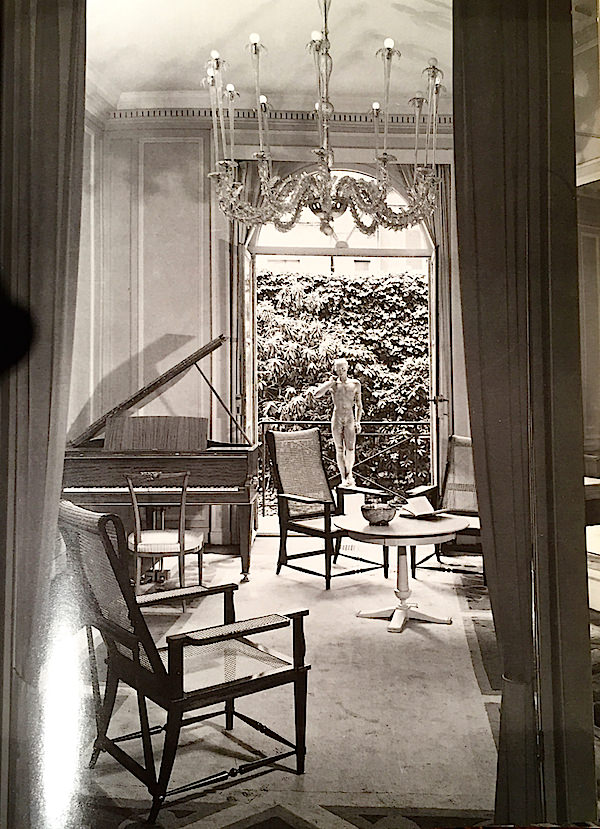 She also had a covetable pair of large toleware planters painted with faux tortoiseshell in wicker from the Bunny Mellon estate. They were, not surprisingly, already sold to a very stylish designer.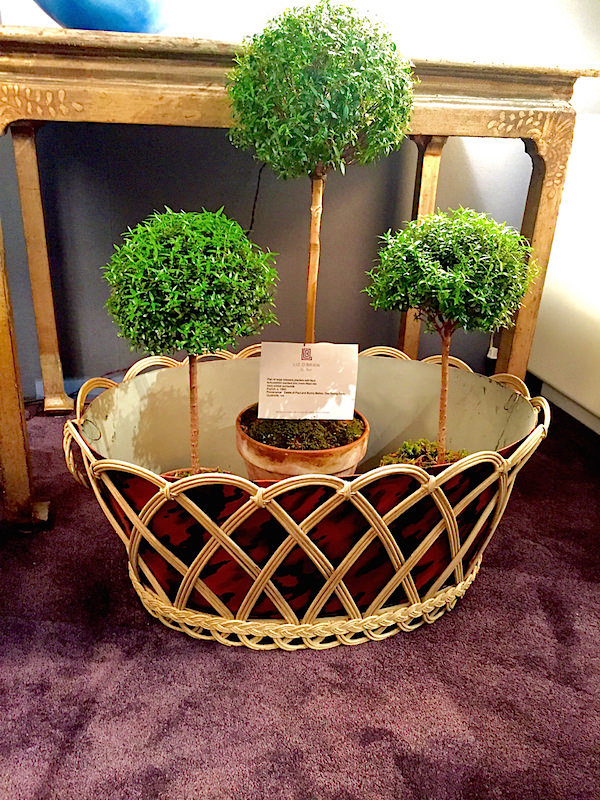 And while hard to see in my photo, you'll just have to trust me that this pair of Tomaso Buzzi Venini lamps from 1932 have the most divine gold dusted luster.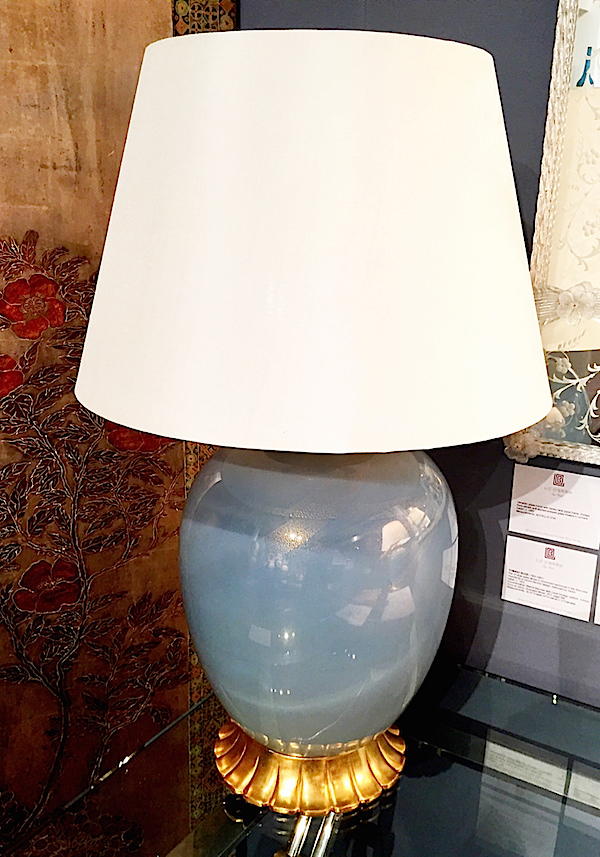 Across the way was new exhibitor James Infante, who had a fascinating eclectic mix. This Paul Frankl painted and gilt wood desk from 1927 hails from the Wickersham estate in Piedmont, CA, where Frankl designed all the furniture.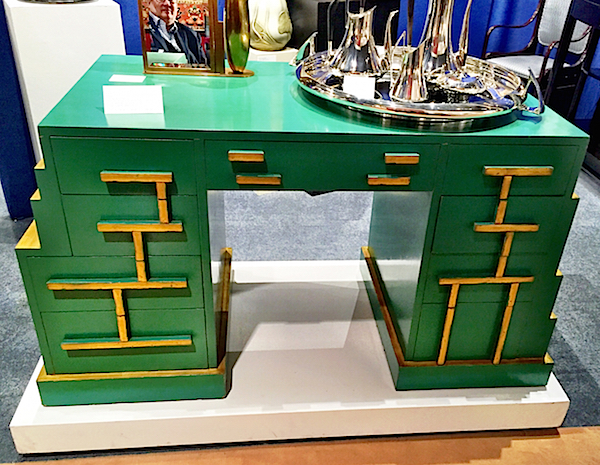 A very unusual 13 light brass candelabra was designed in 1902 by Bruno Paul, known, among other achievements, for designing Macy's in New York in 1925. An architect, illustrator, interior designer, and furniture designer, he was a polymath who believed in functional art for every aspect of life.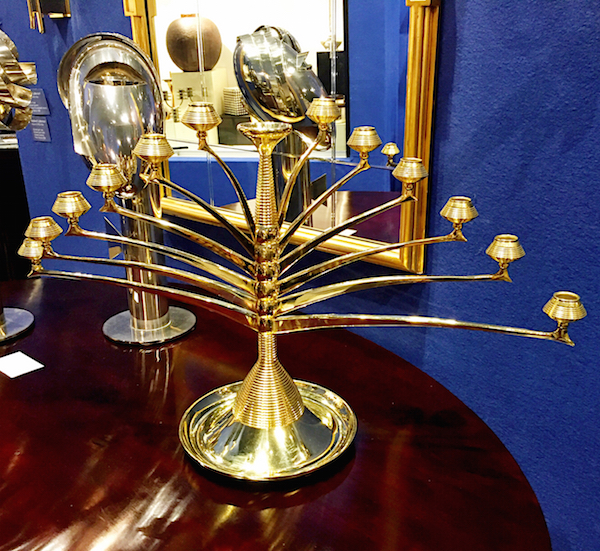 James had several clocks including this fantastic cobra one by French Art Deco artist-blacksmith Edgar Brandt.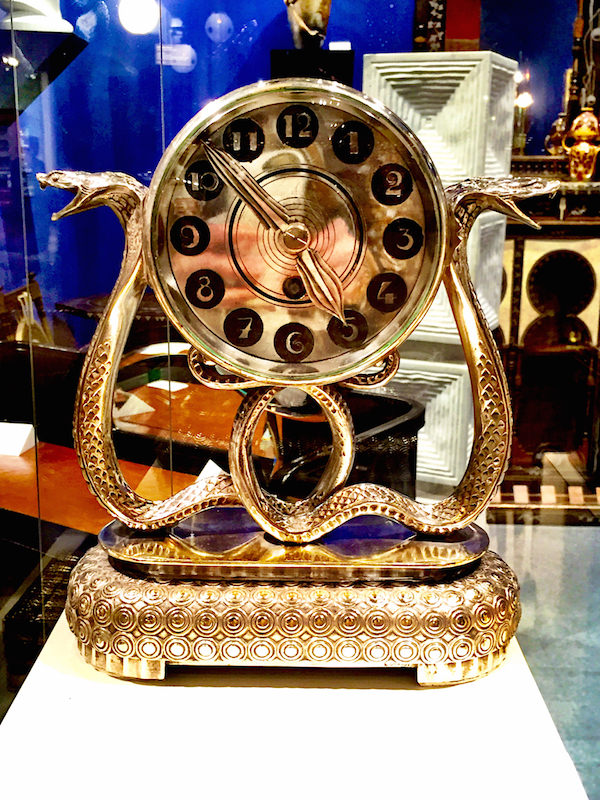 Highlights from the venerable Maison Gerard included an impressive Italian Art Nouveau screen by Girard & Cutler,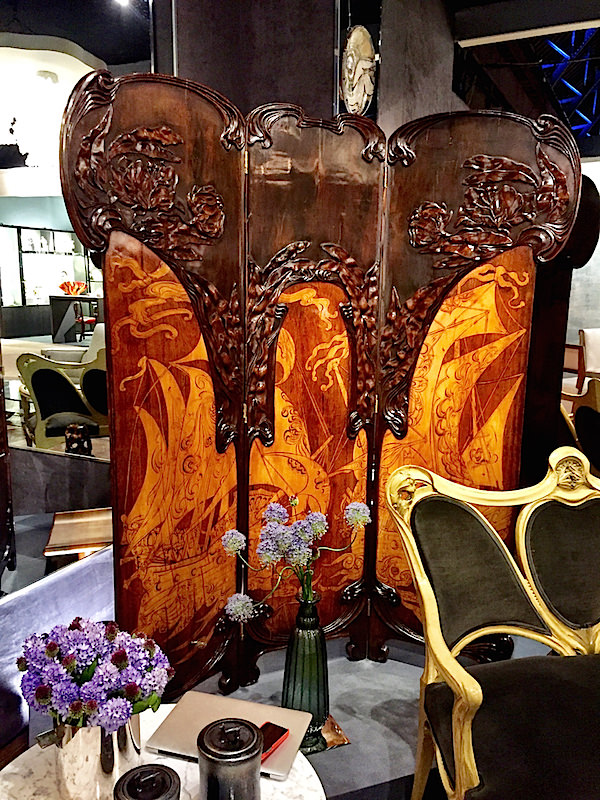 an intricate Scandinavian collector's cabinet with incredible detail,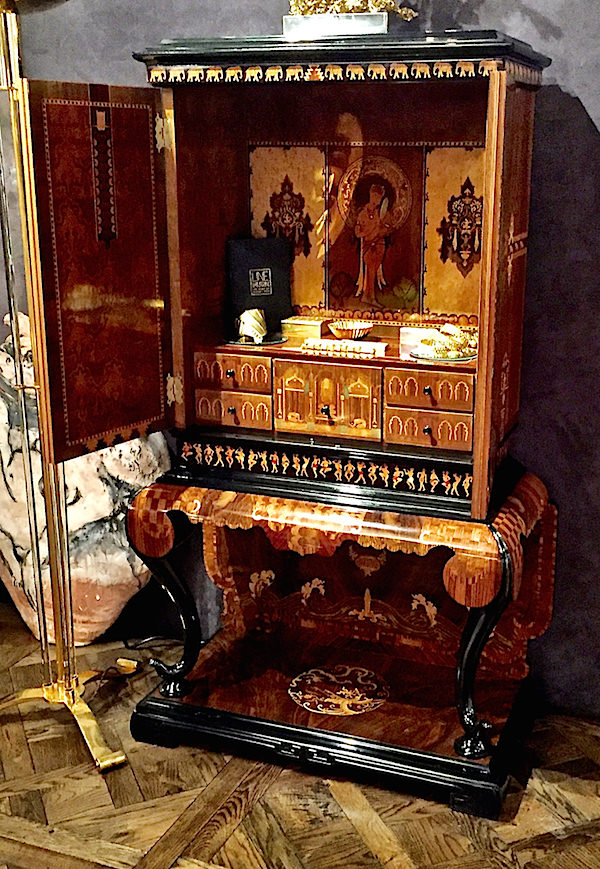 and a fetching collection of globes.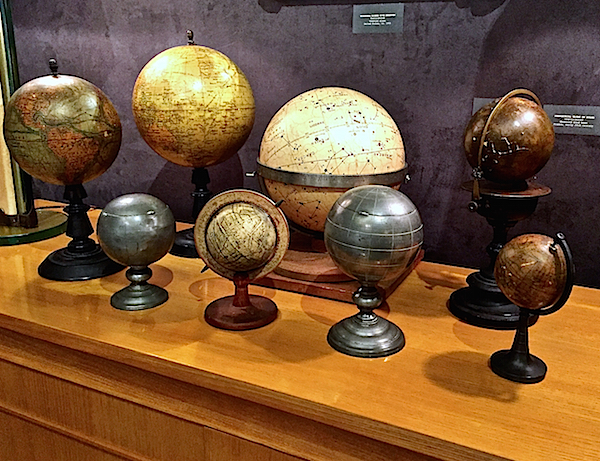 Historical Design represents a wide ranging collection of many facets of 19th through 21st century design. Those who follow along on Instagram may have seen this amazing Lisa Sotilis "Kalliope Muse" necklace I posted. A sculptress and painter, Sotilis also creates remarkable handcrafted jewelry. Once Giorgio de Chirico's assistant, Sotilis' first client was Salvador Dali, who purchased two pieces for his wife Gala.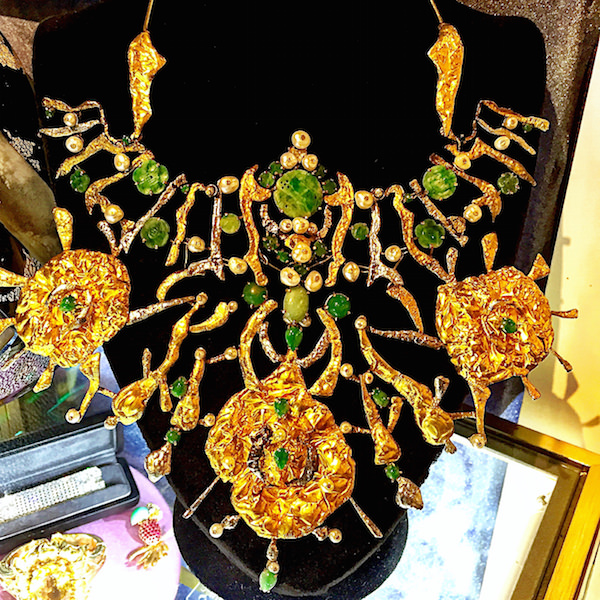 You may remember this iconic Verdura box from the Bunny Mellon sale at Sotheby's. It is now in the collection of Historical Design. Husband Paul had commissioned it for his wife as a tribute to their Virginia estate, Oak Spring Farm.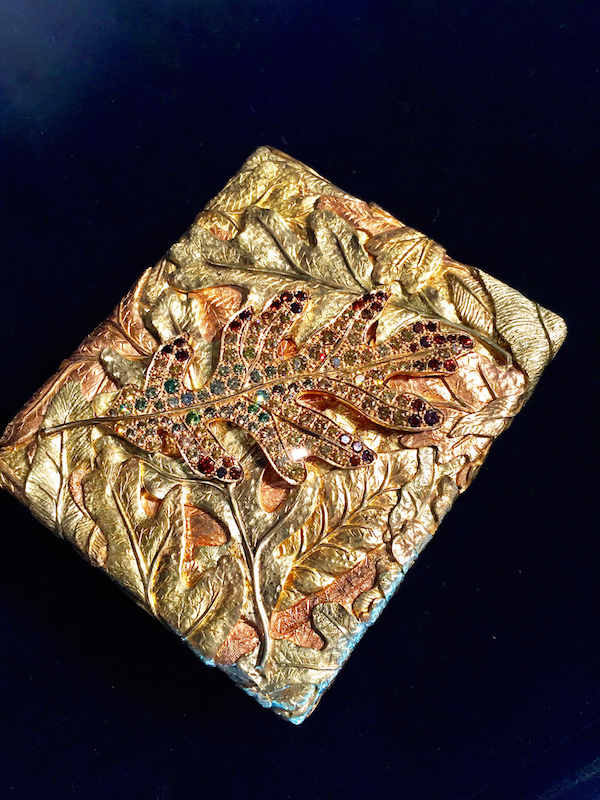 The inside is just as beautiful with a miniature nod to the tree filled estate.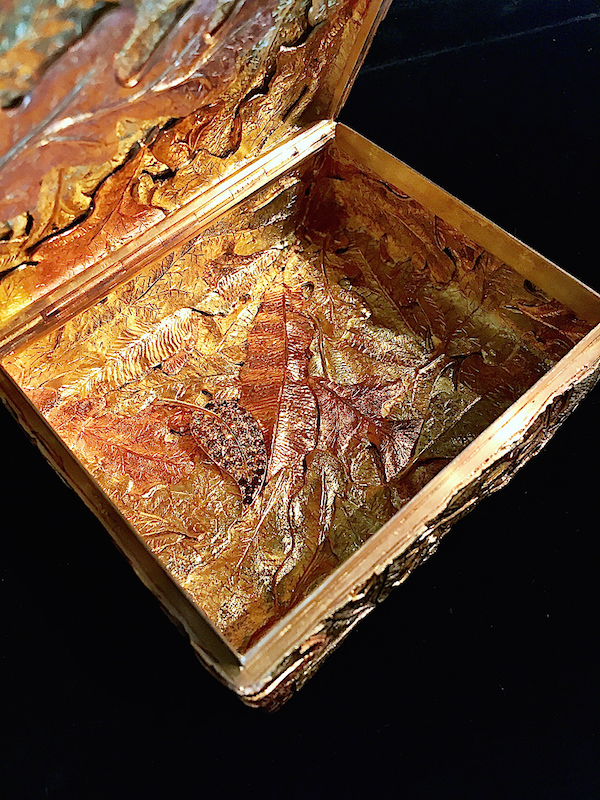 In keeping with the new show dates that include contemporary design, Historical Design also presented their own line, HD jewels, a collaboration with Oscar Heyman. They are elegant whimsical creations with fantastic packaging.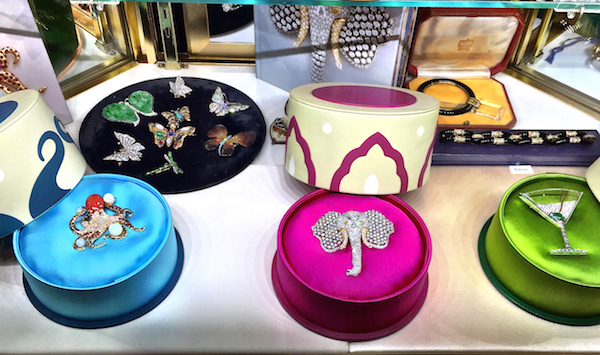 I particularly liked this opulent octopus brooch of 18K gold, coral, opals, diamonds and rubies.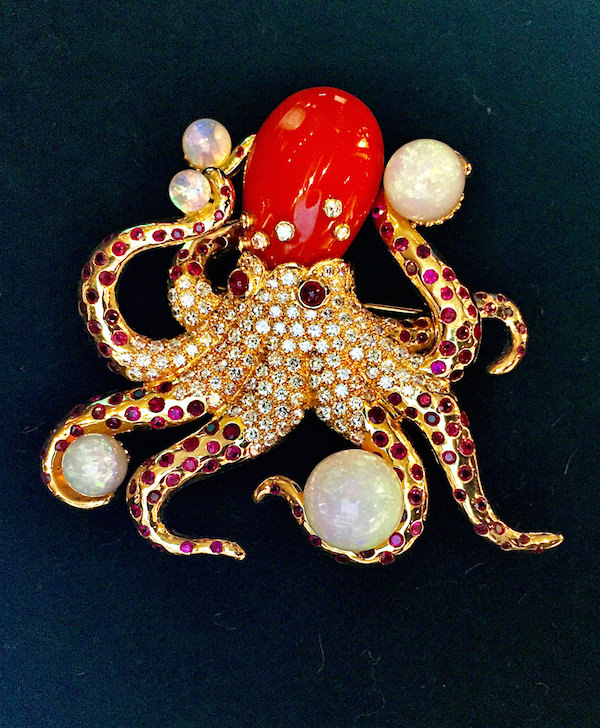 Didier Ltd always has interesting art jewelry and accessories. These Dali earrings are based on his famous painting The Enigma of Hitler. As you may know, Dali's preoccupation and perceived sympathetic opinion of Hitler was the cause of his expulsion from the Surrealists. The telephones represent the first WWII truce between nations which British Prime Minister Neville Chamberlain conducted via phone. But Hitler invaded Poland anyway and the embarrassment led to the election of Churchill as new Prime Minister. The painting was Dali's expression of this dark moment in history as are the earrings, with the rubies and emeralds representing tears.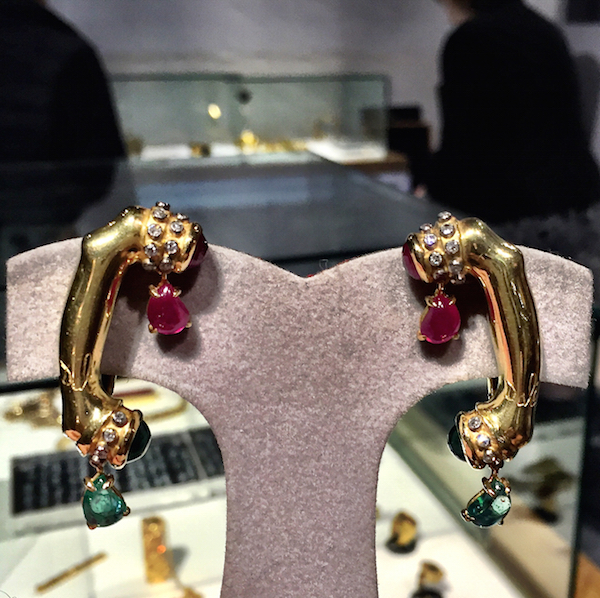 It's so hard to narrow down favorites so I will include a few more in random categories. Loved this charming Jamie Wyeth at Adelson Galleries.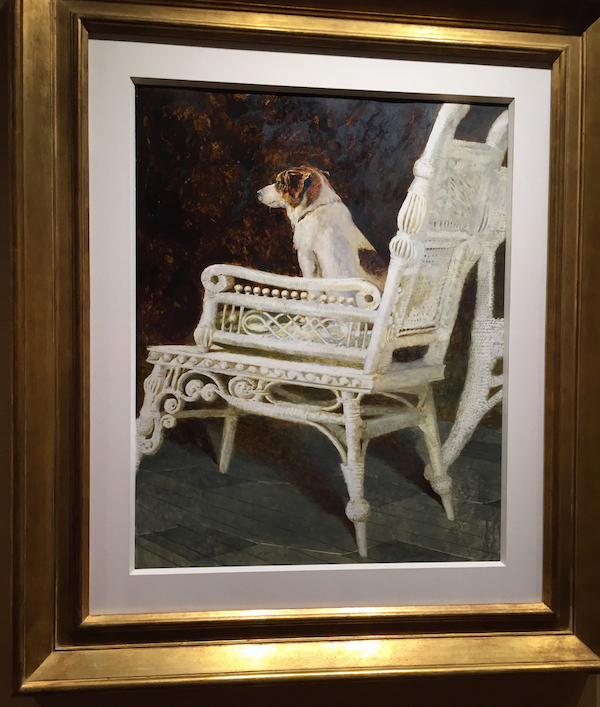 Feeding my tabletop obsession was this set of 14 English 19th c. emerald green cordial glasses at Hirschl & Adler.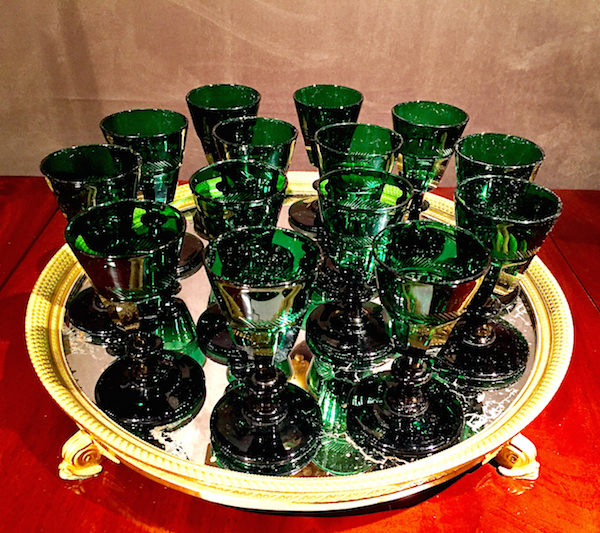 A rare pair of famille verte figures of Indian bearers circa 1710 from Cohen & Cohen were a colorful intercultural interpretation.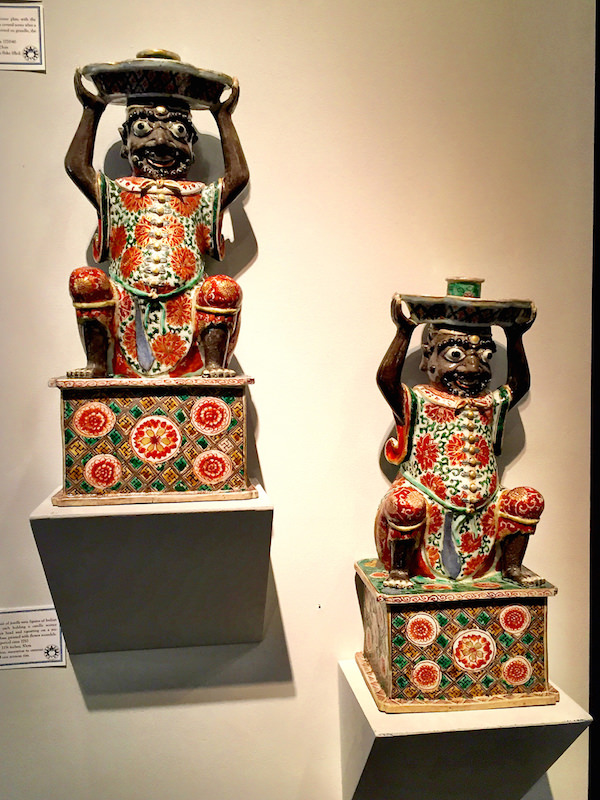 Fine vintage wallpaper expert Carolle Thibaut-Pomerantz showed a stunning rare version of Dufour's first edition of 1816 "Psyche Showing her Jewels to her Sisters."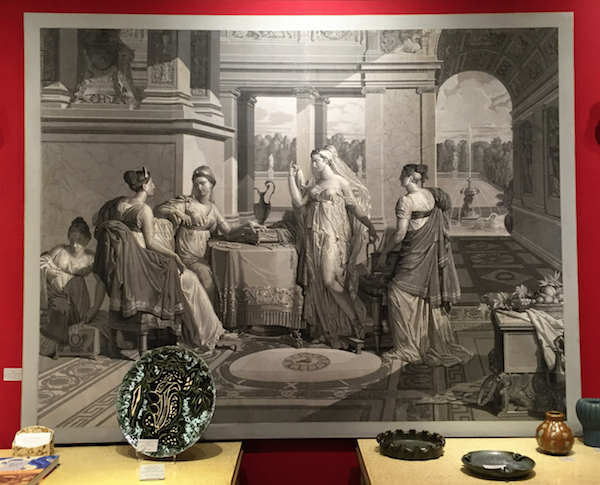 My photo of these amazing tulipières from Aronson did not do them justice, so I'm sharing theirs. These monumental 17th century pyramidal segmented Dutch Delft flower vases are the largest to appear on the open market since 1991. When fully stacked, they stand at an extraordinary 41″ tall.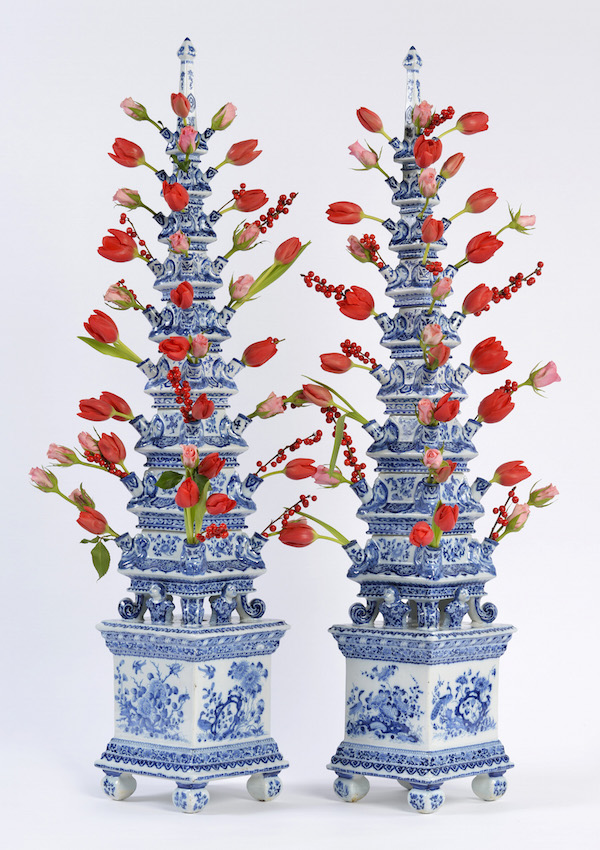 This year's loan exhibition, from Connecticut's own Wadsworth Atheneum Museum of Art included a wide range representing their diverse collection. This Charter Oak Chair is a memorable moment in state history. In colonial times Connecticut Colony's royal charter had been hidden in the hollow of a tree to protect it from the British who sought to revoke it. This Charter Oak tree, as it was called, symbolized American independence until 1856 when it feel in a storm. Samuel Colt (magnate of the eponymous firearms company) commissioned a throne-like chair in 1857 to be made from the felled tree to commemorate the original.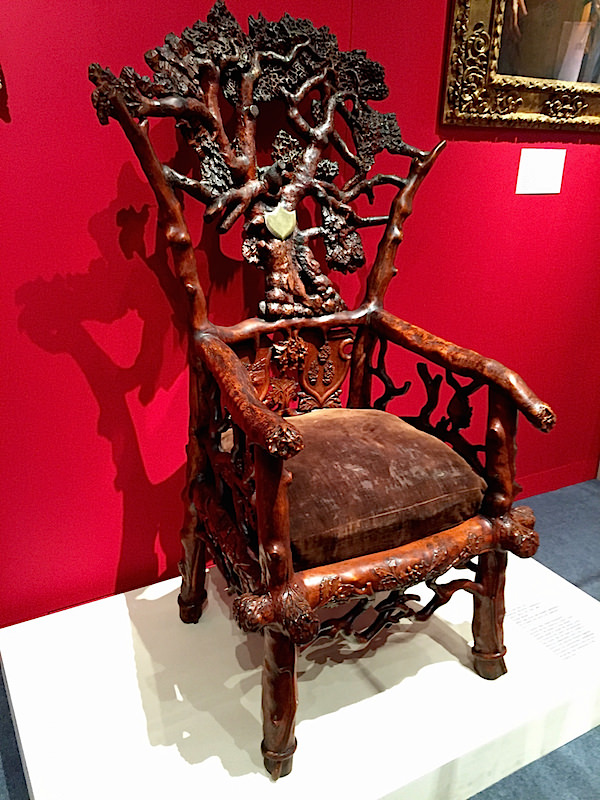 J. Pierpont Morgan left over 1,300 objects to the museum including this exquisite natuilus shell snail made in Nuremberg in 1630. Originally used for drinking games, it is now part of the Wadsworth's new Cabinet of Art and Curiosity.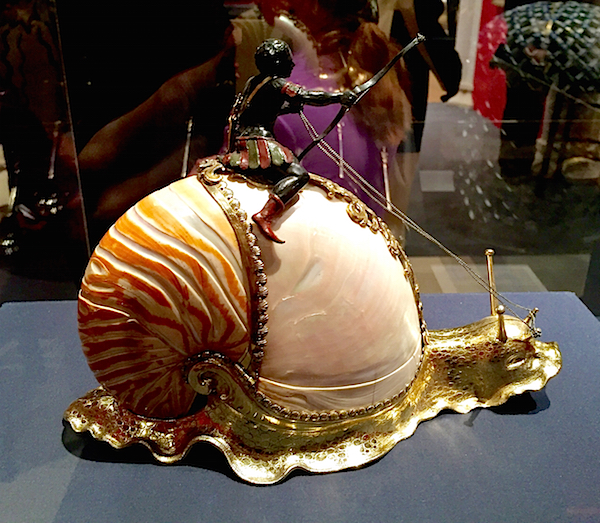 Worth noting was the stylish decor of a number of booths. Apter-Fredericks showed their collection of elegant English antiques in an apartment-like setting with a deceivingly accurate New York skyline peeking through. A beautiful 1830 Baltic Ormolu eight light chandelier looked lustrous against pale blue walls (much prettier than shown here) with a pair (one showing here) of stately Regency (1799) mahogany standing globes.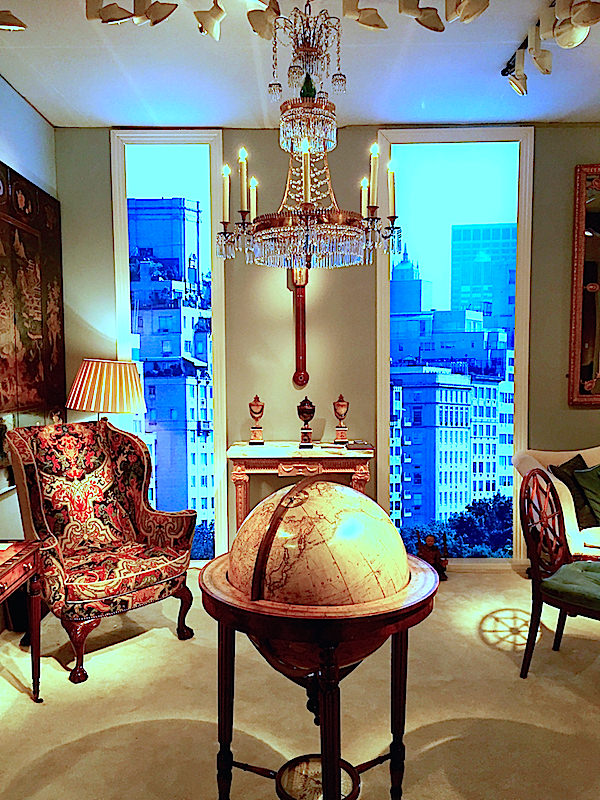 As an architectural historian & Preservationist with a scholarly knowledge of antiques and period furniture, interior designer Ralph Harvard showed how it's done. He designed a dynamic background for Kelly Kinzle's display of antiques. Schumacher's Featherfest wallpaper and a lively green and red color scheme served as a wonderful backdrop for their collection.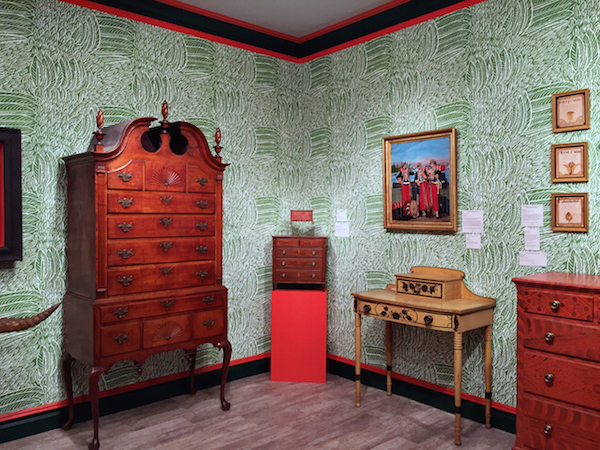 And for fine portrait miniatures expert Elle Shushan's booth, Harvard designed a seemingly Dorothy Draper inspired hot pink, black and white scheme that was a dramatic setting for her precious wares.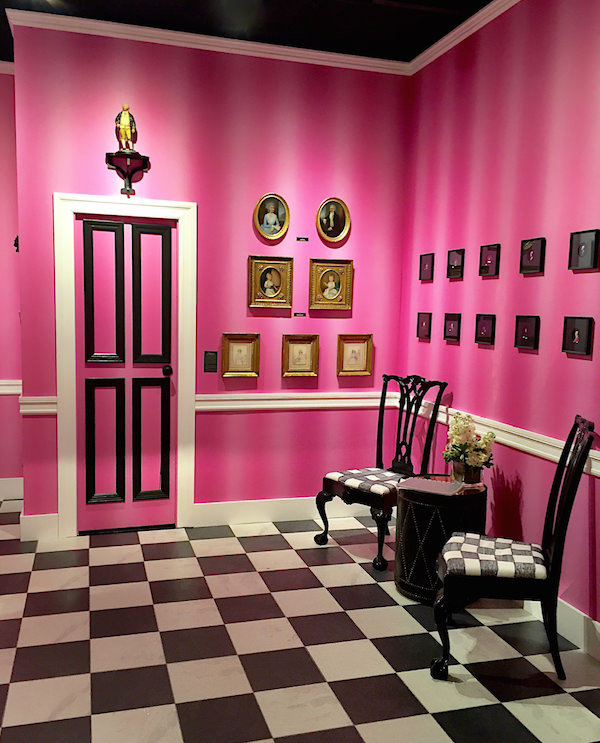 So while the 2016 Young Collectors Night is a fun and sociable way to view the show, there is still time to hop over to Park Avenue to talk an inspiring and educational tour of the Winter Antiques Show.