The Rooms With a View Gala last Thursday was a roaring success. In a festive venue, crowds gathered to see the designers' inspiration. Many familiar faces perused the rooms.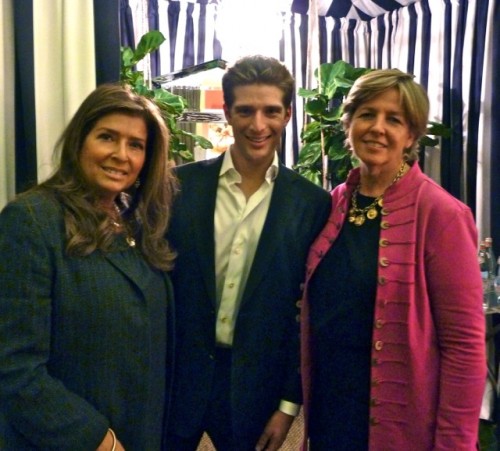 Above designer Leslie Allen with son, Rooms with a View designer Sam Allen and Connecticut Cottages & Gardens editorial director DJ Carey convene outside of Sam's vignette.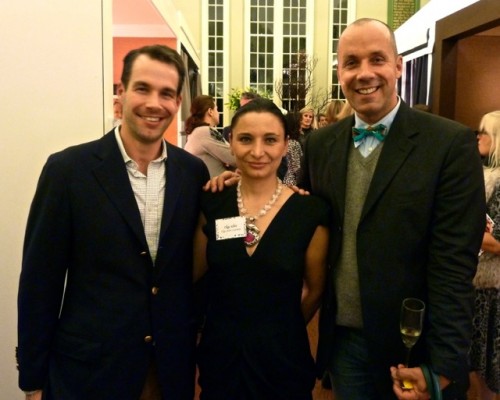 Ceramic lamp designer Christopher Spitzmiller, Rooms with a View designer Olga Adler and past Rooms with a View interior designer Harry Heissmann.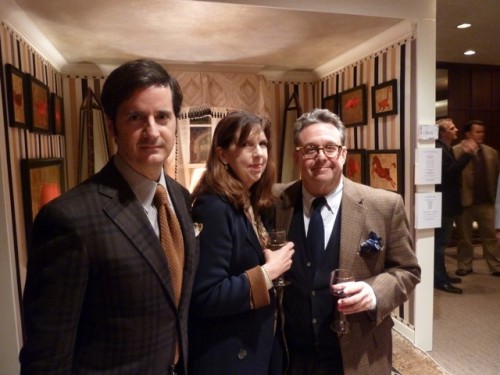 Rooms with a View designer James Andrew, marketing executive Janice Langrall and Scalamandré president Steven Stolman.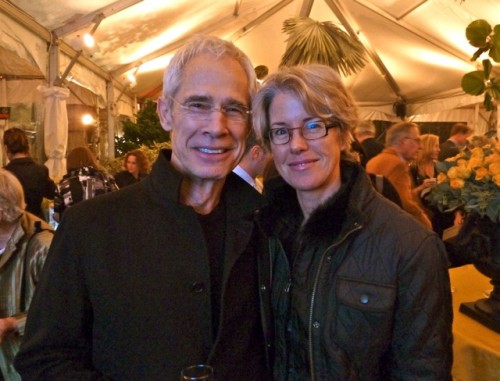 Connecticut photographer Ben Larrabee with wife Trudy.
So let's take a look at the first group shall we?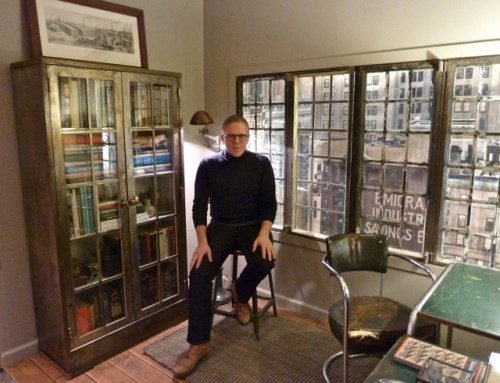 Michael Adams' post industrial office was a moody evocative space. With vintage period pieces and his creative window treatment, I felt transported back to 1930s New York City. The Kem Webber desk harkens back to a time of early modernist design, when form and function were clearly united. The precursor to Mid Century Modern, the streamlined American Modern design of Webber perfectly suits the loft aesthetic.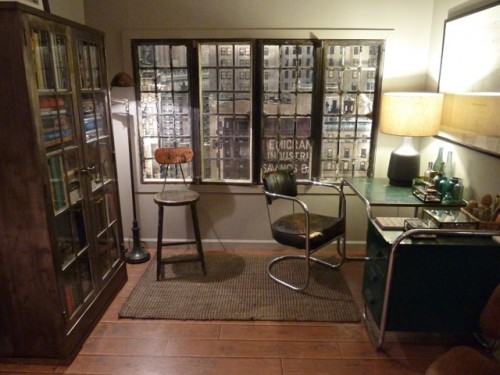 I think Adams could easily segue into set design as well as interiors. Even his small vignette felt authentically WPA-aged.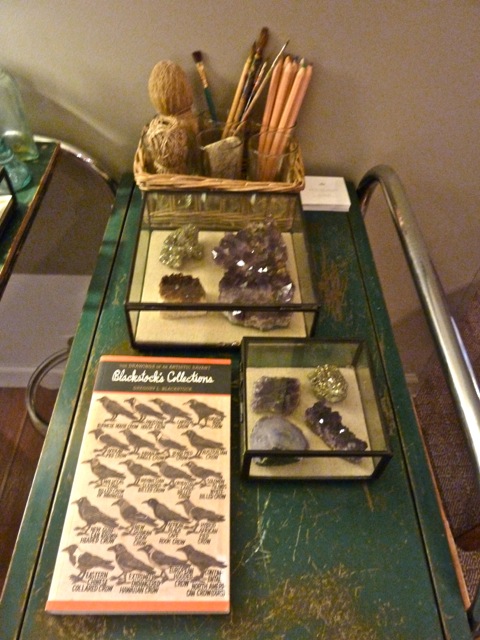 And of course anyone who has a collection of signed books by his favorite design icons is okay by me!!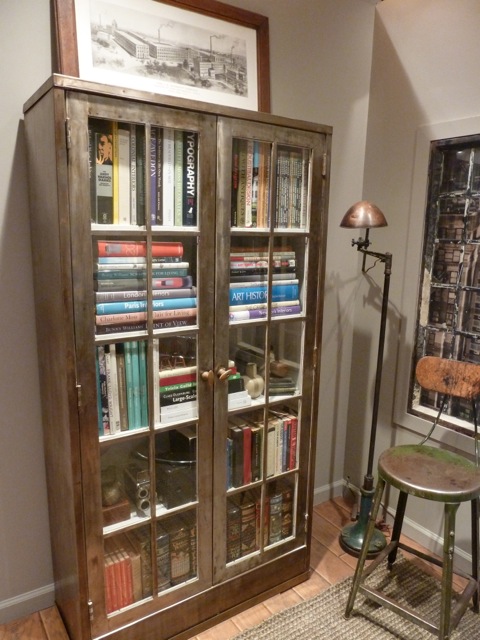 Olga Adler's elegant room was styled for a sophisticated woman who loves to travel. Feminine yet tailored, I loved the urbane mix of elements and cosmopolitan color way.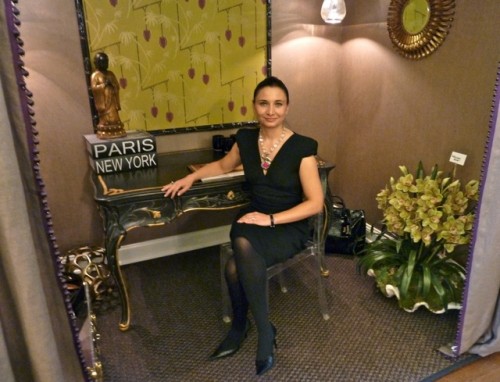 A European sensibility was evident, as the French desk held court center stage. Yet it was the mix of old and new that made this space so appealing. The lucite chair and trunk against the gilded desk and mirrors were a great contrast.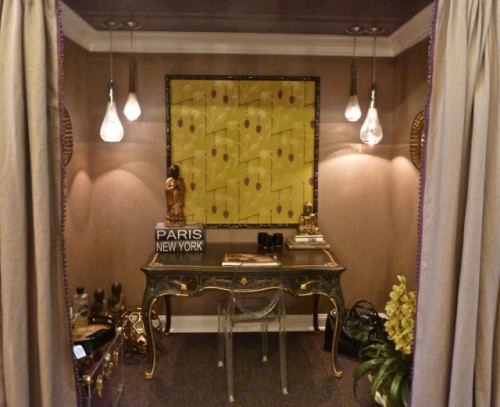 And the attentive details such as the trim on the curtains and the elements of the vignette below completed this restful retreat.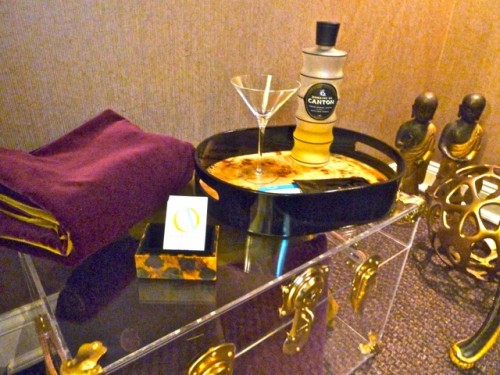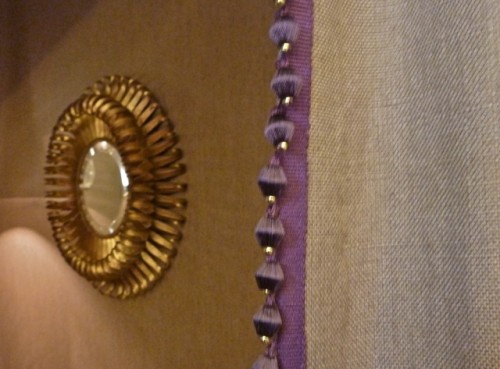 Sam Allen's charming vignette was an homage to a vintage Hollywood poolhouse cabana. The crisp tailoring, stripes and bar tray were definitely channeling Mr. Hadley's aesthetic.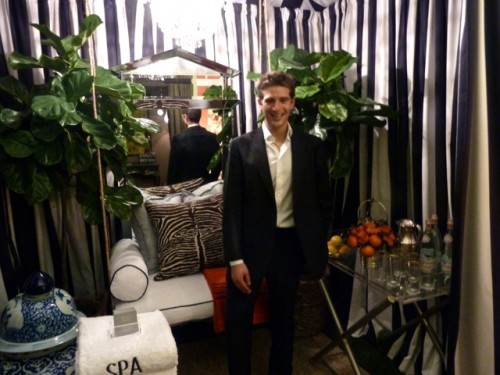 I think this vignette would be just right for a modern day Tracy Lord. She would consider all Sam's thoughtful accoutrements very "yar".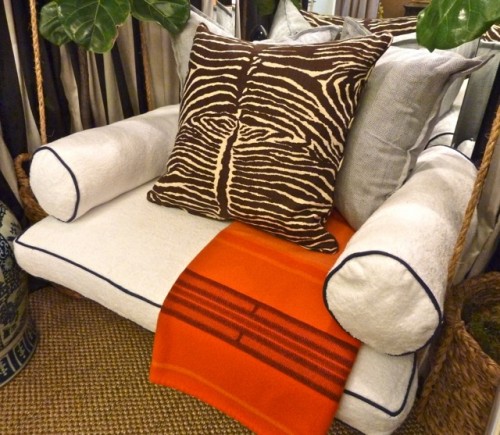 You can imagine how much I loved the addition of the orange Hermes blanket on this comfy terry-covered swing above or the orange touches in Allen's perfectly outfitted bar below.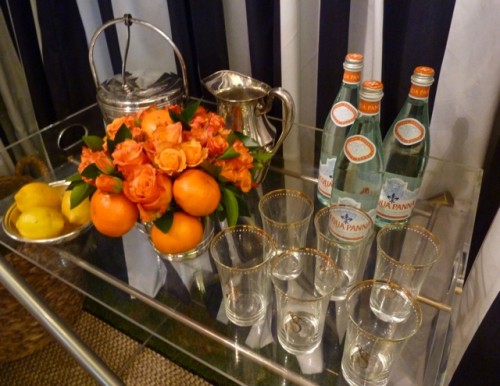 Of course the blue with orange is one of my favorite poolside combinations.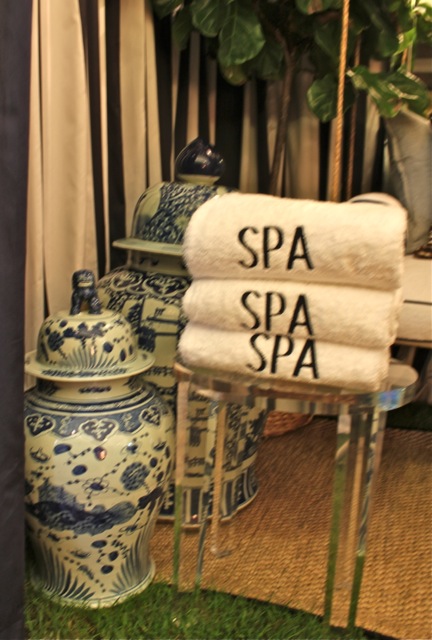 James Andrew's ode to Albert Hadley included a chic eclectic mix of materials, furniture and objects. Many of you who know James from his stylish blog, What is James Wearing, will not be surprised by his fashionable space.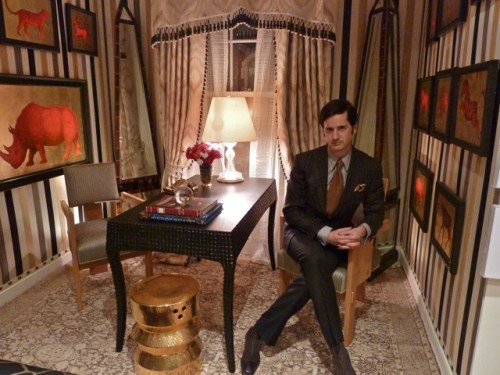 Sponsored by Scalamandré, his vignette included several beautiful fabrics from their new collection – the bold Giles Stripe on the walls, Montpellier Ikat curtains, Herringbone di Lusso on the chair and the fabulous Giraffa Lampas on the bench below.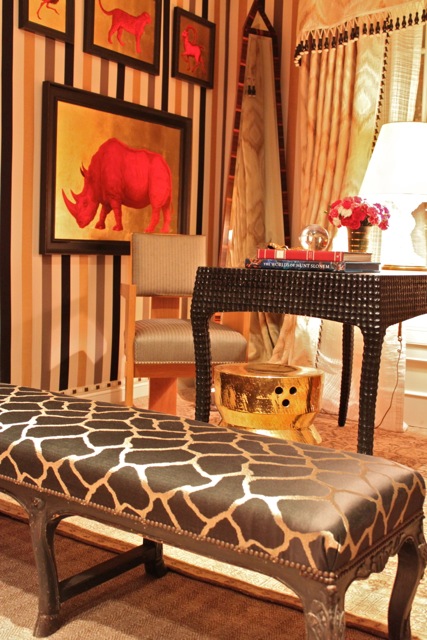 In typical Parish Hadley fashion, the many seemingly disparate elements work together to create a dynamic whole. The Scott McBee art on the wall and Tucker Robbins zigzag stool added a bit of gilded glitz set against the spectacular Delalain Atelier "Bertrand" writing table.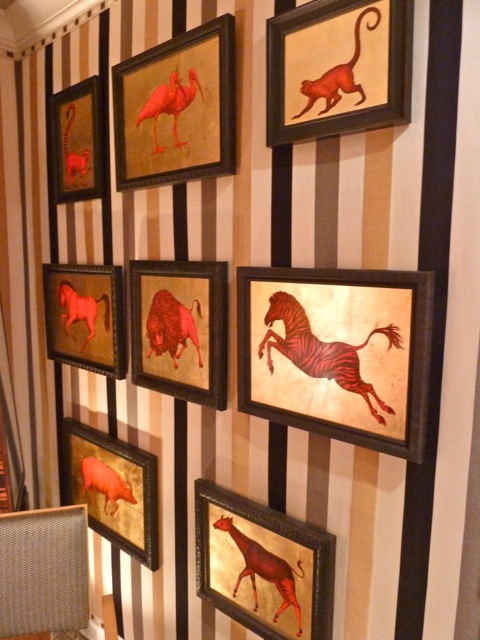 This gorgeous piece set the stage for a subtle tablescape.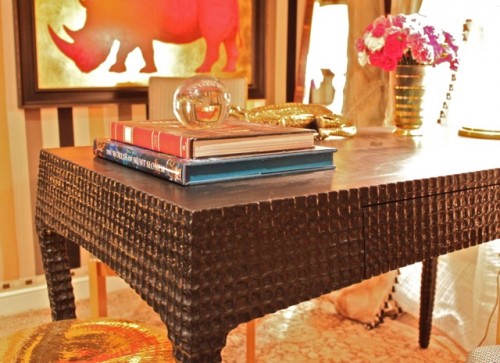 Be sure to stay tuned tomorrow for the next set of room reveals.