In the crowded world of fashion and luxury, sometimes it's not only about being beautiful. And indeed, the new jewelry line BuDhaGirl offers something significantly more.  As was discussed last fall at the Financial Times Business of Luxury Summit, many upscale consumers are looking for more than merely the transaction. They are seeking experiences, products that enhance or offer a lifestyle they aspire to. Beyond conspicuous consumption, we have moved to a time when meaning and thoughtfulness occupy equally important platforms.
photo courtesy of BuDhaGirl
And this is what BuDhaGirl is all about – beautiful pieces that are enhancements for both body and soul. Before we look at a bit of the "trove" of BuDhaGirl goodies, let me share a bit of the back story. I met BuDhaGirl co-founder Susie Hoimes last fall at Designing Greenwich, where she was exhibiting her spectacular line of vintage jewelry. Known internationally for having one of the most outstanding and carefully curated collections of couture designer pieces, she is also an expert in 18th century objets d'art and textiles. Susie is one of those people whose passions are wide reaching and contagious. A colorful childhood based in Africa and London, including extensive exotic travels with parents deeply involved with the arts, informs her worldly knowledge of style and culture. We hit it off immediately and it was then that I learned of the impending launch of BuDhaGirl.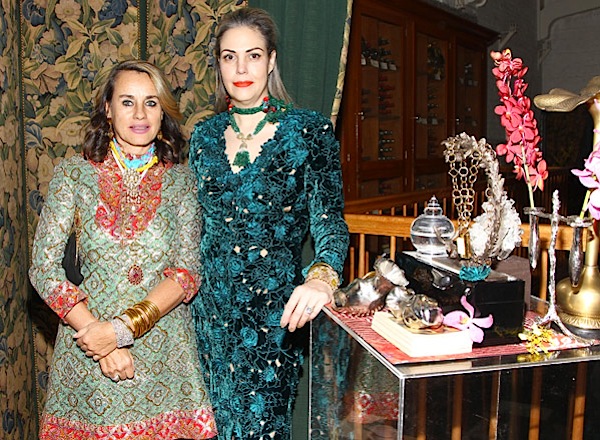 Photo above by Jennifer Graylock Photography/Getty Images for BuDhaGirl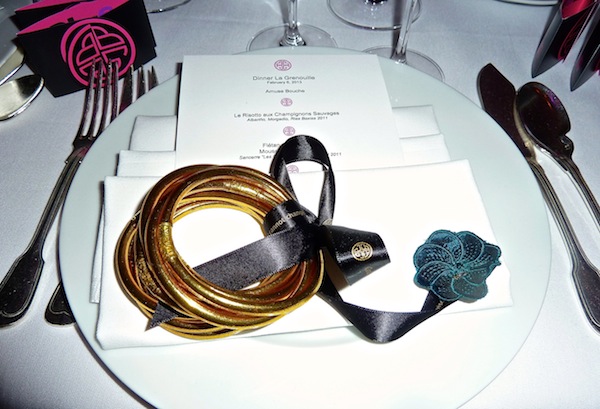 Fast forward several months to the launch dinner at La Grenouille, above, when I met founding partner Jessica Jesse, another woman of high style and sophistication. Her childhood, with Austrian father and Mexican mother, was also steeped in international travel and exposure. A former Givenchy model, she went on to work directly with fashion icons Versace, Saint Laurent, Valentino, Bill Blass and then Neiman's and Saks. Now based in Dallas where her family owns several four star restaurants, she devotes her time to working with many philanthropic organizations.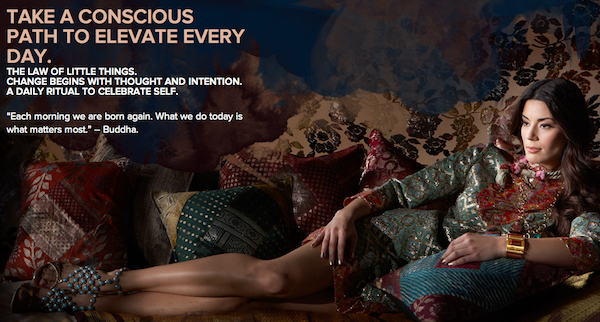 It was this shared passion for style and design, world cultures and a mindful way of life that led them to the founding of BuDhaGirl. The line is at the timely intersection of chic fashion statements, spiritual awareness and cutting edge brain science. The partners' mission statement sums it up "We believe in glamour. We believe in purpose. We believe chic matters. We believe in science. We believe in beauty. We believe that intentions define outcomes. We believe your focused intentions make today a better day. We believe that contemplative practices lead to brain health. We believe in humor. We believe in change."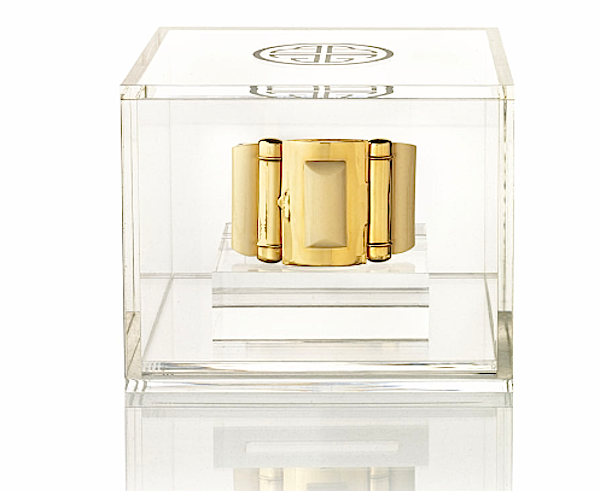 While I'm sure there are many who will be purchasing just for the look, or even the incredibly chic packaging, there is much more here for those who care. The foundation piece of the line is the Core Pendant or Cuff. Based on an exceptional 1930's French piece that Susie had seen, there is a secret to the bracelet, known only to the wearer.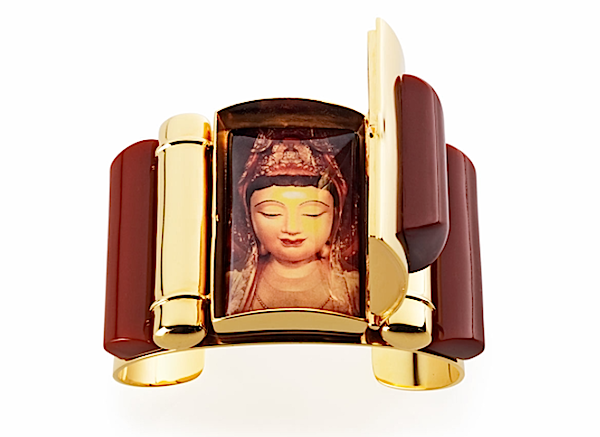 Each cuff opens to reveal a "reminder,"  a beautifully executed miniature, representing a contemplative initiative for the day. For example, above is the Golden Guanyin, the pinnacle of mercy and compassion, the embodiment of selfless love, the protector of women and children, benefactor of vegetarians and even protectress of air travelers, the perfect accoutrement for those with plane phobias!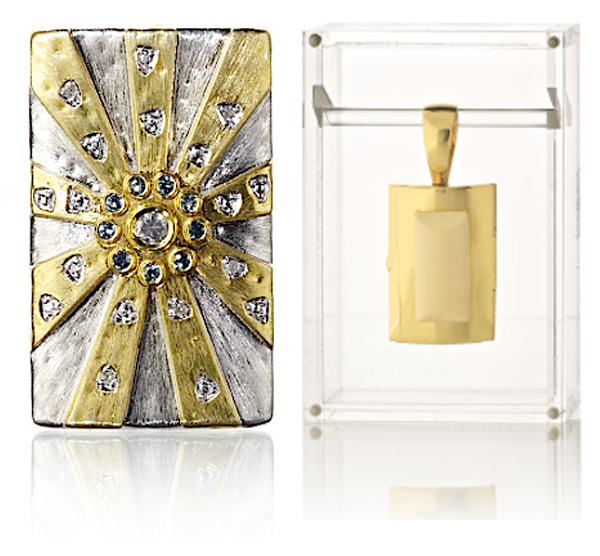 One of my favorite reminders is the Bindi, above left, created in ancient times as a means to worship one's intellect. The reminders fit into either the Core Cuff or Core Pendant, shown above on right. The Bindi, literally the spot between the eyebrows, is said to retain energy, strengthen concentration and can represent the third eye. A quote from Steve Jobs explains the purpose and power of this reminder "That's been one of my mantras – focus and simplicity. Simple can be harder than complex: You have to work hard to get your thinking clean to make it simple. But it's worth it in the end because once you get there, you can move mountains."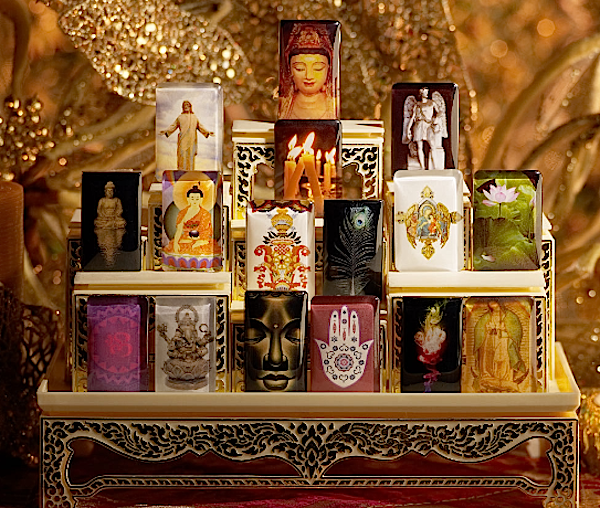 There are a wide variety of reminders to choose from, serving as both ornaments and prompts to inspire awareness, knowledge and actually improve brain health. In fact BuDhaGirl has a scientific advisory board with distinguished professionals whose research, through the science of brain imagery, support the value of meditation and purposeful action. I love that BuDhaGirl walks the line between ancient tradition and modern science wrapped up in a beautiful package. Because how we feel in our soul and in our mind is of course intricately tied to our outward appearance.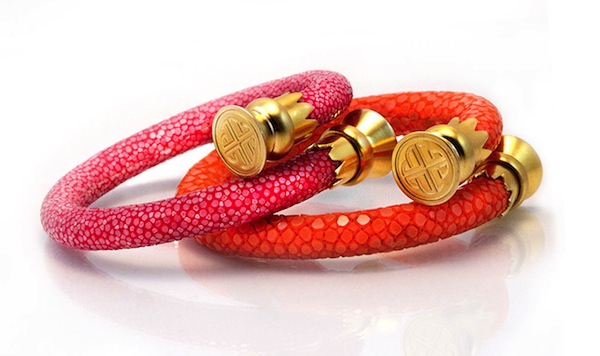 The Wrist Wraps offer another chic way of integrating BuDhaGirl's mission and aesthetic. Covered in elegant shagreen, they are sold in pairs and come with removable standard "CHOP" end caps that are interchangeable to serve as your daily reminder. Choose from City (Black & Taupe), Playa (Turquoise & Ivory) or Carnivale (Pink & Tangerine – above). And then add the gold-plated brass and crystal end cap of choice shown below – Lotus (signifying friendship and births), Buddha (focus and healing), Snake (perfect for this Chinese year of the snake),

for individual or stacked bling!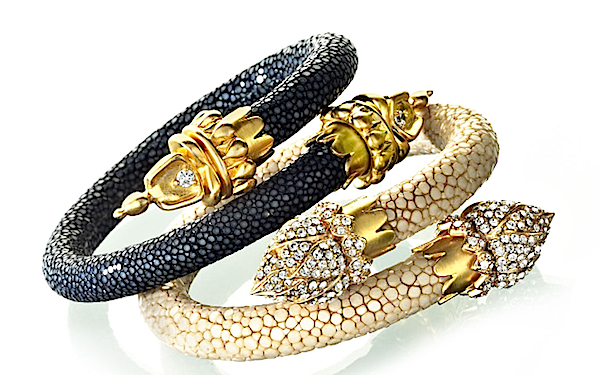 The BuDhaBoy Pendants are fun and whimsical statement pieces Inspired by a jade Buddha, they are a modern version in lightweight resin, each with the BuDhaGirl "CHOP" seal embedded on the back.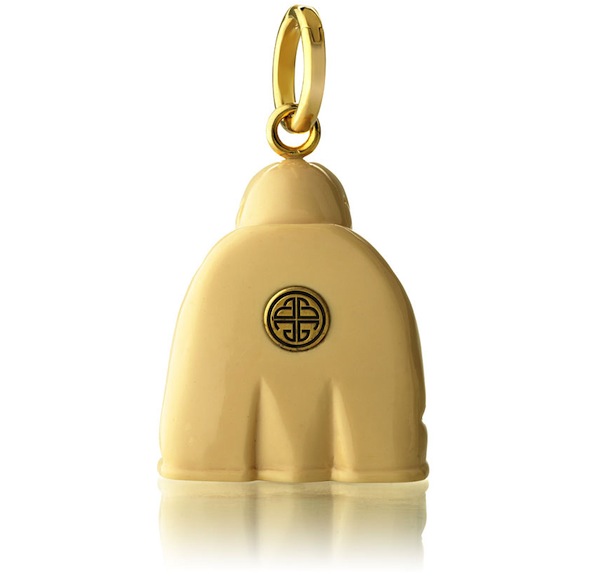 They are packaged and sold in sets of three "boys" – Neon (hot pink, black and lime), Moss (ivory, teal and eggplant) and Chica (fuchsia, white and orange – shown below).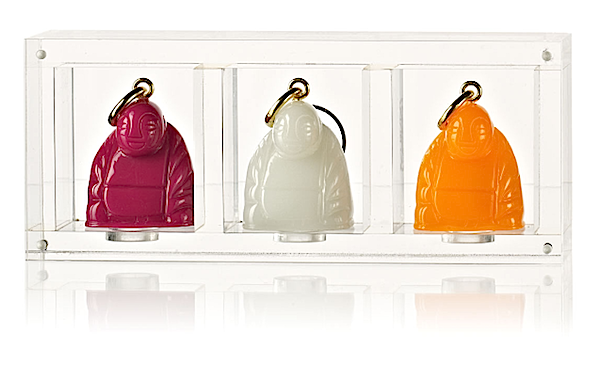 They of course look great worn individually but are also fabulous grouped together, as shown here on the signature Temple Chain.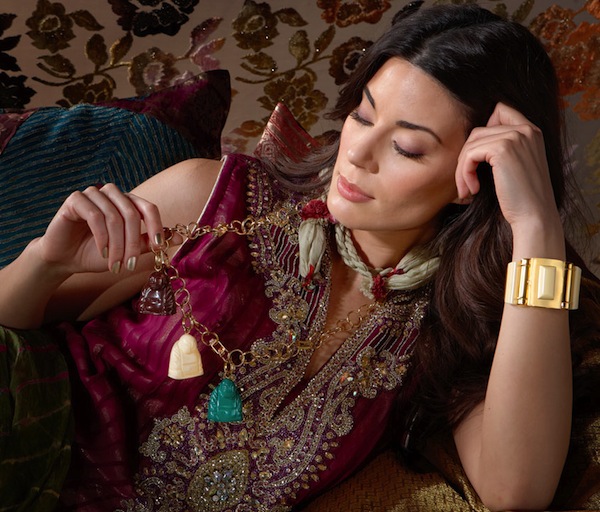 Lastly, I wanted to share the fabulous All Weather Bangles. I own these and bought them for both my girls for Christmas as well. It's almost worth it for the amazing packaging alone (they're available without the container as well)! Although they look like metal, these bracelets are circles of gold dust filament suspended in flexible, polyvinyl carbonate rings. They are then sealed with prayer beads and packaged as sets of nine tied with a prayer ribbon. These are waterproof, weigh almost nothing and make no noise like traditional gold bracelets. In fact, Susie never takes her off.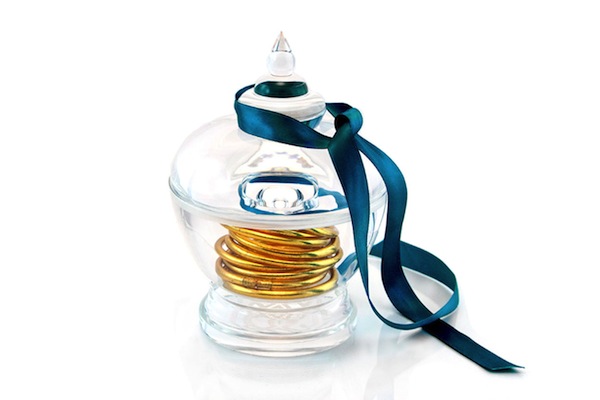 Even if you just take the time to put them on and take them off one by one, you will be creating the type of daily thoughtfulness BuDhaGirl promotes. "Clear your mind, breathe, and visualize intention(s) for the day. Think of it as a personal ritual."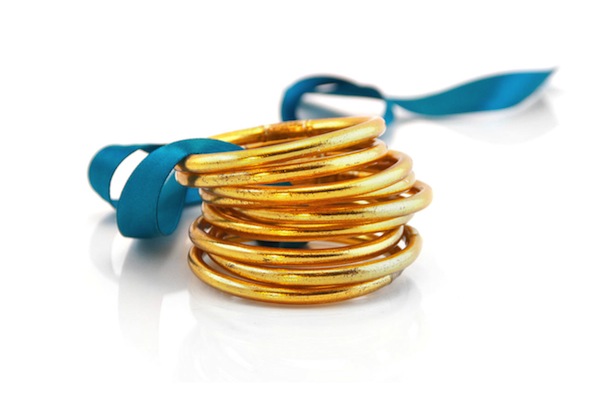 BuDhaGirl is tapping into a wave that is welling through society. As all of our lives have become more complicated and stressful, the allure of a more mindful way of living seems particularly appealing. And it is encouraging to know that many scientists say that meditation shows "measurable changes in gray-matter density in parts of the brain associated with memory, sense of self, empathy and stress."* Well beyond the slew of celebrities like Tina Turner, Richard Gere, Clint Eastwood and Russell Simmons who have touted the positive effects of meditation for years, there is substantial scientific evidence to back it up as well.
A couple of years ago I wrote about an Oliver Sacks piece in The New York Times entitled  This Year, Change Your Mind, also emphasizing the fact that we can, at any age, continue to strengthen our brain, offering opportunities to explore, expand and enhance our minds and consequently our lives. I love that BuDhaGirl is offering vehicles for us to do the same (with many more ideas in the works). Looking chic while learning, adapting and growing – what could be better!
* from an article here
all photos courtesy of BuDhaGirl or Quintessence unless otherwise indicated