This weekend premieres Designing Greenwich, an exciting new venue here in Connecticut. Upscale local publication Connecticut Cottages and Gardens,  with producers Meg Wendy and Mimi Sternlicht, have put together a fabulous showcase of art, interiors and style over the next three days.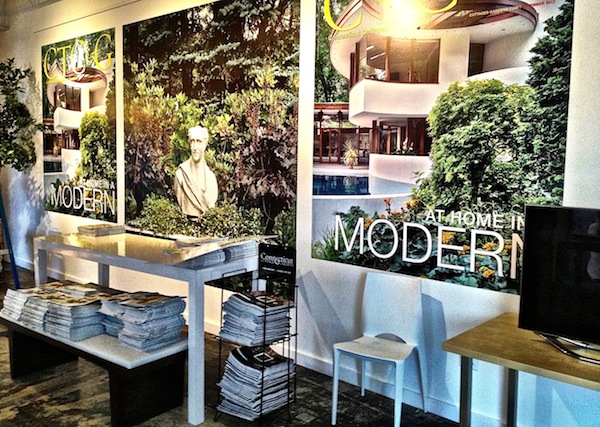 A full line up of stellar speakers include such design luminaries as Tony Ingrao (design chair of the event), D.J. Carey (editorial director of Cottages & Gardens), Amanda Nisbet, Carolyne Roehm, Clodagh, Helen During, Alex Papachristidis, Janice Parker, Lulu Powers, Susanna Salk, Barry Sternlicht and Vicente Wolf.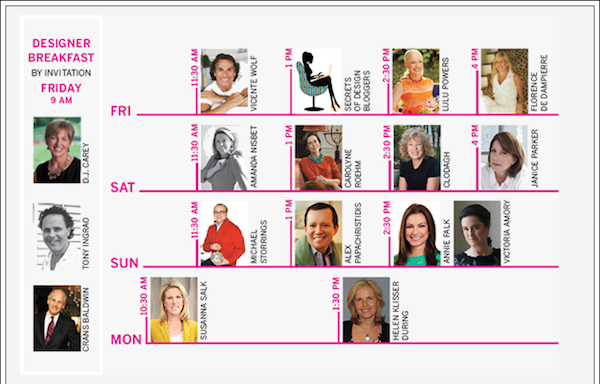 In addition, I am pleased to announce that I will be speaking on a Secrets of Design Bloggers panel today at 1pm along with Marisa Marcantonio of Stylebeat, Catherine Cleare of Cleare Interiors blog Follower the Designer and Carolyn James McDonough of Diane James Home's blog The Buzz. If you are in the neighborhood, please do stop by!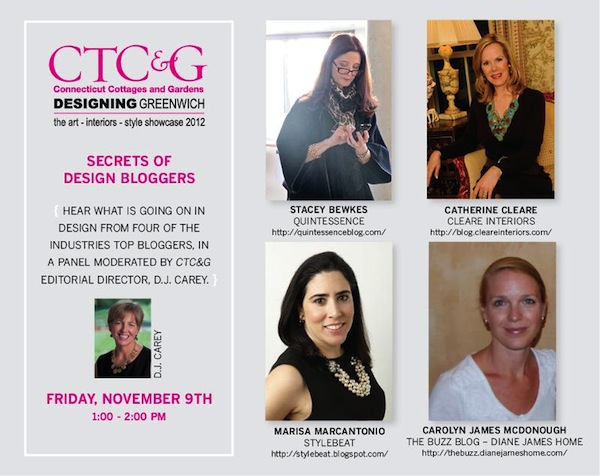 Today I got a quick preview of the marketplace, "a curated collection of fine-art dealers featuring modern antiques, mid-century objets, works on paper, bespoke fabrics and couture jewelry," all available for purchase in time for the holidays. It is a fantastic group of dealers replete with tempting treats for retail therapy after this week of weather havoc!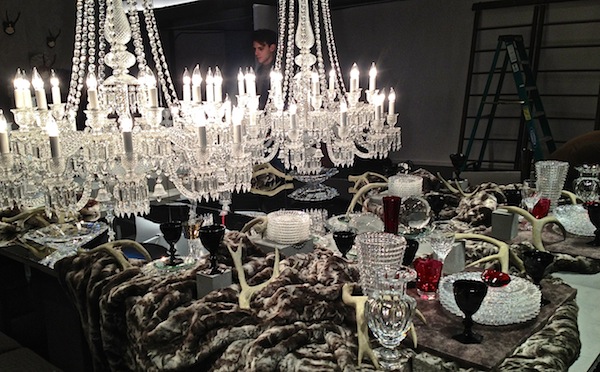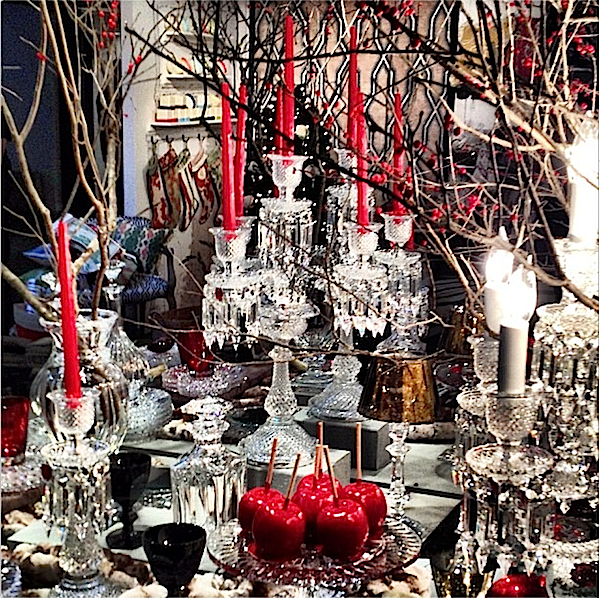 The venerable firm of Baccarat needs no introduction. Their luxe tabletop vignette included the spectacular Zenith long 24 light chandelier.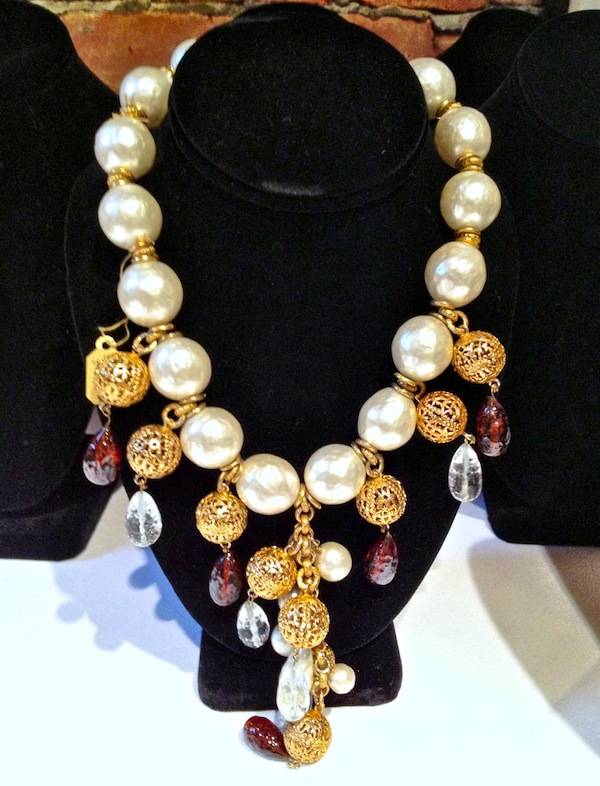 Susie Hoimes' MDVII from San Francisco is one of the country's largest and most extensive collections of prestigious Haute Couture costume jewelry in the country. There is a treasure trove of temptations here including the stunning Dominique Aurientis Paris necklace above.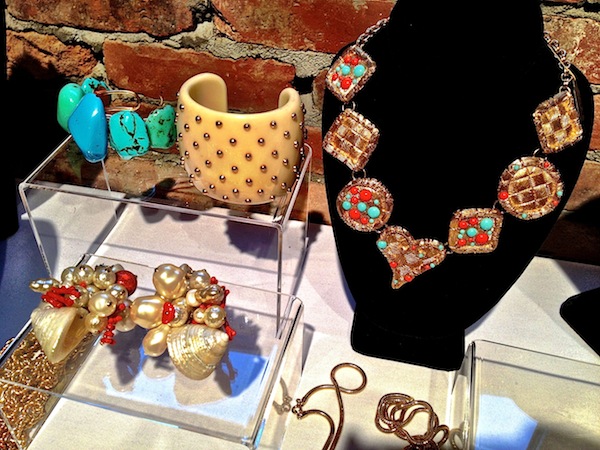 The grouping above includes a Rochas necklace, Lanvin large studded cuff, Christian Lacroix earrings and a Philippe Ferrandis bracelet.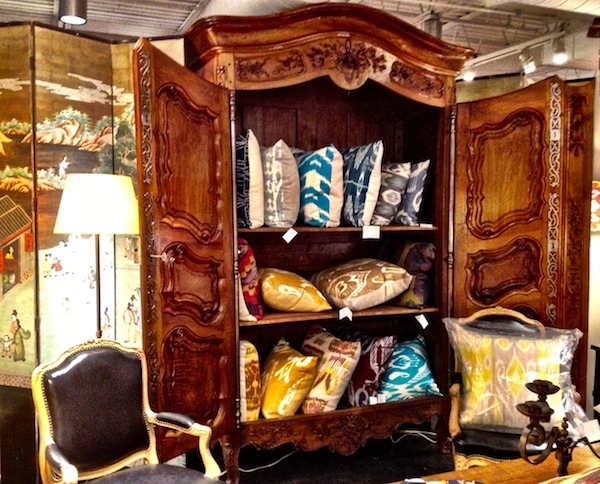 Bermingham & Co, the NYC emporium of antiques, fabrics and décor is the largest importer of silk Adras Ikats in the world and has a beautiful selection of pillows and antiques, such as this Jean Baptiste Lelarge bergere, upholstered in one of their fabrics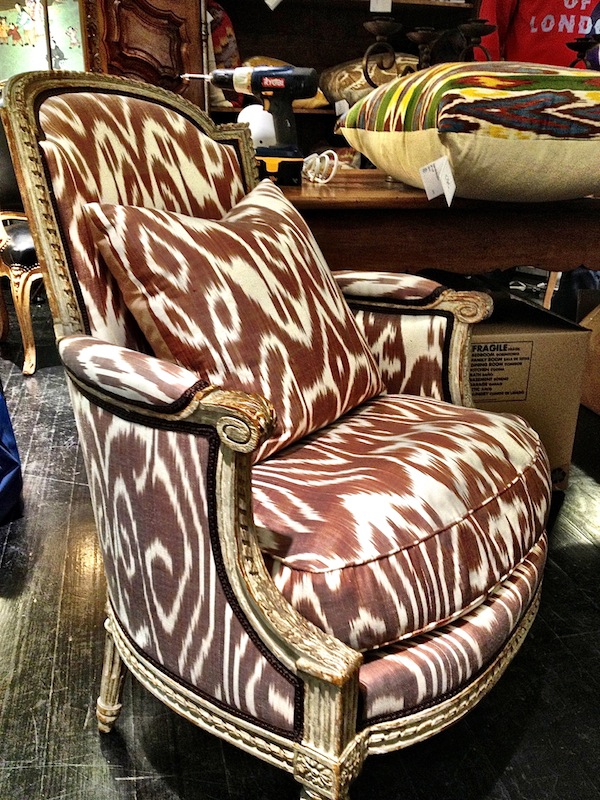 Art Cabinet Nantucket has a sophisticated collection of painting and sculpture by contemporary European and American artists, including these striking works by Silvio Cattani.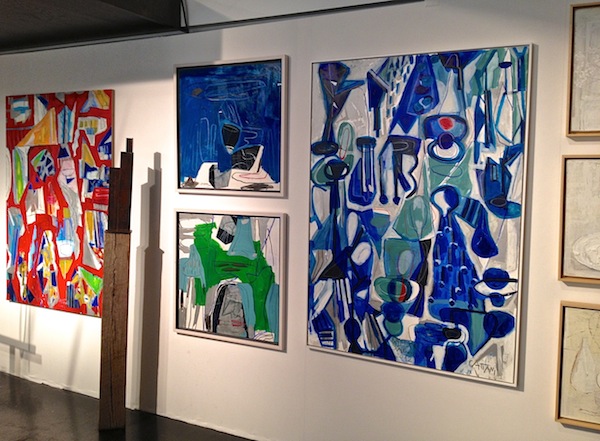 I have written before about the work of another Nantucket artist Audrey Sterk.  This new chinoiserie wall panel can be totally customized to your space. Whatever the room dimensions, Audrey will tailor fit it to the space. A digital derivative, it is an accurate version of the hand painted original.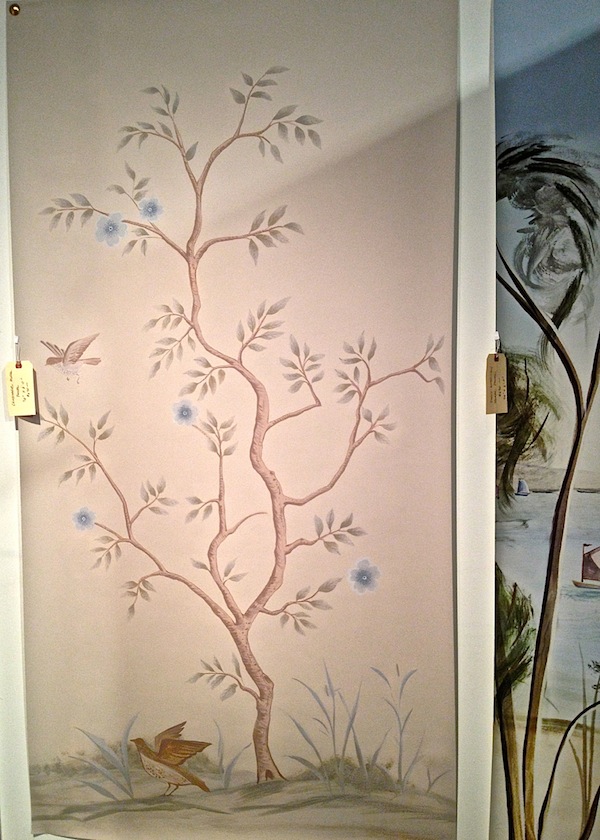 She will also be presenting several new designs for her charming trays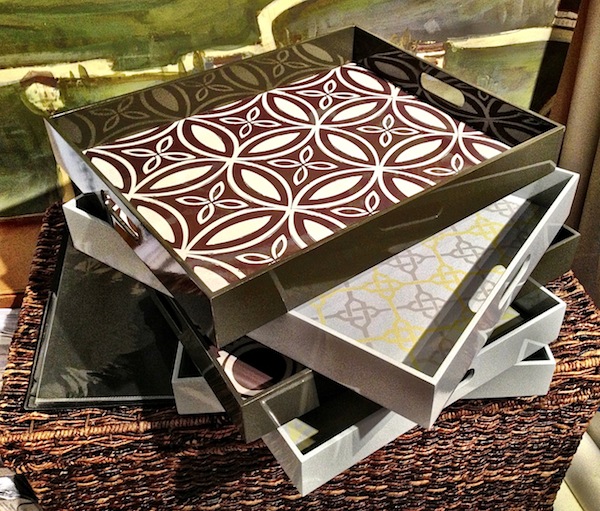 The Francine Home Collection is a wonderful selection of the finest quality linens towel and bedding. How adorable are these Scottie embroidered guest towels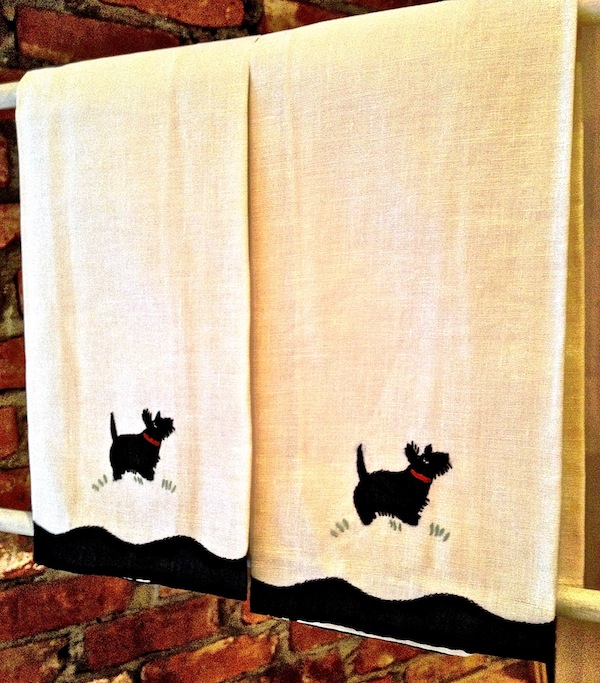 And there is a lovely choice of luxurious towels and bath accessories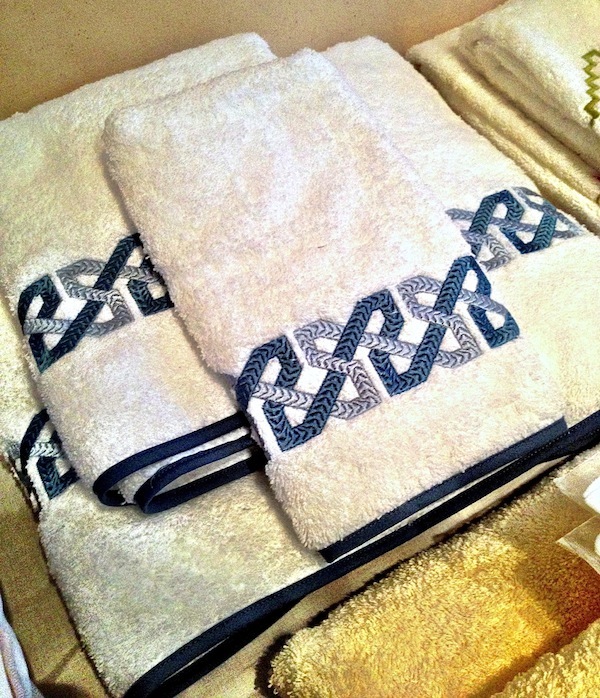 I have previously cited Lance Wovens' fabulous architect tote as a must have from my AD Home Show picks. Recently designer Vicente Wolf approached the firm to collaborate on a version of the tote, redefining it for three new all leather versions to present as a project to raise awareness and financially benefit the worthy charity God's Love We Deliver, an organization that provides food to those suffering from HIV, AIDS, cancer and other serious illnesses. There are several available at the show and are available to order in time for the holidays.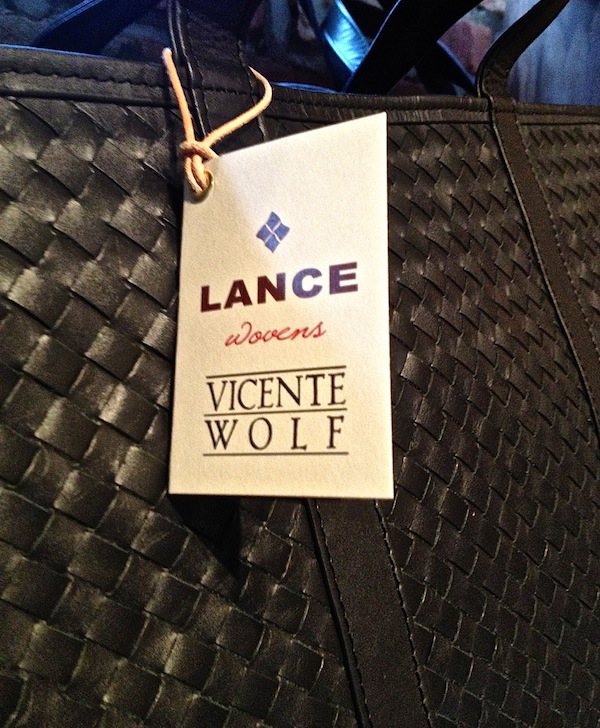 Francine Gardner's Interieurs is a unique showroom and design studio offering a sophisticated globally inspired aesthetic that "artfully blends the present with the past to create harmonious, elegant living environments." Her vignette featured this beautiful orange wing chair which of course immediately captured my attention.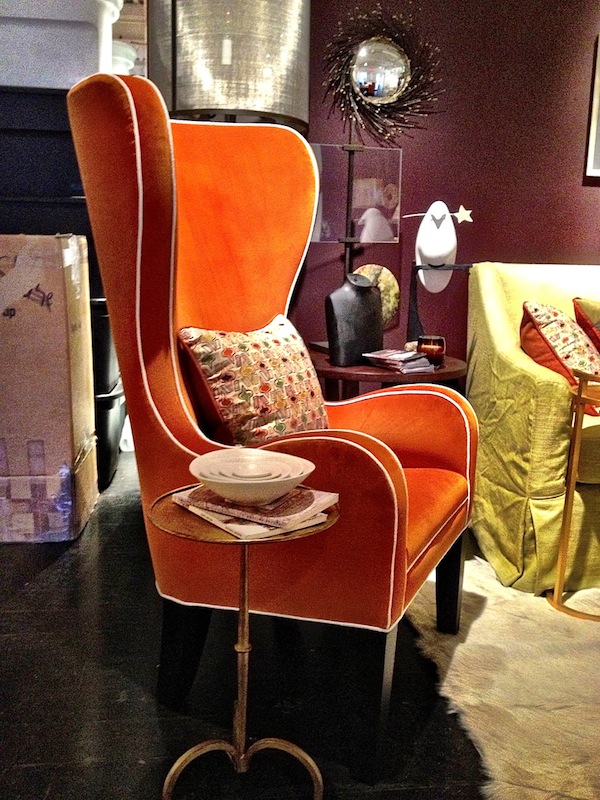 Vintage finds mixed with custom pieces and great accessories make Homenature a go-to source for design in the Hamptons. Natural materials and a easy to live with eco conscious ethic mark the aesthetic of this casually chic shop.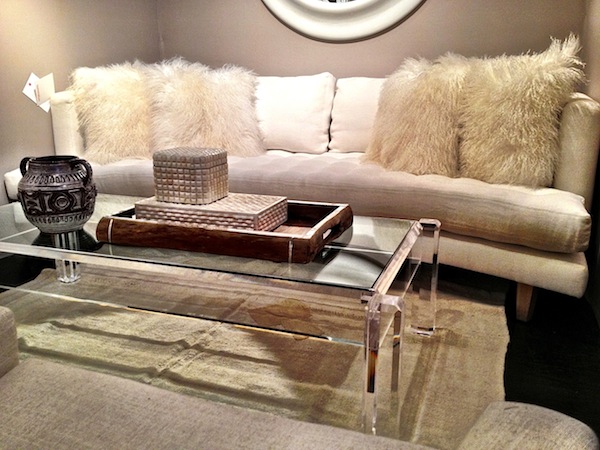 T.J. Antorino has a little something for everyone. From a fantastic vintage collection of luxury fashion accessories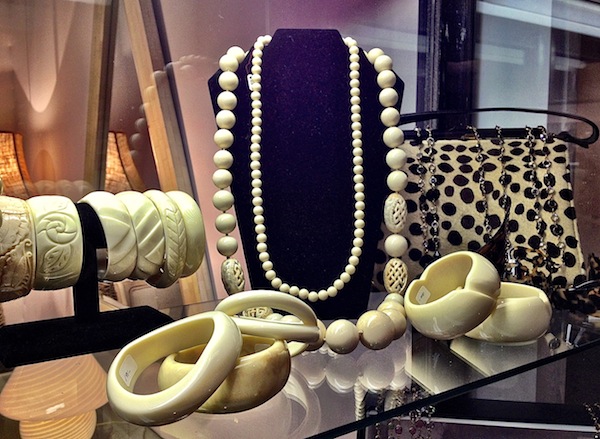 to a wide range of antique furniture, including these fabulous Fornasetti chairs, you'll be shopping for the entire house!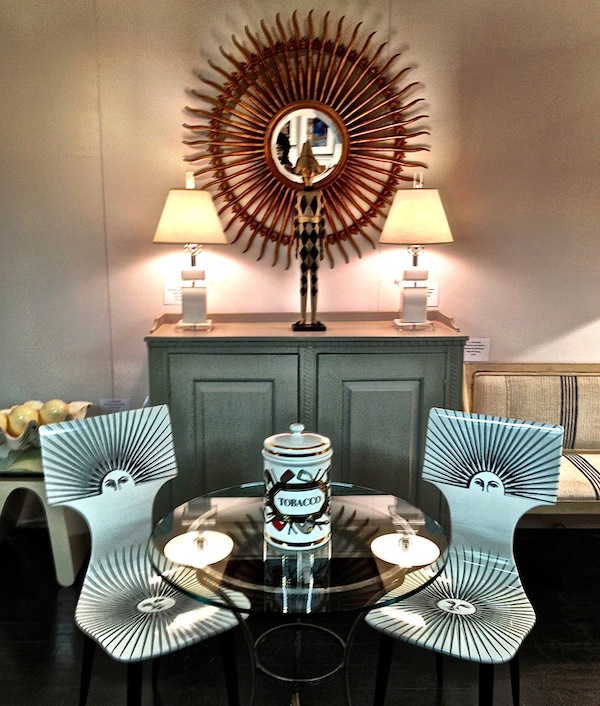 This is merely the tip of the iceberg. Between the lectures and the shopping, Designing Greenwich is sure to be an all encompassing style experience. Open today through Monday, at the Loading Dock in Stamford, CT, it's worth adding to your weekend must-do list!