When Susanna first suggested that I shoot the photos for her book At Home with Dogs and Their Designers, I dismissed her idea out of hand. While I have always had an interest in photography and a long career as an art director, I am not a professional photographer. But after years of traveling and shooting our videos together, Susanna and I have an implicit trust factor and know how to work seamlessly together. So I decided, as Susanna writes in her very generous acknowledgment, to "embrace this major challenge." I bought a "real" camera, spent untold hours researching and relearning and we were on our way. And what a fun and amazing journey it has been, as we traveled bicoastally to shoot the book in less than a year. There are no words to express my appreciation or gratitude for my talented partner in design crime, who had the vision for this project (you may remember our video that started it all )  and the faith in me to do my part. So it is with great excitement and thanks to Susanna as well as all the fabulous featured designers and their furry families that At Home with Dogs and Their Designers is finally here!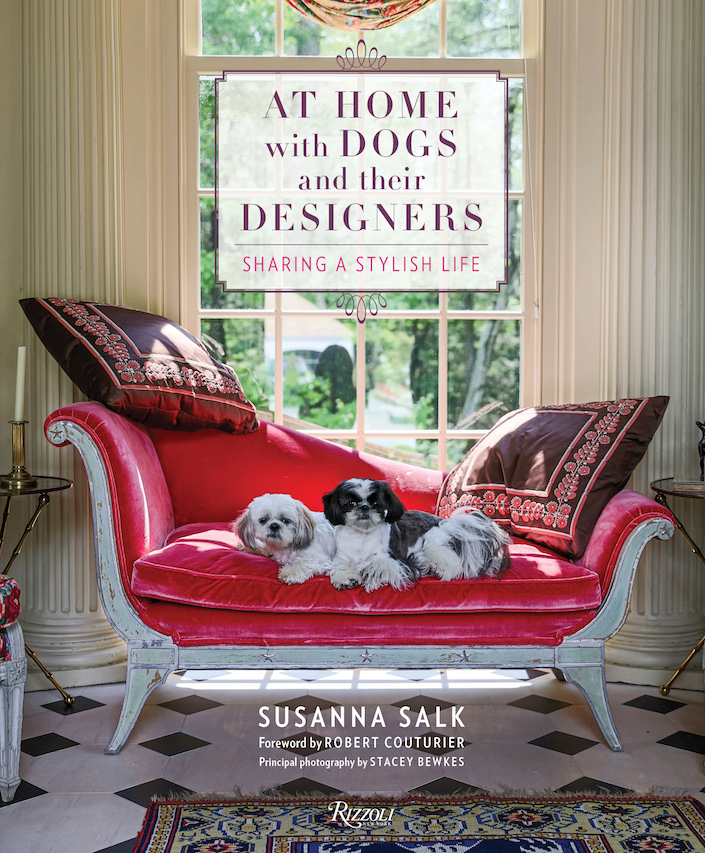 It seems almost like an anomaly that designers would be so devoted to their dogs, who can be messy and occasionally destructive to interiors. But just read any of the odes they wrote to their beloved pets in the book and you'll see not only how utterly devoted the designers are but also how they have all managed to lead stylish and, more importantly well-loved, lives together. As Robert Couturier says in his foreword, "It is possible to be devoted not only to design at the highest levels but also to the four-legged creatures who share our beautiful home – and, if truth be told, who rule the roost." Robert's chapter portrait in his exquisite Connecticut dining room with his brood of Shih Tzus (which has since expanded) below. Take a full video tour of his Connecticut house here.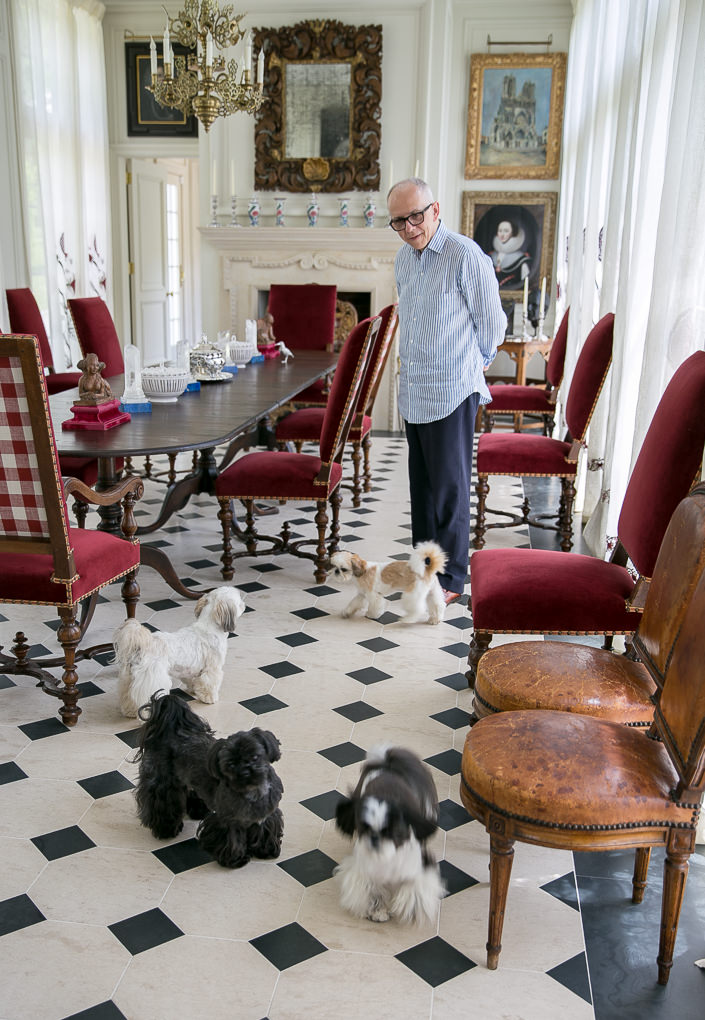 In shooting the book, it was not just about getting the shot but capturing the spirit and love as well as a sense of place. Scouting was often a try-it-on-for-size effort. Susanna, below, checking out the chic chaise in Kelly Wearstler's amazing Malibu home.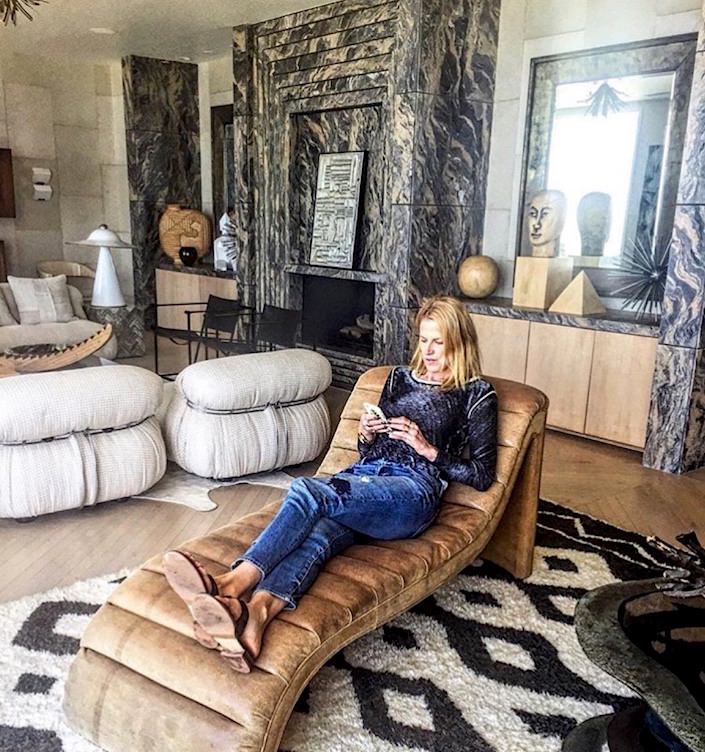 And the actual shot with Kelly's rescue dog Willie, who despite his initial skittishness, turned out to be a great subject!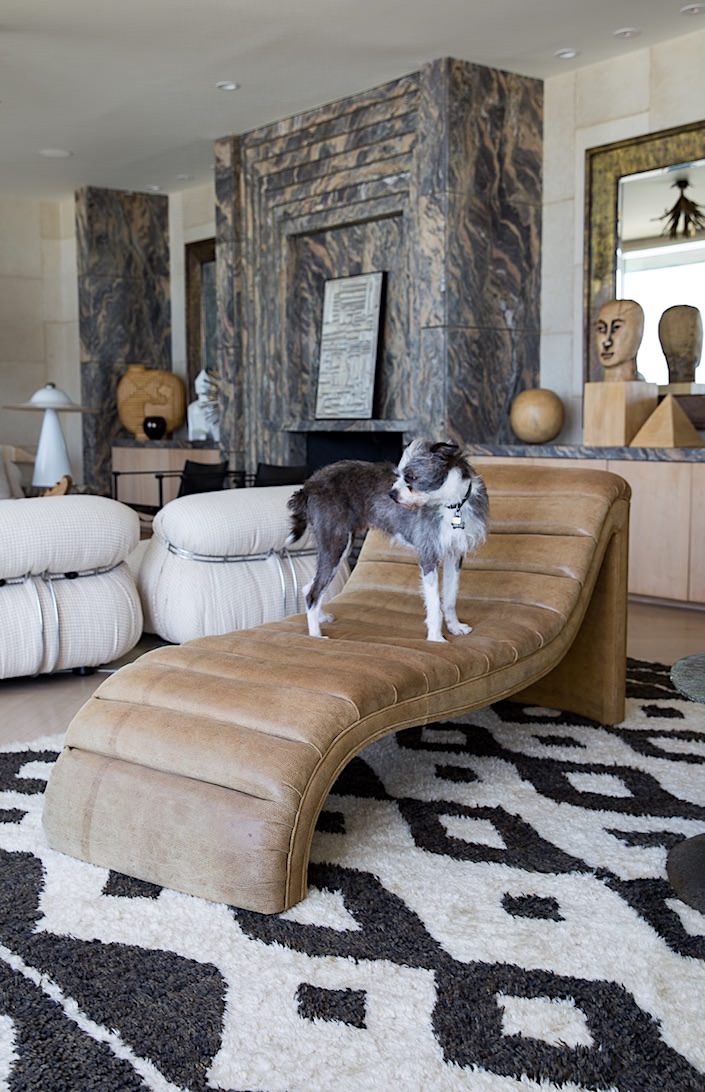 At Hutton Wilkinson's glamorous Beverly Hills home, Susanna snapped me behind the scenes getting a little help from one of Hutton's two frisky West Highland white terriers,
photo Susanna Salk
whose images are incorporated in many rooms throughout the home, including Hutton's wife Ruth's ethereal dressing room with wallpaper made from paintings by Elizabeth Duquette (Tony's wife).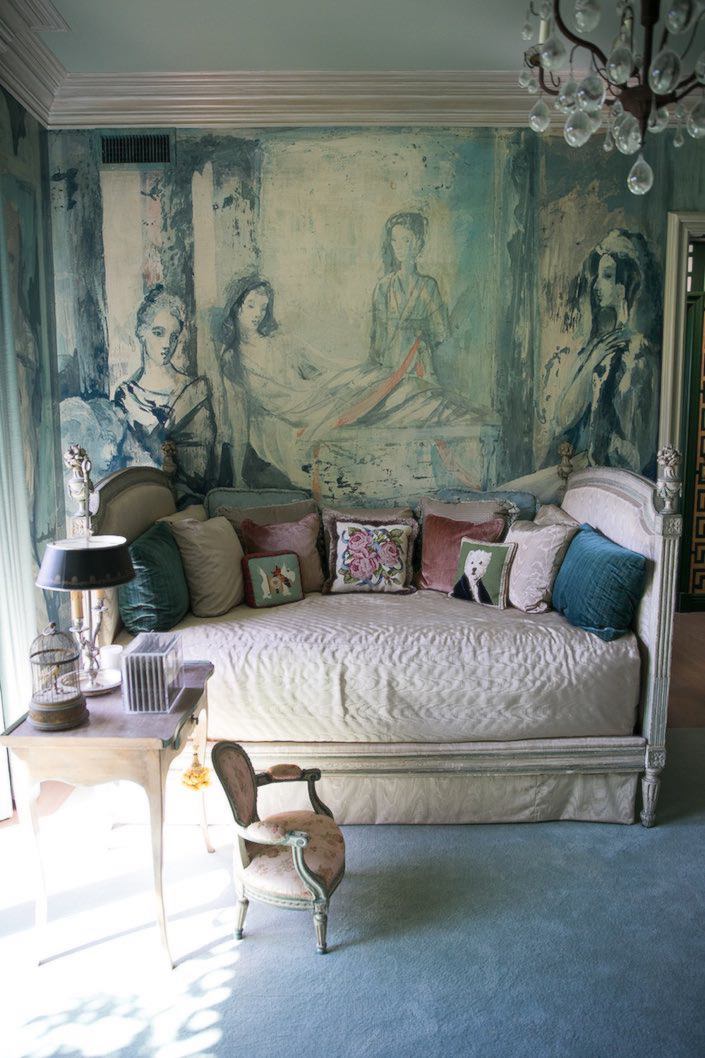 While all dogs love being out and about, some lead more active lifestyles than others. Follow Nathan Turner and partner Eric Hughes on Instagram and you'll see the outdoor adventures of their labs Nacho and Wally, including playing on the beach right outside their waterfront Malibu home. Nathan kindly lent me a hat for the shoot!
photo by Susanna Salk
Big bro Nacho has schooled little brother Wally in all things beach life but they still like to snuggle in bed (on a protective utility canvas blanket of course). In one of my favorite sections of the book, It's a Dog's Life, we learn all the FAQS about our furry friends like how Nacho's special talent is body surfing. To see more of Nathan and Eric's stylish beachside home, our full video visit is here.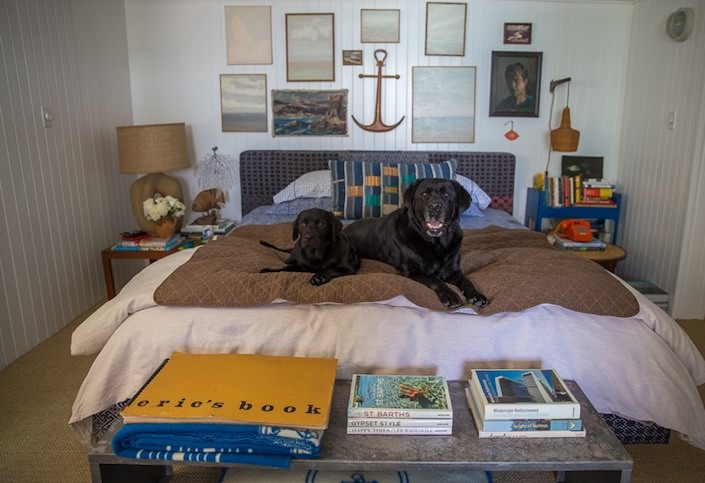 One of the luckiest pups around has to be Alex Papachristidis' Yorkie, Teddy. Small enough to be eminently portable, he accompanies Alex everywhere from all the best antique shops and showrooms to restaurants in Paris (I have dined in his company at Ladurée) and beyond.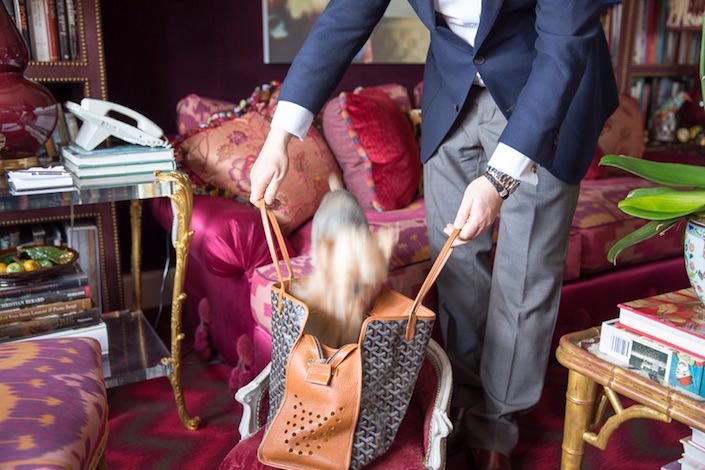 He is also beloved by Alex's partner Scott Nelson, giving Teddy a little smooch in his pattern filled dressing room, below. Incorporating patterned fabrics is one of Alex's tips on living a stylish life in the book.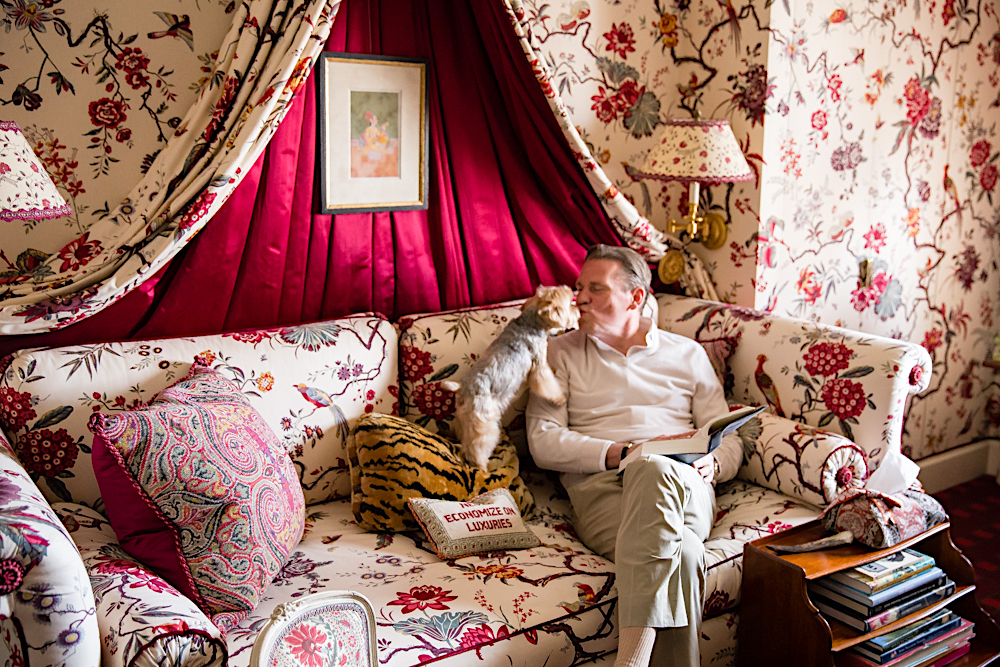 Susanna also caught me behind the scenes at Brooke and Steve Giannetti's beautiful Patina Farm in Ojai, California where we had also filmed a video segment.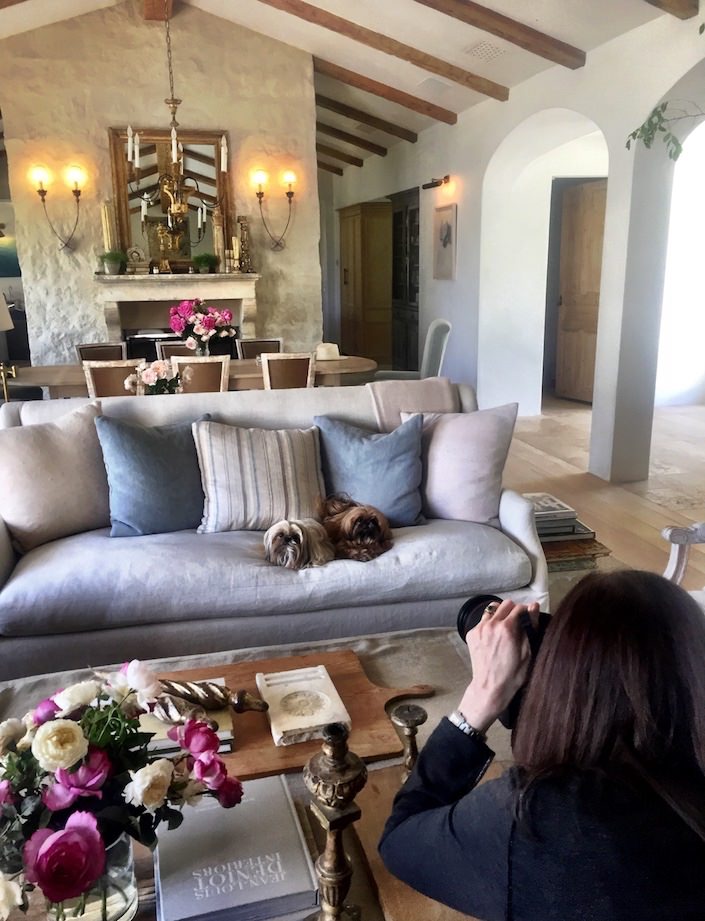 While Brooke and Steve have four dogs as well as a full farm of pets, the two Shih Tzus, Sera and Sophie are inseparable.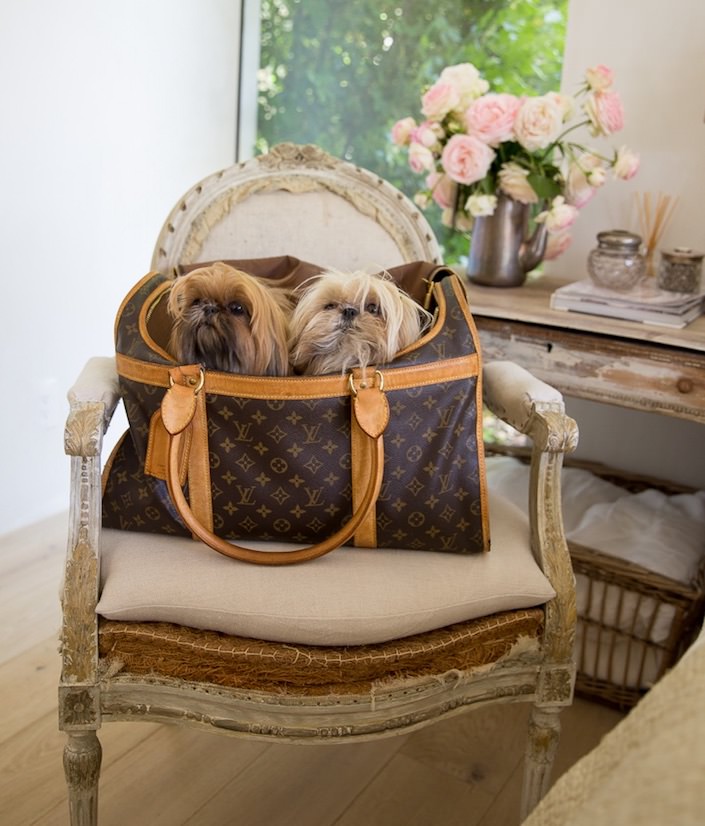 The book is a marvelous and entertaining compendium in which Susanna has melded design inspiration, practical tips, heartwarming stories and even a list of favorite resources and animal charities. As she writes in her introduction, "beautiful rooms don't resonate – indeed, they don't even feel comfortable – if they lack soul. And what's more soulful than the sight of your dog greeting you at the door… or curled up at the foot of your bed?"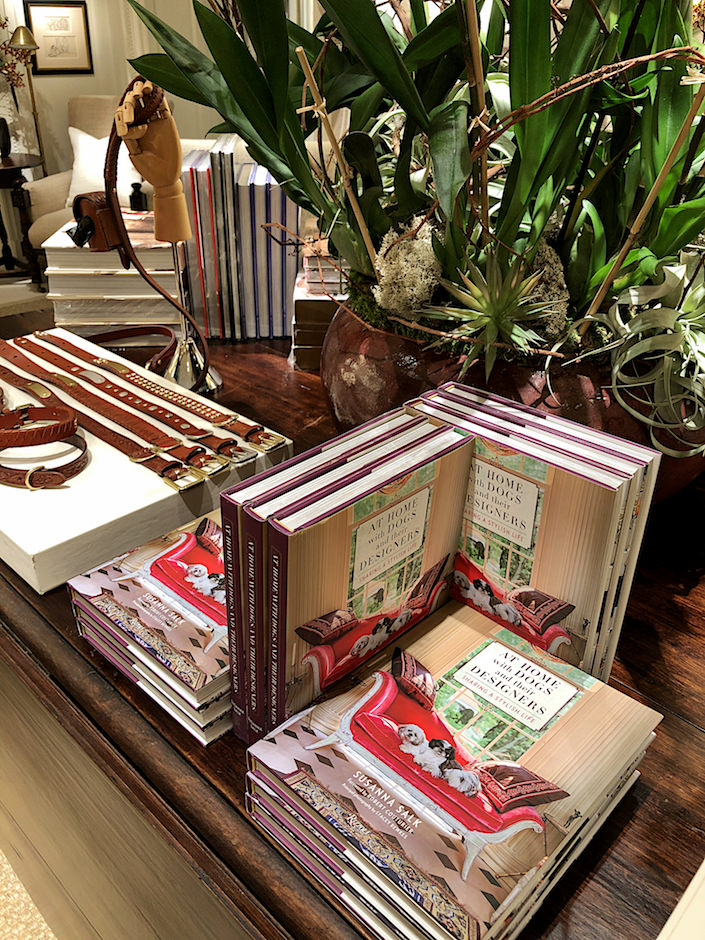 This week we were thrilled to celebrate the publication of At Home with Dogs and Their Designers at the beautiful Ralph Lauren flagship store where the Ralph Lauren Home team went above and beyond with a marvelous cocktail reception.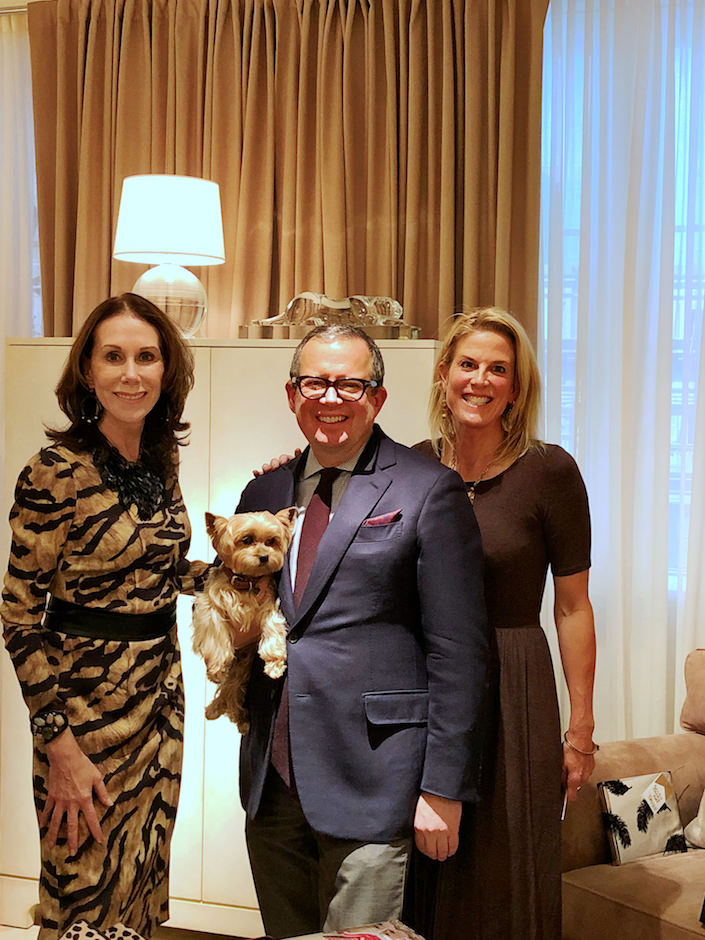 Many of the book's east coast designers (and some of their dogs) attended – Carolyne Roehm, Alex Papachristidis and Susanna, above,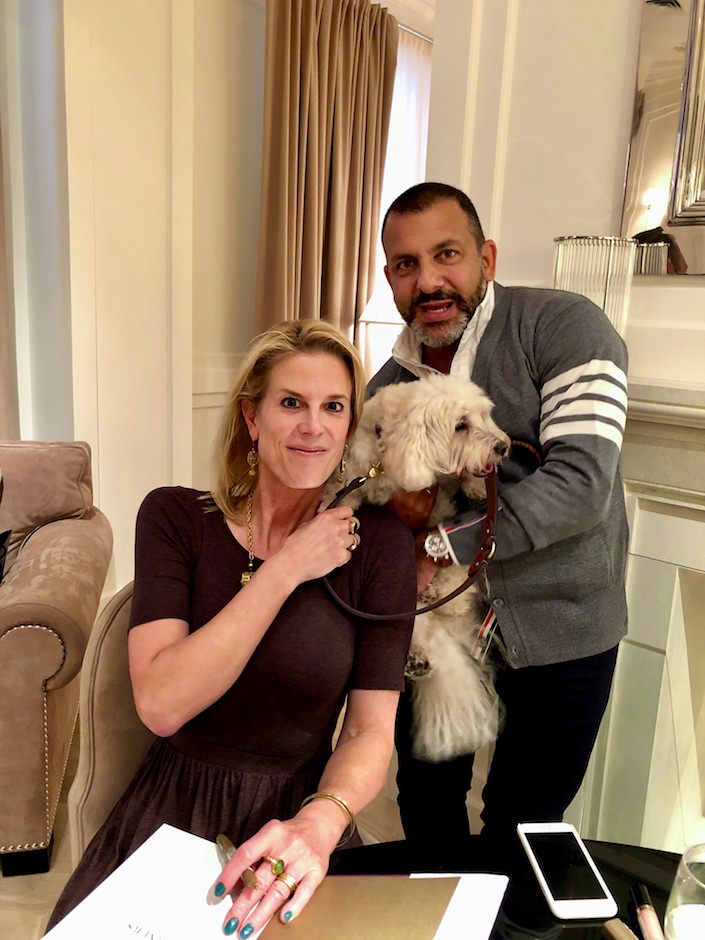 Daniel Sager, featured-designer Brian McCarthy's partner, with their dog Daisy, above (video tour of their weekend home here) –
photo by Susanna Salk
as well as a great turn out of design stars and aficionados. Susanna signed Martha Stewart's book to all of her five dogs.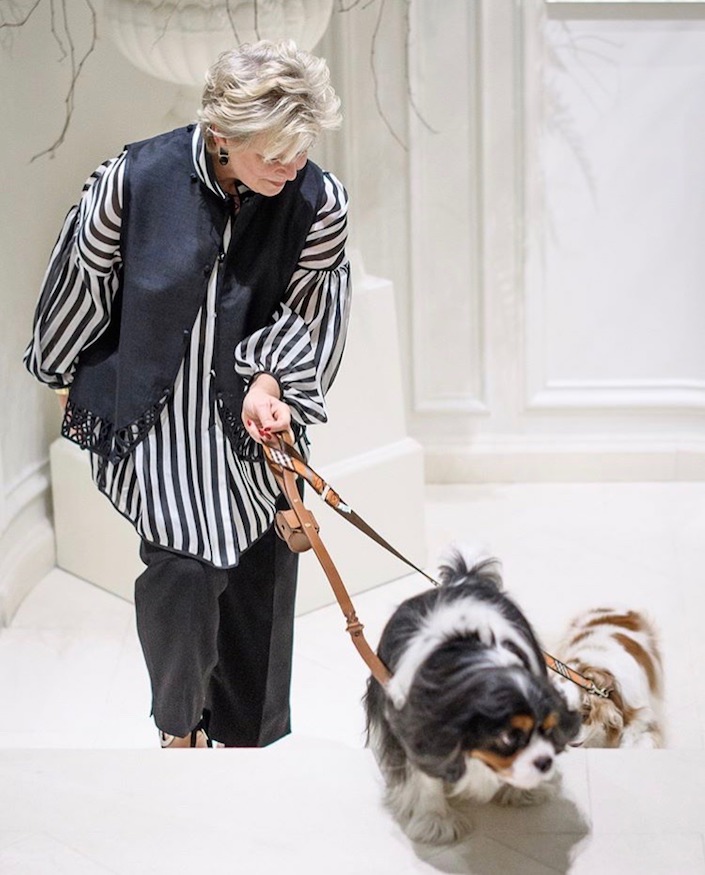 Charlotte Moss brought her adorable King Charles Spaniels, Buddy and Daisy. We even had a surprise visit from one of our west coast designers, Mark Sikes, below, with Architectural Digest Interiors & Garden Director Alison Levasseur and Assistant Market Editor Madeline O'Malley and Susanna.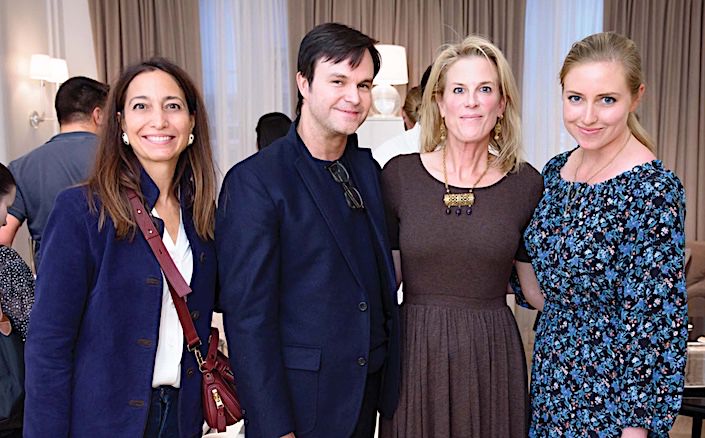 Ralph Lauren Home also introduced their new Pup Shop accessories, donating a percentage of the evening's sales to the Animal Rescue Fund of the Hamptons (ARF). Teddy Papachristidis, below, checking out one of the stylish new bowls.
three photos above courtesy of Ralph Lauren Home
Thank you Ralph Lauren Home for a most perfect evening!! Thank you to everyone who came, thank you to all the designers who opened their homes and shared their beloved dogs and most of all, thank you Susanna for letting me be part of this wonderful project – it's a big two paws up!!
all photos, unless otherwise specified by Stacey Bewkes for Quintessence