While some of you, like me, may still have your original 1998 edition of Bunny Williams On Garden Style, you will definitely want to update your library with this marvelous newly revised volume. In a much larger format with many new, bigger and brighter photos, Bunny inspires and informs us about style in the outdoor world.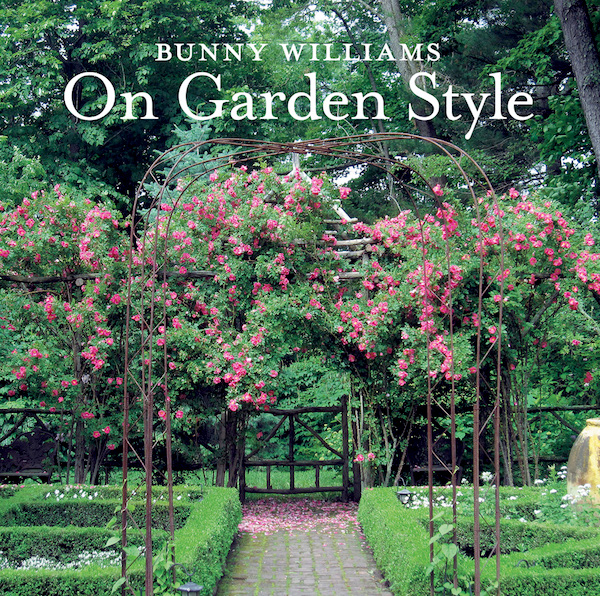 And gardening neophytes, fear not, for Bunny is gentle and logical in her approach, assuring us that "some of the most comforting sanctuaries are simple, with limited plant material." As she instructs, she includes beautiful examples from around the world to illustrate her points. "Nothing is more intriguing than a doorway leading into a garden," as seen in this Belgian garden designed by Jacques Wirtz, below, where a rose covered door leads into a Moorish pool house.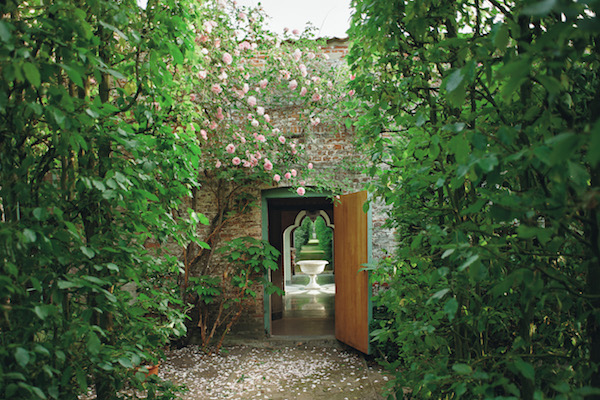 In the first section, Imagine, basic tenets of gardens are outlined to help you determine your personal style and capabilities. Just as it is important to educate your eye when learning about interiors and antiques, it is equally important with gardens. We are encouraged to look at great garden design both abroad and in the past. So even though the formal gardens at Villa Gamberaia, in Settignano, Italy are grand, "elements of its style can be easily translated to more modest schemes."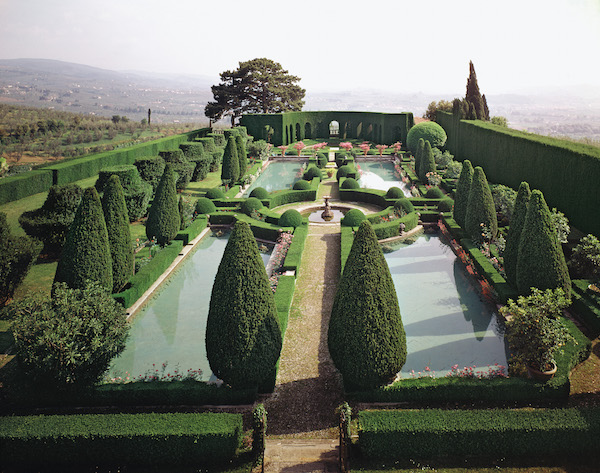 Once we approach the actual process of planning a garden, there are many considerations. Just as scale, texture, color and use of space define interiors, so these issues are equally relevant when creating outdoor rooms. "The most magical gardens, those that evoke the strongest emotion, are a combination of solid structure , wonderful plants, and delightful garden ornaments." Below, a formal town garden by Anthony Noel includes architectural interest, contrast in textures and scale and interesting plantings.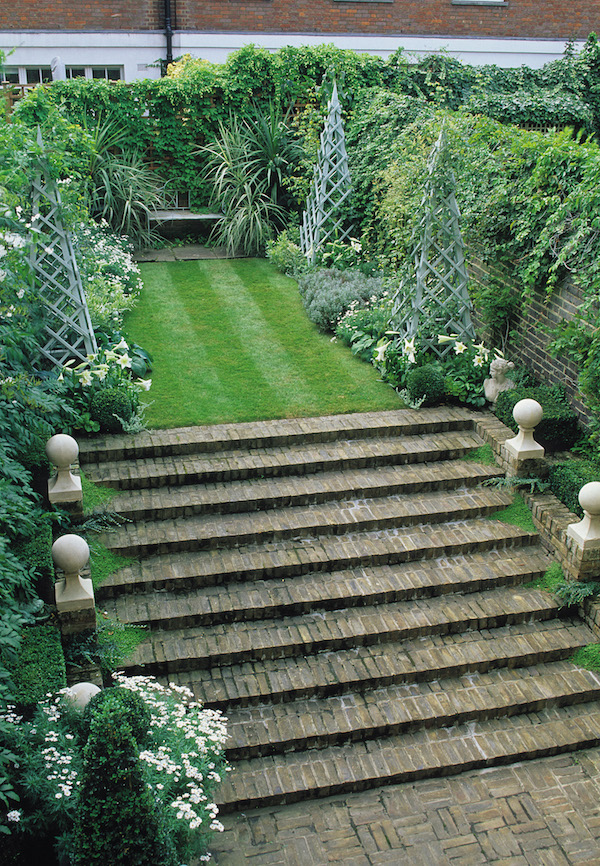 Section II, Good Bones Make Good Rooms examines the four basics – walls, floor, roof and passageways. – with wonderful advice and examples. A path for example, can be of lawn itself, as Bunny's on her Connecticut property. The field, planted with fountain grass, is mowed to create a path to the pool, below, as you can also see in our video of Susanna's and my visit to Bunny's iconic pool house.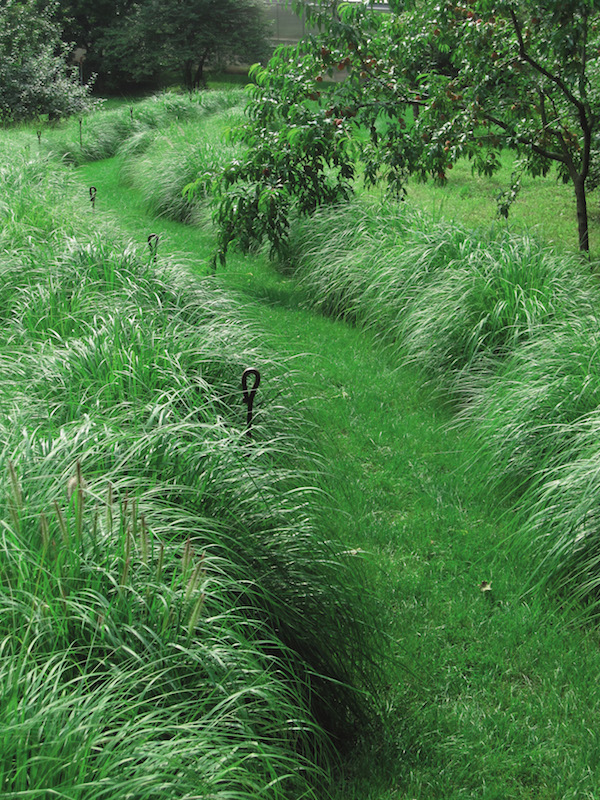 Just as we discussed anticipation with Gil Schafer in terms of siting a house, Bunny discusses the concept for the garden. A passageway can frame your view and set the mood. "Gates, arbors, pergolas, and hoops are the doors and hallways of discovery." The entrance to Bunny's woodland garden below combines architectural elements with tall columnar arborvitaes and rustic stone and gravel steps.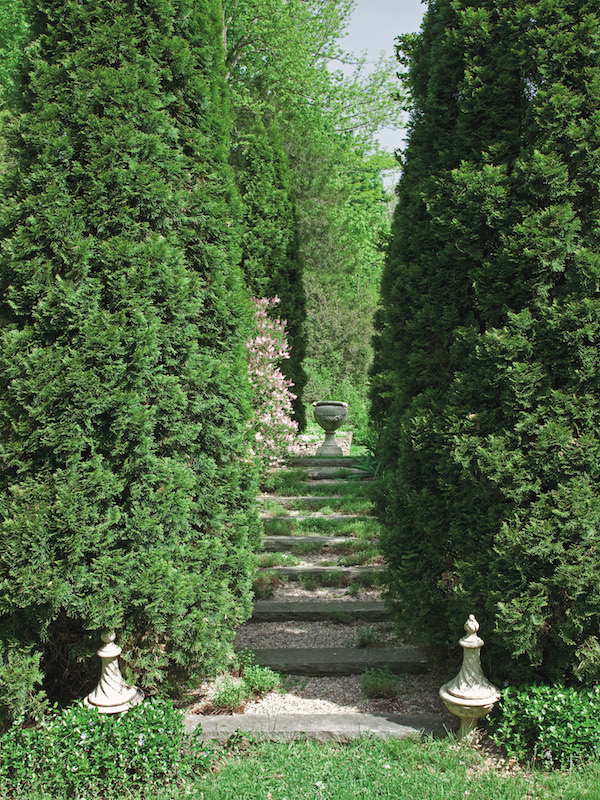 Furnishing the garden includes containers, ornaments and furniture. And right about now,  few words are more encouraging than "Let's face it. Container gardening is better than therapy for ending the winter blues." And Bunny feels that containers can be an integral part of your garden style, as in her garden where large hydrangea-filled terra cotta pots anchor the steps into her sunken garden.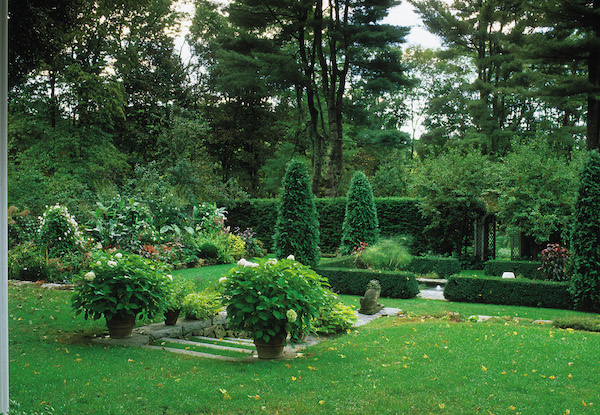 Gardens can be works of art, especially when thoughtful designers introduce delightful and sometimes unexpected ornament into the mix. In Richard Shapiro's spectacular garden, simple stone fragments add contrast and sense of timelessness to the clipped boxwood.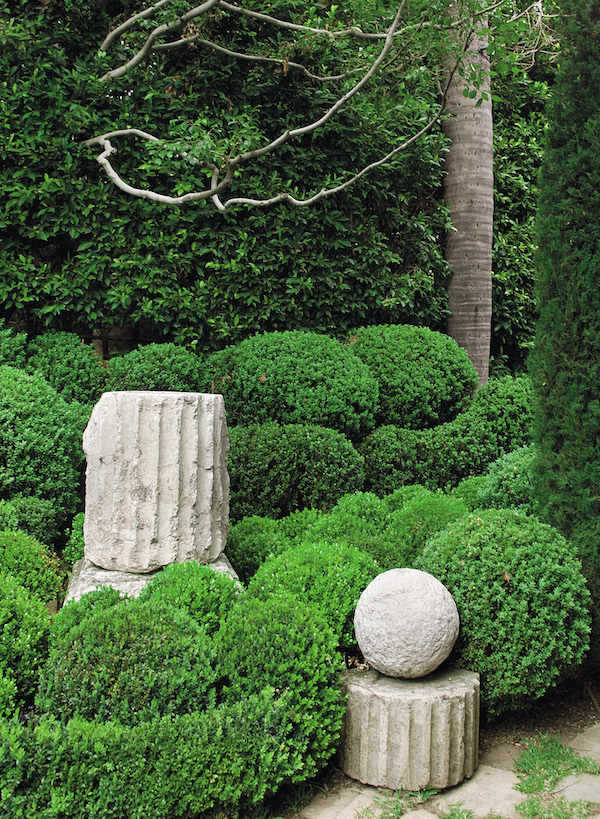 In the late Bill Blass's garden, stone fragments are artfully placed against an ancient tree adding an air of mystery and magic to this special spot.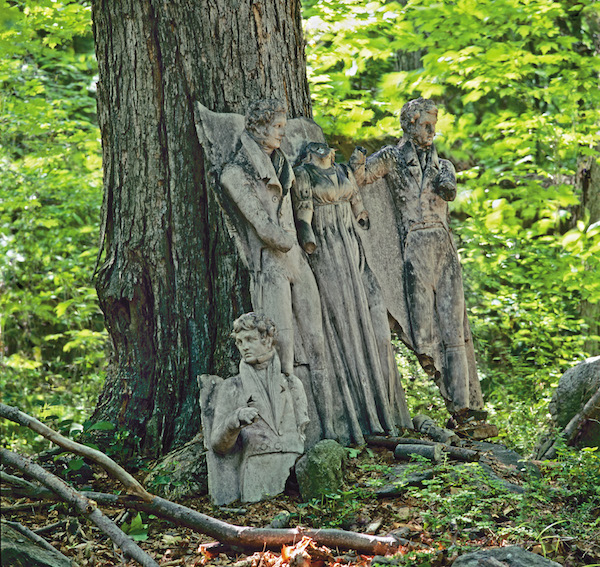 While not all of us have the talent or resources to include topiaries in our gardens, they are a wonderful whimsical element that have for centuries celebrated man's mastery over nature. It's hard to beat them for impact and fun such as in the Ladew Topiary Gardens in Monkton, Maryland where a giant bird rests on concentric circles.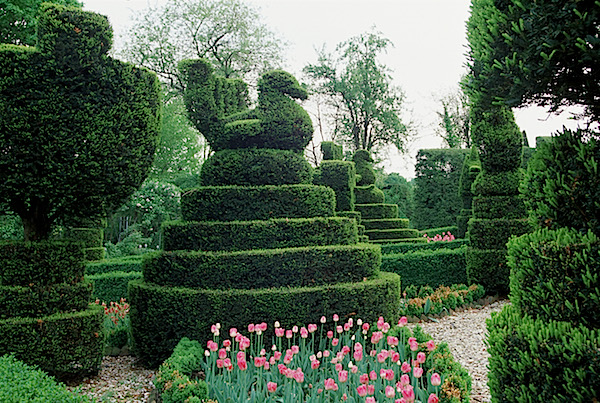 While such giant statements may be for the chosen few, there are so many ideas to glean from these pages including charming drawings throughout, such as these below of edging options, which help illustrate the details of garden style.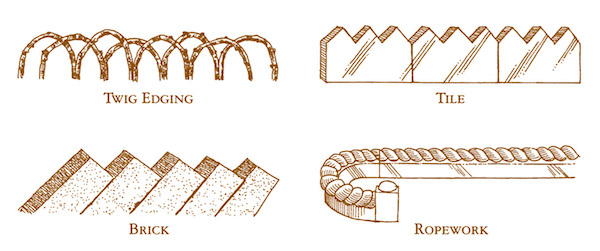 Whether you are an experienced gardener or a rank beginner, Bunny provides ample information and inspiration, in the most down-to-earth unintimidating manner. You will find it a wonderful addition for any stage of your garden's creation or enhancement.