The 2018 Design on a Dime, one of the most popular design events in the New York community, opens tonight. Benefiting Housing Works' programs for homeless and low-income New Yorkers living with and affected by HIV/AIDS, the annual event features more than 50 designers who create rooms with donated merchandise, then sold for 50- 70% off retail.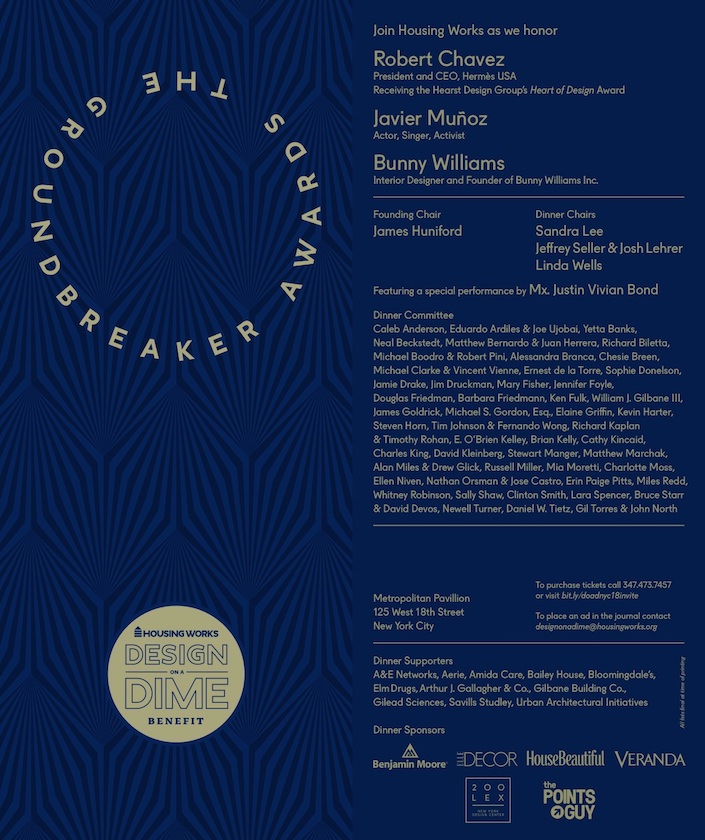 Last night I attended the Groundbreaker Awards dinner, honoring Robert Chavez, President and CEO of Hermès USA (who received the Hearst Design Group's Heart of Design Award), actor, singer, activist Javier Muñoz and Bunny Williams. It was a moving evening with speakers eliciting sentiment, humor and gratitude – below, founding chair James Huniford during his talk.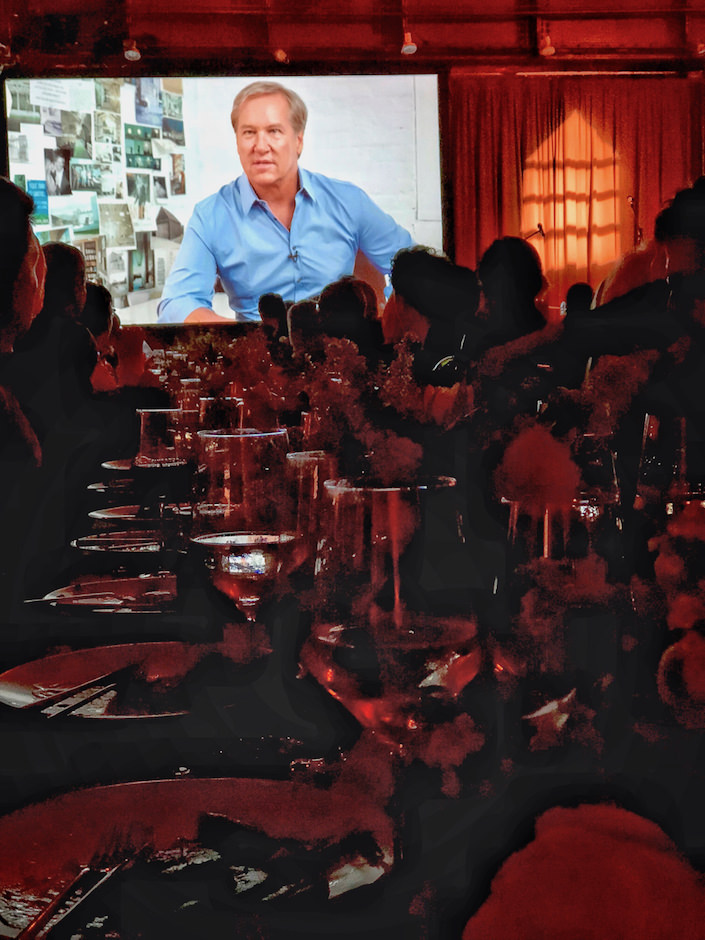 The dinner included a peek at all the marvelous vignettes, although only one item in each booth was officially for sale. It was a very social evening and while I didn't have a chance to capture all of them, here is a little preview to entice you all with this spectacular shopping opportunity. Miles Redd, who received the Groundbreaker award in 2014, always has a fabulous African Art Deco vignette. His graphic wall treatment was custom created with Iksel and the booth included many of his Ballard pieces customized for the space.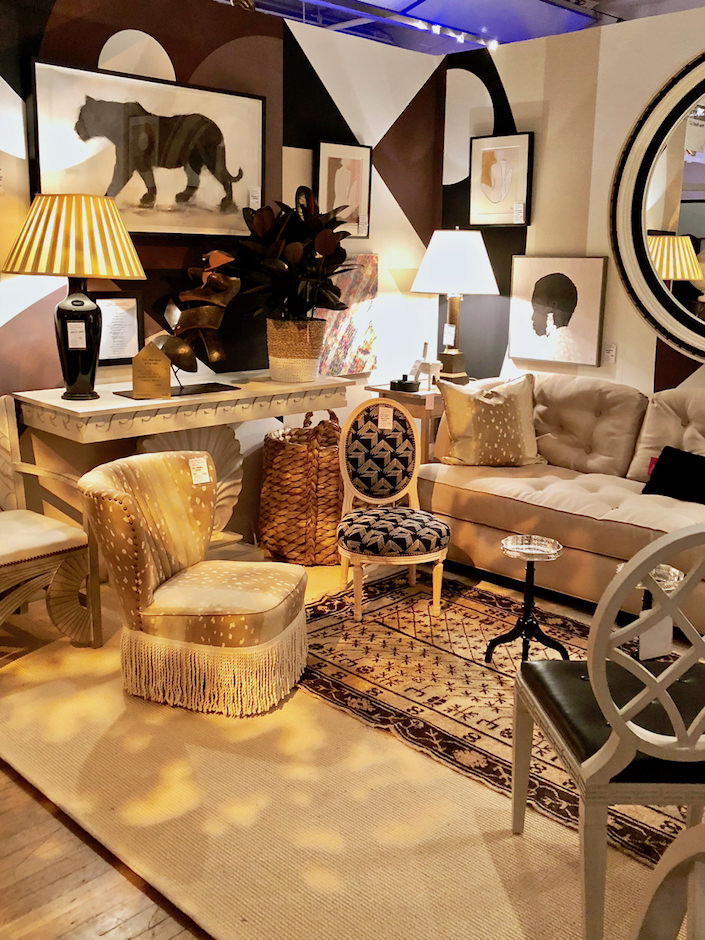 Katie Ridder's booth announced bienvenue à le souk with its exotic bohemian chic. Designer Bella Mancini was lucky enough to score the sofa at a fraction of its real cost.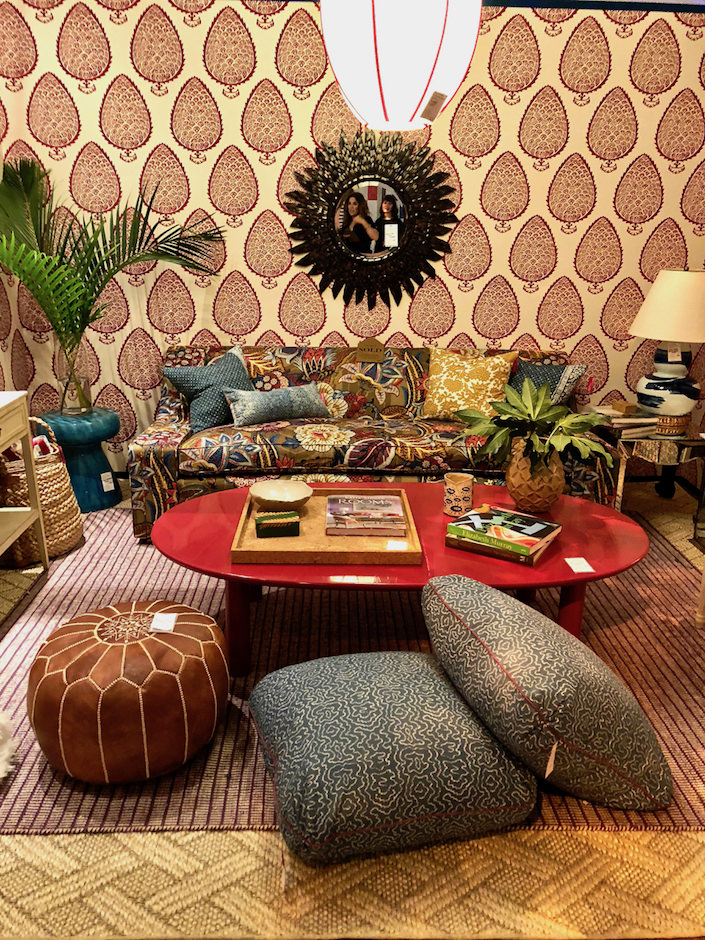 Alessandra Branca had a large corner double booth, filled to the brim with tempting offerings in her signature red and black.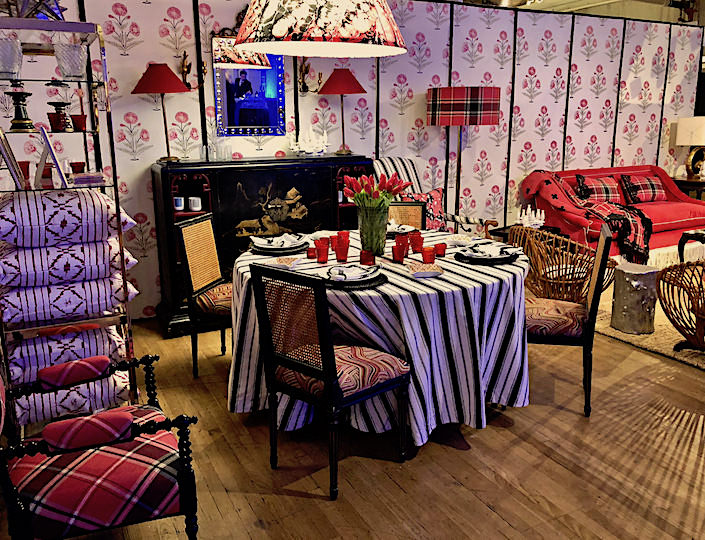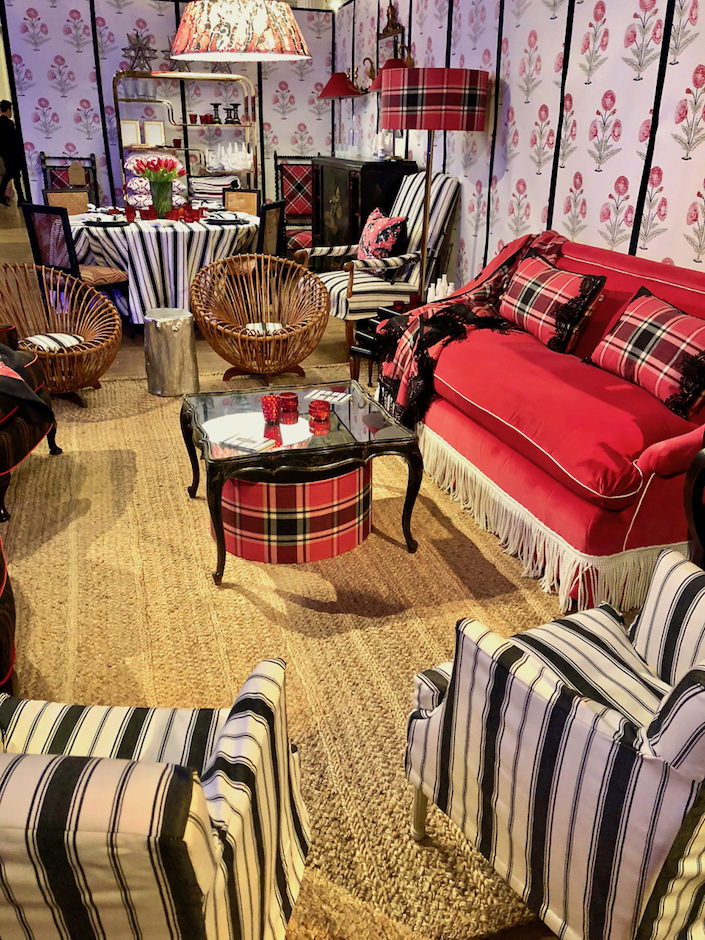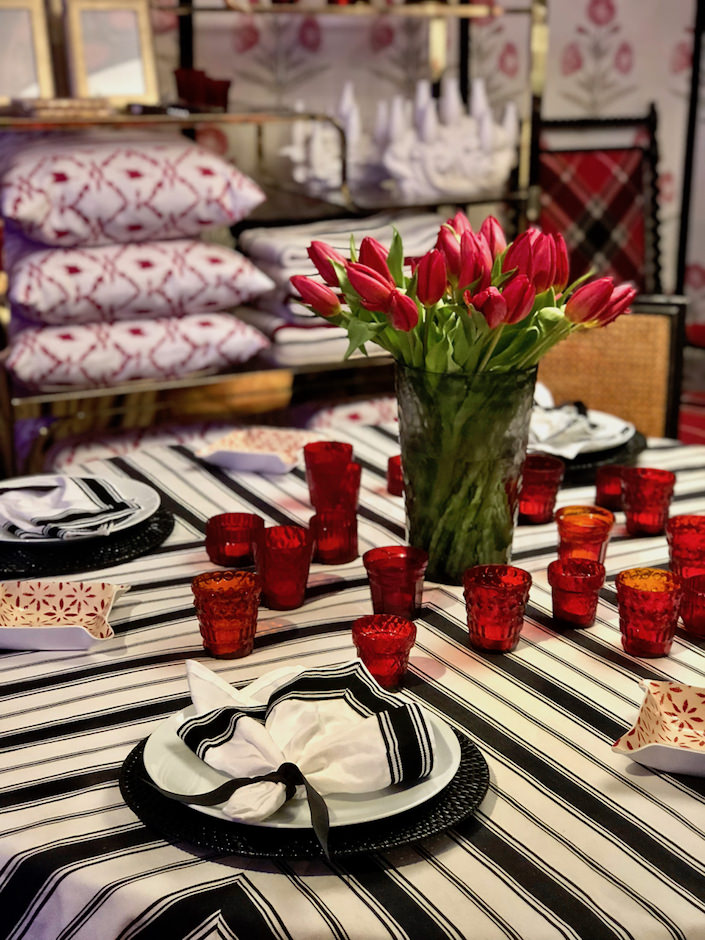 Ford Huniford 's calming vignette highlighted an interesting mix of both modern and rustic objects, art and furniture emphasizing refined lines and craftsmanship.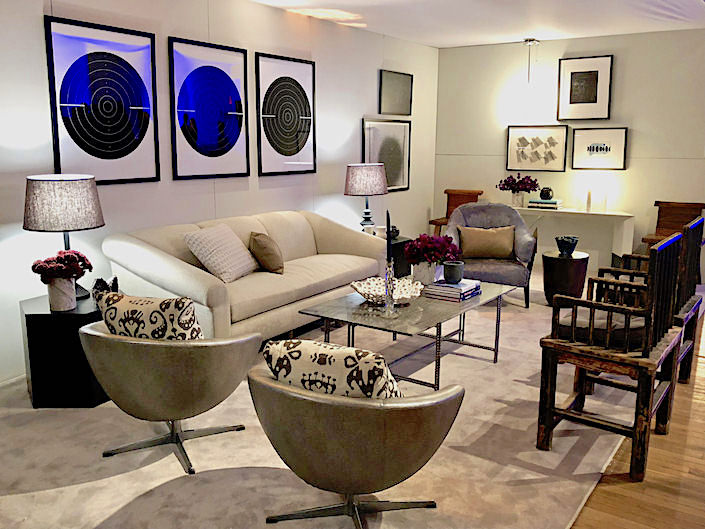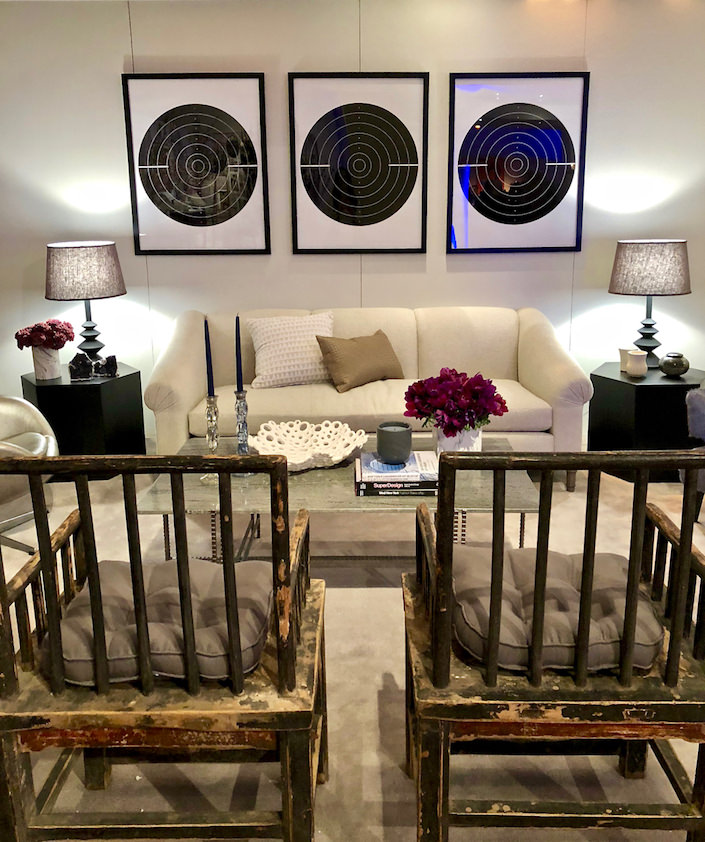 House Beautiful collaborated with Ballard Designs and designer Shelley Johnstone on a vignette filled with fabulous shopping options.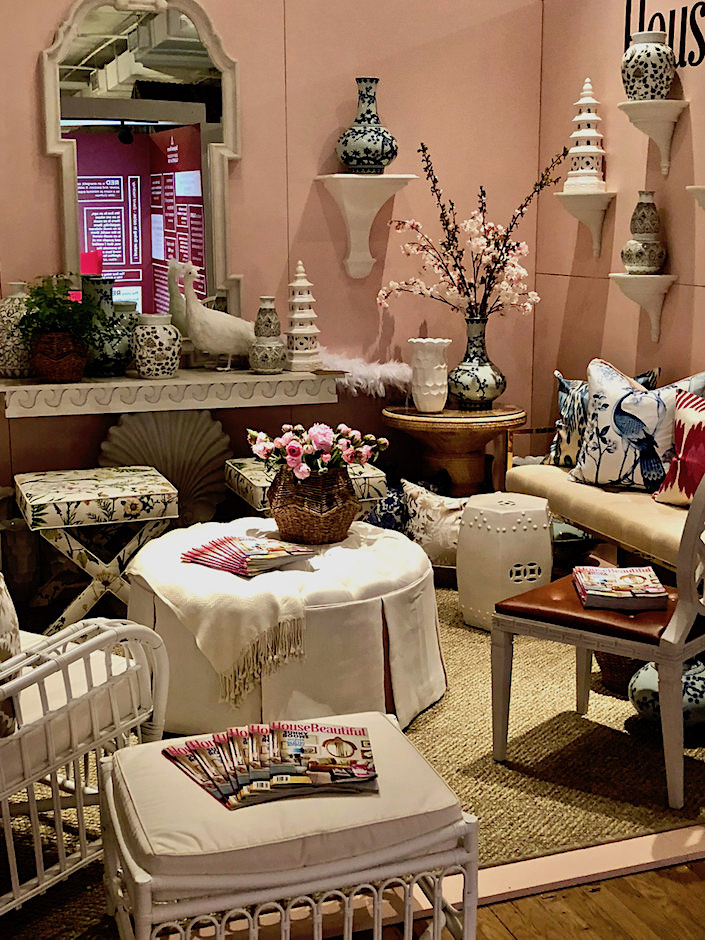 Veranda's booth beckoned the upcoming warmer weather with Fernando Wong and DEDON (with come stylish Lindroth Design accessories thrown in the mix).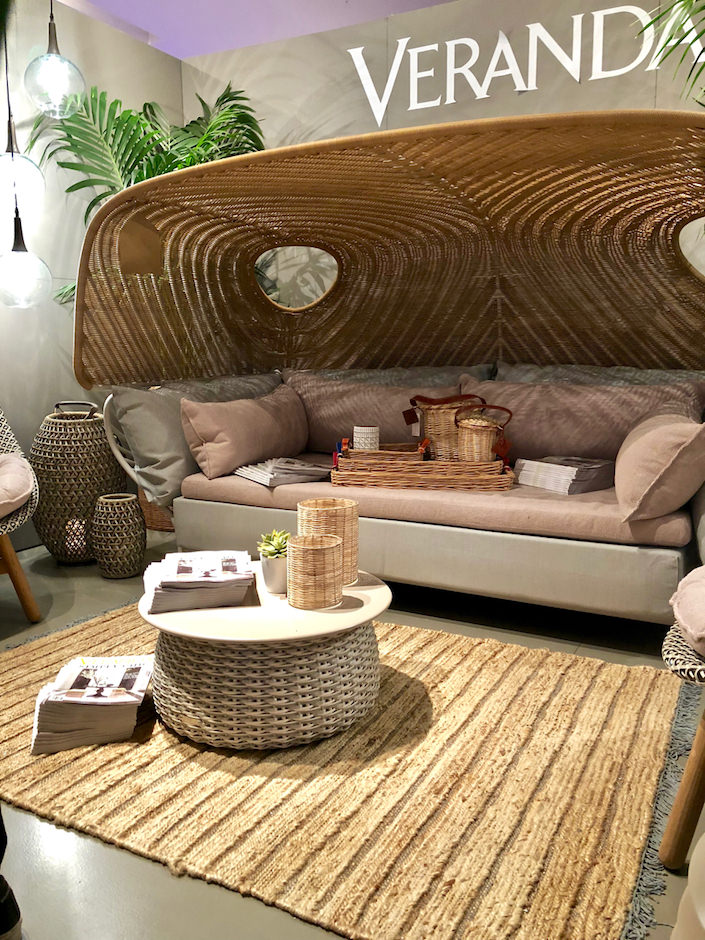 Ron Marvin is a long time participant and his 2018 Design on a Dime booth didn't disappoint with its handsome appeal.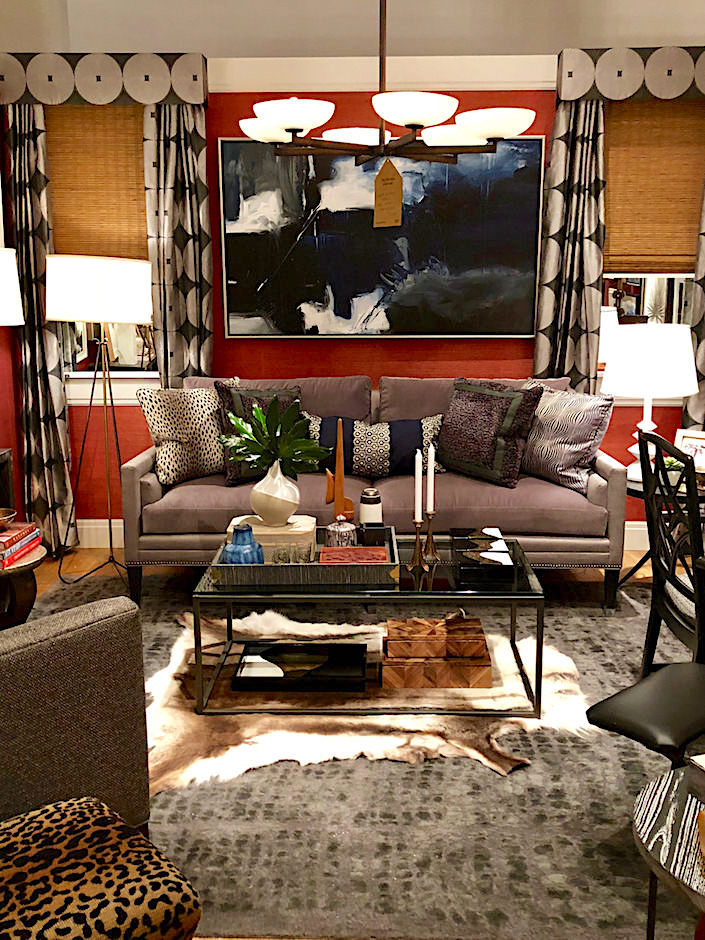 I loved the color and Christian Bérard inspired treatment of the walls in Meg Lonergan's beautiful booth.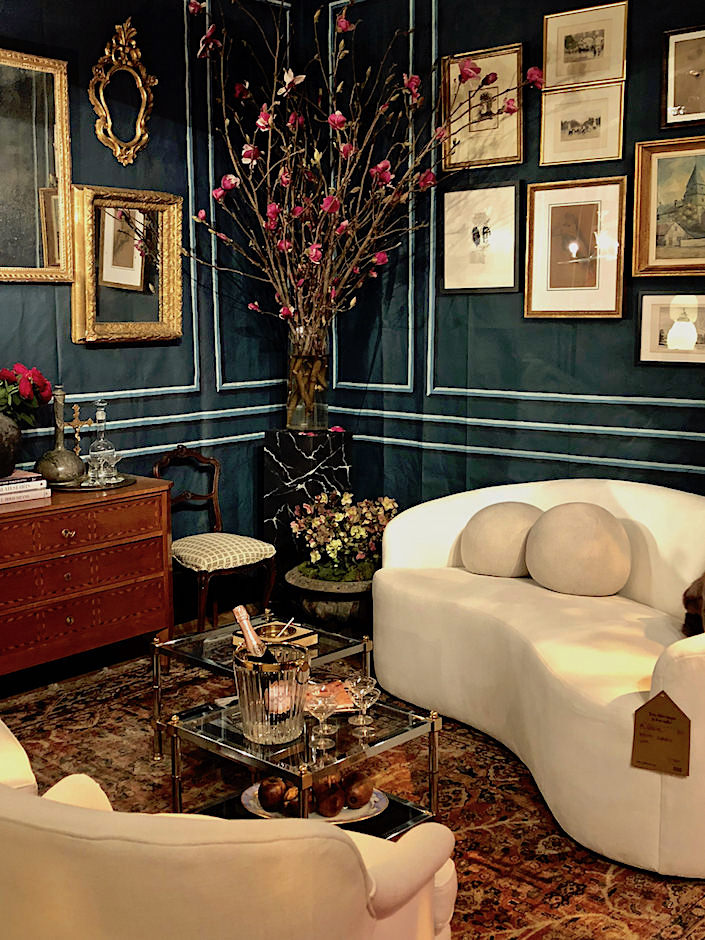 Kerber's Farm always has such great design vision (you may remember their clever NY Now booth in January). For their 2018 Design on a Dime booth, they actually built a small barn as their booth,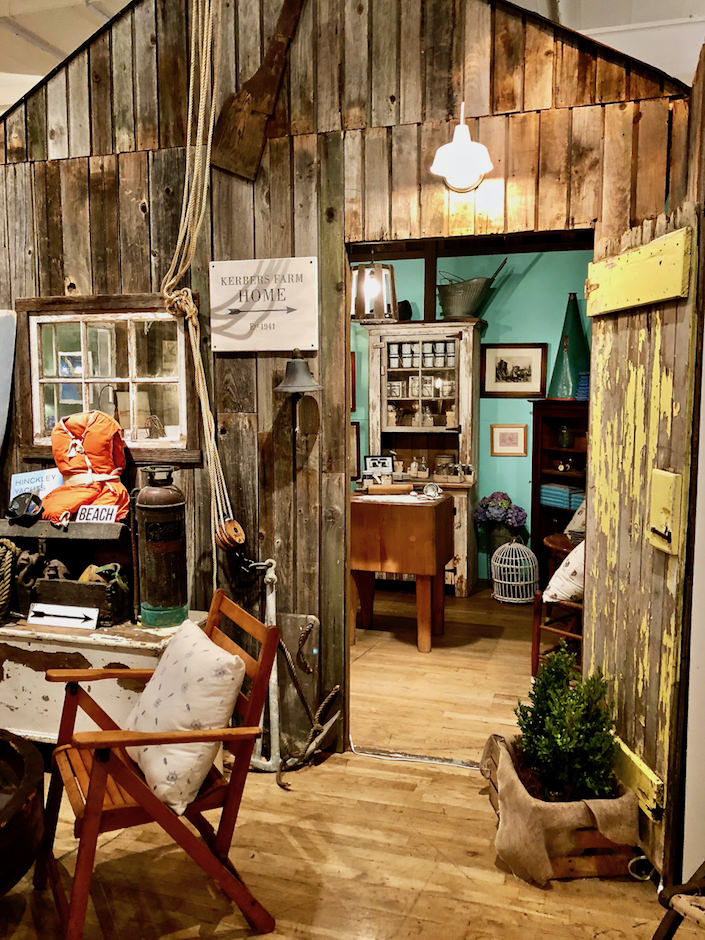 with everything inside and out for sale. Look for owner Nick Voulgaris' new book on classic Chris Crafts hitting the shelves next month.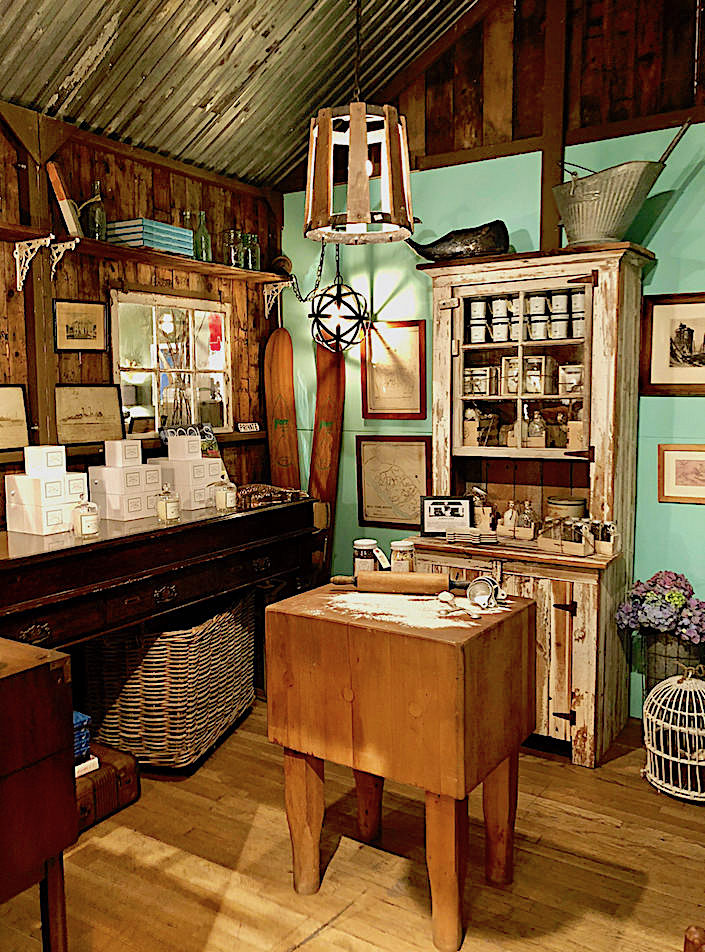 Phillip Thomas' space was an ode to an Urban Safari with bright colors, pattern and mix of materials.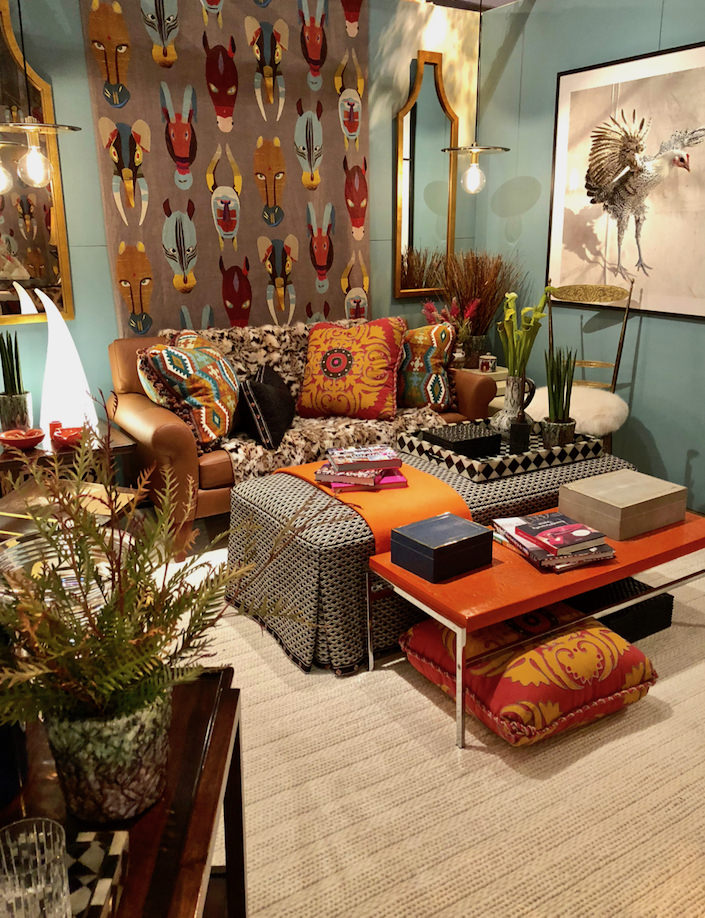 The tribal inspired Pierre Frey Marabout was the perfect pick to anchor the booth.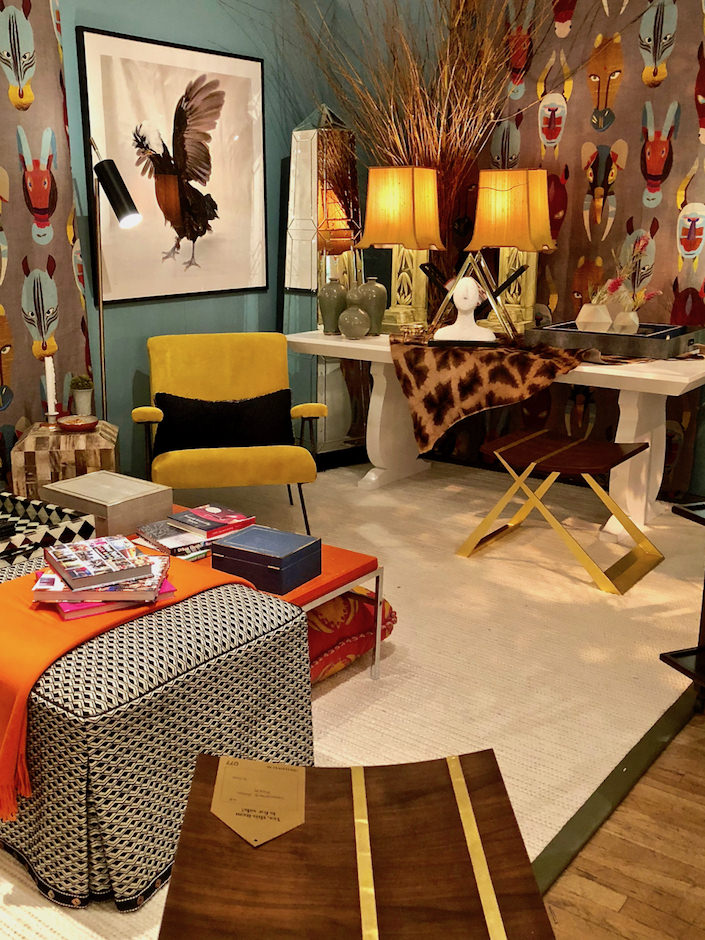 Kevin Dumais' booth was a sophisticated and tailored mix of mid-century and modern.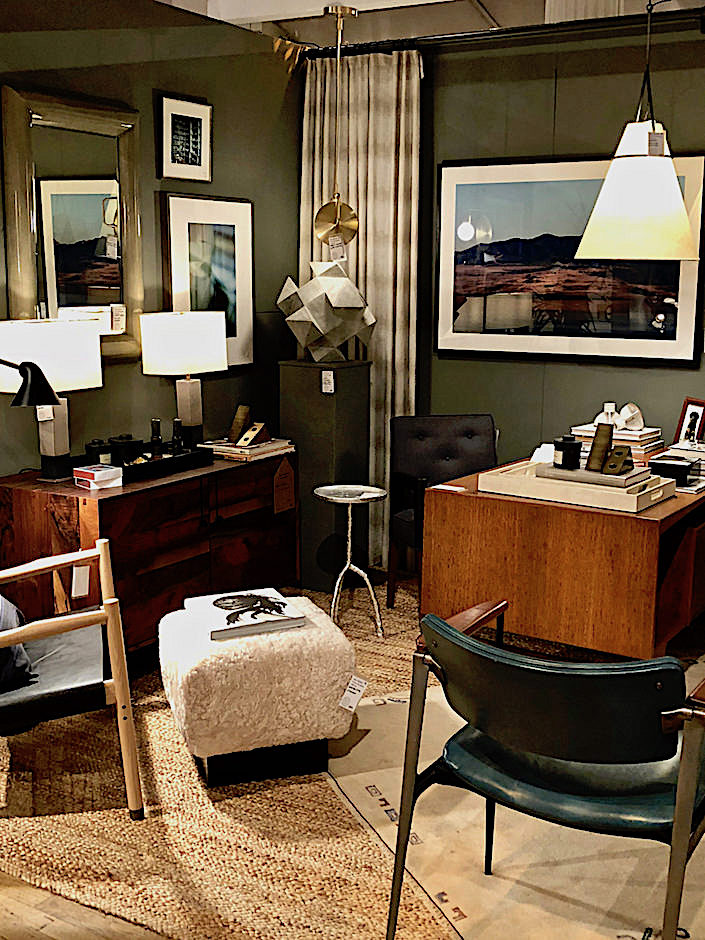 I liked the graphic black and white wall in Nina Magon's space. It shows how pattern can provide interest yet act as almost a neutral background.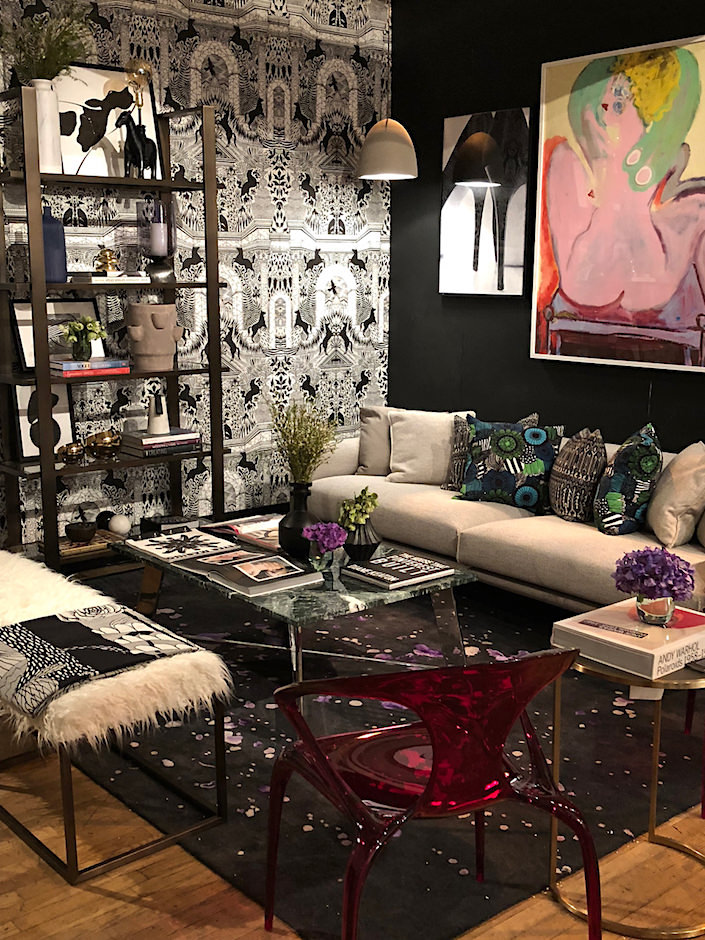 I'm wondering who is going to get to go home with the brass reindeer in Jae Joo's eclectic space.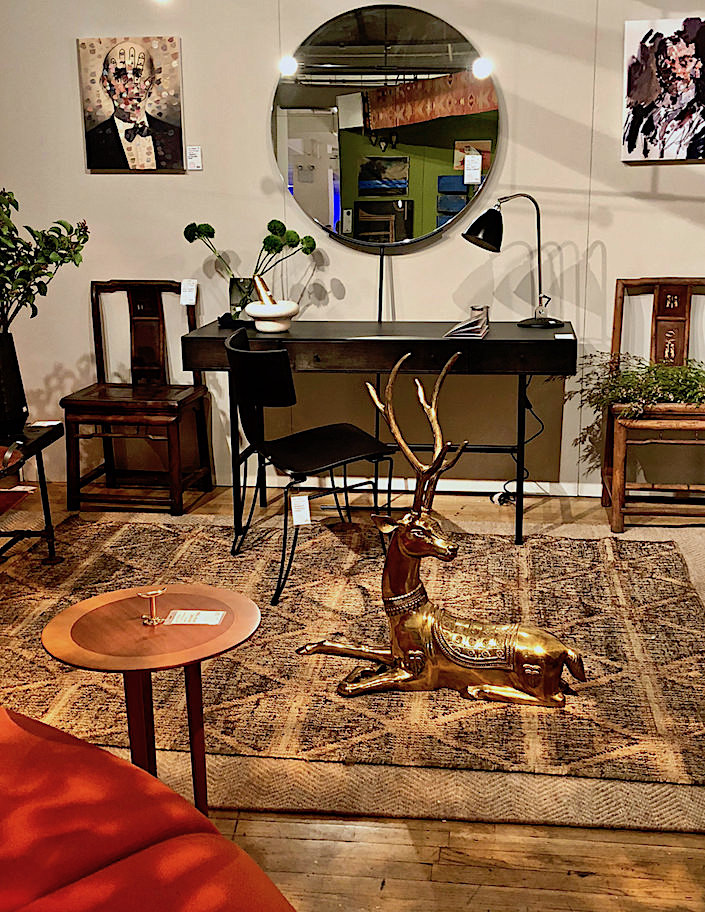 Black and white is always right, especially with a splash of red as in Joy Moyler's booth.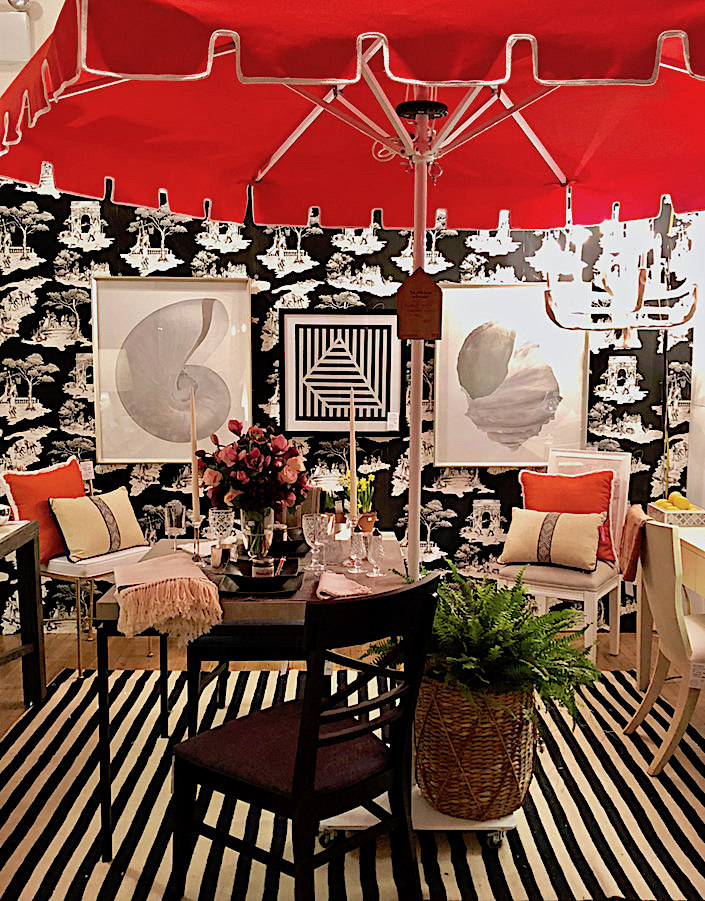 Kirsten Yadouga's Gooddess Garden ushered in spring with a fresh palette and creative wall treatment.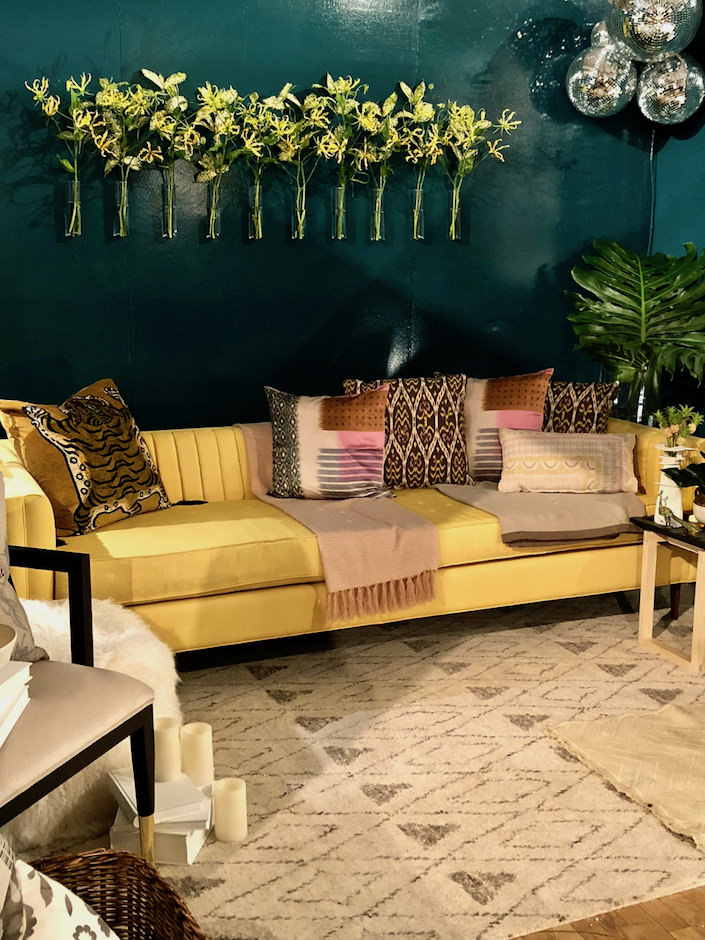 Petit Lau's feminist boudoir's featured layers of nature inspired patterns and imagery.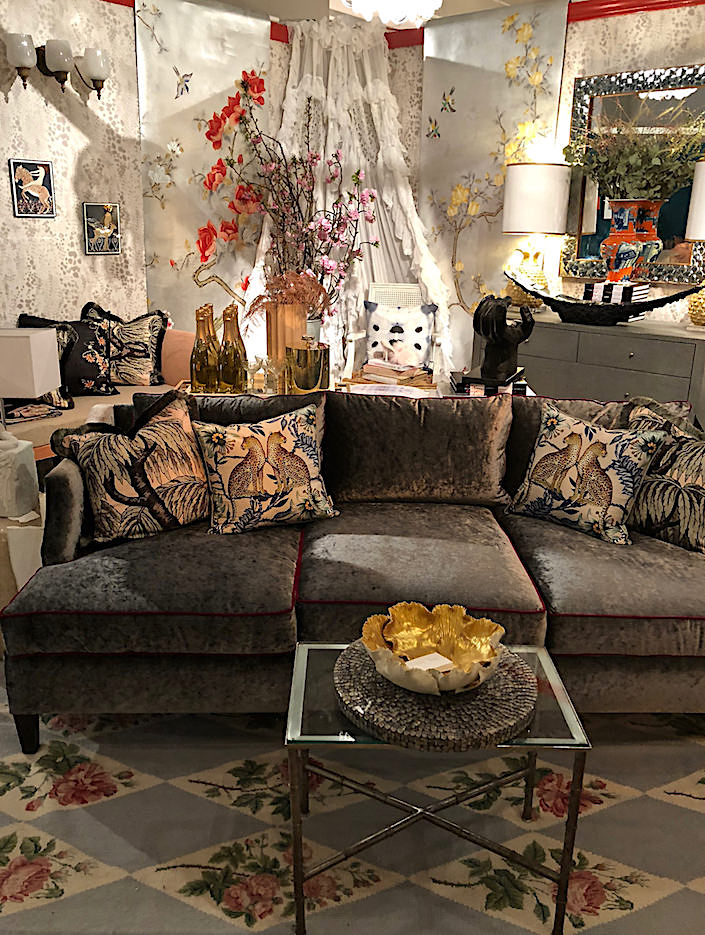 Peter Sandel's High Desert booth had a great color scheme and I think won the award for most original sofa design.
all photos by Stacey Bewkes for Quintessence
Congrats to all the participants for their creativity and generosity contributing their talents to this worthy cause. And good luck to all those shopping this evening and over the weekend! You can buy tickets here – and details below.
The Metropolitan Pavilion
125 West 18th Street
NYC
Thursday, April 26, 2018
VIP Cocktail Hour
& Preview—5:30 pm
Shopping—6:30 pm
Public Sale
Friday, April 27, 10 am–7 pm
Sat., April 28, 10 am–5 pm