Last Thursday evening I attended the Design on a Dime opening night party to benefit Housing Works. This was the seventh year for the event with all proceeds going towards the organization's newest residence for New Yorkers living with HIV/AIDS: The Jefferson Avenue Housing Program in Brooklyn. I've known about Housing Works practically since they opened their doors in 1995, since it has always been my savvy sister's favorite place to donate and thrift shop for stylish bargains.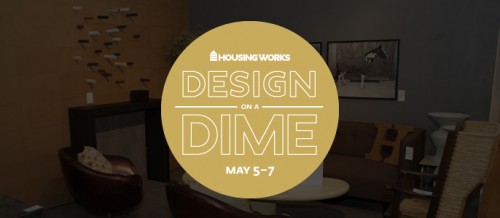 This has always been a very popular interior design benefit event but this year must have set all records. There were 56 designer vignettes. The opening evening was sold out and totally mobbed. Not only was it a great turn-out but everyone was so enthusiastic and upbeat. There was a really fabulous party vibe! It was very difficult to get pictures as it was so crowded (next year I must remember to be there when the doors open) but I made sure to get snaps of at least a few of my favorites.
photo by Joe Standart
I knew I was going to love the Tilton Fenwick space. This young duo is on quite a roll. Named one of the TradHome's 20 "New Traditionals," I just love their style. And that's no surprise considering their design backgrounds. Here is partner Suysel dePedro Cunningham with (adorable) design mentor Markham Roberts. So sorry Anne (partner Anne Maxwell Foster) – I didn't manage to get a shot of you!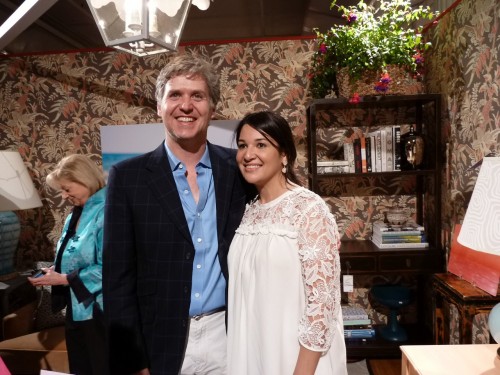 The vignette, created for Traditional Home, one of the event sponsors, was fashioned as a dream office for a female design blogger – and they so got it right. I would feel totally at home here! And I clearly wasn't the only one – I had to ask Suysel and Anne for an official shot because it was so crowded (and already picked over) when I got there. The walls were covered with a beautiful Brunschwig documentary fabric, Seychelles, which they had paperbacked. It is just the right combination of tailored and feminine, and really anchored the space. The lovely salmon and blue accents were then brought out with the furnishings and accessories, such as Bunny Williams' Beeline Home's turquoise lamp at left in the shot and below.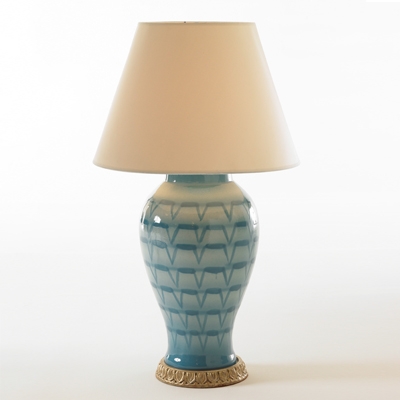 It's hard to see in the room photo, but the Hickory Chair Spool Ottoman is covered in Quadrille's new Persepolis pattern in the warm colorway, which I love. It added a modern touch of boho chic.
courtesy of Architectural Digest
But the pièce de résistance was the fabulous desk donated by The New Traditionalists. I did my best to capture the incredible finish on it, which perfectly complemented the colorway of the vignette.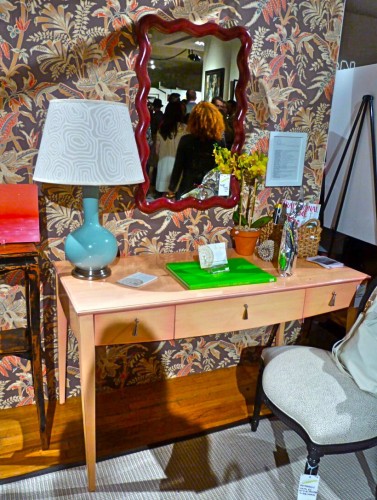 I spoke with partner Brady Wilcox later in the evening who explained that the color of the desk was created by applying multiple layers of paint hand sanded in between, then finished with a hand applied Classic Glaze in Pink and Firefly in a Gloss finish, giving it that incredible luminescence. I love what these guys are doing. They also had some great pieces in the Malcolm James Kutner for Sferra booth. The mission of this company, the merging of classic quality and manufacturing technique with cool attitude and style, fit perfectly with Tilton Fenwick's vision for the space. These are two companies most definitely going places!
There were many other fun rooms as well. Not surprisingly, I loved Miles Redd's space, a fun exuberant eclectic mix.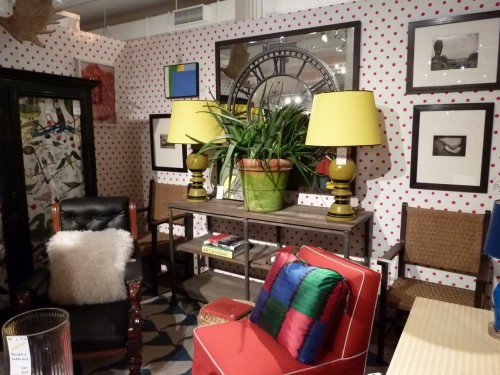 Bradley Thiergartner's charming vignette was like an English country cottage.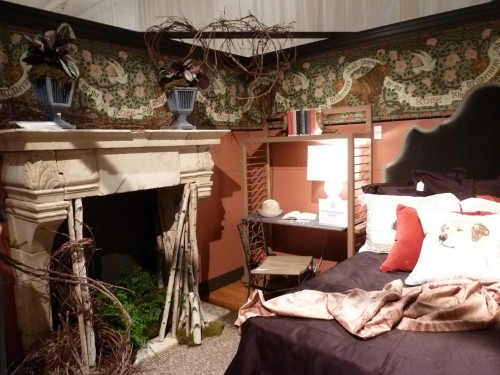 While Arlene Angard's was like a wonderful vintage inspired picnic!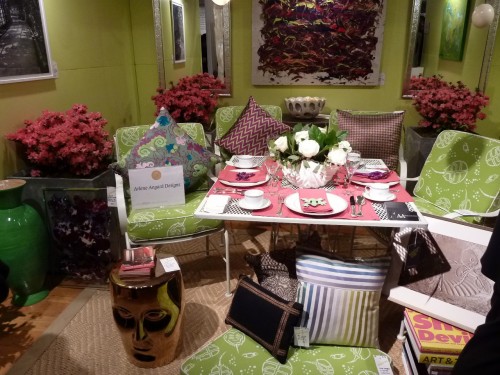 You couldn't help but smile at the fun filled Nickelodeon booth. What you can't see from this angle is the GIANT yellow patent wing chair that shared the space.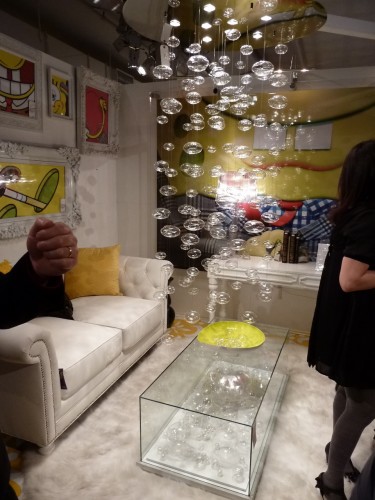 Larry Ruhl for High Falls Mercantile was another room I loved. With a unique vintage appeal, it offered a terrific eclectic mix of art, antiques, accessories and furniture.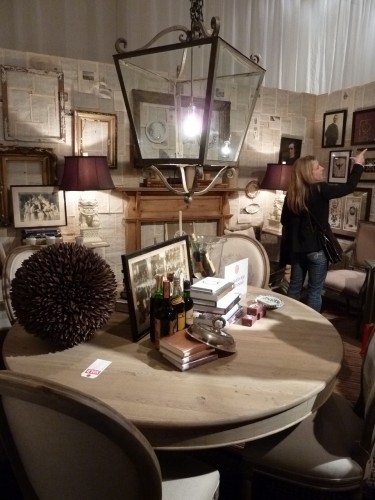 And it was wonderful to see the Dunes and Duchess duo of stylist/editor extraordinaire Stacy Kunstel and partner/photographer Michael Partenio. Their fabulous lighting products were featured in Joshua Ingraham's fun space. Here are from left, Michael, Stacy, Anne Maine, Editor-in-Chief of Traditional Home and the fabulous new TRADhome, and Joshua.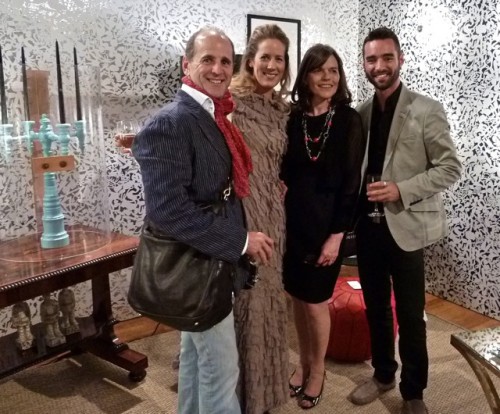 And here are Stacy and Michael with their fantastic new candelabra hurricane. It's a beautiful piece yet again combining artisanal craftsmanship with modern design. It shuts with a clever yet simple leather and wood dowel closure. And isn't Stacy's dress gorgeous? The back was even better with a bit of a mermaid inspired fishtail train  – she always looks great!!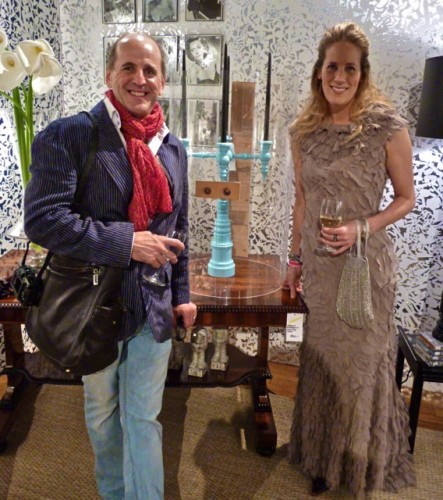 What a marvelous evening for a wonderful cause. I didn't even have a chance to get a drink I was so busy socializing with new and old friends alike, most of whom I have met through some form of social media. In fact Stacy and I were commenting how many people we knew by their twitter handles! Those companies who have not yet acknowledged the power of this medium are truly missing out. Our wonderful online community is a growing and powerful source of information and influence that I feel honored to be a part of!!