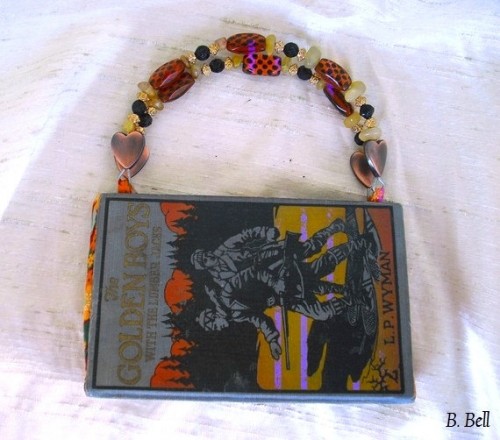 Sounds like an old fashioned tongue twister! Well there most certainly is an old fashioned element to this story, wedded, in the best way, to a modern concept. I was in my local bookstore, Barrett Books, the other day and as I stood at the cash register, trying to ignore the endless temptation, did a double take. There hanging unassumingly on the wall behind me was a grouping of vintage books – but wait – they weren't exactly books. Upon closer inspection, I was delighted to discover that they were actually the most charming handbags. Fashioned from old books, with coordinating fabrics and playful handles, I was immediately smitten. I of course contacted the designerand we met later in the week for coffee.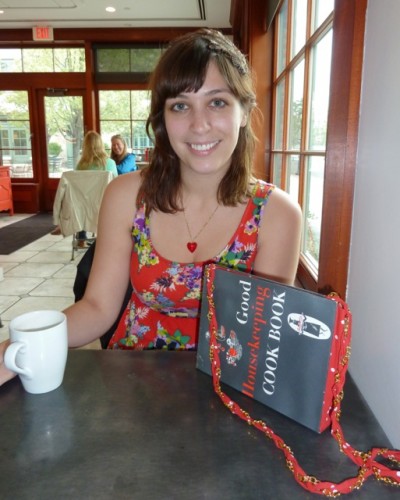 Britta Bell (the name alone is charming) is a lovely articulate young woman, who is taking her passion for reading, and eye for beauty to create a unique entrepreneurial niche. The daughter of independent booksellers, Britta had been studying creative writing in college. But with the downturn in the economy, she could no longer afford to stay in school and had to move home. As a Christmas present, her mother, an interior decorator, made her a purse from an antique book. Britta loved it, and, recognizing the possibilities, decided to design and make her own version. She tweeked her mother's prototype and began scouring local book sales and libraries for more potential volumes. Her first sale was to The Workshop, a stylish boutique in Litchfield, CT, followed by a feature in Connecticut Magazine. From there, she was picked up by Barrett, a bookstore in Fairfield and will soon be carried in R.J. Julia in Madison, CT. In addition, she has been selling enough bags from her online Etsy shop, that just last week she was able to quit her job at the local library to devote herself full time to the business. And all of this, by the way, has happened since October!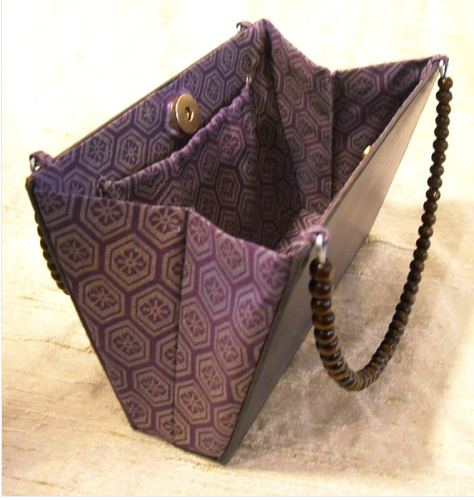 Almost all the books Britta uses are from the early to mid 1900's and occasionally the 1800's. She has a particular love for romantic novels from the 20s and 30s but also pays close attention to the feedback she gets. Many customers seem to love old childhood titles like the Bobbsey Twins (one of my personal favorites), Five Little Peppers, or Heidi as well as the classics like Pride and Prejudice. She tries to balance her selections to offer a broad spectrum of titles and has been including cookbooks (see her bag in the photo above) as well as gardening books.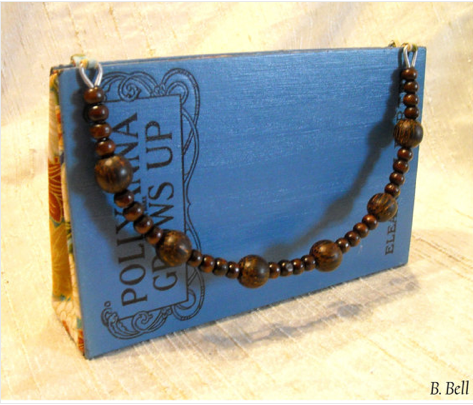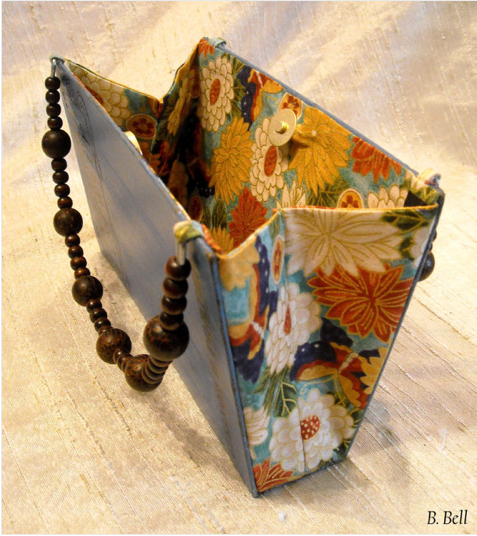 The interiors of the purses are given special consideration. The coordination of covers, material and handles is of course crucial aesthetically. All bags, even the clutches, include a pocket and the larger variety include a cell phone pocket as well.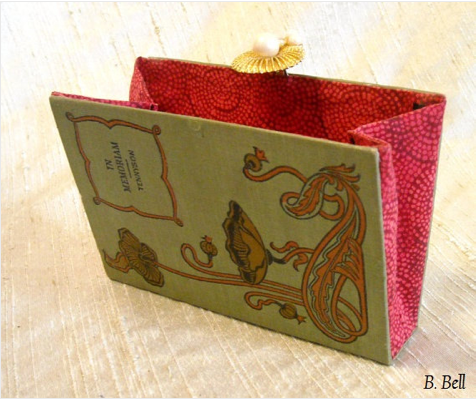 Part of the appeal for both Britta and the customer is that each purse is individual. Unlike the Olympia Le Tan or Kate Spade bags based on book titles, no two are alike. She currently has about 73 bags for sale and they are all different. She rarely comes across two of the same books, and when it happens, she takes care to use different material and beads for each. Britta also takes custom orders – she can search for titles or use a book you already own.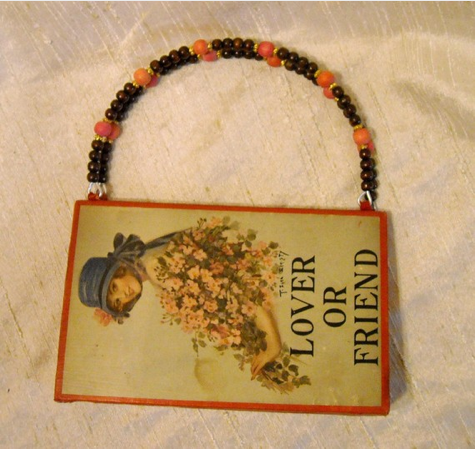 One of the most satisfying aspects of Britta's new venture has been the feedback from her customers. She frequently receives notes of appreciation or advice for future titles. And because books evoke such emotional responses, there is frequently a bond between buyer and title. As Britta says, she designs purses, but they are purses people can connect with. One customer bought a bag entitled "Days Off" as a gift for a dear friend. She explained that as girls in high school, she and her friend used to spend their days off looking for old books and getting into all sorts of mischief. She knew the title would have special meaning and remind her of precious time shared together. Perhaps Pippa should have bought this title for her sister as a wedding present!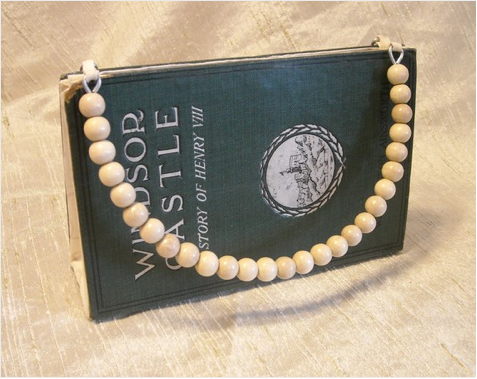 Britta feels that many people buy her repurposed books as a way of showing their love of both literature and fashion. I think many of us can relate to that! Can't you just picture Oprah or Natalie Portman sporting one of these?! And for those of you who wonder what happens to the insides, the guts of the books – well Britta reads each and every one. Wonder how long it took her to get through this volume! The perfect bag for the opera!!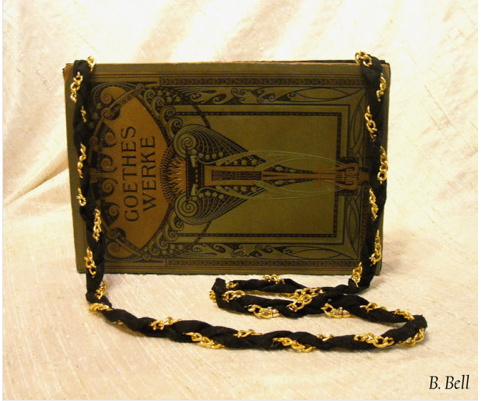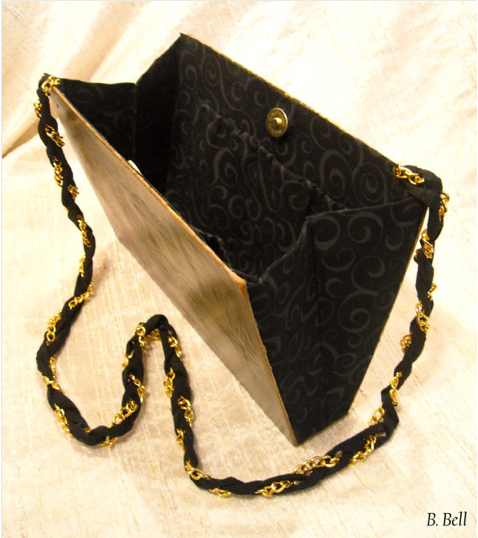 Although Britta would ultimately like to go back to school to study design (she has her eyes set on SCAD in Savannah), for now she wants to explore how far this new venture can take her. And we can enjoy come along for the ride!!