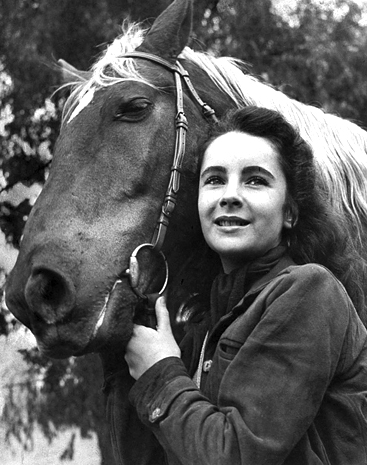 Well I'm sure you've all guessed by now that today's movie is horse related. I was of course tempted to feature National Velvet, my all time favorite in this category, but Elizabeth Taylor has been in the news so much of late, I thought many of you had perhaps recently revisited this title. That being said, if there are any of you who have never seen this film, please put it at the top of your list. This beautiful 1944 classic make 12 year old Elizabeth Taylor a star and of course the cinema world was never the same. I couldn't resist attaching the trailer.
My pick for today is actually a more modern film, from 2005, but also a heartwarming moving story. And if you have any horse loving young girls in your household, then this is a must see. Despite the odd title, Dreamer – Inspired By a True Story (yes, that's the whole title) is a wonderful family film.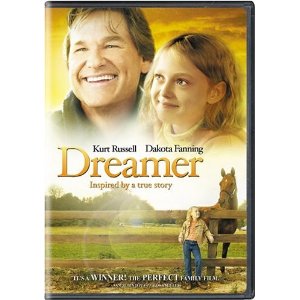 The plot is fairly predictable. It's the excellent cast and their wonderful performances that really make this film shine. The precocious Dakota Fanning is perfect in her role of Cale Crane – the tenacious, spirited daughter of Ben Crane (Kurt Russell), a talented but down on his luck Kentucky horse trainer, lacking any horses in his stable. His wife, played understatedly by Elisabeth Shue and his father, Kris Kristofferson, round out the Crane clan. The horse, Sonador, is of course the real star and his healing becomes a metaphor for the mending of the Crane family bonds. You will not be able to keep yourself from cheering on the crew at the end. The cinematography is lovely as well as you can see in this clip.
Strong supporting roles are also turned in by David Morse and Ken Howard. Kurt Russell seems to have come full circle. A child actor in Disney films, he seems to have found a successful niche in middle age, playing father and/or mentor roles in family favorites. And he's good at it – believable, inspiring and ultimately likable. Just like this film. Give it a try with your family – I think you (and they) will like it.