Going to Churchill Downs this weekend? Have your hat selected? Your picks ready? Lucky you!! But for those of us not traveling to Kentucky, there are certainly many stylish ways we can enjoy the festivities as well. So, channeling a little DV for the day, I thought "why don't we" present a Derby inspired scenario honoring the event? That way we could all celebrate here ensemble!! So I called my friends at Hoaglands to pull it together, using items from the store, for a vicarious Kentucky Derby venue.We decided that starting with Hermes set us off in style to stage our scene.
So consider yourself officially invited to a chic dinner in the stable.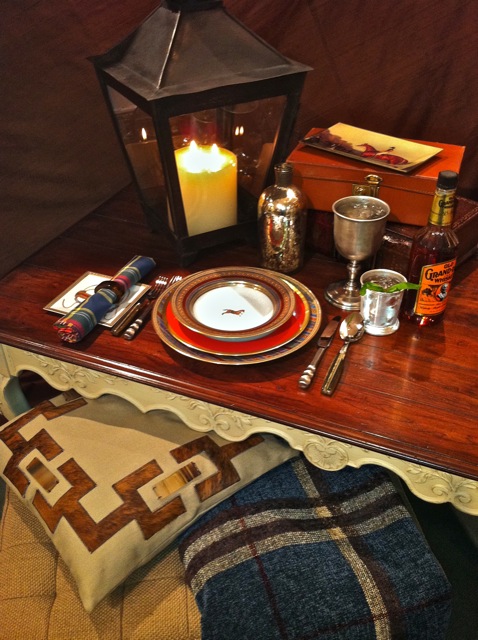 Don't dress up – we'll be lounging on the floor by candlelight, sipping our Mint Juleps.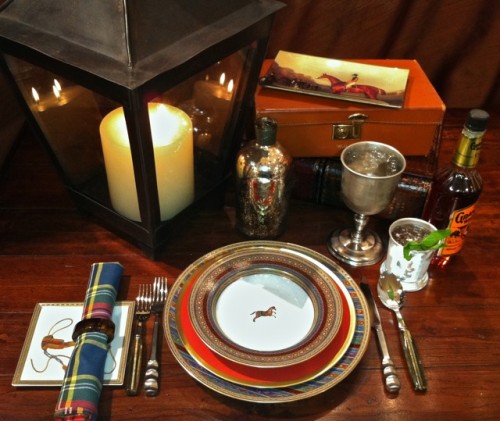 Casually chic is the tone for the evening. We'll be dining on Hermes Cheval d'Orient dinnerware and eating with flatware from Michael Wainright and Sabre. With our mint juleps, we'll be imbibing wine or water from pewter Match goblets. By the way, no peeking in my vintage leather box – that's where I'm hiding my picks. The evening will extend late into night as we linger by the light of the lantern, letting the bourbon work its blue grass magic.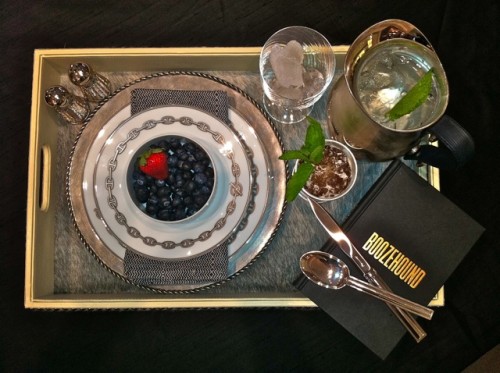 And the next day, we'll need a little hair of the dog as we remember, but never regret, the events of the evening before. Our breakfast will be served on a nailhead ponyskin tray. The Chaine d'Ancre Hermes china sits handsomely on a Arte Italica charger presenting some healthy antioxidants for our consumption. The Cannes Puifourcat flatware rests on a copy of Boozehound, for those still "on the trail of the rare, the obscure and the overrated in spirits."
I do hope you've had a marvelous time and I won't mind at all if you borrow a few ideas for your own affair.  And take a few advil – you'll feel better in no time!!