No matter the season, the enduring power of blue and white shines through. This is certainly the case at the table where the ultimate color power play is a perennial favorite. Richard Ginori proves the point with its new introduction, Aurea. A modern reinterpretation of an iconic Gio Ponti design, this new collection is inspired by the geometry of perspective drawings.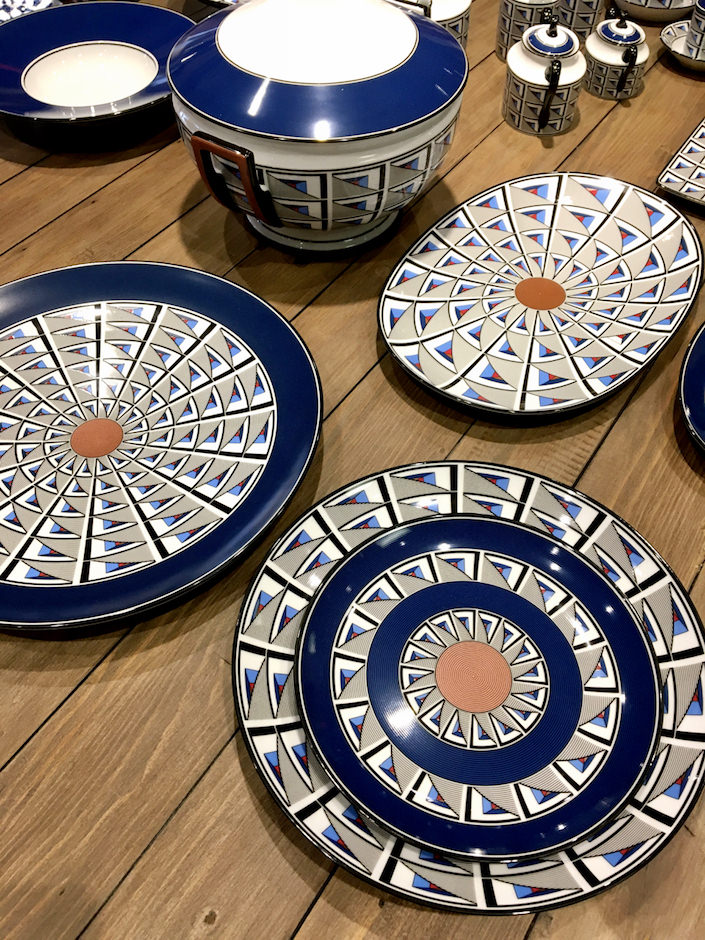 Available in a wide variety of shapes, the repeating patterns of Aurea have a timeless appeal, walking the line between pop culture pattern and nautical flair.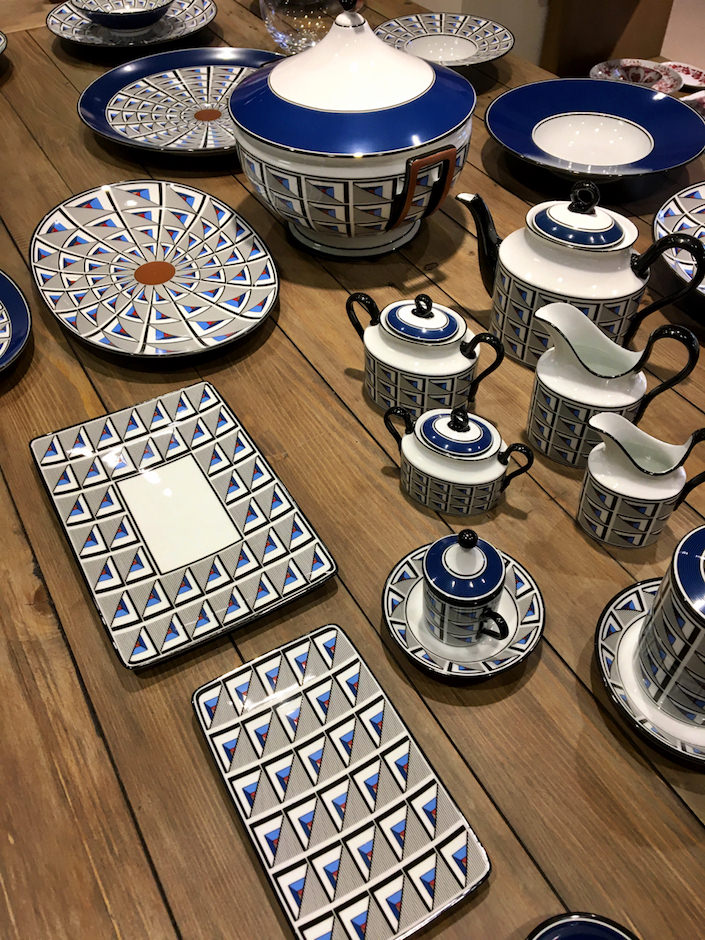 You can see the level of thoughtful detail on this close up of the stunning tureen.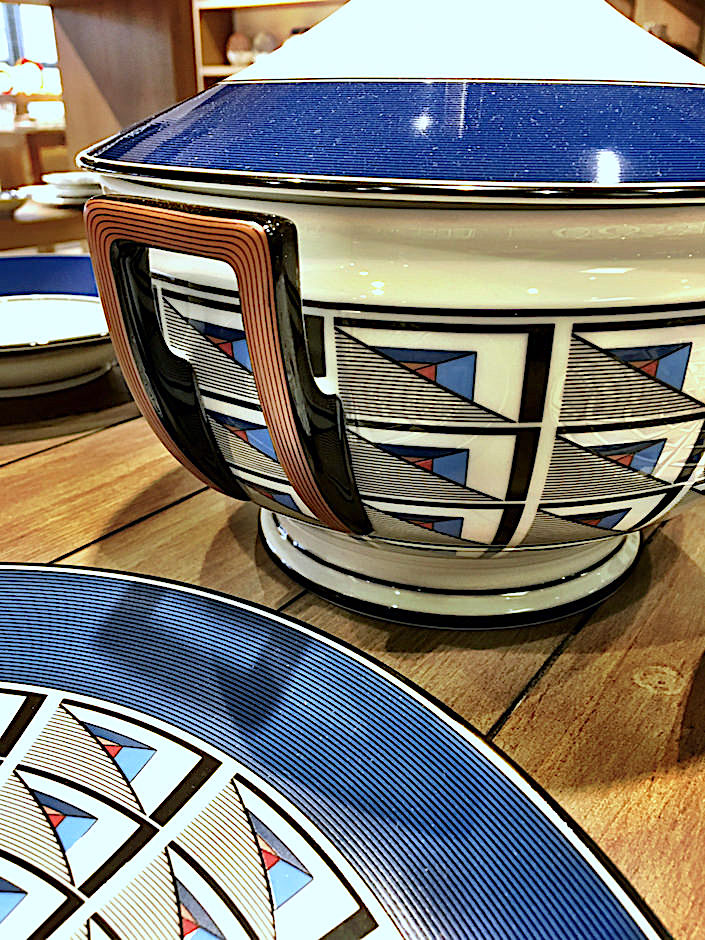 Mottahedeh has a long tradition of blue and white which they stylishly displayed in their 41 Madison showroom during tabletop market.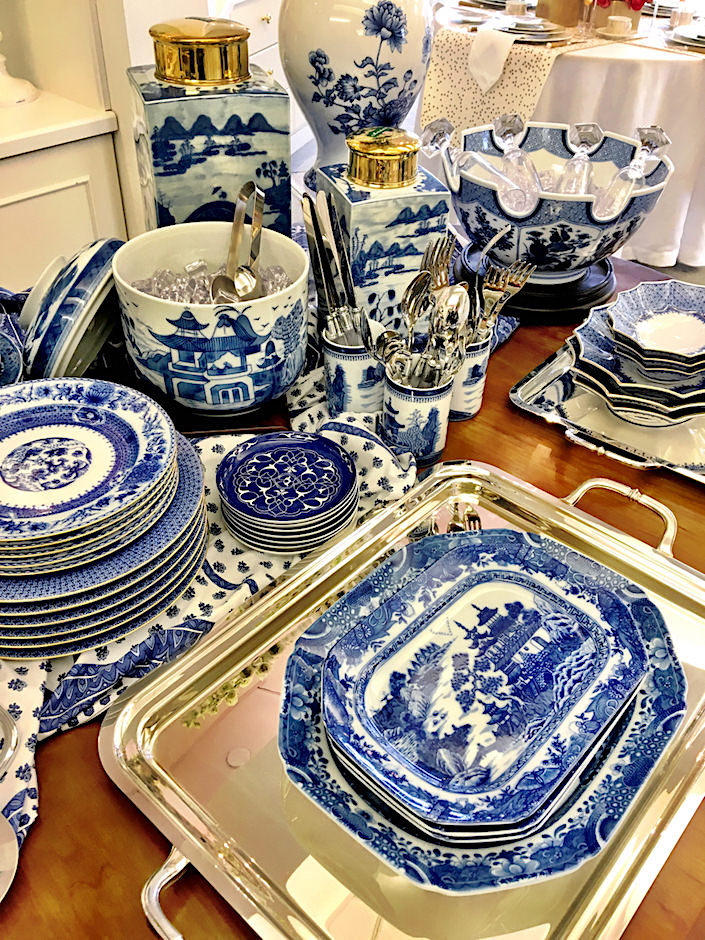 For summer entertaining, they have added to their charming tin picnic set collection with the introduction of Blue Pagoda. A reproduction of a antique Delft plate, the design dates back to the early 1700's.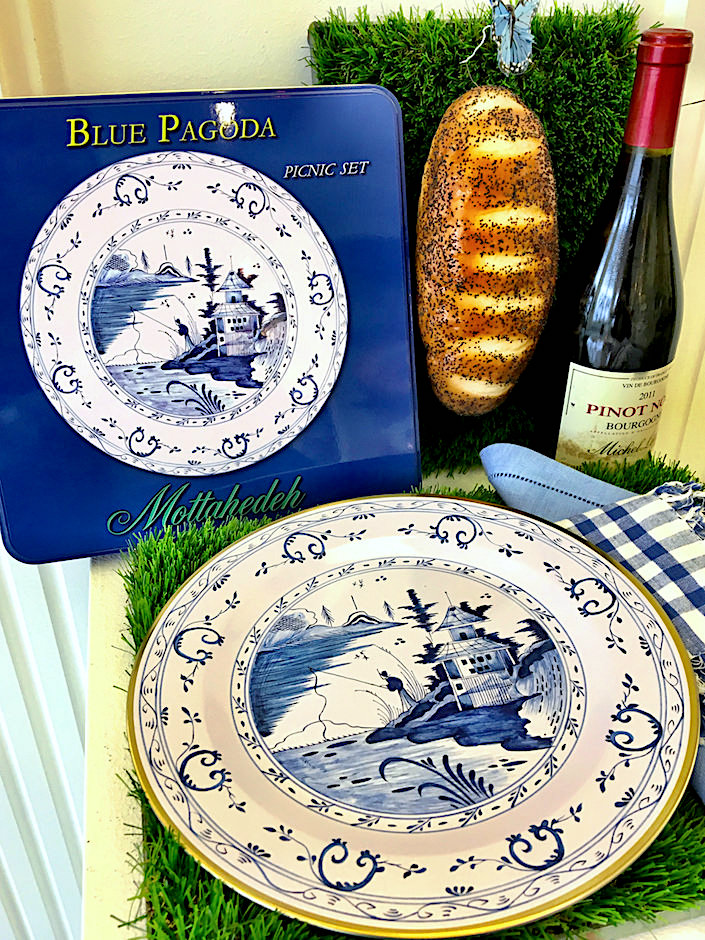 Debuting in June, just in time for picnic season, the set of four plates would be perfect to mix and match with their other blue and white classics – Ming and Blue Dragon – all great hostess gifts for the summer houseguest season.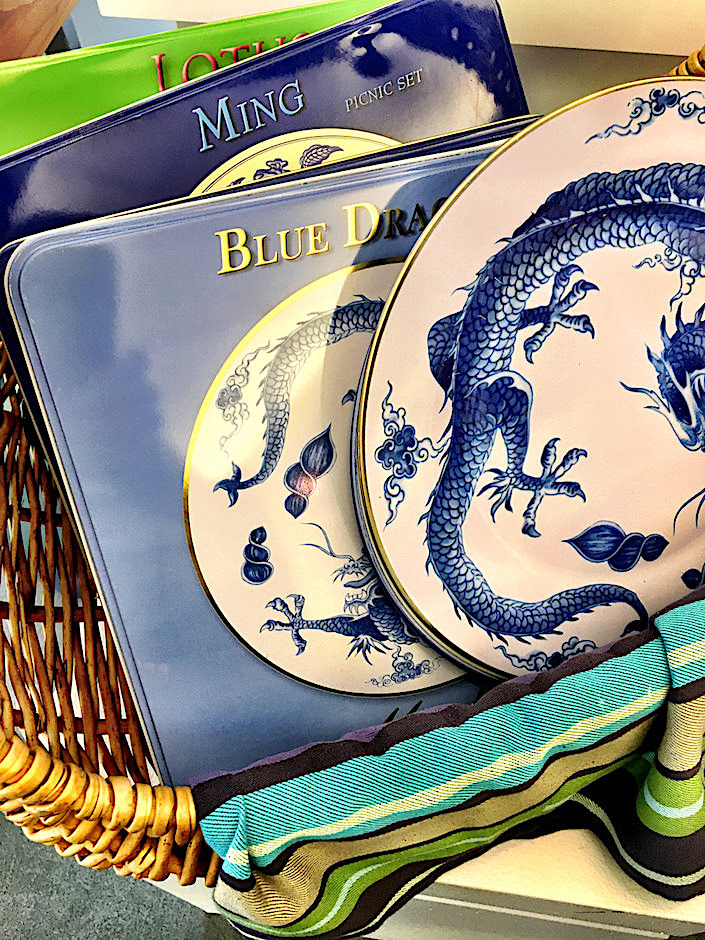 Robert Haviland & C. Parlon's new introduction is the painterly Daphne, designed by Véronique Villaret. Made in Limoges, the hand painted Matisse-like pattern features 22k gold branches graphically portrayed on six different porcelain base colors. Marine, below, is a favorite perfect for year round entertaining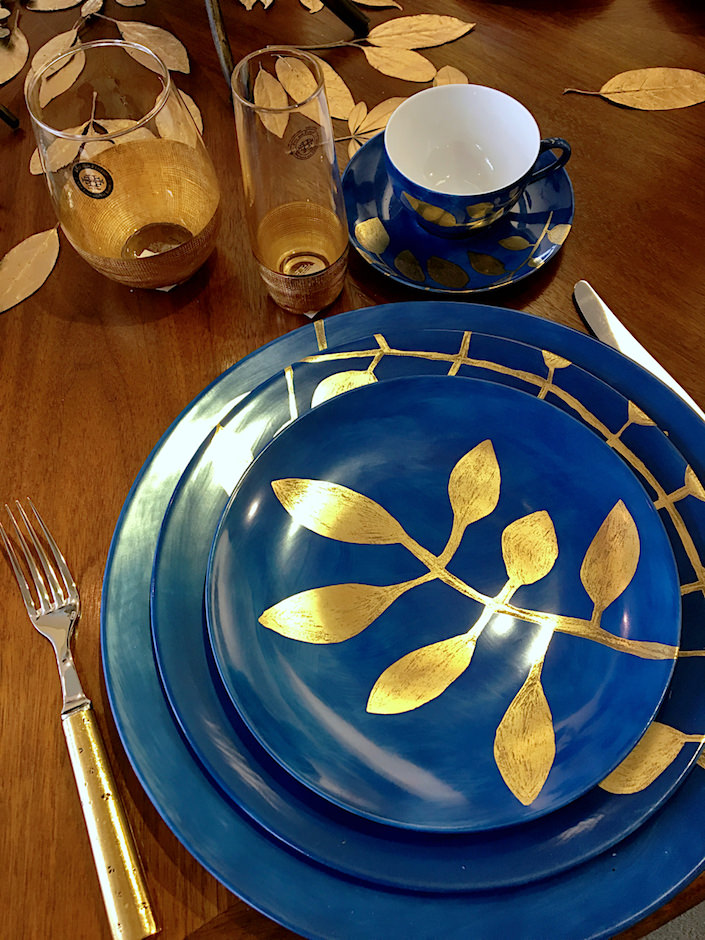 and the white would be so elegant for outdoor dining.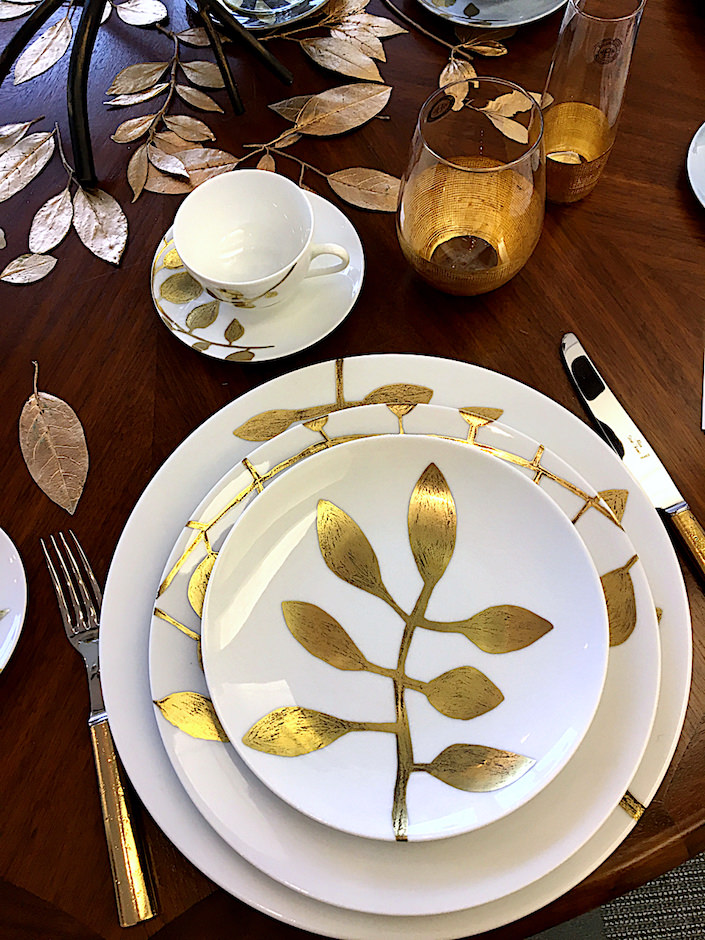 The espresso cups on their own would add instant charm to any occasion.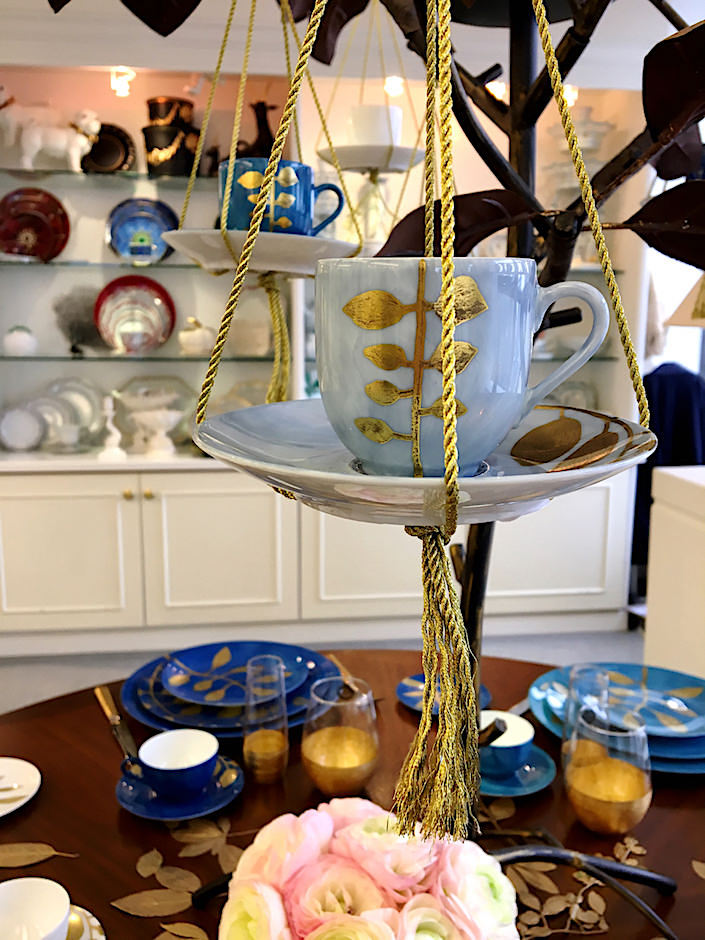 At the very end of last season Marc Pascual of Poc a Poc introduced his Absolute collection – a rainbow of hand painted Limoges.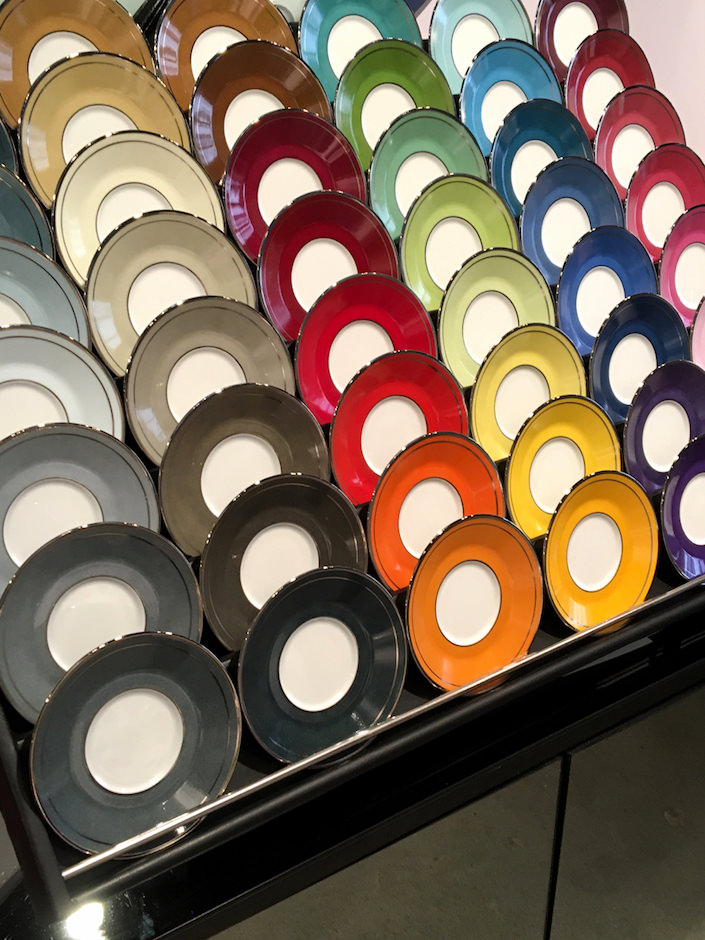 This market, the full assortment of 48 colors was available to see in Julia Watts' 41 Madison showroom – a George Barris-like irresistible kandy-colored tangerine-flake mind boggling diversity of hues, including of course eminently mixable blue and whites.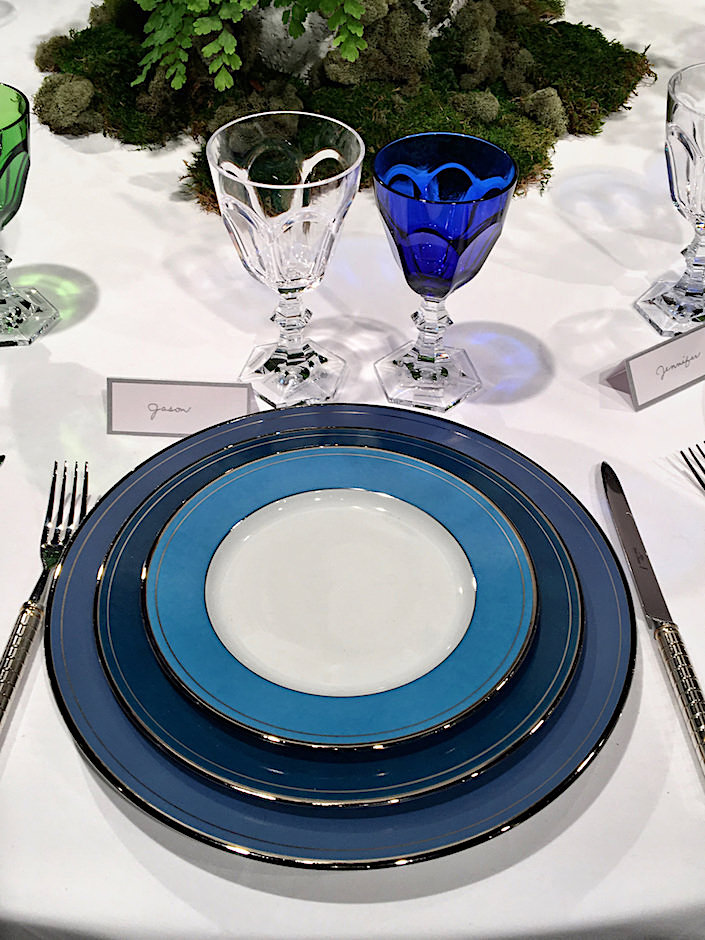 This season he added Variation, a brushstroke rimmed plate that can be combined in infinite combinations with Absolute. The gorgeous Bamboo flatware is a new pattern from Alain Saint-Joanis.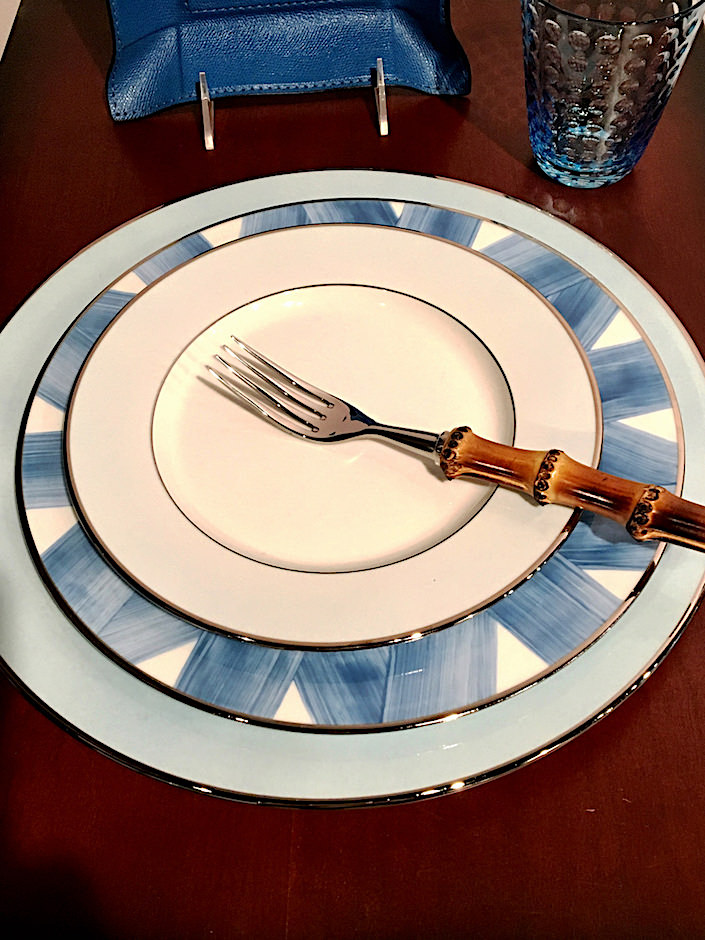 The always innovative Hering Berlin produces several blue and white porcelain patterns, including the very decorative Alif, a calligraphic design based on powerful Oriental symbols.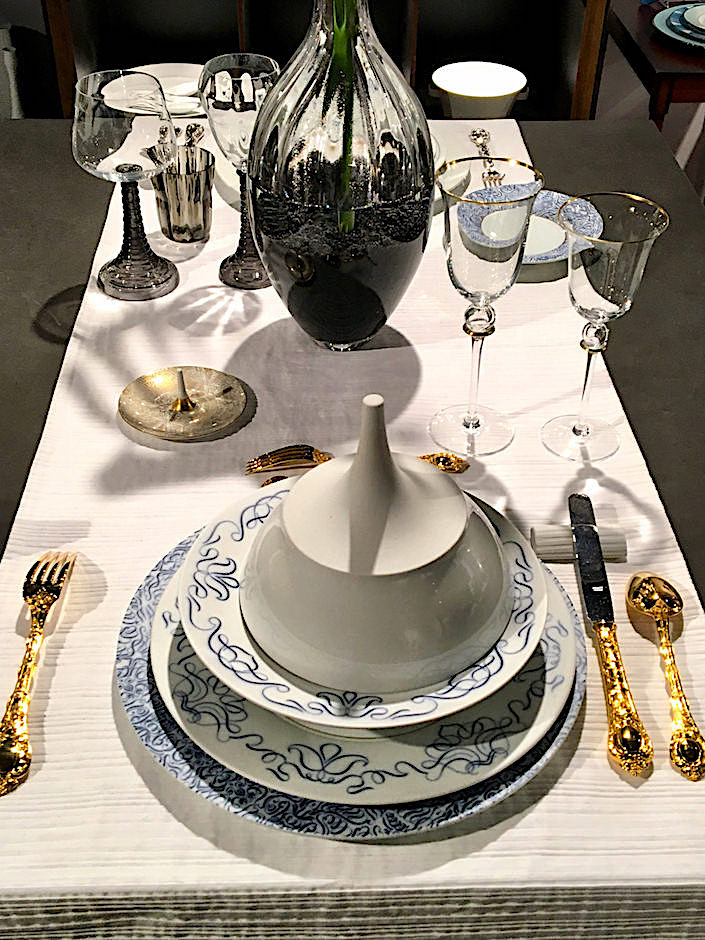 Jaune de Chrome's new Blue Impression, is an invitation to travel around the Mediterranean. Enlisting the abstract art of drop painting, each piece is varied and unique.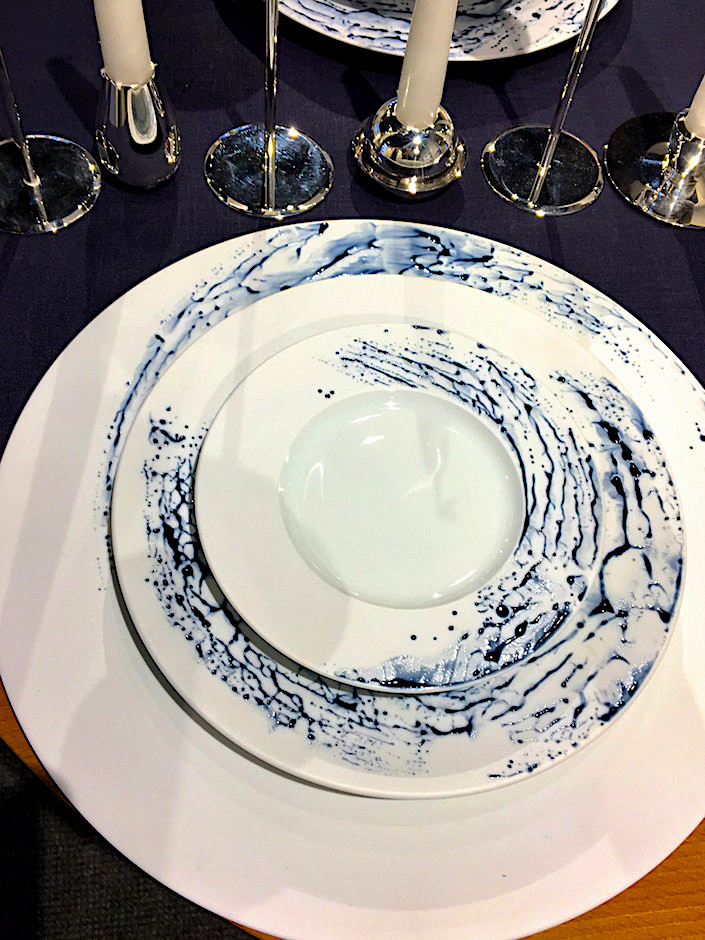 The more graphic new Blue Boléro is a perfect paring for the more amorphous Blue Impression.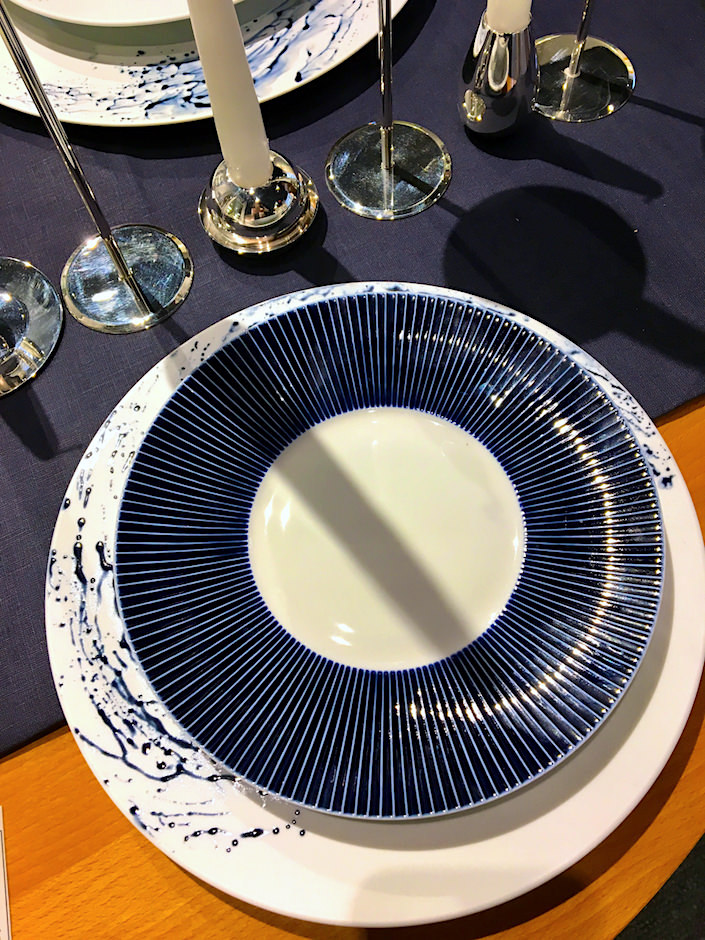 Several timeless classics are making a comeback. Dansk's classic Arabesque seems as fresh and modern now as when it was designed in the 60s by Danish ceramicist Niels Refsgaard.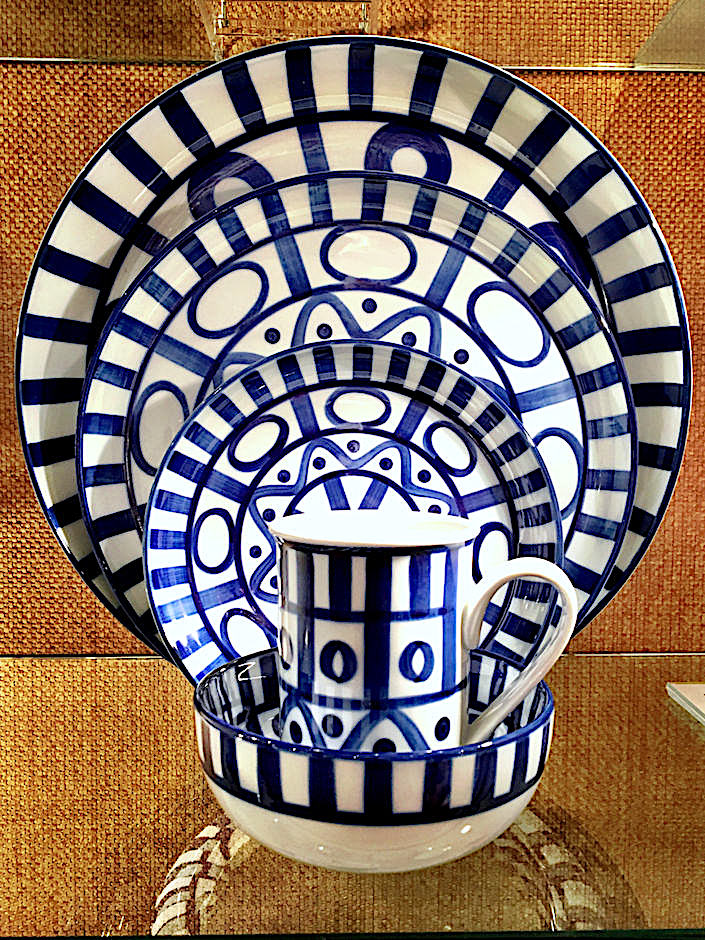 Another iconic Scandinavian brand, iittala is celebrating the tenth anniversary of its Taika pattern. Originally in black and white, they have introduced it in a crisp new blue and white colorway.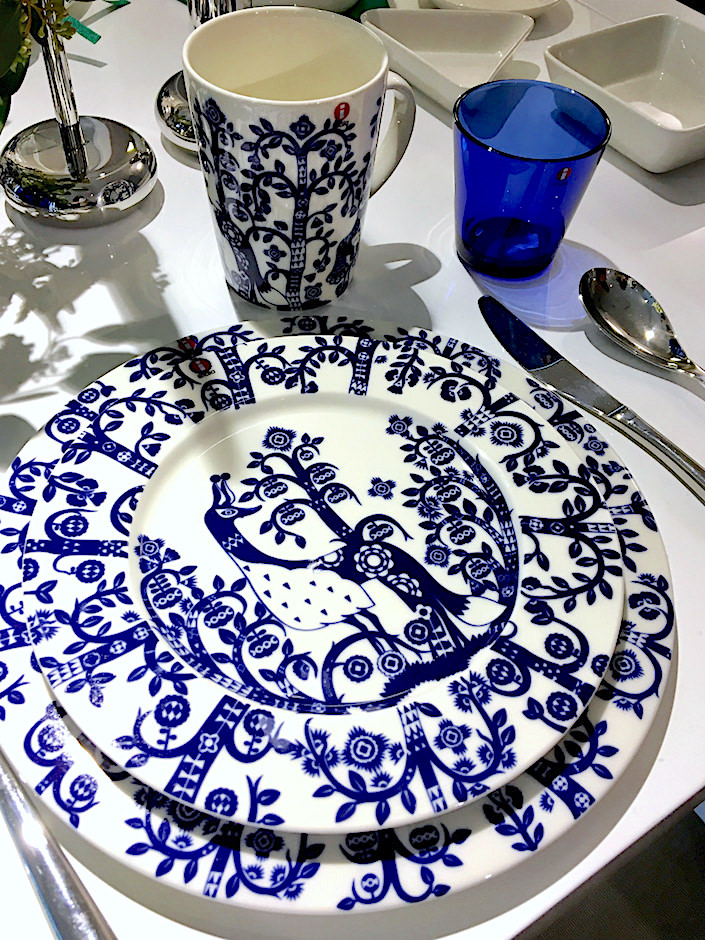 Royal Limoges assembled a collection of their 200 years of production – all in white  – both glazed and bisque and an enormous range of shapes and styles.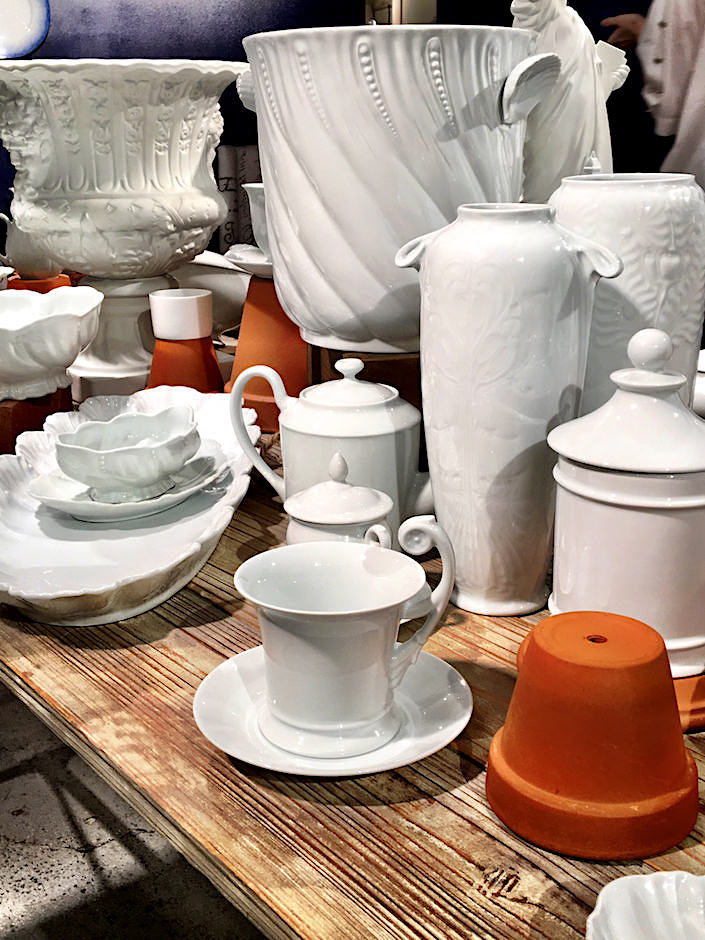 Many have wonderful stories including this teacup, designed specifically for Empress Sisi of Austria to drink her jasmine tea – shown here in front of the blue and white Recamier, designed by Tim Corrigan.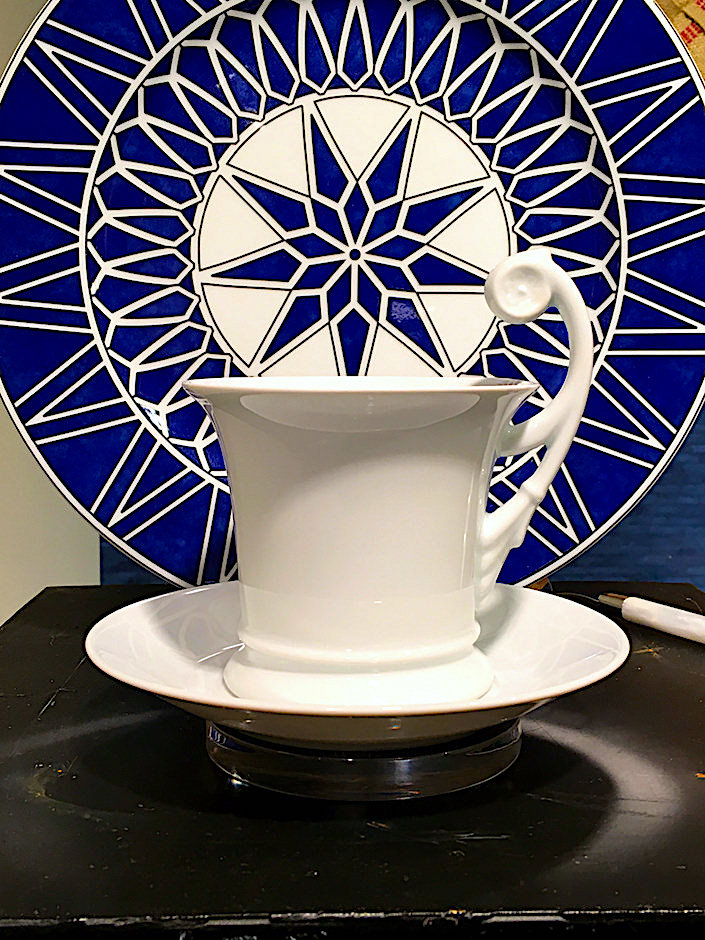 Proof that timeless design endures can be seen in Royal Limoges' charming butterfly pattern, designed around the turn of the 20th century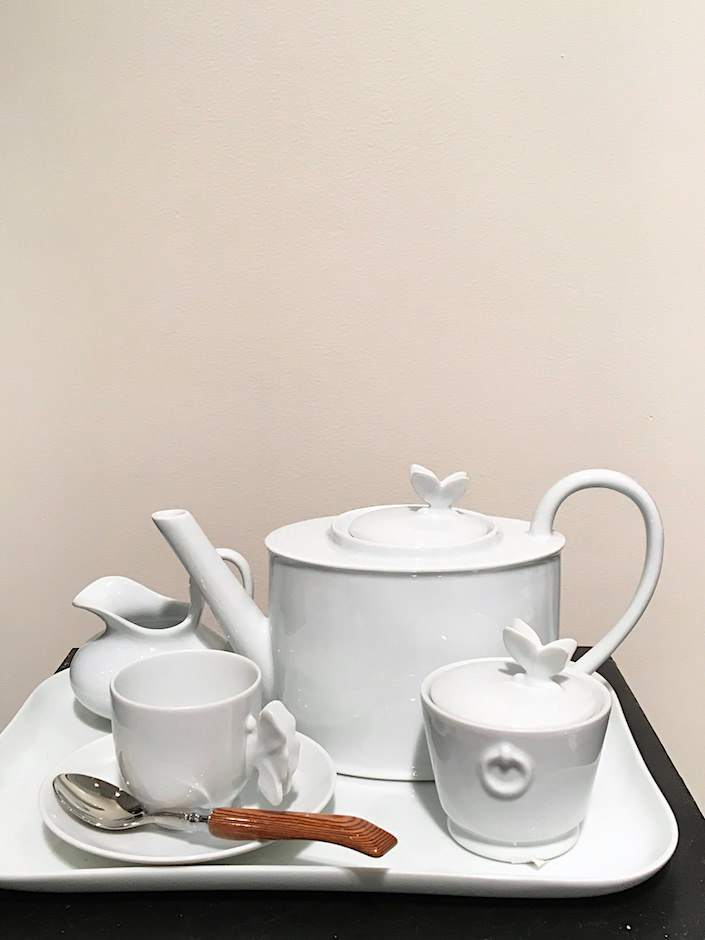 or these enchanting art deco pieces designed by Jacques Adnet.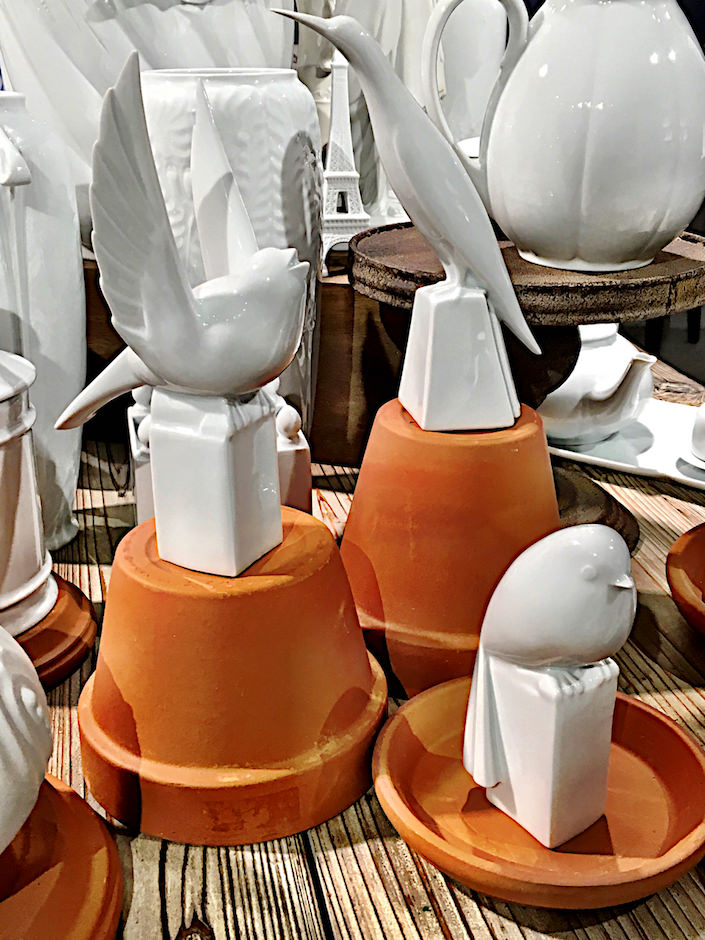 all photos by Stacey Bewkes for Quintessence