Today we will take our final look at the tables of the NYBG Orchid Dinner. This event always immediately precedes the Orchid show at the Botanical Garden which is the largest of its kind in the country. This year's show, designed by Francisca P. Coelho, transforms the conservatory into an abundant rainforest, incorporating some of the garden's 300 trees destroyed or uprooted by hurricane Sandy. There are also many special programs, demonstrations and events (including evening viewings with cocktails, music and even dinner at a local restaurant).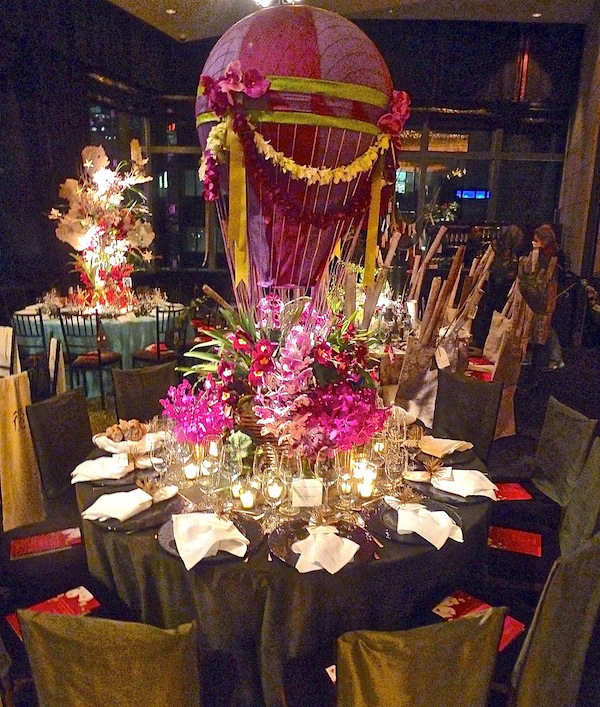 LMD Lewis Miller Design created a table of sumptuous allure. The old world charm of the festooned hot air balloon contrasted perfectly with the more modern appeal of the dark tabletop. And the rich combination of colors in the basket arrangement of orchids felt like an afternoon at an extravagant picnic.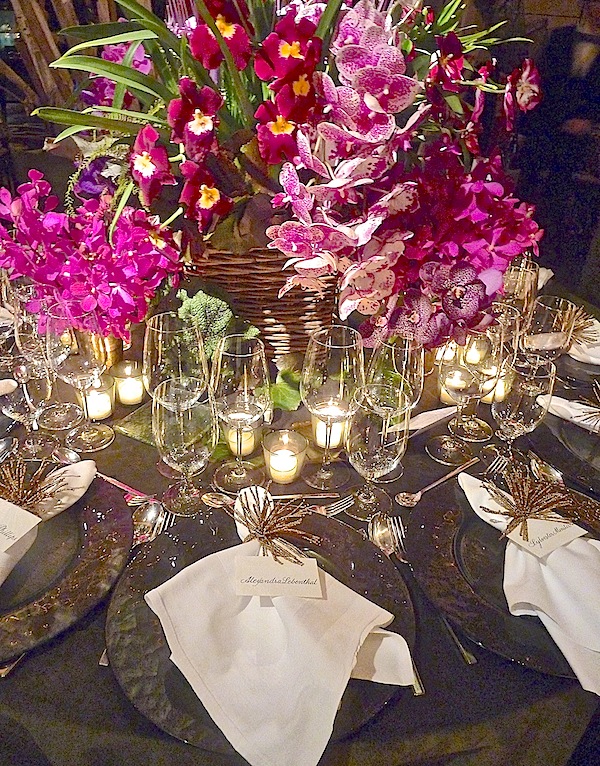 I have written about designer Eric Hilton on several occasions. His design for the Holland & Sherry Bespoke store alone makes this a must-see Nolita shopping destination. And his elegant renovation of a splendid pre-war on Park Avenue was a relatively recent Veranda sneak peek I shared.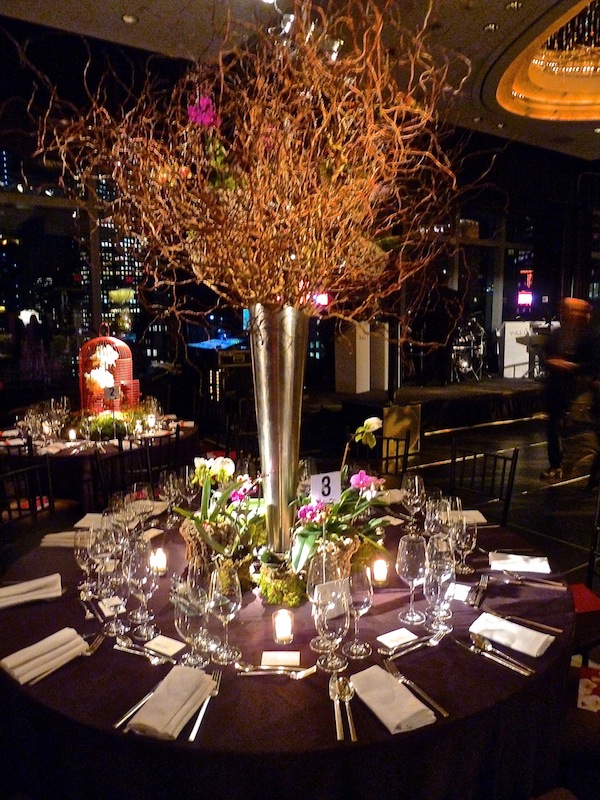 His orchid dinner table walked the line between traditional and modern with a sleek metallic vase exploding with gnarly organic branches. Down at tabletop level, woven mini baskets holding multicolored orchids softened the base of the vase.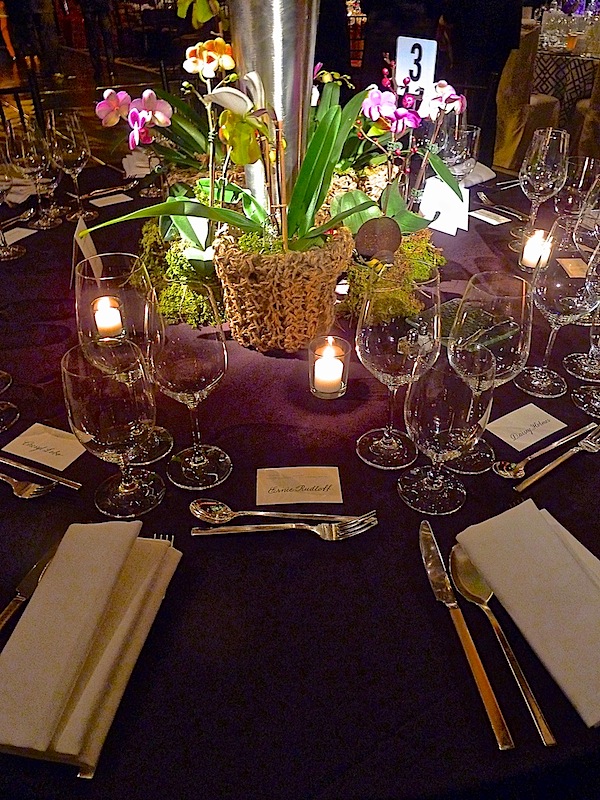 Nicolette Camille Floral Design's table was pure understated elegance. Feminine yet classic, the centerpiece successfully mixed a marvelous combination of colors and orchid species.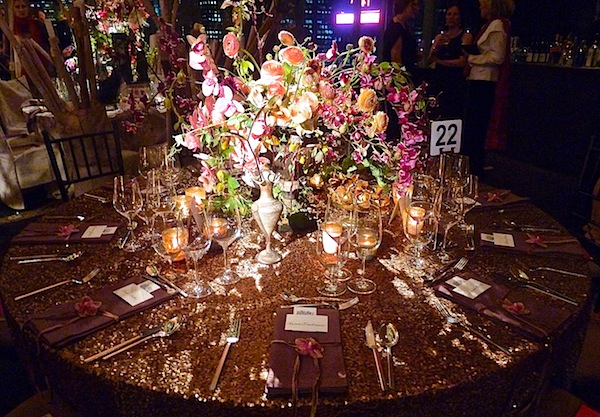 I loved how the pink and oranges played off against the subtle glitter of the tablecloth's bronze paillettes.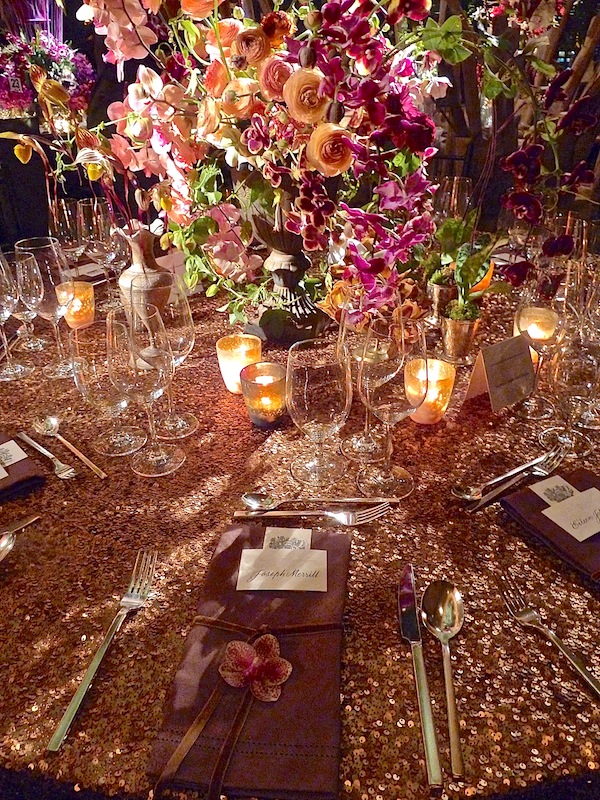 Selina van der Geest with Brett McCormack always create the most inventive tables. Although a bit hard to shoot, their early 20th century orchid expedition themed table was dramatic and different. I assume they were referencing the Teddy Roosevelt and Cândido Rondon trip to the Brazilian Amazon when they became the first to explore the 1000-mile long "River of Doubt". They returned with many new wonders of the natural world, including perhaps orchids!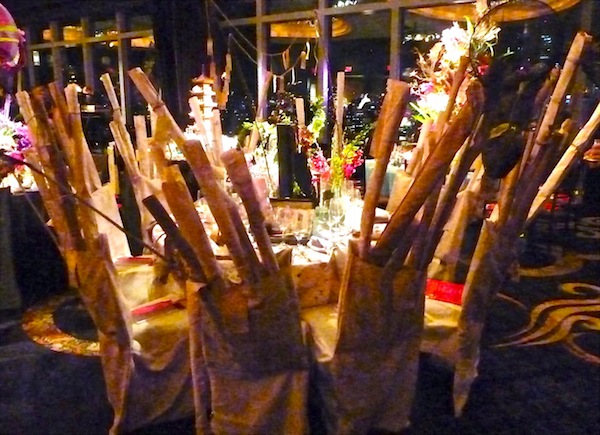 A refined rustic chic aesthetic successfully incorporated Brett's painted tablecloth and guest bags along with accoutrements of wood and metal.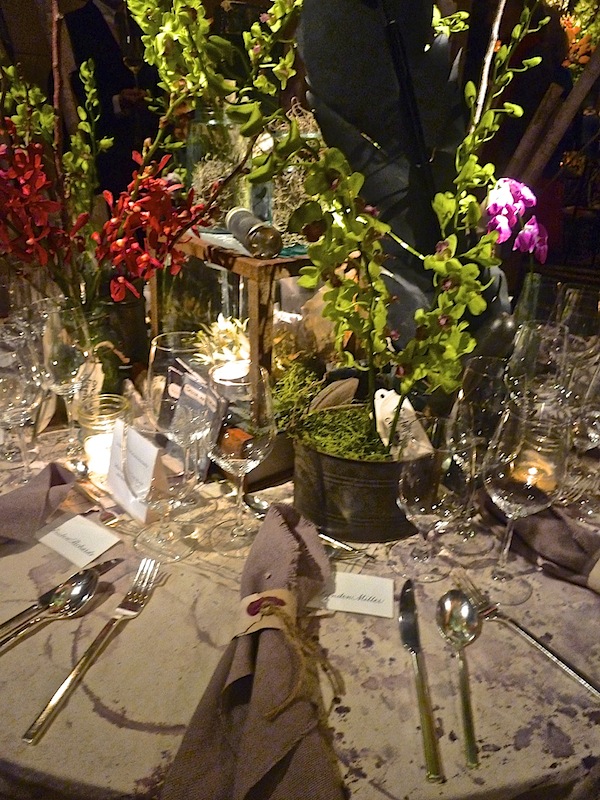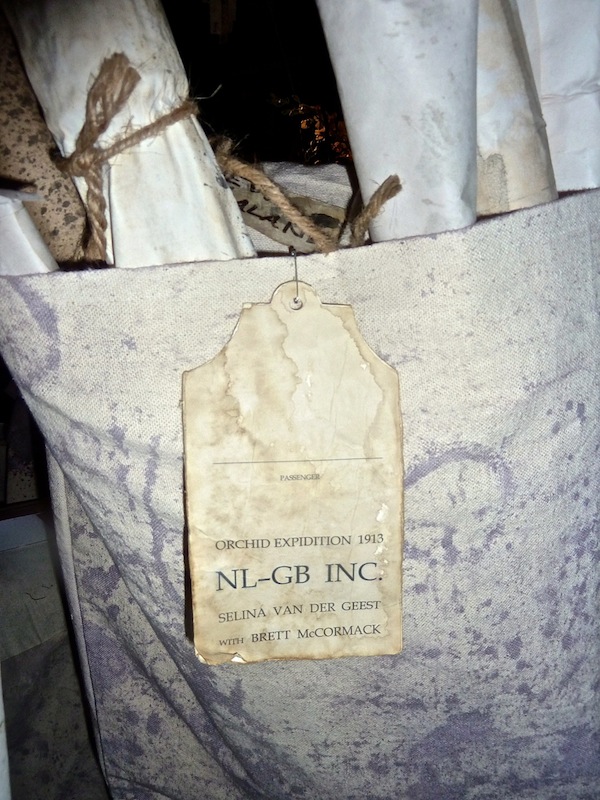 Michael Waters designed a fresh spring-like table for Lexington Gardens. Co-owner of the beautiful NYC shop, Waters created a dazzling centerpiece that seemed a welcome harbinger of spring.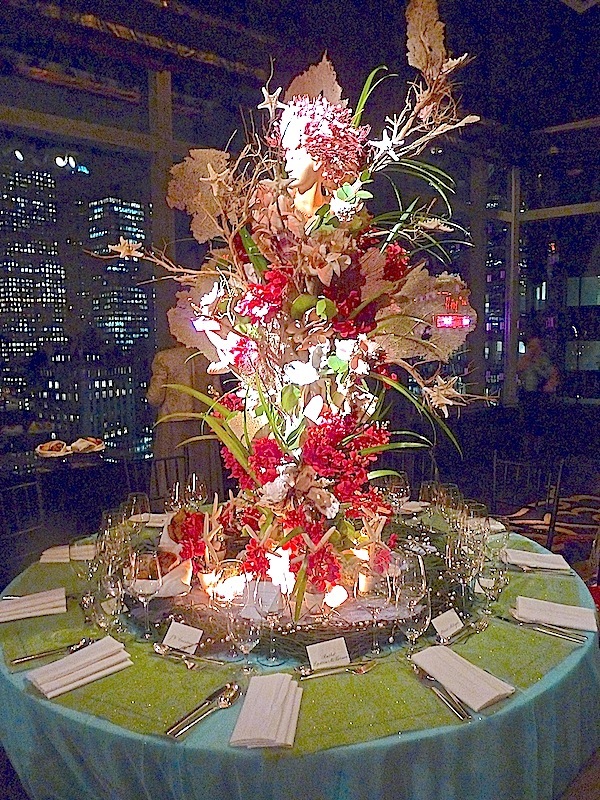 Grass green and robin's egg blue were like nature's groundwork anchoring the colorful flowers. I wondered if the bust at the top was supposed to be Persephone, goddess of spring growth.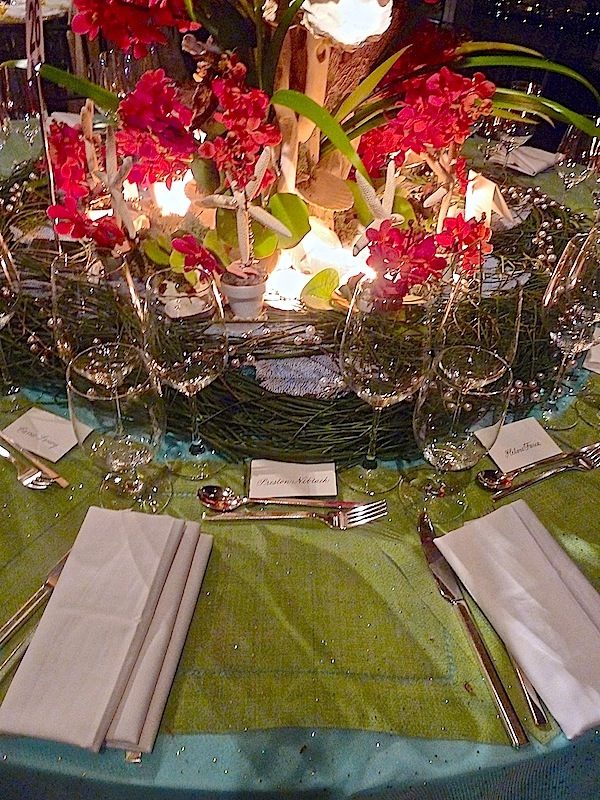 One of the most appealing aspects of  the Bowman Dahl table was that it actually seemed achievable.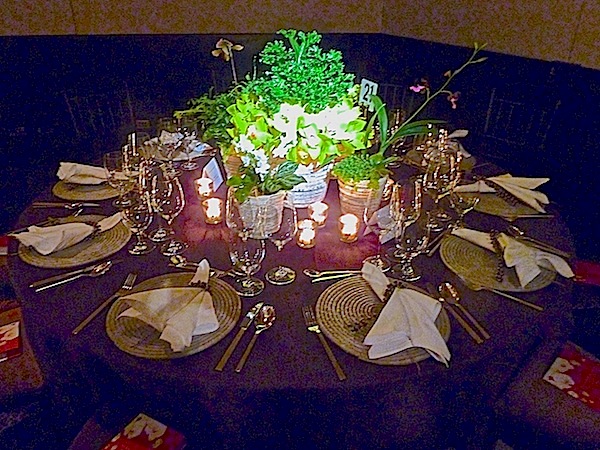 Rattan placemats with potted plants offered a casual yet stylish setting.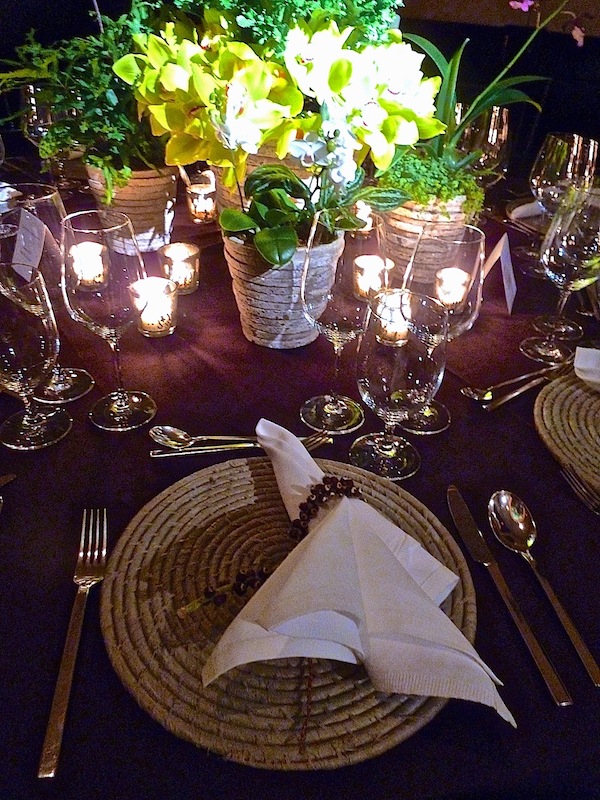 Jeff Lincoln worked with Phoenix Antiques and Fortuny to create a distinctive and luxurious table.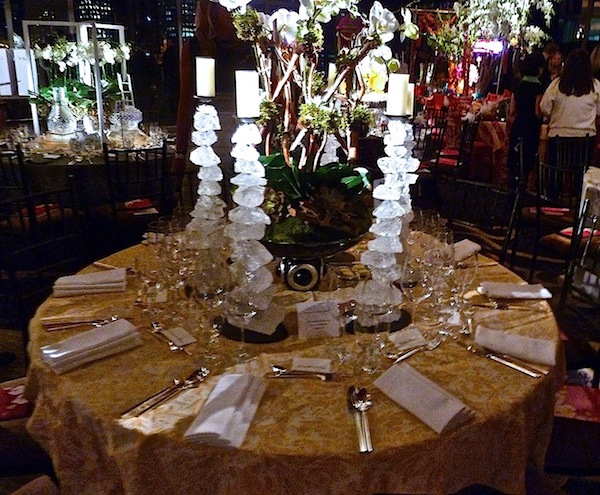 The unusual rock crystal candlesticks were a great choice to accessorize the classic tablecloth fabric. Artisanal and eclectic, they added a contemporary touch to the timeless Fortuny pattern.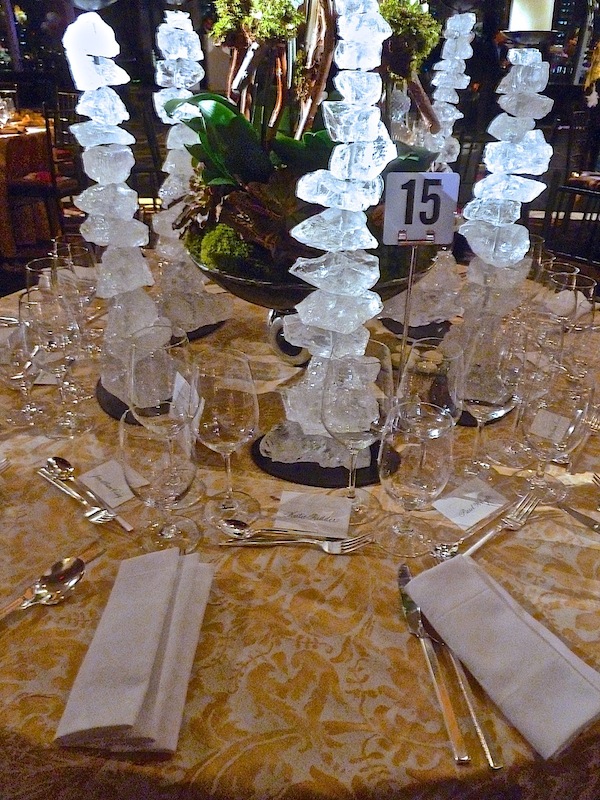 Our final table is from designer Vicente Wolf. I of course loved his his "La Cage à Wolf" tabletop which included a large orange bird cage – a great example of creative repurposing!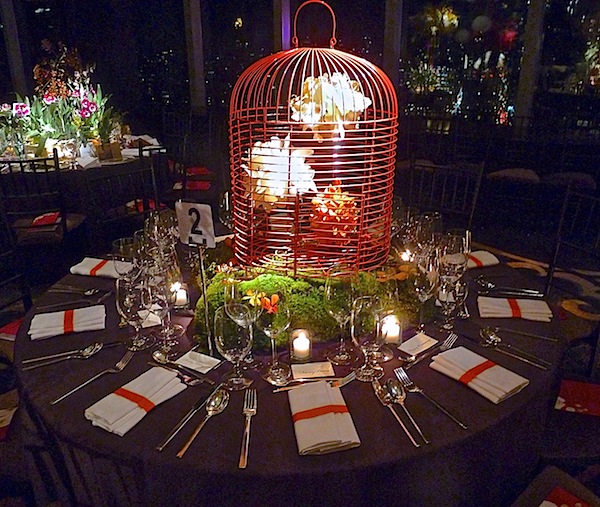 Placing the birdcage on stacked moss created height and added a naturalistic touch. And continuing with the thematic orange, the designer used Samuel & Sons ribbon instead of napkin rings – a simple and elegant way to infuse color!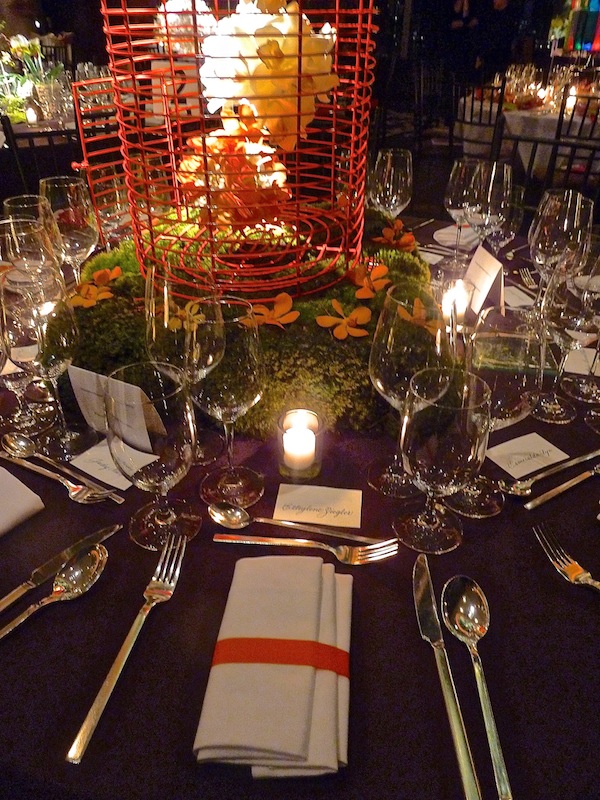 The NYBG Orchid Dinner marked the beginning of the spring tabletop event season. I look forward to bringing you more inspiring entertaining ideas soon.