Designer Eric Hilton must have felt like he won the trifecta with this client  – a wonderful Park Avenue location, original Renzo Mongiardino interiors and an impressive collection of A-list artwork. The theme of Veranda's January/February issue is the Best of the Best and this apartment certainly qualifies.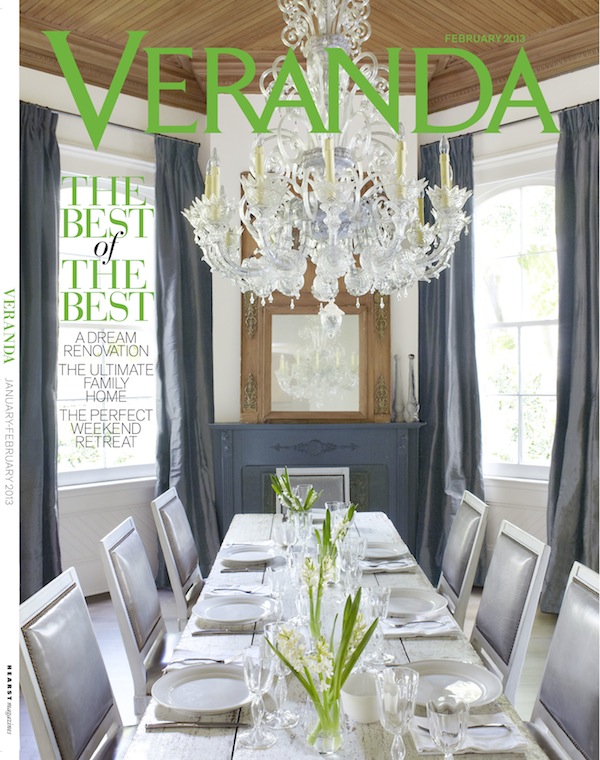 Dealing with works from such masters as Degas, Bonnard, Modigliani and Maillol, Hilton needed to create settings that were formal enough to properly showcase the artwork yet relaxed enough in which to live and entertain comfortably. As the designer explained, "Even though they own museum-quality pieces, they don't want to live in period spaces."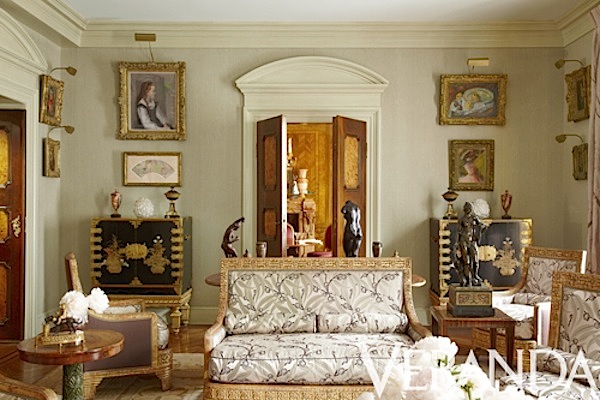 Replacing a dark tobacco damask on the living room walls, above, with a pale aqua linen from Holland & Sherry, Hilton created an elegant yet understated background that serves as a gracious foil for the artwork and furniture. Gorgeous Japanese 17th c. lacquer cabinets anchor the room. Gold tones are echoed on the fabulous vintage giltwood French settee and armchairs by Paul Jallot, updated with a Prelle silk pattern on the front and balanced by a Holland & Sherry wool on the sides and back. In fact, the entire apartment is a delicate balancing act.
In the study, the original Renzo Mongiardino wallpaper was left intact. As Hilton explained, "When you have this superlative level of quality, the high-low thing doesn't really work. Everything has to be on the same level or it stands out." So here a 19th-c. pedestal and Italian bronze vase sit in front of the tromp-l'oeil walls with a vintage French armchair and 19th c. gueridon from Florian Papp.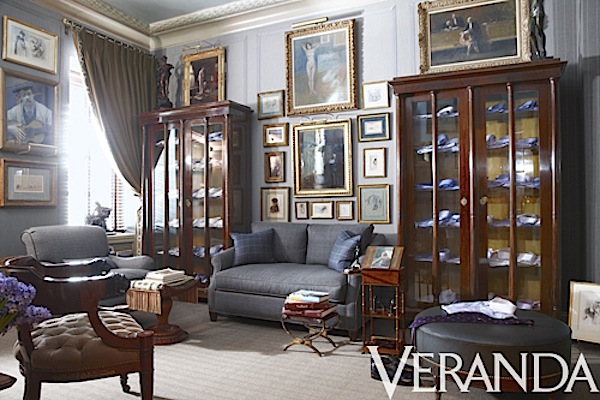 The husband's dressing room is classic yet not stuffy. Hilton even injected a lighthearted touch with upholstery tape mimicking paneled molding on the Holland & Sherry flannel walls. And while the bookcases may be French 19th c., they are now receptacles for the gentleman's shirts. It all feels respectful yet polished and updated with the experienced hand of a designer who among many other projects, created the looks for all the Holland & Sherry showrooms.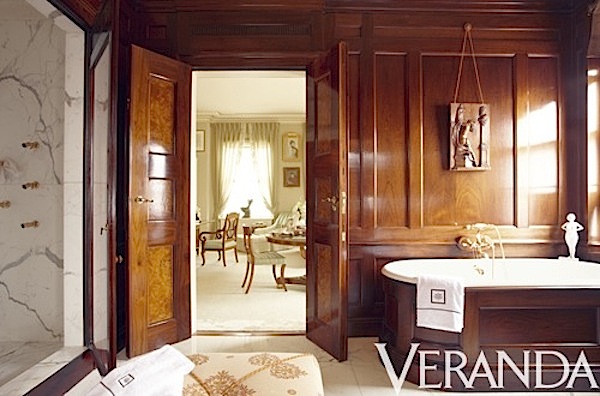 The handsome bathroom is another Mongiardino designed space. It leads into the ethereal master bedroom, below, swathed in soothing pale green silks, replacing bottle-green velvet walls and heavy draperies. A custom bed, chair and ottoman provide restful spots amid this tranquil oasis. Hilton has orchestrated a successful symphony of balanced players, providing ultimately, a lesson in how to live with what you love.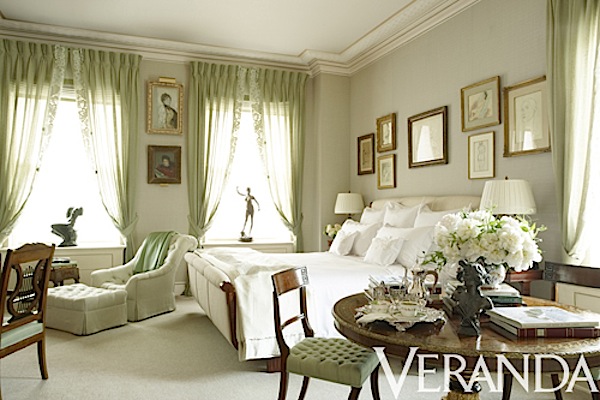 Be on the lookout for the upcoming  January/February Veranda for the Best of the Best.
all photos by Oberto Gili