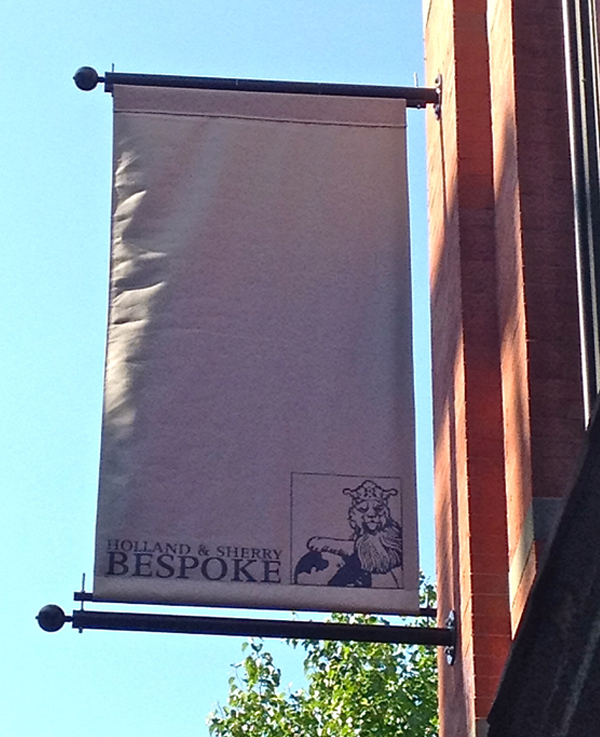 On a popular street in NYC's hip Nolita neighborhood, in the most beautiful building on the block, the chicest new lifestyle brand in the city has been born. If you are a fan of elegant fine fabrics, classic enduring design tweaked for modern living, carefully curated collections of the excellent and eccentric, then be sure to put the new Holland & Sherry Bespoke shop at 209 Elizabeth Street on your must-visit list. A wonderful hidden gem, it's a Narnia-like experience as you walk through the spacious Elizabeth Street Gallery to the fantastic entrance of the shop.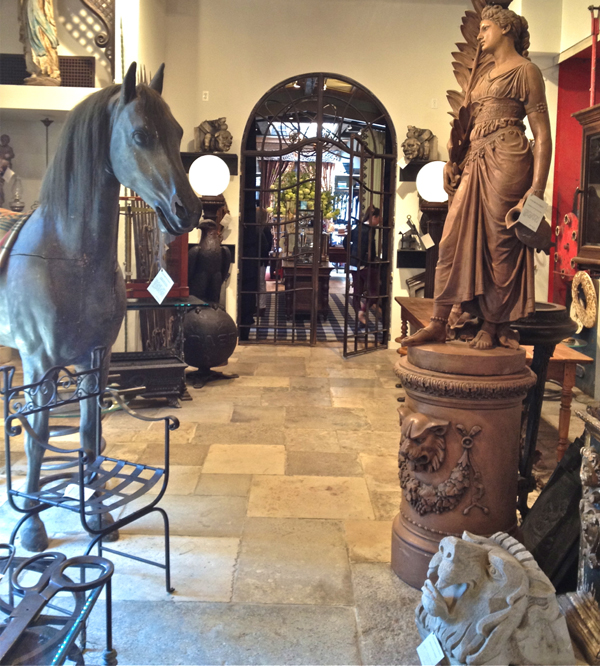 In a fabulous space by architect Eric Hilton, who also designed all the Holland & Sherry showrooms, is an emporium teeming with temptation. From the moment you enter, you are greeted with an enviable environment of fashionable living.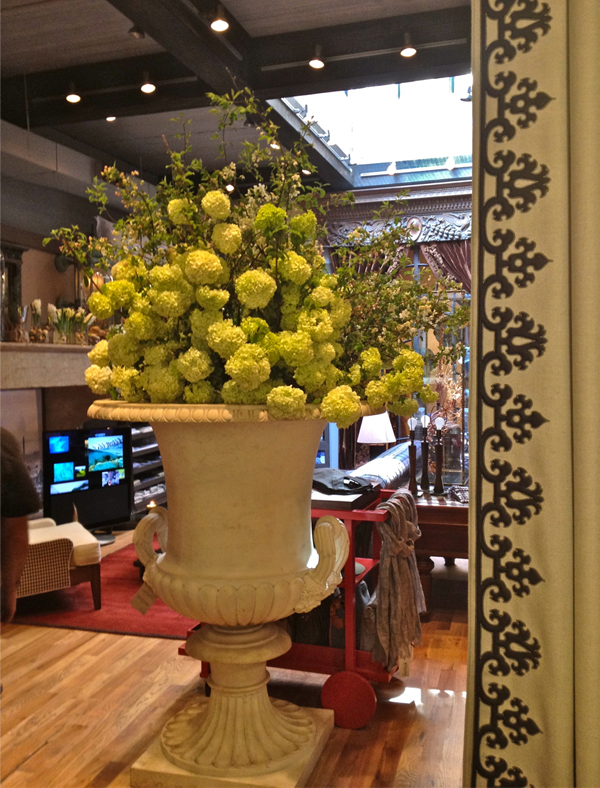 For almost two centuries, Holland & Sherry has been providing the world's finest fabrics to the apparel industry. Then fourteen years ago, Bryan Dicker, below, founded the estimable interiors division, known for its luxurious textiles, custom embroideries, rugs, wall coverings, leathers and handcrafted accessories.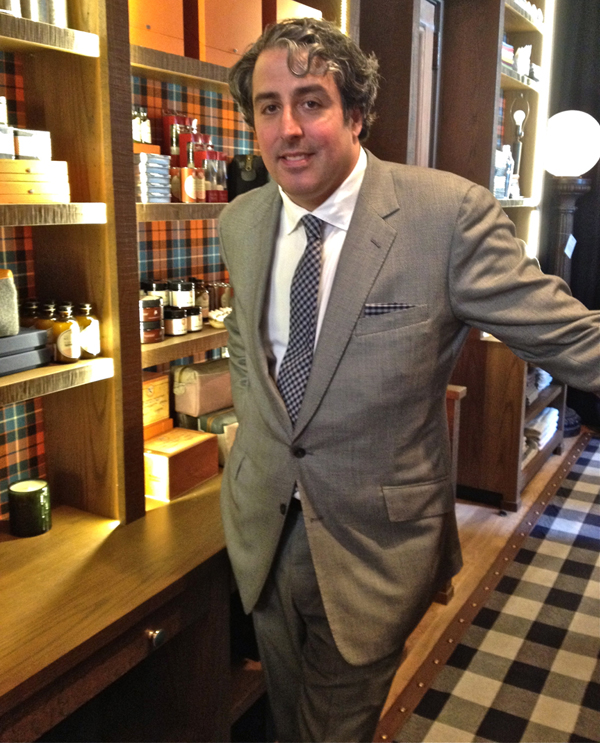 The new store, as Dicker explained, is the culmination of all that Holland & Sherry is and does.  For years, Dicker kept the interiors division separate in order to create its own story before merging with the well established legacy of the apparel side. Since its inception, the younger branch has grown to eight locations worldwide selling exclusively to the trade. Now, finally merging the two siblings, Holland & Sherry Bespoke represents the first retail venture for the firm in its over 180 year existence.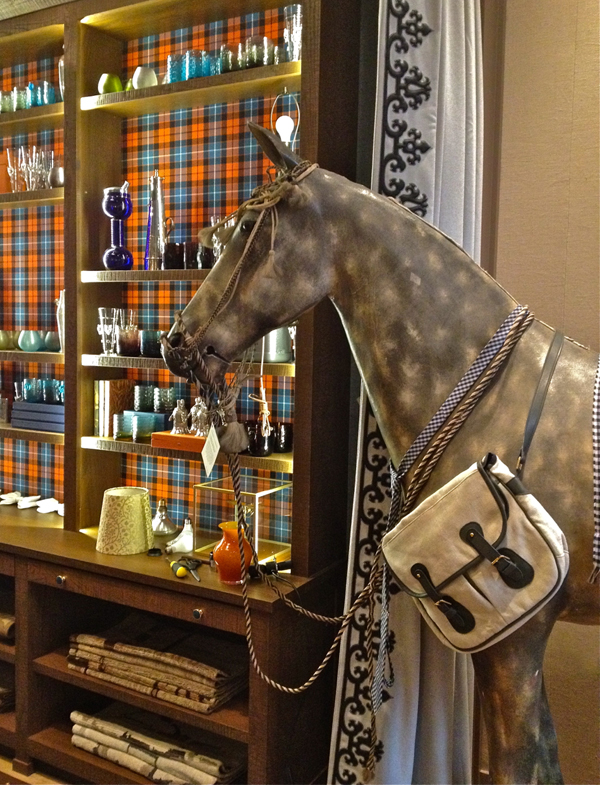 The new store combines products from both the fashion and interior sides, with a focus on the company's unique custom capabilities. The bespoke menswear department features custom suiting and shirting of their own plus exclusive offerings from upscale Chicago line Oxxford as well as ready to wear accessories.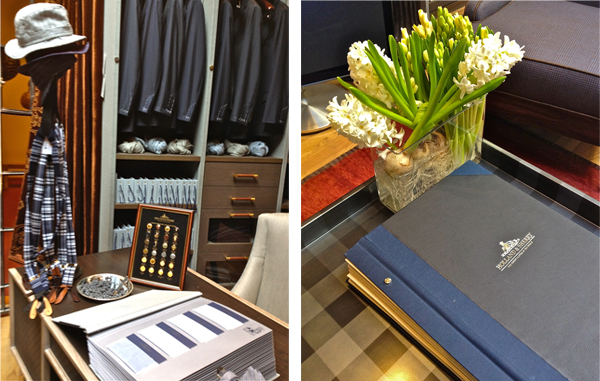 With over 100 new products, the company has either developed them new or worked with existing partners, such as Fortuny, who they represent in many of their showrooms around the world from Paris to Russia.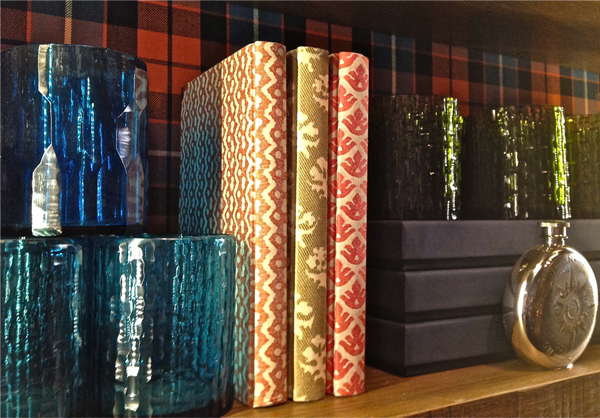 One of the many aspects of the shop I love is this spirit of creative collaboration. These lovely hats are made by Worth & Worth of beautiful Holland & Sherry abaca – I think I may have to have that blue ikat patterned one!!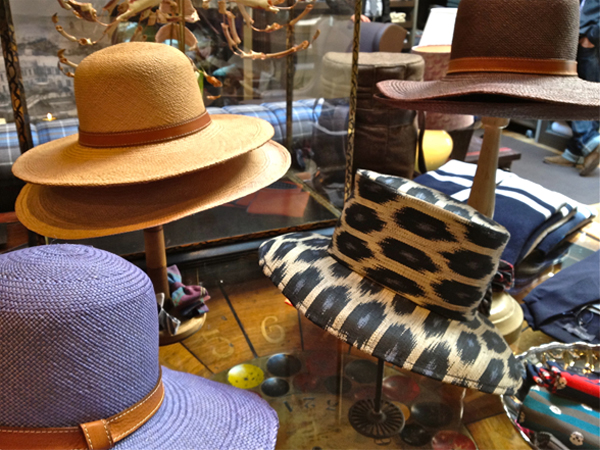 There is a small womenswear department, featuring capsule collections by Charlotte Brody and Yola Colon as well as Gitman Bros. vintage madras shirtdresses. Much of the furniture for the showroom was produced with friends The New Traditionalists, using Holland and Sherry fabrics and leathers. Chair No. One Eighty. Two appears here with beautiful contrasting fabric and leather.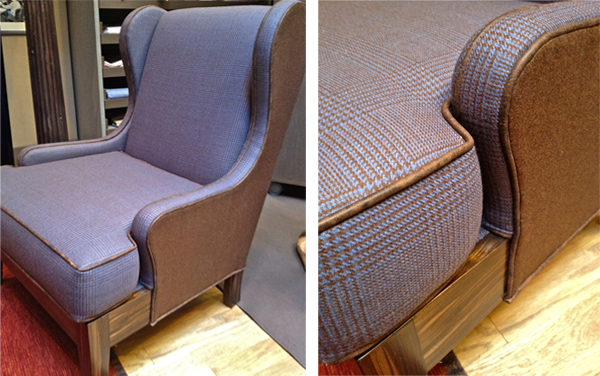 and again in a dapper houndstooth linen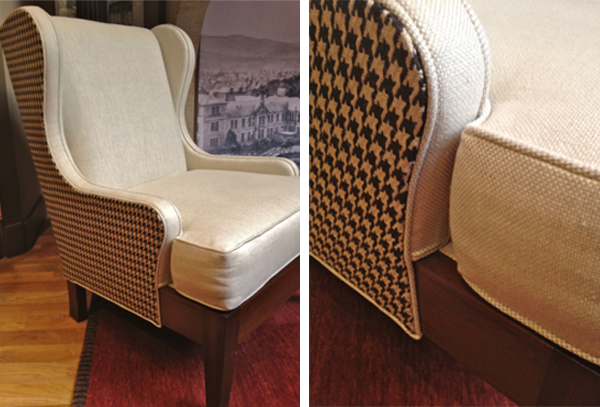 Their Side Table no. Four is snappy in cerused wood with Holland & Sherry embossed leather trim.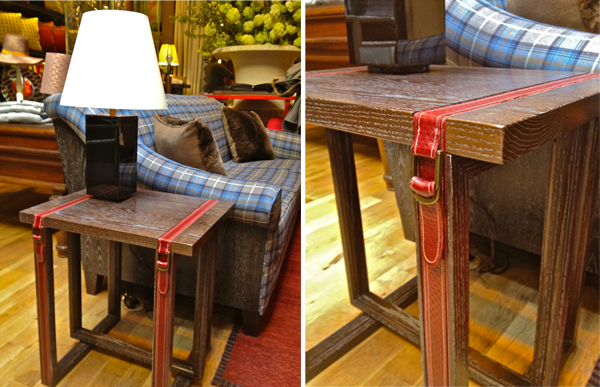 There is luggage from family-owned Made in America brand Libero Ferrero and these bags made with handsome Holland & Sherry fabric by Sandstorm Kenya would be great to remember as Father's Day approaches,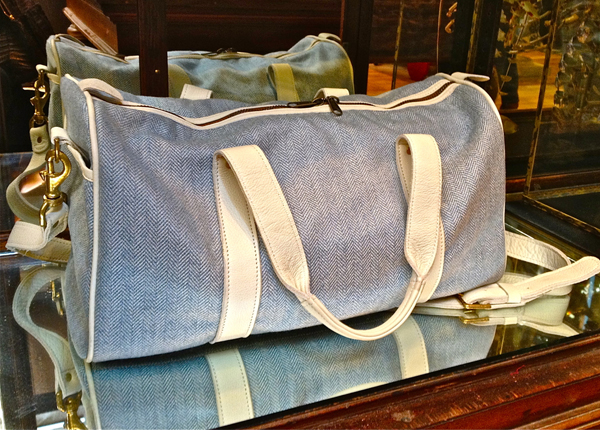 as would many of the store's surprisingly affordable gift ideas. From smaller sartorial selections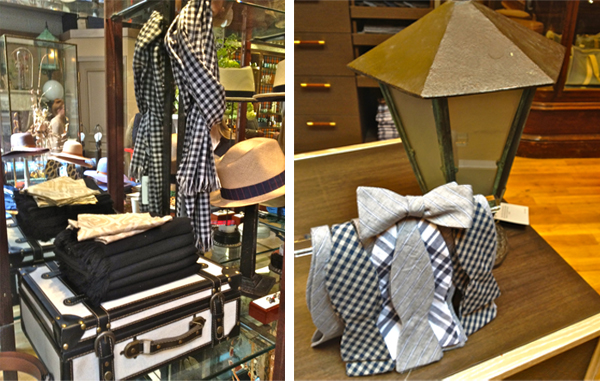 to fun desk accessories (marble bow tie paperweights)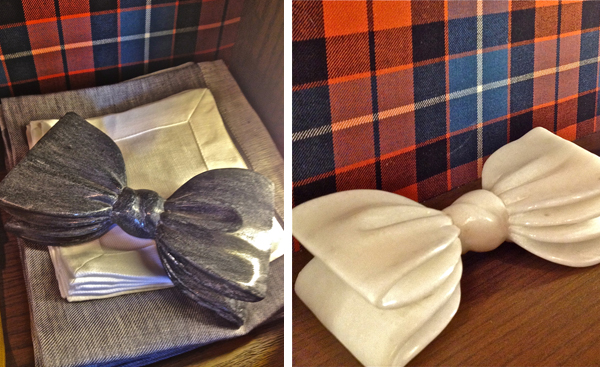 to perfectly styled grooming products from the Portland General Store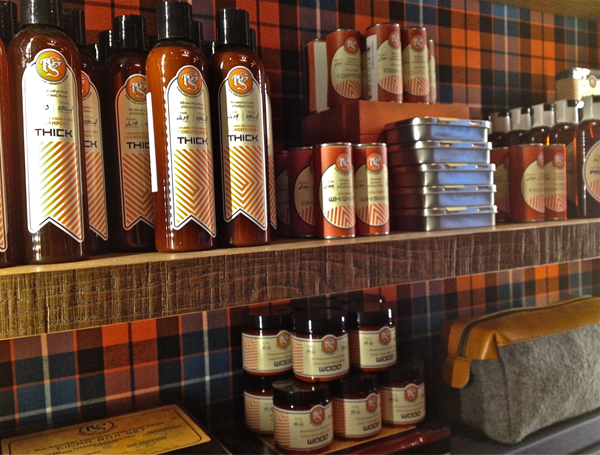 to accessories old and new (it is sometimes difficult to distinguish the difference), many with incredibly thoughtful details – the sunglasses have cases with fabric on the edges so when they're in your pocket it looks like you are wearing a pocket square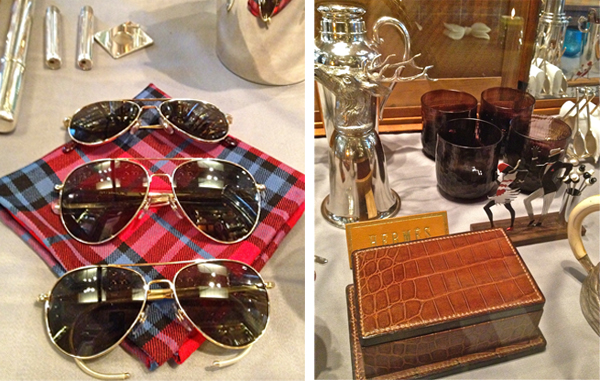 There is something for everyone on your list, from the collector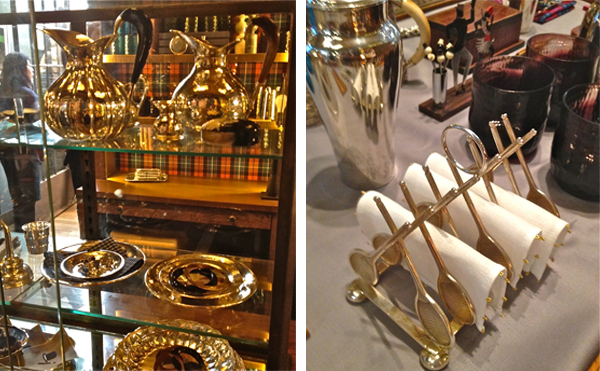 to the imbiber. How fabulous are these bear beer glasses?! And because the bear heads are convex, they fill with your favorite elixir as well!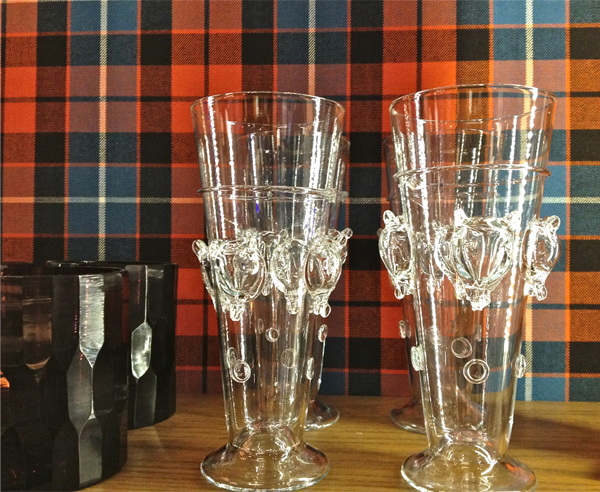 And of course there are many more options for the home as well. Store manager and designer Anastasia Ratia is delighted to work with customers to create custom solutions, whether designing an entire house, a room or just adding some distinctive details.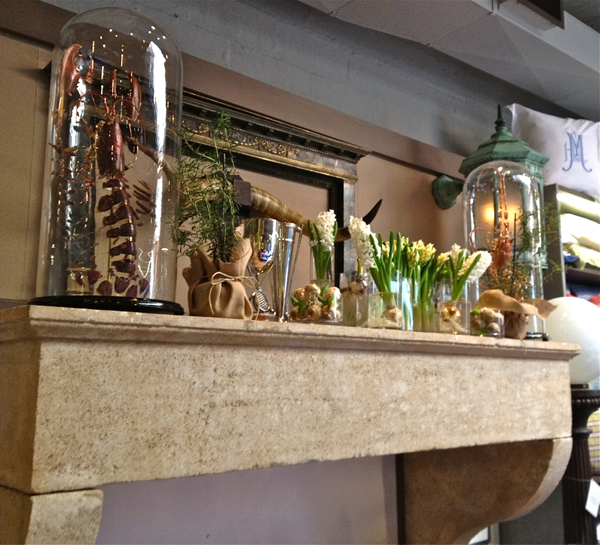 How about these taxidermy lobsters (there are nine in varying sizes)? Dicker wanted to buy them from Deyrolle in Paris, but when they weren't available, he went straight to the source.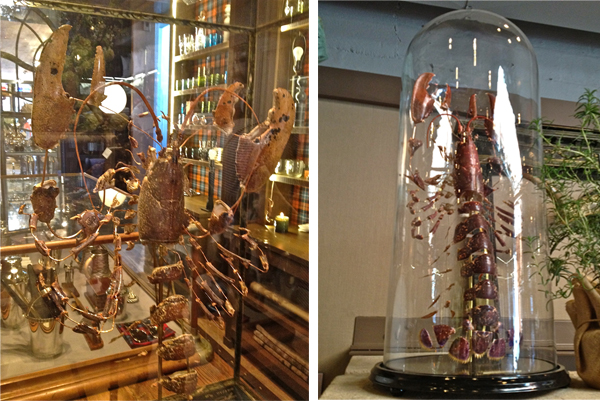 You can walk out with in-stock embroidered pillows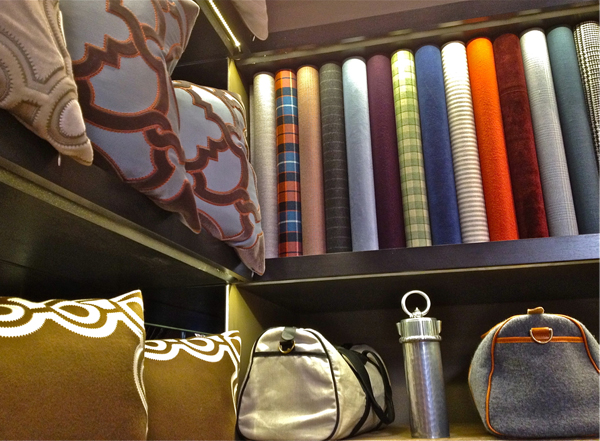 or choose from thousands of fabrics to design custom leather embroidered draperies like these that hang in the entrance.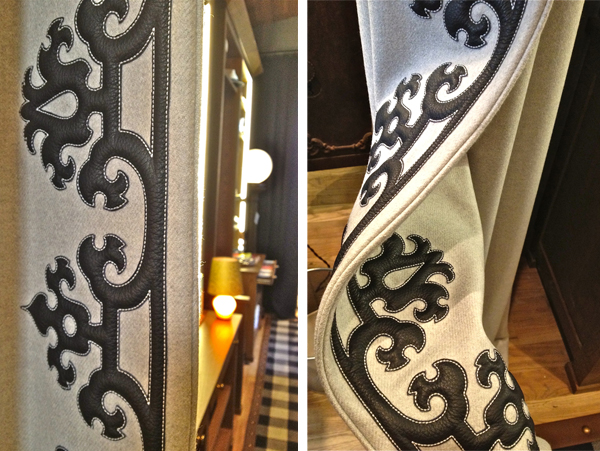 Holland & Sherry Bespoke is all about building relationships with customers in a relaxed entertaining environment where clients can experience customization as a way of life. From building a wardrobe to designing a home, it's all about creating a complete lifestyle built around true accessible luxury. I'm looking forward to following the journey of this venerable new venture – I'm sure there are many great things in store!!