Bunny Williams has long had tempting outposts to purchase her chic products and finds. Whether shopping for Bunny Williams Home collections through the trade or directly online or seeking unique vintage selections at her former Treillage stores, you were always assured of finding something special for your home. But now the new Bunny Williams Home Flagship Showroom in The Fine Arts Building at 232 East 59th Street in NYC is a one stop shopping treasure trove for all things created or curated by Bunny's eye.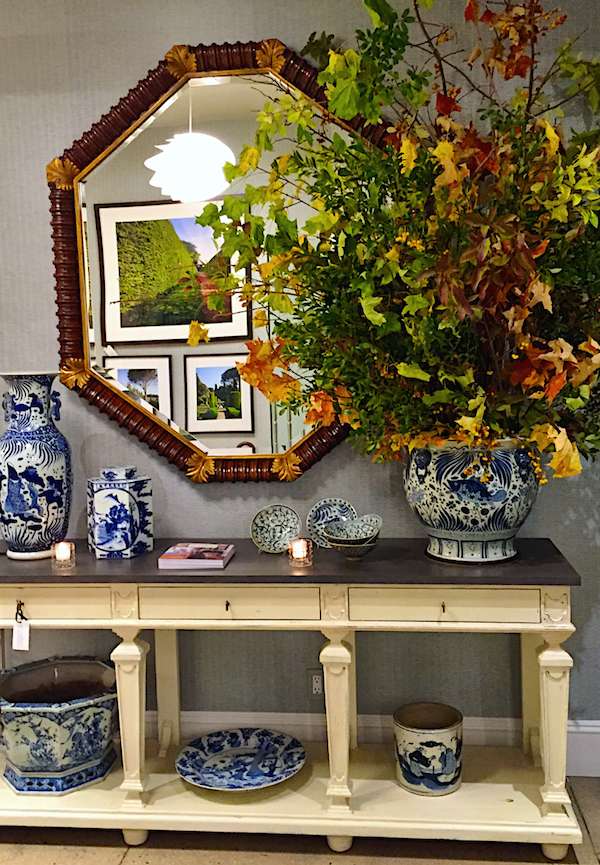 At the launch event this week, I had a chance to take a peek. Classic pieces such as the Acanthus Mirror and Swedish Server, above, mix beautifully with blue and white accessories. A revolving selection of art, whether original one of a kind or limited edition prints such as the fabulous Christian Brechneff below, will be constantly updated and changed.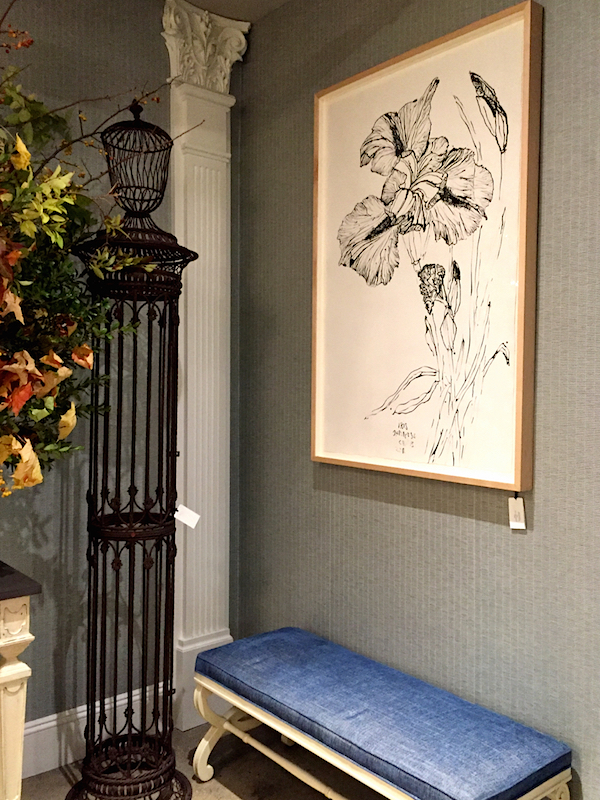 In true Bunny style, everything is stylish, comfortable, functional and perhaps most importantly welcoming. We all agreed that we were ready to move right in.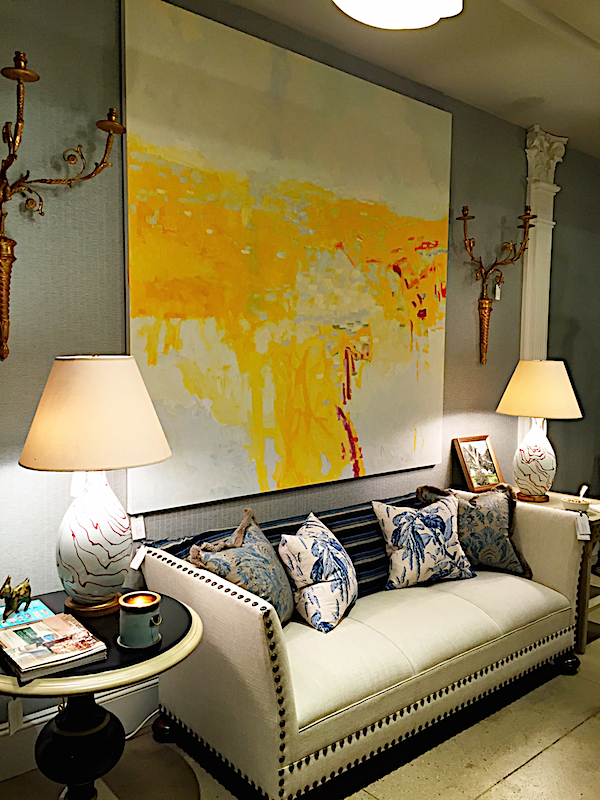 Just like a well designed room, there are defined seating areas with neighboring tables for books, candles, lighting and a place to put a drink.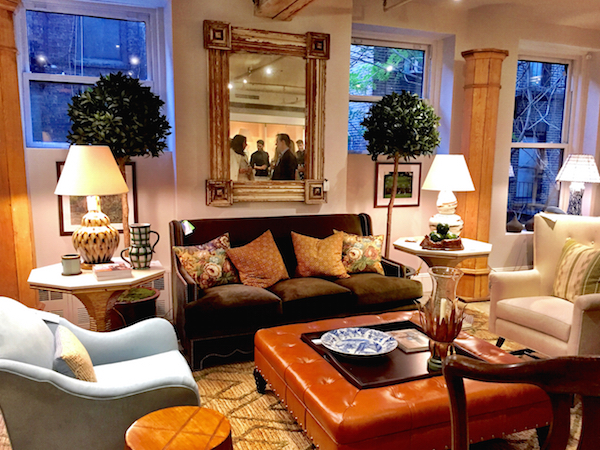 It's wonderful to have representation of all Bunny's lines, from furniture, rugs, lighting and mirrors to art and accessories and even mantels (her Veneto mantel for Chesney's below), in one place so you really have a feel for how it can all work together to mix and match with your own pieces at home.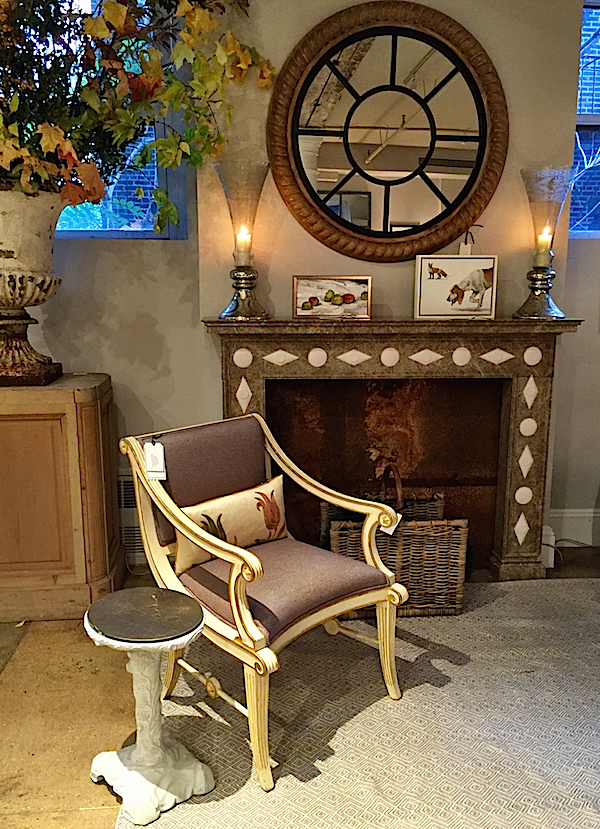 A multitude of chic vignettes illustrate examples of functional style that can be emulated throughout your home.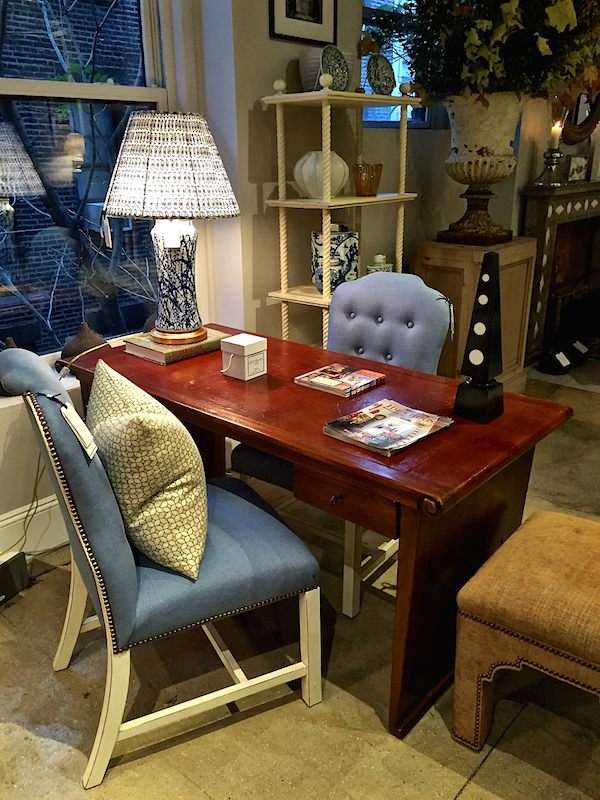 What a great style statement these fabulous oversized zinc leaves Bunny designed for Ballard make! There are lots of take away design moments in this very residential-like space.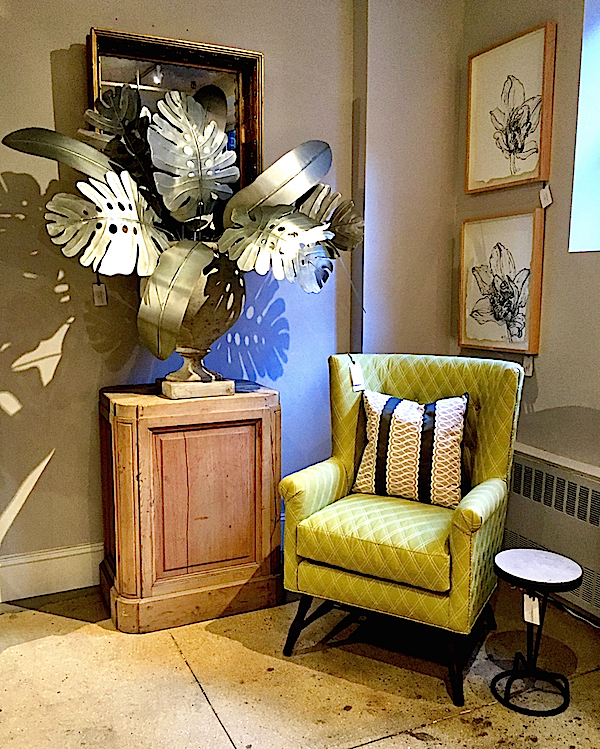 The new Bamboo Bed is already a hit, shown below with the Red Tape Bench upholstered in Bunny's new Alexandra Ikat for Lee Jofa.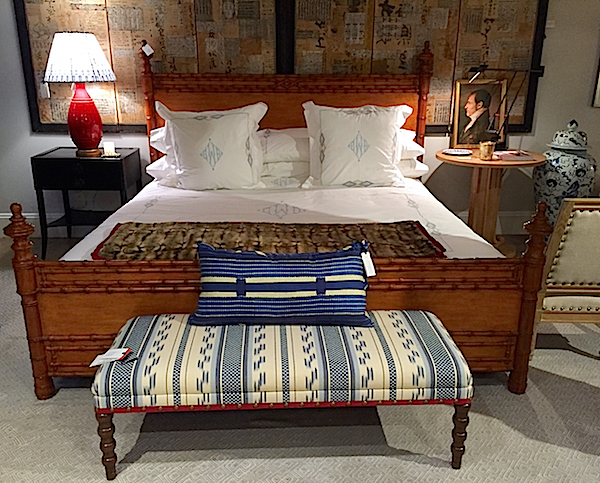 Old and new, high and low have a collaborative moment on the bedside Wave Side Table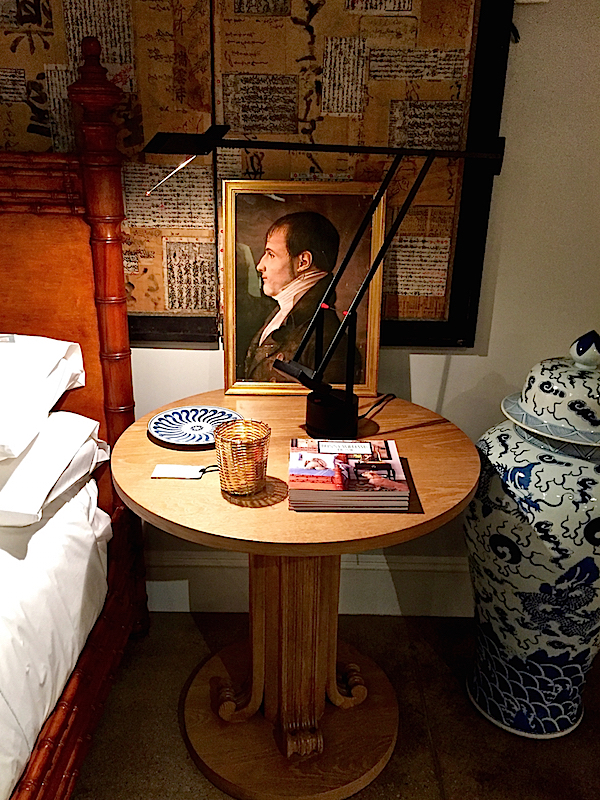 The new Williams bed enjoyed a cozy colorful corner,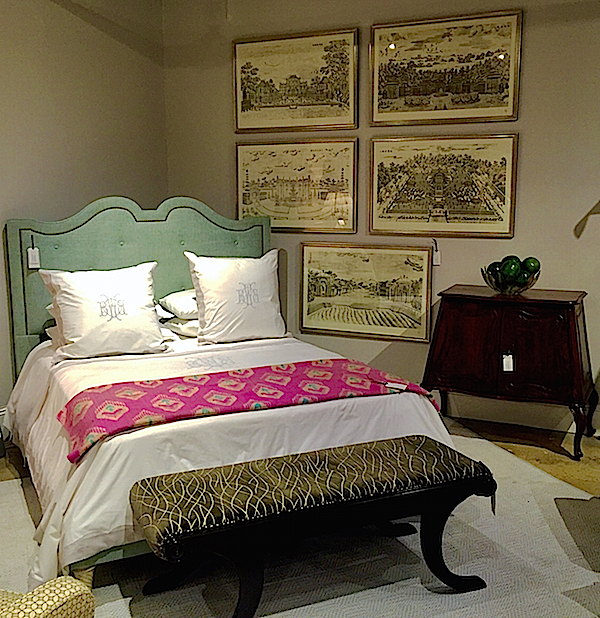 with a surprise visit from Bunny and husband John Rosselli later in the evening.
photo via Bunny Williams Home Instagram
Like at Treillage, one of a kind antiques are featured in the mix with new pieces and accessories.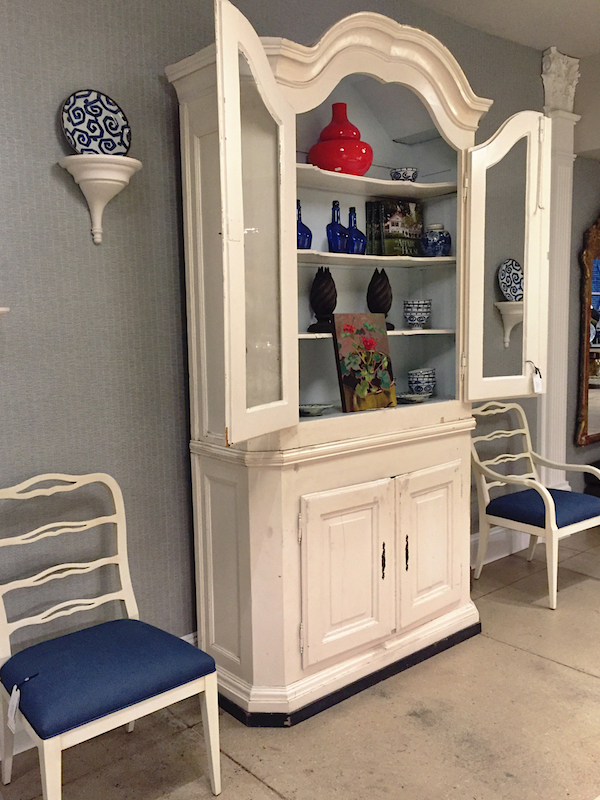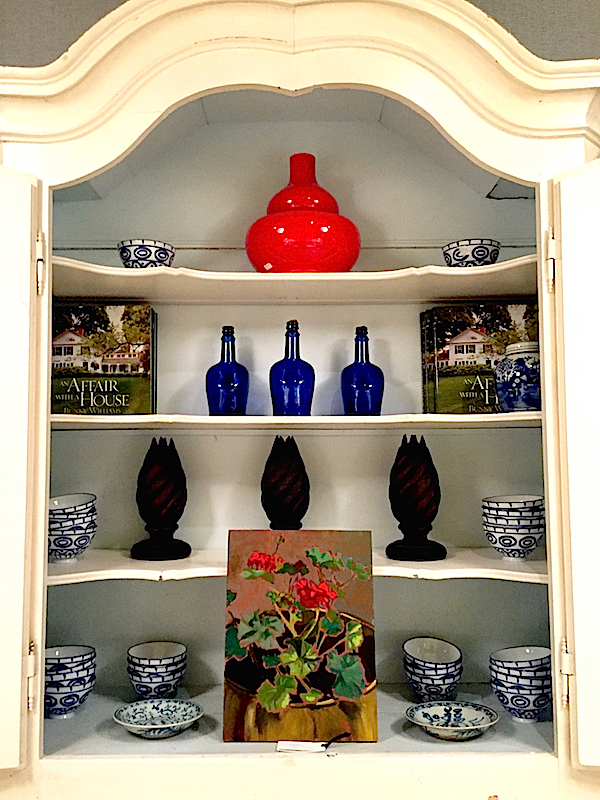 Whether you have an apartment or a house, large or small, you'll be hard pressed to visit the new Bunny Williams Home flagship store without wanting to bring some of Bunny's inimitable style home!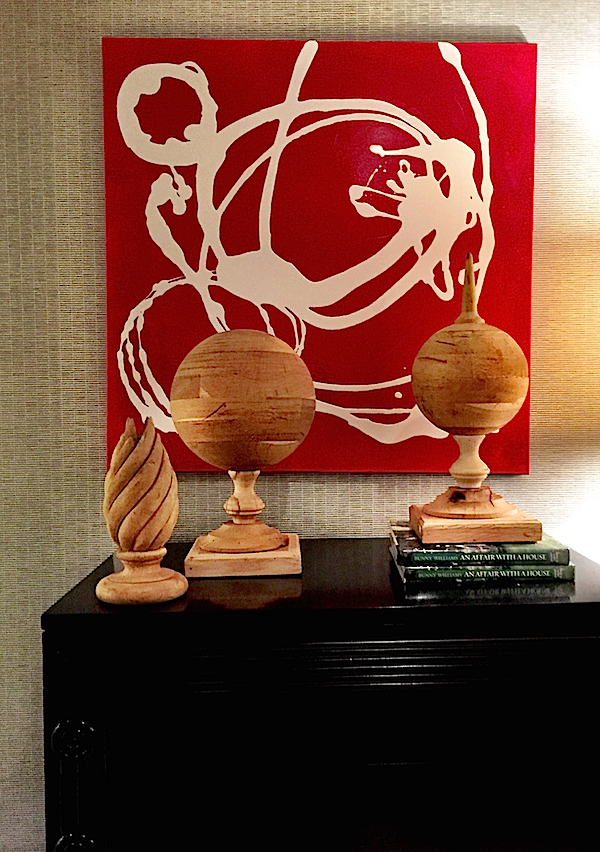 Painting by Kayce Hughes