World Tour is a tribute to travel. Not the travel of today with long lines and frequent frustrations but the civilized voyages of the early 20th century aboard stately ocean liners and legendary trains – a time when elegant passengers journeyed around the globe visiting grand hotels across the continent and exotic locales beyond.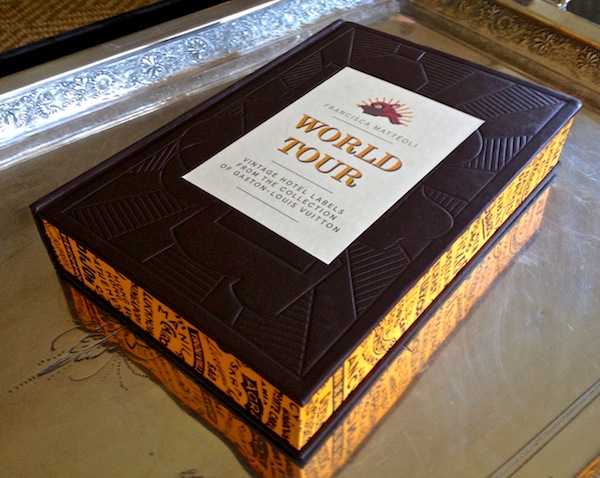 This marvelous tome, stylishly packaged with embossed leather cover and fabulous  printed page edges, presents for the first time over 900 hotel luggage labels from the vast collection of Gaston-Louis Vuitton, each helping to tell the story of the art of travel in this Golden Age.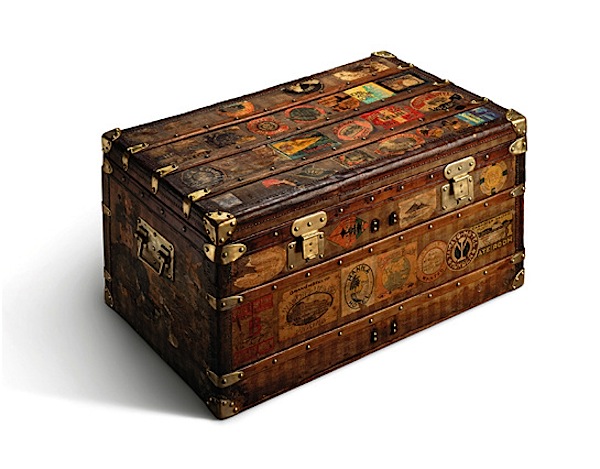 It is also the story of two people with travel in their DNA. Gaston-Louis Vuitton, grandson of Louis, the founder of Louis Vuitton, was a true renaissance man. Knowledgeable, cultured and well traveled, he designed the "library trunk" for Vuitton, allowing him to explore the globe with a portion of his vast collection of books. After every trip, he would carefully remove and save the labels in an album. He added to his collection by writing to printers, hotels and friends who traveled. Any trunks that came into Vuitton for repair were also ripe for picking. Eventually he amassed over 3,000 pieces from countries around the world like these from his home city of Paris.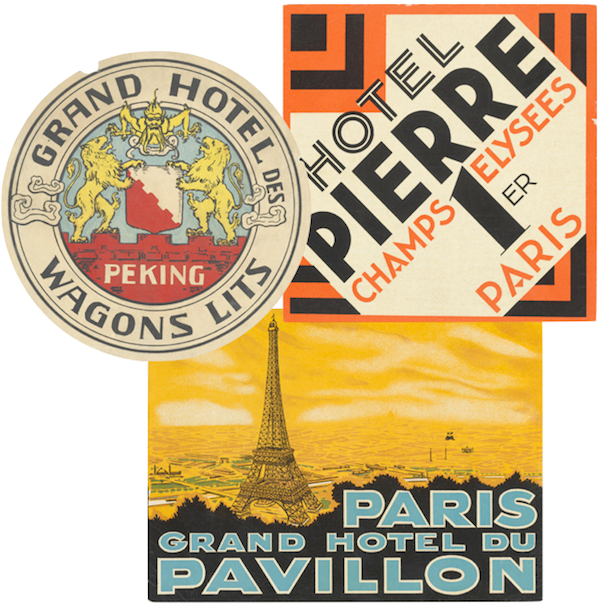 Likewise, author Francisca Mattéoli has travel in her blood. A family of great adventurers, her great-grandfather lived in Paris in the Hotel du Louvre for the last four years of his life and was such a welcome entertaining guest, received his lodging for free. Over 50 years later, after growing up in the Chilean countryside, Francisca and her family also moved to Paris. Following in the patriarchal footsteps, the Hotel du Louvre was her first Parisian address as well. Fueled by Eloise-esque memories of those formative years, she has since devoted her career to travel writing, authoring numerous books and magazine articles.
photo of Francisca Matteoli by Denis Rouvre
Whether an arm chair traveler, lover of vintage graphics or dreamer longing for the grand life of earlier eras, World Tour will be the source of hours of pleasurable browsing. Divided into 21 chapters by location from So British! (England, Scotland, Ireland)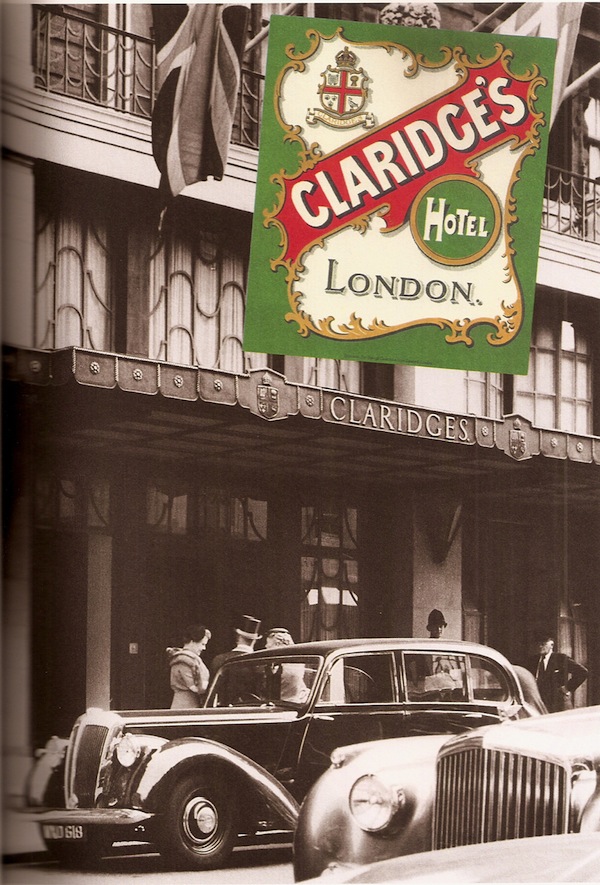 photo: Rue des Archives/Mary Evans
to Life on the Riviera (from Saint-Raphaël to Monaco)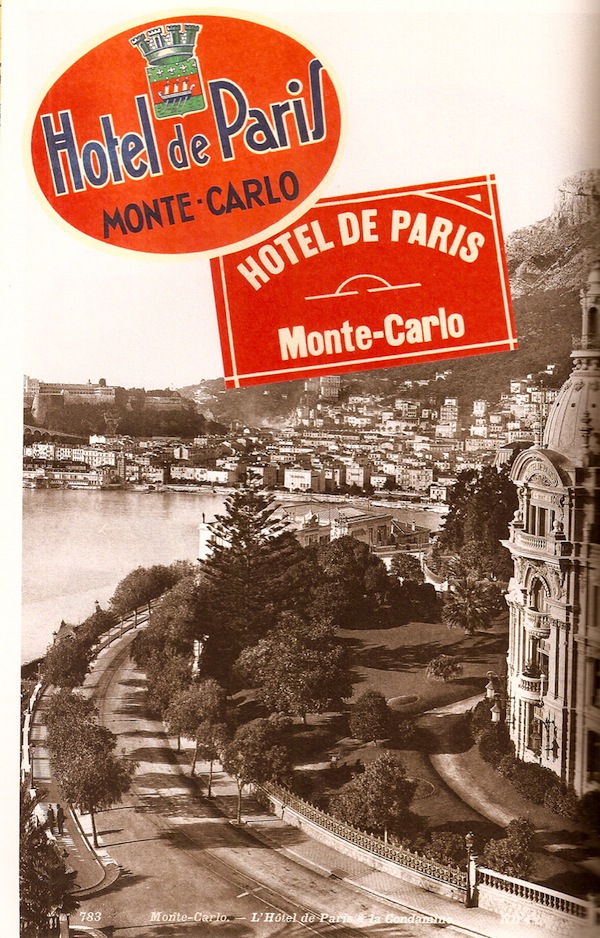 photo: Roger-Viollet/Neurdein
to Asia Bound (India, China, Burma, Thailand, Vietnam, Cambodia, Singapore, Malaysia, Indonesia, Japan),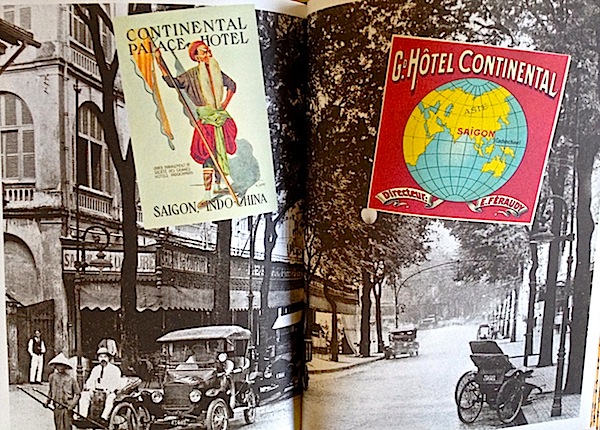 you will be entertained and intrigued by the vintage labels, photographs and postcards (bound into the spine), charming quotes and anecdotes and descriptive text of the times and locale.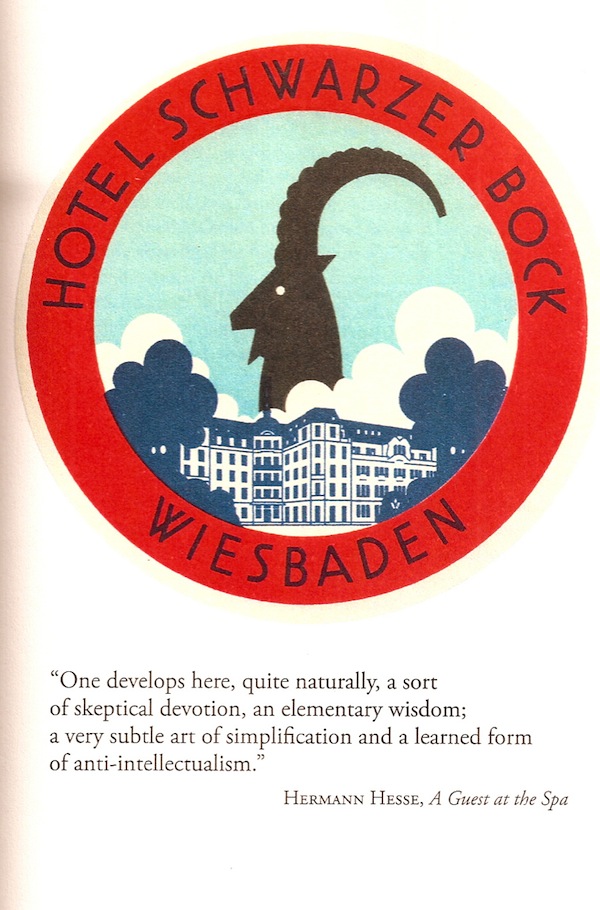 Not only were the labels advertisements for the hotels, they spoke volumes about the traveler, history and social mores of the time. A 1920's Louis Vuitton slogan declared "Show me your luggage and I'll tell you who you are." Words truer than many realized. One of my favorite tidbits from the book is how the labels allowed hotel staff to pass coded messages and information about their customers. Next to the labels, porters would mark symbols, indicating whether the luggage owner was a good or bad customer, an experienced or novice traveler and most importantly, whether they were generous or stingy with their tips. Little did the travelers realize that their treatment at the hotel was largely predetermined by their baggage. The position of the labels, placed judiciously by the staff also held confidential clues. One story describes how a female customer changed the placement of her labels, unknowingly creating a very different profile of herself. She never understood why, no matter where she traveled, a wine waiter always arrived at her room offering her whiskey and fine cognac.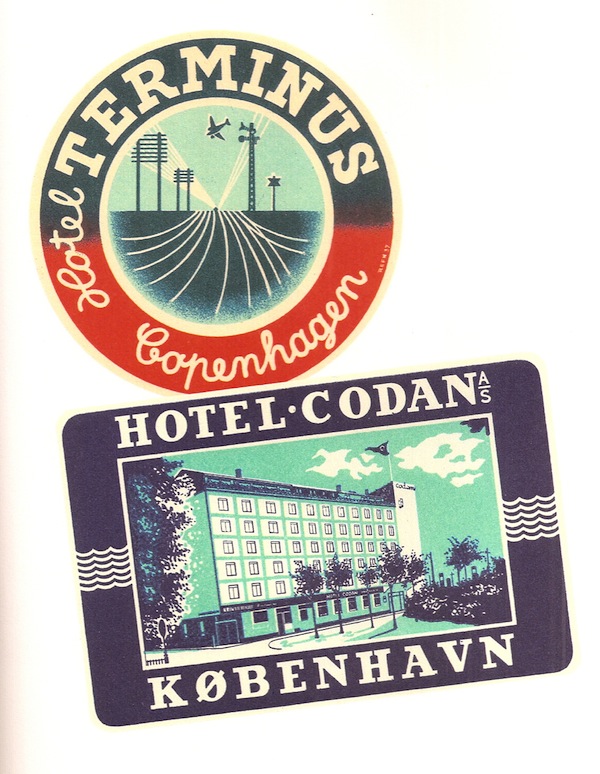 Whether you are an experienced world traveler or like to see the world from the comfort of your reading chair at home, World Tour is an inspiring, informative vicarious trip around the globe. And it just might be the perfect gift for that discerning friend who has everything!