This spring is hopping with design activities, from benefits and showhouses to Brimfield and Blogfest. Last week I had the opportunity to visit the Designer Showhouse of Westchester. Located in Bedford Corners, NY, the event is at Nirvana, an $11,000,000 17 acre estate, transformed by 25 interior designers and decorative artists to benefit Cerebral Palsy of Westchester.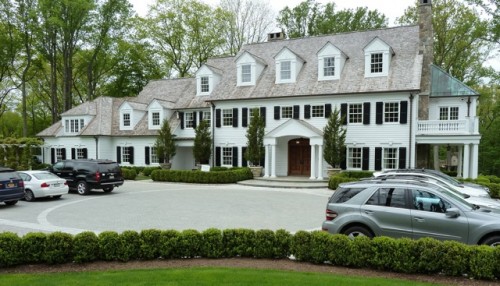 There were many lovely rooms and I thought I would offer a peak at some of my favorites.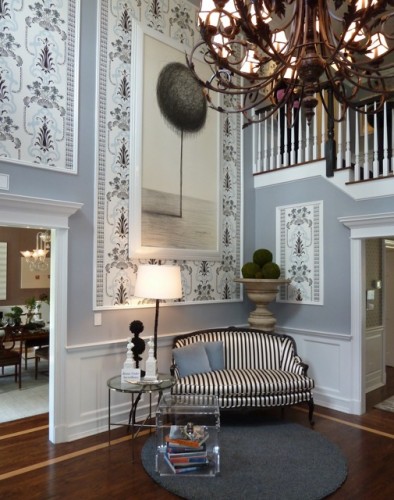 The dramatic entry was designed by the Baltimore Design Group. Double story entries can be overwhelming and I like how they used the framed wallpaper panels to break up the space.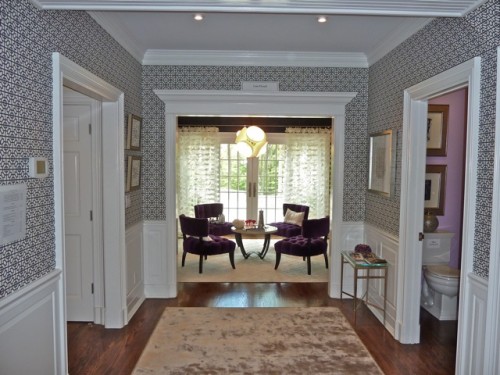 Behind the entry, Carey Karlan of Last Detail designed the hall, powder room and the rear space with french doors leading to the terrace. The hall is a simple graphic placeholder that opens into a fun room set up as an entertaining space for cocktails. Carey said she wanted the room to have a sense of occasion, that life is a series of tiny moments and she wanted to capture one here. And it most certainly does that. You feel as if you have walked into the middle of Nick and Nora moment.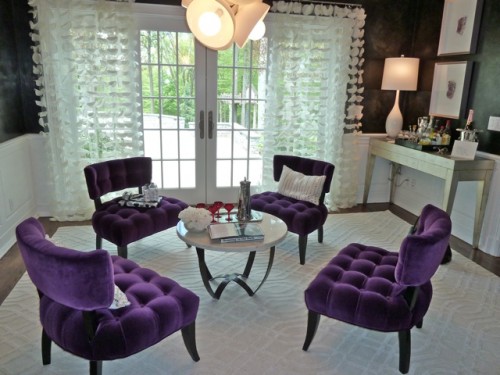 I adored the Bergamo sheers on the windows. Carey said she has been waiting for the opportunity to use them and I can understand why. They are elegant yet playful and festive. And the finish on the dark walls is fabulous – Venetian plaster but with a wax finish that imparts an incredible tactile luster – SO  wish I had a room to do this in.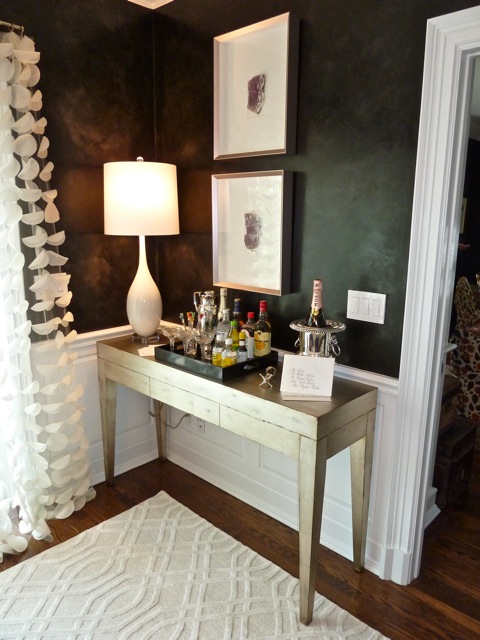 The elegant silver leaf console is the perfect foil against the dark walls.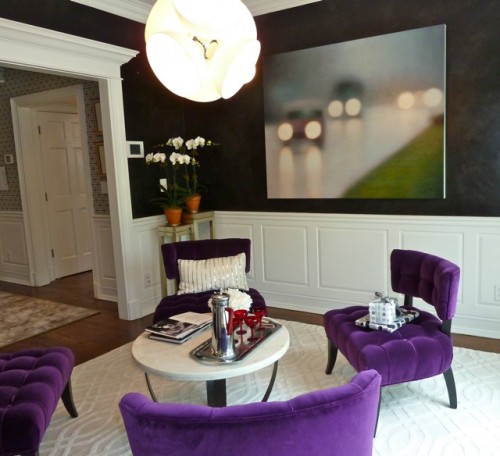 What's wonderful about the space is that while it has a distinctive vintage vibe it still feels totally modern. The mid-century modern chandelier from Irwin Feld Design works perfectly with the luminous large oil painting by Vincent George which Carey chose for its "in the moment" implication.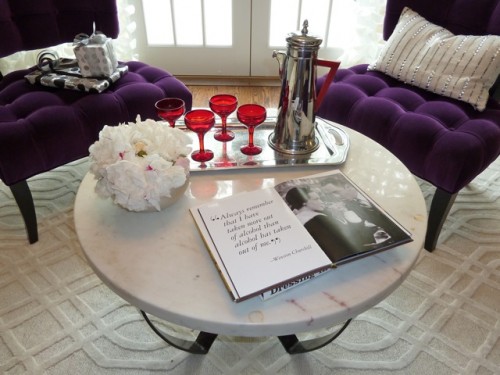 Check out Nick and Nora themselves sipping happily on the cocktail table. That is Carey's own vintage cocktail shaker. Check out the bottom – how fabulous is that?! She and her older children (she has 5!) have taken to having real cocktails occasionally and this shaker has definitely come in handy!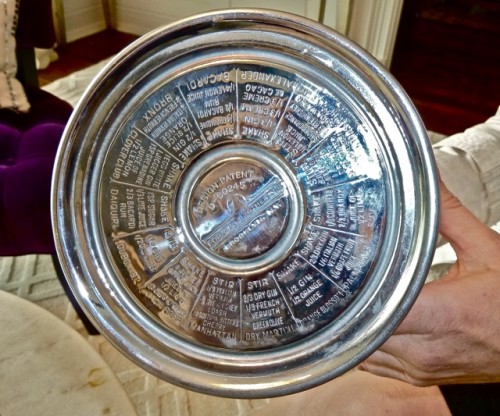 And Carey herself was perfectly appointed for her space – if it hadn't been 10 in the morning, it would have been the ideal spot for cocktails!!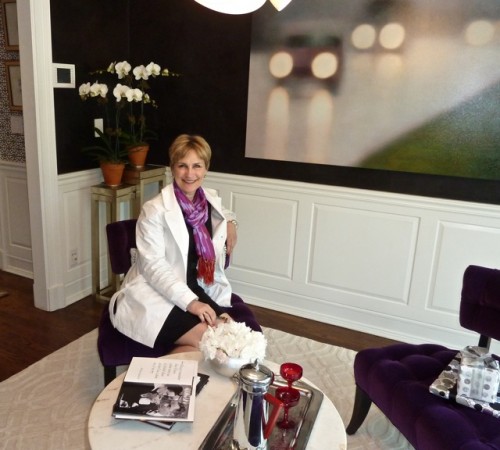 Another of my favorite spaces was Shari Markbreiter of MH Studio's beautiful bedroom. It is a serenely relaxing space yet filled with so many wonderful details.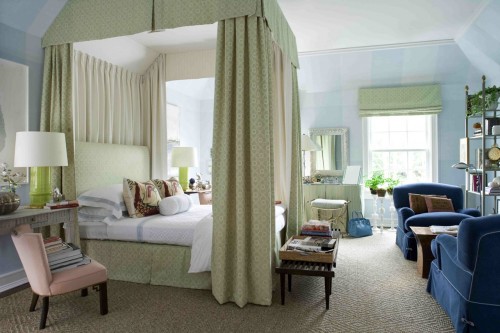 There has been so much talk lately about the importance of art in a space and Shari most adamantly agrees. The bedroom is filled with an amazingly eclectic assortment. She explained, "I can't start or finish a room without thinking about the art that's going to go in it. The way we work with our clients is we do what we call the install and reveal. We invite the clients to leave their home, if they should happen to be there, and stay in a beautiful hotel for 2 days. Then we go and install the whole house so when they come in, it's the big reveal. And if the designated space doesn't have the selected piece of art yet, we make something, we create something – like a big blown up black and white photo – so there is a place marker for what is to come."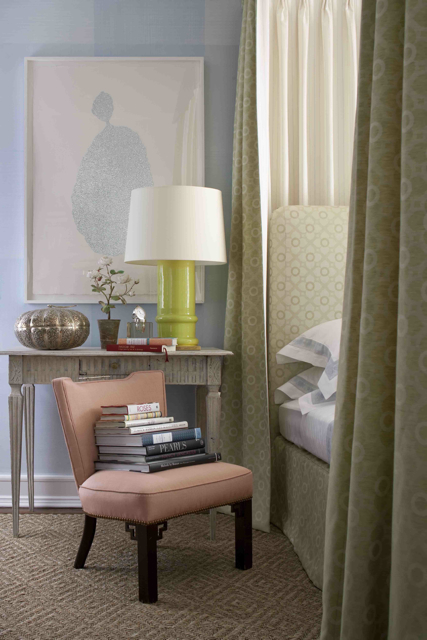 Shari loves the mix – of period, medium and subject matter. Take for example the wonderful juxtaposition of this artist's Rorschach-esque image made of individually placed Swarovski crystals, against the handcrafted Boho appeal of the gourd shaped metal box. Shari is most definitely not a bling-y girl but just loved the way the light refracted off of the art.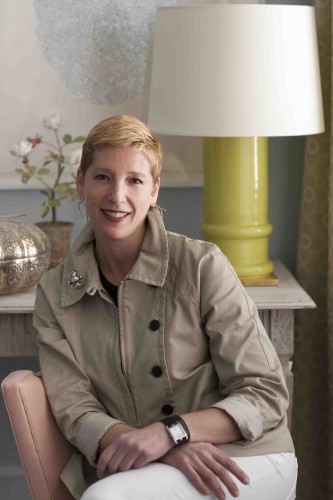 And Shari shares my (obsessive) love of books – the room was filled with an incredible selection of both contemporary and vintage volumes on a wide variety of appealing subjects, which lent the space an additional level of intellectual engagement. It made for an instant bond between designer and myself – we could have chatted all day!!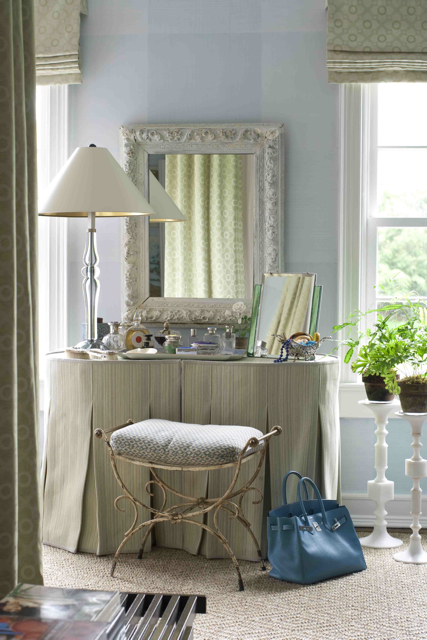 The space is feminine but not fussy – who wouldn't love to have a dressing table like this custom one Shari had made for the space. With beautiful tailored dressmaker details, it opens in the middle to reveal a dresser with wonderful storage. And the exquisite accoutrements lend an evocative air of leisure and time for oneself that we all long for. I think Shari is a designer to put on your radar – she clearly knows what women want!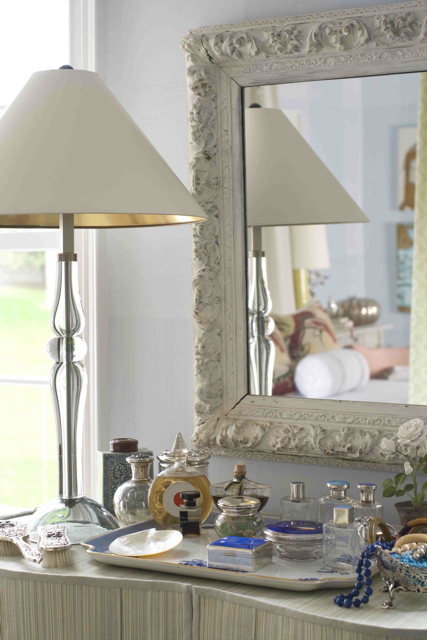 photos of this room by John Gould Bessler
Catherine Cleare Interiors designed my other favorite bedroom.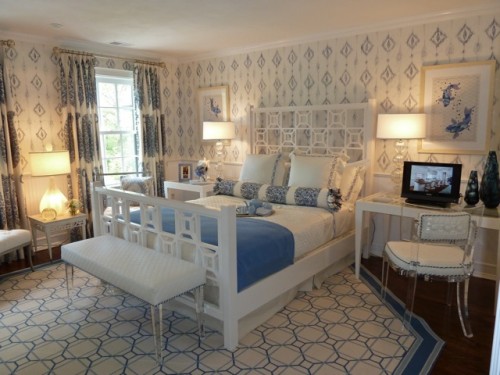 I loved the graphic custom bed design with beautiful Casa Del Bianco bedding. The classically elegant blue and white scheme was soothing and given a modern punch by the fun lucite pieces from the Spectrum Collection.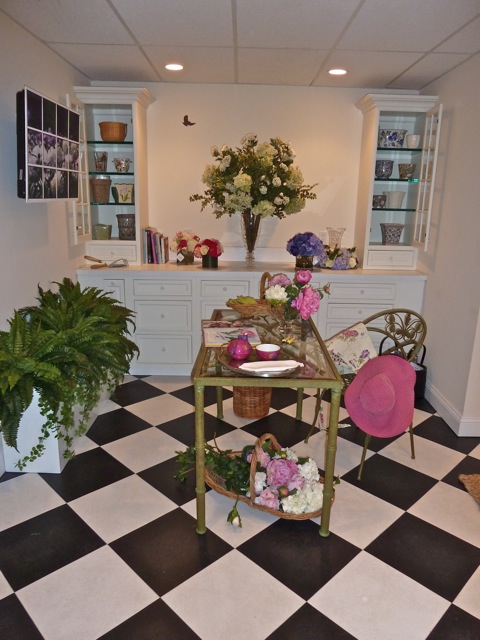 The lower level featured a fabulous flower room expertly outfitted by the girls at Diane James. Elegant yet light hearted, you couldn't help but be happy in this space. I wanted every arrangement and couldn't help but fantasize about how much prettier my rooms would be with their work adorning my home!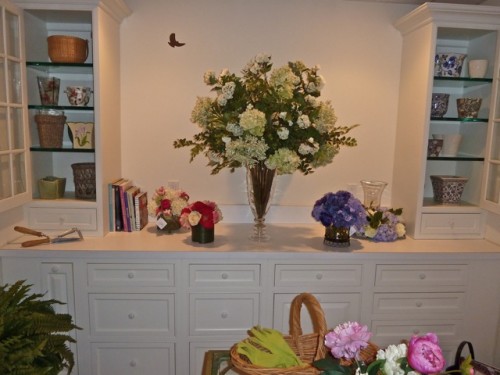 Their flowers are so realistic that perhaps I wouldn't feel like I had such a brown thumb!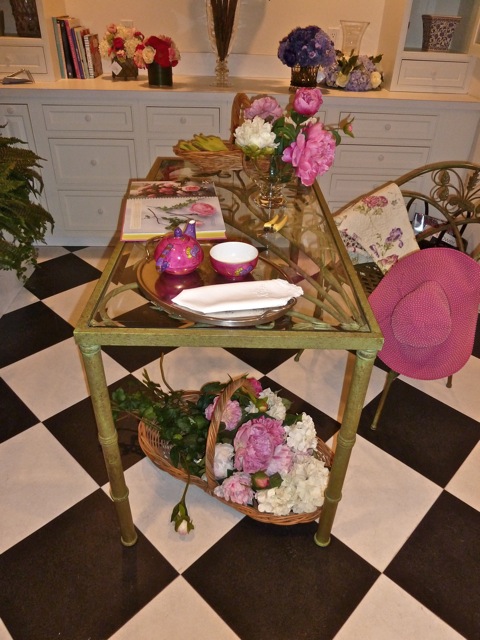 Also downstairs was a wonderful boutique outfitted by DeLuxe, the NYC upper east side emporium of vintage couture jewelry and objets d'art. I had to look around with blinders on there were so many fabulous offerings!

I just love bar carts and this one most definitely caught my eye. What a fabulous addition that would be to any den or library!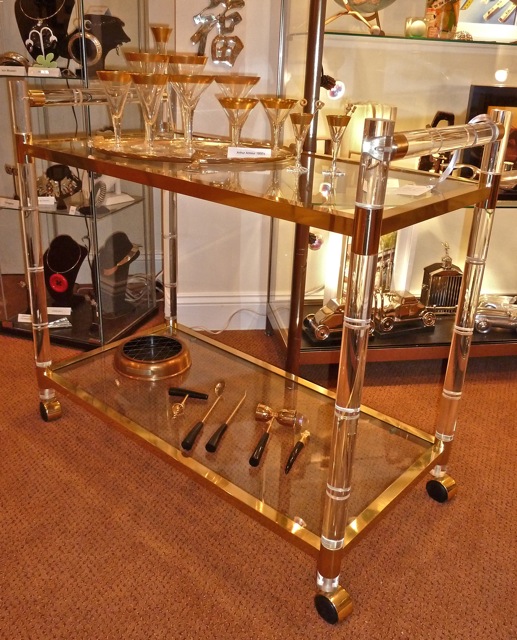 If you happen to be in the area, I suggest you stop by this showhouse. There is much more to see than I was able to show today. Perfect for a spring drive in the country!