Nantucket is a small island full of big world connections. Earlier this summer, I was delighted to meet Cynthia Everets through mutual design friend Mary McDonald. We hit it off and gradually discovered numerous six degrees of separation.  It was when visiting Cynthia's charming Nantucket house on the cliff, the idea of a Nantucket House Tour series came to me.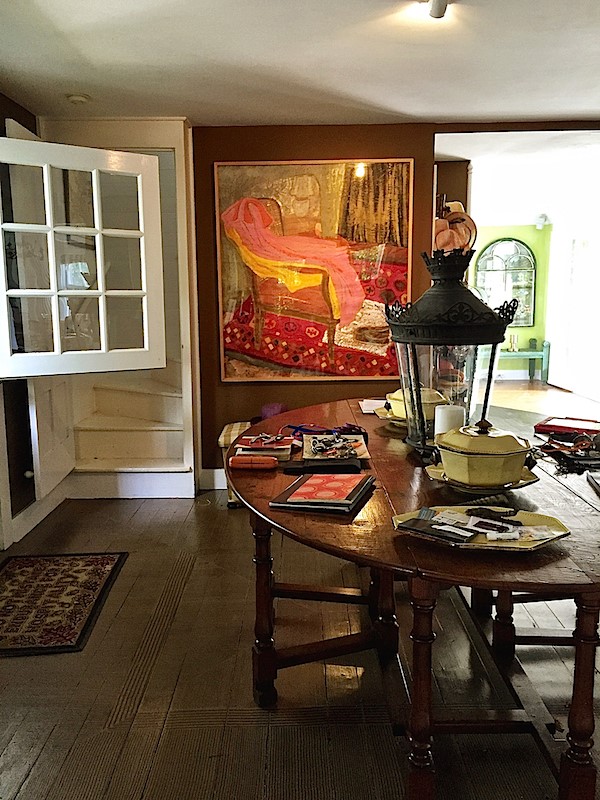 Cynthia's home is not only chic but instantly welcoming, serving as a casually sophisticated backdrop for the art of living. As with many old houses, the front door opens directly into the home where the entry speaks volumes. A collection of vintage French earthenware, an old tole lantern and a statement-making painting by Charlotte Culot, purchased through Dörte Neudert here on Nantucket, form an elegant visual landscape.  Here the stuff of life rules and Cynthia's educated eye has raised the level of stylish imperfection to an art form with a wink.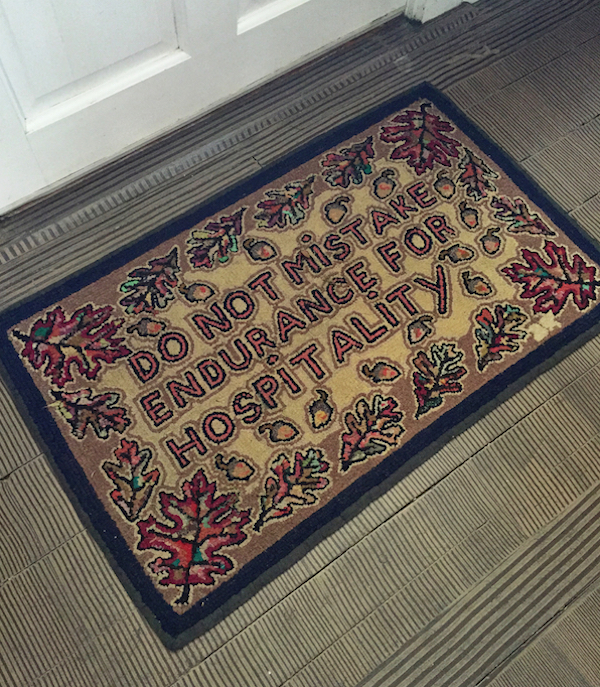 Turn to the right and the entry flows into the living room, where Cynthia's timeless style is as chic now as it was when she decorated over twenty years ago. The wonderful brown walls were an impromptu idea when Cynthia, on a Friday afternoon, in preparation for a dinner party that evening, handed her son and a few friends a can of paint, instantly unifying the front rooms. With large windows and ample white millwork, the area is cozy and warm,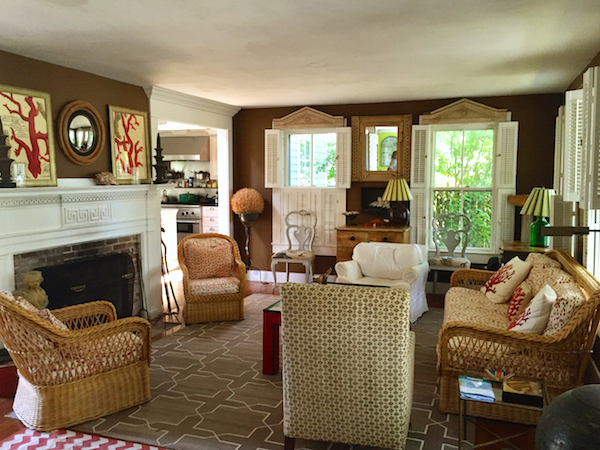 with a wordly assemblage of furniture, accessories and art that could as easily be in an Île de Ré as Nantucket house.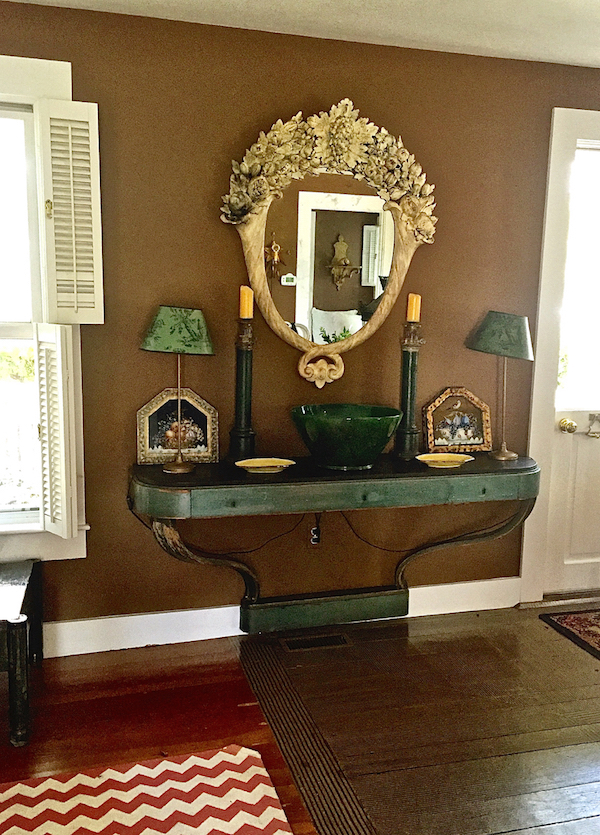 Some of Cynthia's signature touches – Brunschwig's Les Touches, rattan furniture, greek key elements, animal prints and coral – now more popular than ever, have been in her design repertoire for decades.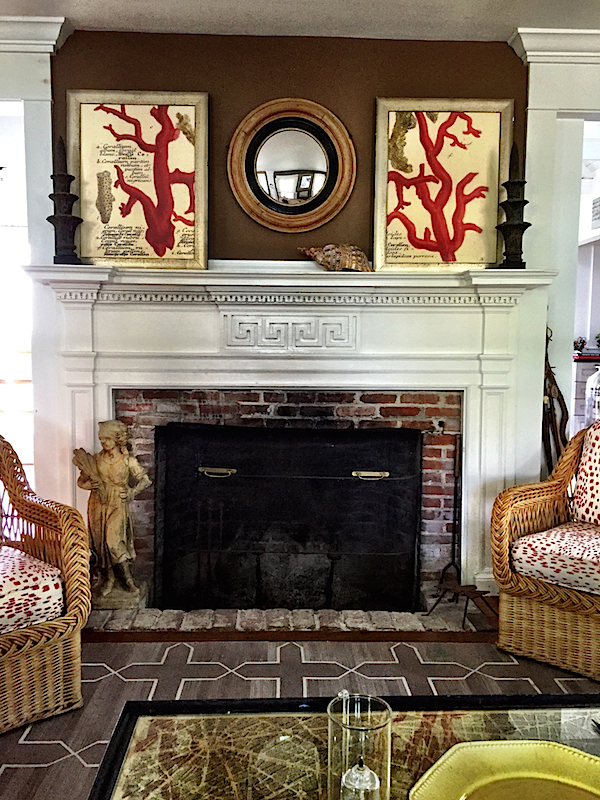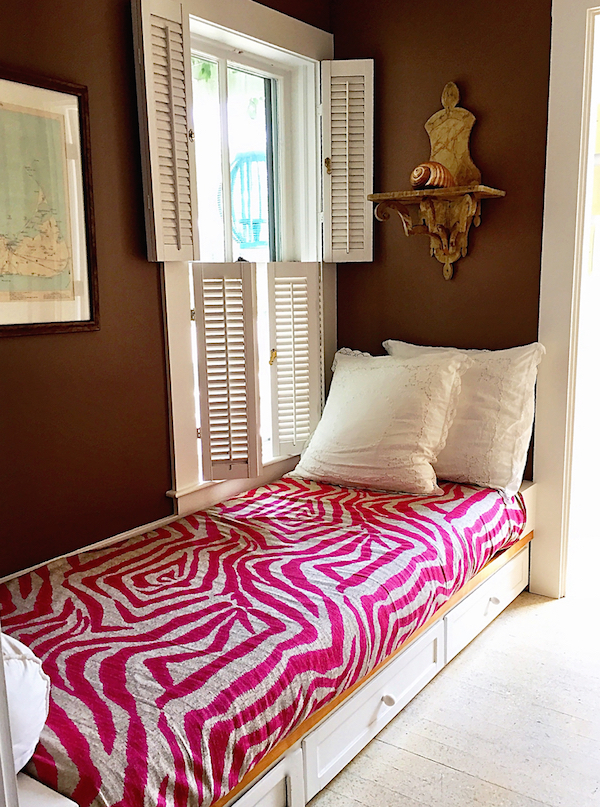 As we chatted and discovered we had attended the same college, I also learned that Cynthia, during her busy interior design days, had been a co-owner of one of my favorite Connecticut shops, Pickets, in Fairfield. After years of living in Southport, CT, a new marriage brought Cynthia to Boston where her redesign of their Beacon Hill townhouse won a spot in Traditional Home's 5th annual design award issue in 1996. You can imagine my surprise when the project turned out to be a favorite tearsheet in my files!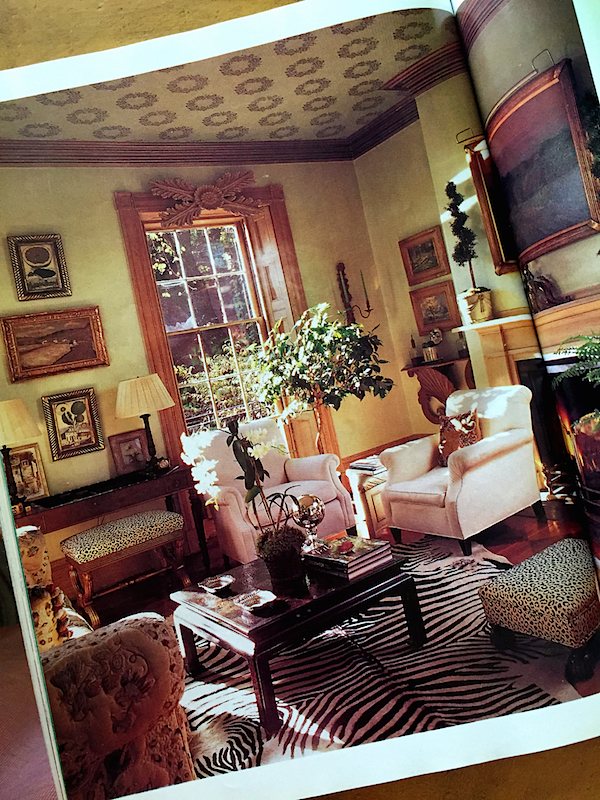 Cynthia stepped into the Nantucket house as a bride, her husband having owned it in his previous life. He told her if they were going to keep the house, Cynthia needed to completely transform it. The original house, below, from approximately 1880-90, is one of the few in the neighborhood clad in clapboard as opposed to traditional Nantucket shingles.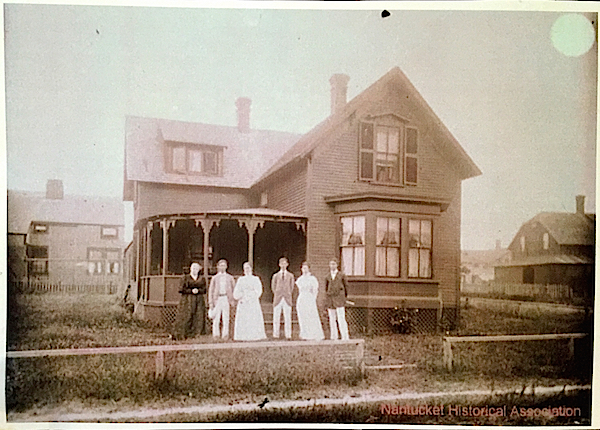 While the exterior has not changed much stylistically from when Cynthia came to the house, the interior was rejiggered, with the help of Botticelli & Pohl, to accommodate their combined family of four sons. An addition to the kitchen accommodates the appliances,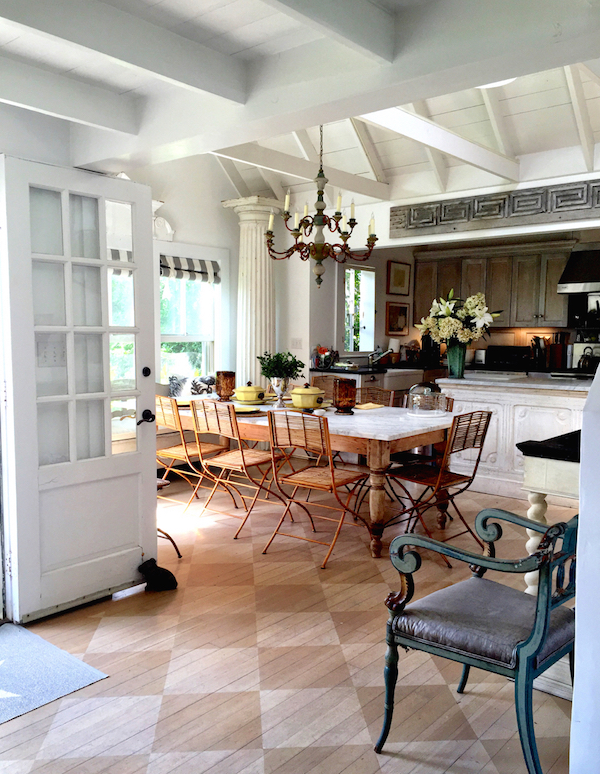 allowing for a gracious seating area with a soaring ceiling opened up through the rafters. Cynthia almost always incorporates architectural elements into her designs. The wooden pediments over the windows in the living room are from her native New Orleans and the Greek key, her longtime favorite motif, coincidentally on the original living room mantel, returns on a salvage piece hanging on the kitchen soffit, above. Emphasizing Cynthia's love of scale and balance, the columns, as well as the comptoir, repurposed as a kitchen island, are from George Davis' much missed Nantucket shop, Weeds.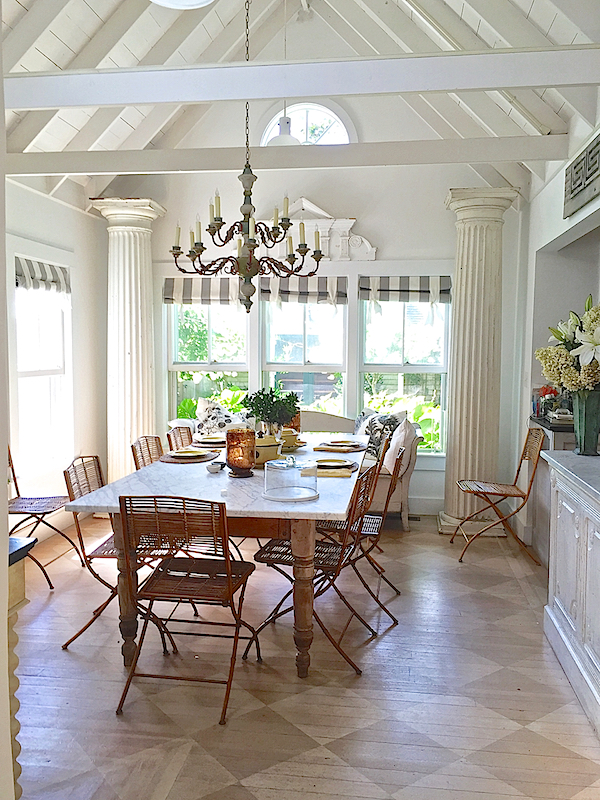 The fun bar references the family's sailing history.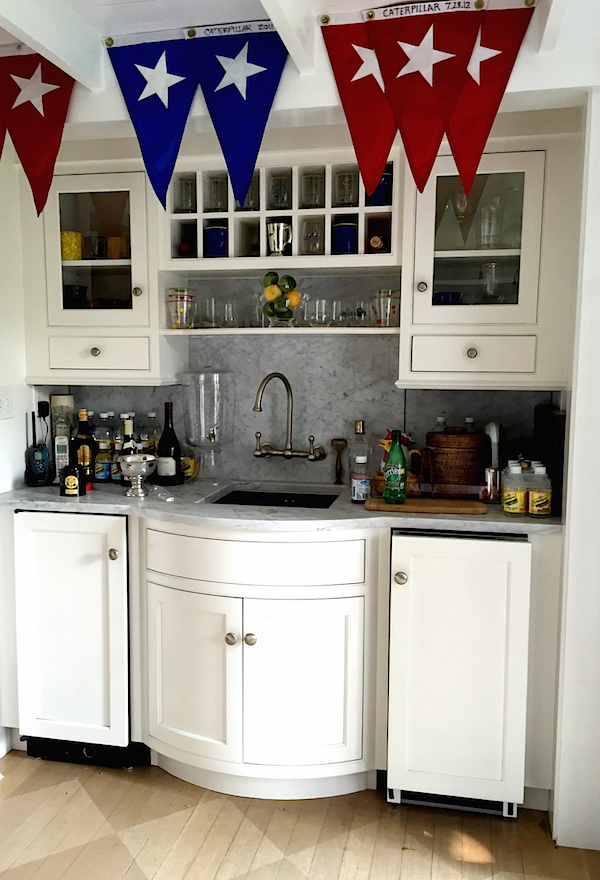 Cynthia loves saturated color as well as the juxtaposition of a dark room with a brighter colorful one. Segueing from the entry to the vibrant green family room, a corner piece holds Cynthia's collection of Dodie Thayer lettuce ware mixed with more of her octagonal pottery from Paris and a spectacular Palissy ware plate from Animal Art, a favorite New Orleans haunt. Note the clever molding detail on the wall edge that handles the color transition.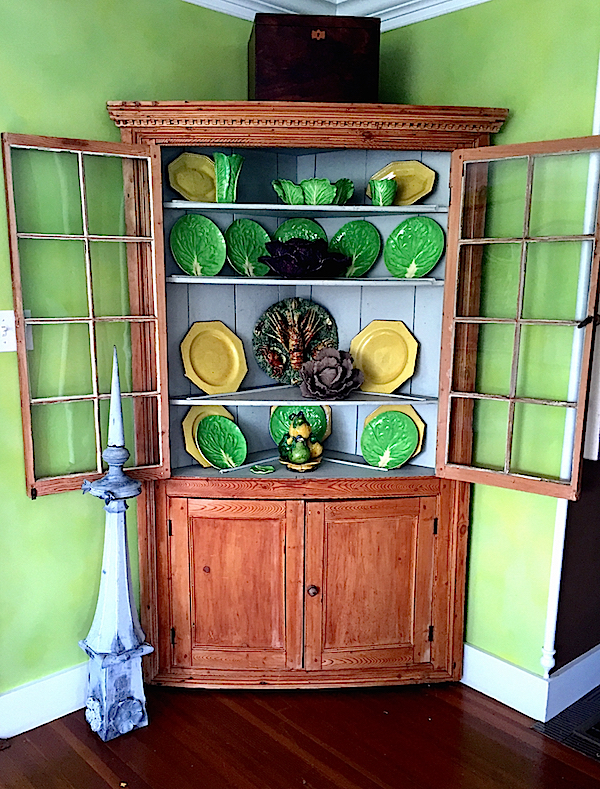 Once a much smaller room, the family room was enlarged with a new master bed and bath above, retaining the exterior vernacular style. Cheerful and comfortable with washable slipcovered upholstery, the room is filled with collected pieces that tell the story of an educated eye.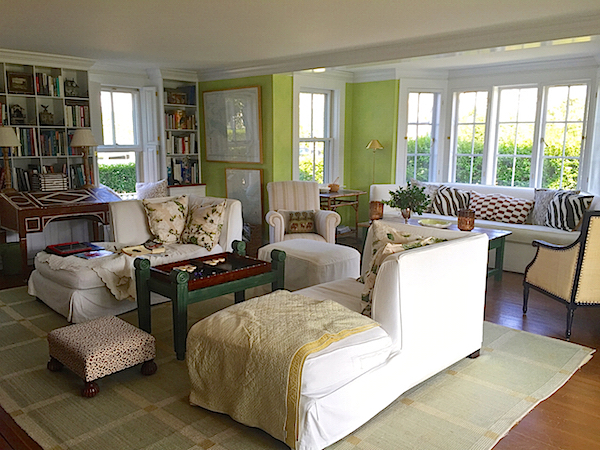 When Cynthia owned Pickets, she traveled to London and fell in love with Nicky Haslam's shop where she bought many pieces for the store. Several items from that collection now reside on Nantucket such as the stylish table below,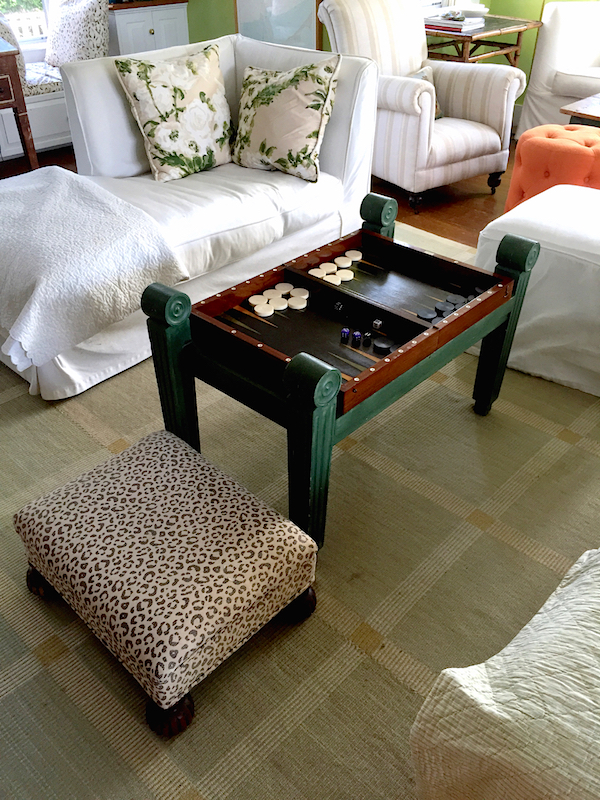 whose twin resides under a wonderfully whimsical Apple Bartlett (Sister Parish's talented daughter) collage. Cleverly entitled Marie Antoinette's Assisted Living, it portrays le Hameau, the queen's artificial rustic retreat created on the outskirts of Le Petit Trianon at Versailles.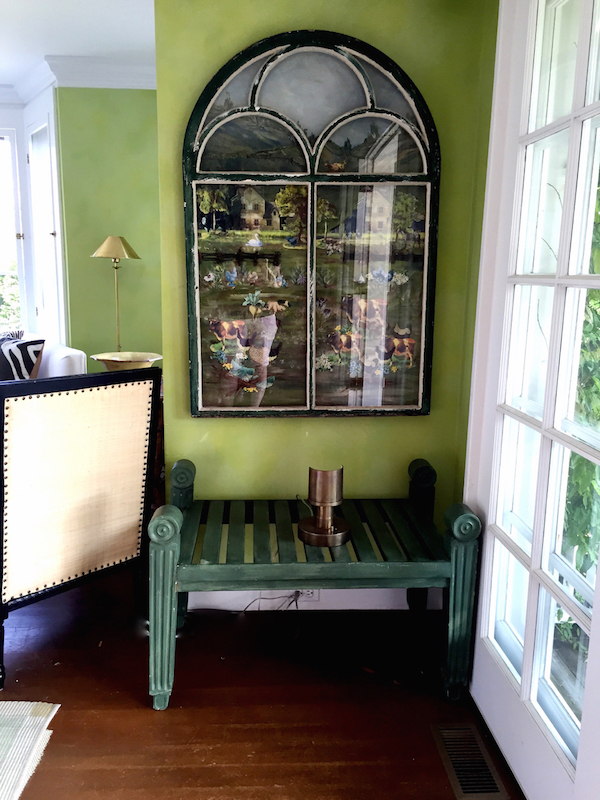 Another of Cynthia's favorite pieces in the room is this rustic chic painted desk she found along the Dixie Highway in West Palm Beach. Along with the graphic pillows on the sofa it helps to relate the brown of the front rooms to the back area.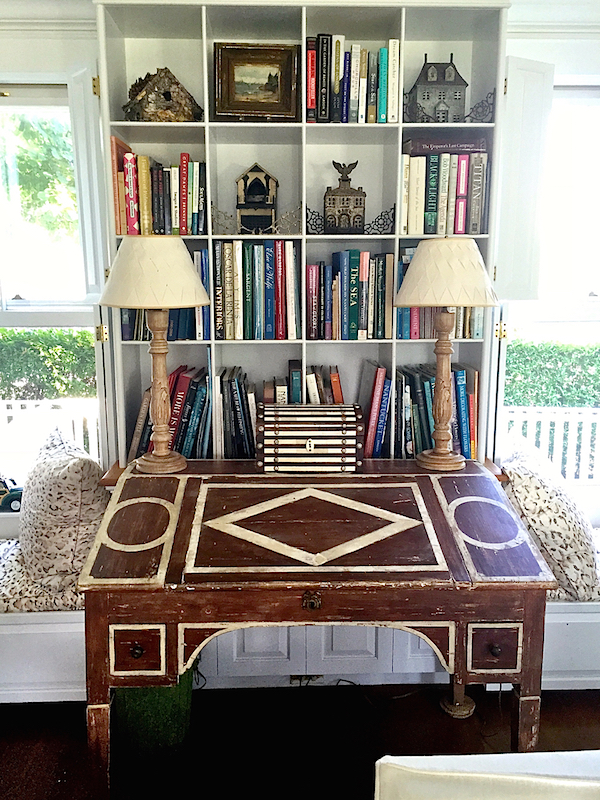 Upstairs, the master bedroom is awash in a watery shade of blue with a graceful arched double door leading to the bath.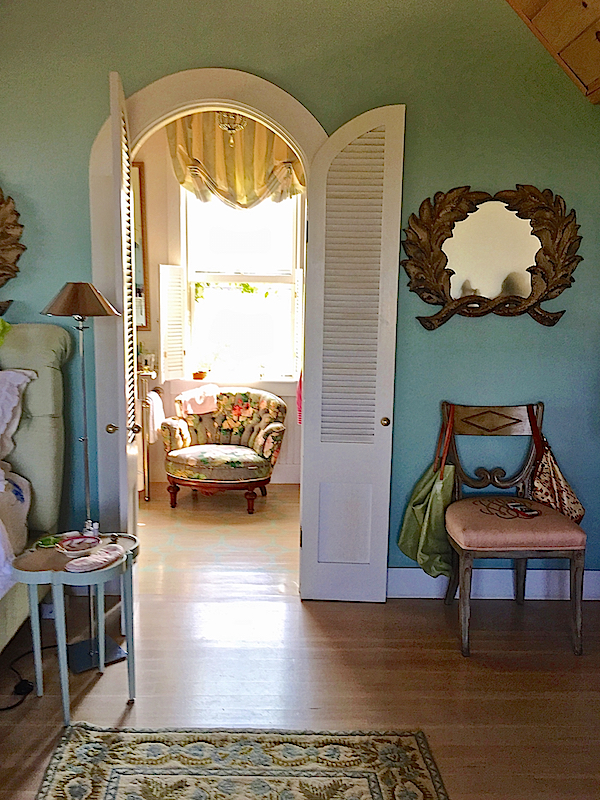 From here, wonderful rooftop views overlook Nantucket Sound.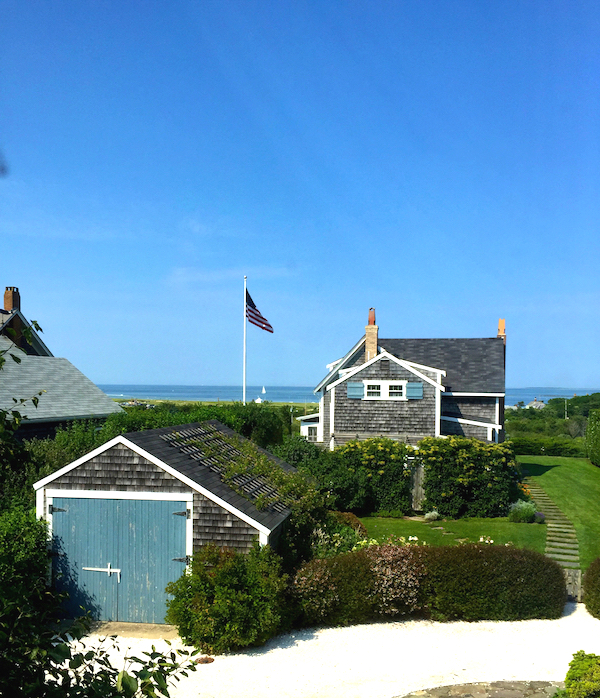 Outdoor living is de rigueur on island and Cynthia's house has both front and back porches to take advantage of the summer months.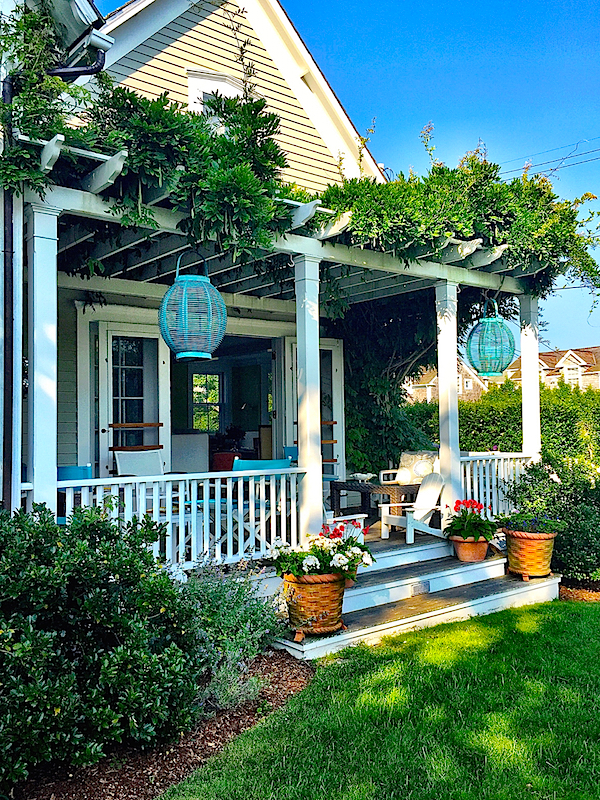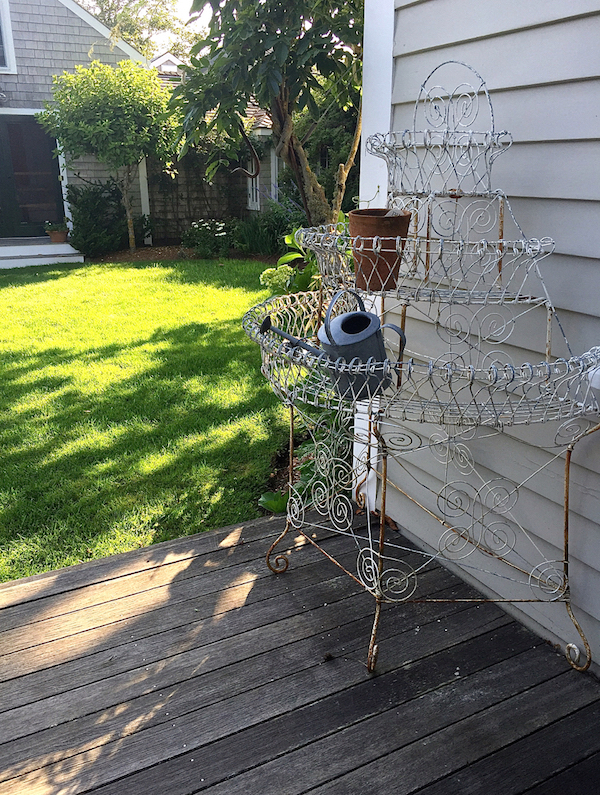 And across the yard is a charming guest house with an eclectic mix of old and new.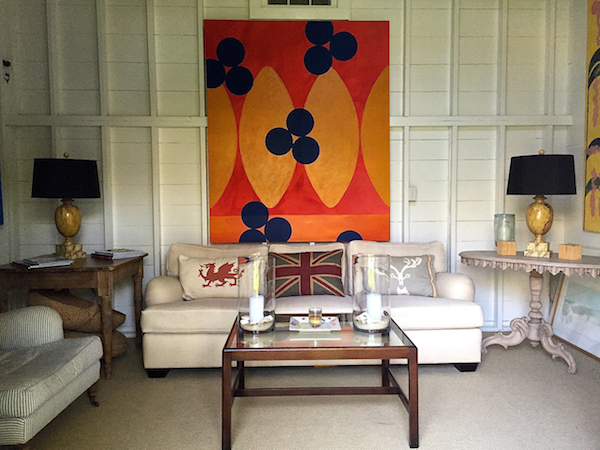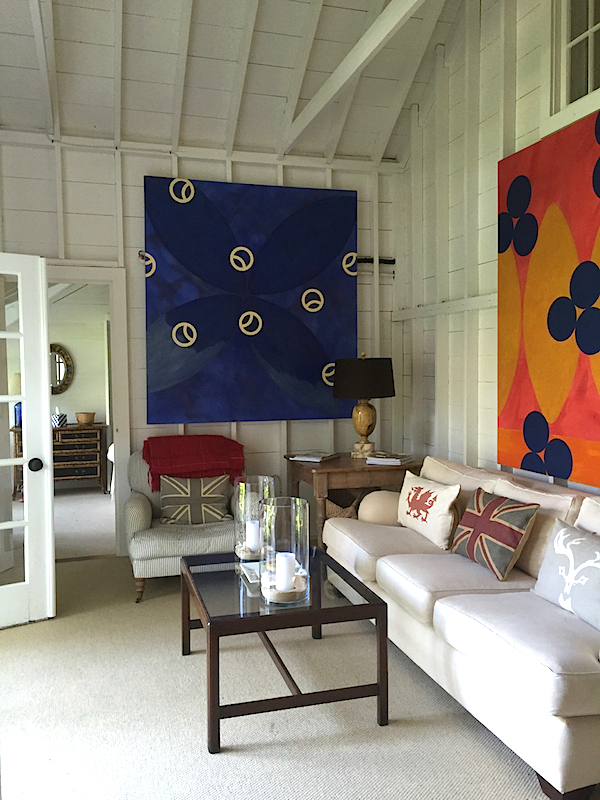 One bedroom features a fetching Nobilis print that is unfortunately discontinued, as it would be enchanting in any seaside or island home.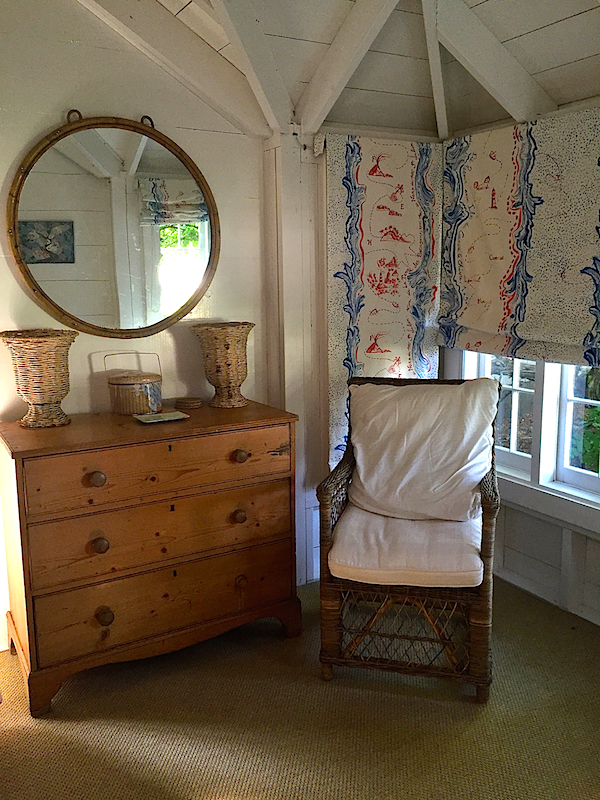 It is the unassuming simplicity of these rooms that is so very appealing. With easy comfort a priority and a few well chosen decorative pieces, the allure of summer and carefree island life is at its best.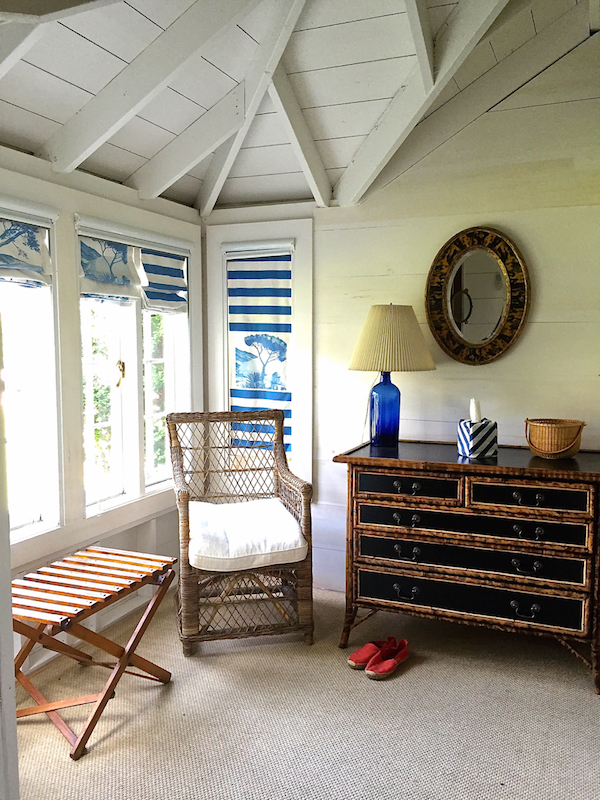 Nautical nods are organic and unpretentious,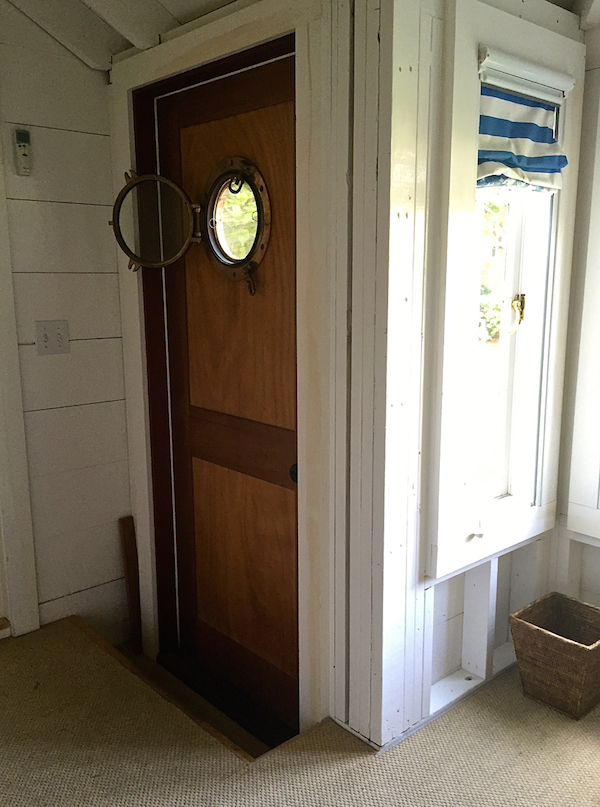 while creative space saving solutions are not only practical but delivered with a smile.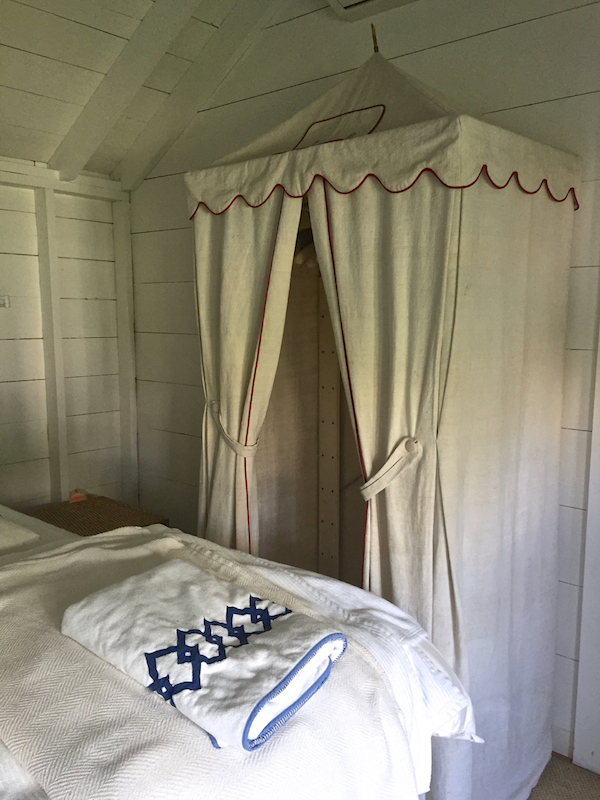 A big thank you to Cynthia for inviting me, and now you, into her beautiful home!
all photos by Stacey Bewkes for Quintessence