Welcome to part two of the Lenox Hill Neighborhood House Gala, featuring more of the spectacular designer tables. It was almost impossible to narrow it down, although my camera, which mysteriously switched its settings in my bag, made some of the decisions for me. As spring entertaining is now upon us, you'll find an abundance of aspirational ideas for your own festivities at home!!
I don't think there was a happier, more colorful table than Lindsey Coral Harper's Bright Lights Big City. The cheerful Lulu DK fabric and amazing flowers by Sebastian Li Designs offered an upbeat optimistic look at spring in the Big Apple.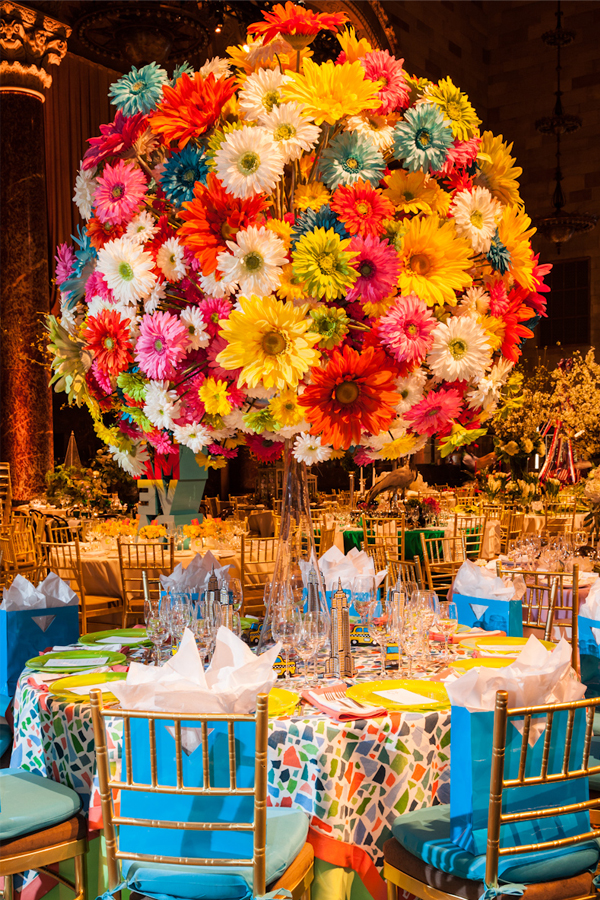 The charming tablescape included pieces from Lindsey's online boutique LAMSHOP. She herself was looking glamorous in white Chris Benz. If I am invited to attend again next year, I'll try and get some shots of the designers as well as their tables!
Alessandra Branca's Harbor Island table featured her signature red and white palette in a sophisticated casually chic design. The Dunes and Duchess candelabra, in what looked like a limed oak finish, was the perfect addition.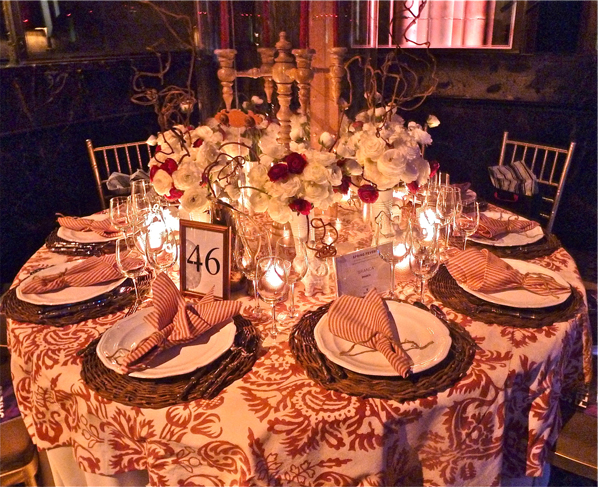 Fabric and napkins from Les Indiennes mixed marvelously with the rustic woven chargers and twine "napkin rings," for a look that would be perfect for at home entertaining.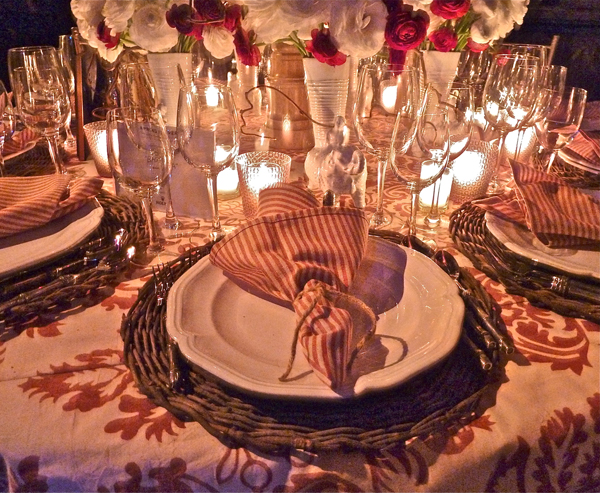 Design Chair Christopher Spitzmiller's Ten Swans a Singing table was anchored by a dramatic antique ceramic swan. It reminded me of the perennial sign of spring in Boston when the swan boats return to the Public Gardens!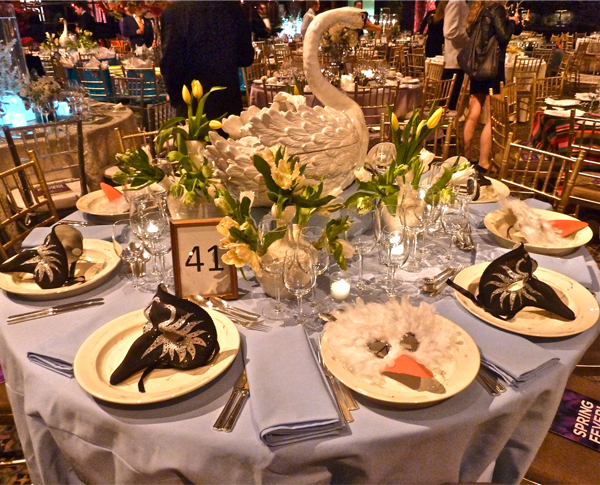 Hand thrown ceramic chargers and tulipieres showcased the designer's talents in an eclectic mix with the fun swan masks. I am now wondering if his guests donned them during dinner!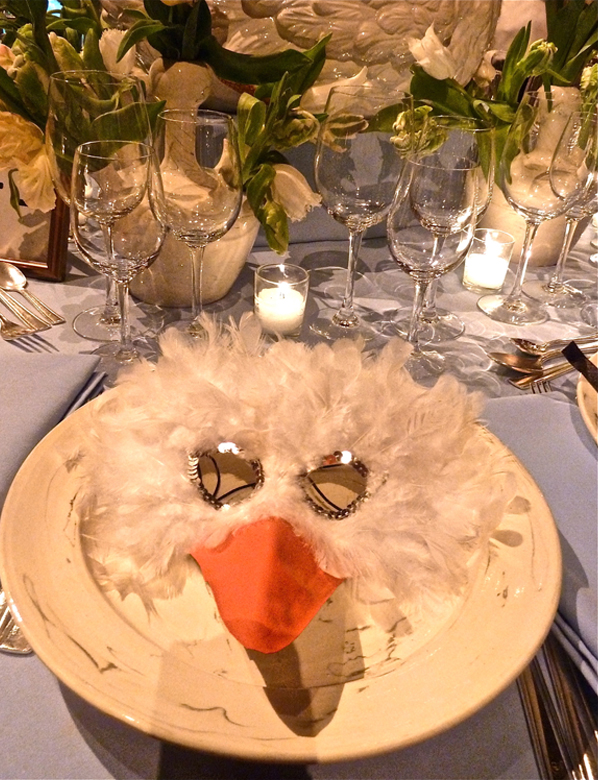 Ceramicist Clare Potter has collaborated with Christopher Spitzmiller on many occasions as she did here for her lovely Camelias in Spring table.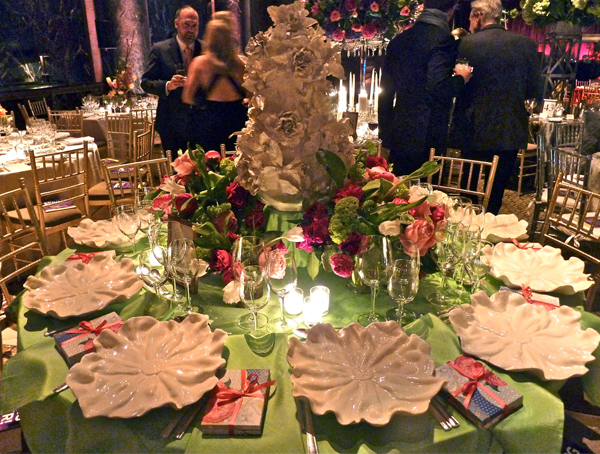 The lovely pink and green colorway was accessorized with flower charges and an incredible camelia centerpiece, all handmade by the team.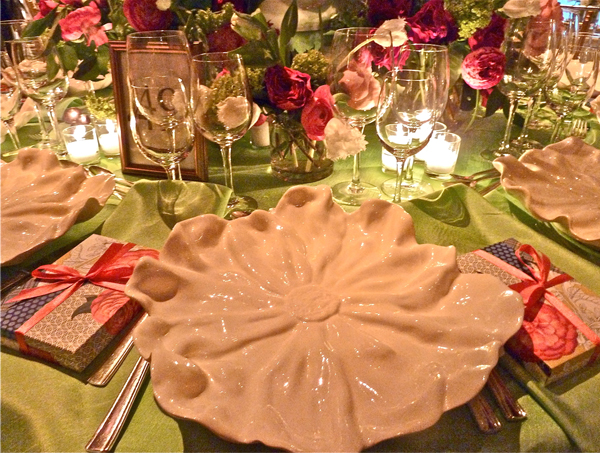 Pagoda Red, the Chicago specialists in rare and unusual Chinese antique furniture and artifacts for the home and garden, designed a table with a dramatic pagoda centerpiece of course.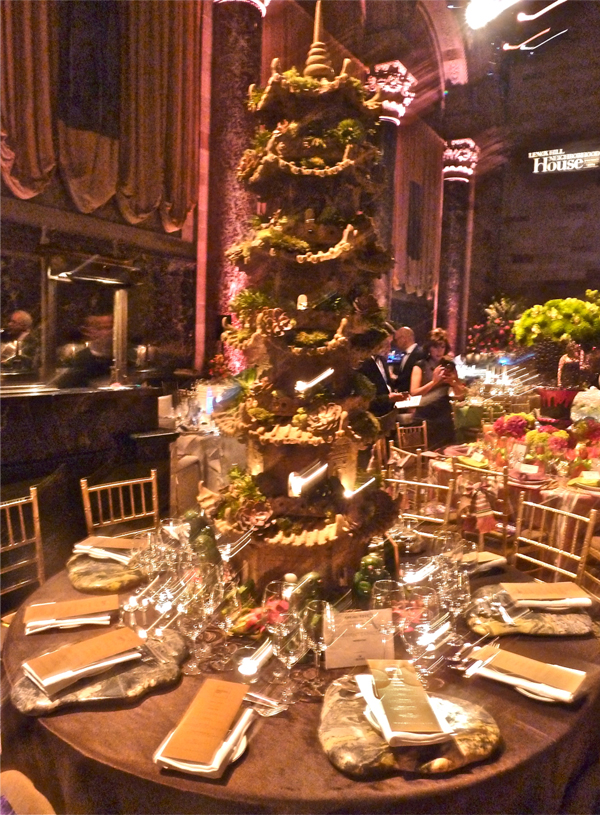 An ode to nature's offerings, their The Orient Expressed table included fabulous stone chargers for a distinctive spring inspired tablescape.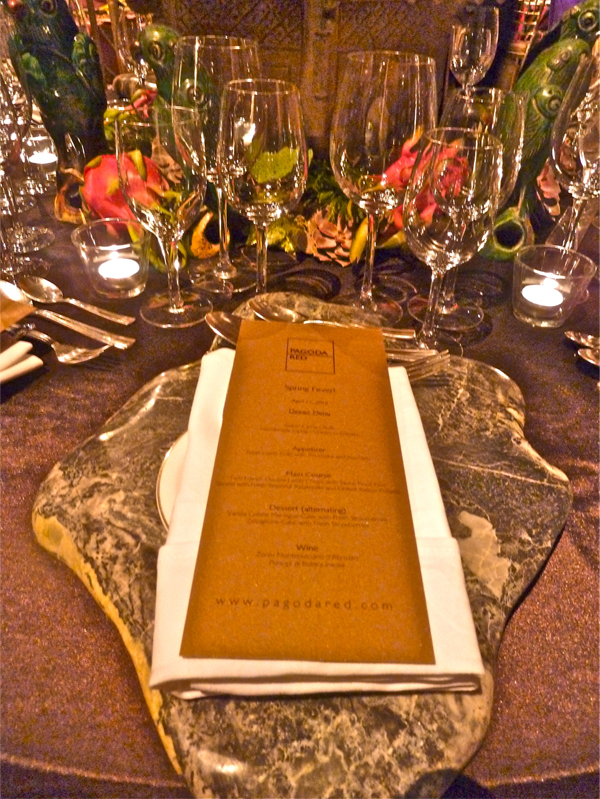 Ashley Whittaker created her lush table with a spectacular arrangement from talented floral designer Amy Merrick. The spitting image of a northern Renaissance still life, In Bloem was the perfect title for the table!!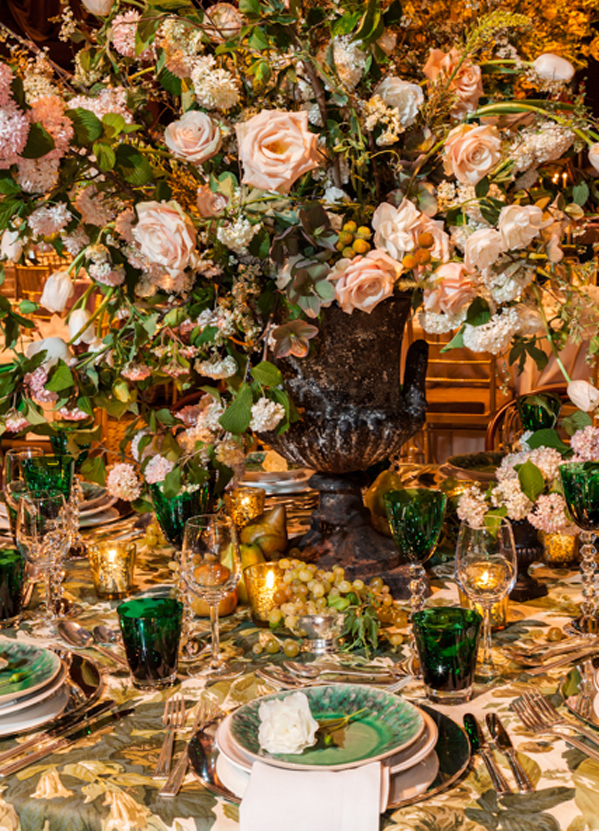 With a tablecloth of Michael Smith's Jasper Grace fabric in willow and Baccarat Vega crystal in a rich bottle green, the table looked ready for a Bacchanalian feast!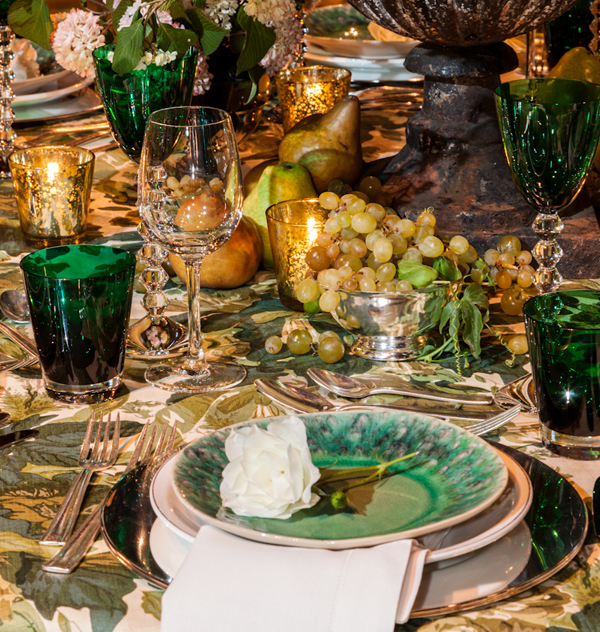 Christopher Stevens, one of the Rooms with a View designers I covered last fall, presented The Silver Grotto, an elegant table with a showstopping centerpiece from City Aquarium. I thought I spied baby seahorses swimming around the striking white coral.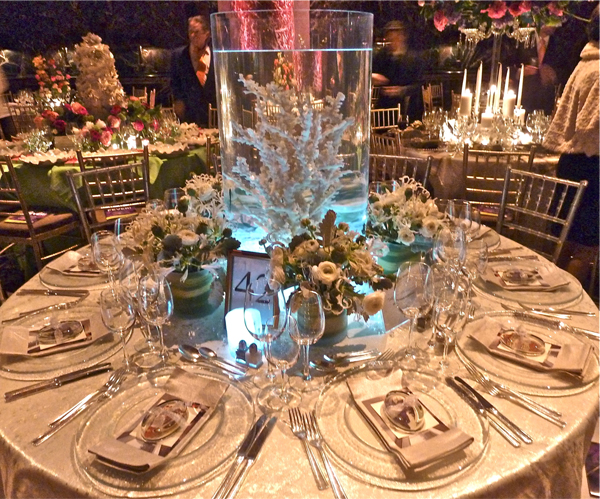 Osborne and Little fabrics with beautiful tonal flowers from Oprah fave Corey Grant Tippin completed the underwater fantasy. Lucky guests received the John Derian paperweights I love.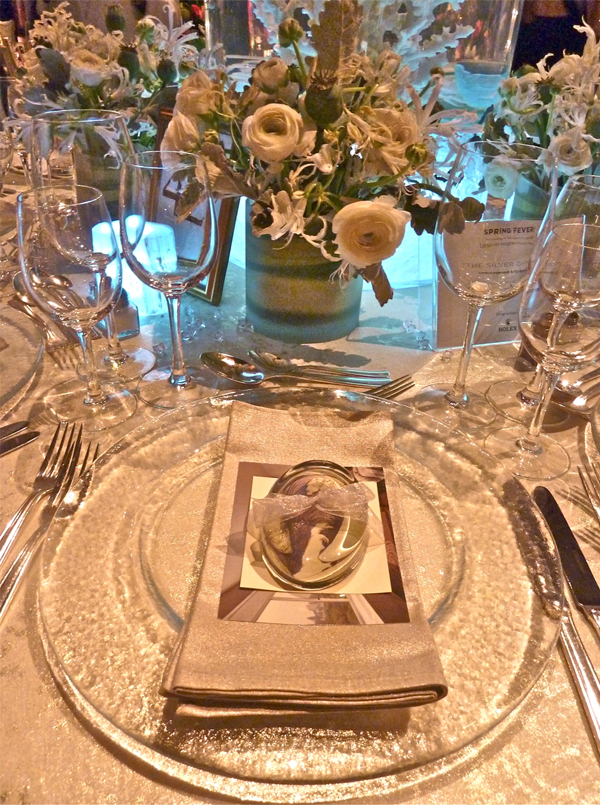 Jon Call of Mr. Call Designs's Midnight Garden table was so evocative with its luxurious modern mix of sultry colors and textures.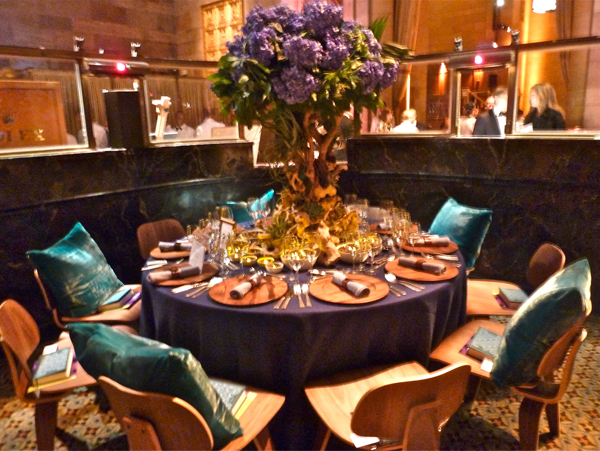 With a centerpiece of driftwood and hydrangea from Adore Floral, velvet pillows and fabulous wooden chargers and tailored leather napkin rings, it was a tactile tablescape that was gender neutral yet sexy.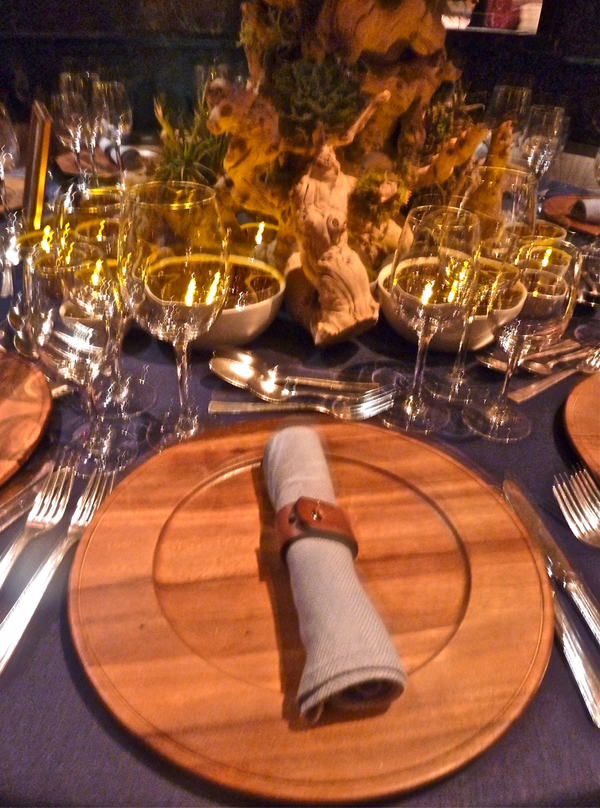 Connecticut designer Tyler Taylor appropriately named her table Le Printemps. Its delicate coloration with statuesque anthropomorphic centerpiece garnered inspiration from British poet Thomas Blackburn:
Awake, thou wintry earth – Fling off thy sadness!

Fair vernal flowers, laugh forth

Your ancient gladness!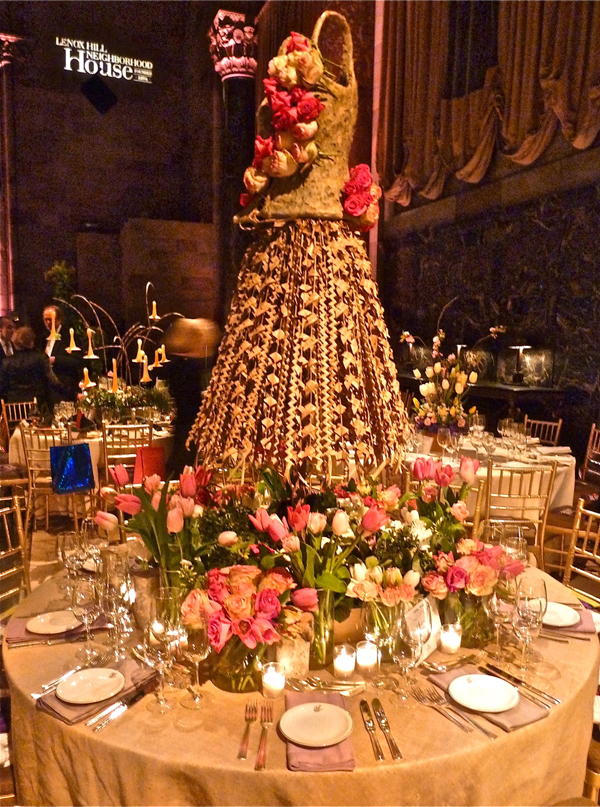 I think that's exactly how we all feel these days!! Fabrics were from Cowtan and Tour. You can see more of Taylor's talents at her stylish New Canaan store, The Summer House.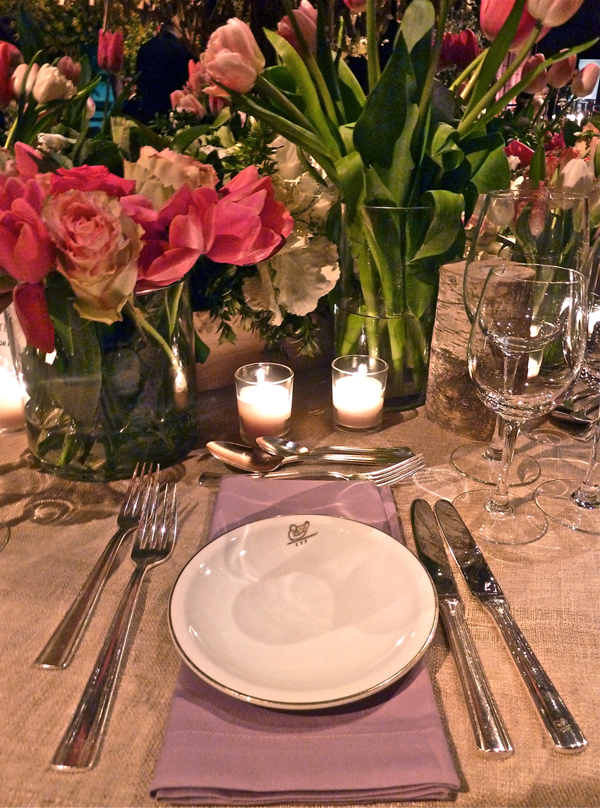 Stop back tomorrow when we'll take a final look at more tables from this worthwhile event!