Few summer retreats are as well known as Long Island's Hamptons. In communities where artists and writers, fishermen and farmers coexist with the more well known moguls and celebrities, houses range from modest cottages to timeless shingled houses to modernist mansions. In her new book, Out East, author Jennifer Ash Rudick, with photographs by Tria Giovan, has captured more than thirty of the area's most distinctive houses and gardens. Susanna and I were thrilled to visit one of the book's featured houses – designer Muriel Brandolini's creative waterside home. Join us for an insider peek at this very special house.
Within a unique modern structure by Italian architect Raffaella Bortoluzzi, Brandolini has layered her signature color and pattern for a dynamic yet lived-in interior that creatively melds important contemporary classics with vintage global chic. In the connecting hall, a colorful cabinet by François Bauchet from Galerie Kreo, below, sits center stage.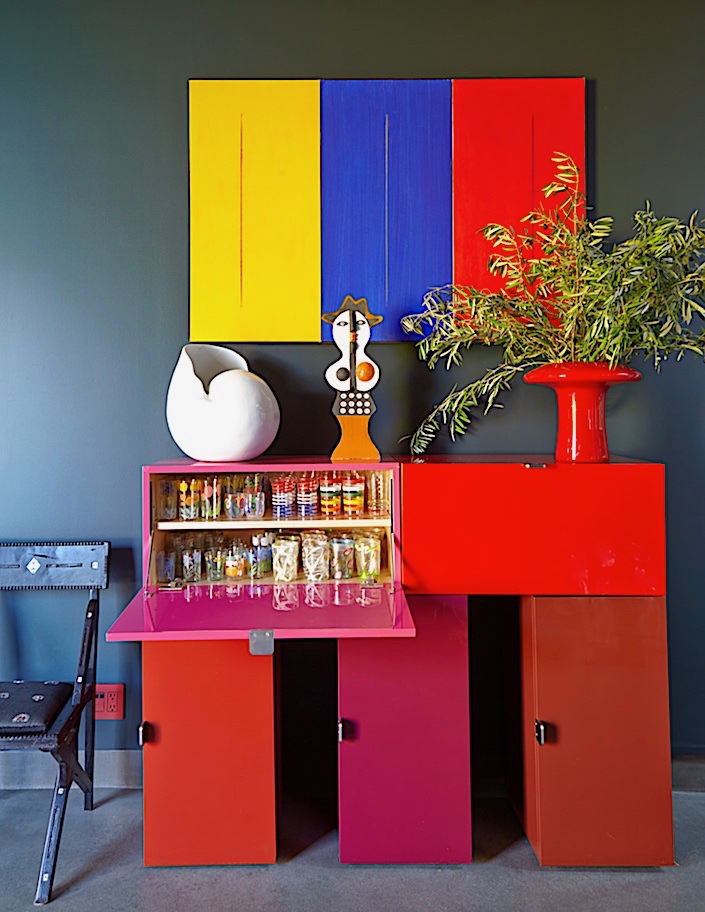 And in the cozy living room, a vintage sofa from Alan Moss Studios upholstered in a Christopher Hyland fabric, vintage lamps from Liz O'Brien, side tables from Vistosi, a custom Brandolini slipper chair in antique fabrics all sit on a Studio Four abaca rug.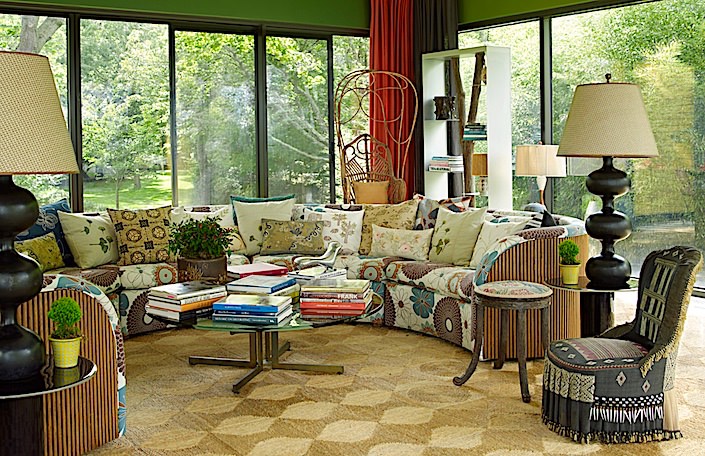 Thank you to Muriel for welcoming us in her fabulous home.
photo by Stacey Bewkes for Quintessence
In addition to Muriel Brandolini's home, Out East features a wide variety of houses and gardens, from Katharine and William Rayner's extraordinary Woody House in East Hampton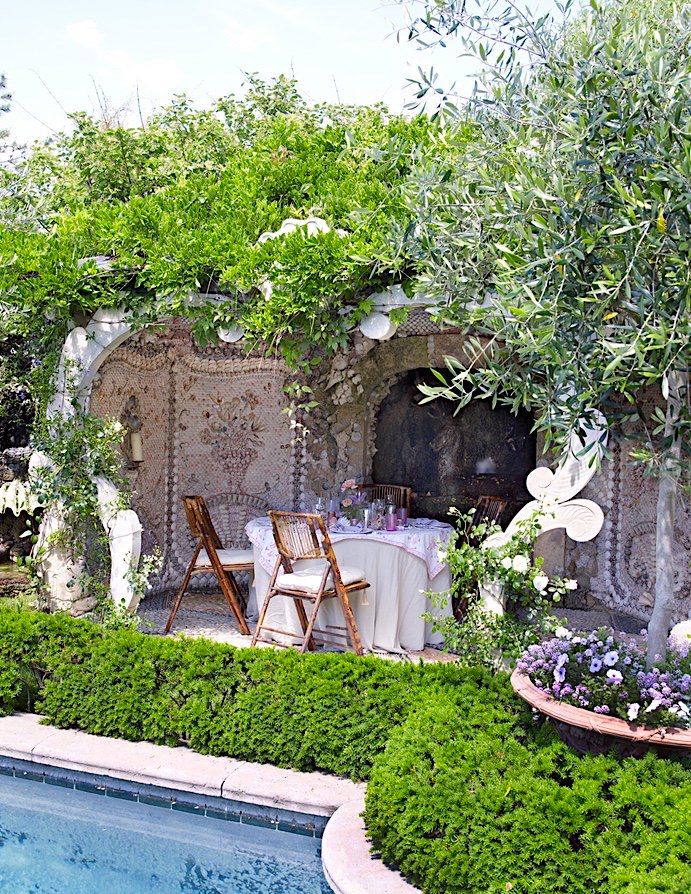 to the charming historic cottage of artist Donald Sultan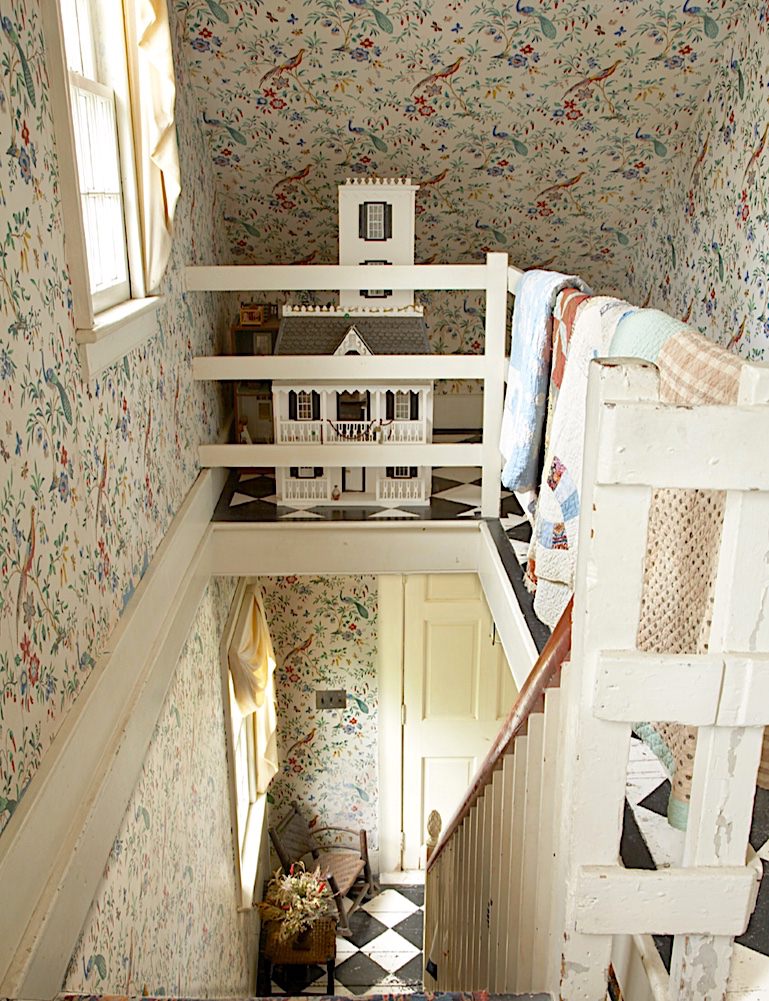 to the exuberant pattern filled ode to blue and white of talented duo Harry and Laura Slatkin, designed by brother Howard Slatkin,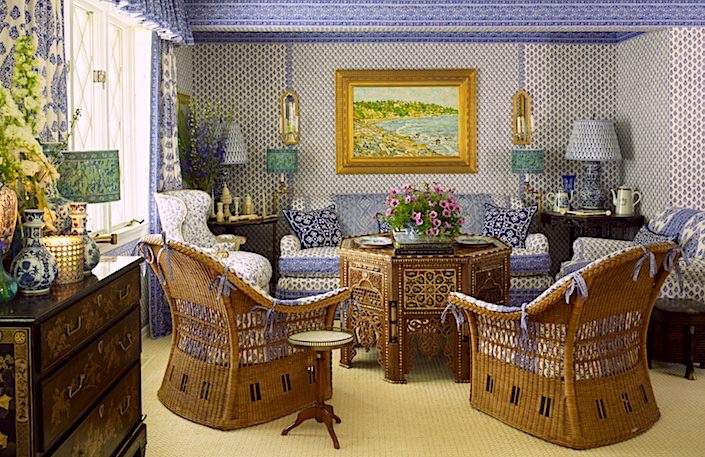 who also commissioned a charming tin-roofed pavilion, made in England and assembled in East Hampton.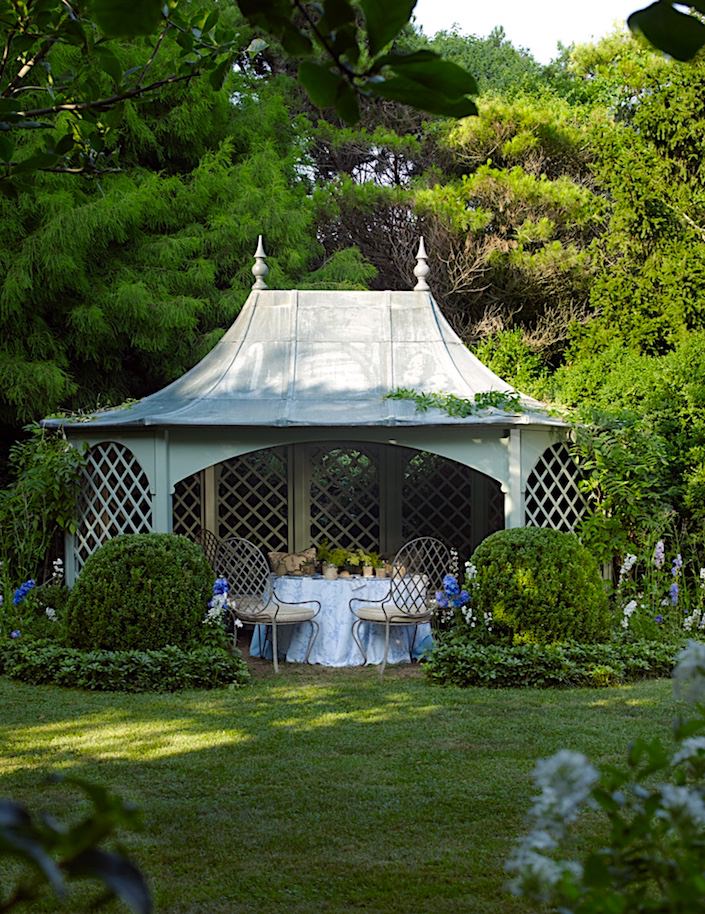 Throughout, Jennifer has used her experienced eye, as she did in Palm Beach Chic, to assemble a unique range of styles representing the eclectic Out East lifestyle.
all photos above by Tria Giovan except where noted
A final huge thank you to video sponsor Vendome Press. The publisher of Out East and many other stylish titles, their select list of illustrated books is an inspiration to anyone interested in the arts, design, travel and fine living. Many of the titles I have written about, from The English Country House, Fifth Avenue Style and Palm Beach Chic, to Haute Couture Ateliers and Cartier in the 20th Century to Markham Roberts, Tom Scheerer and Katie Ridder and Peter Pennoyer's House in the Country. All  illustrate their meticulous attention to detail and impeccable quality and taste. Stay tuned for the rest of their 2017 list, below, coming soon!