Kudos to all the designers who created tables for this amazing event. Today is the last grouping of inspiration for this talented team of creatives.
Design chair David Duncan, in creating his dramatic Set Sail for Spring table designed a Sere Roche-inspired centerpiece, incorporating a crystal-beaded galleon that he had found in Belgium. It's a bit hard to discern in this photo but on top is a plaster dolphin with sprays of crystal beads pouring from its mouth capped with a lush display of orchids.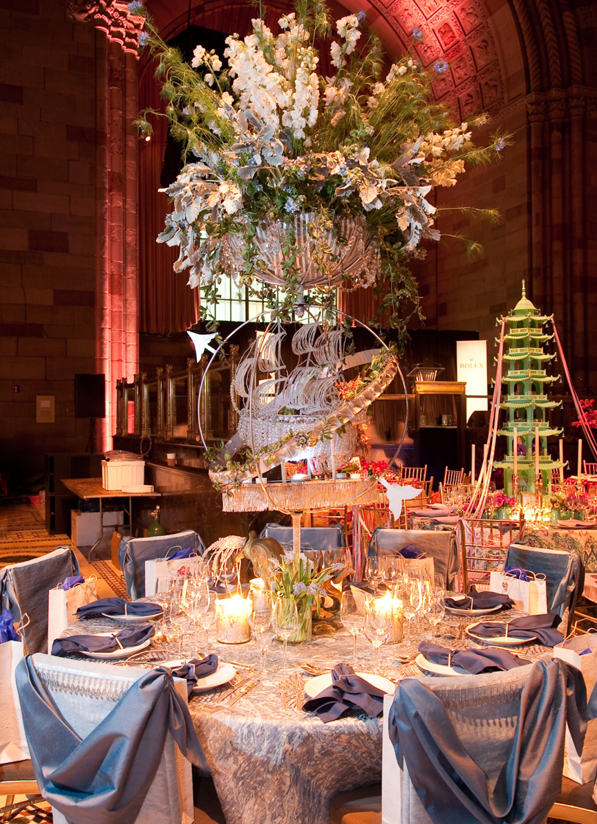 The table continued the water theme with a custom marbleized silk in shades of blue and silver toned "netting" chargers.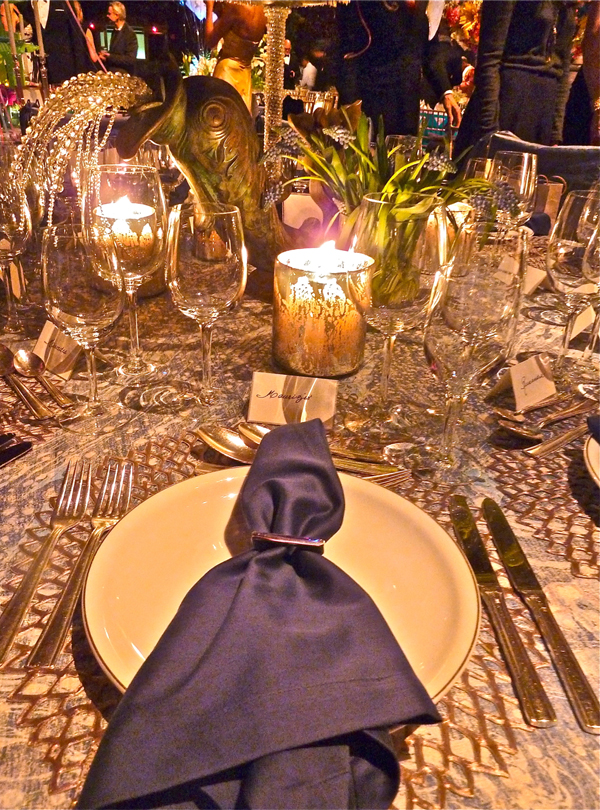 Patrik Lönn Design and l'Olivier Floral Atelier's Swedish Garden table was just the right mix. Not overdressed yet casually chic.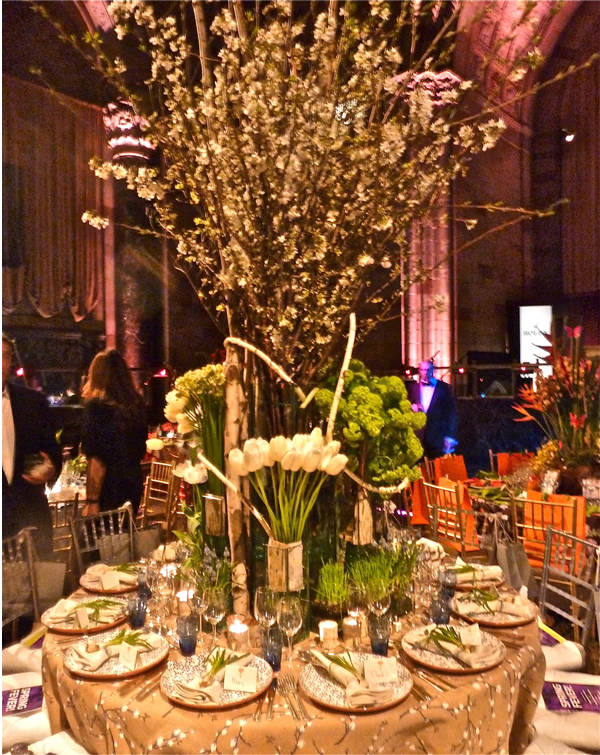 I loved the mix of grasses and herbs and the layered textures and touches of blue throughout the ceramics. linens and glassware. High country at its best!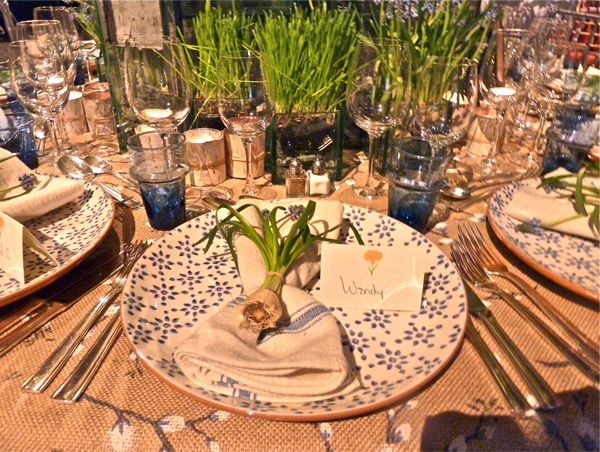 Leta Austin Foster offered something a little exotic with her Springtime in the Serengeti table. The giant topiary giraffe was executed by Christopher Cope.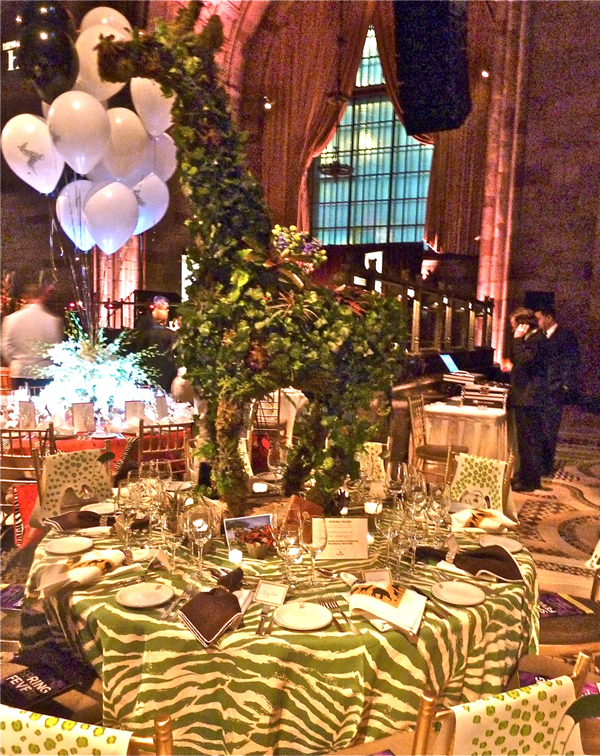 The colorful China Seas/Quadrille tablecloth set the stage for the fun assortment of safari related accessories.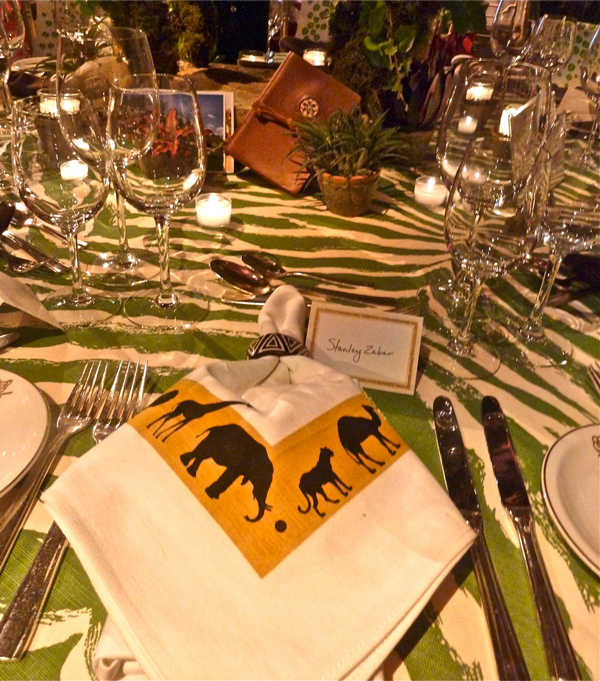 Ryan Korban collaborated with the downtown denizens of style Flair for their table. A large (what I think is a) heron presided over the affair majestically.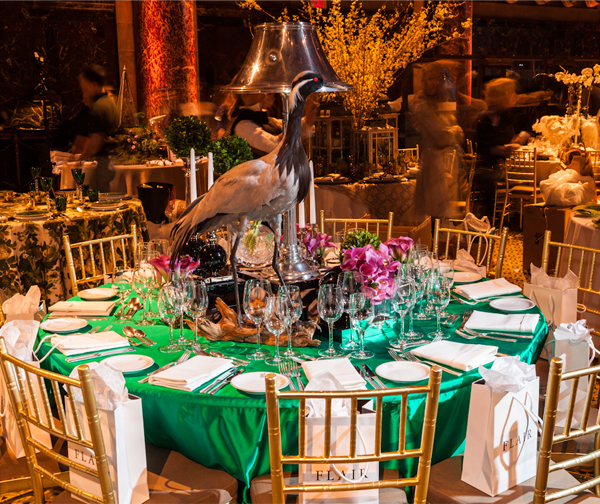 Bright emerald green with contrasting pink florals contributed to the tropical feel.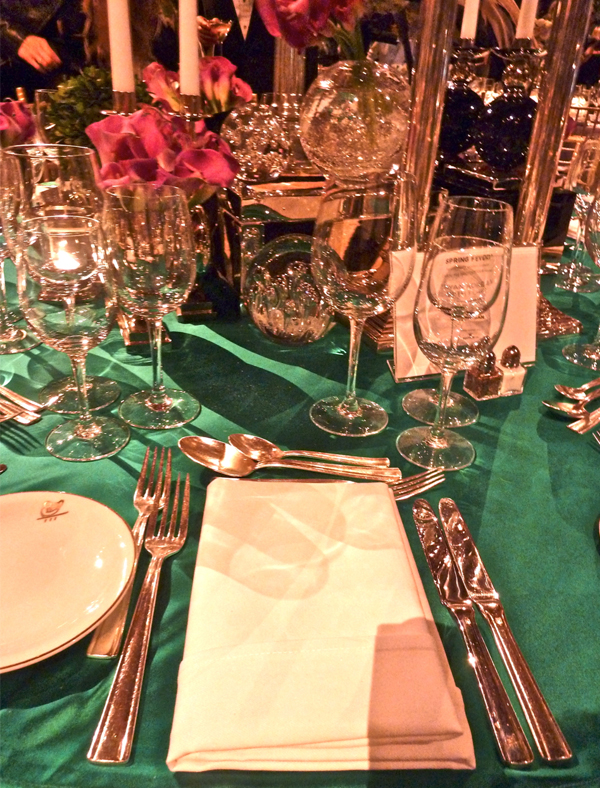 Mercedes Desio and Alberto Villalabos of Etos also displayed some downtown ingenuity for their eclectic Allegory table.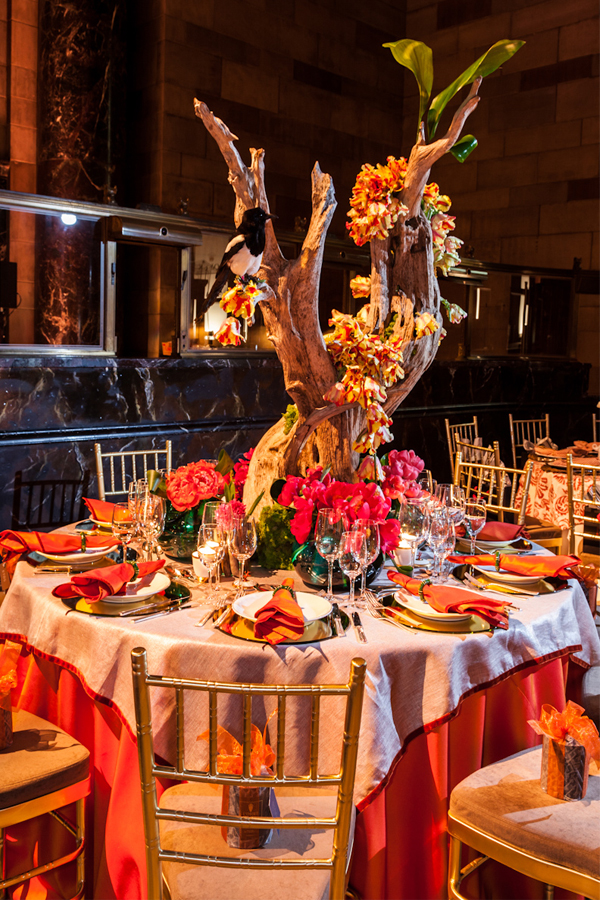 Their beautiful natural centerpiece was a standout with tabletop decor courtesy of Manhattan Shade and Glass, Fleurs Bella, Donghia and Holly Hunt.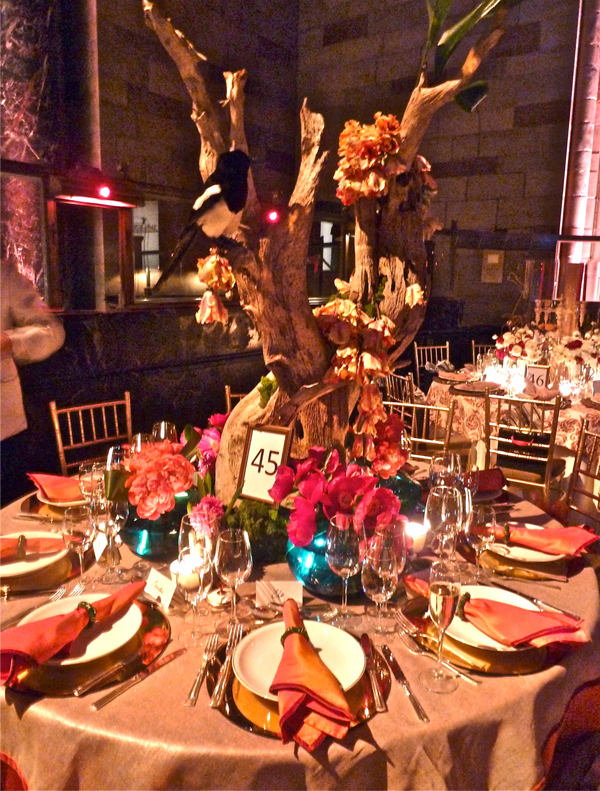 Steven Stollman, president of Scalamandré, payed homage to the firm's iconic Red Zebra pattern with a Dinner at Gino's table. Created for the 1940s restaurant, the now famous zebra pattern lent its exuberant logo to balloons as well.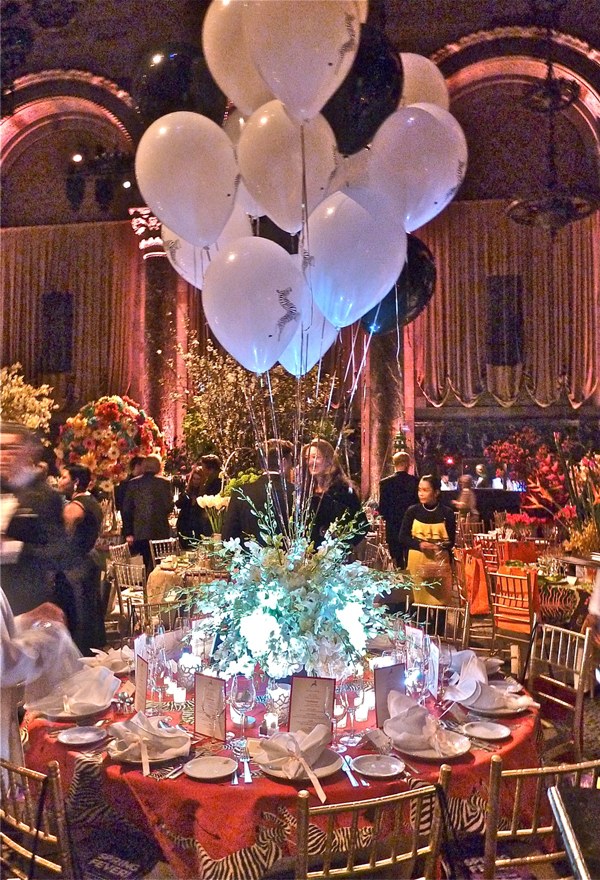 On a rainy day you can see stylish New Yorkers traversing the streets with the prancing zebras adorning Scalamandre umbrellas as well.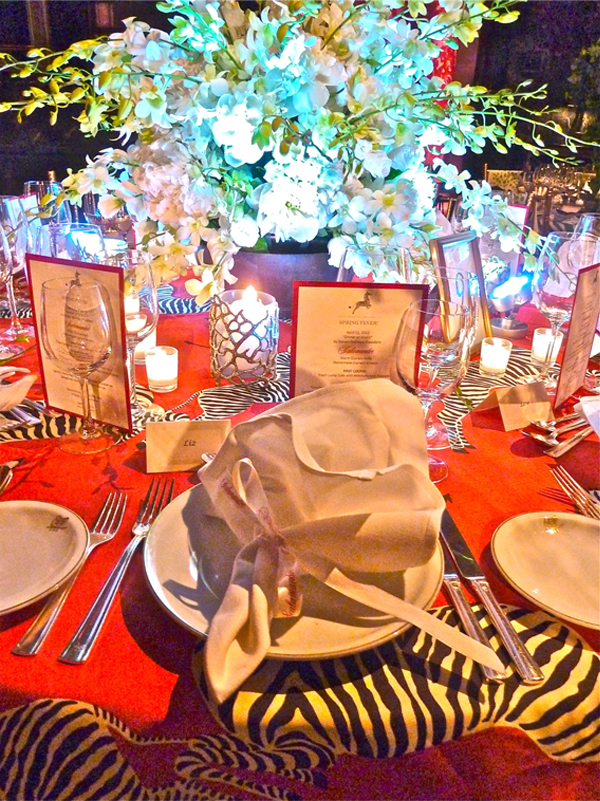 Another stunning Chinoiserie vignette was that of Dennis Rolland, whose Imperial Garden Fête stood out with its majestic tole pagoda by Two Worlds Arts and exuberant pastel colors.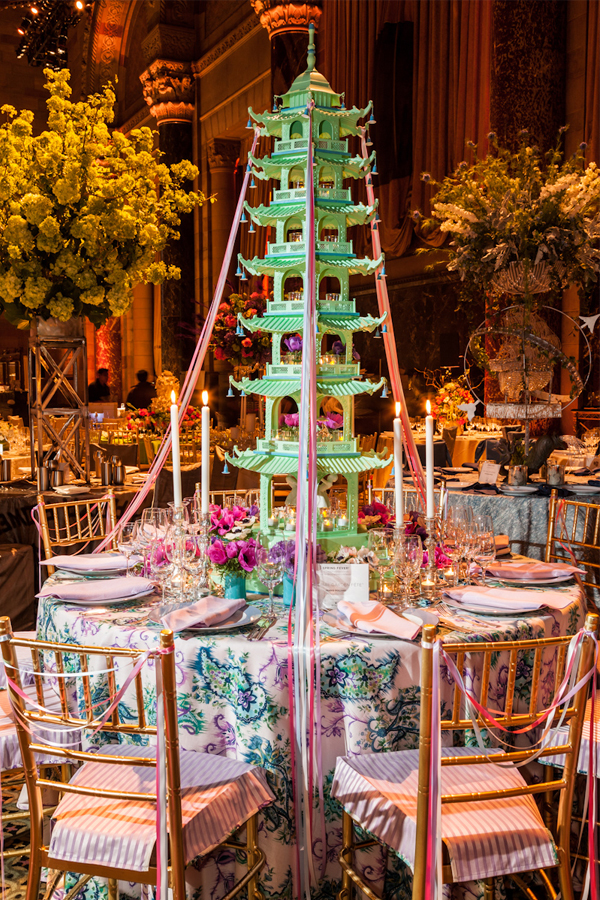 Colorful streamers, lovely lavender service plates by Bernardaud and classic Christofle silver accessories were the finishing touches bringing the essence of spring to the table.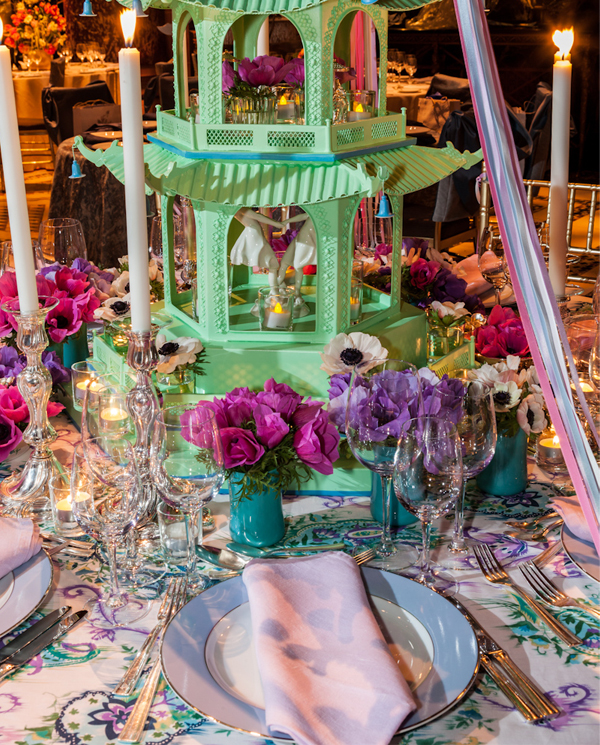 Distinguished furniture and antiques company Frederick P. Victoria designed this beautifully tailored table. A rich eclectic mix, it combines a variety of colors, textures and patterns for a particularly successful sophisticated melange.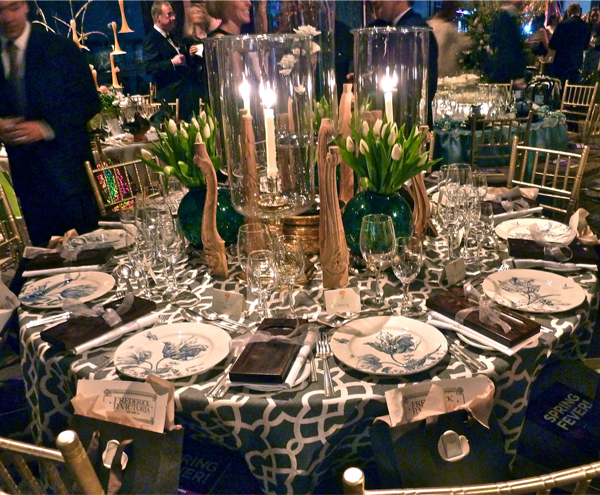 The layering of patterns is understated yet elegant suggesting the bounty of the season.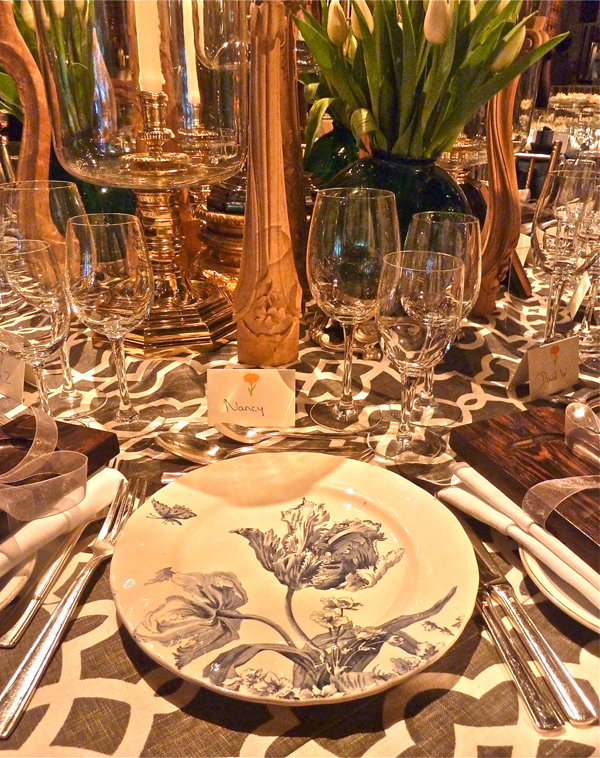 I certainly hope you now have an idea of the level of artistic creativity and splendor of the evening. And I must add that Cipriani 42 did a magnificent job of serving such delicious food to such a large crowd. If you are ever considering hosting a large event in New York, I highly recommend the venue for a fabulous experience in ambience, service and menu!!
photos by Quintessence lifestyle blog