Before the holidays I visited the Schumacher headquarters to preview their early 2016 releases. While most of you are no doubt familiar with the firm, what you may not know is the company's distinguished history. Founded in 1889 by Parisian Frederic Schumacher, the New York City design company introduced the most exquisite European fabrics to a discerning American clientele.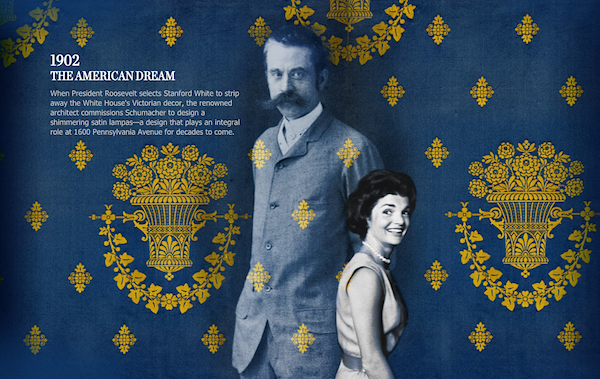 In fact, Stanford White commissioned Schumacher to design a fabric for his White House redesign for President Roosevelt. And Jackie Kennedy used a Schumacher lampas for the walls of the Blue Room made famous during her 1962 White House tour on TV when she was first lady. Take a peek at this fun and charming video Schumacher made to give a taste of their illustrious past and "rich legacy of collaboration."
From collaborations with Paul Poiret to Lisa Perry (my piece on the collaboration), the firm has long had a close association with fashion, so it is fitting that the new year should start with the firm's introduction of Schumacher Couture. With exquisite embroideries and elegant embellishments, it's a collection you'll be as tempted to wear as use in your home. I've included several of my favorites. The stunning Toledo, below, is a chic contrast of cotton linen ground against delicately detailed embroidery, reminiscent of Saint Laurent's fashionable Moroccan inspirations.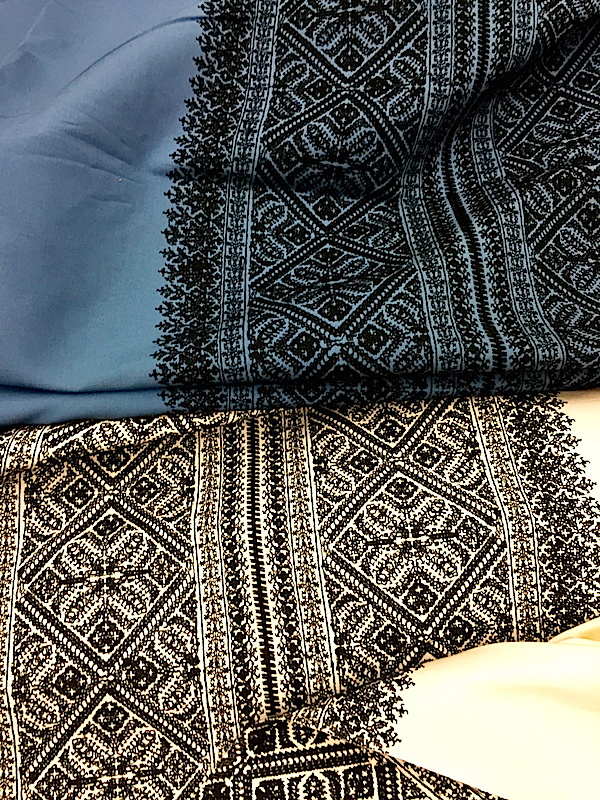 Castille, melding old and new with a sophisticated tone on tone embroidery and detailed embellishments, feels both fashion forward yet heritage inspired.  Of course most of the new Schumacher Couture fabrics are available in several colorways, and you'll just have to trust me that the black on black jet version of Castille is beyond fabulous for those who appreciate understated drama.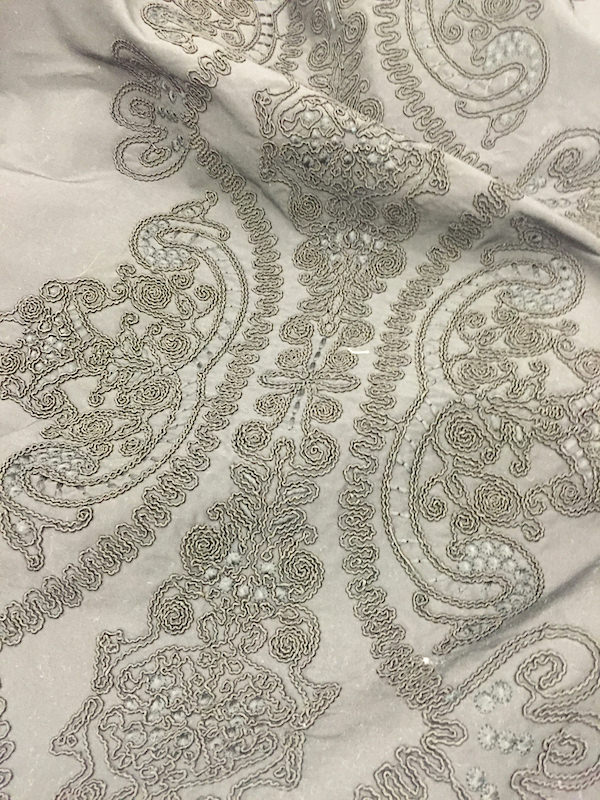 With a subtle shimmer and geometric embroidery, Marbella has a luxurious allure that whispers rather than shouts.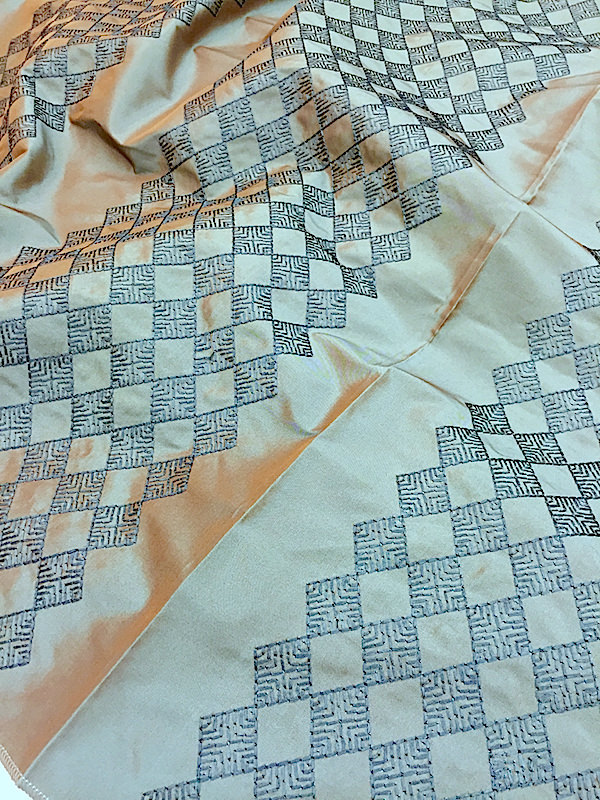 And for a more contemporary take on couture, Legere melds formality with fun, featuring a graphic grosgrain ribbon design on a sumptuous  silk and linen background. Some of these colorways were not final so best to check with Schumacher when the line launches.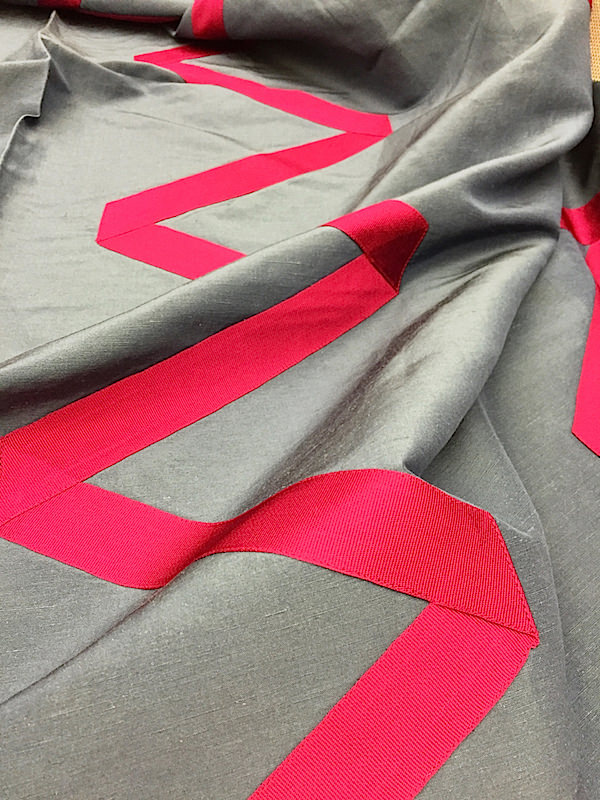 In addition to Schumacher Couture, the new Schumacher Classics collection is coming. Iterations of iconic classics, all sourced from the archives, in updated colorways, the fabrics show how timeless these patterns really are. Based on a 19th-century French Indienne print, Sandoway Vine looks of the moment in charcoal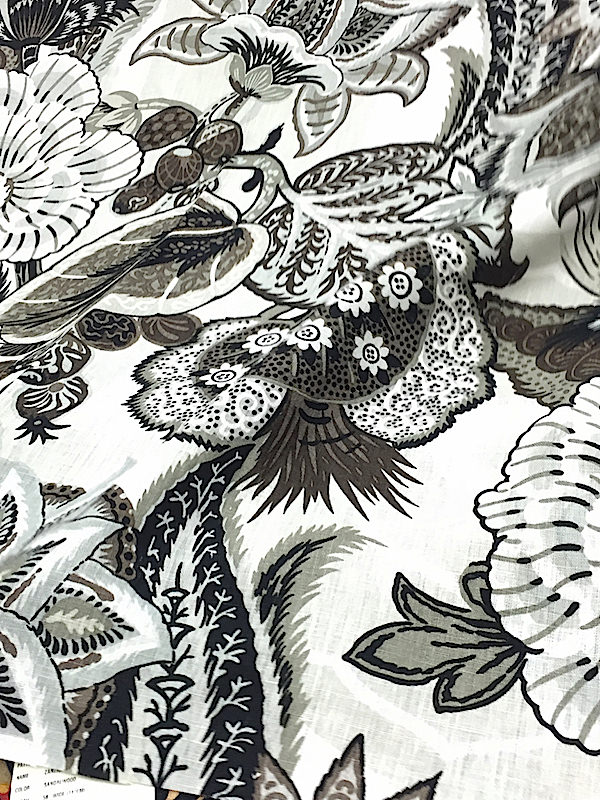 and always right in blue and white.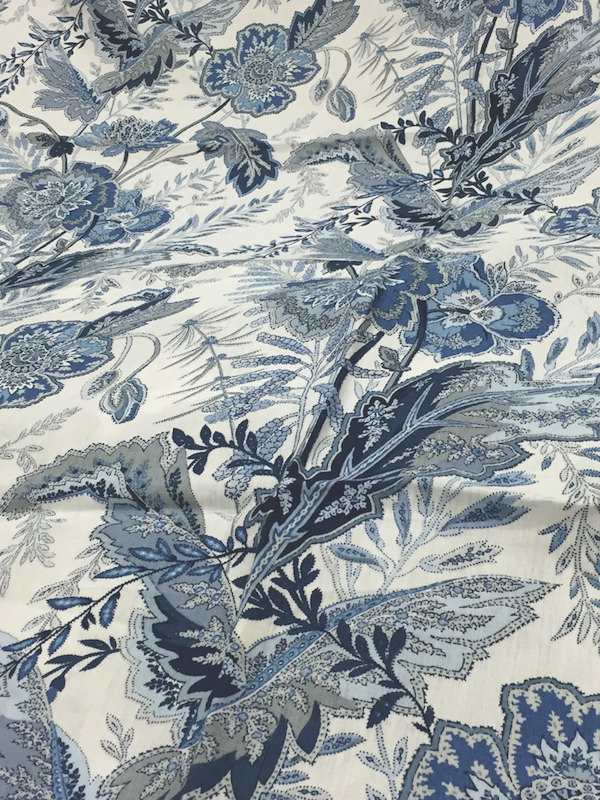 In fact the legions of blue and white aficionados will be delighted to learn that many of the new releases are available in the classic colorway. Reproduced from an antique rendering, Lansdale Bouquet feels rejuvenated in porcelain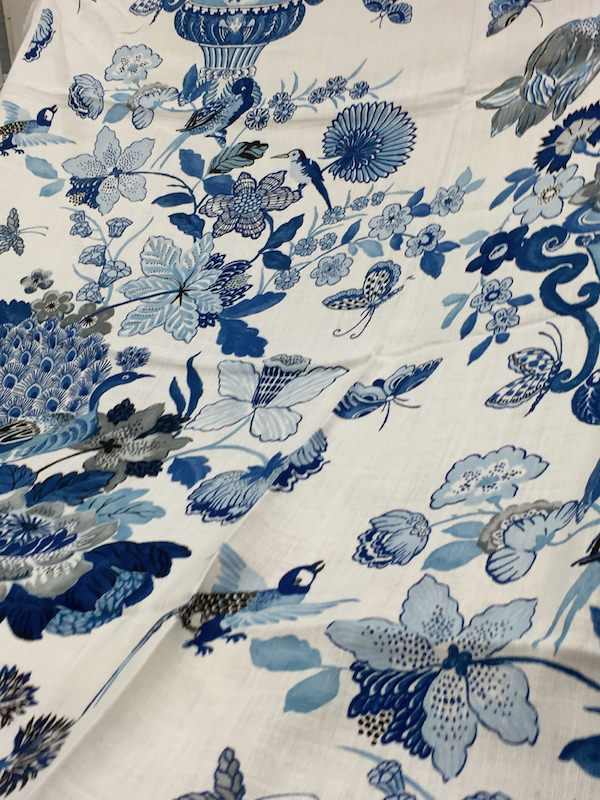 and fresh and frisky in summer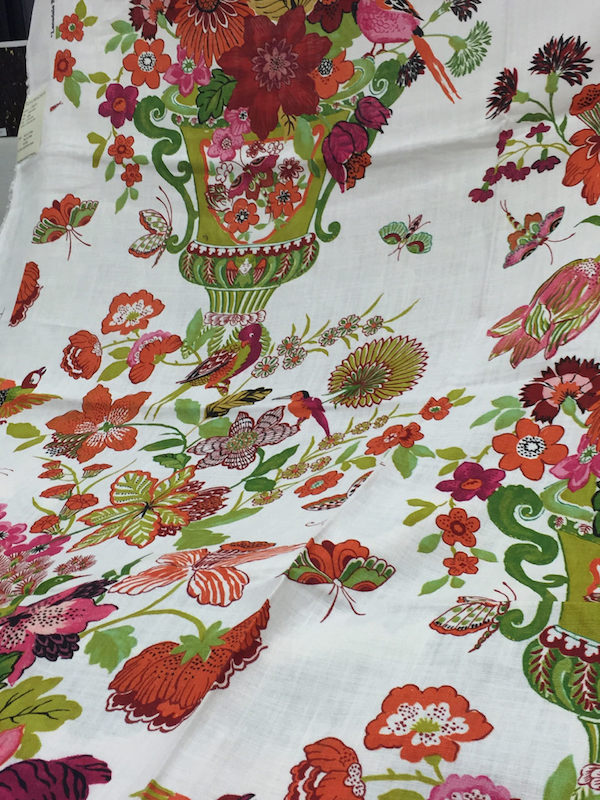 The wonderful Plaisirs de la Chine, based on a 1930s document, translates beautifully to blue and white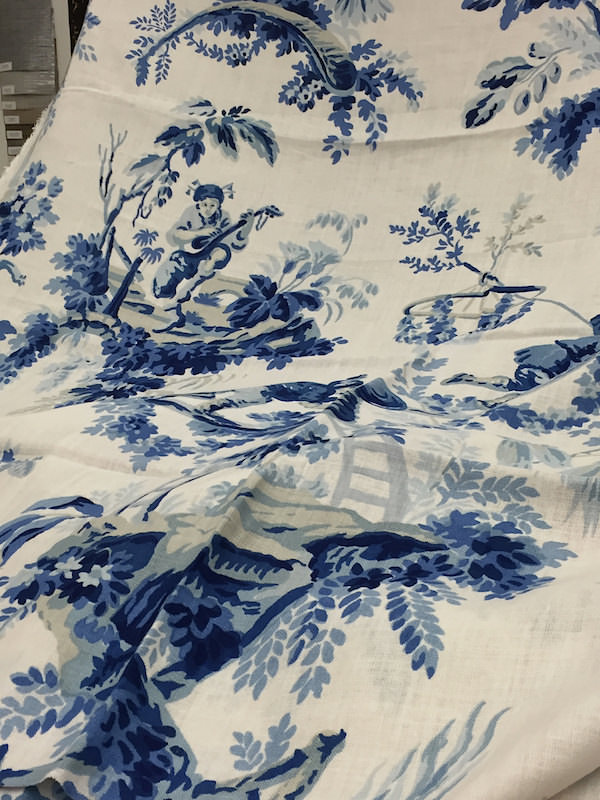 and is positively irresistible in the bleu & rouge colorway.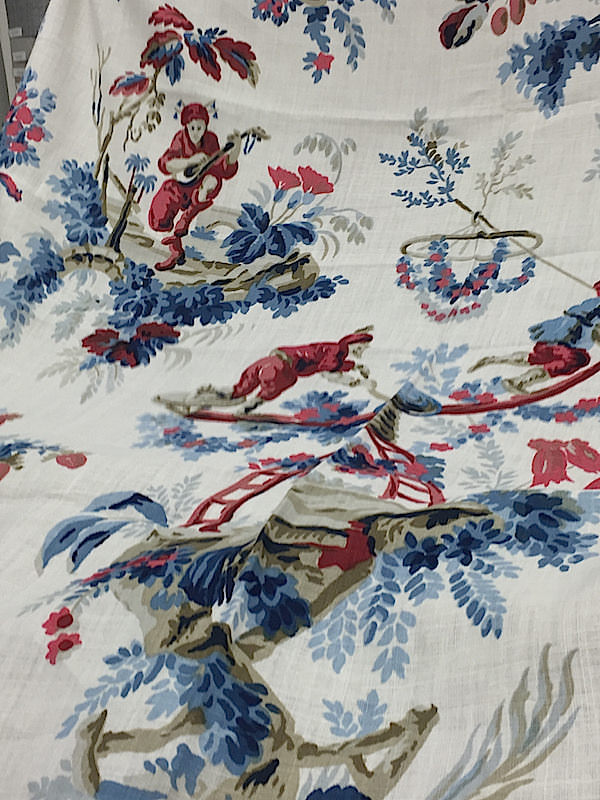 I loved learning that Persian Lancers is hand printed with the same blocks used to make the original in 1920. With much movement that tells the fabric's story, the new blue and white version is fresh take on the tale.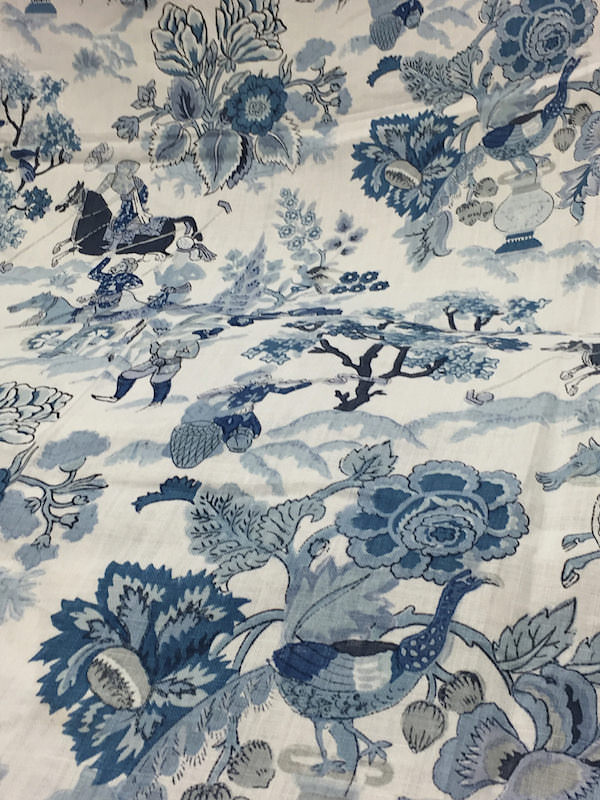 The Deco inspired Zanzibar Linen Print adds violet to the blue and white mix for a lively and exotic mix of flora and fauna.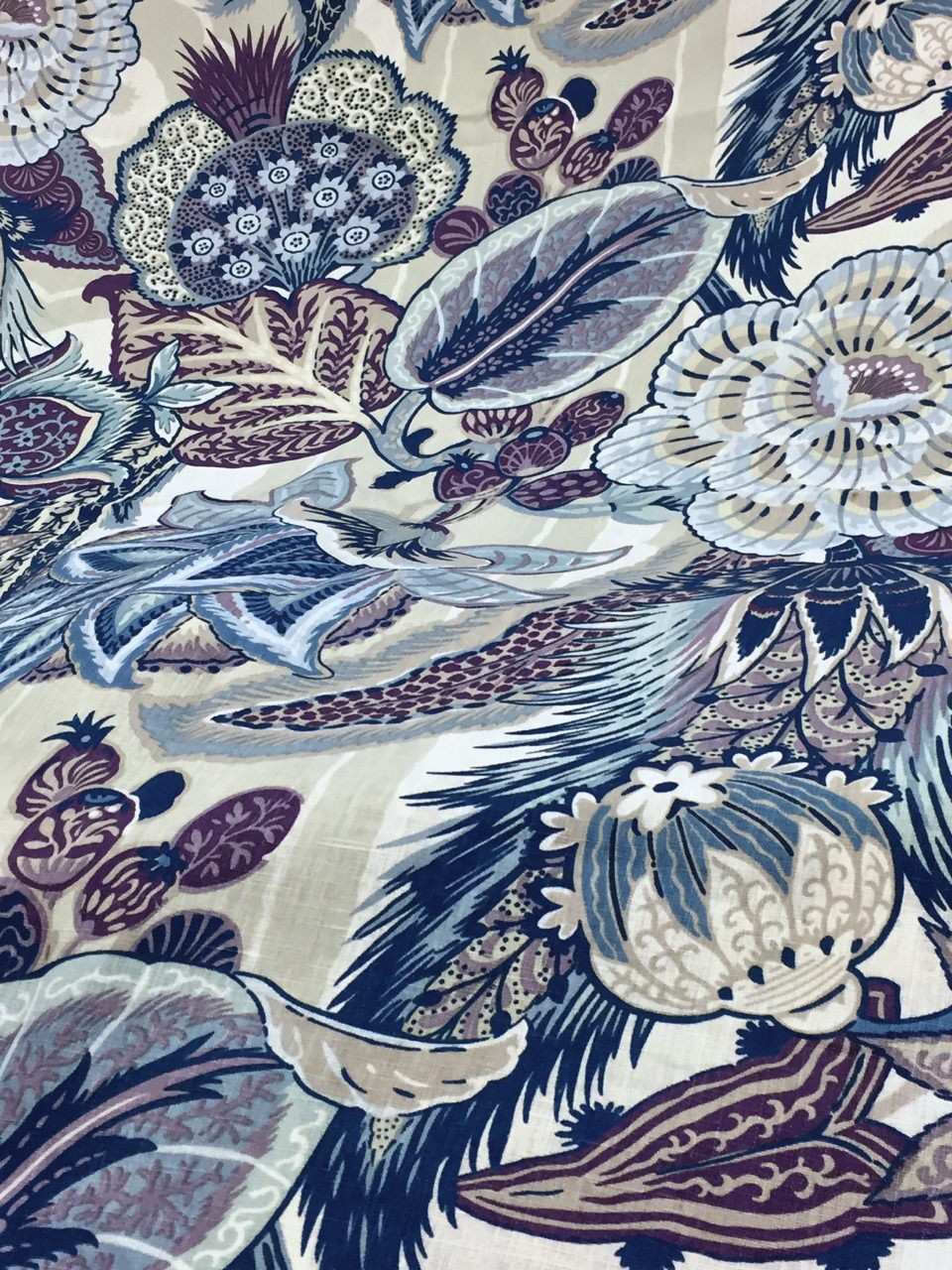 And here is Creative Director Dara Caponigro, peeking out from behind Pearl River, which, in its new sea colorway, looks remarkably modern with its bold take on color and pattern.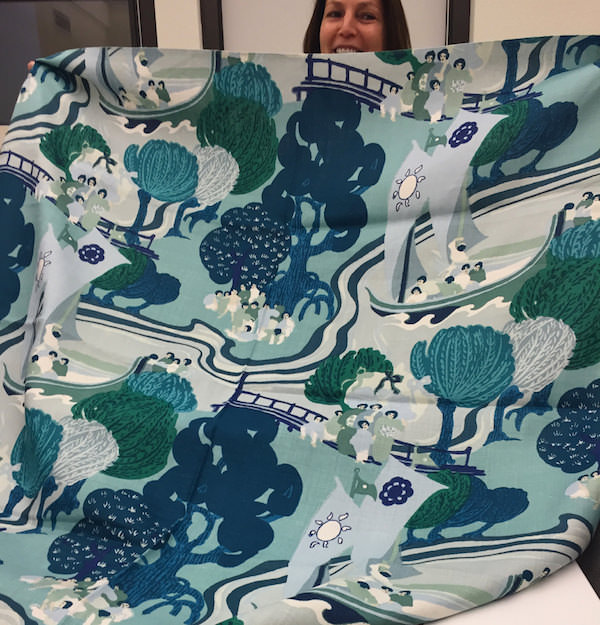 Another Asian inspired pattern, Lotus Garden, is based on a 1920s document referencing Japanese natural motifs. I'm loving the saturated jade colorway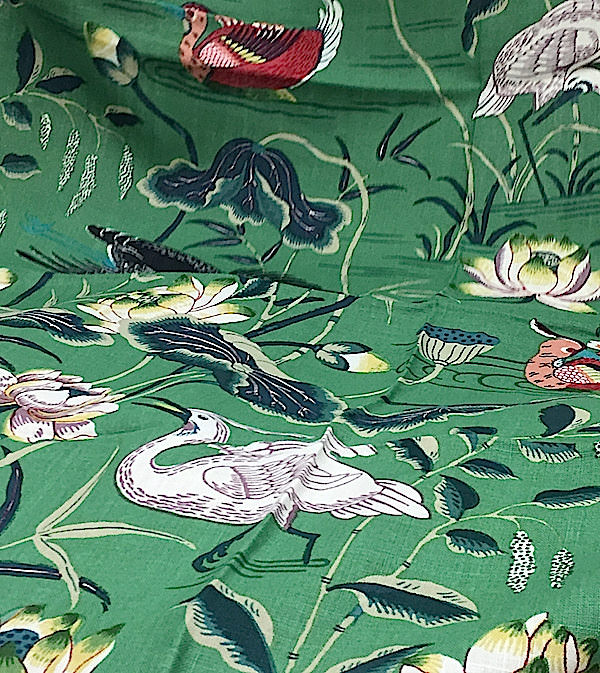 and yet the multi colored Parchment version is equally beautiful and so versatile.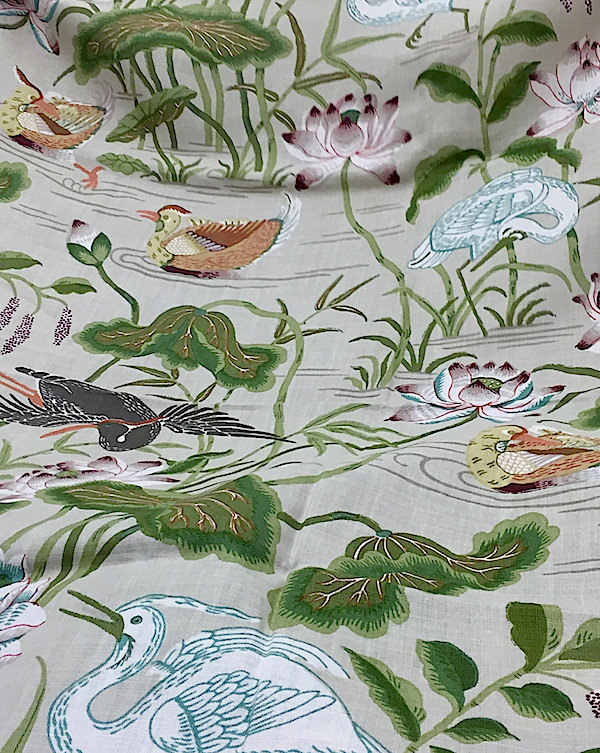 Like the ever popular Shantung Silhouette, the new Woodland Silhouette is inspired by an earlier document that has been modernized by simplifying its lines.  On a slubbed linen in six "stepped on" colors, steel below, it is a charming nature-inspired pattern with a timeless feel.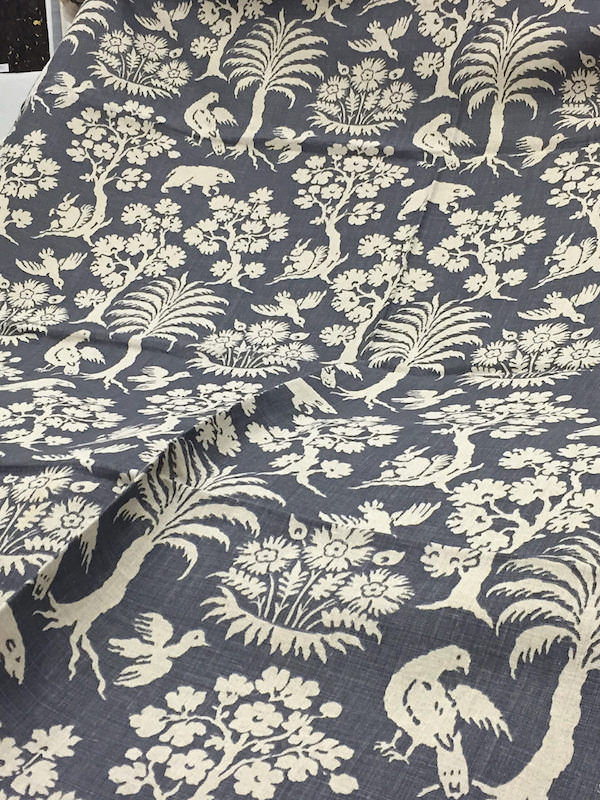 Other existing patterns are now officially part of the classics collection, from Indian Arbre and Song Garden to personal favorites Les Fougeres and Pyne Hollyhock, which made the cover of the new Parish-Hadley book. In addition to Schumacher Couture and the new Classics collection, I got a sneak peek at a very special February introduction. The spectacular Marine Toile is an accurate hand-engraved depiction of a rare 19th century document. Oversized in scale with a dramatic nautical narration, it is a truly impressive pattern.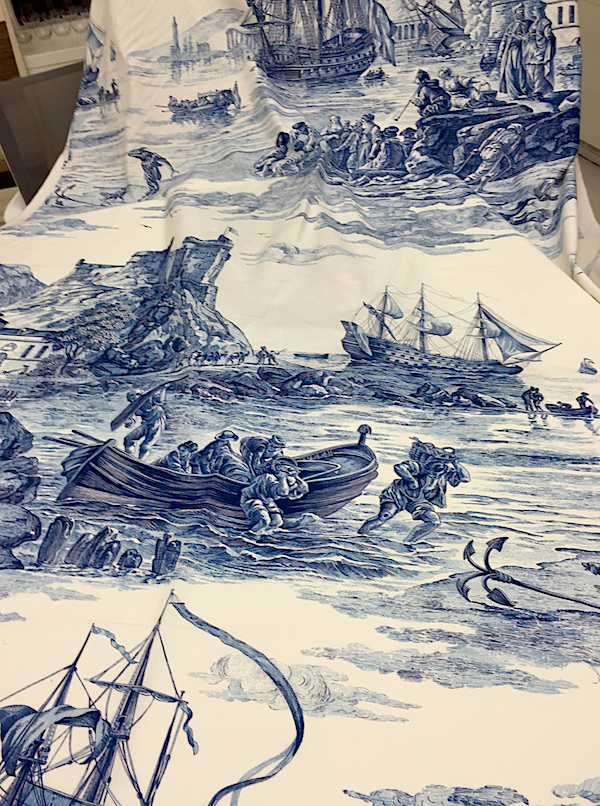 Shown above in indigo, you can see the incredible detail in the close up of the black version below.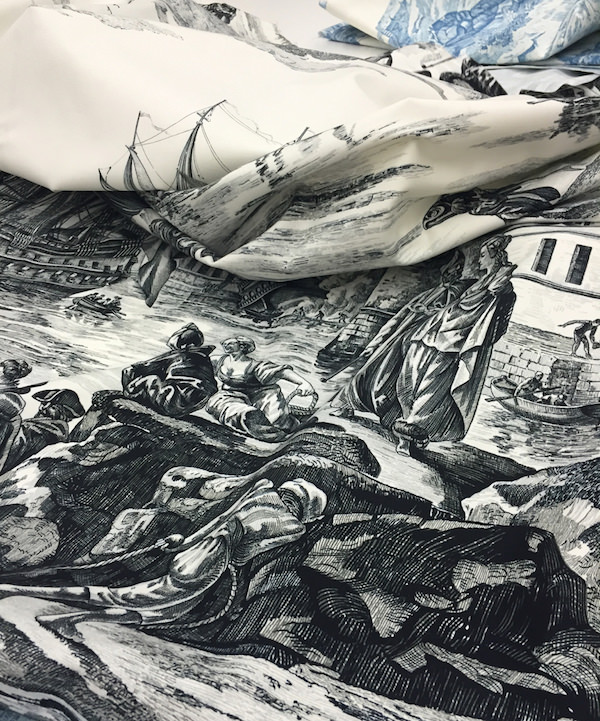 And finally a handy tidbit for those who love wallcoverings. Did you know that Schumacher offers paper-backing for any of their fabrics, for a flat fee of $185 for 1-5 yards, plus $21.55 per yard after that? For a step beyond wallpaper, that is getting a big visual and textural bang for your buck, as seen in the campaign you may remember below with the ever stylish Taylor Tomasi-Hill and Shengyou Toile, part of the new Classics collection, on the walls.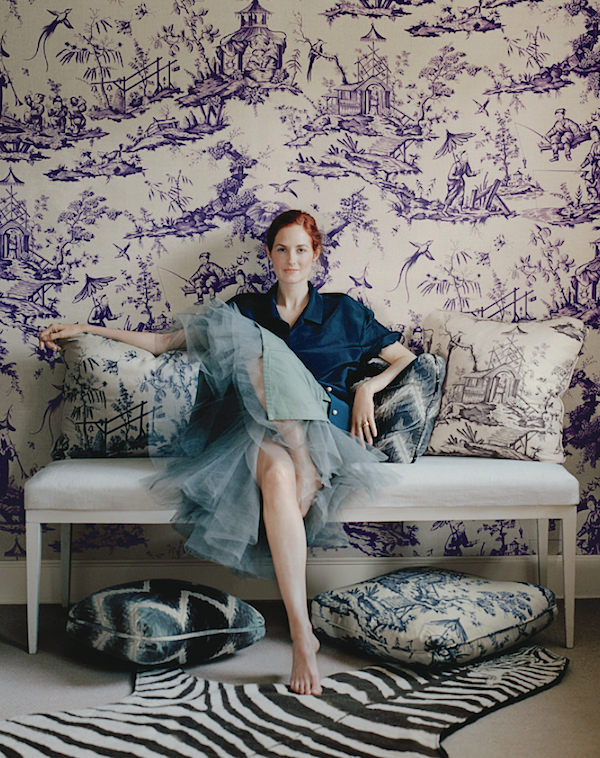 all photos of fabrics by Quintessence