Early last month, Susanna and I flew down to spend a quick 24 hours in New Orleans. With a little help from our video subjects, Jane Scott Hodges and Sara Ruffin Costello, as well as our usual on-foot exploring, we definitely got a taste for the unique flavor of The Big Easy.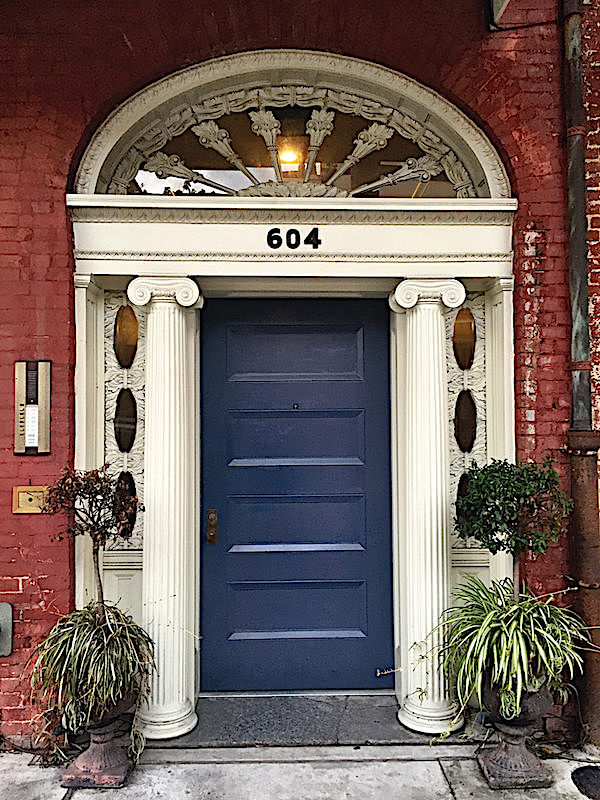 Walking down Julia Row in the Lafayette Square Historic District, architect James Dakin's thirteen identical 19th century row houses, while reminiscent of northern Federal and Greek Revival structures, have a distinctly New Orleans charm.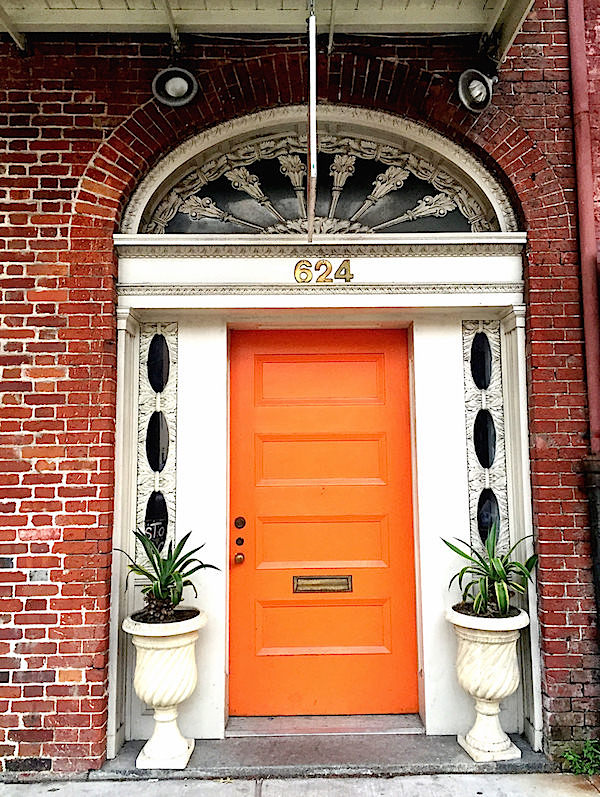 Our first shoot was at, author and owner of Leontine Linens, Jane Scott Hodges' chic garden district home. While you'll have to wait for the video to get the full tour, a sneak peek reveals her eclectic family style with Serena & Lily's Chevron Riviera Barstools adding a pop up of pattern in the sleek modern kitchen.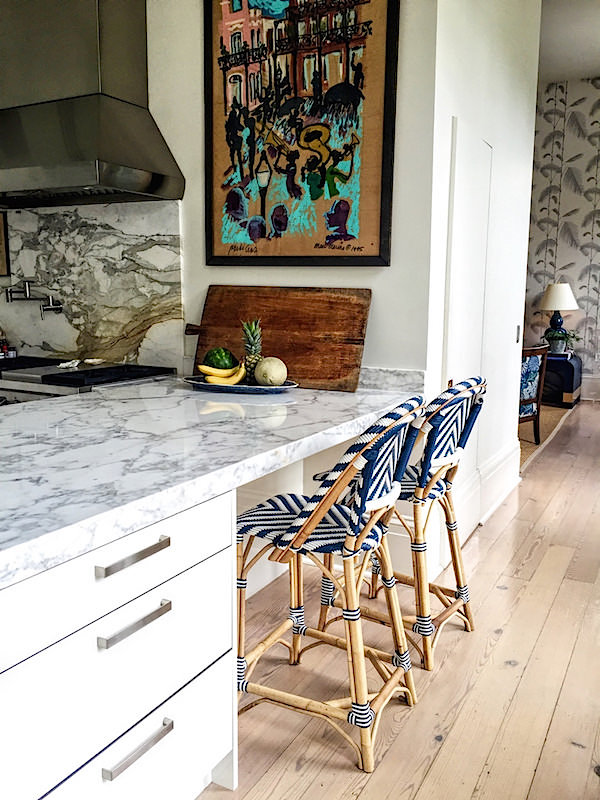 And in the study, a bold black and white mix of Kelly Wearstler Crescent wallpaper with the timeless Schumacher Pyne Hollyhock on the curtains yields a sophisticated pattern play.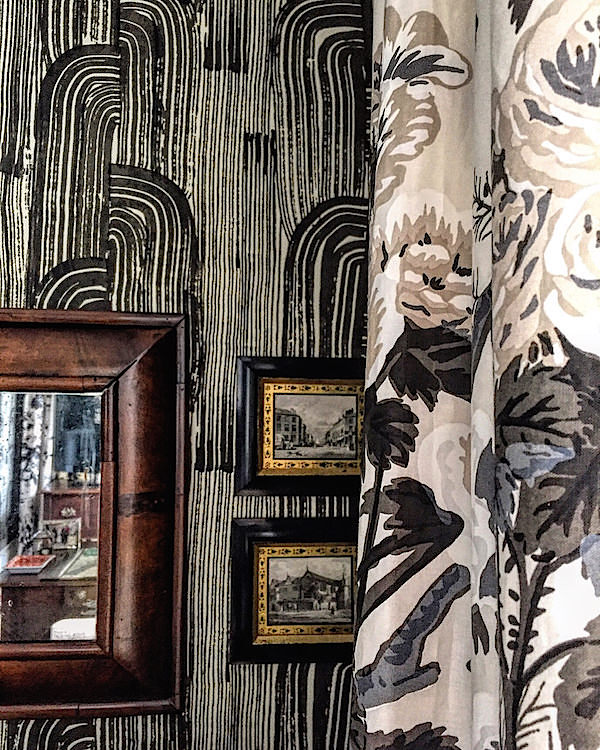 In the evening Jane Scott introduced us to the marvelous Balise for dinner. Opened last year by chef Justin Devillier, who was just named Best Chef: South at the annual James Beard Awards last month, it is housed in an 1832 Creole townhouse.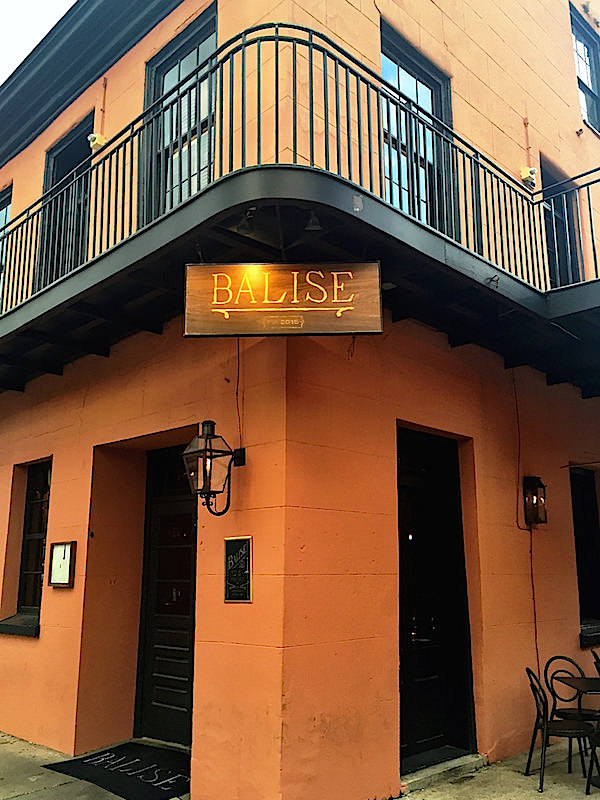 In contrast to his first restaurant, the light and airy La Petite Grocery, Balise is dark, handsome and sexy. The food was fabulous with fresh unusual combinations – but even the local radishes with amber honey, chive and whipped butter are worth trying.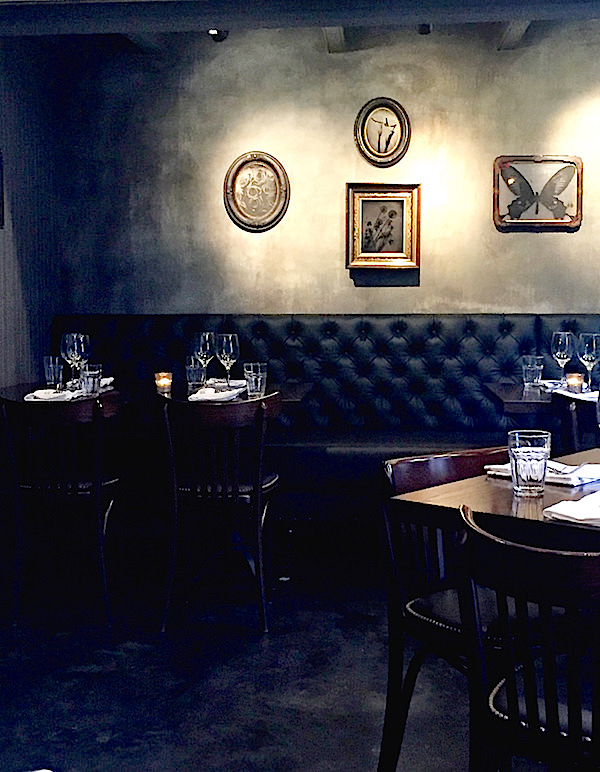 The next morning, we decided to have breakfast at the new Ace Hotel, recently completed by the talented Roman & Williams team. With their signature nod to historic relevance, they celebrate the regional design vernacular with finds from local haunts such as the vintage armchairs in the lobby, below. The original Deco building inspired the flavor of the space with the Ace's characteristic moody interiors.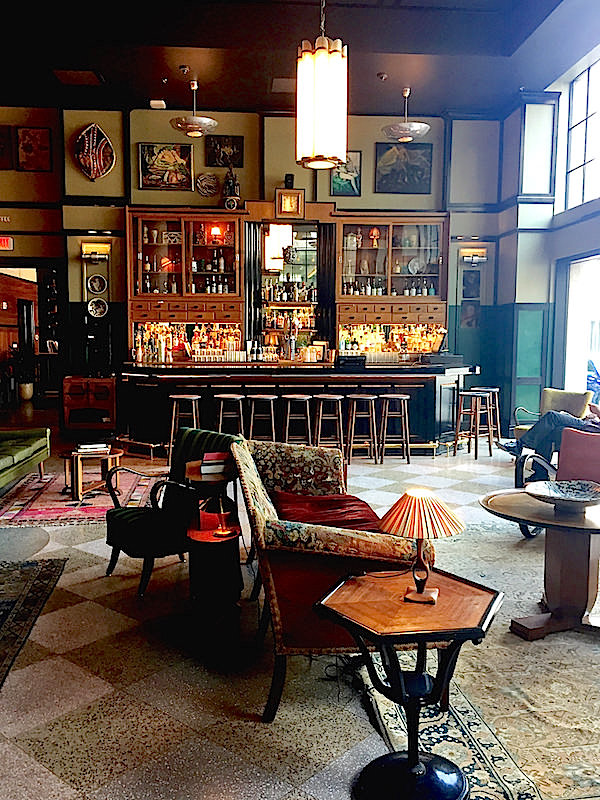 We ate in the chic Josephine Estelle, a brasserie style restaurant referencing the city's abundant gardens, echoed in the leafy murals rescued from the New Orleans Opera House. Quilted leather and velvet chairs and banquettes continue the verdant theme.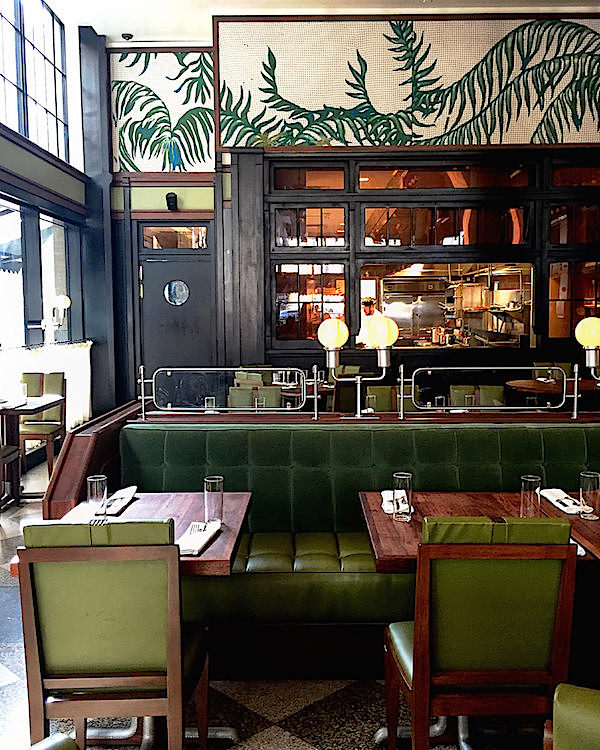 Behind typical garden district iron gates, lie not only the rest rooms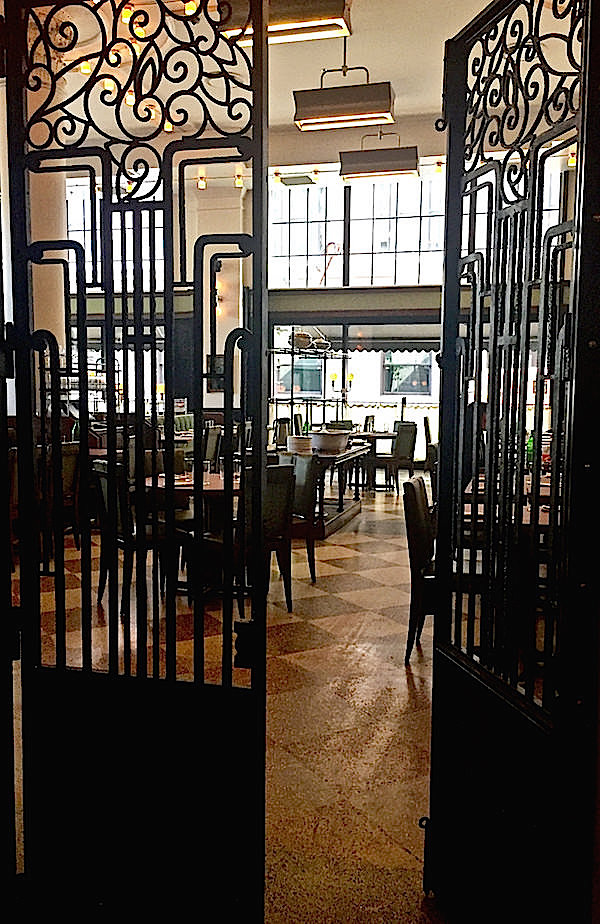 but a fun vintage photo booth which we of course had to check out (apologies to Susanna who is obscured by the bar).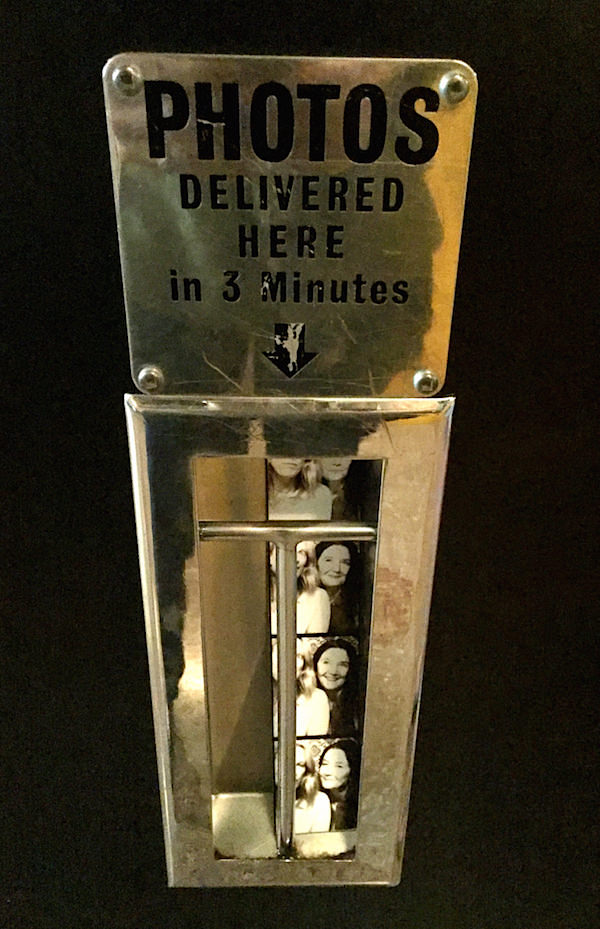 Next stop was the Ogden Museum, dedicated to the art, history and culture of the American South. Originally opened based on the donation of Roger H. Ogden's private collection, it now houses the largest collection of southern art in the world.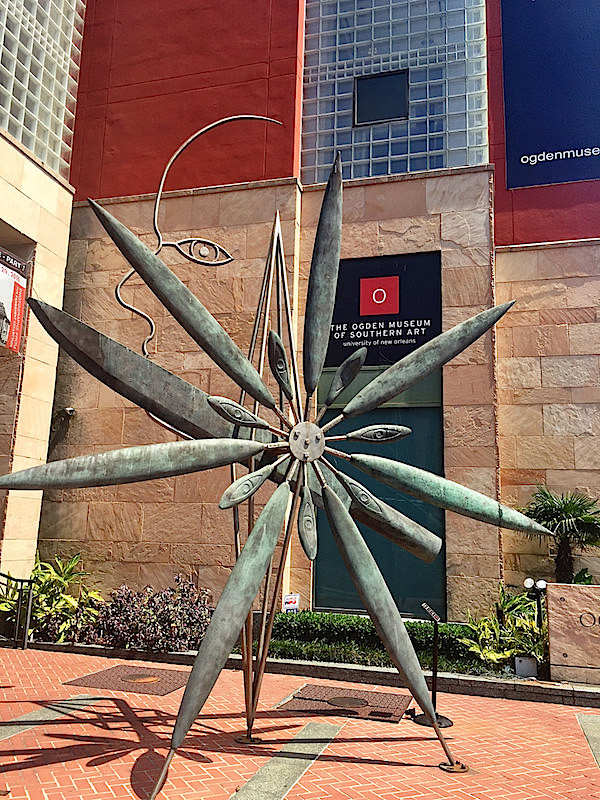 We went specifically to see the current exhibit, Arthur Kern: The Surreal World of a Reclusive Sculptor. A retired Tulane Art Professor, Kern never exhibited or sold his sculpture, and all but disappeared decades ago. This retrospective represents the sculpture he has been quietly working in the solitude of his basement studio, below, for the last twenty years.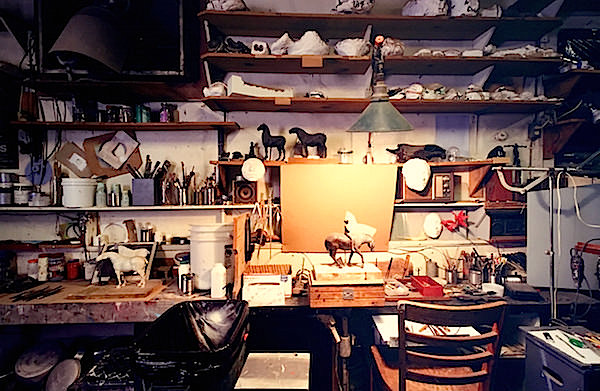 With inspiration from his unconscious, Kern creates sculptures of horses and people that are sometimes fantastical and other times macabre. Self Portrais, 1968, below.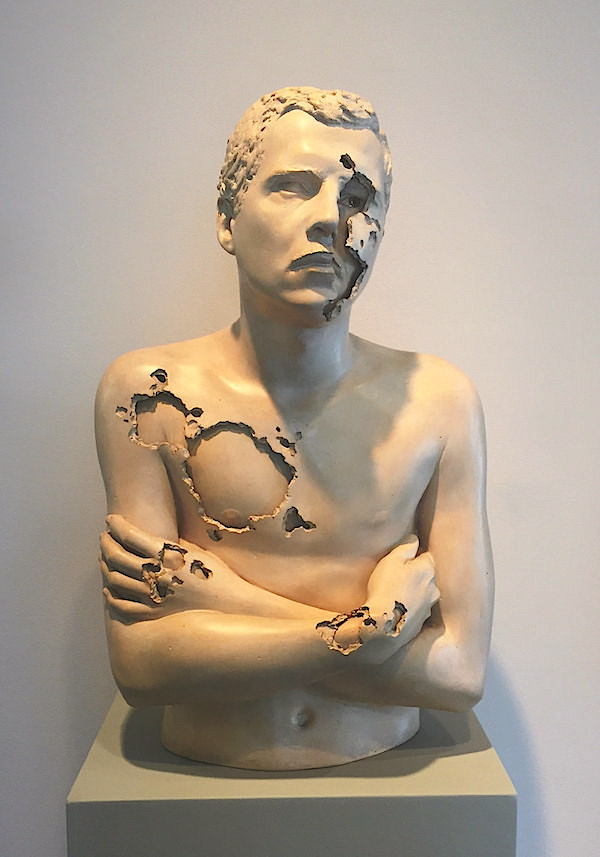 Made of molded polyester resin, they often include single eyes, missing limbs or decaying skin. "When I do things like that," says Kern, "it may seem grotesque and disturbing to some people, but not to me. As I see it, that's just the way they grew. I make these figures as nature would have made them – if nature had made them." Globe, 1970, below.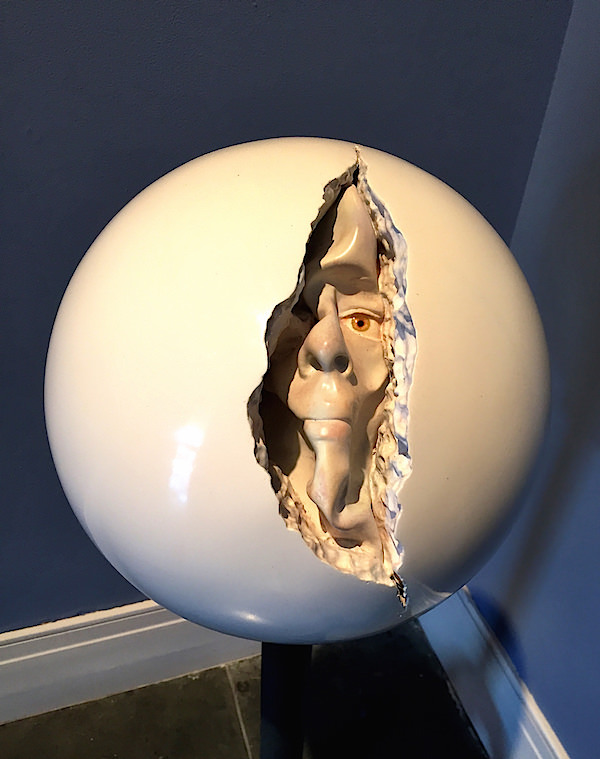 "I begin all my projects with no clear idea where they're going. I proceed by impulse rather than conscious design. And when they're finished, many of them remain mysteries, even to me." Portrait of Diane, 1968, below. Interestingly, the show is curated by John Berendt, author of Midnight in the Garden of Good and Evil and The City of Falling Angels, who maintains an apartment in New Orleans.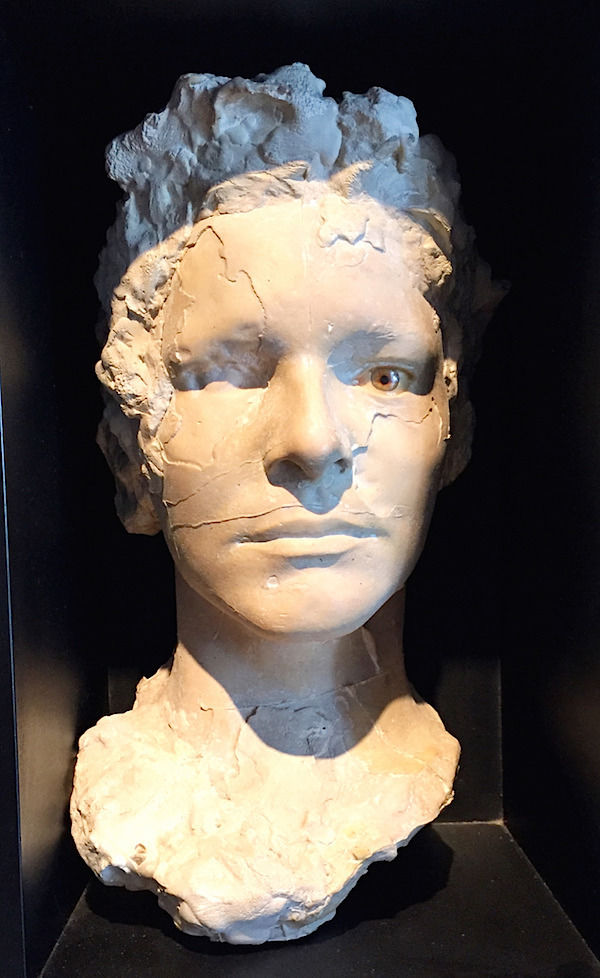 We then took a quick walk through the French Quarter. Music is an inherent part of New Orleans. Street music abounds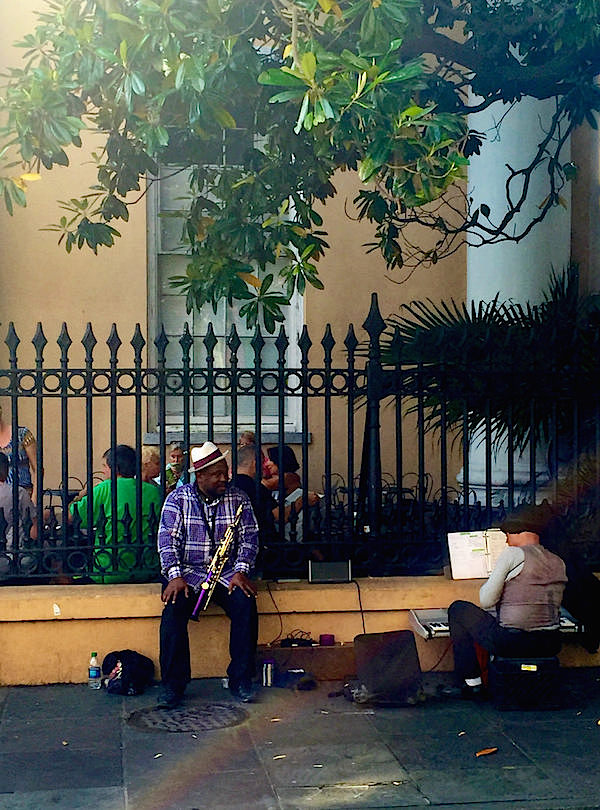 and even Starbucks has a local vibe.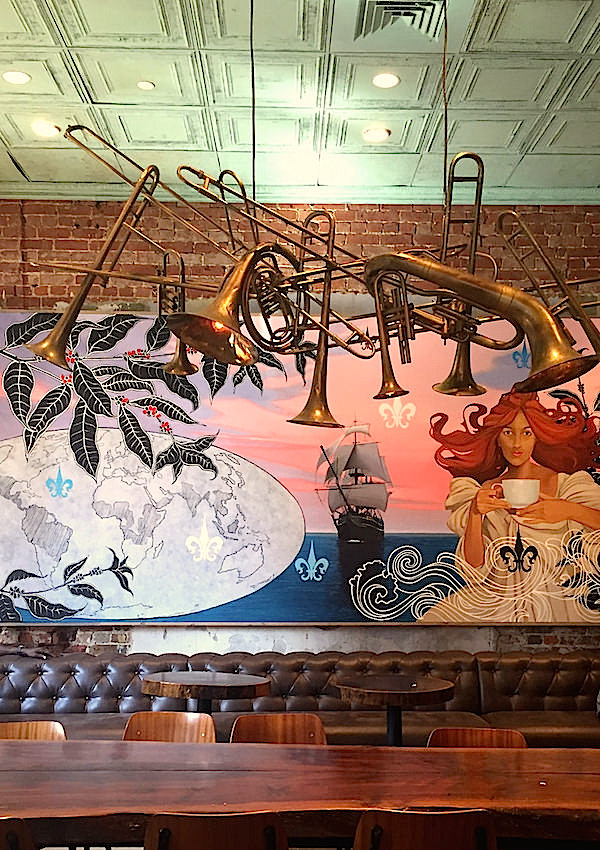 We were on too tight a schedule to do any serious window shopping but I of course spied this fabulous coral and pearl necklace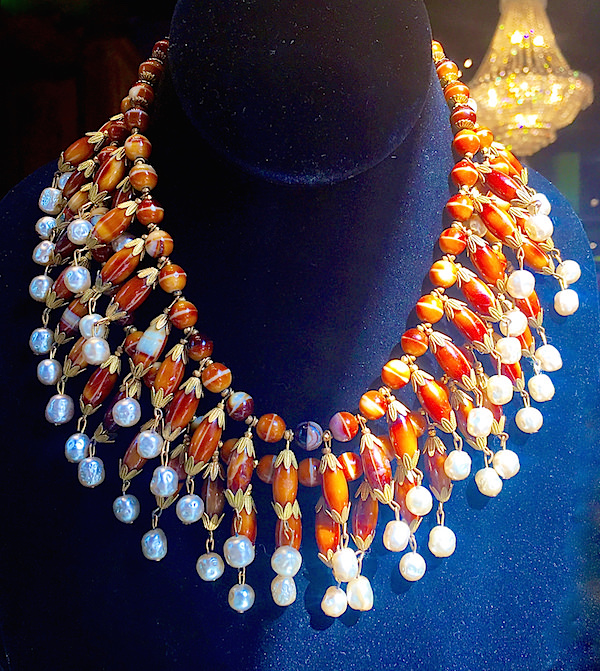 and this beautiful lusterware oyster plate in Moss Antiques.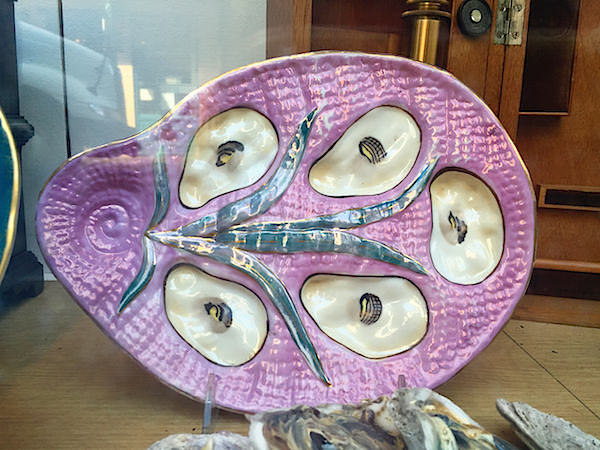 Everywhere you look is an architectural delight. The Pontalba building, bordering Jackson Square, features the beautiful cast iron balconies that distinguish so many of the French Quarter structures.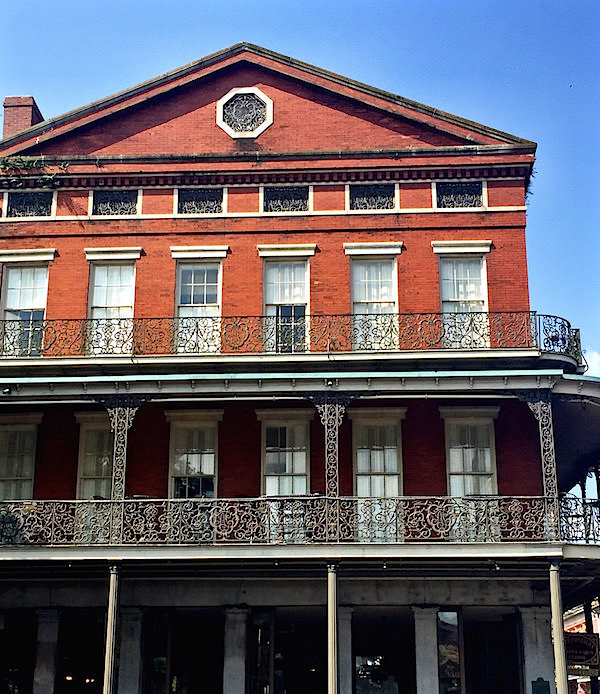 Even though not yet open, Susanna and I made a point of stopping at the Napoleon House, that Lisa Borgnes Giramonti had featured in her last post – come back Lisa, we miss you!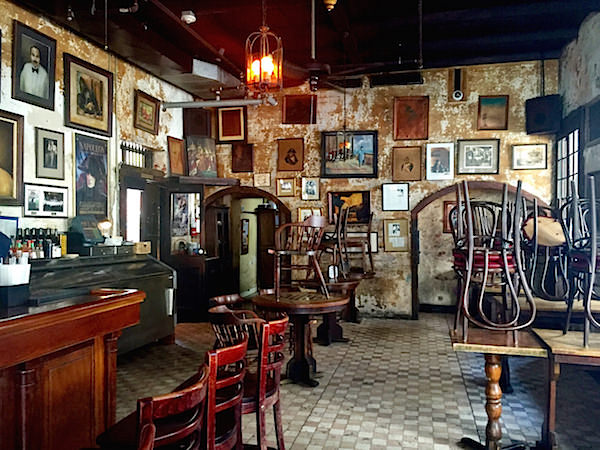 It is just as cool and evocative of another era as she described, with dark and moody interiors and a back terrace that felt like the product of a New Orleans and Cuba encounter.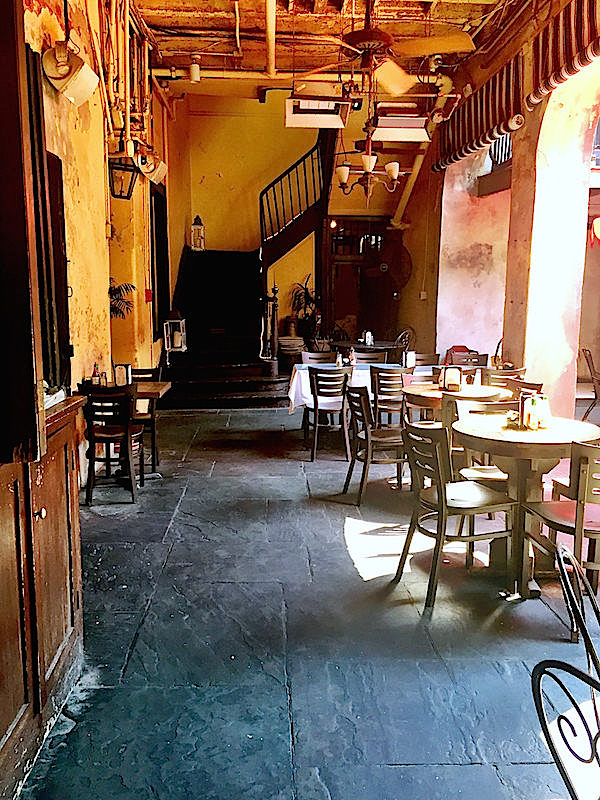 If we'd had time, we certainly would have come back for a Pimm's Cup.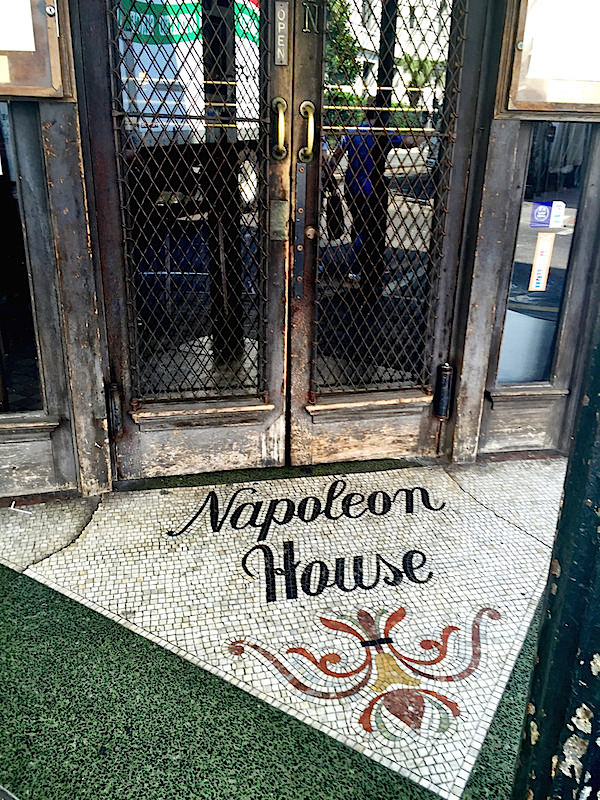 Our second shoot was at the über chic home of Sara Ruffin Costello. Look for the video visit coming in the next several months – you'll be enchanted by the cool family friendly vibe of her Italian Gothic 1868 Garden District house. And with three young children, instead of a formal dining room, she installed a ping pong table where competitive table tennis meets chintz covered sofa and gilded antiques. I caught a little of the action.
Sara recommended a pre-departure lunch destination that hit the spot. Barú is a Latin-Caribbean bistro with a fresh and flavorful twist.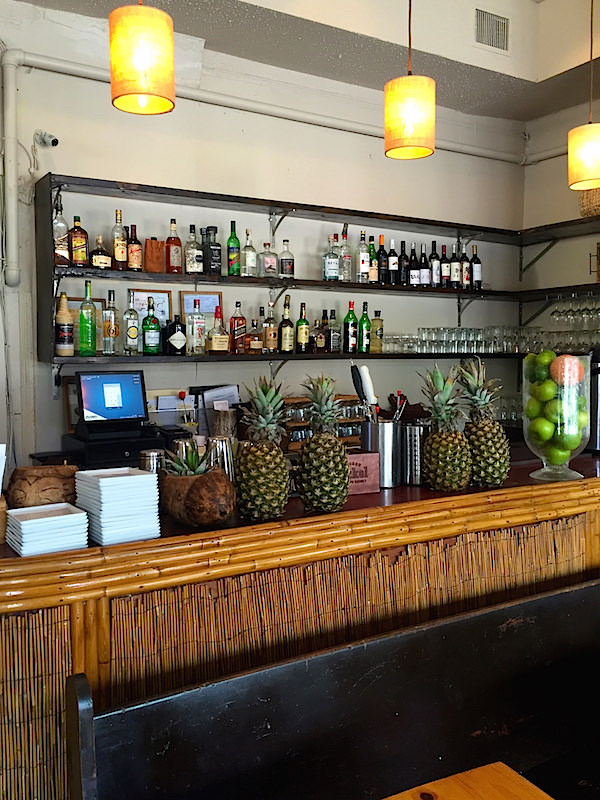 From tapas to salads to full meals, the food and drinks were fresh, delicious and reasonable. While they may be known for their mezcal, tequila, and pisco-based drinks, even the refreshing seltzer infused with mint, mango and lime was special.  If I lived or worked in the Garden District, this would be a regular haunt.
all photos by Stacey Bewkes for Quintessence
While our 24 hours in New Orleans was brief, my first taste of NOLA was enticing and I'm already looking forward to a return visit.