Founded in 1735 by Carlo Ginori in Sesto Fiorentinto outside Florence, the Italian porcelain company became the most distinguished manufacturer in Italy. It remained family owned until 1896 when it merged with the Società Ceramica Richard of Milan, becoming Richard Ginori. While it thrived for many years, producing handcrafted product for palazzos, villas, luxury liners and the Vatican as well as collaborating with artists such as Gio Ponti and Paola Navone, by 2013 it was in bankruptcy. Later that year, Gucci stepped in to save the historic brand and its centuries-long tradition of Made in Italy excellence.
photo via Gucci, courtesy of Alessandro Moggi
This is a story that has been brewing in my files. Almost two years ago I noticed that stylish new product had made its way to the Richard Ginori showroom at 41 Madison. Then in the summer, after the Gucci investment, came news of the chic redesign of the flagship showroom in Florence, above, followed the year after with a new store in Milan. That fall, when at the Parma antiques fair, I learned that a dealer I loved, who so successfully melded old and new in wonderful repurposed pieces, had been responsible for much of the work in the new Ginori store (hopefully more on that at a future date). It was becoming one of those serendipitously connected stories. What I didn't know was that a then little-known designer in the ranks at Gucci was overseeing the new production, selectively pulling unique designs from the archives and reinterpreting them for modern living.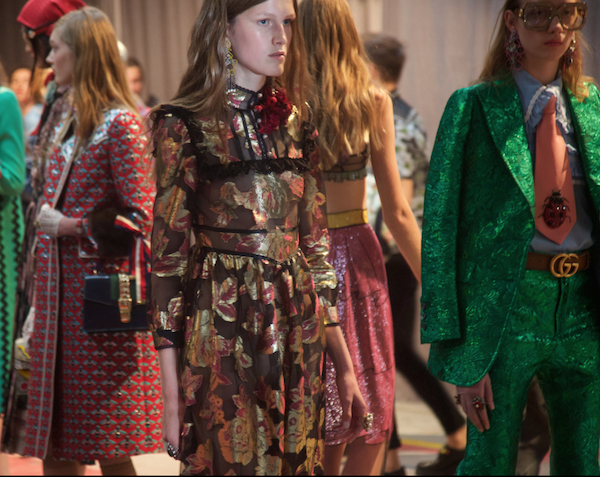 That designer was of course the supremely talented Alessandro Michele, who now needs no introduction. Since becoming the Creative Director at Gucci about a year ago, his collections have radically redefined the label. Working within the historic parameters of the brand, where he had already been for over a decade, he has managed to integrate the iconic symbols of the Gucci heritage into his eclectic and romantic vision, bringing emotion back to the brand. With an appreciation for the handmade and slightly eccentric, his version of Gucci is old world meets modern girl (and boy), full of abundance and intricacies and yet totally of today. And while creating the wildly successful new look at Gucci, he remains Creative Director at Richard Ginori as well.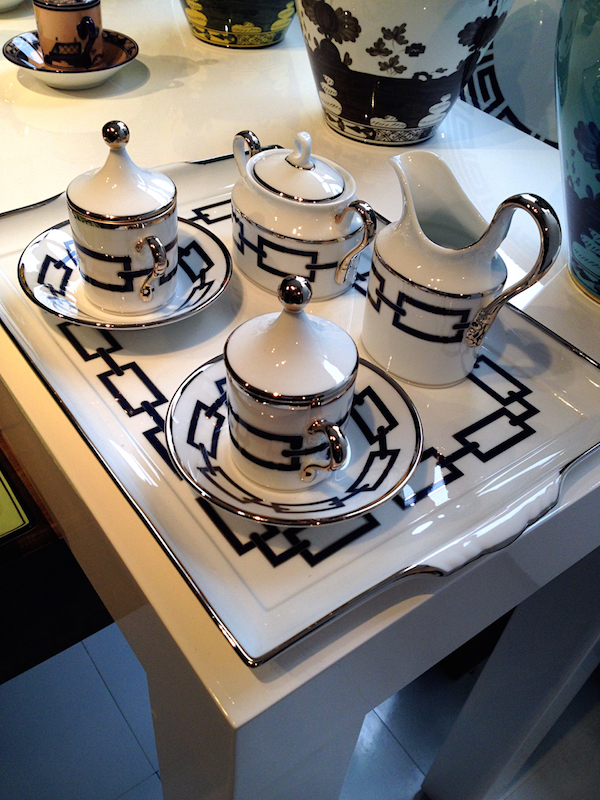 It is with the same sense of layered history and whimsy, with a travel and nature inspired vision, that Michele is reviving the storied brand. He began by reintroducing several archival Gio Ponti designs  – the graphic Catene, above, and Labirinto, below, with their stylized spin on geometric classicism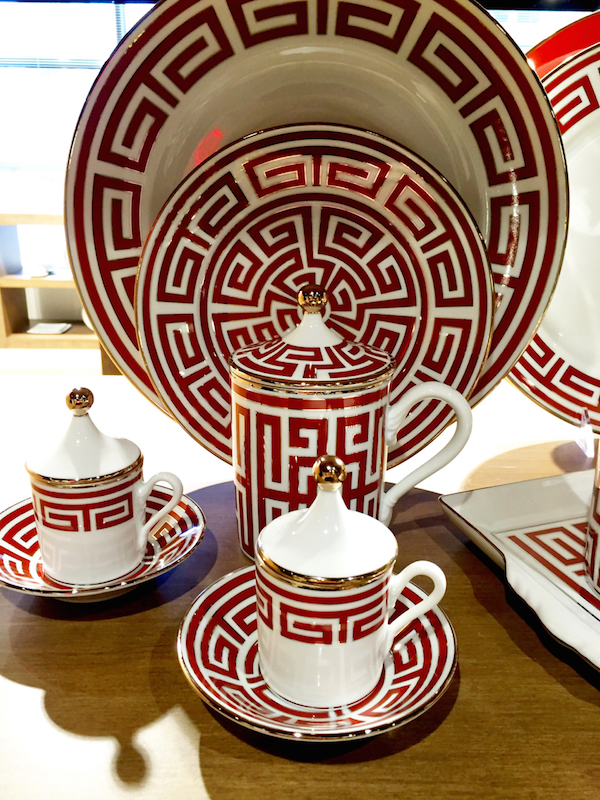 and the wildly popular and romantic Oriente Italiano, Ponti's exotic 1926 interpretation of a chinoiserie embellished carnation in the tradition of Florentine ceramics,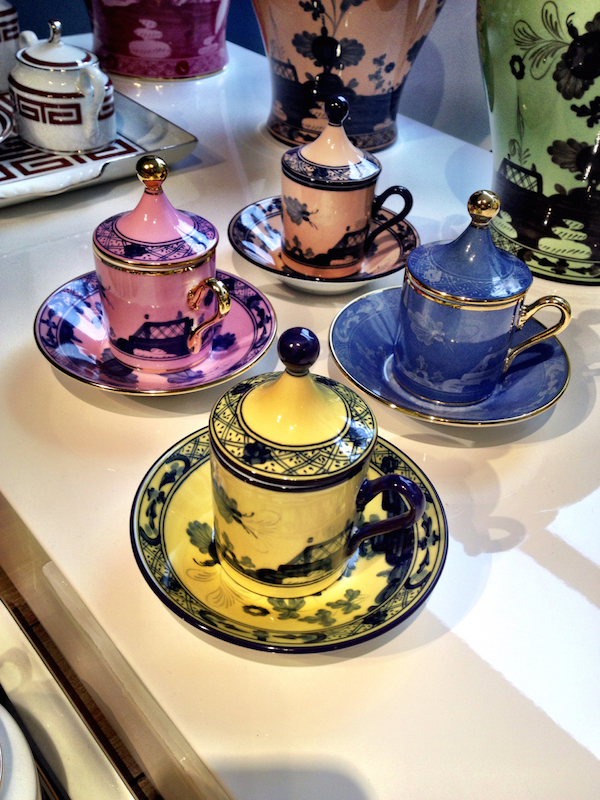 that Richard Ginori introduced in charming shapes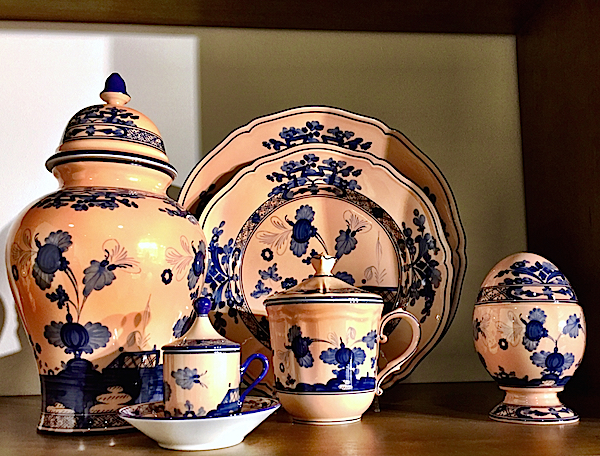 and a rainbow of ten lush and exuberant colors. This year saw the introduction of candles as well, a collaboration between Michele and Sileno Cheloni, the Florentine master perfumer.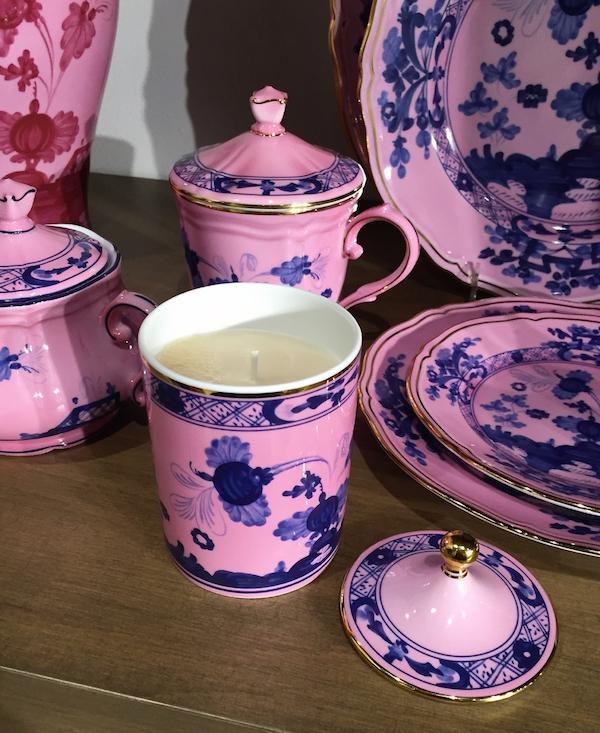 With coordinating covered ceramic containers, four of the classic patterns, Labirinto, Oriente Italiano, the fanciful new Cirque des Merveilles, below,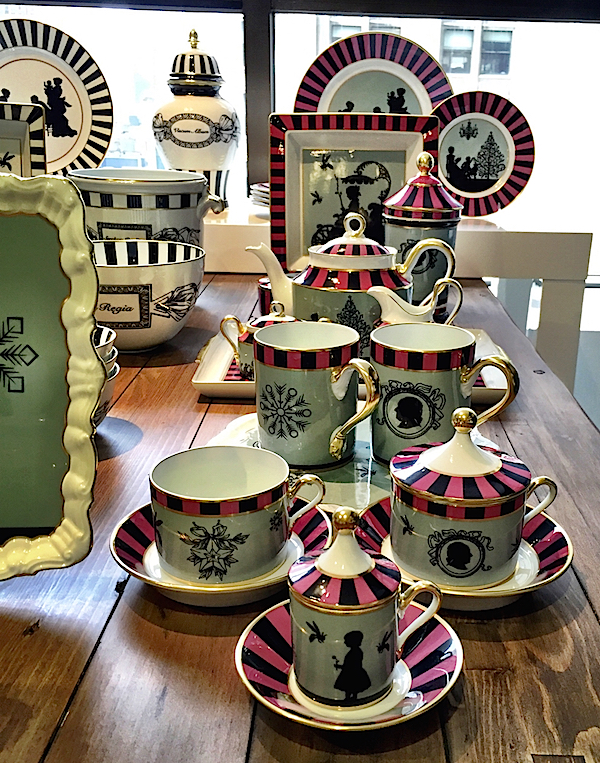 and the elegant Oro di Doccia, below, are included. Using rare, natural and real essences, Cheloni has created an appropriate and unique scent for each pattern.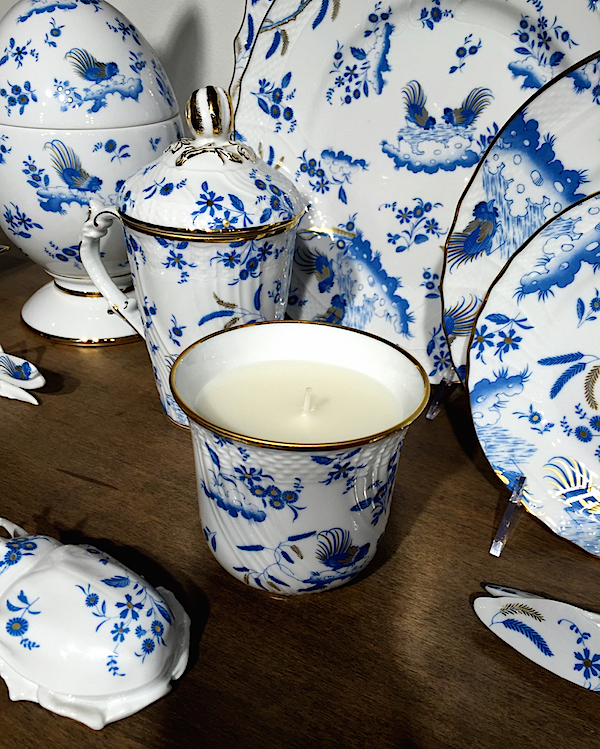 This time last year, at Maison et Objet, and then later at tabletop market in New York, Michele introduced his first new collections for Richard Ginori. Inspired by 19th century craftsmen who corrected imperfections in porcelain pieces with small insect-shaped elements, the Insetti Collection includes a wide variety of accessories hand-decorated with small animals and insects of symbolic value – graceful butterflies exuding a sense of happiness and spiritual transformation; the scarab, emblem of life and rebirth; the flying deer, symbol of good health; the cicada, archaic representation of immortality and radiance and the grasshopper, an ancestral good-luck charm.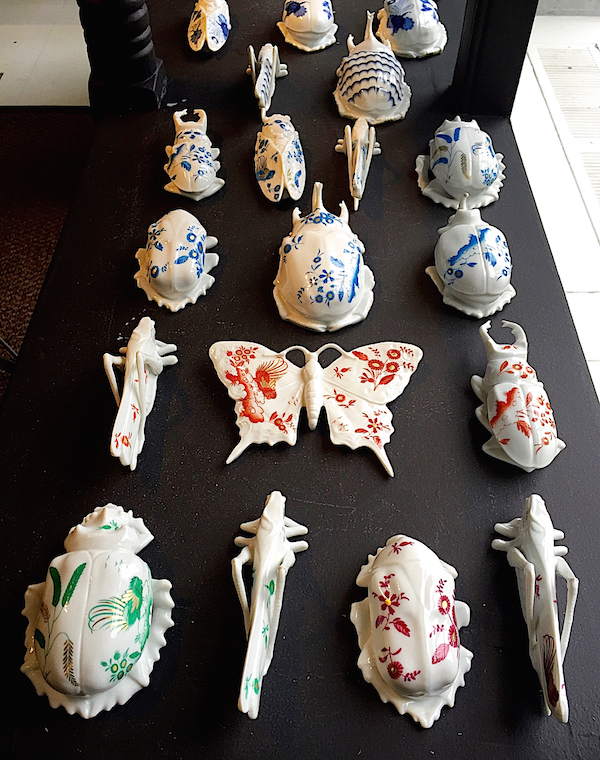 The Les Merveilles Collection features elements of nature, such as pine cones and pomegranates adorning classic all white porcelain shapes. Tea pots, sugar bowls, apothecary jars and others are transformed into elegant yet playful pieces that easily mix while offering a sense of personality to the table.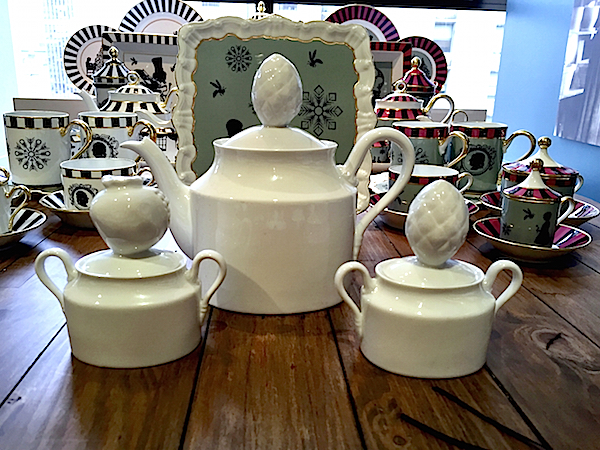 Using the Antico Doccia, Vecchio Ginori and Murat shapes, with their distinctive black edging, the Italian Pois Collection features wild strawberries, vermilion ladybirds and small polka dots. Available in a wide assortment of tableware, it is a charming pattern intended for everyday use.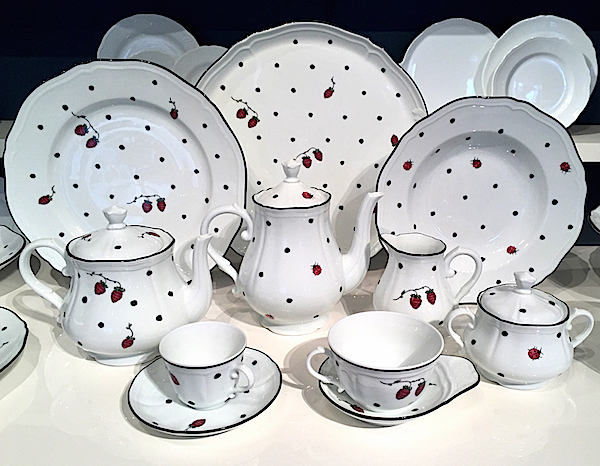 Hand-decorated in several of Ginori's signature patterns, the egg shaped objects comprising the decorative Uova collection, signify ancestral life, rebirth and fertility.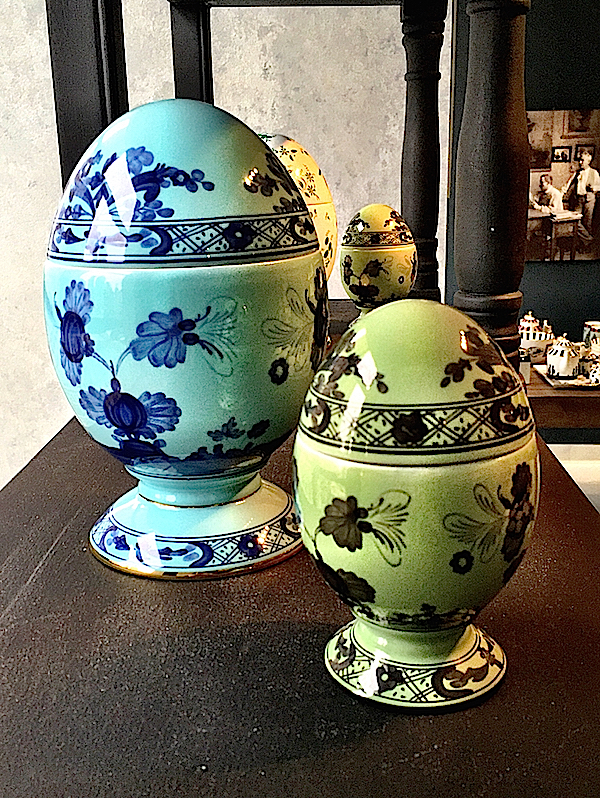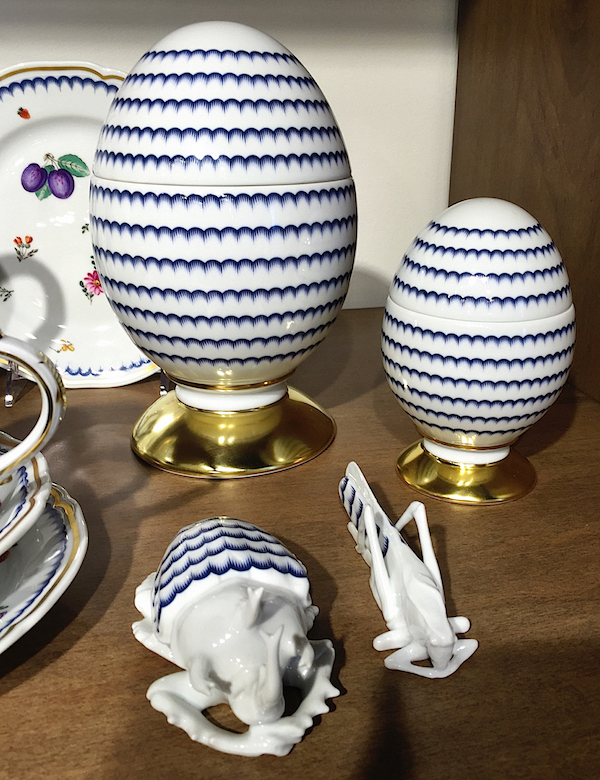 And the most glorious of these first collections is Volière, combining the expertise of masterful Ginori craftsmanship with the artistic heritage of the brand. Hand painted on the very elegant Empire shape, the imagery is inspired by 19th century botanical illustrations in the archives. Including 12 different portraits of various birds, the pattern portrays them on decorative festoons with floral surrounds contained within a pure gold edging.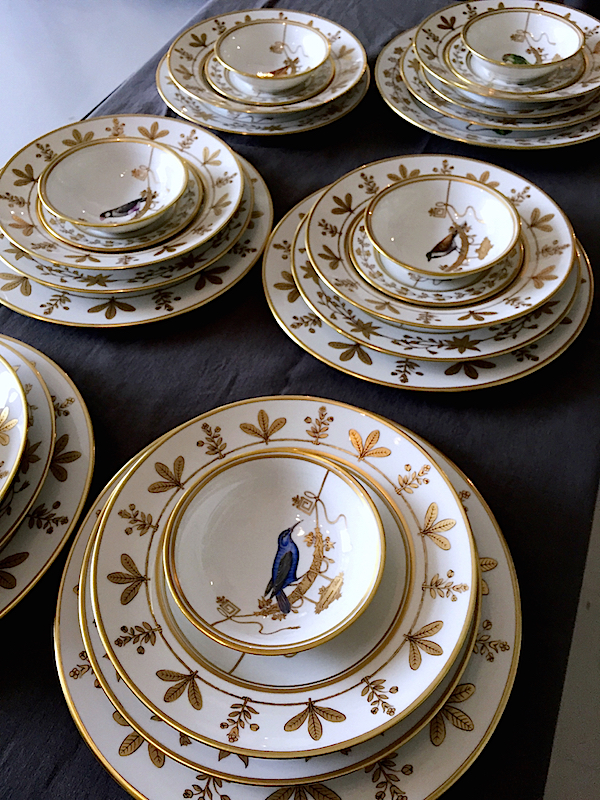 Over 50 color variations were developed to recreate in exacting detail the multiple hues and varying shades of each subject. Then an overglaze was created that preserves the intensity of the pigments through a special firing process.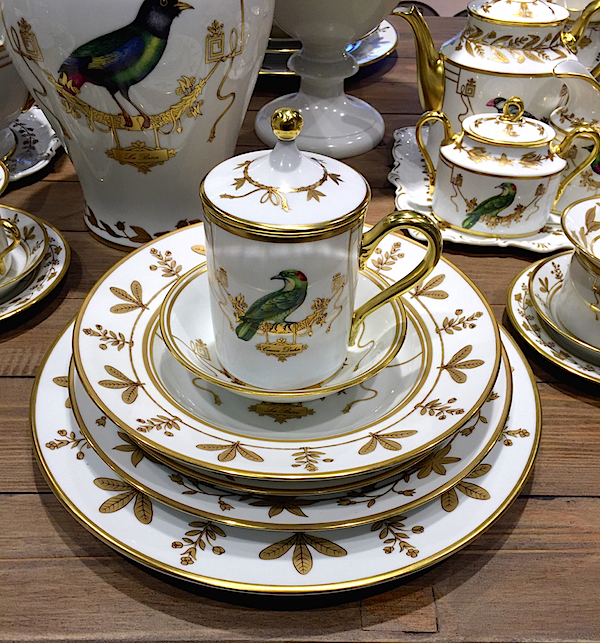 While all the pictorial patterns include hand decorated elements, some patterns, such as the Cartiglio Nero below, are produced by paint masters who create the pieces completely by hand.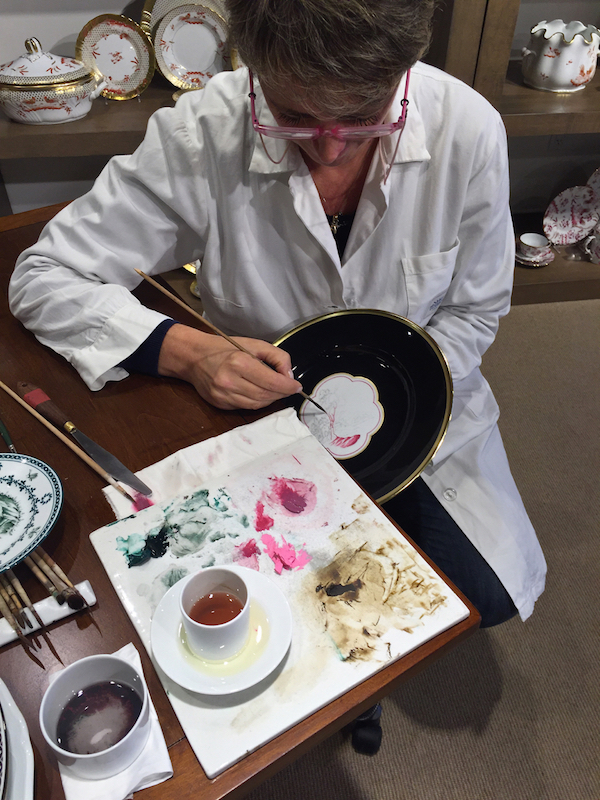 At market in October, Richard Ginori brought over one of their artists to illustrate how the process works. Starting from hand drawn charcoal drawings, the work is meticulously executed,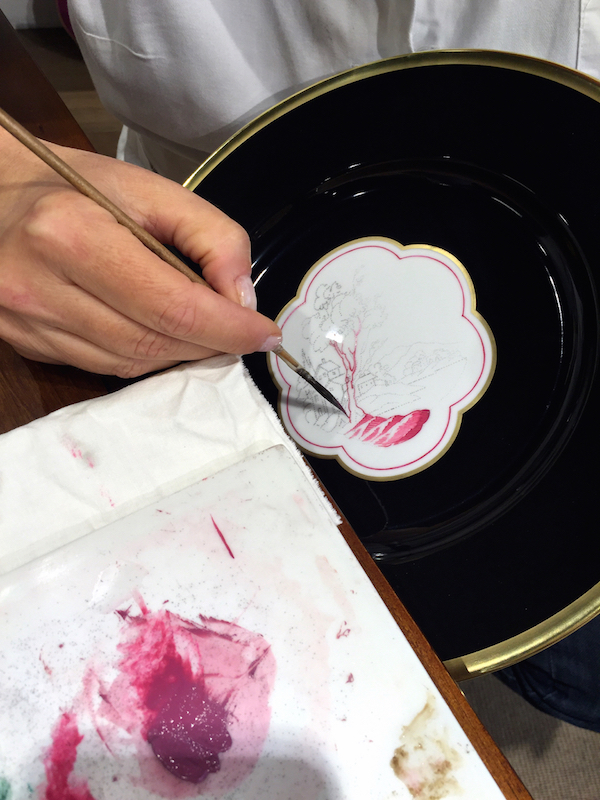 each piece signed with an image and the artist's initials on the back.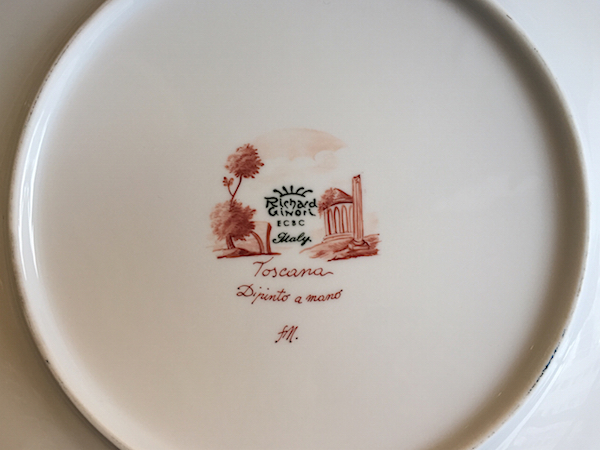 October also saw the introduction of Michele's latest creation for Ginori – the Giardino de Simplici. Taking a Greek key motif from a small 19th century cachepot found at the factory, he expanded it into an entire tableware collection. With bold lines and antiqued saturated colors, you can see his talent for appropriating the past and translating it into something authentic and new.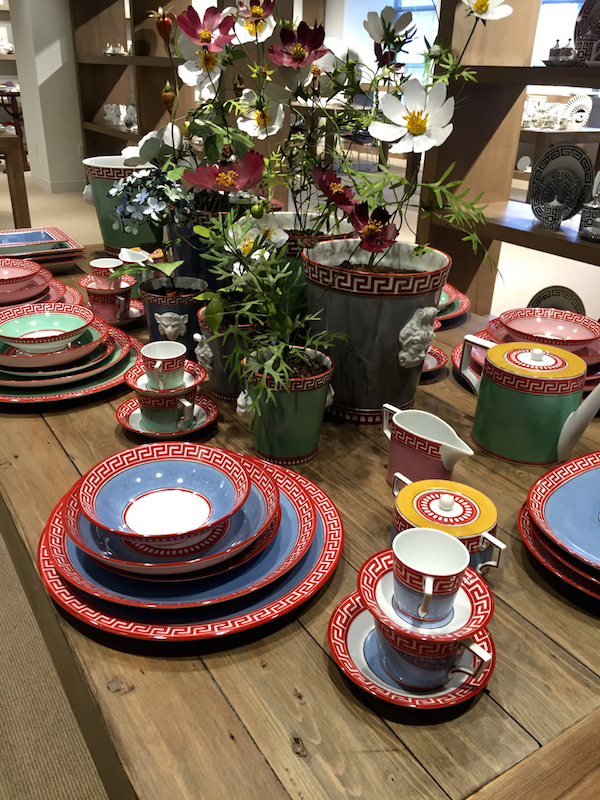 Like what Michele has done at Gucci, this pattern relates to the Richard Ginori DNA, referencing Ponti's Labarinto, yet with a fresh and new romantic gusto with both high style and sensuality. You see this pattern and you are transported. Think sun drenched Italian terrace with red wine and a long lazy lunch. But its refined sophistication, unusual archival shapes and fearless color combinations makes it equally suitable for a chic urban setting as well. It echoes the mix and match quality of his fashion for Gucci, encouraging individuality and putting personality back in the closet and on the table.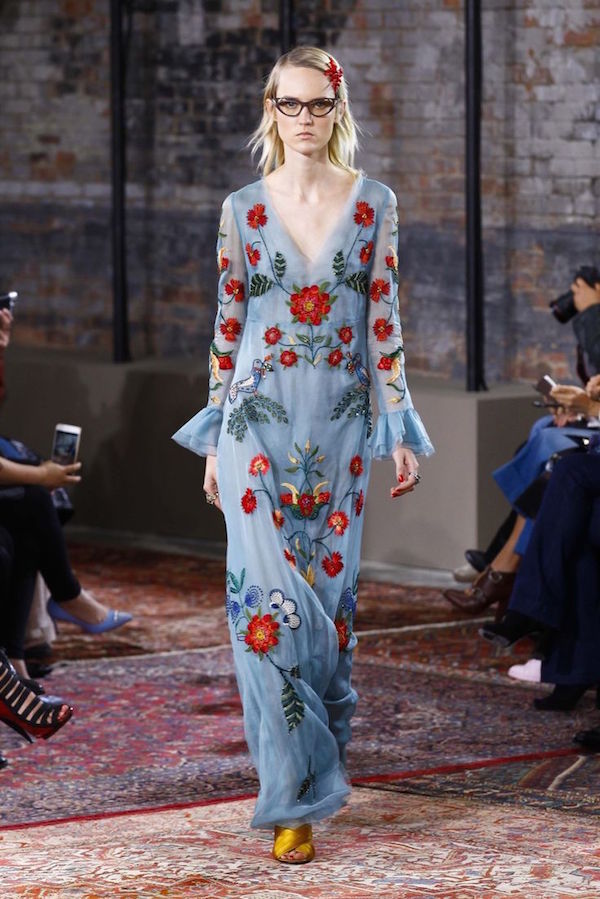 Like in his fashion, Michele's love of flora and fauna shows. He even had the charming tole flowers specially made for the showroom.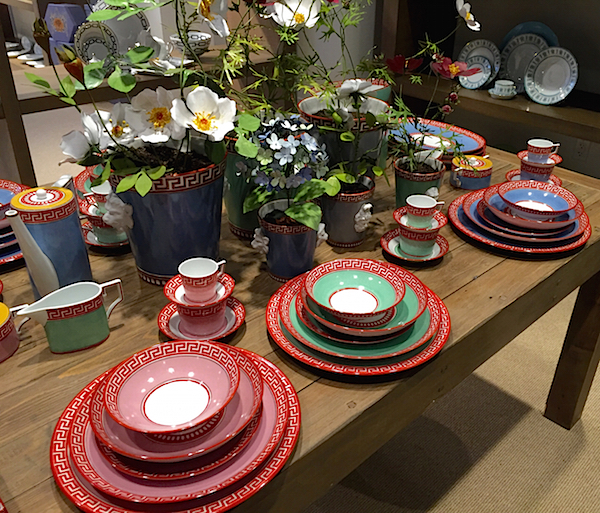 The vases, available in several sizes, include three decorative elements – the Lion, Wolf and Bearded Man, which appear in biscuit porcelain against the glazed colors imbued with a subtle sponged effect.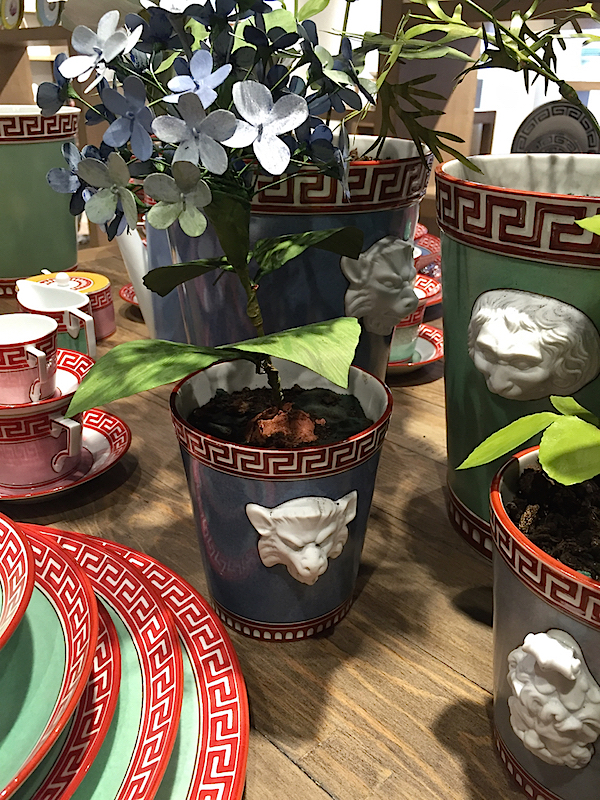 These elements translated to the Gucci 2016 Resort collection as the faces were reproduced on belt buckles and accessories.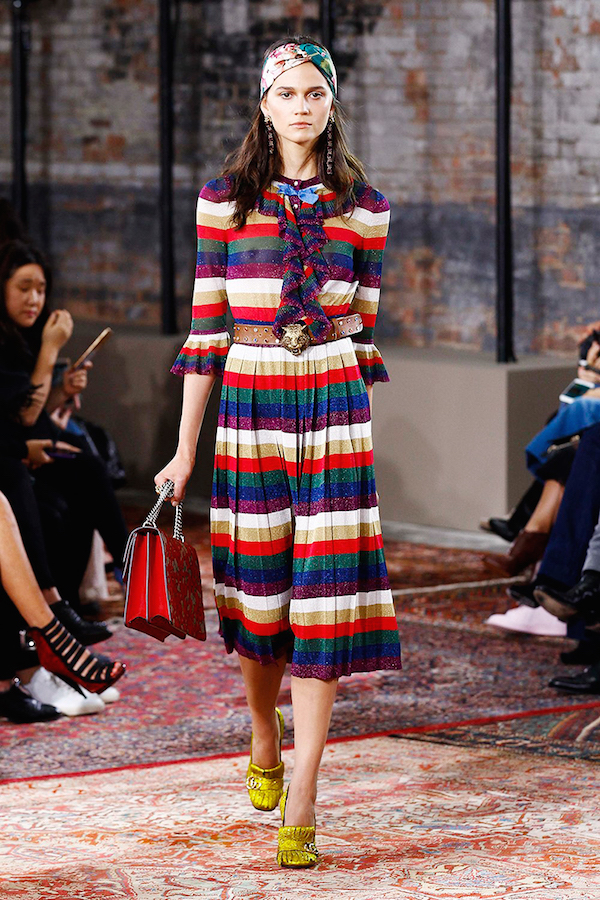 Ginori is benefitting from a generous dose of Michele's sensibilities. There's a sense of curiosity and discovery, of antiquity and modernity, of the refined and rustic that runs through both his fashion and table decor. It's a world of wonder with rich and eclectic references to history, nature and design. Michele is all about the details and every touchpoint for the brand has been carefully considered and reimagined. From the website, to the packaging to a charming illustrated book (with inspiration and imagery via the Museo La Specola – Natural History Museum – in Florence) that serves as a catlogue of sorts for the new collections.
Michele knows how to look back to move forward and it is his creative vision that is shepherding Ginori solidly into the future with an appreciation of the old world craftsmanship, artistic values and heritage of the brand. It's an inspiring mix of style and substance.
all Richard Ginori photos except first by Quintessence, fashion photos via Gucci