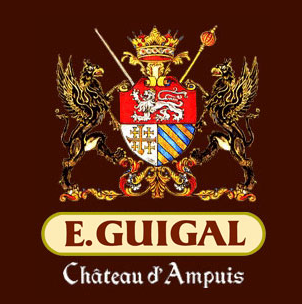 I am excited today to talk about one of my favorite French wine regions – the Rhone Valley. And within that region, Terry takes us to one of my very favorite wineries, Guigal. I've long been a fan of their lush, smooth, full bodied wines and have frequently featured them at important occasions. In fact, they include some of my top all time picks. And clearly I'm not alone. You'll see why as Terry explains about the amazing wines of this distinguished domain.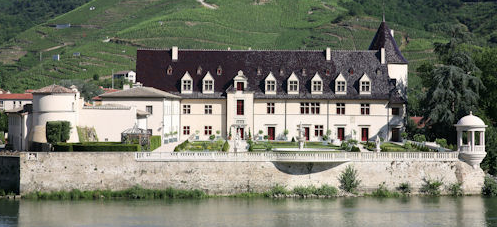 The quality and background of the Guigal wines have resulted in more "100" Point scores than any winery. Their extra special vineyards which are very hard to find and very long aging are La Moulin, La Landonne and La Turque. Robert Parker, from the Wine Advocate, once said "I have never made a secret of the fact that if I had only one wine left to drink, I would want it to be one of the great vintages of Guigal's Cote Rotie La Mouline."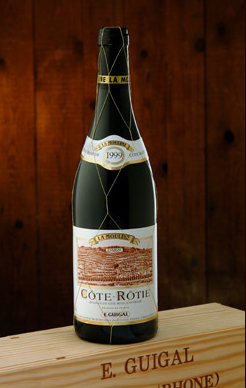 The Rhone valley is made up of the Southern Rhone and the Northern Rhone.  2% of the Rhone's production is white wine, although at Guigal white wines make up a full 25% of their production since white wines are close to the Guigal's hearts.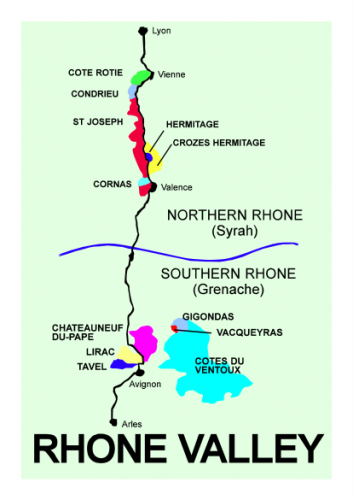 The Cotes de Rhone white is based on Viognier (northern rhone) which is  a very unique grape varietal.  The qualities are fresh and aromatic.  The Cotes du Rhone white is composed from just over 50% Viognier from low yielding vines with two other unique varietals, Marsanne and Roussanne which lends weight to make a great match with a variety of foods such as shellfish, poultry, white meats and more.  Fresh honeyed notes with some tropical fruits and other assorted citrus all jump from the glass of this medium bodied, crisp, fresh wine which definitely over-delivers in personality, flavor and complexity.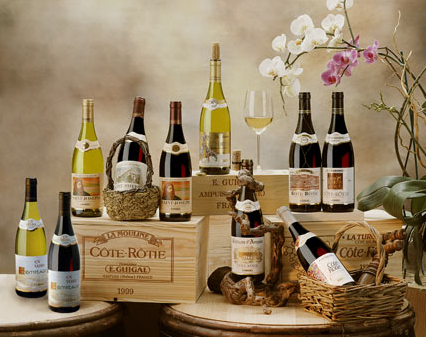 The Cotes du Rhone Red sets the standard for the Guigal reds.  The Grenache grape variety is 30-40% of the blend and the rest being made up of Mourvedre and Syrah giving the wine a deep ruby purple color with lots of cassis, kirsch, pepper and even an intriguing floral note, the wine is medium to full bodied, silky smooth and truly delicious and satisfying.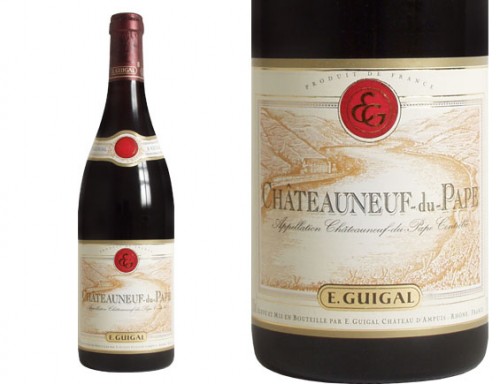 The Chateauneuf du Pape in the southern Rhone is a star for Guigal who makes this spectacular wine by finding and acquiring at whatever cost the finest wines possible from high quality growers and raising these wines in the special Guigal manner in their cellars in Ampuis. The Chateauneuf can spend up to three years in foudres before bottling and is released at the start of its drinking window.  Composed of old vine Grenache 85%, Syrah 5% Mourvedre 5% and a blend of the other ten Chateauneuf varieties 5%  There are some wines that silence the panel with their greatness, wines that knock us back in our seats to stare, slack-jawed.  This is one of them.  It has intensity and lots of minerality with red fruit and spices that seem to go on forever.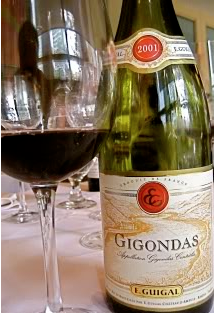 One of my all time favorites is the Gigondas (southern Rhone).  The Guigal vineyards in Gigondas are planted on hillsides at the foot of Mont Ventoux, with grape varieties similar to Chateauneuf du Pape.  Grenache 60%, Mourvedre 30% and Syrah 10% predominately, but there is more of an emphasis on Mourvedre in the Gogondas than in Guigal's Chateauneuf du Pape.  The dry, stony slopes produce substantial wines that are deep in color, with flavors of ripe summer fruits and savory herbs.  Marcel Guigal also selects wines from small domains to produce a blend which is true to the appellation, yet polished, refined and capable of aging many years.  Dense plum purple, with notes of crushed rock, blueberry, and black raspberries, the wine is full bodied with stunning purity and multi layered textures and a long finish. (note from q. – I'm salivating!!)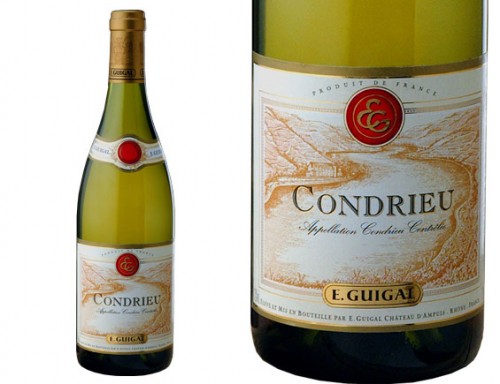 Guigal Condrieu (Northern Rhone) – A tiny appellation with low yielding vines located on extremely step, terraced granite and limestone slopes.  Fermentation of 1/3 of the wine takes place in new oak barrels each year and then maturation is 100% in new oak.  Rich and broad but precise, a powerful, extremely complex wine.  A wine full of apricots, white  peaches, pears, nectarine, tangerine, honeysuckle and violet with a suave spiciness and full of texture; one of the only white wines that I admit that I may be able to drink while eating Fois Gras – it is that luscious.
The Guigals are very simply in love with Condrieu and Viognier.  This variety was saved from extinction by Vernay and Guigal 40 years ago when there were only 7 hectares of Viognier planted on earth, all that was remaining under vine in the area of Condrieu.
photo: drinkeattravel.com
Guigal also owns four spectacular parcels in Hermitage, consisting mostly of red but also white grape vines, which they purchase from excellent growers.  This spectacular appellation is quite complex, and every year Guigal produces a thrilling wine that displays the muscle and spice that this area's best wines are capable of expressing.  This wine has charm, complexity and nuance and becomes a blockbuster with age.
Rhone Food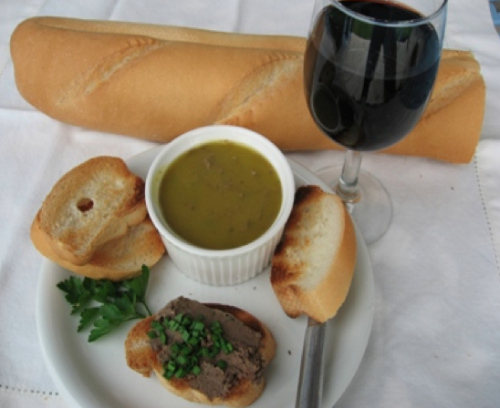 The splendors of Rhone Valley cooking start with pates featuring ham, goose and game, superfine sausages and preserved meats. Exceptional amongst these are the saucisson de Lyon (air-dried sausage) used in Lyon's trademark dish, saucissons aux pommes (sausages with potatoes) and Saucisson chaud au Macon (pork sausage cooked in red wine) or the andouillettes, (smoked sausages often made from veal and served with a mustard sauce) or rosette sausages or boudin blanc (veal or chicken sausages.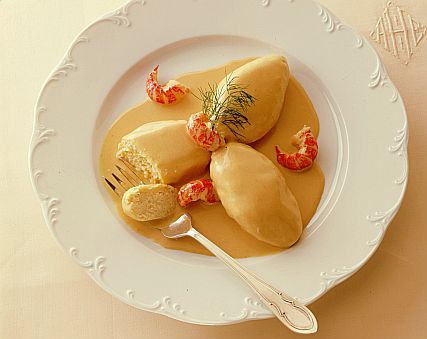 Quenelles de brochet (pike dumplings) are usually served with sauce Nantua (a creamy crayfish sauce) is on one of the best known Rhone dishes and are light and savoury. Chicken quenelles are also served.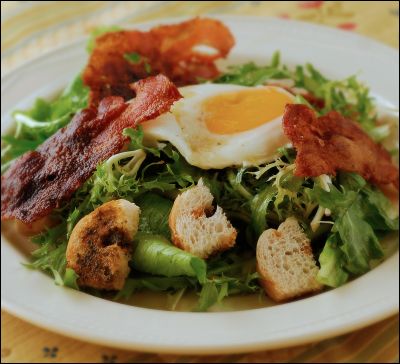 You can follow this with a Lyonnaise salad which includes chicken livers and lamb shanks. Meat lovers will enjoy game such as mousse de pigeon, (pigeon terrine), or tablier de sapeur(literally, fireman's apron – a beef tripe cut in pieces, breaded, grilled and served with garlic butter) or Chevreau a l'Ail et Herbes Sauvages(Baby Goat with Garlic and Wild Herbs) or Grillades de boeuf a la moelle (grilled steak with bone marrow).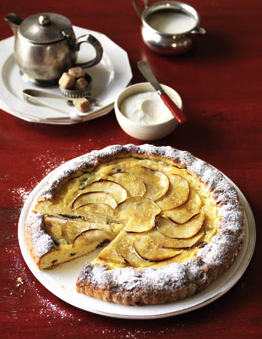 Patisseries specialize in extremely rich chocolate gateaux which make great desserts. Enjoy in Perouges Galette Perougienne, a buttery, sugary, flat tart eaten with le tupin de crème, (a huge jug of thick cream), or Granite aux Pommes et Calvados (Apple and Calvados Ice). Or finish with fabulous Bernachon chocolates or Nougat blanc de Montelimar, white nougat of almonds, egg white and honey.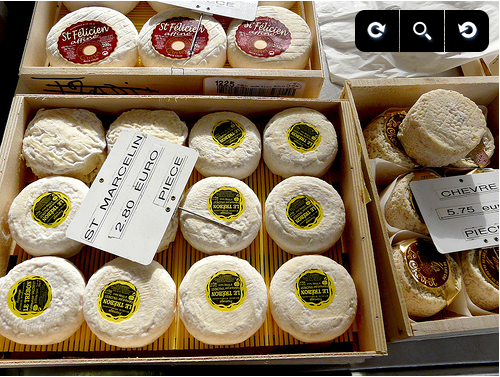 Rhone's favorite cheese is Saint Marcellin, a soft white goat's cheese, great with rcoter de Rhone wines. Or indulge in superb regional chesses such as Beaufort, Tomme de Savoie, Reblochon, Chevrotin des Alpes, and Dauphinois.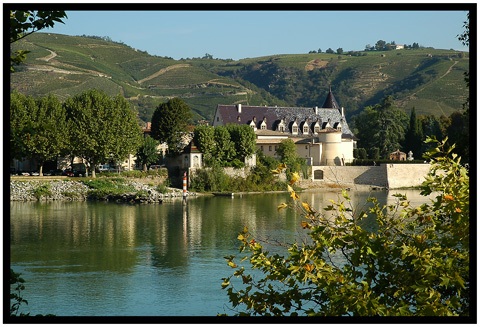 photo: pixelman photography
The Guigals have spent 15 years restoring the Chateau Ampuis which is the symbol of the town of Ampuis, the Cote Rotie vineyards that rise behind it, the family and business of Guigal.  The Chateau d'Ampuis is made from 7 exceptional vineyards in Cote Rotie from both the Coe Blonde and the Cote Brune.  It is composed of 93% Syrah and 7% Viognier, and is aged for 36 months and is all made at the estate.
Traveling to the Vineyards of Guigal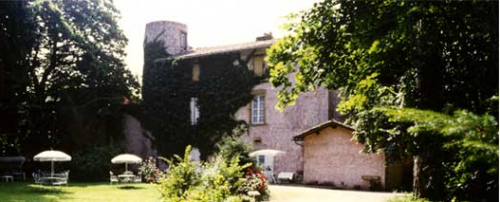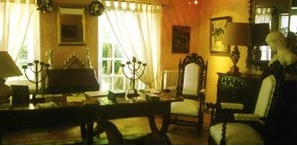 If you are planning a trip to visit Guigal, an adorable little manor hotel in the countryside, a stone's throw from Ampuis in Estrablin is La Gabetiere. Located in a refurbished 16th-century stone manor house, many jazz musicians have stayed there and Madame, the owner, is a total hoot. With lush grounds and a pool for warmer seasons, this elegant hotel is more like staying in a private country home.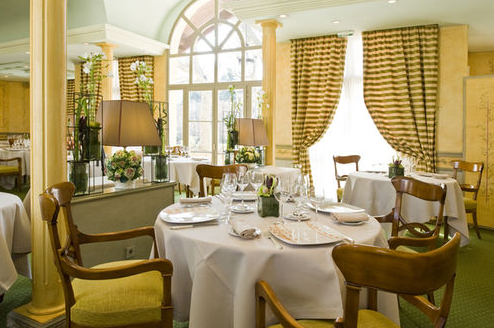 In nearby Vienne, is the famous restaurant La Pyramide, located in the Relais & Chateaux hotel of the same name. Many a Michelin-starred French chef has started here. The food is incredible but be prepared to pay for it.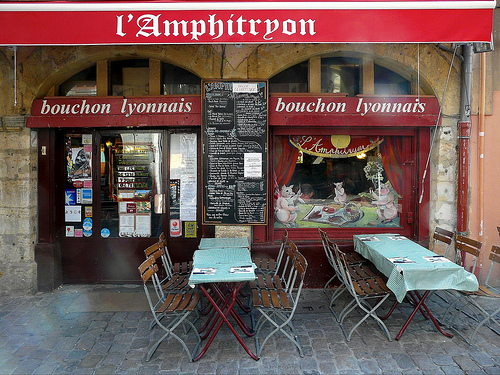 And in Lyons, you should visit a typical bistro known as a 'Bouchon.' One of the better and more raucous ones is l'Amphitryon.

Pont du Gard Bridge – If you are in the area, you should not miss the opportunity to see the grand Port Du Gard is a man made channel which was built up by the Roman Empire. The bridge, located in the Vers Pont Du Gard near Remoulins, has been declared as a World Heritage Site by UNESCO. It is one of the most visited landmarks in France. The bridge was constructed without the use of mortar by using aqueduct stones which were so large and heavy, they eliminated the need of mortar. The engineers who were involved in the construction of this bridge curved the upper levels of this bridge in the upstream direction to resist the flow of the water.
Thanks Terry for this fabulous look at my favorite wines from Guigal and a little tour of the Rhone.  I think we now have another trip on our agenda!!