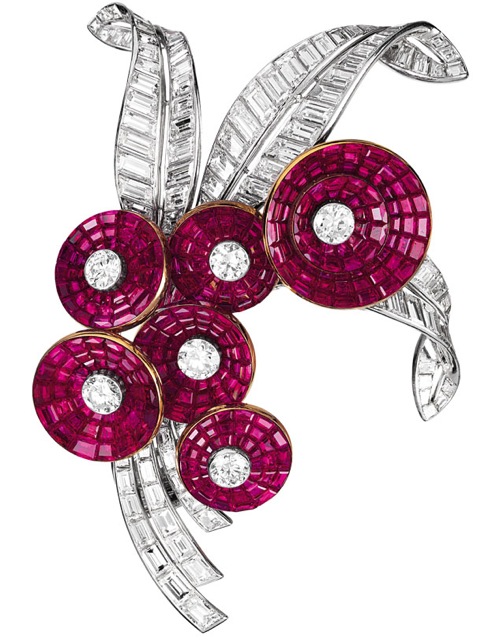 Courtesy of a California Collection
As promised, a final look at the incredible Cooper Hewitt Set In Style: The Jewelry of Van Cleef & Arpels exhibit. I mentioned in the first posting how I fortuitously met Sarah Coffin, Curator and Head, Product Design and Decorative Arts Department, who curated the exhibit. She kindly agreed to answer a few questions about the show.
1) What was your inspiration for the exhibit?
We have jewelry design as part of both our collecting and exhibition mission.  It had been some time since we had done an exhibition devoted to jewelry – over 10 years, although we have included jewelry in other exhibitions.  I am particularly keen to connect the past and present in design, and thought that looking at jewelry design over the span of the 20th century would be especially interesting.  The inspiration of the specific organization for the exhibition came out of looking at many pieces and studying their origins.
2) I understand you had a specific vision for displaying the jewelry and that your combination of curatorial and commercial experience played an important role in this.
After studying large amounts of Van Cleef & Arpels' jewelry, I realized that their artistic vision had kept to certain themes which I could find throughout their over 100 year history.  I created six themes, of Innovations-both technical and stylistic, Transformations, both as Transformable jewelry and the transformation of the business onto American soil, Nature as Inspiration, Exoticism, Fashion and Personalities, who helped broadcast the styles, and add to their popularity.  These themes made me realize that with the interpretations and re-interpretations, that pieces of all eras could be mixed, and show how an innovative approach to these themes, made the styles up to date, but keep their appeal over decades.  I had run a gallery and knew that, even though high end jewelry is often a treat to look at, looking at how you display the objects could impact enormously on how people react. I wanted the viewer to see the importance that design has played, rather than just looking at large gemstones, in the jewelry of Van Cleef & Arpels.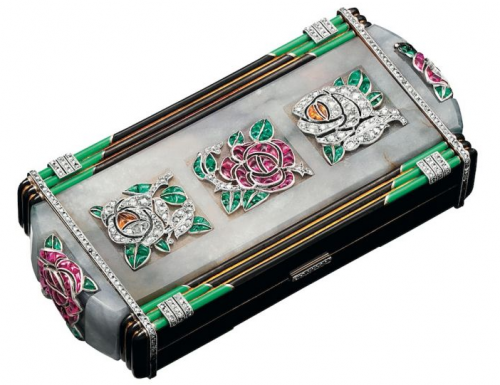 Van Cleef & Arpels' Collection
3) How and why did you pick Patrick Jouin (to design the installation)?
We were familiar with Patrick Jouin's innovative designs for industrially produced objects, but when we saw some beautiful and creations of installations of jewelry that he had done with Sanjit Manku as part of their firm that does displays, restaurants and other designed spaces, we realized he might enable us to display the jewelry to best advantage while giving Cooper-Hewitt a chance to feature top-level exhibition design, another important area of design for the Museum.
4) Why did you choose Van Cleef and what sets them apart from the other famous iconic jewelry companies.
Van Cleef & Arpels is first and foremost about jewelry design, using the highest possible quality of materials and techniques, to innovative design often brought about by their continued thinking about how to create an effect or most effectively show off the stones and other materials, and their techniques. One reason I picked them, was their willingness to give me access to their wonderful archive of design drawings, watercolors, gouaches, stockbooks and cards, and to let us exhibit some of them. We are very interested in process and this shows the skill of the person doing the designs. I also had access to their workshop where I could see their highly skilled craftsmen meticulously executing their techniques, and they were willing to let us convey this on a video in the exhibition, showing  the Mystery Setting, an invisible setting they perfected and patented in the 1930's.  Their thorough numbering system allowed me to match up, using the archives, all the pieces in the exhibition for date, materials and location.   The last is something that has not been addressed before, the wonderful designs, production and selling of original jewelry designed in New York when the firm opened here in 1940.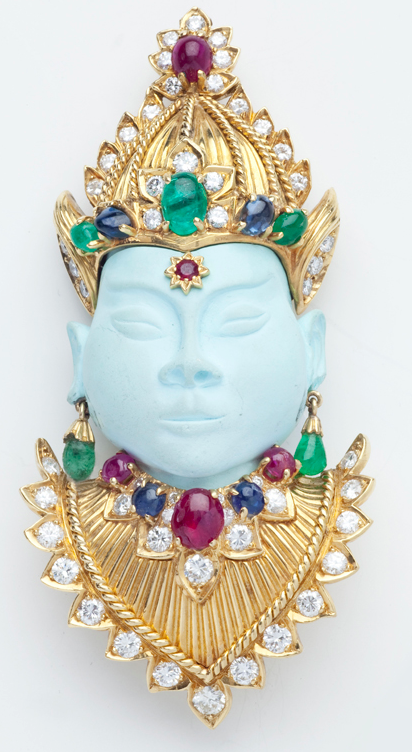 Courtesy of Richters of Palm Beach
5) The technology is so amazing and such a innovative part of the exhibit. Was that envisioned as part of the show from the beginning?
Patrick Jouin, came and walked around the exhibition space with me, after I had created the themes and had started to select the jewelry, but close to the beginning of the exhibition preparations. He understood what themes I wanted where, and why and that I had a few requests, such as somewhere with a magnified piece, to see the quality and originality of the technical skills and design, and also to see such a piece from the back. He immediately agreed that the Conservatory was a place for a swarm of butterflies, and he understood my need to group things for various curatorial reasons, such as sources of influence in the Exoticism section.  Most importantly, he saw the museum, which was formerly the Carnegie Mansion, as something to work with, rather than against, and called it a gem. He connected the life of the house to the life of the jewelry, starting with the dining room, where he created a large table, like a dining table, with different bubbles of individual settings of jewelry as if they were set for dining. He then used reflection to create mystery and glimmering surfaces, enhancing the sense of being in close proximity to the jewelry.  The parabolas, of reflection enable one to have a mirage that the jewelry is standing on the cases, and then you can see the actual piece down below.
Thank you Sarah for giving us a glimpse inside the museum's approach to this marvelous exhibit. I love how Sarah organized the show into the six themes that represent the history and output of the firm. Here we look at them with some examples from each.
Van Cleef & Arpels' Collection
Innovation – one of the aspects of Van Cleef throughout has been their ability to so successfully combine the concept of fine and decorative arts as well as to create new technical solutions that enabled them to find unique ways to express their artistic ideas.
This American Bicentennial brooch from 1976 is a fabulous example of Van Cleef's famous mystery setting which was discussed in the last post.
courtesy of Private Collection of Lisa Maria Falcone
Doesn't this Cambodian Roll bracelet from 1938 look as though it could be a contemporary piece? One of the wonderful aspects of the exhibit was the inclusion of the original sketches, which have never been seen before.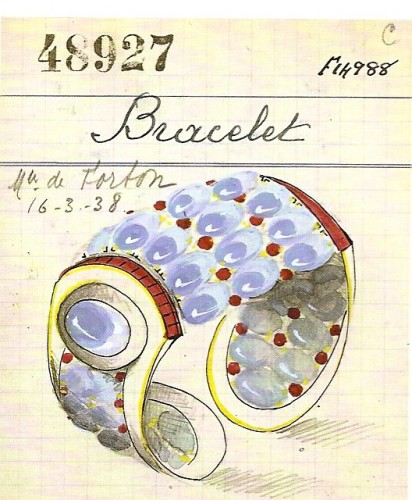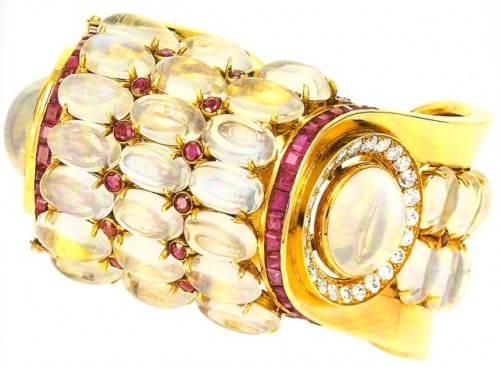 Transformation is a signature aspect of Van Cleef pieces. One of the most famous Van Cleef pieces, which straddles between innovation and transformation is the Zip necklace. It is a functional zipper which adjusts the opening, and can be transformed into a bracelet by removing a piece in the back. Originally suggested by the Duchess of Windsor in 1938, it was not actually created until 1951 by Van Cleef & Arpels' head designer, René-Sim Lacaze, and artistic designer René Puissant.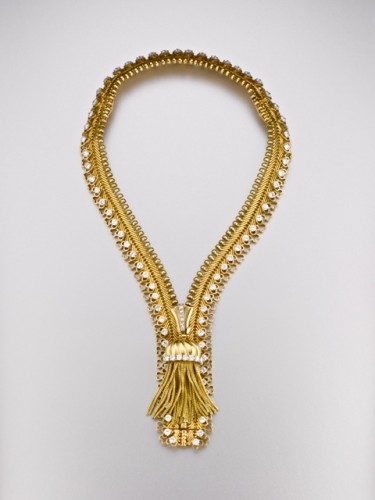 Another famous transformative piece is the Walska Brooch/Pendant from 1971. It can totally be disassembled in several ways: the wings come off to form earrings, the tail comes off to form a brooch, and the pendant can be detached and worn separately
courtesy of a private collection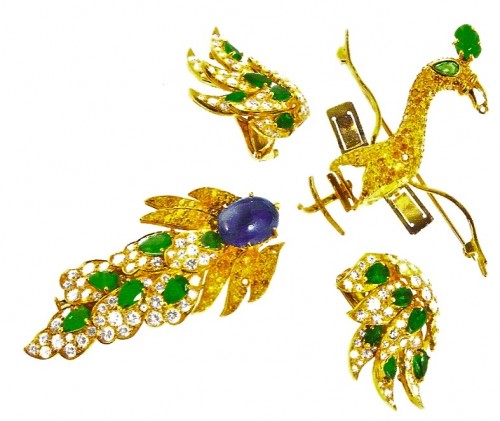 Nature as Inspiration – Nature plays an important role throughout the history of VC&A. What differentiates them is their stylistic interpretation. The series of butterflies hung in the conservatory, which you saw in the video over the weekend were amazing. I found this series of "inseparables" equally charming with their effective use of cabochons.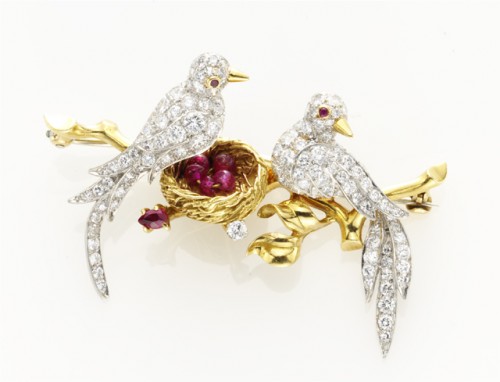 courtesy of Vartanian & Sons, Inc.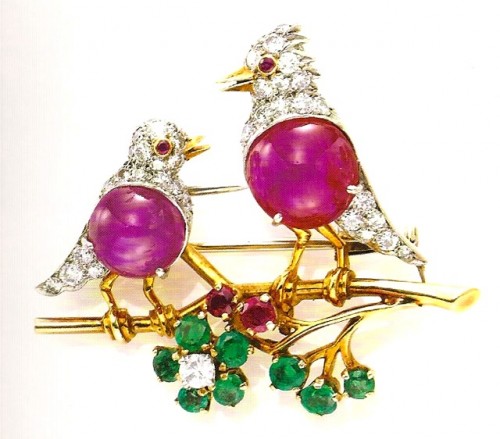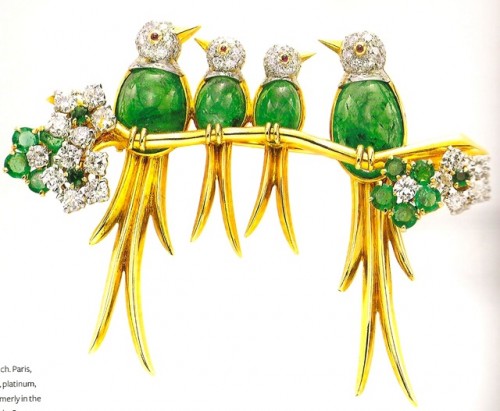 Exoticism – VC&A has consistently incorporated exotic motifs throughout the history of the firm. Their inspiration was derived from research during family travels to commissions by its clients around the world. Egyptian motifs had already been popular in France for a century when Howard Carter unearthed Tut's tomb in 1922. The decorations became instant inspiration and were immediately incorporated into pieces such as this spectacular bracelet from 1924.
courtesy of Primavera Gallery, New York
The 1920's also saw a resurgence of interest in the far east and many of VC&A's pieces reflect that. This Chinoiserie-decorated nécessaire from 1923 uses the Chinese red and black palette that would be seen in other decorative pieces exhibited in 1925 at the Paris Exhibition.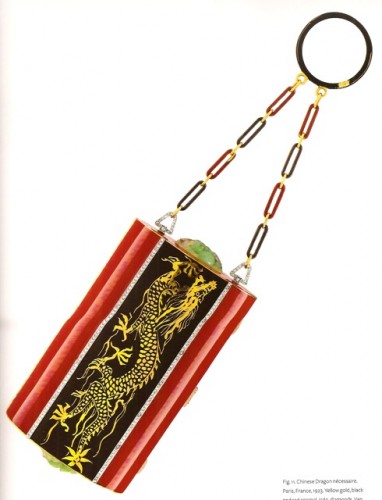 courtesy of Van Cleef & Arpels' Collection
Our current interest in India in decor as seen in the popular textiles at John Robshaw, les Indiennes and even Anthropologie is of course a throw back to the 60's and 70's when Indian bedspreads and Nehru collars were all the rage. The teardrop shape of the paisley, a popular design motif from this era and culture, can be seen in this Pearsian leaf brooch from 1966.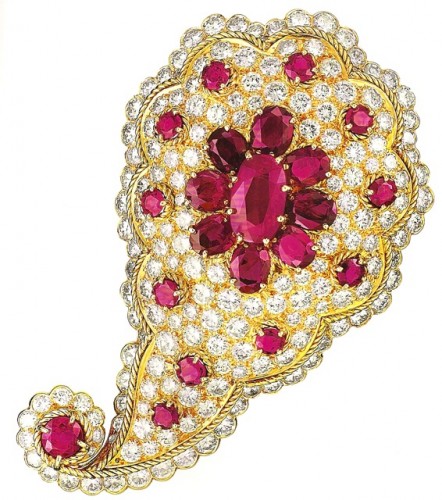 Fashion and Van Cleef & Arpels – Fashion and jewelry are of course inexorably linked. In the 1920s and 30s, with the liberation of women from the strict Victorian style, bare arms became acceptable for the first time since ancient Greece (amazing right?). This new area became ripe for adornment and contemporary fashionistas like Daisy Fellowes and Nancy Cunard became fans of wide bracelets such as this Coques bracelet form 1936.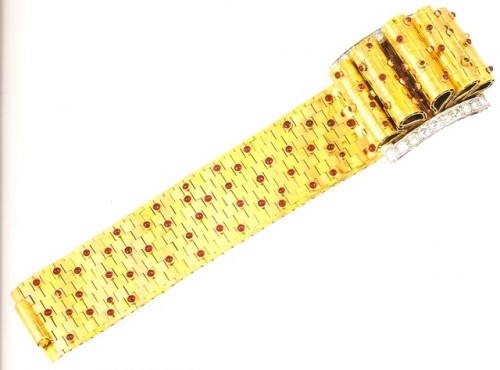 The bow is a ubiquitous element in fashion and became a much used one at Van Cleef as well. This beautiful brooch from 1949 also incorporated the fashionable element of lace. The workmanship on this piece is just incredible.
courtesy of Van Cleef & Arpels' collection
As Coffin says in her excellent book from the exhibition, "…the correlation between fashion and jewelry is above all about a feeling a sensibility, and an emotional grasp of the decorative arts in ever-changing times, and throughout its long history, Van Cleef & Arpels has understood that link."
Bejeweled Lives – This section, as you may have guessed, deals with famous personalities and their VC&A jewels. As Ruth Peltason, who wrote this section of the book, summarizes, "For more than a century, the remarkable history of Van Cleef & Arpels has been intertwined with the lives of many of the greatest personalities of our time. Each has enhanced the other and set the stage for the display of some of the grandest jewelry made in the twentieth century." The star of our last movie pick, Grace Kelly was the recipient of many VC&A pieces as they were designated the "Official Purveyor to the Principality."  This pearl and diamond necklace is part of a set (with bracelet, earrings and ring) that were made for Prince Rainier's official engagement present in 1956. The now ubiquitous Alhambra necklace was also a favorite of Kelly's and she owned several.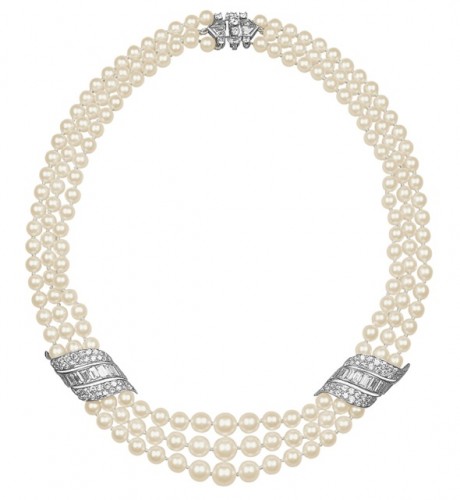 Private Collection of Her Serene Highness Princess Grace of Monaco, Principality of Monaco
photo estate of Yousuf Karsh
As mentioned, socialite Daisy Fellowes was a big Van Cleef fan and is shown here wearing manchette bracelets in London in 1934, shown below with the original retail card.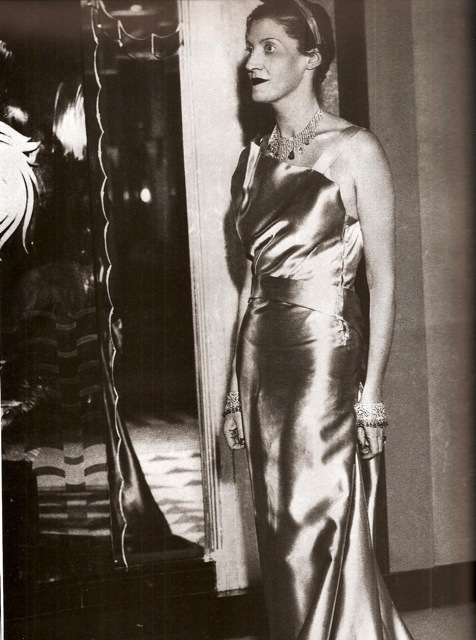 Bettman/CORBIS
Courtesy of a California collection
Van Cleef & Arpels' Archives
Elizabeth Taylor and her then husband Richard Burton were frequent customers. When they were invited to attend the Proust Ball, given by the Baron and Baroness Guy de Rothschild at the Chateau de Ferrieres, where the dress code required bejeweled hairstyles for the women, VC&A loaned her several pieces to "approximate a diadem."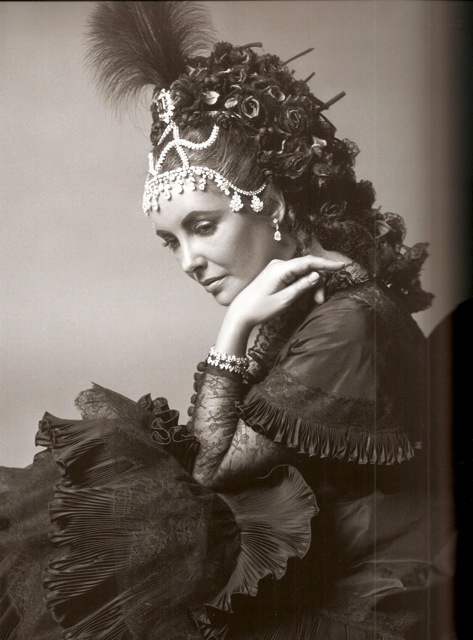 photo: Cecil Beaton/Vogue
These fabulous Mystery-set sapphire and diamond earrings were part of her collection.
Courtesy of Dame Elizabeth Taylor. Photo by John Bigelow Taylor
This might be a good moment to mention that the book accompanying the exhibition is an exceptional publication with exquisite imagery beautifully produced. It is available now through the Cooper Hewitt bookstore in both hardcover and paperback versions and on Amazon next month. It is most definitely a volume worth owning.