It's almost an embarrassment of riches. As if the jewel box shop of Simon Teakle in Greenwich wasn't already tempting enough, this week he will be hosting over 100 pieces from James de Givenchy, whose exquisite Taffin collection is on every jewelry maven's lust list. Longtime friends and colleagues, the two met at Christie's in the early 1990's when Teakle was brought in to head the jewelry department where de Givenchy was on staff. After subsequently heading up Christie's West Coast Jewelry Department and later serving as vice-president of Verdura, de Givenchy opened his New York boutique in 1996, working primarily on special commissions. And while the business has grown, his approach to his work and clients is still very much like a couture salon.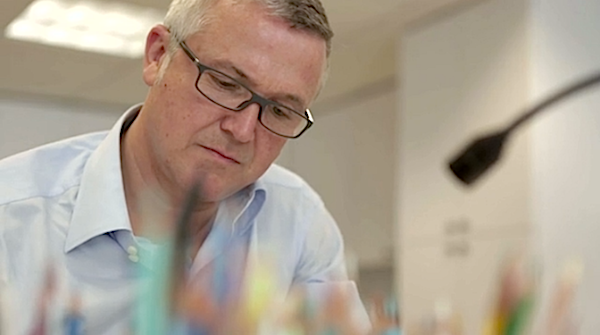 James de Givenchy's work is that rare vision of someone who loves both old and new, the refined and the whimsical, the science and the art. "I fell in love with the engineering of jewelry, its manufacture," he says. "The construction is as important as the design. Trying to find ways to structure a piece of jewelry is very much like designing a building. It's this construction that I find so challenging and fun – finding ways of hiding the construction so the design comes forward."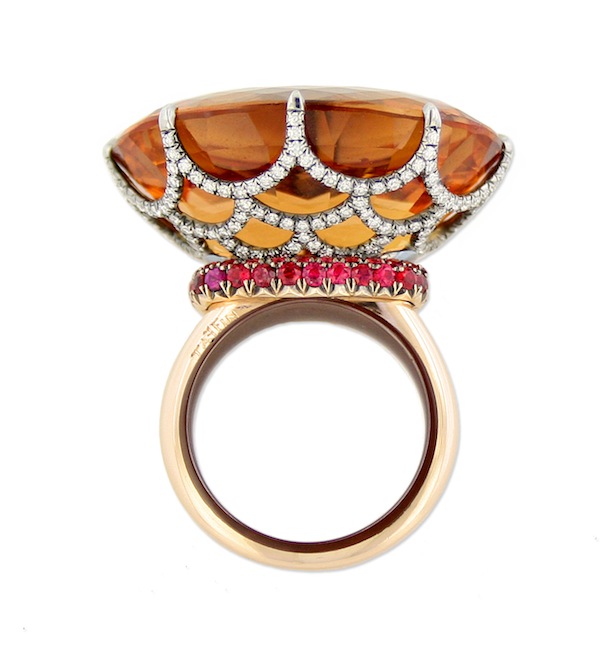 And collaborating with Teakle has yielded some spectacular results. I'm delighted to bring you a little preview of a few items from the exhibit. Simon found this oval cut 60.62 cts Imperial topaz above, which he then passed on to James for creative reinvention (it had been a pendant in its former life).  Set as a single-stone ring, in a diamond lattice-work basket with a spinel collar, de Givenchy transformed it into a piece of sensational sparkling splendor.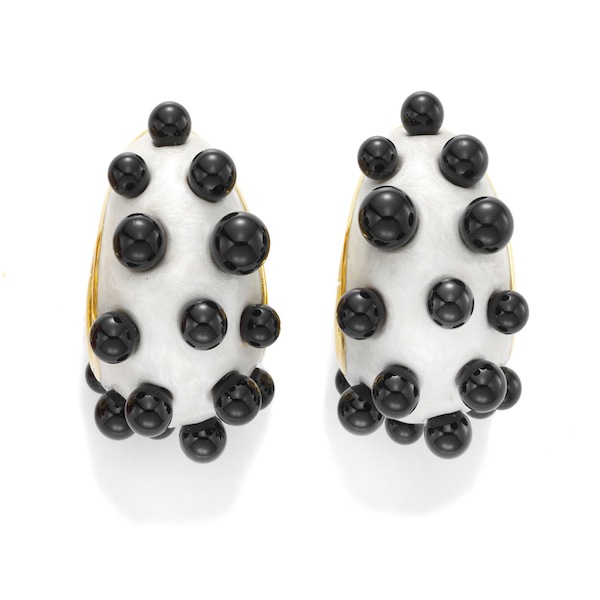 From Taffin, this pair of fabulous earrings would be the perfect embellishment for that little black dress. Graphic and elegant yet full of wit and whimsy, black onyx balls feel embedded into the white lacquer ground for a punchy polka dot effect.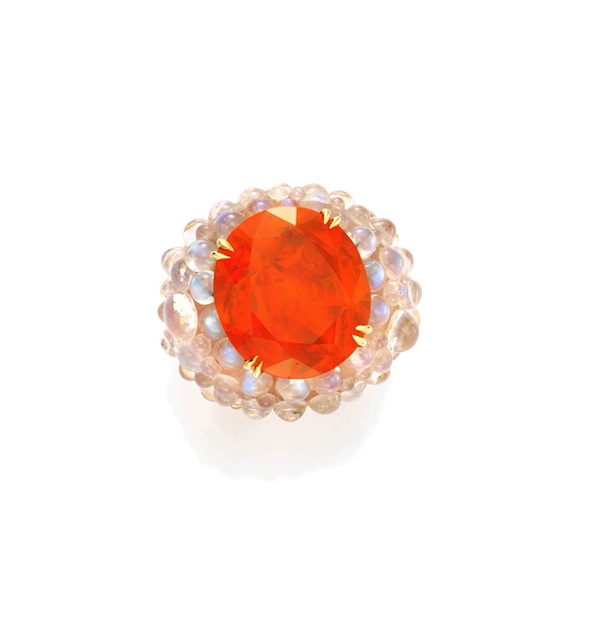 And of course this gorgeous orange fire opal is calling my name. Surrounded by moonstones and rose quartz, this bombe cocktail ring is organic, luxurious and  just a tad edgy with those little rose gold talons. I can't wait to try this one on!
For any of you who wish to drool (or get a jump start on your holiday shopping) in person, the exhibit will be at Simon Teakle's chic shop this Thursday, June 6th through Saturday, June 8th from 10 – 6. If you have never seen Taffin, it's a must see and if you have, then I assume it's already marked on your calendar! I'll be back with more temptation for ogling from the show next week! Amanda Nisbet – I'm calling YOU!