After our break for the latest Stylish Shopping episode yesterday, we continue with a look at some more rooms at the 2013 Designer Showhouse of Westchester. One of my favorite rooms last year at this event was Carey Karlan's sophisticated space with gorgeous black Venetian plaster walls. This year she wanted an all out feminine room with uninhibited yet comfortable glamour.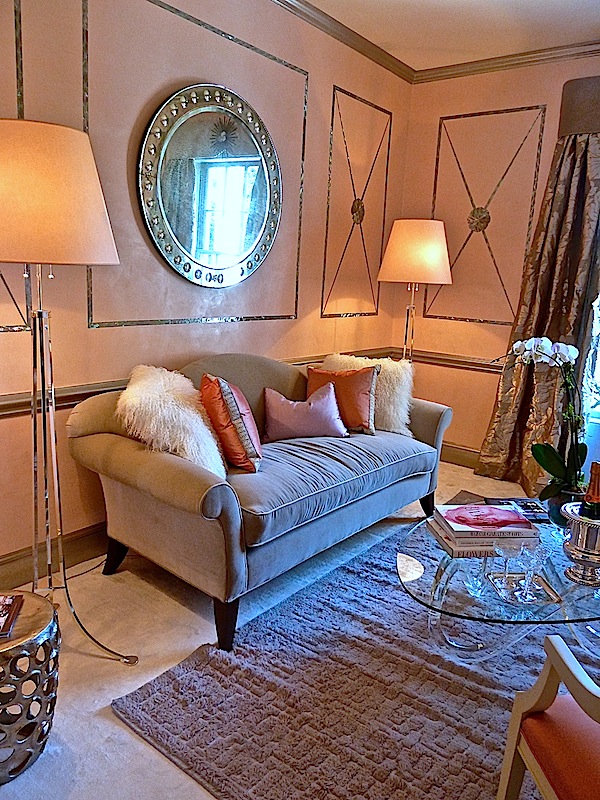 Carey's designs frequently reference the past in an updated way. Here the pink and gray color scheme is retro yet fresh, anchored by the Pearson sofa and amazing Venetian plaster walls with inlaid mother of pearl by Heidi Holzer Design. You can catch a glimpse of the seductive Nobilis Jeu de Miroir curtains, echoing the opalescence of the walls with a dose of shimmer. And the metallic is picked up in the Moroccan area rug from JD Staron as well.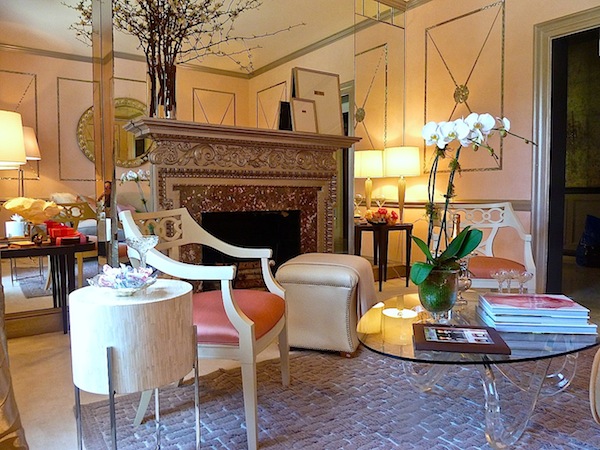 A vintage glass and lucite table, Samantha chairs from Hickory Chair and faux ostrich ottoman from friend Beth Dupont's local Connecticut shop Good Food Good Things mingle with an assortment of small tables from Wakefield Design Center in a pretty, eclectic pink and palomino mix. Several lovely vignettes focussed on tailored yet feminine details.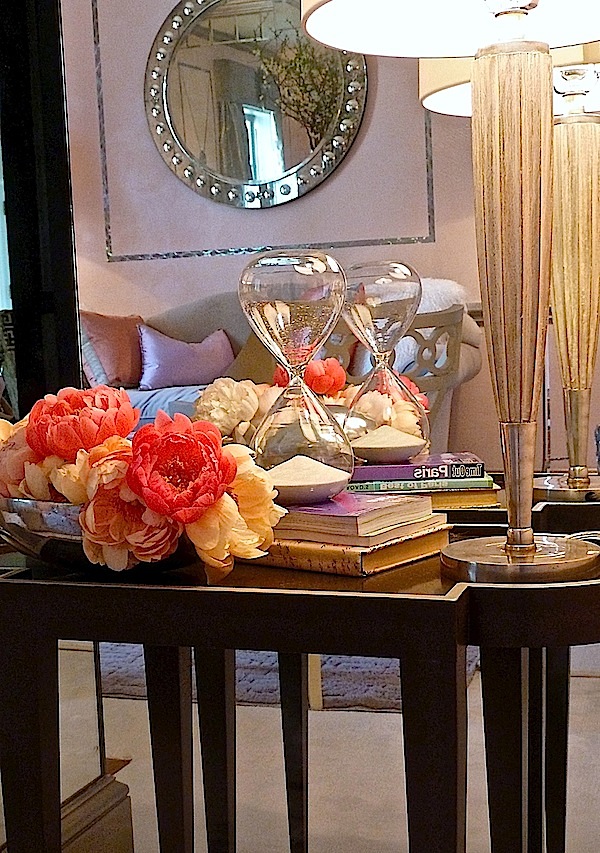 Gray is a popular theme at the showhouse and Wakefield Design Center's George Snead used it effectively mixed with metallics, bold blacks with pops of acid green and his signature use of interesting art. Taking advantage of the bar in the middle of his room, Snead created two separate areas. One side functions as an airy work space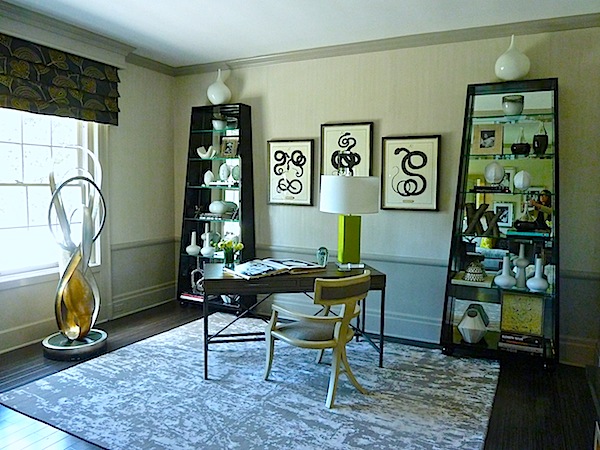 and the other side as a comfortable lounge.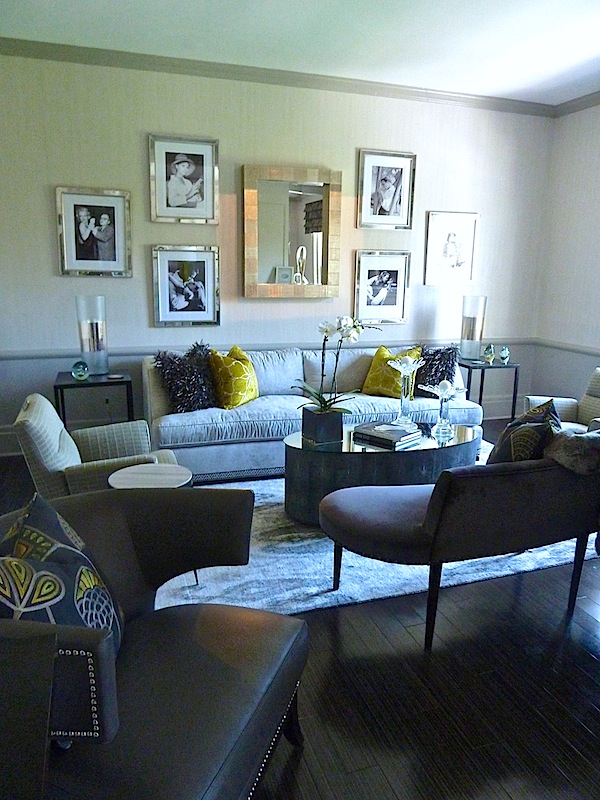 Snead cleverly added a wall of graphic black and white wallpaper with strong art to counter the existing pattern of the center bar.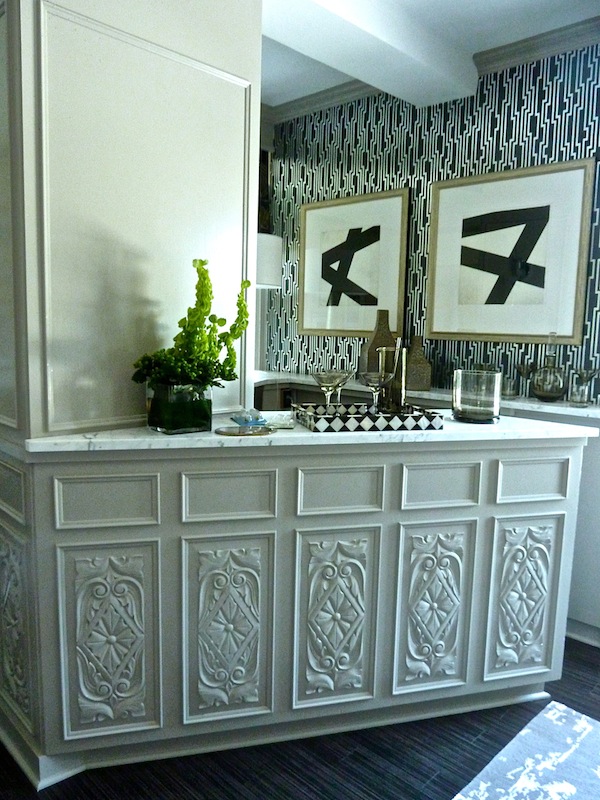 Keeping the palette within tonal grays, Snead offered a variety of textures for visual interest.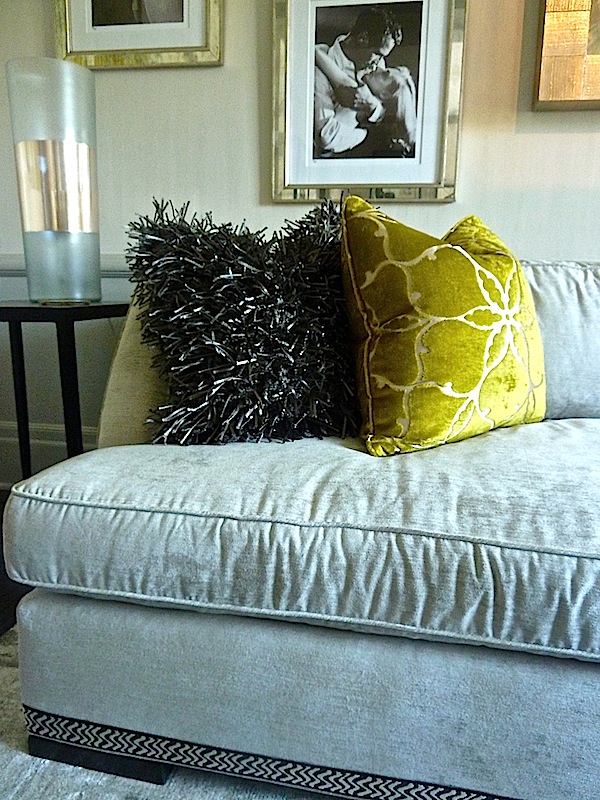 On the top floor Donna Benedetto transformed a large attic-like space into a stylish game room. Again using pale cool gray as a backdrop, the space is uniformly cocooned in color. A chic glass and chrome ping pong table provides stylish fun.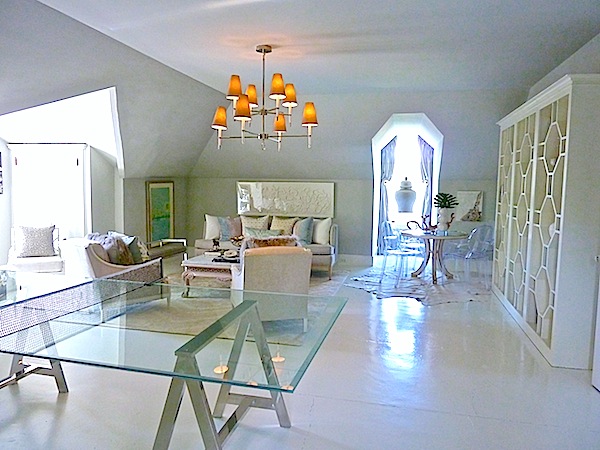 A seating area defined by a JD Staron rug provides room for comfortable lounging.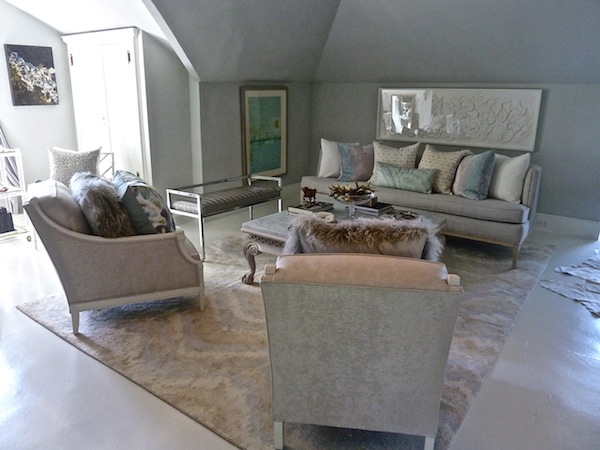 Vintage chairs from the Hampton Galleries in Stamford with a fun pillow selection sit in front of a custom bookcase created by the designer.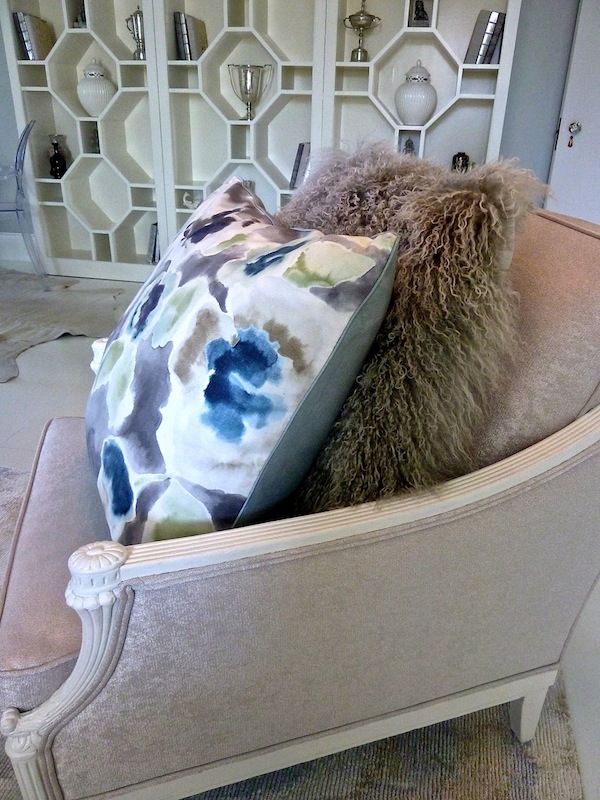 I loved this moment made crystal clear in the afternoon light. A vintage lucite bar cart, bamboo chair and wall art by the designer form a lovely vignette.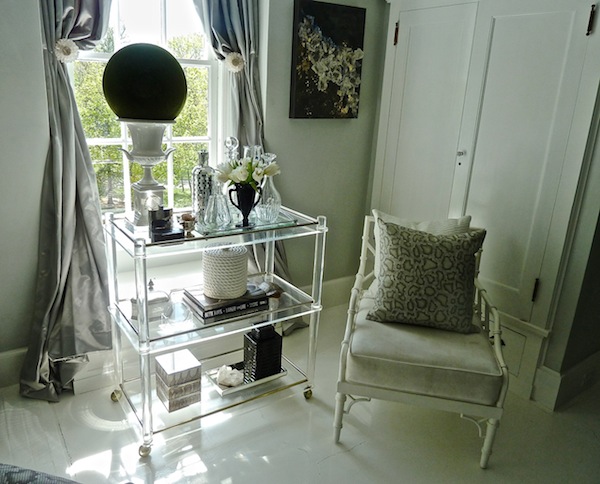 Benedetto framed this dormered window so beautifully. Flowing drapes and a large croc textured ginger jar on lucite stand are perfectly proportioned and positioned.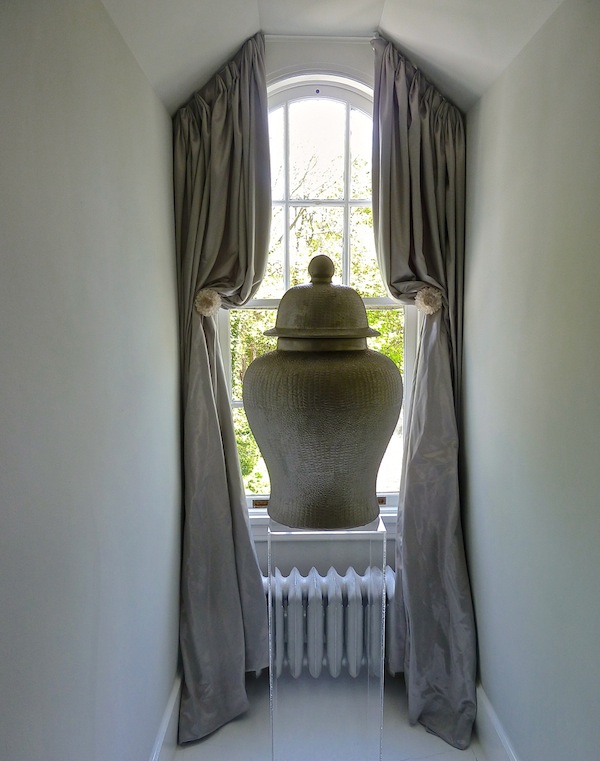 In the basement, Elissa Grayer was charged with overhauling the large dark and dreary space into an adult rec room. Filling the space with large light pieces in bold forms, she added accessories with texture and movement and blues for accent color.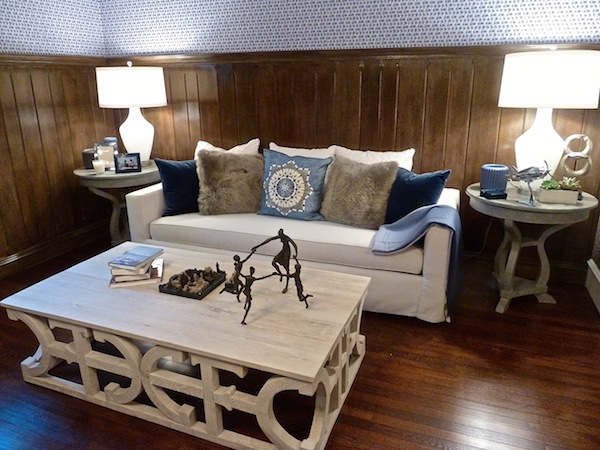 Several comfortable seating areas allow family and guests plenty of room for varied activities.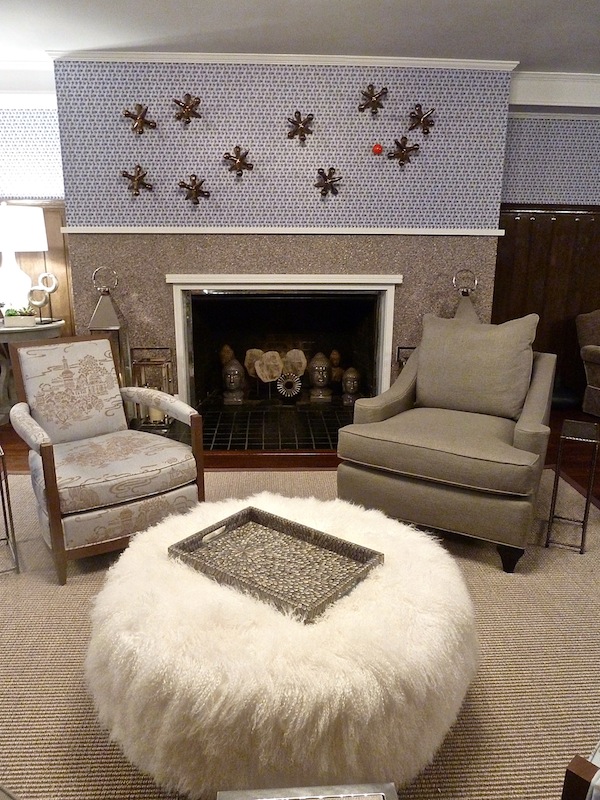 With the high wood paneling, Grayer added a distinctive knit patterned wallpaper by Brett Beldock to add color, texture and visual interest, overlaying it with a playful giant jacks installation.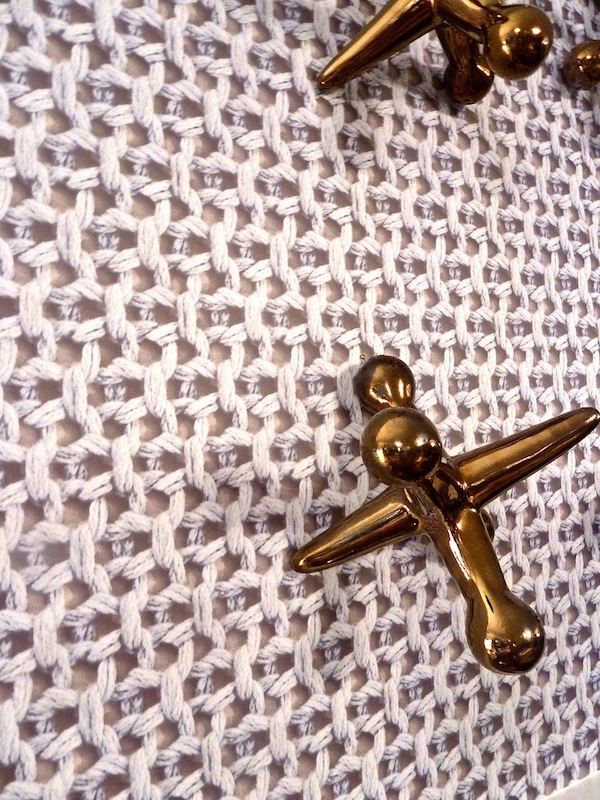 A mix of transitional and modern pieces with hints of metallics give the space an updated contemporary edge.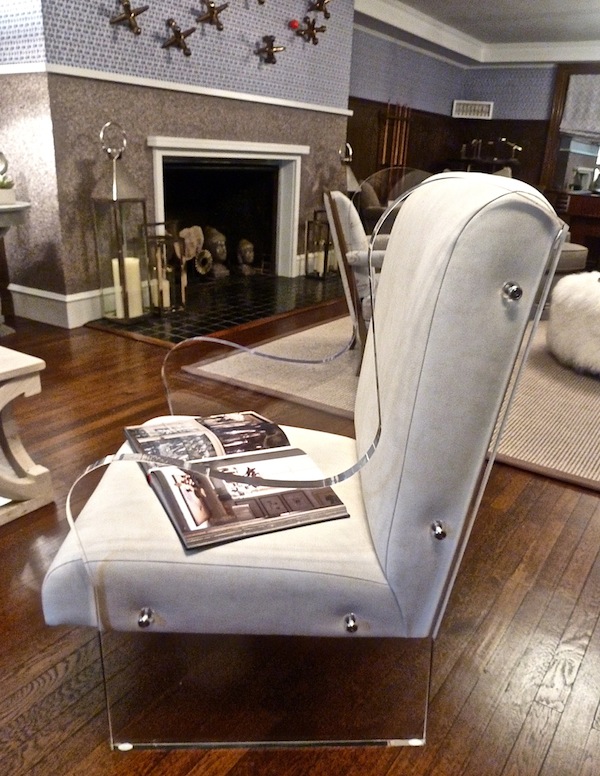 With fun window treatments and distinctive stools, the bar area is sure to become a popular spot for the entire family.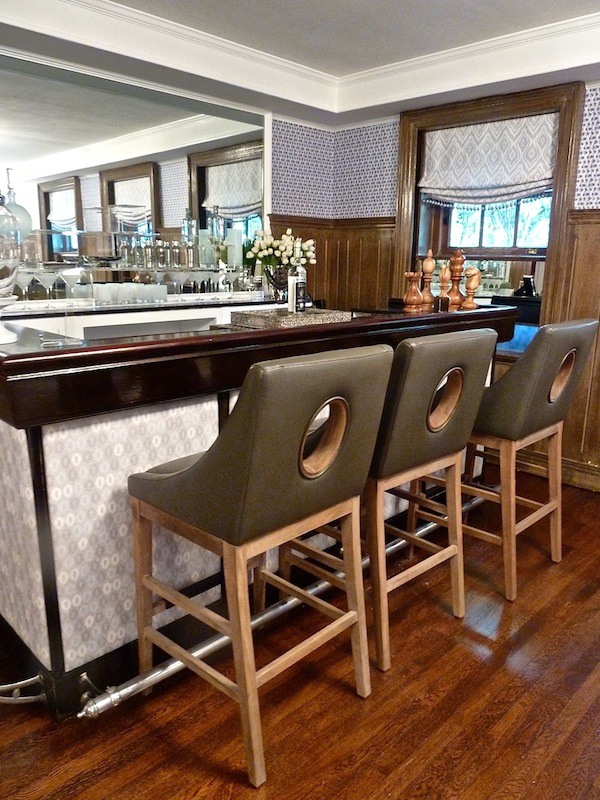 If you are in the area, the 2013 Designer Showhouse of Westchester is open through next weekend. Tomorrow from noon to 3, is a book signing by local Greenwich designer Cindy Rinfret and next Saturday at the same time, Michele Keith will be on hand to sign copies of her volume, Designers Abroad, which I reviewed several weeks ago.
And in case you missed it, do stop by yesterday's post to see the latest Stylish Shopping video as Susanna Salk visits the NYC flower market with tastemaker and FLOWERS author Carolyne Roehm.