There are some areas of design where I know what I like but have no knowledge of how to achieve it. Landscape design is one of those disciplines and I am thankful for the likes of Doyle Herman here in Connecticut, whose work I have admired for years. And I am now delighted to have a compendium filled with beautiful examples of their designs. The Landscape Designs of Doyle Herman Design Asssociates presents the wide ranging span of their work, from structured Tudor-style to cottage-like English gardens to spare modern forms.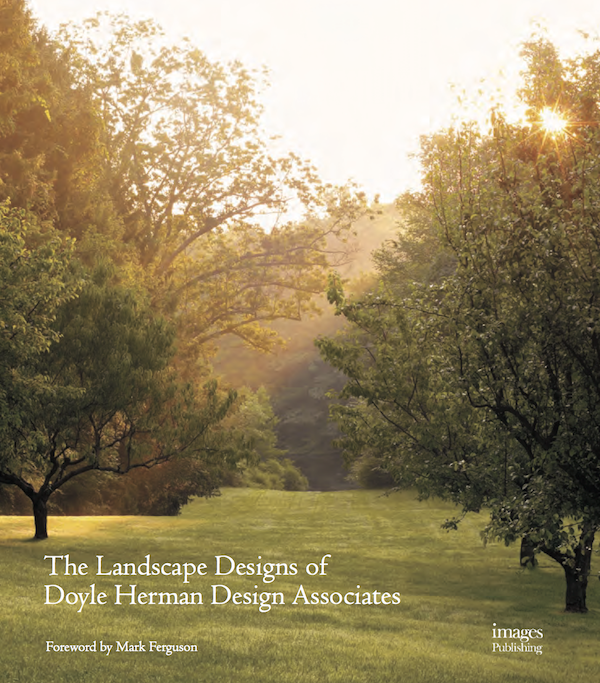 With inspiration from the past, their work embraces the natural world, the architecture it surrounds and the melding of artistic and technical demands. I love how architect Mark Ferguson describes the firm's talents in his foreword. "There are few landscape designers who understand the functionality, the scale, and the ambiance of a residential property and James, Kathryn and their gifted staff are among the most sensitive, creative and capable. Their work…reveals a heightened beauty that renders nature a place of dignity and joy." What more could you ask for!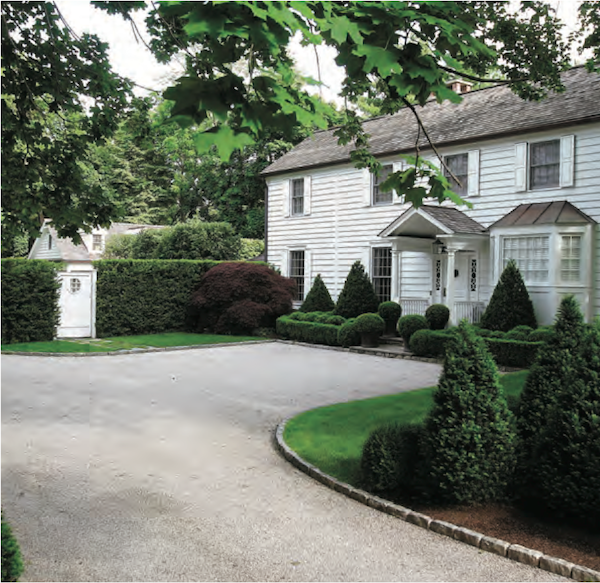 While Doyle Herman certainly works on properties of estate proportions, they also amplify smaller residences. This classic colonial on a half-acre was enhanced with improved parking, privacy and curb appeal with a sense of structure created by the rounded boxwoods and conical yews. A custom designed gate adds charm and seclusion.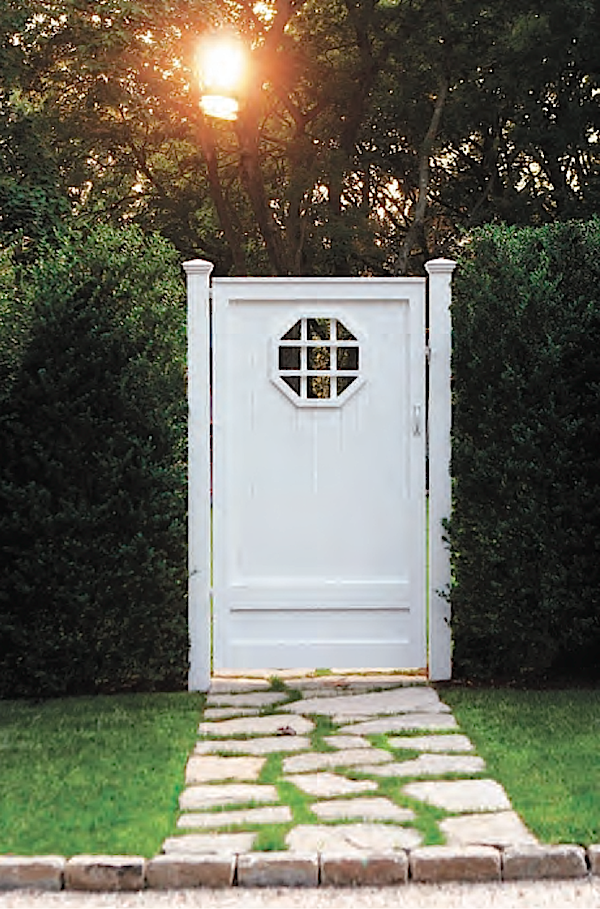 And here you can see how the more formal  front plantings augment the Tudor style architecture of this grand Greenwich home.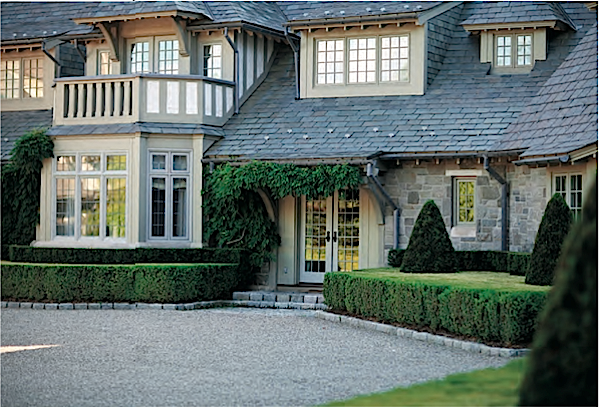 For an early 19th century home, with owners who wanted to honor the house's history,  Doyle Herman designed both formal gardens and bucolic country settings. Below marks a transitional area with a structured allée underplanted with more rustic flowers. Best of both worlds!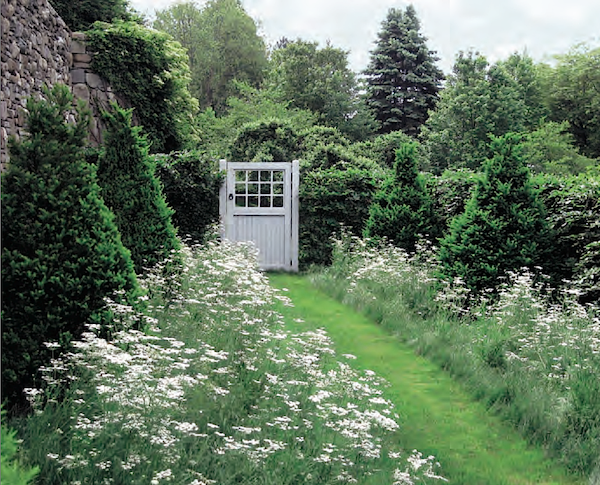 Just as with any other design discipline, it's all in the details. On the same property, a repetition of delightful elements unifies the design throughout.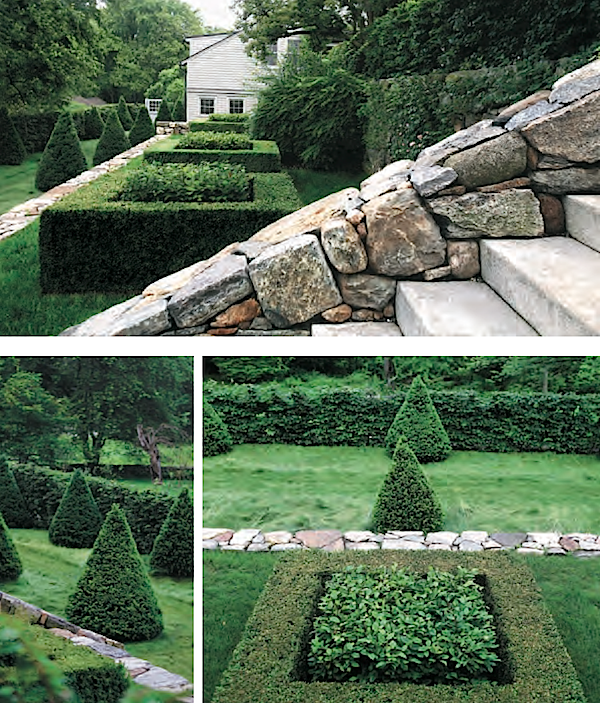 One of my favorite distinguished properties in Greenwich maintains its classic 1928 appeal with a convivial conversation between house and property. Organic yet grounded, the elegant, refined setting is both quiet and serene, lush and vibrant.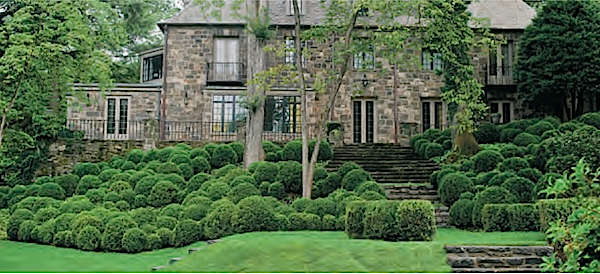 The front facade is perfectly appointed with well behaved ivy (Hedera helix for those of you who know your stuff).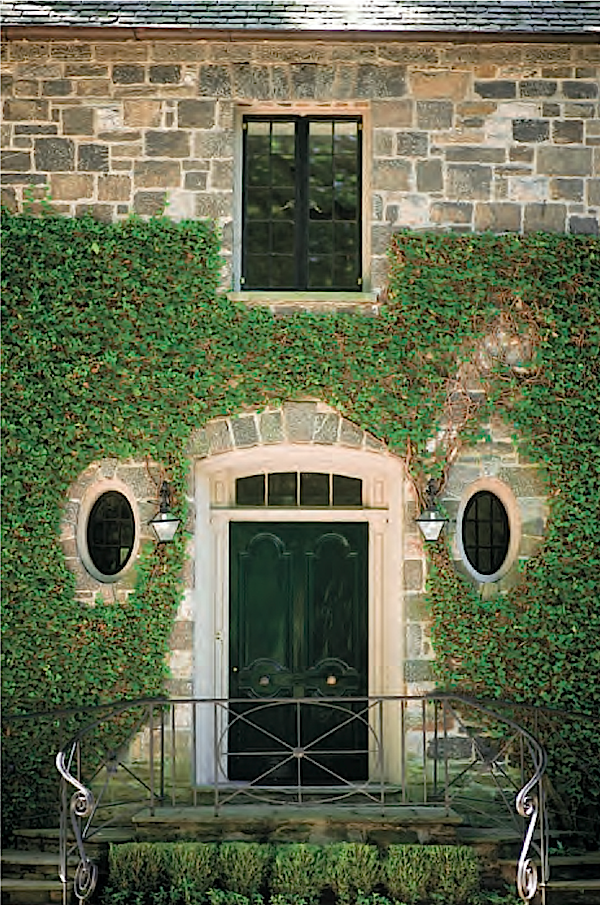 The elegance of the entrance is augmented by an ancient oak. New double boxwood hedge, groundcover and rhododendron are fresh yet look as though they've always been there, impeccable in their timeless appeal.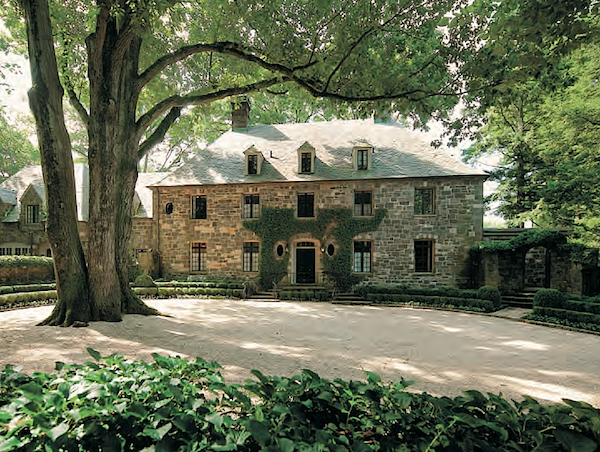 Newly built homes receive the same meticulous attention, establishing a landscape that feels mature and appropriate. Every aspect of this property was thoughtfully re-imagined, combining classic design with a contemporary sensibility. Custom designed gates enclose the verdant pool area. Traditional when shut, they reveal a reflective modern sculpture when open, the ultimate terminal point of a long axial line that began at the front door.
Such comprehensive plans are typical of the firm where grand gesture meets minute detail. And nowhere is this more evident than at Old Mill Farm, one of "the last great estates" of Greenwich, totaling 75 acres. Generous scale and form are perfectly proportioned to the house, where a glimpse of the private gardens beyond is offered through a wrought iron gate.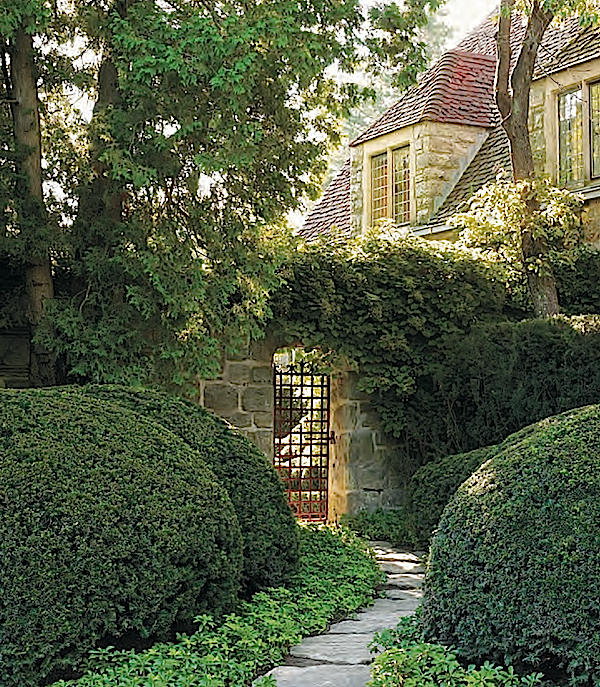 The charm of a labyrinth (bottom) is seen from an elevated seating area accessed through a custom wrought iron gate.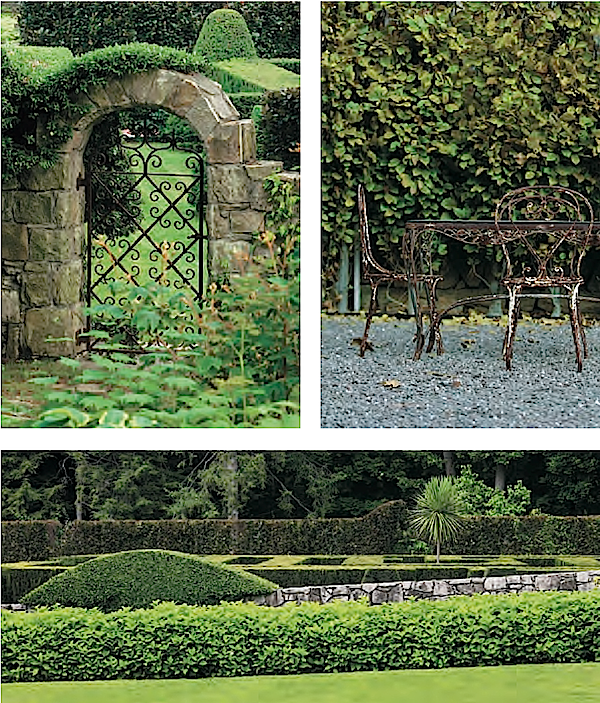 And after the recent prematurely sweltering weather, I thought ending with  a couple more of my favorite pools would be refreshing. A new English Tudor style home in the neighboring town of New Canaan features a pool set on its own level. Fastigate (yes, I had to look it up too) hornbeams surrounded by boxed hedging lend an elegant formality to the area.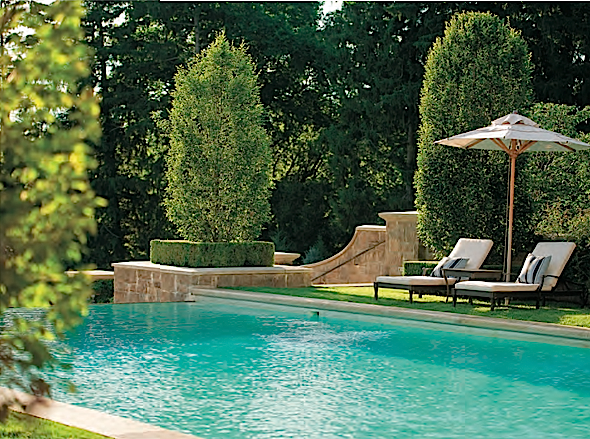 And back in Greenwich, a new pool house is one of the most enchanting I've seen of late. Sculpted trees and hedges give a sense of enclosure while chic striped chaise cushions complete the timeless picture.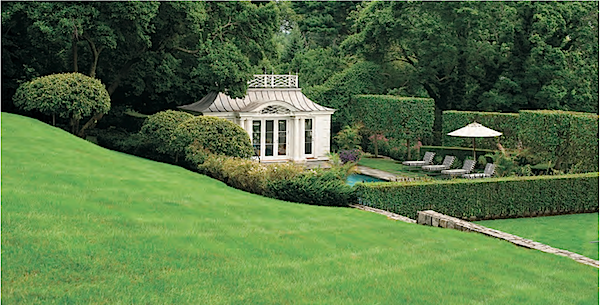 Doyle Herman are masters of their craft. Celebrating craftsmanship and the tradition of timeless design, they "enlarge, ennoble and enliven" the landscapes they shape. Take a vicarious visit through these exquisite grounds and gardens – you're sure to be inspired.